Friday 18th to Sunday 20th March 2022
It was a misty start to Day 31 in Todmorden.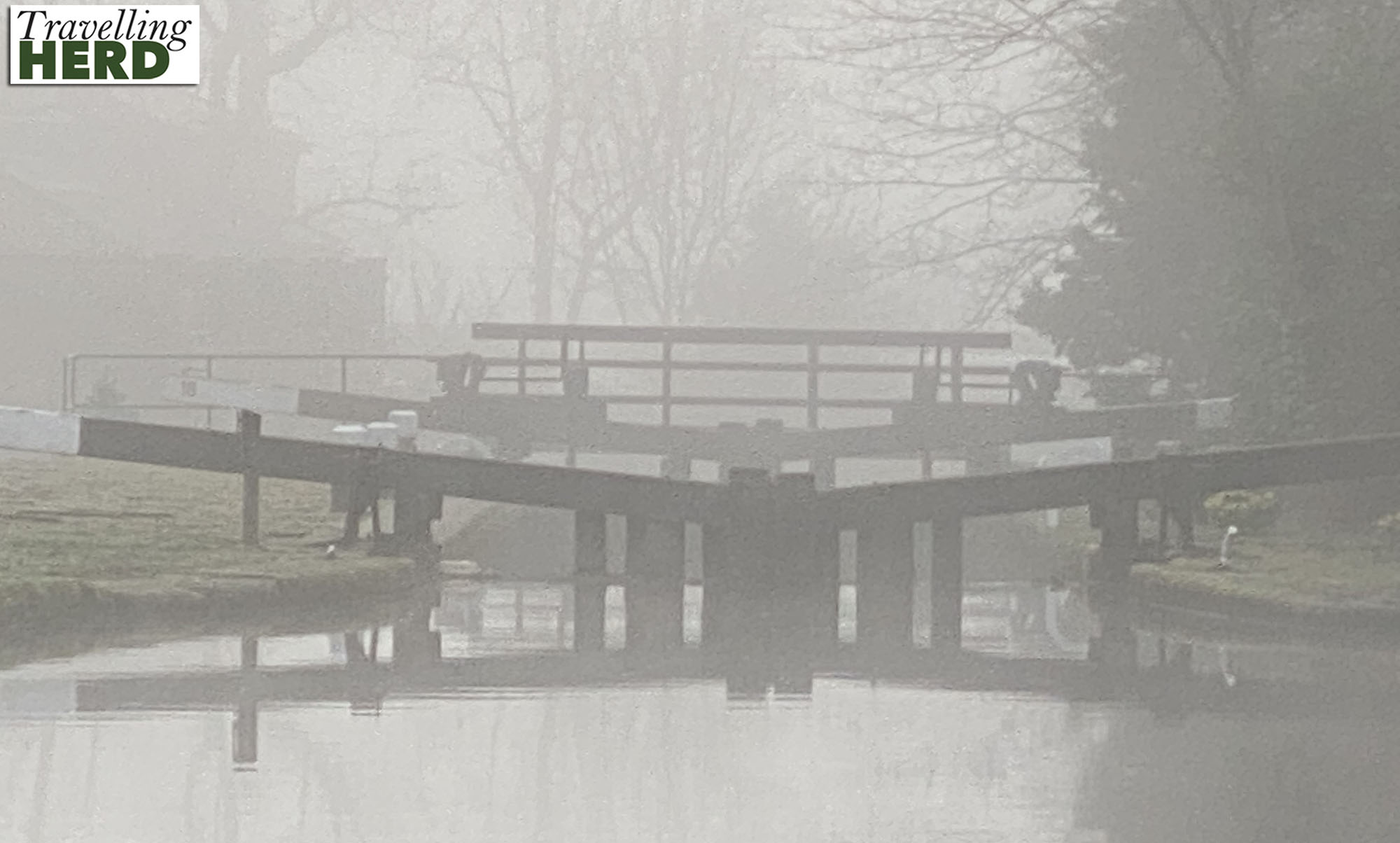 Lock 19, on the Rochdale Canal, is right by the main road through the town of Todmorden and when the road was widened in the 1920s the traditional gates were replaced with a guillotine gate at one end to save space. Matilda is unaccountably always a little anxious at guillotine locks in case the mechanism goes wrong.
Unsurprisingly, we negotiated the Todmorden Guillotine Lock No. 19 safely and, on the other side, The Duke was dwarfed by the Great Wall of Todmorden. Built in 1881 as a retaining wall to support the railway as it enters the town from Lancashire it is said to contain some four million bricks. We could well believe it.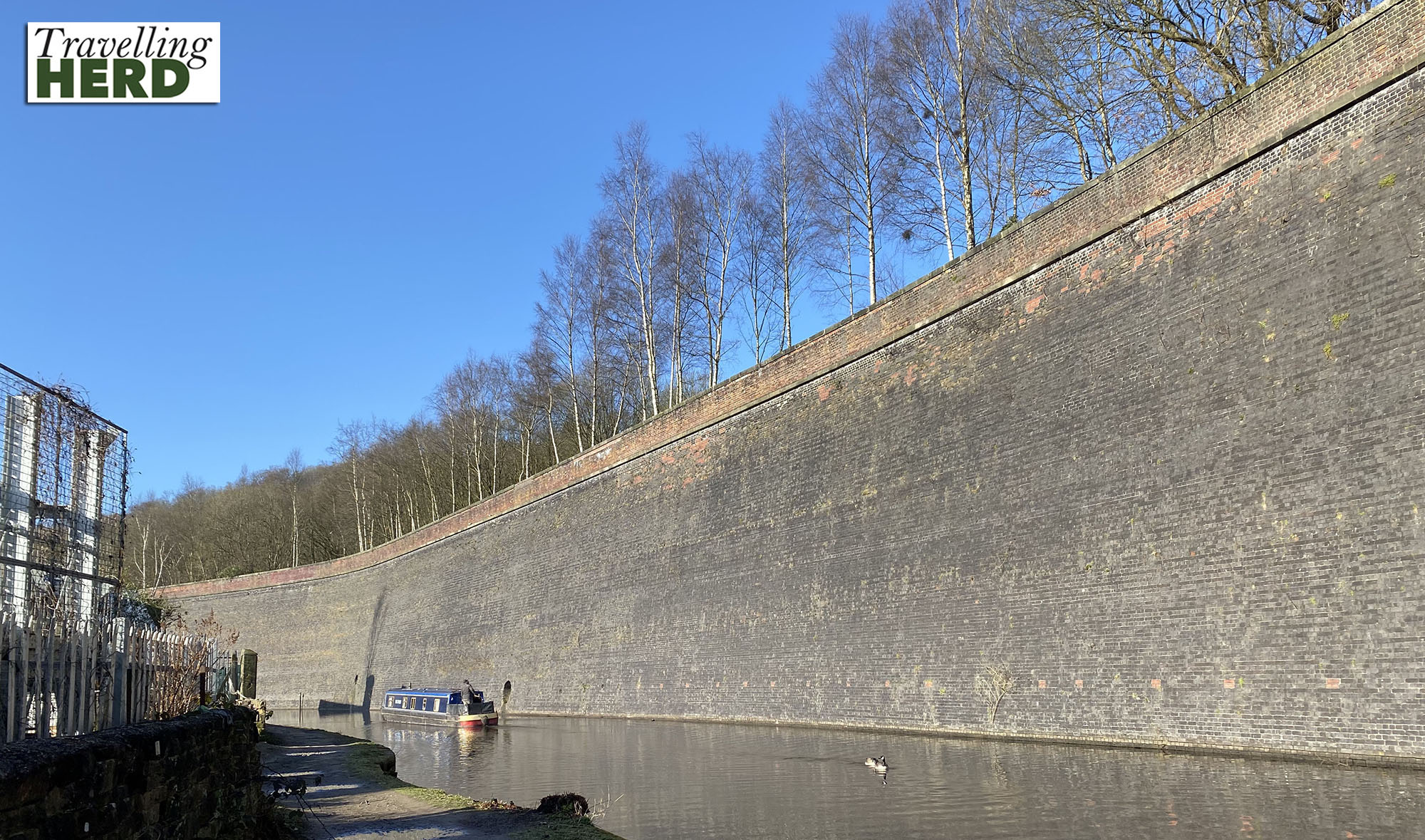 After the Todmorden Guillotine Lock 19 and the Great Wall of Todmorden, we were beginning to realise that hereabouts, the place names are very literal.
Research could not provide the background to Shade Lock No. 21 but presumably it is, at least for some of the time, in the shade. Matilda was particularly impressed by the splendid railway bridge with ornate castellated turrets between Locks 21 and 22. This is apparently called the Skew Bridge which is a term for a bridge with angled arches.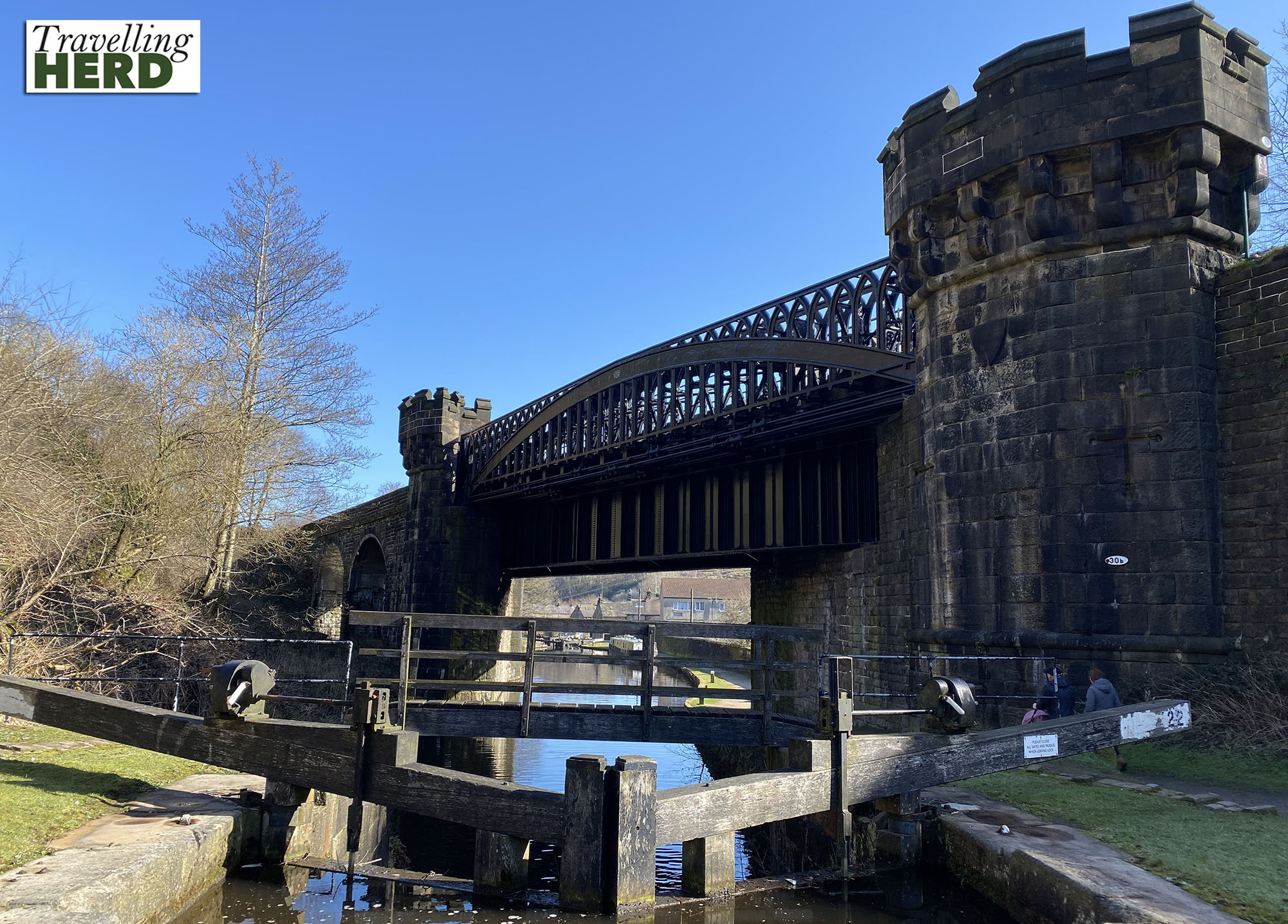 The sun shone and the scenery, as we rose higher, became more and more beautiful. Lightbank Lock No 31 has a cog mechanism for winding the lock gates open and closed which has been unusual for us on this adventure.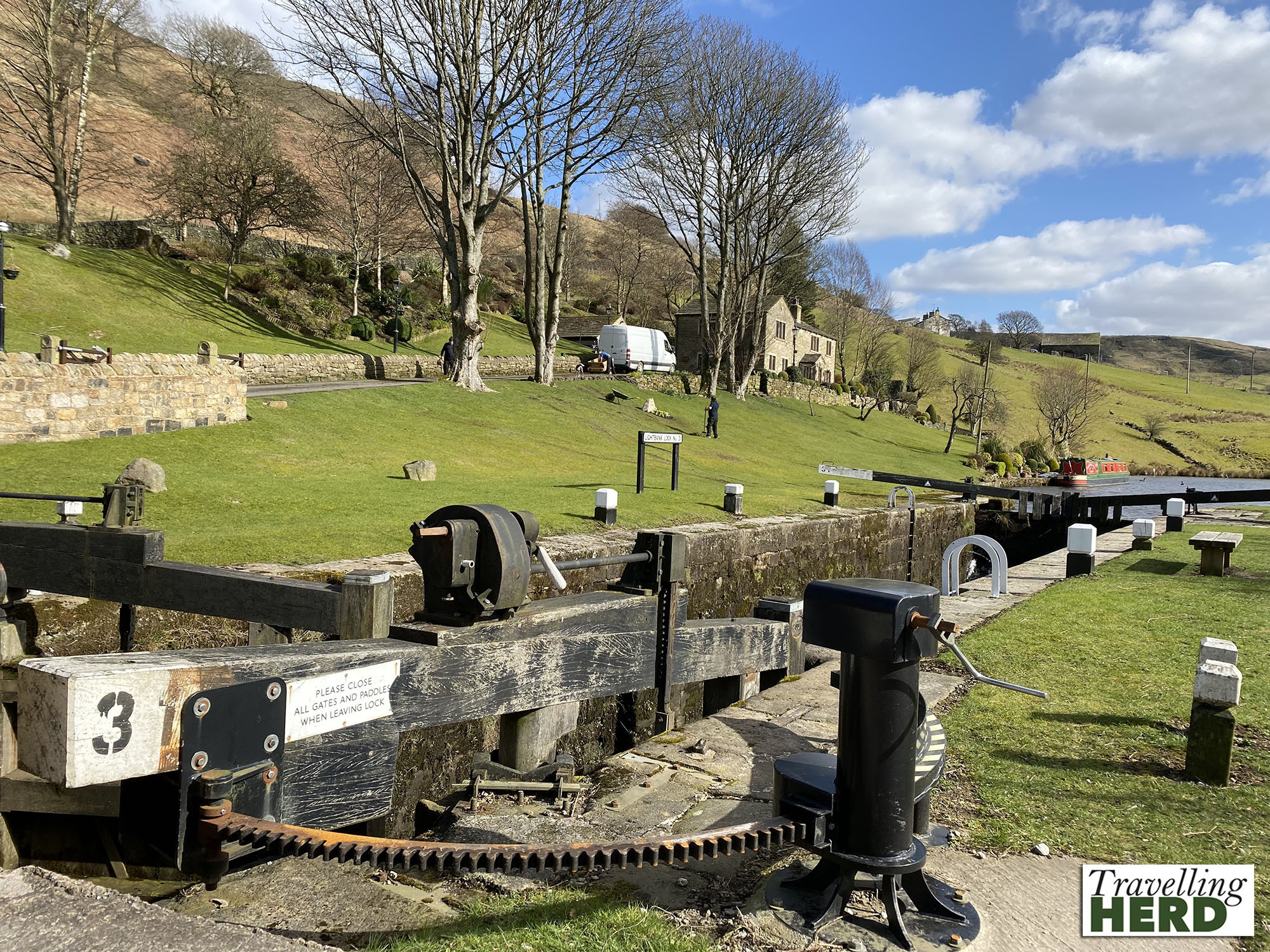 Longlees Lock No 36 marks the summit of the Rochdale Canal and we were helpfully informed that we had arrived.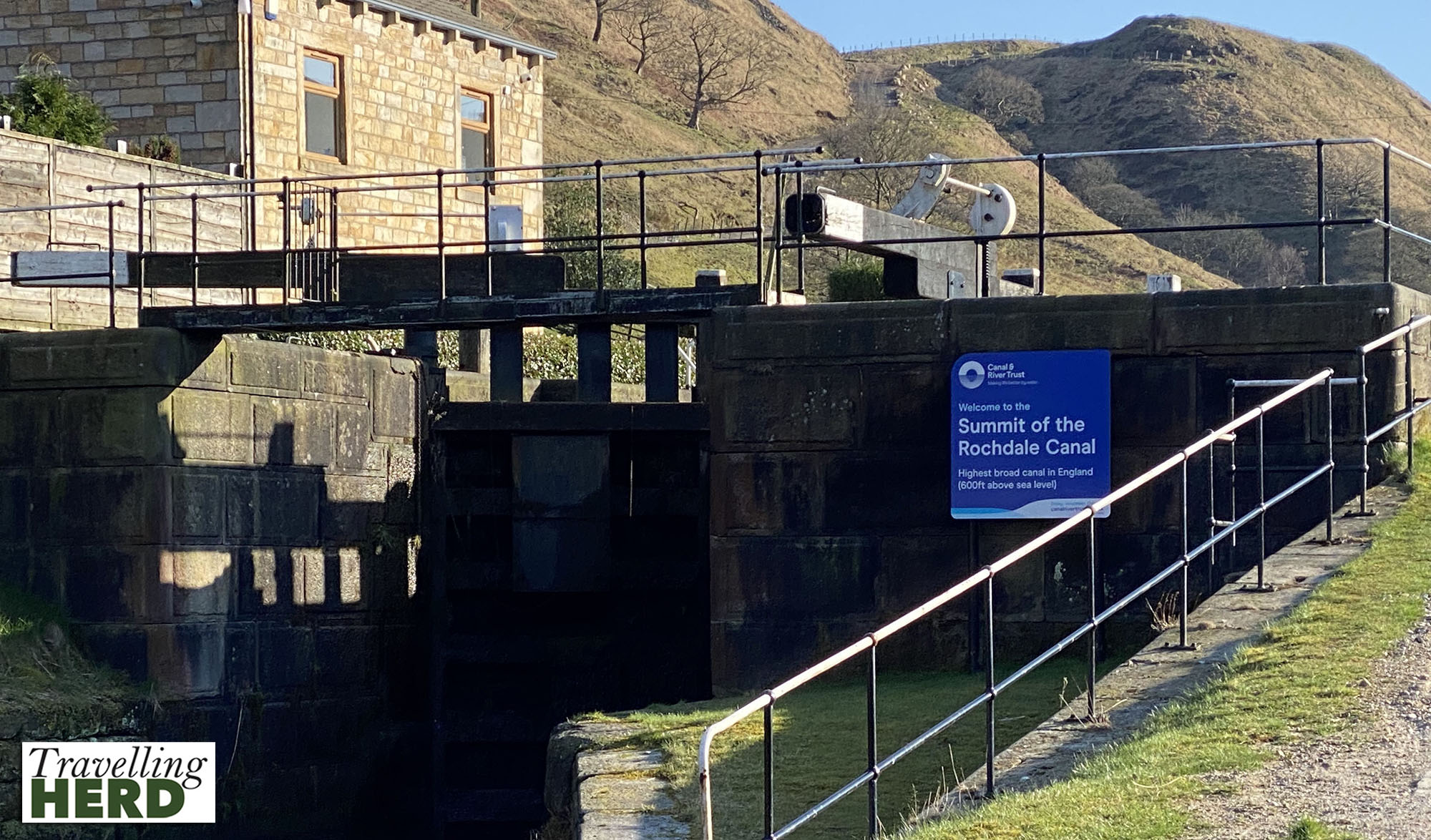 Here, we are at the highest point of the Rochdale Canal, which is the second highest point on any canal in the UK at 600 feet above sea level and the highest point on any wide beam canal. [The highest point is actually the Standedge Tunnel which we went through earlier on this adventure]. The views are certainly fabulous.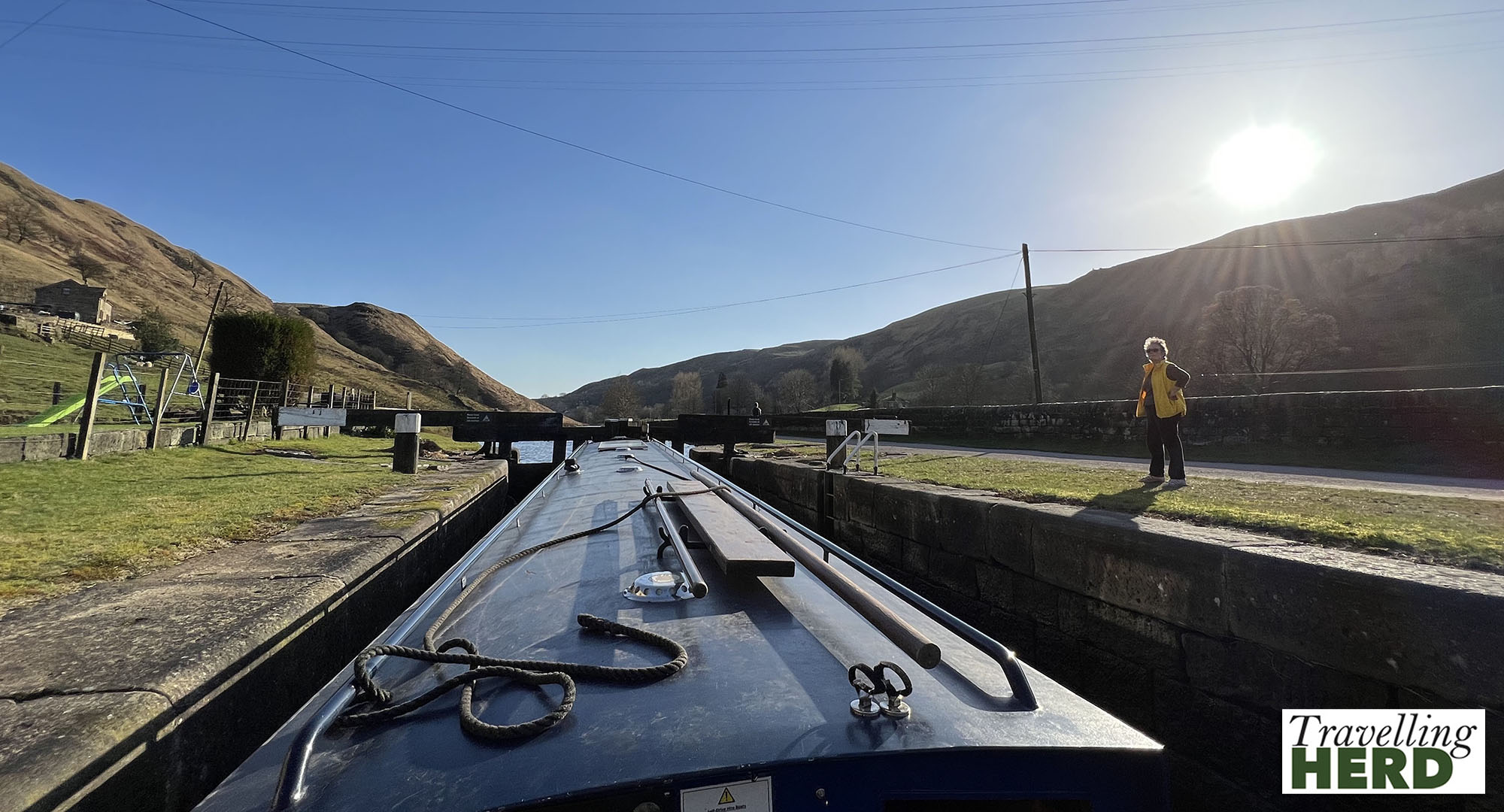 Having reached the highest point on the Rochdale Canal, Robert felt the need to celebrate with a pint in the local pub, The Summit which is . . .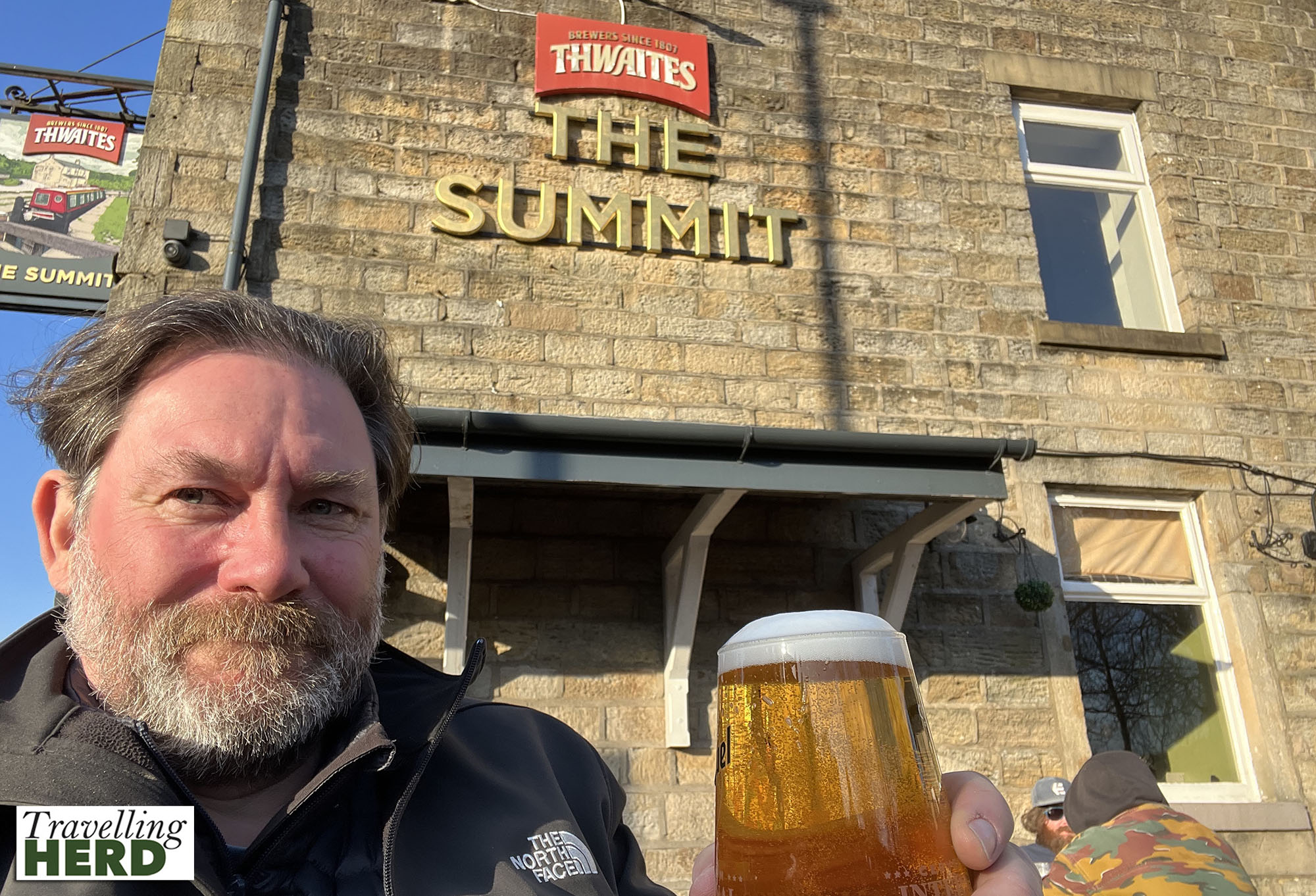 . . . opposite the alpaca farm.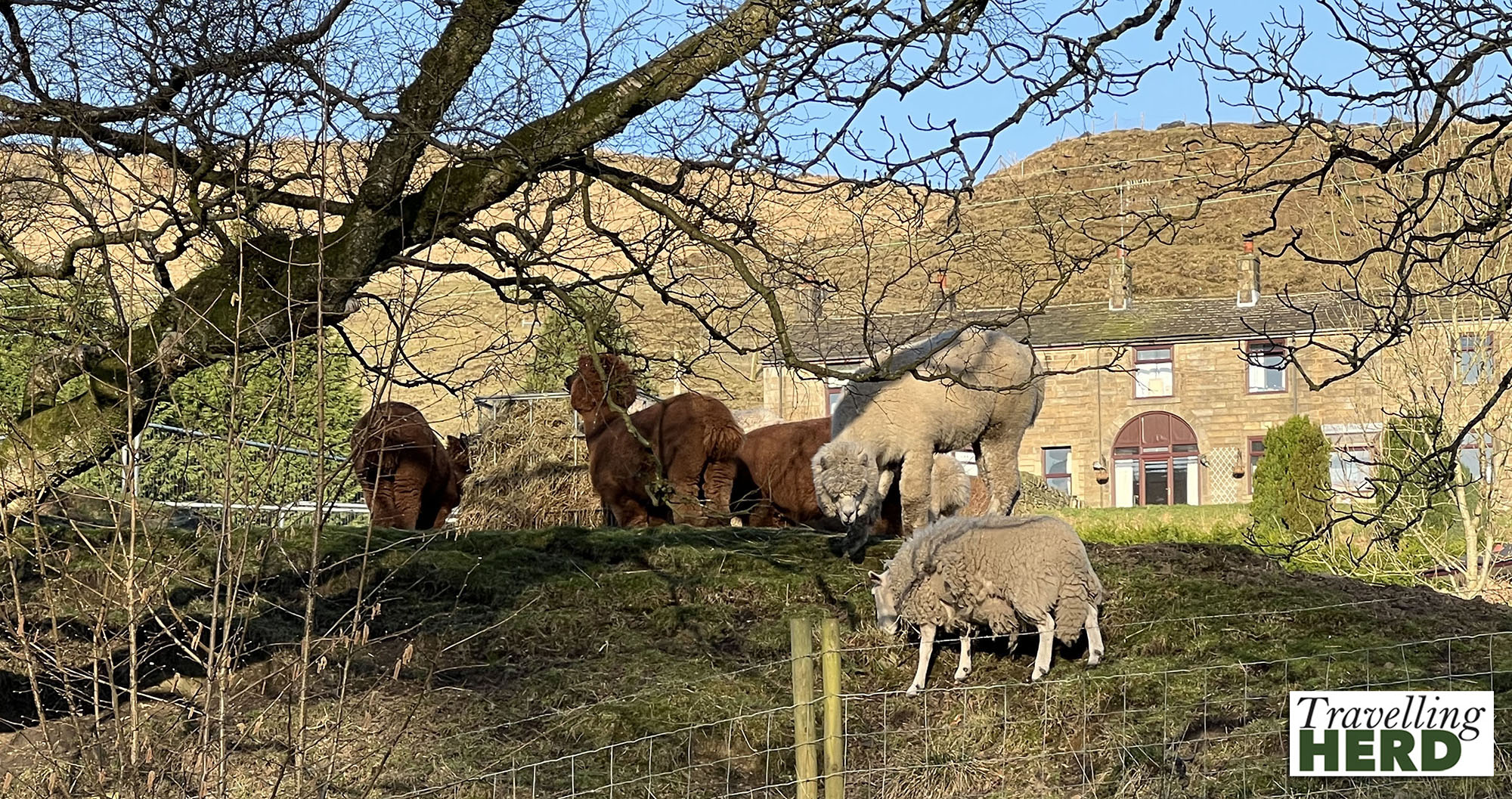 We were the only narrowboat moored here overnight.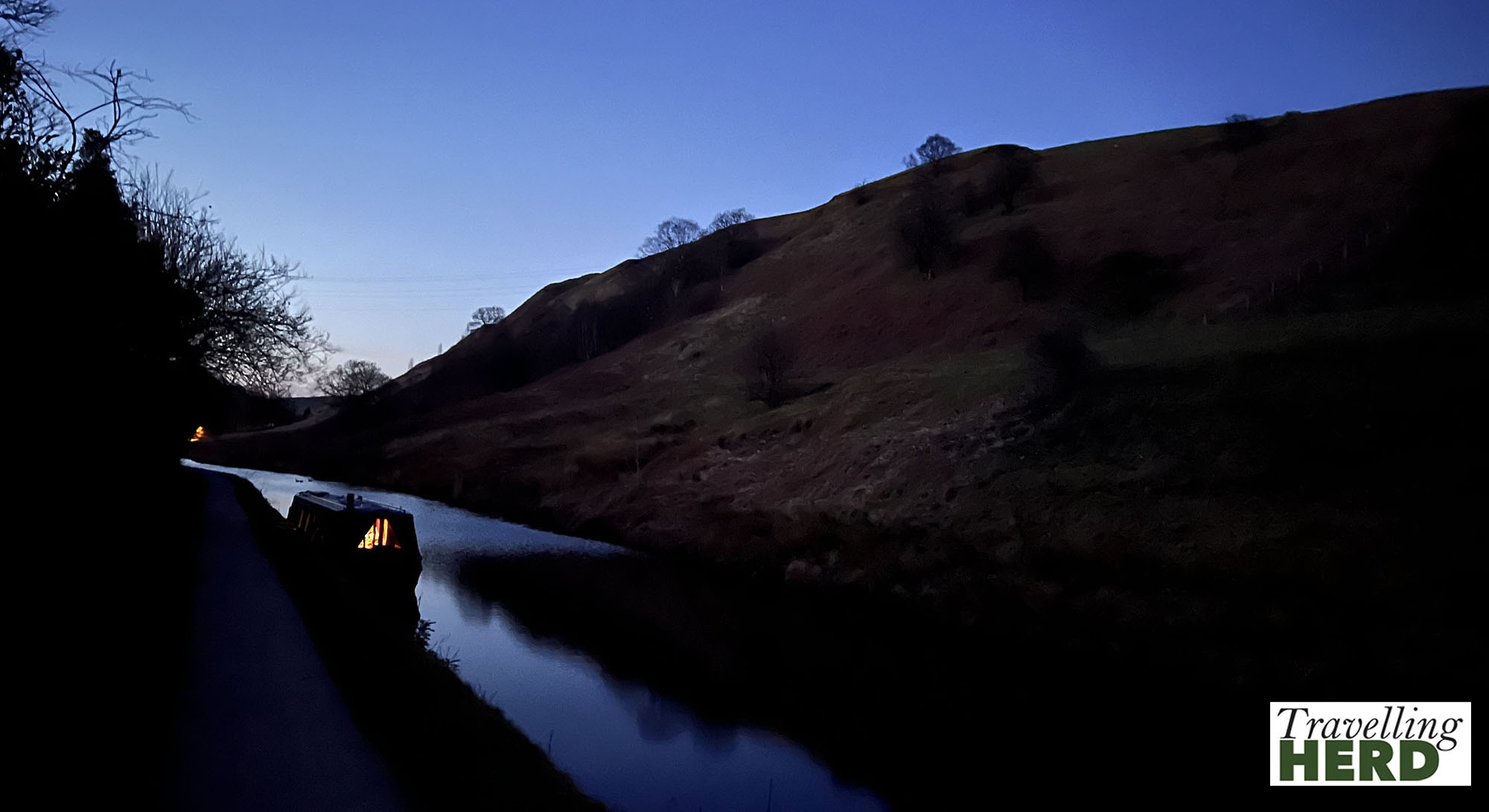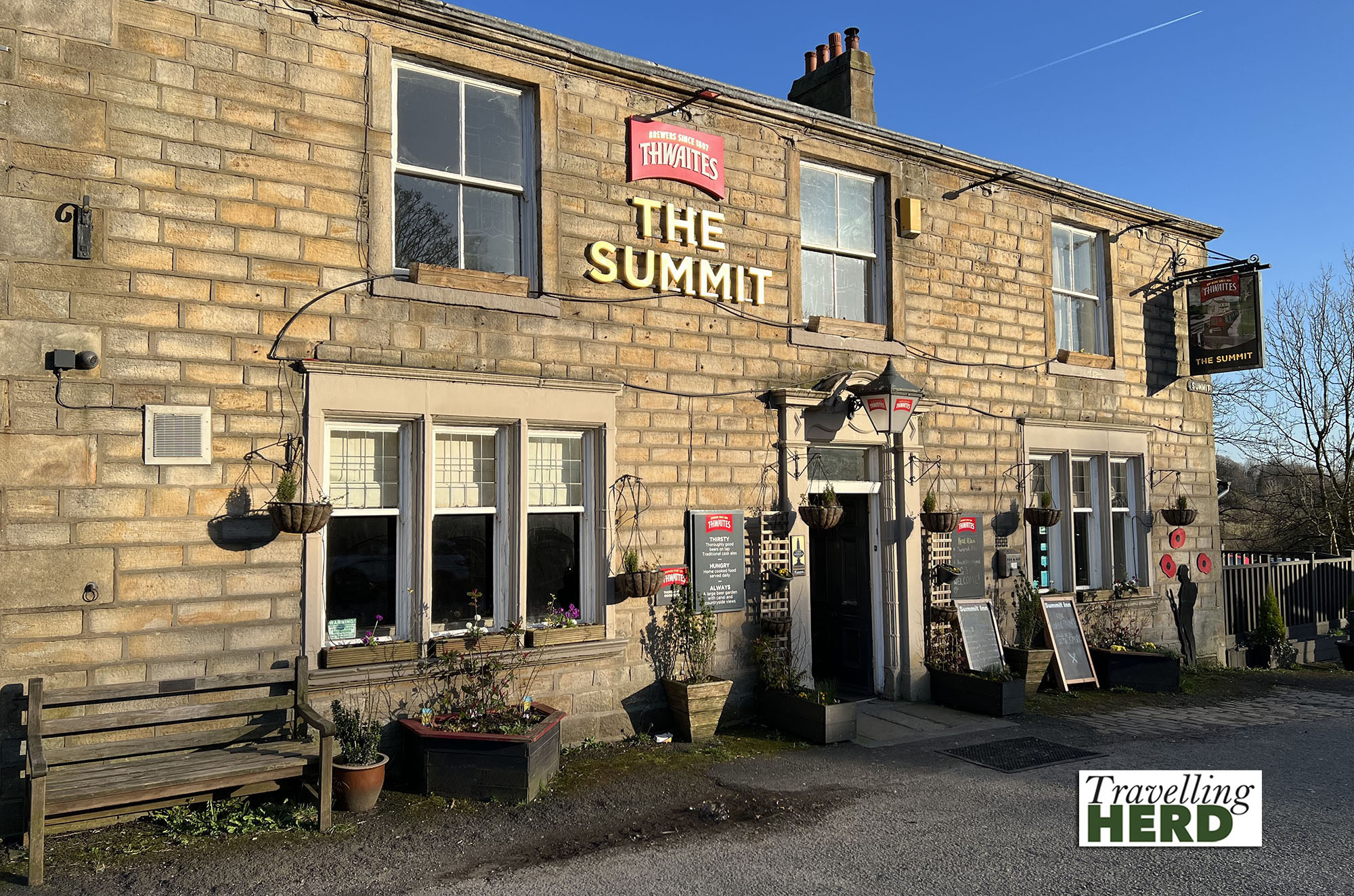 18/03/2022 – Miles: 3.88 – Locks: 18 – 8h0m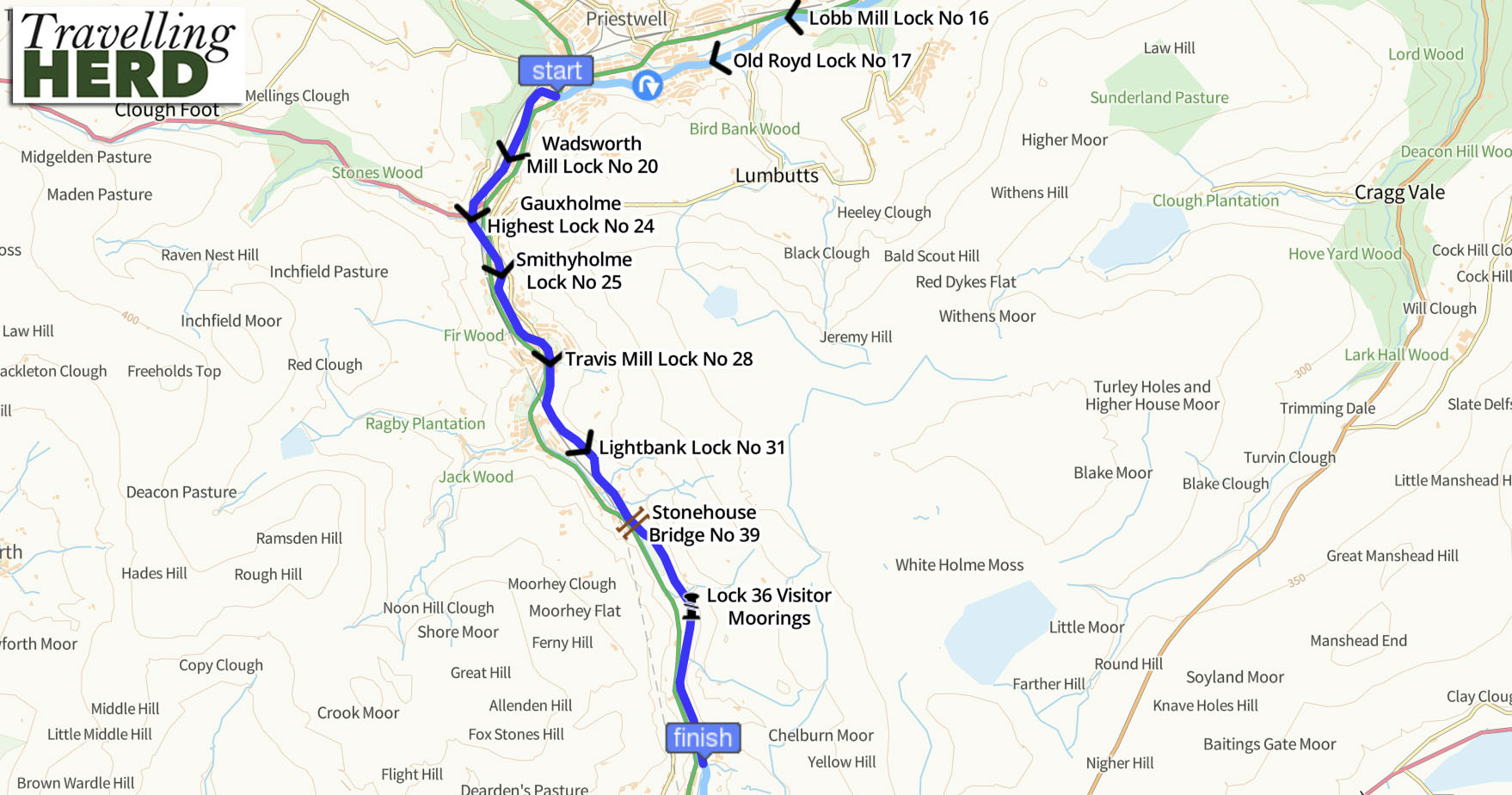 The highest stretch of the Rochdale Canal runs for just 0.8 miles from Longlees Lock No 36 to West Summit Lock No 37. From here it is all downhill to Manchester [in more ways than one].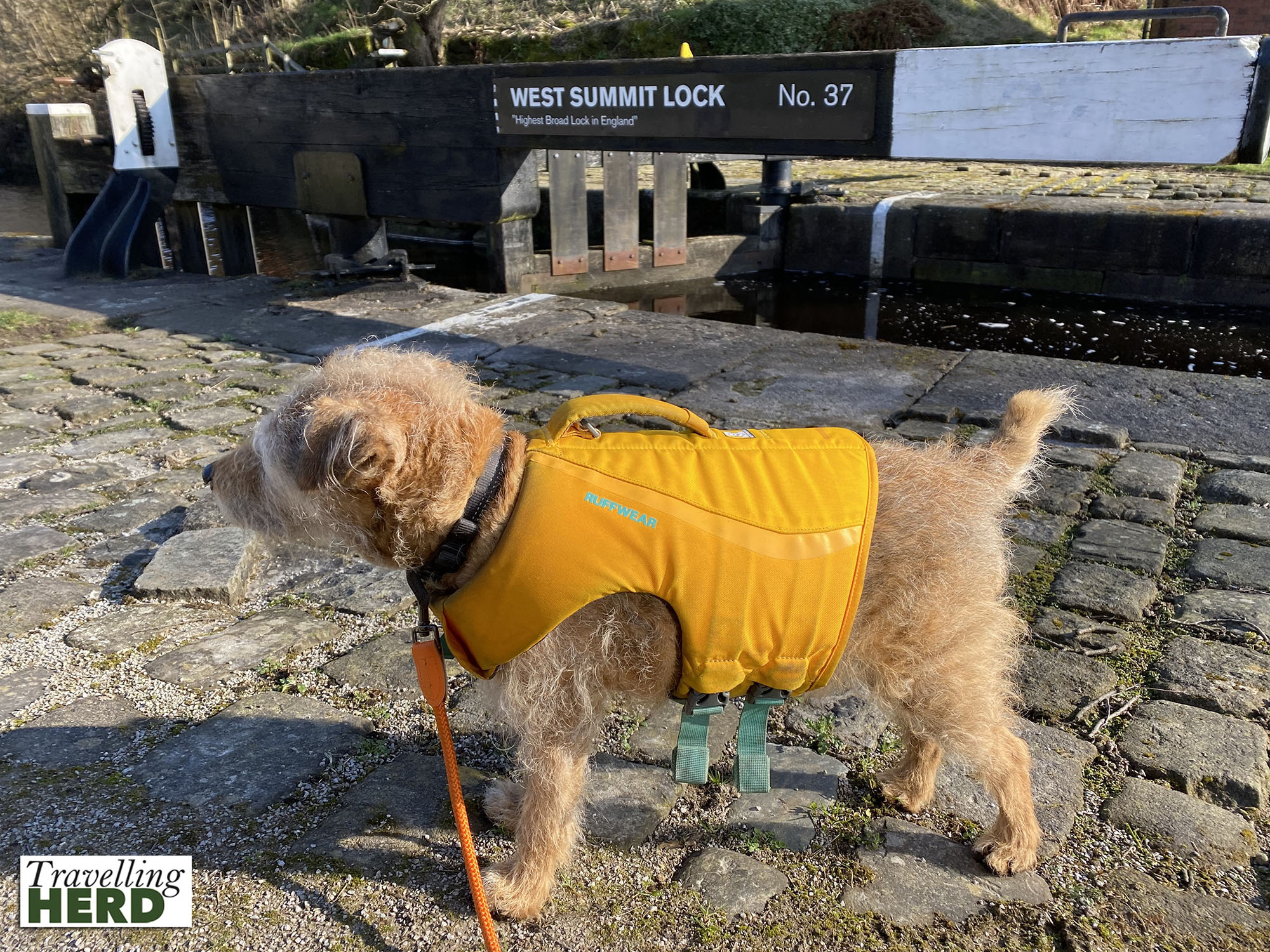 Perhaps predictably, the cluster of dwellings around this brief stretch of canal is called Summit. On our route down the other side we passed through First Below West Summit Lock No 38 and then Second Below West Summit Lock No 39 followed by Punchbowl Lock and Punchbowl Bridge, then First Below Punchbowl Lock 41 and Second Below Punchbowl Lock 42. Matilda decided that there were benefits to this style of place name as at least you know exactly where you are and it makes it easier to keep track of progress on the journey.
Further on, Robert looped the rope round a bollard and the rotten wood gave way. We were pleased we were not actually dependent on being able to hold the boat securely at this point.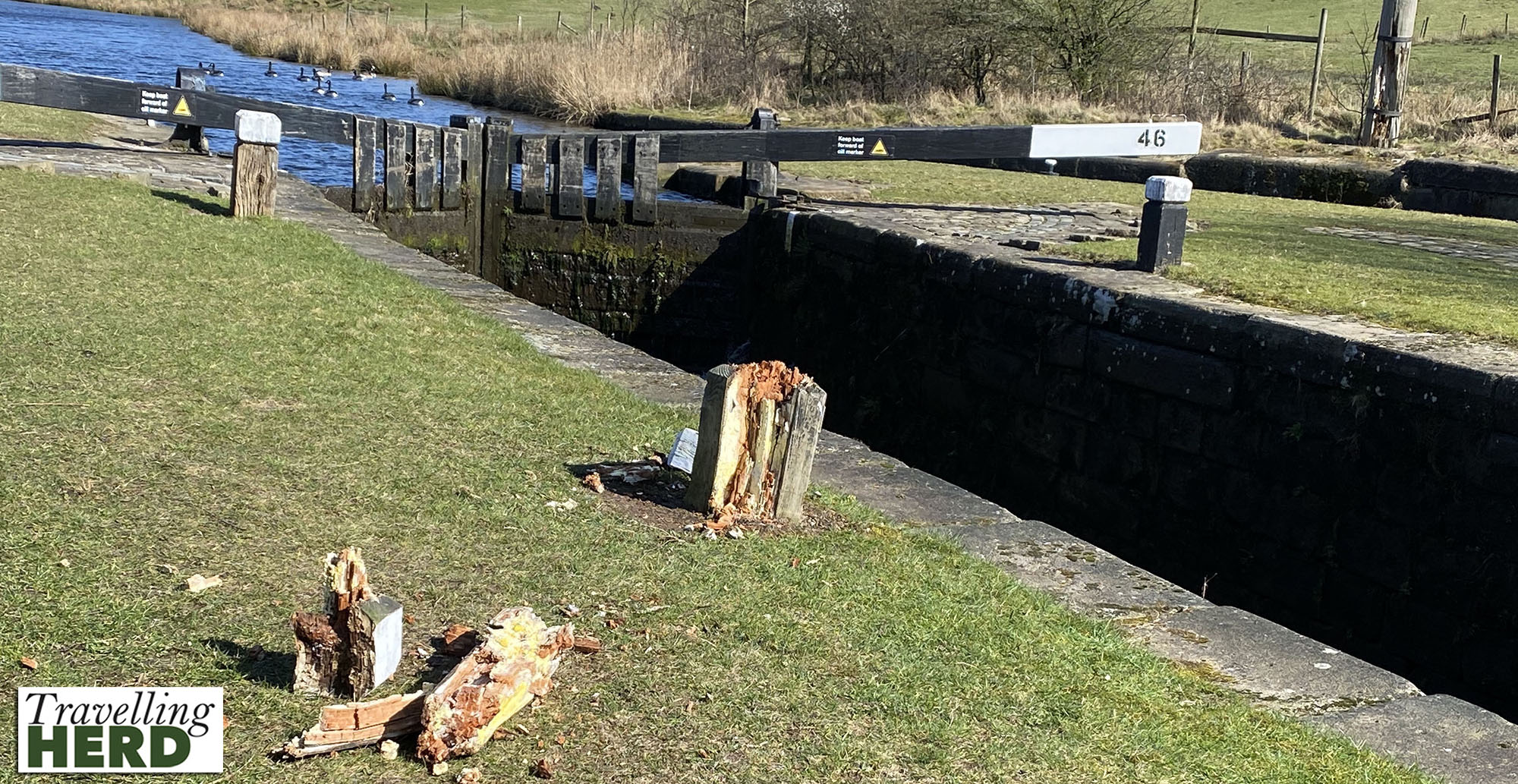 As we passed from Yorkshire to Lancashire, through Little Clegg Swing Bridge, we were watched by a mother and her excited young son who had never seen the swing bridge in operation before.
A gentleman transporting heavy goods back to his narrowboat in a wheelbarrow also stopped to chat. He, as others had, warned us about "bandit country" – the stretch of canal between Chadderton and Islington Marina, in central Manchester, which is notorious for thefts, vandalism, and for the state of the canal and towpath.
He also told us about the The Hippy Boat which had gone on before us to Littleborough and had booked volunteer help through the Canal and River Trust to go though "bandit country" on Wednesday, in case we wanted to travel with them. Robert felt we could not afford to wait but would need to go it alone.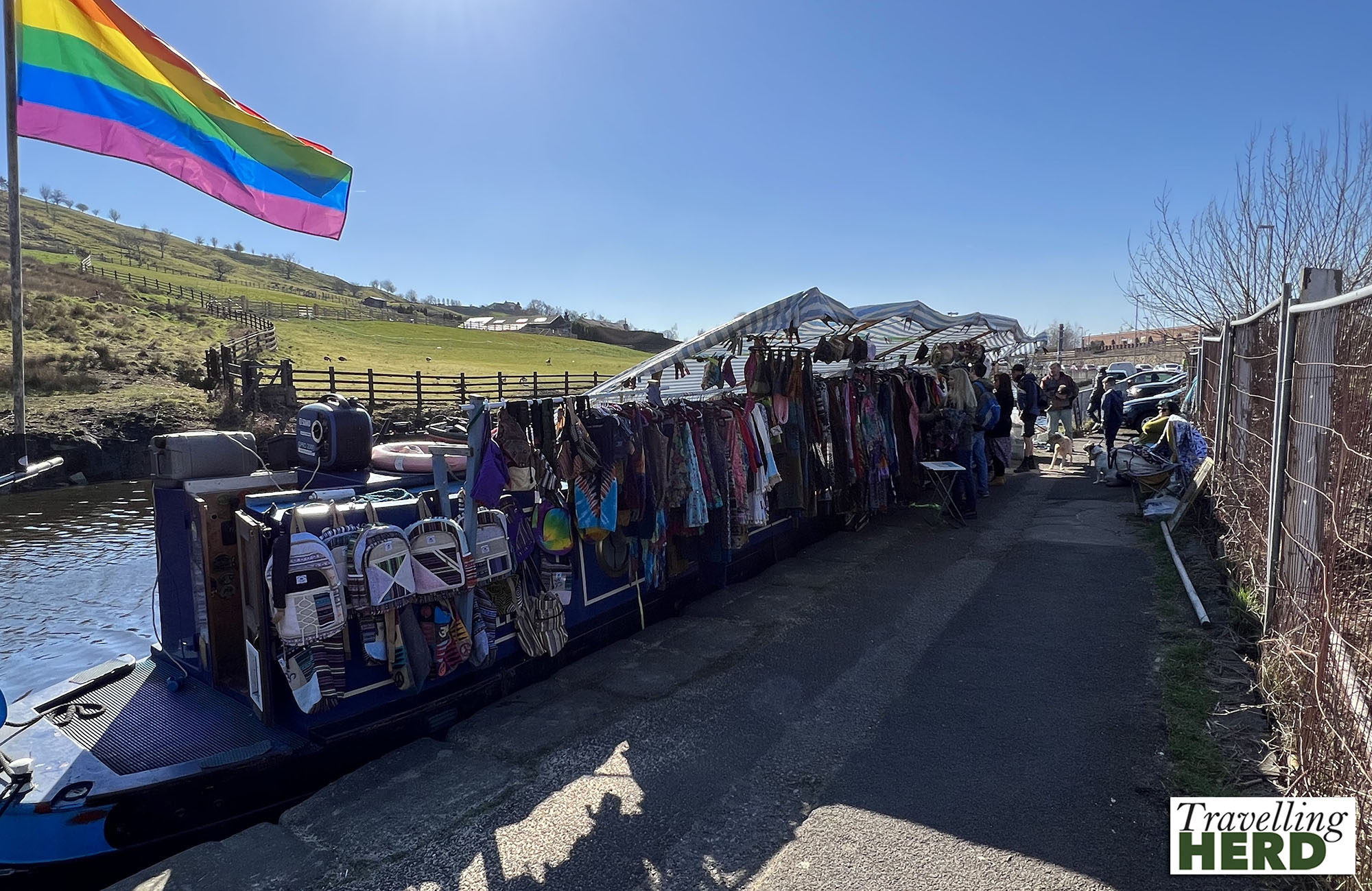 When we got to Littleborough, one of our crew members seemed to have overdone it and was to be found napping in the sunshine on the towpath.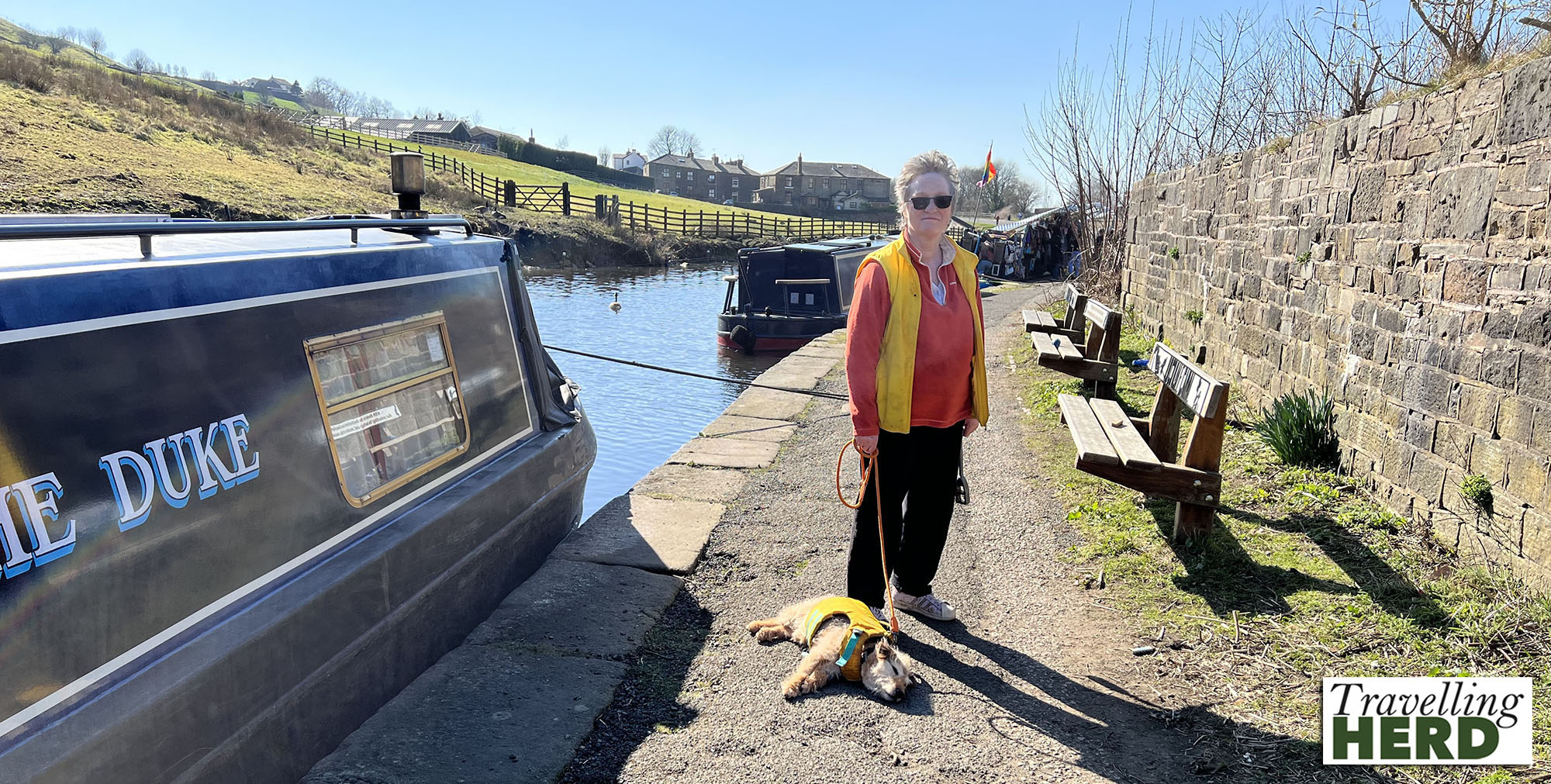 Robert was pleased to arrive in Littleborough in time to watch the Six Nations and found a place where he could enjoy the matches.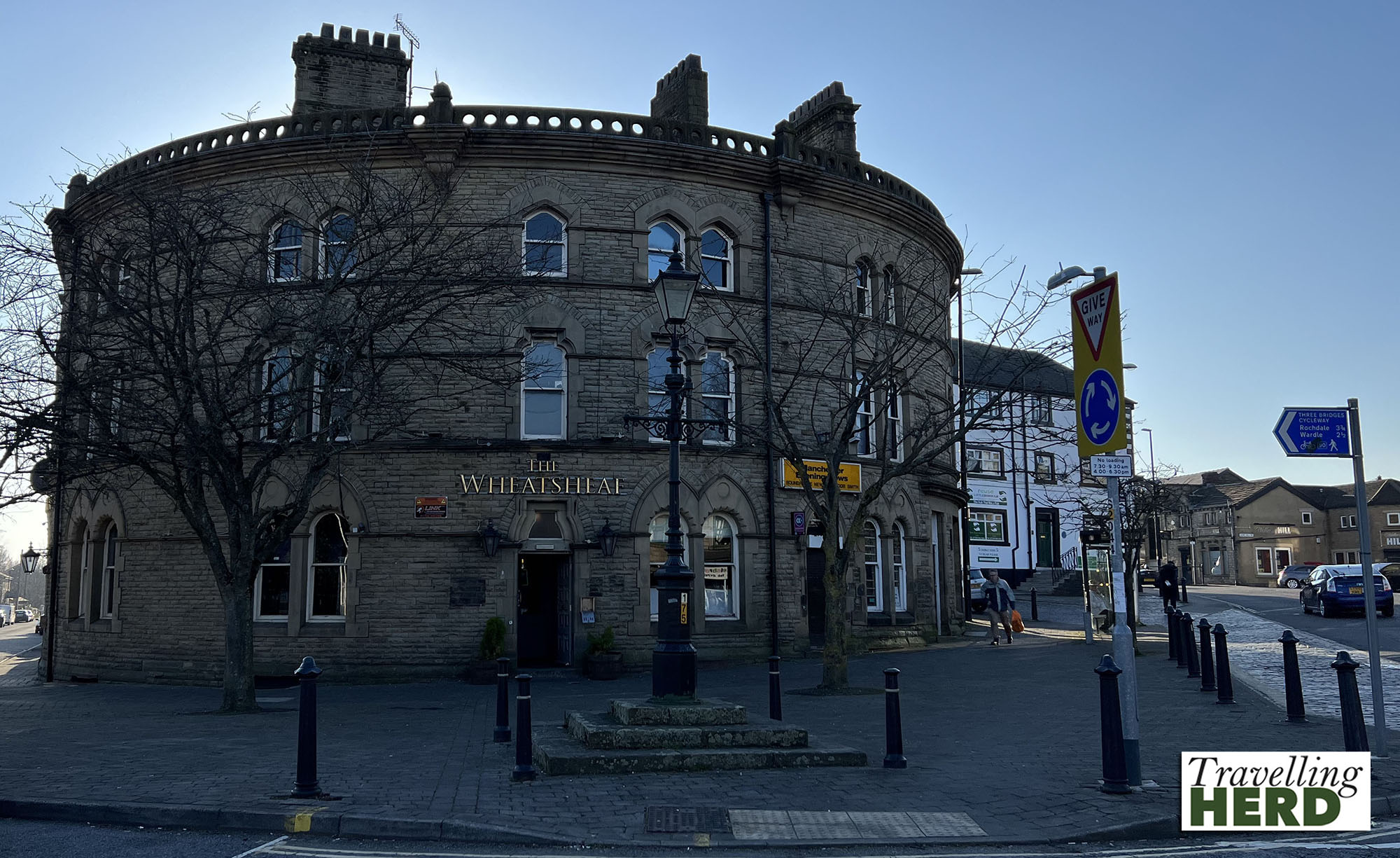 19/03/2022 – Miles: 1.94 – Locks: 11 – 4h30m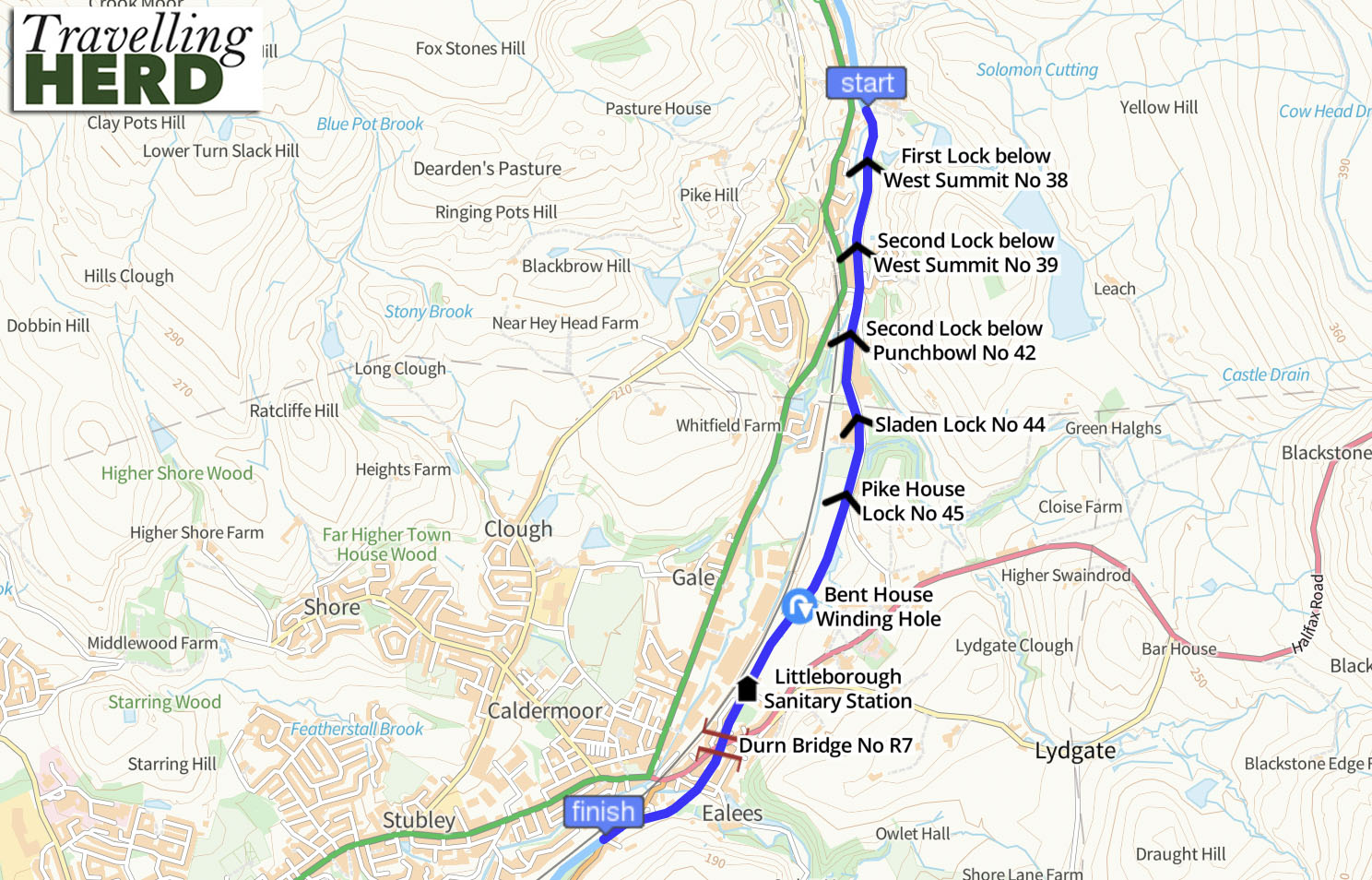 We were delighted to be joined on Sunday by Martin who had kindly agreed to help us through a long day of locks. Ralf is missing Sue and Henry and is having trouble adjusting to us being a crew of two again, wanting more attention than we can give to him when there are locks to open and close.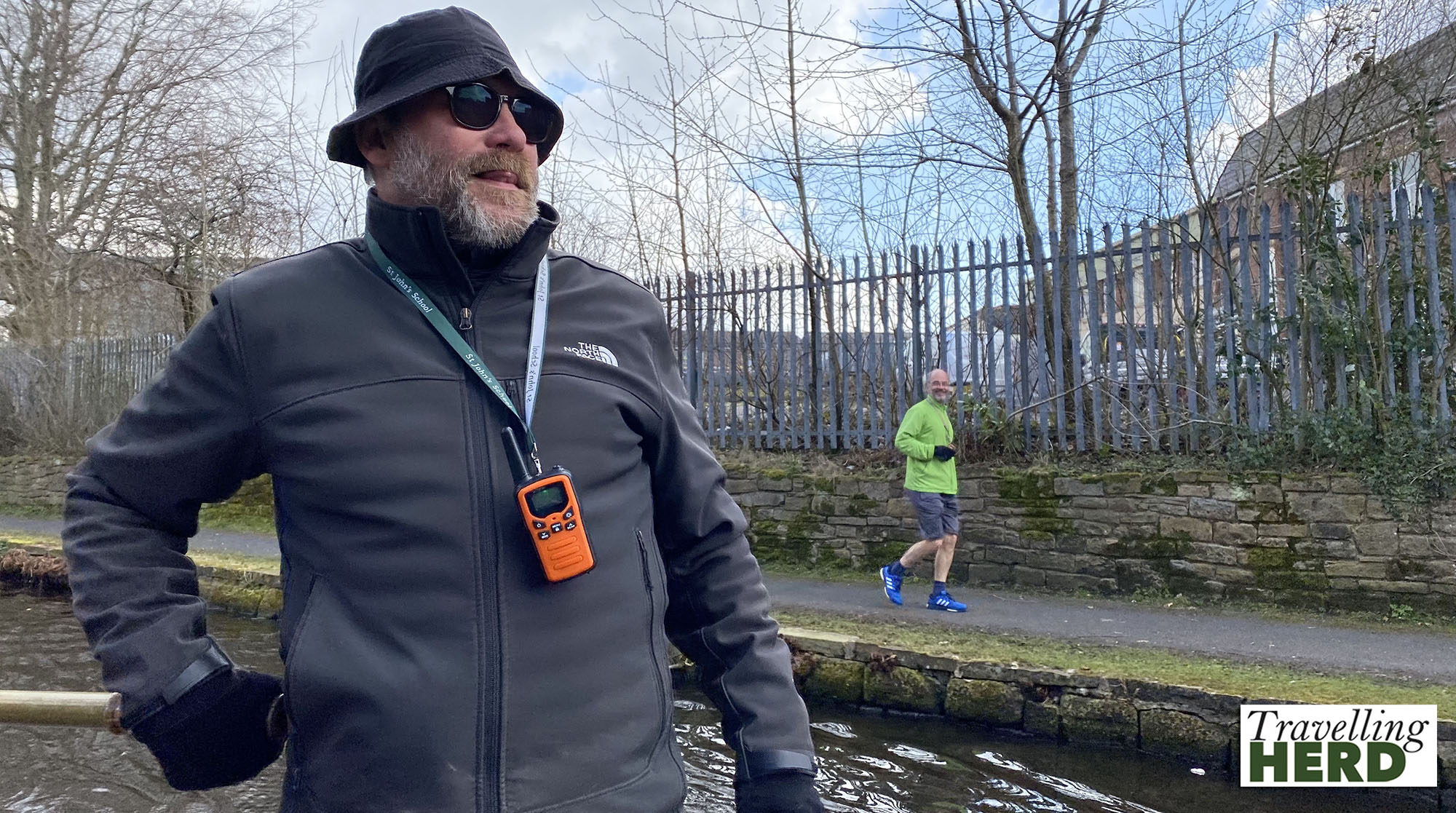 Martin was a great help and really entered into the spirit of canal cameraderie.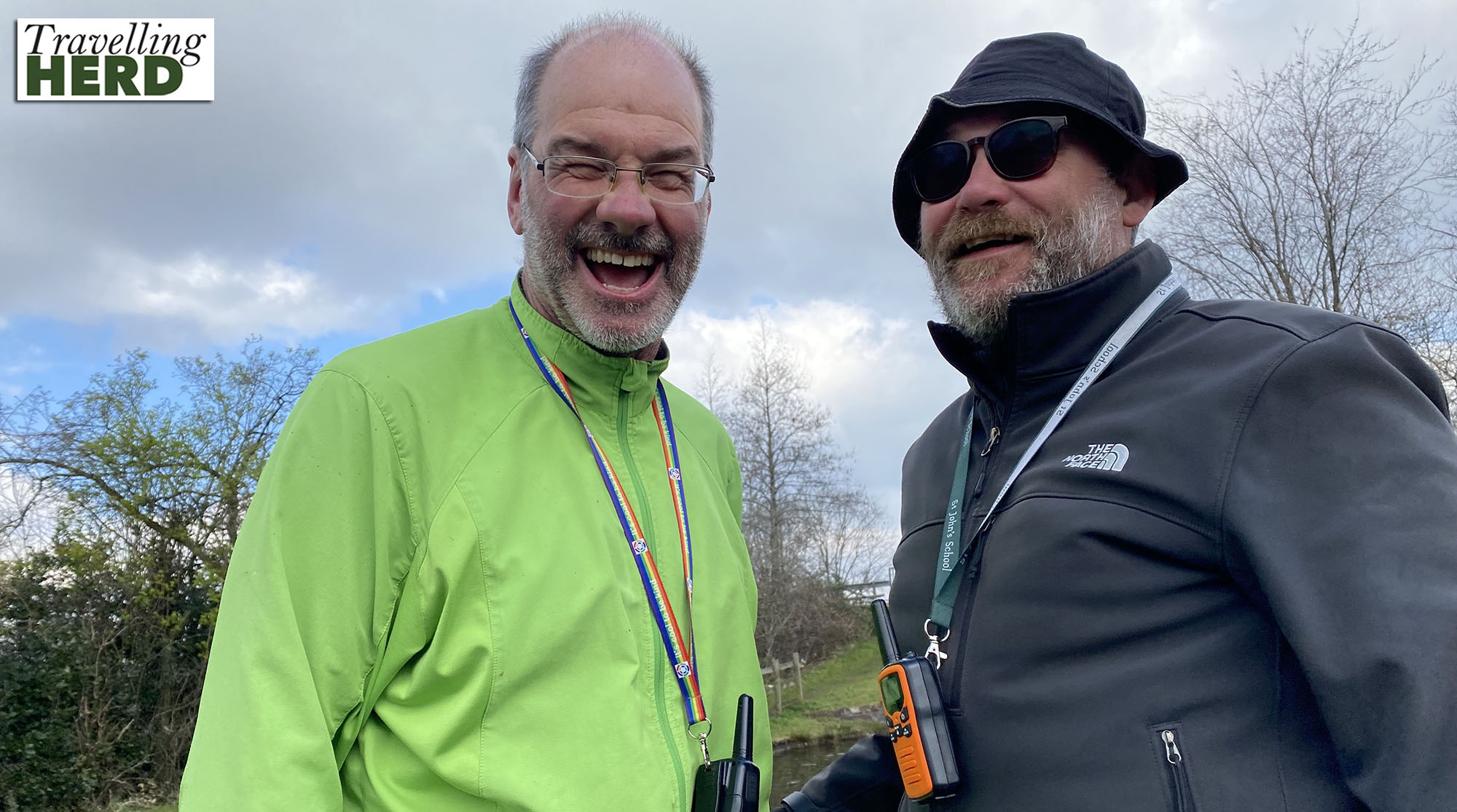 Liz had dropped him and his bicycle off and stayed for a short while before her other social engagements took precedence.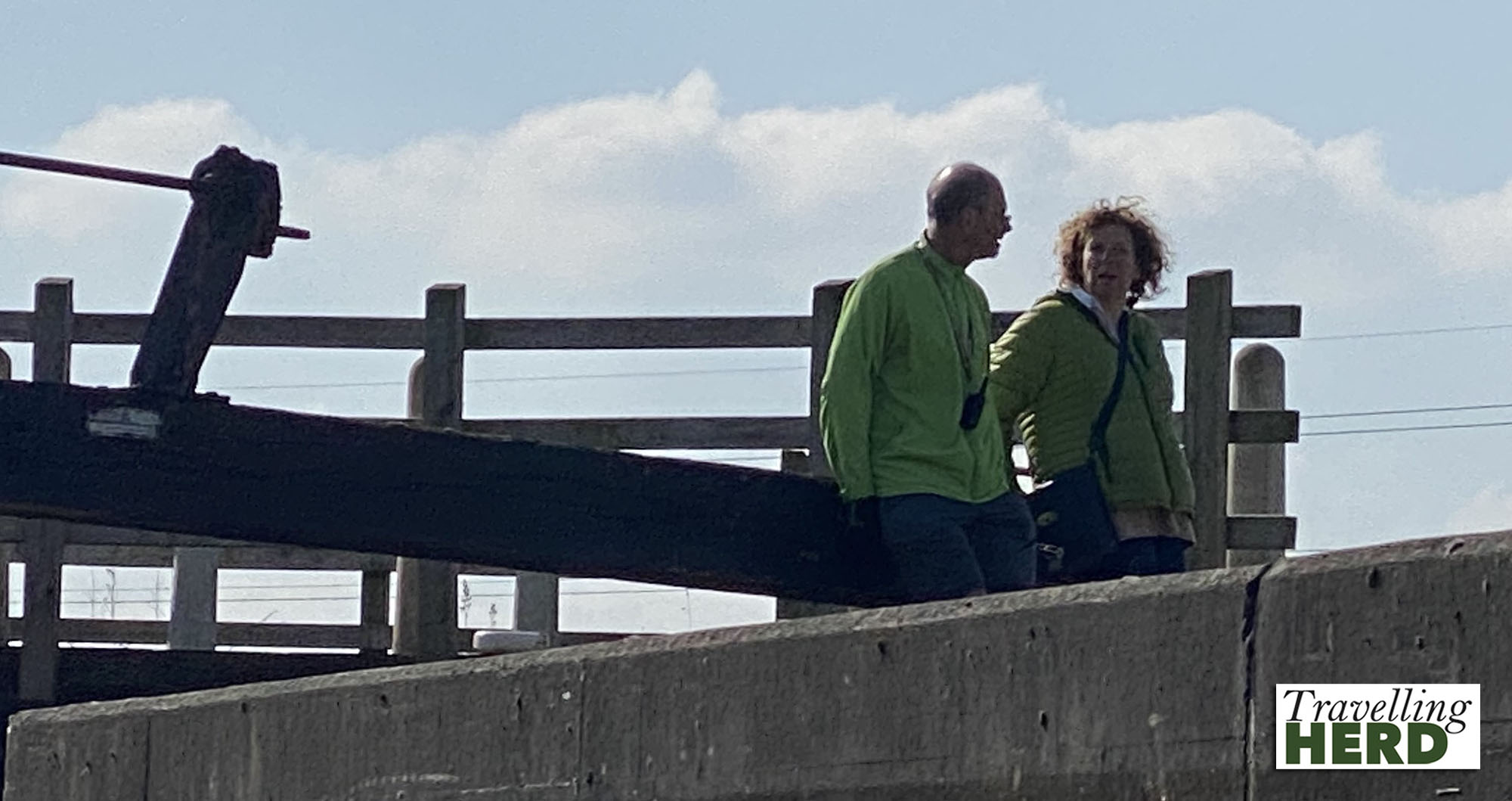 Martin particularly enjoyed his traffic stopping moment at the Grimshaw Lane Vertical Lift Bridge.
Matilda did not find this shiny modern bridge nearly as unnerving as the guillotine locks.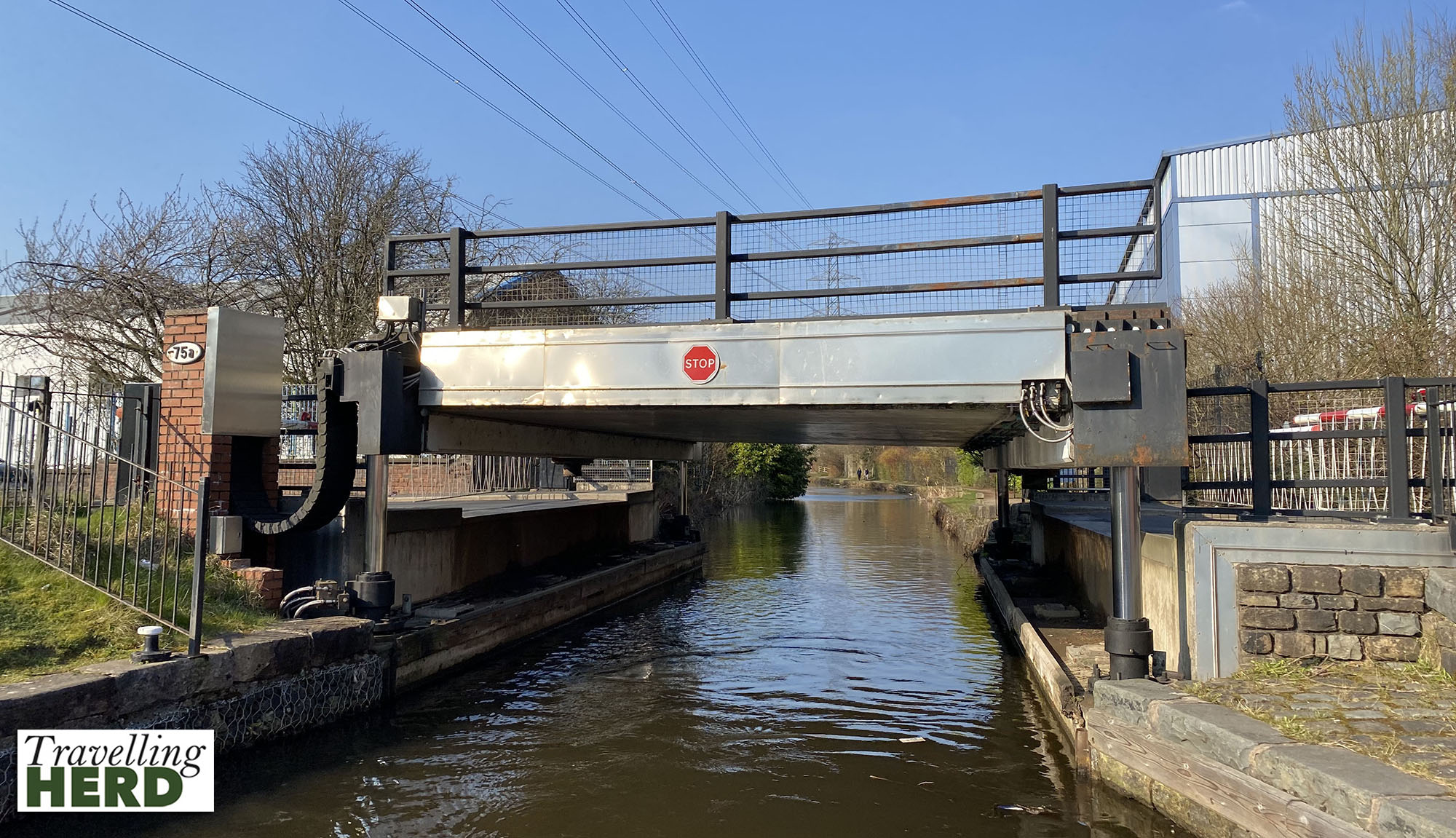 Martin graciously allowed Robert to buy him a pint [or more] as a small token of our immense gratitude before cycling along the towpath home and sending us photos of the water levels at various points on our route forwards. Kind and helpful as always.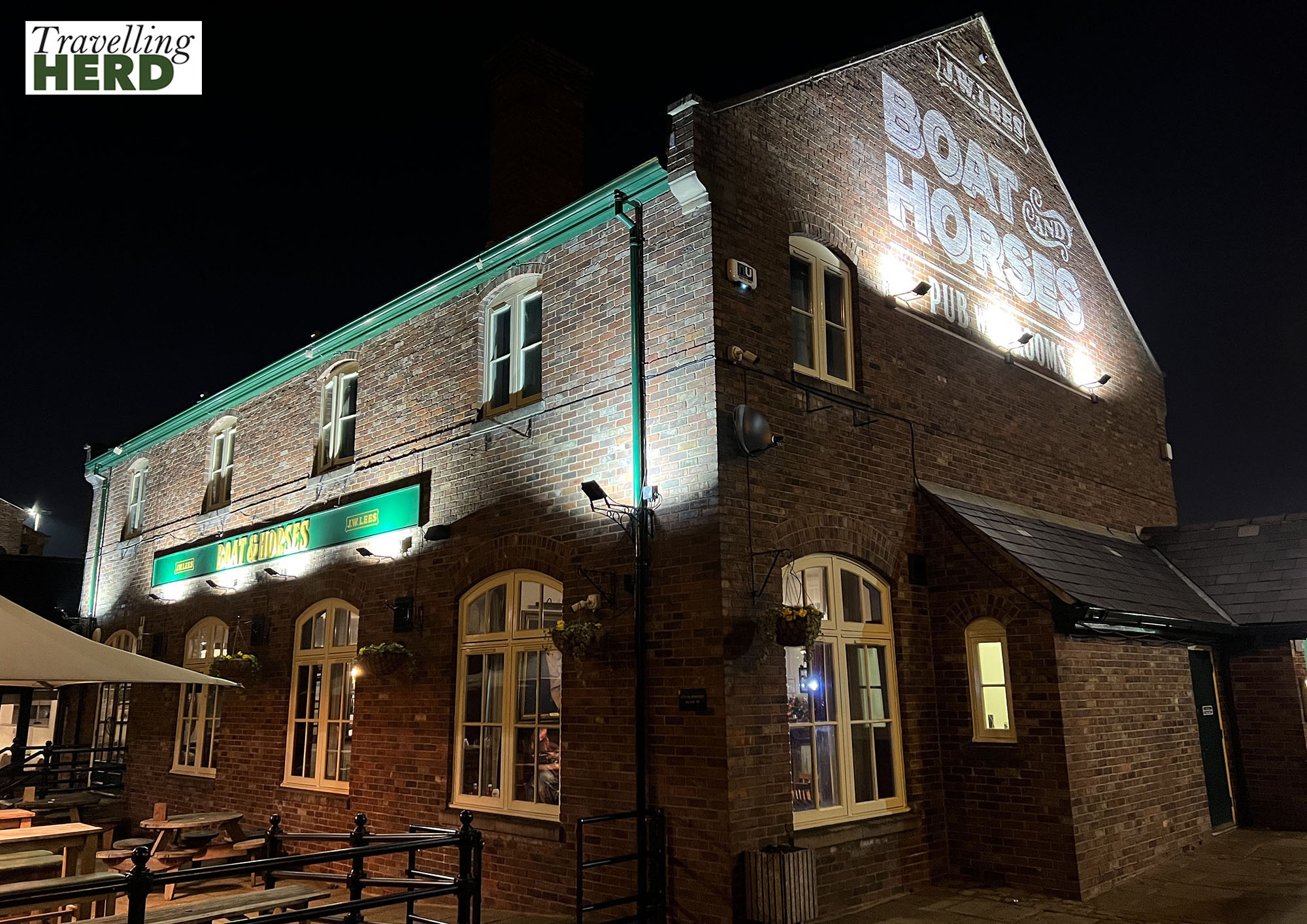 20/03/2022 – Miles: 9.16 – Locks: 16 – 7h0m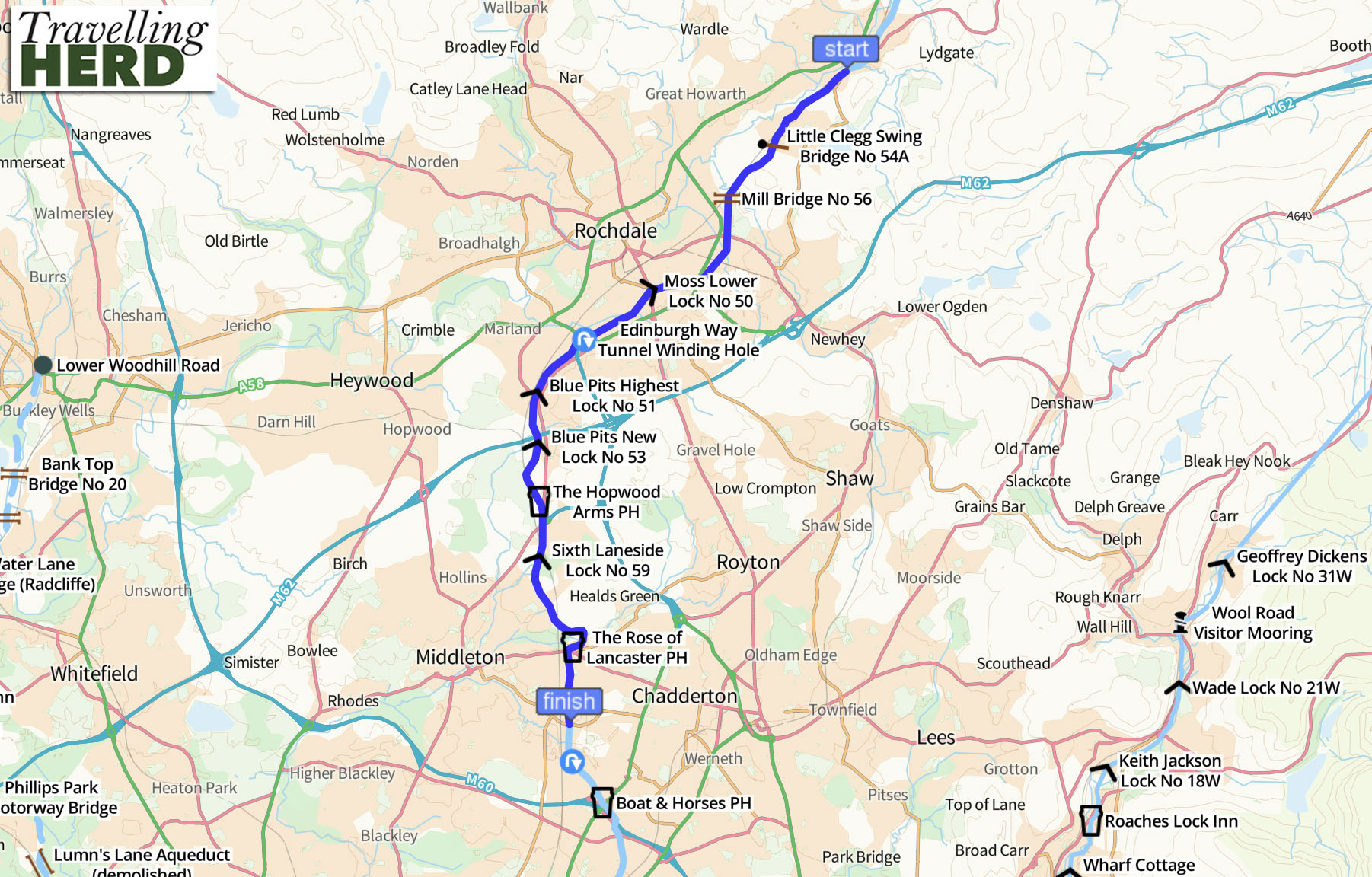 Route Map:
Days: 33 – Miles: 231.22 – Locks: 304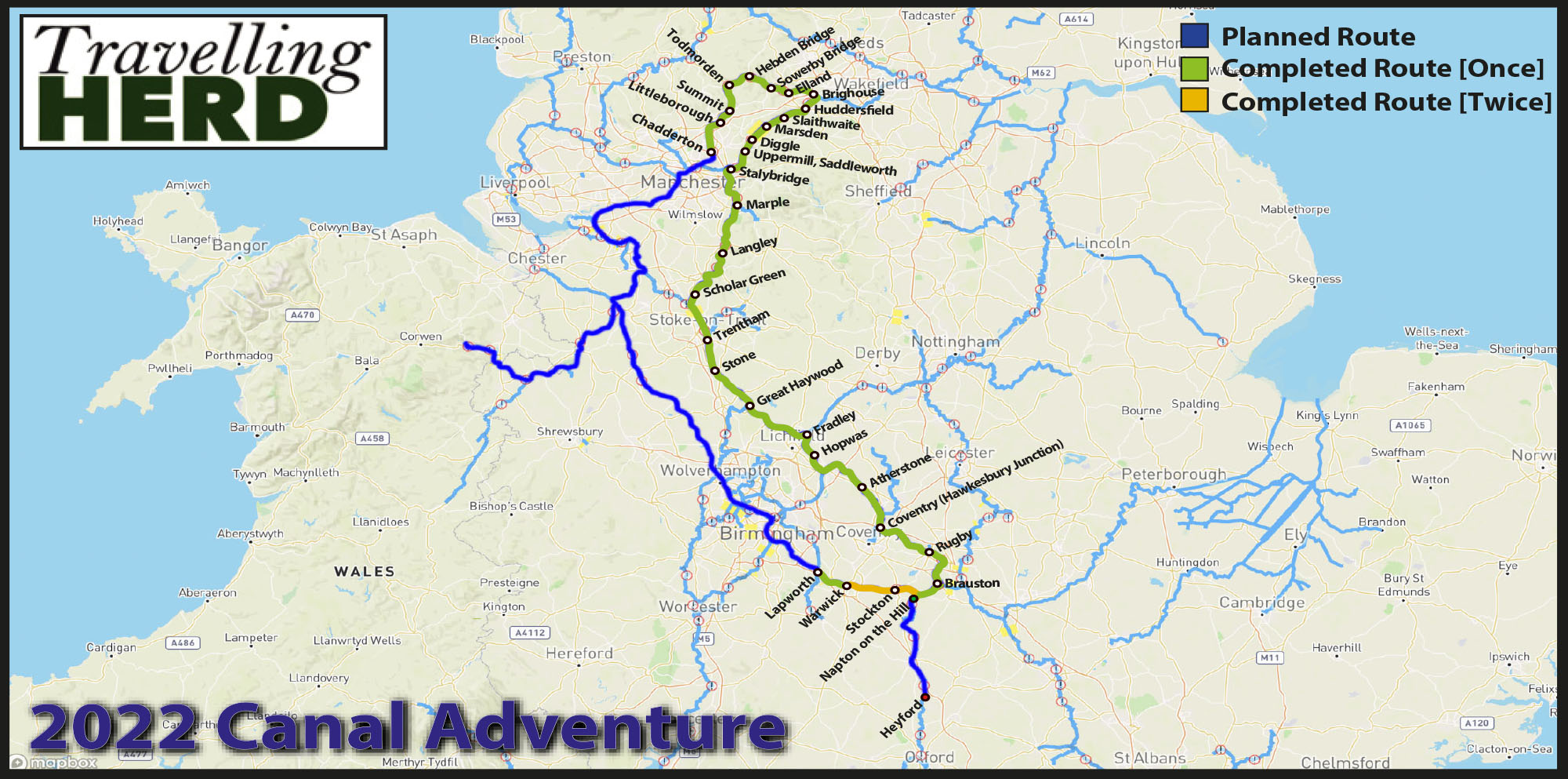 Video of the day:
Selfie of the day: