Thursday 3rd to Saturday 5th March 2022
Having booked our transit through the Standedge Tunnel, we now had to ensure that we reached Diggle in time. We knew this would involve some long days travelling and plenty of locks.
Day 16 started well as Martin kindly picked Matilda up, took her to his house to use the newly installed shower and then to do some grocery shopping before we set off. The Macclesfield Canal took us past the mill where the wheat was originally ground to make Hovis bread between 1898 and 1904. When milling had to be moved to larger premises, the old mill became the site where the paper wrappers were made.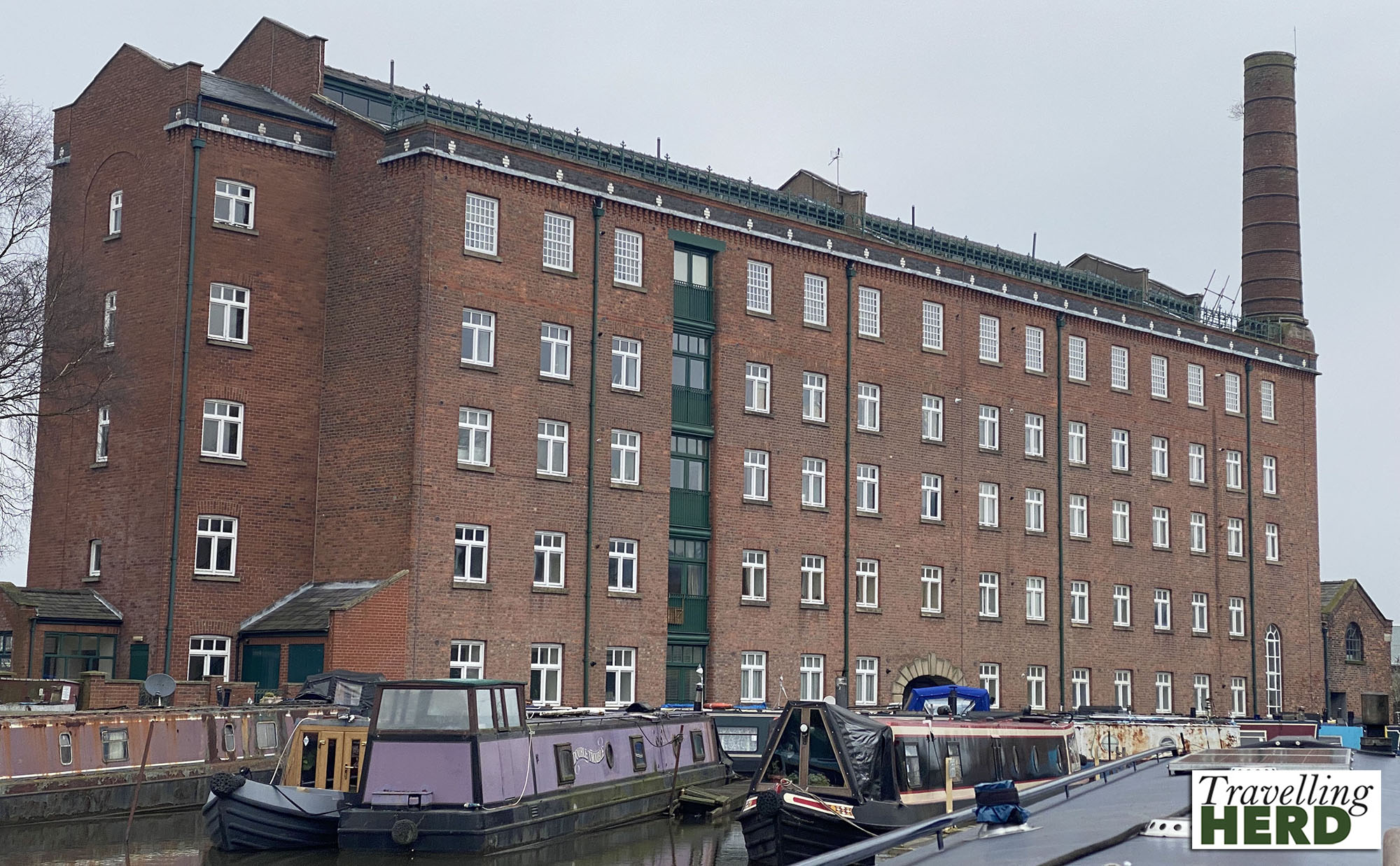 Now converted into apartments, you can still see the archway which led to the wharf where boats could unload their cargo under cover directly into the mill.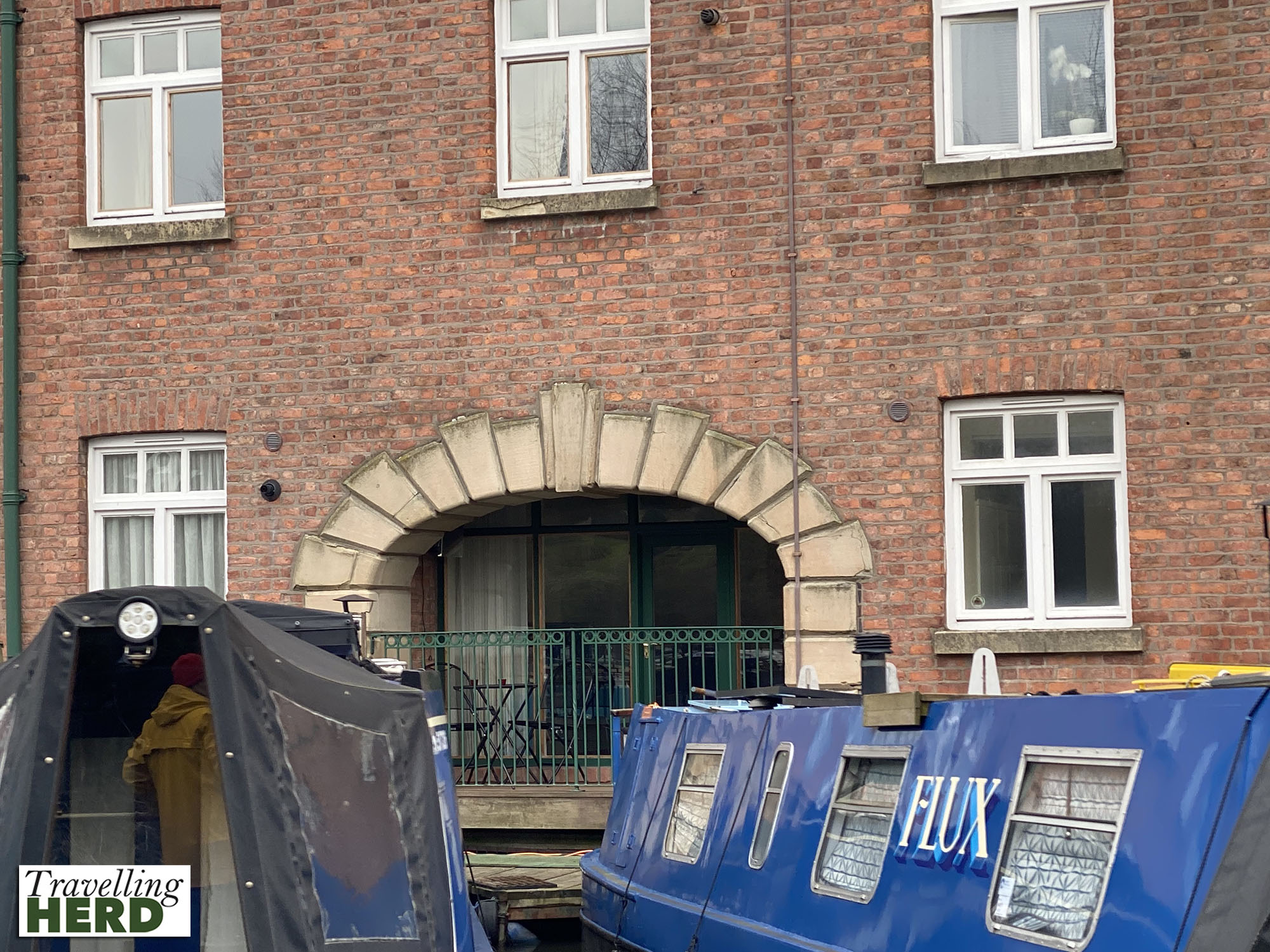 And so began our eight hour journey.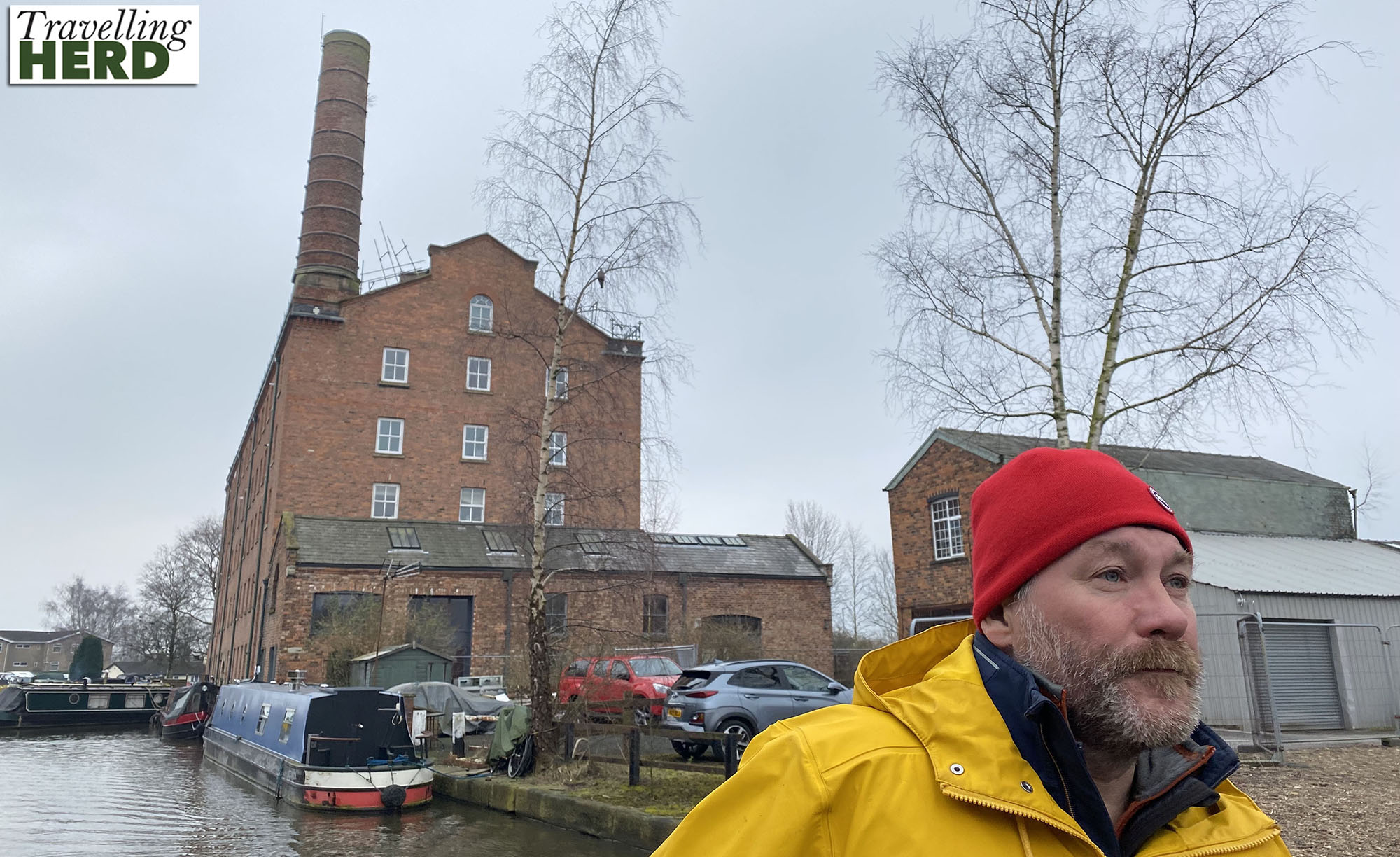 The Puss in Boots commands a prime canal side position and would be a good spot for an evening sundowner by the canal.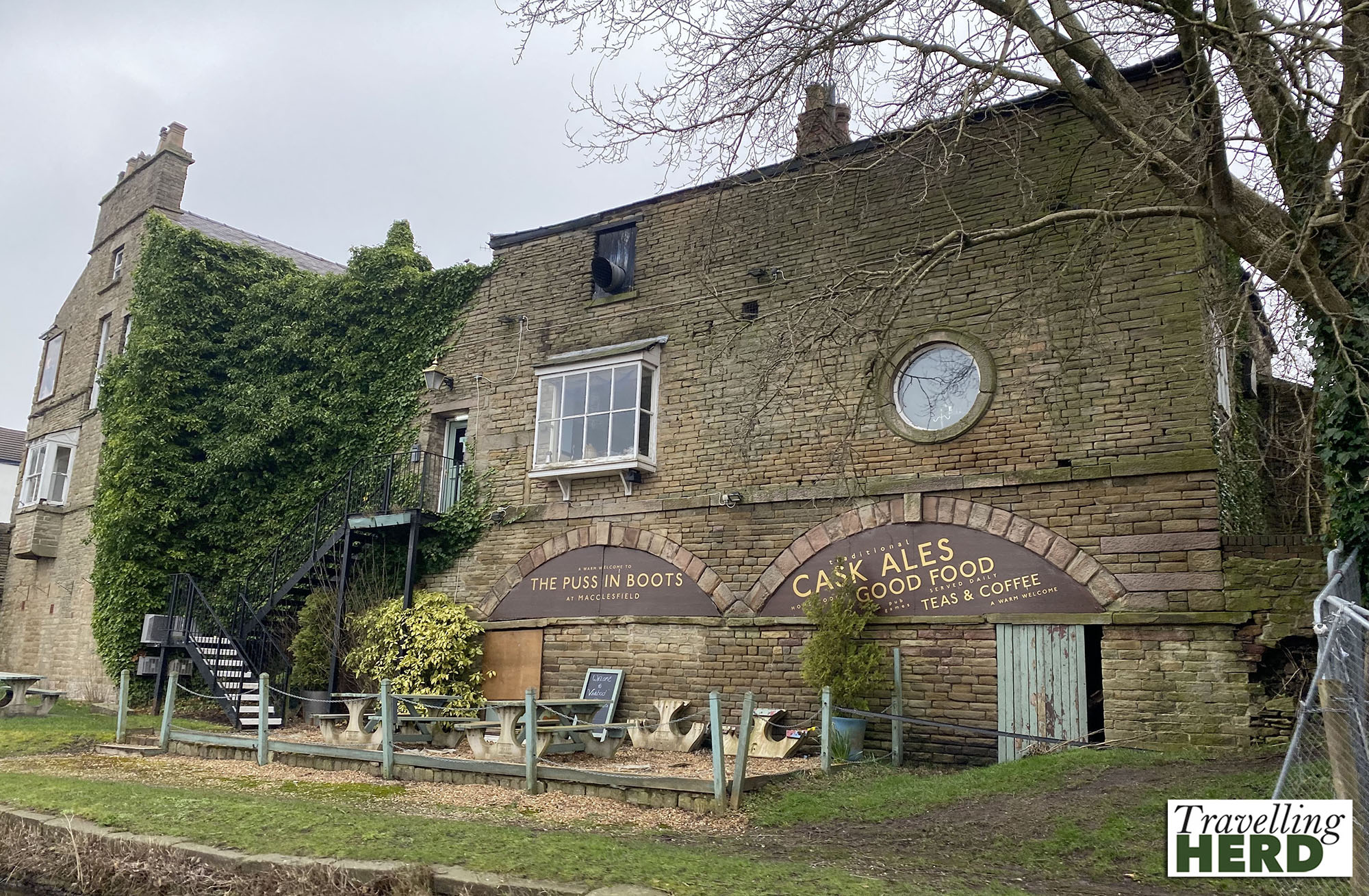 We saw several herons on this canal each standing so still that at first we both thought it might be plastic. We watched the third heron we saw plunge into the canal and come out with a fish. Statistically this seemed to be a far better success rate than the many fishermen we have passed.
The Clarence Mill in Bollington was built in 1877 and was originally a cotton spinning mill.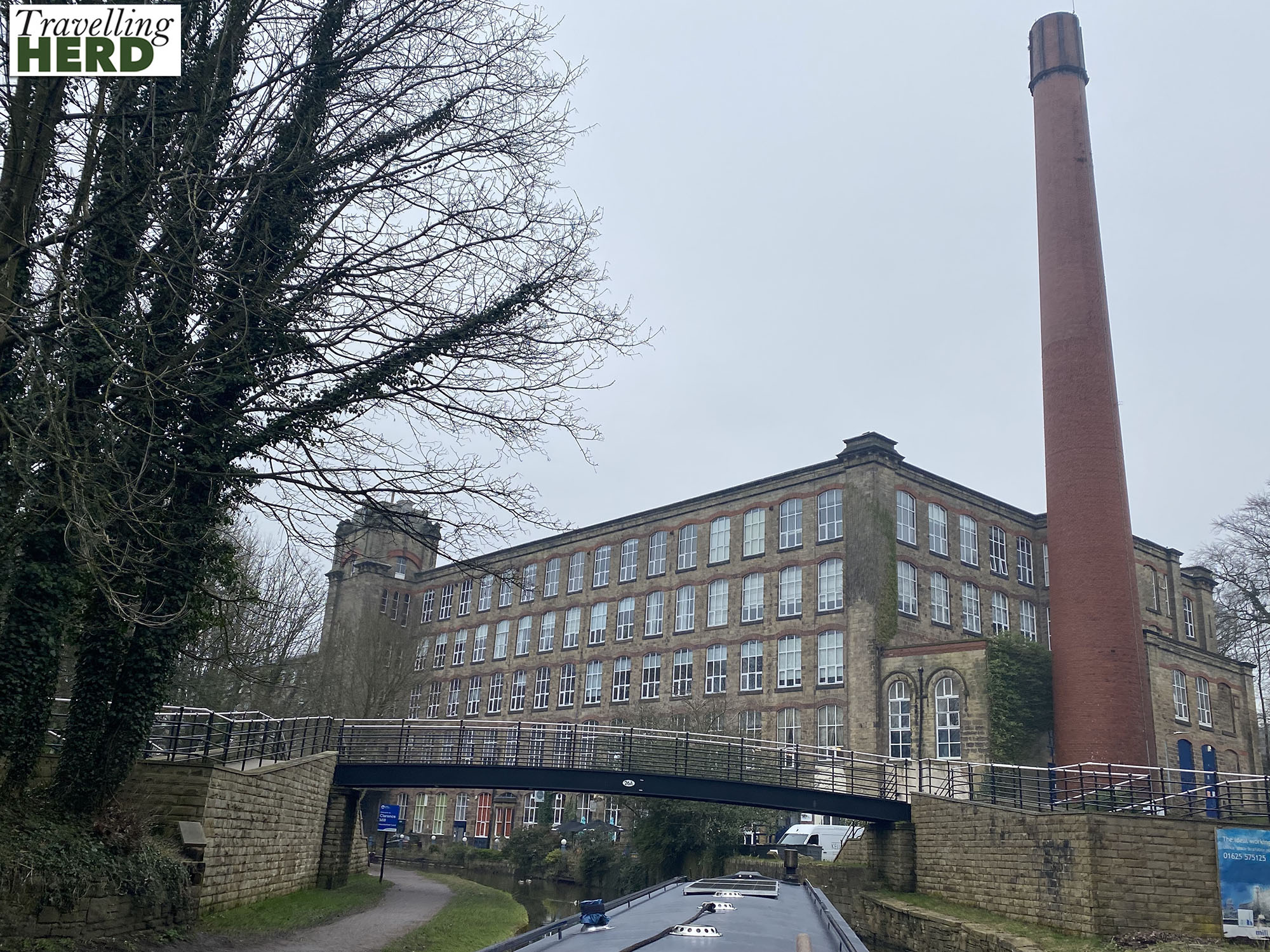 Samuel Oldknow [1756–1828] was responsible for developing the area around Marple and was instrumental in the industrialisation of this community by building a mill, roads, bridges, coal mines and housing for the workers. He was also involved in the construction of the Peak Forest Canal.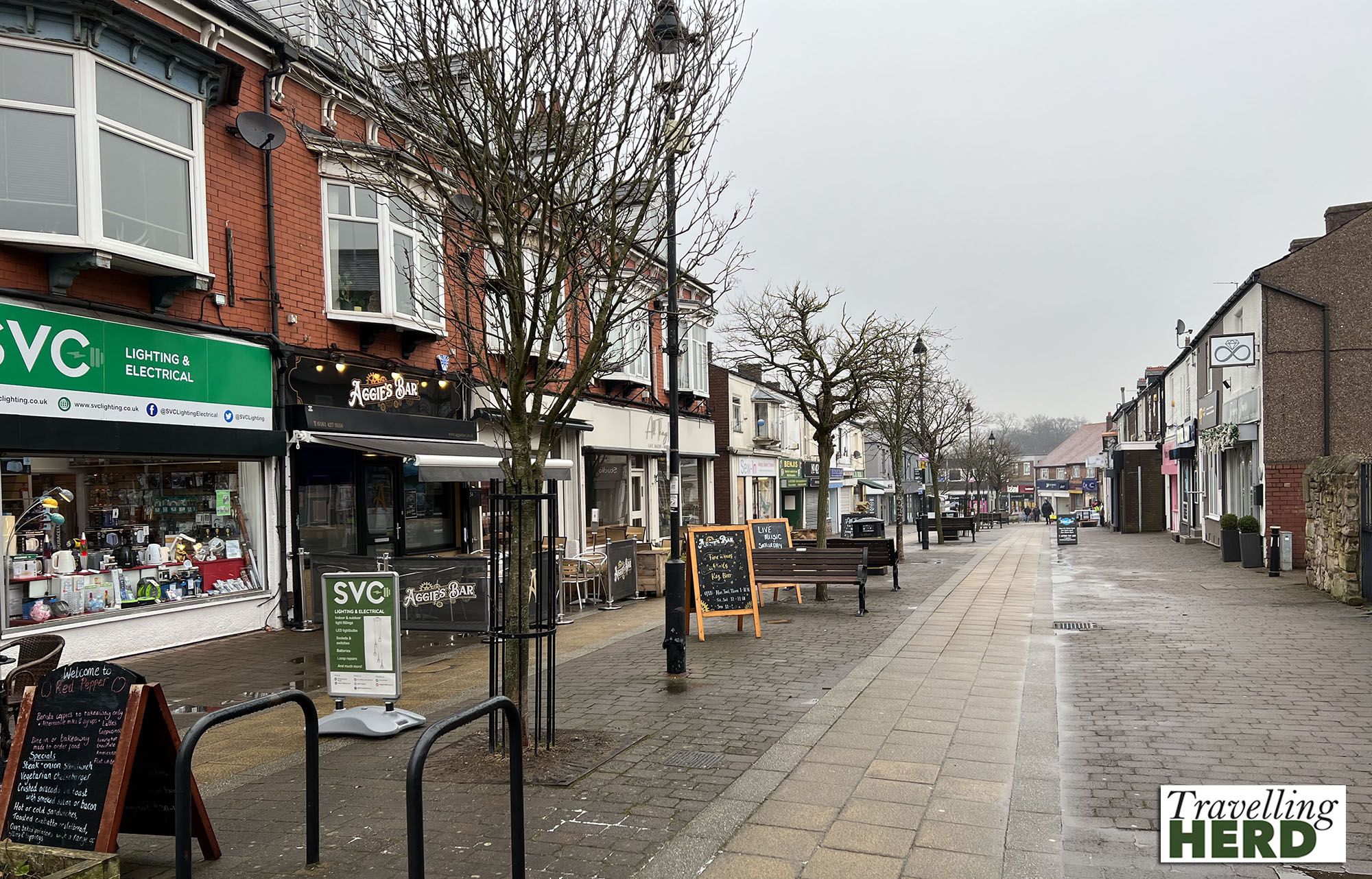 Having motored for around eight hours, we were tired and thirsty when we arrived in Marple. The award winning pub named after Samuel Oldknow is cosy and welcoming, spread across two floors with a stove burning downstairs. Dog-friendly, it even had its own dog bar with treats and a dog bed in the window [see selfie of the day].
When Matilda told people that she was going to spend 2.5 months on a narrowboat with Robert they were astonished and asked her how she would cope for so long in such a small space.
Subscribers or regular readers will know that there is usually a selfie of the day and that this has been noticeably missing for this journey. In fact we are probably spending less time together than usual since Robert is normally on the boat steering and Matilda is frequently off the boat handling the locks and we have found that selfie opportunities are hard to come by.

03/03/2022 – Miles: 12.31 – Locks: 0 – 4h30m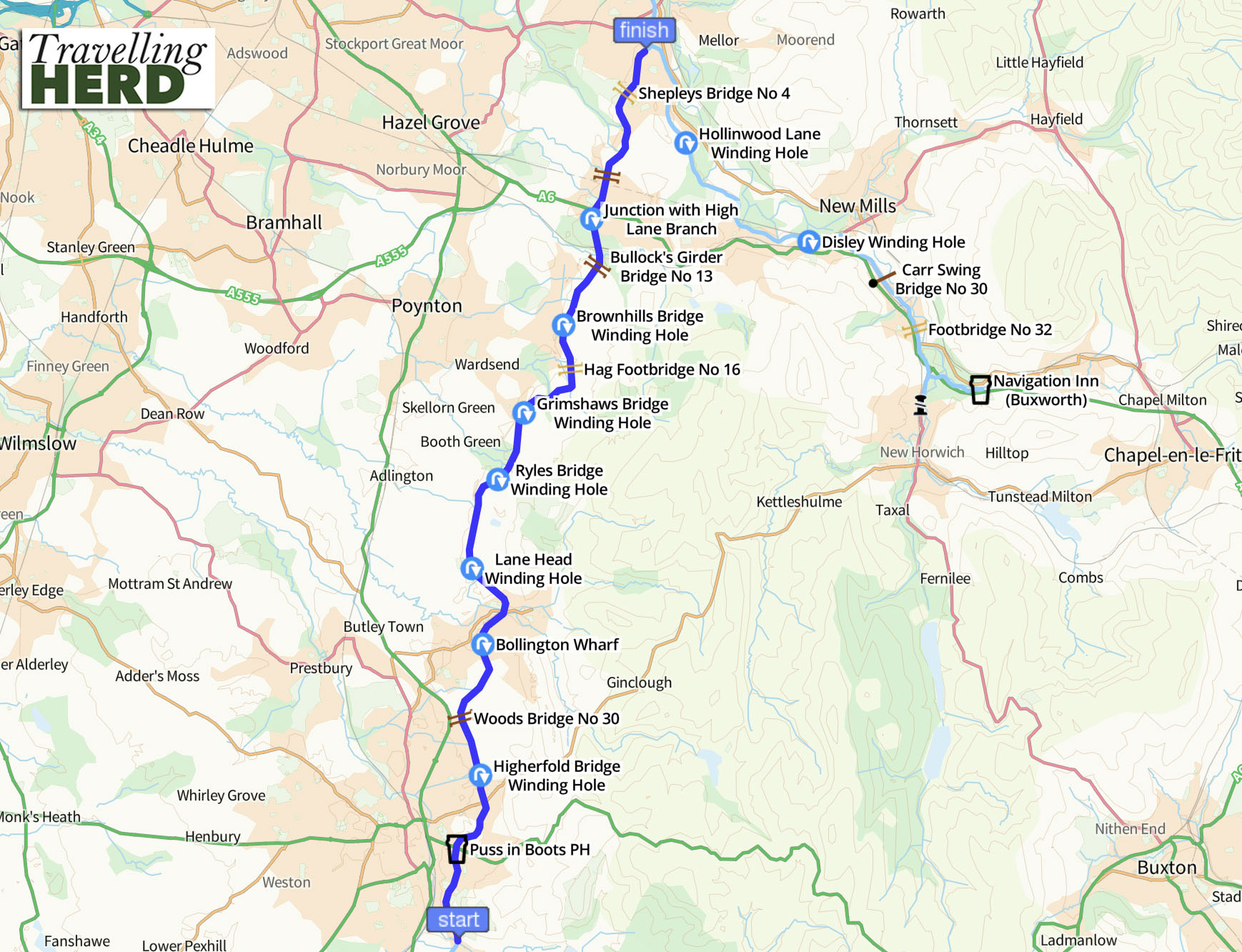 From Marple, we headed to the Peak Forest Canal and turned left to do the Marple locks, expecting another long day.
Robert has been experimenting with different ways to get the best video footage from a static camera. His first attempt using a GoPro ran out of memory before we even had left the first lock. The video of the day, which was produced using an iPhone, shows the whole eight hour day condensed into two minutes.
The top lock, Lock 16 was taking a long time to fill the last foot or so. A helpful out of work lock keeper came to chat to Matilda and he suggested we tie the boat to the lock gate and reverse to give it a tug. We were sure that this wasn't approved procedure and might have explained why he was currently "out of work". Robert then spotted that one of the paddles had been left open and closing this provided the solution to the problem. This added half an hour to our transit through the locks and what we already knew would be a long day.
The only other boat we passed all day was a dredger, being very skilfully manoeuvred.
At the foot of the Marple locks, the arches of the railway viaduct looked over us. . .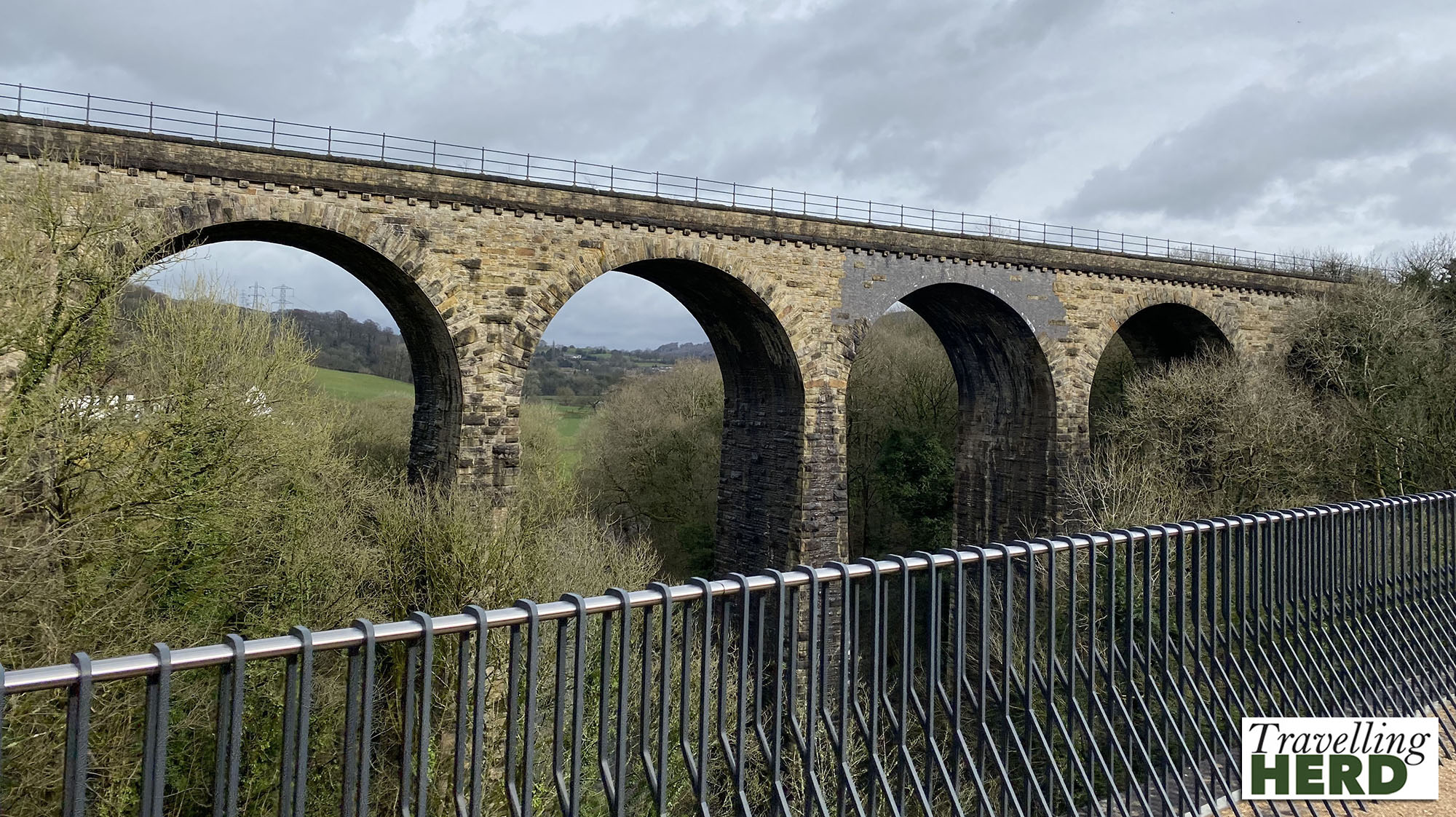 . . . as we crossed the Marple aqueduct.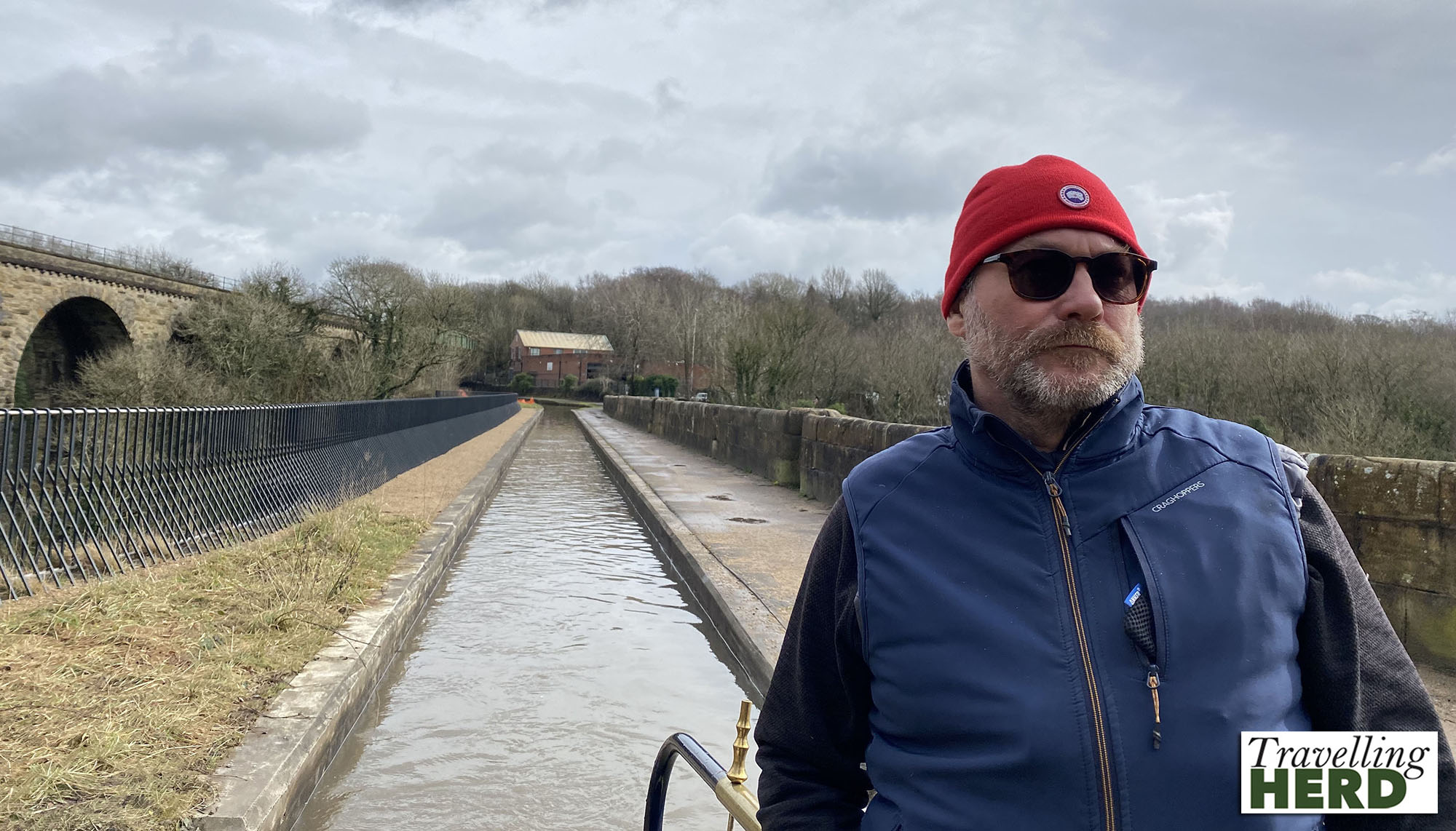 Several people helped Matilda at various points during the day to open or close gates. The water was exceptionally high and a notice at lock number 10 told us to make sure that lock nine was emptied before we emptied lock 10 to avoid over spilling.
Turning right onto the Huddersfield Narrow Canal we found that it truly lives up to its name Navigation at the junction was not helped by the fact that several boats had been moored insecurely and were lying across our path.
Matilda also had to crank open a drawbridge for the first time. She much preferred the electrically operated swing bridge.
After a long day, we decided to moor between lock four and five on the route into Stalybridge. We felt there could be more pleasant moorings further on but we did not have the energy to continue on the off chance. Ralf was also being insistent about his afternoon walk.
Robert felt he deserved a pint while Matilda tended to Ralf's needs. After making conversation with another customer in The White House, Stalybridge, Robert realised he had met boxing legend Ricky Hatton.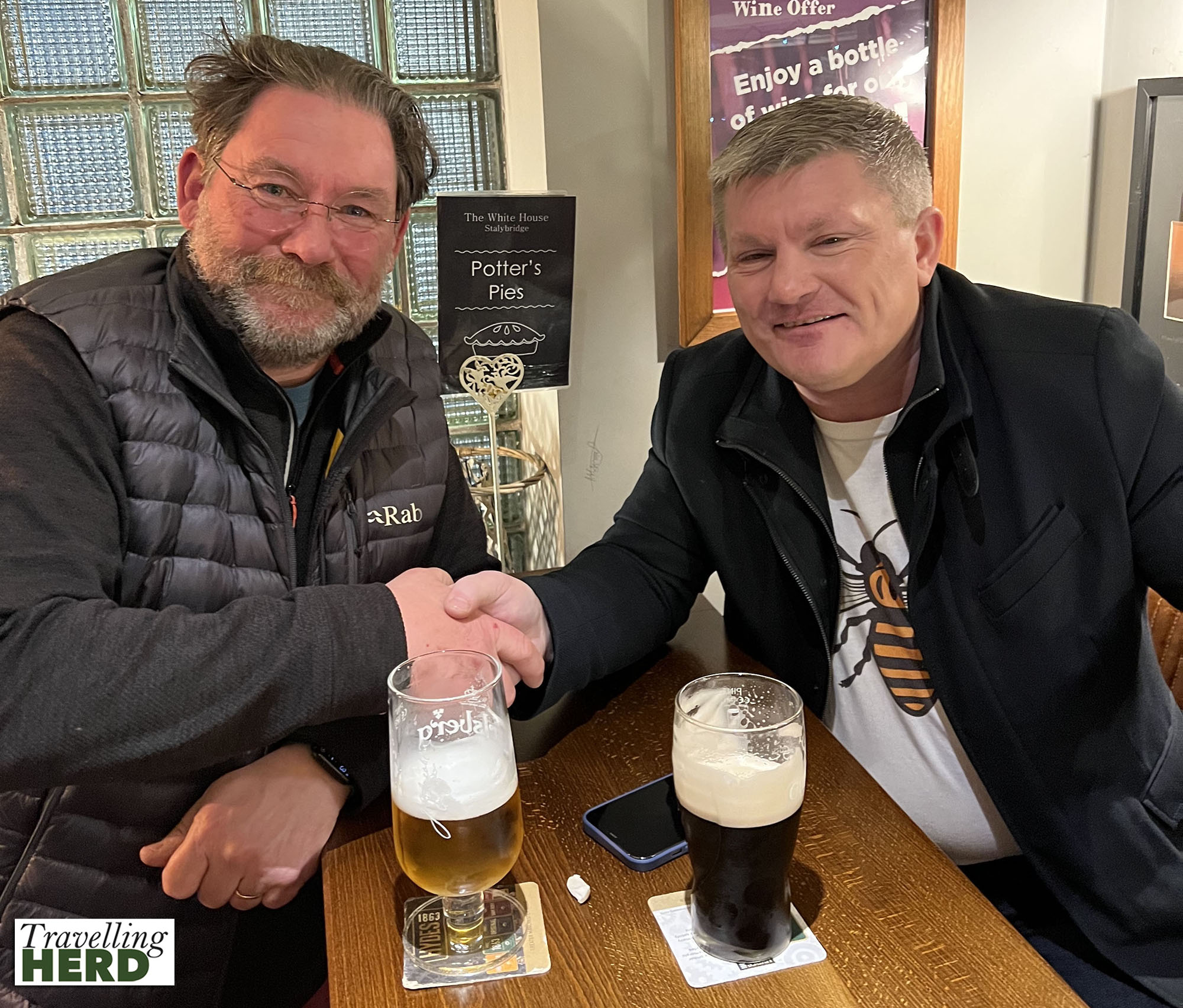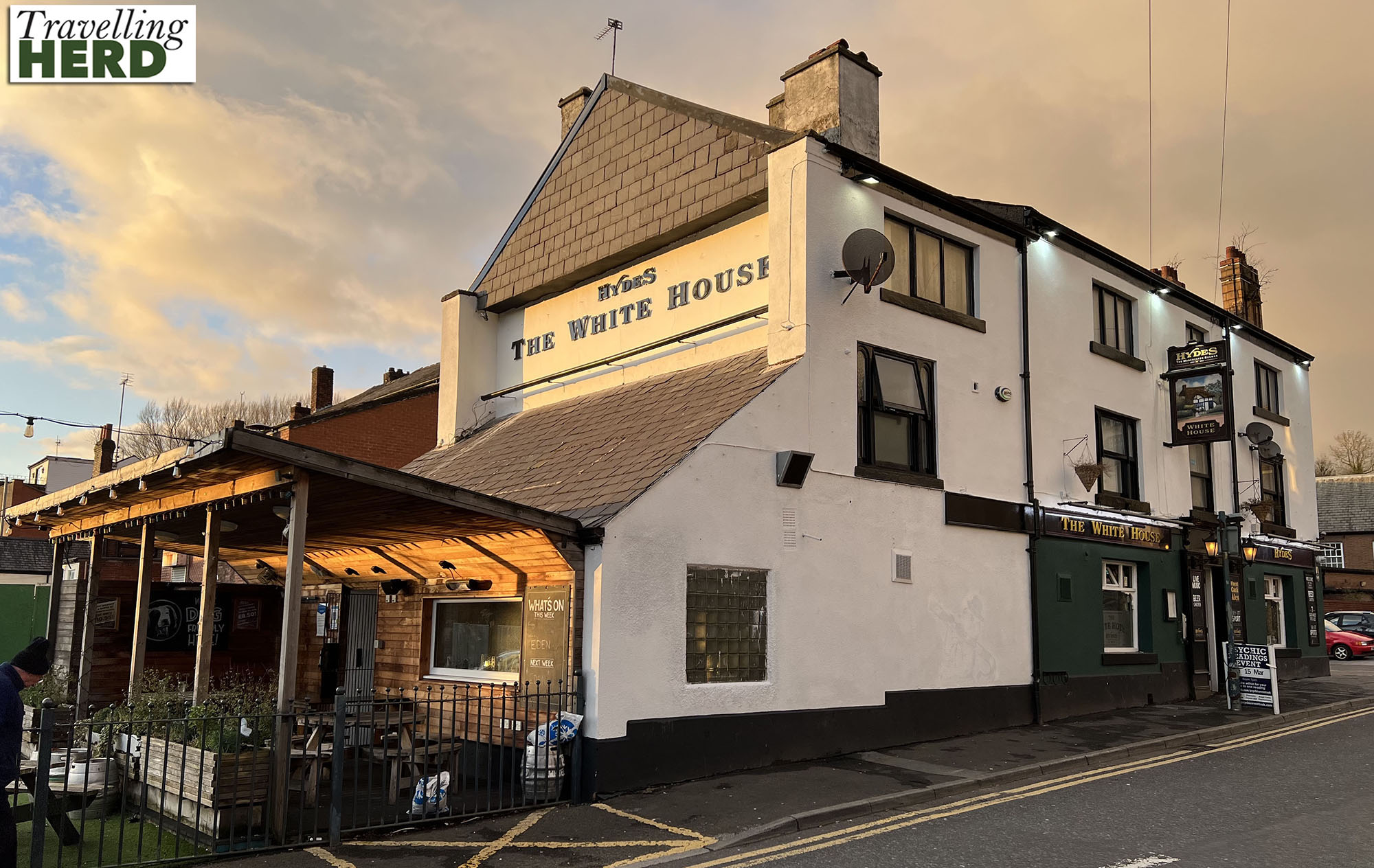 04/03/2022 – Miles: 9.75 – Locks: 20 – 8h30m
With another long day ahead of us in the dash for Diggle, Matilda felt she deserved something to set her up for the start. She had noticed an establishment advertising itself as a barber and bistro close to the mooring when she walked Ralf and was able to return to buy takeaway cappuccino for breakfast in the sunshine.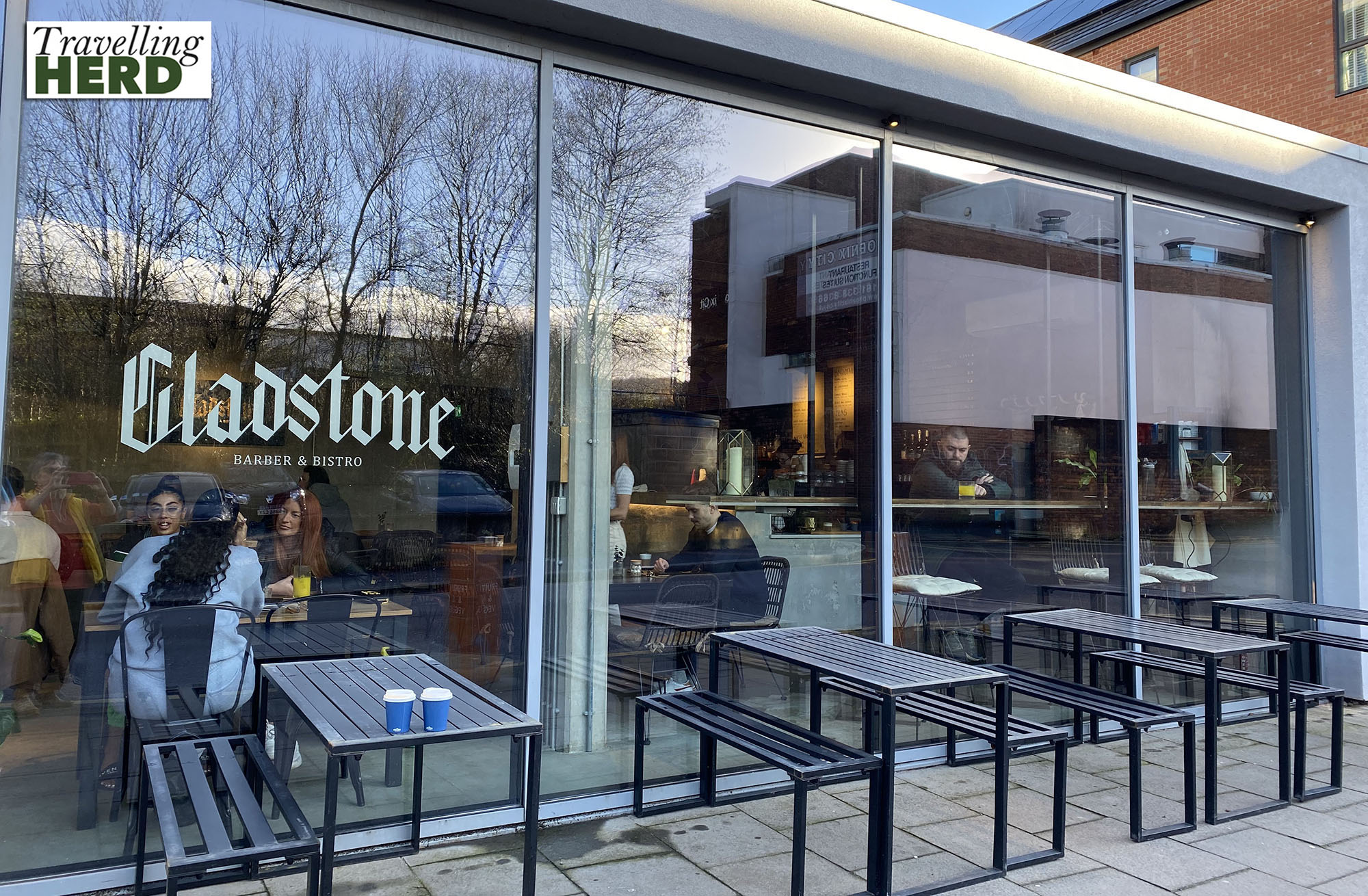 The centre of Stalybridge was very pleasant and might be a better mooring spot for future reference. A mother and two sons watched us going through lock six and asked about how a lock works: it's as though nobody ever comes along this canal. Matilda did find some of the locks difficult to operate and felt that they were not frequently used.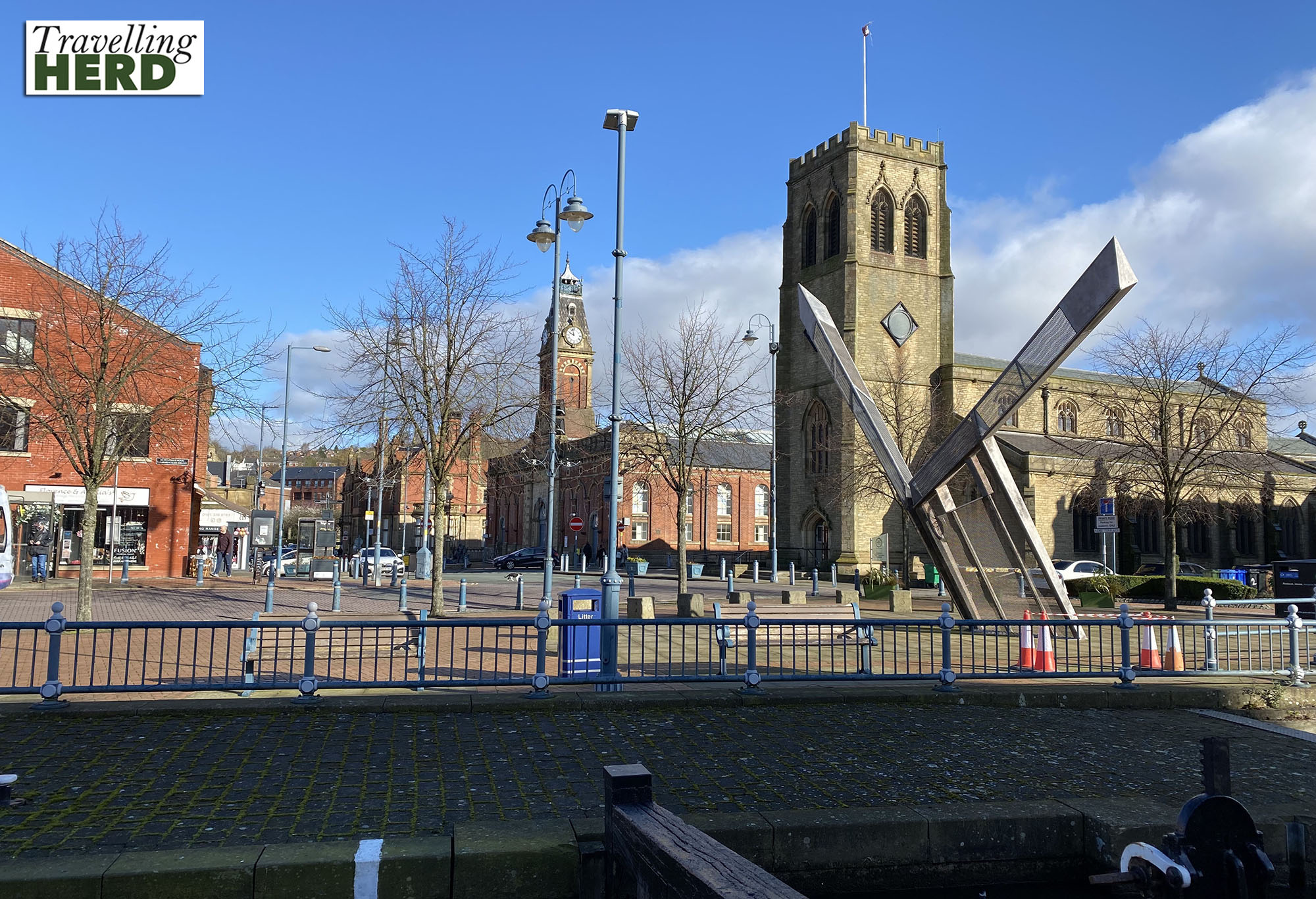 Robert thought it was strange that an electricity pylon was marked on the canal map. . .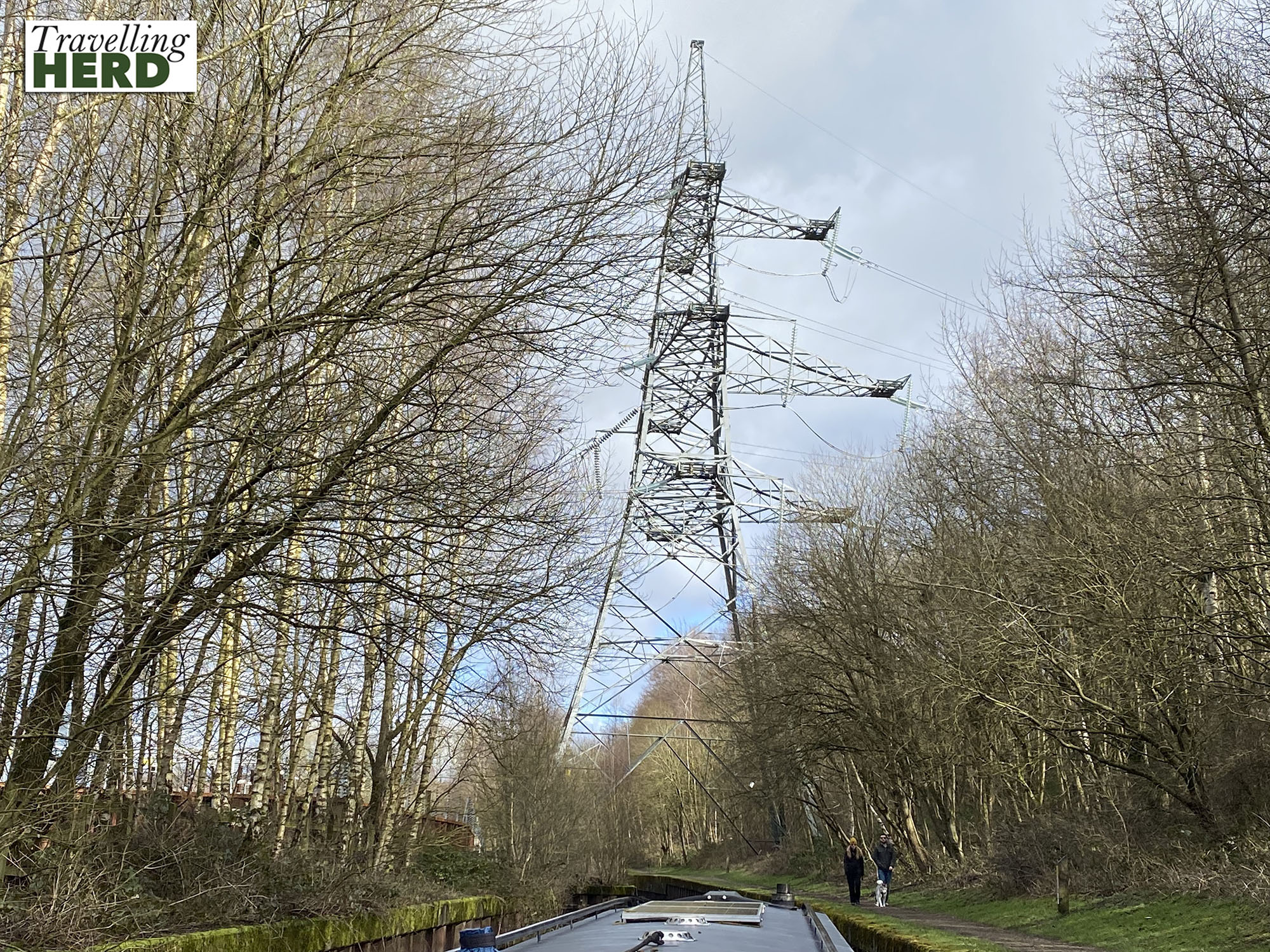 . . .but we realised why when went directly underneath it.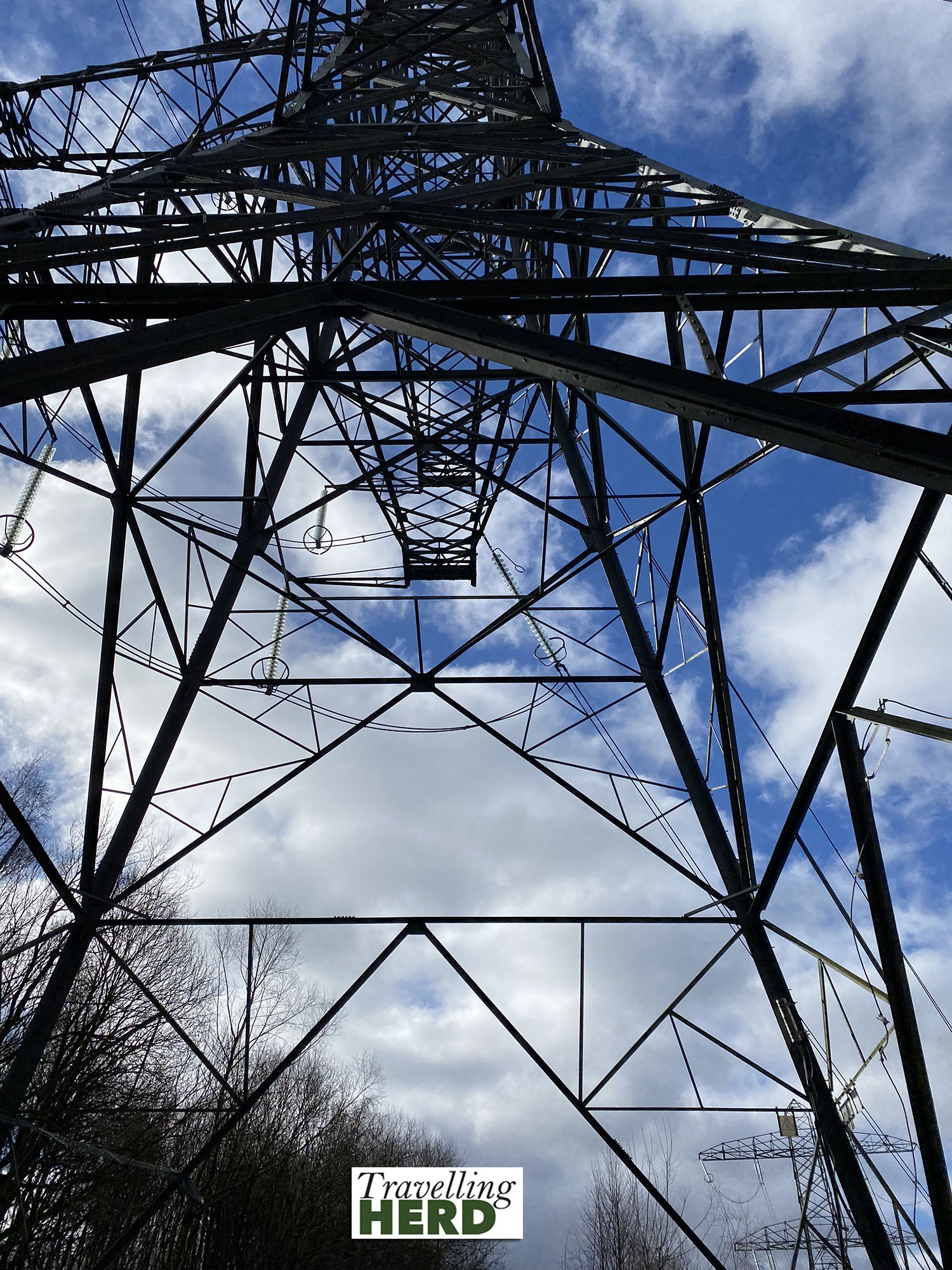 A lone mandarin duck looked flamboyant in his colourful plumage compared to his mallard friends.

As we rose up the locks, the scenery became more dramatic.
Around Bridge 91 we completely lost power and steering and were forced to pull over and Matilda held onto both The Duke and Ralf while Robert investigated the weed hatch to find a black bin bag and some rope tangled around the propellor.
Sadly it seems that the canal typifies mankind's disregard for the environment. There is all manner of detritus floating in the water. Storms Eunice and Franklin contributed their share of fence panels, fallen wood and at least two garden trampolines but humanity is responsible for all the standard plastic bags, beer bottles and cans to more unusually fire hydrants and men at work signs.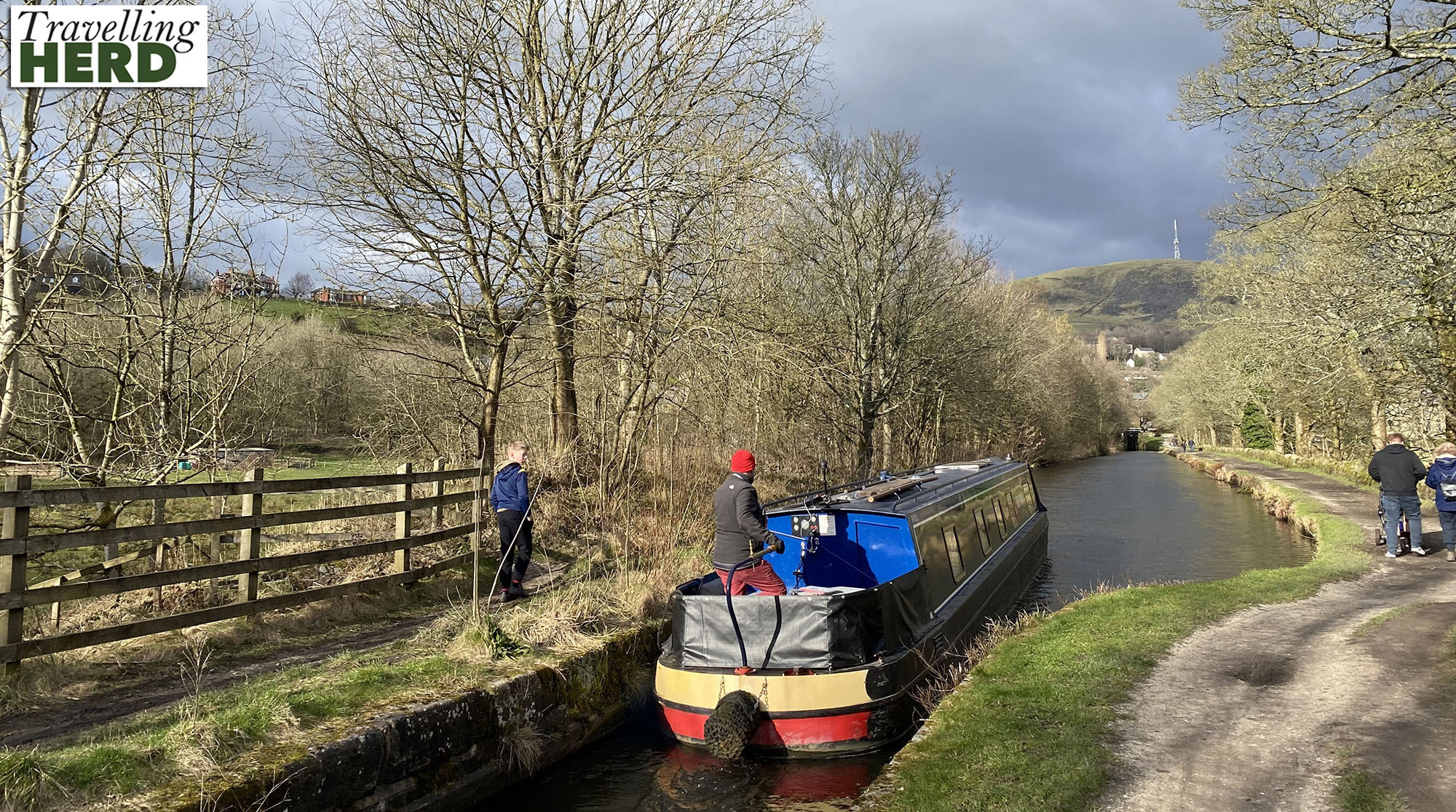 The Huddersfield Narrow Canal does not seem to be as well cared for as some other stretches and at one point Robert could not get the boat close enough to the bank for Matilda to feel safe jumping to the towpath. He therefore left her steering while he leapt off to do the locks.
At lock 21W Matilda found that for the first time she had to use the lock key to wind one of the gates open and shut. Robert also fished a food compost bin out of the canal before we could open the top gate here.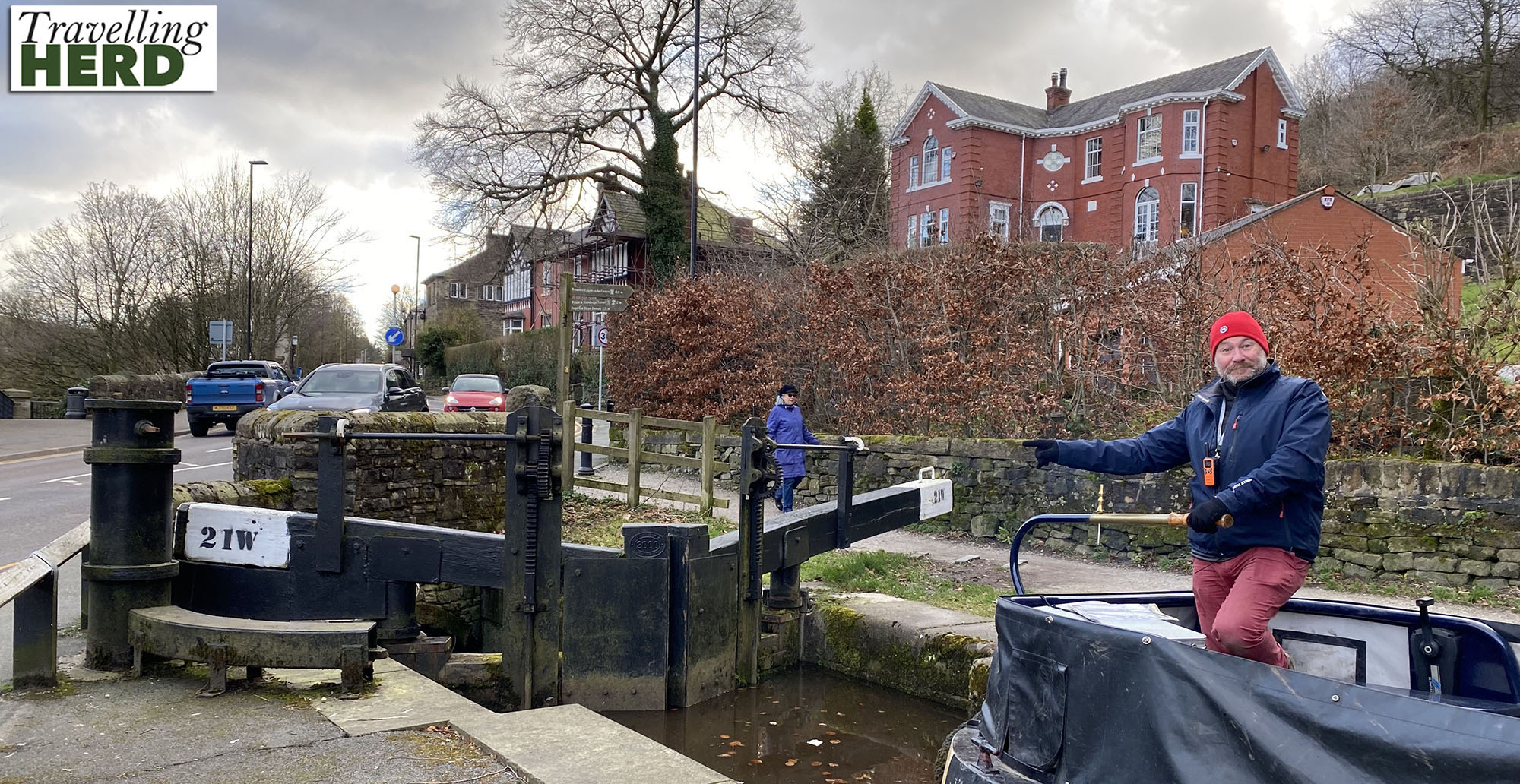 The mooring in Uppermill was central but the canal was quite low and it was difficult to find a spot where we could get very close to the bank. The sun was shining on the hills above producing a striking lighting effect.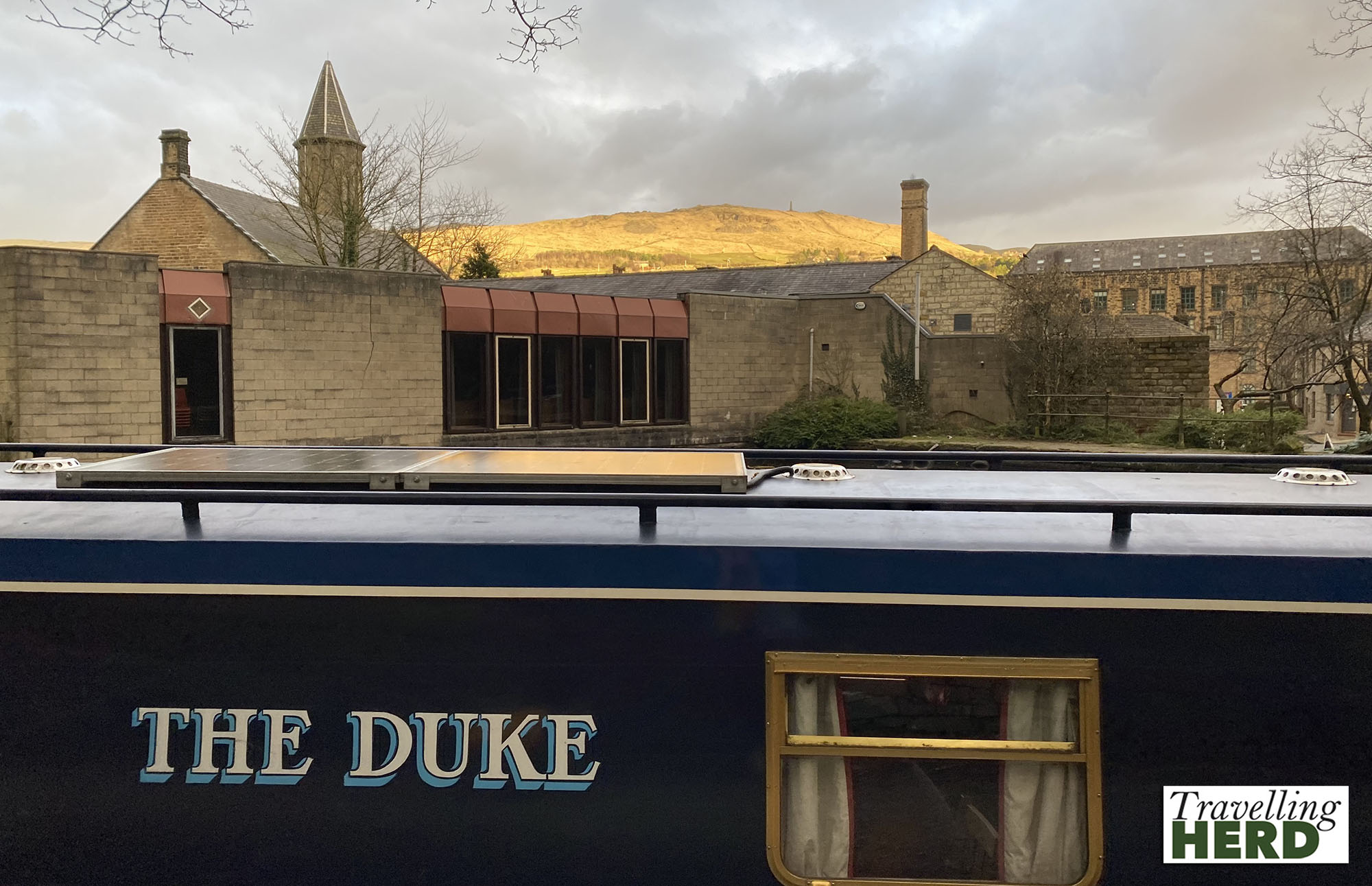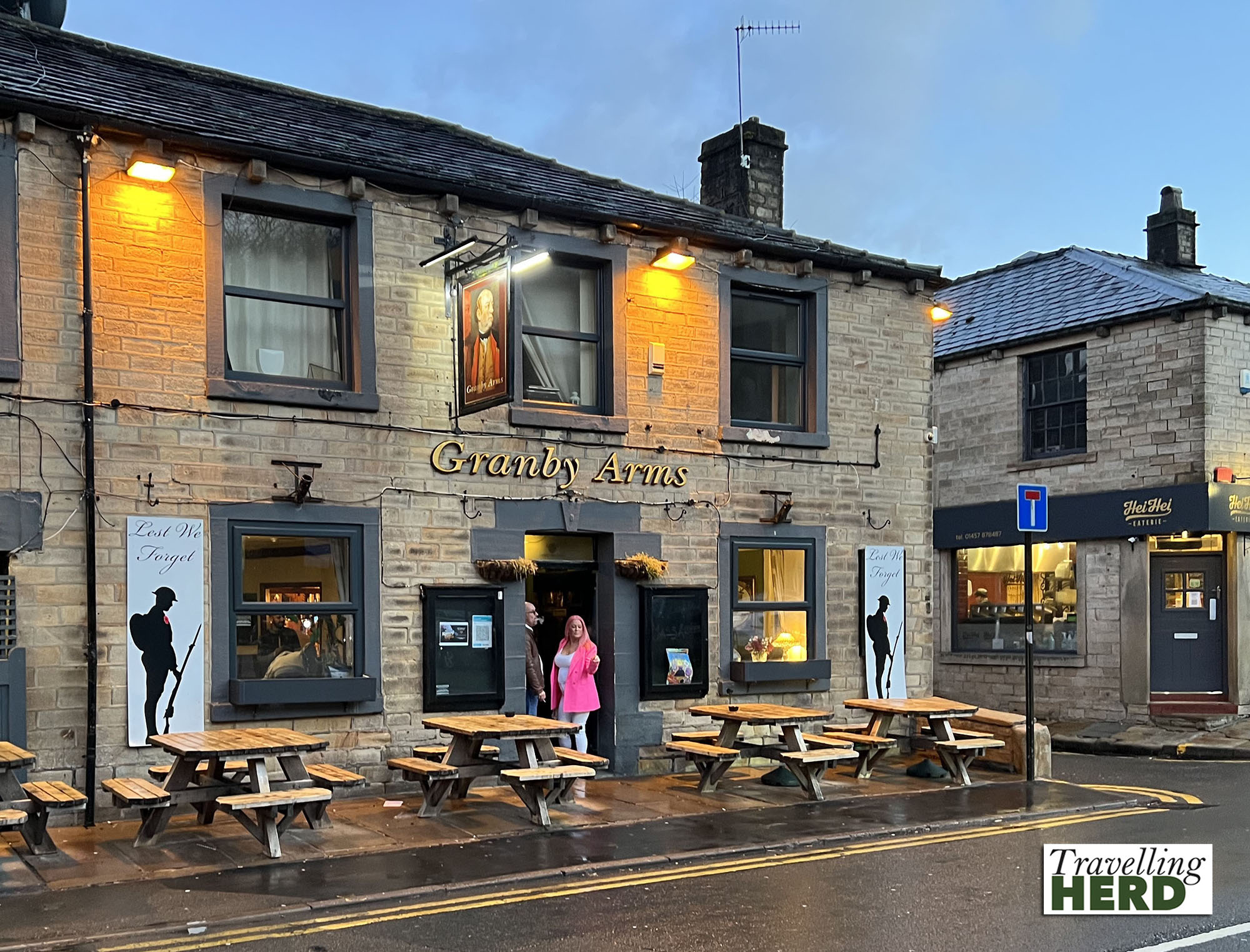 05/03/2022 – Miles: 8.75 – Locks: 17 – 7h0m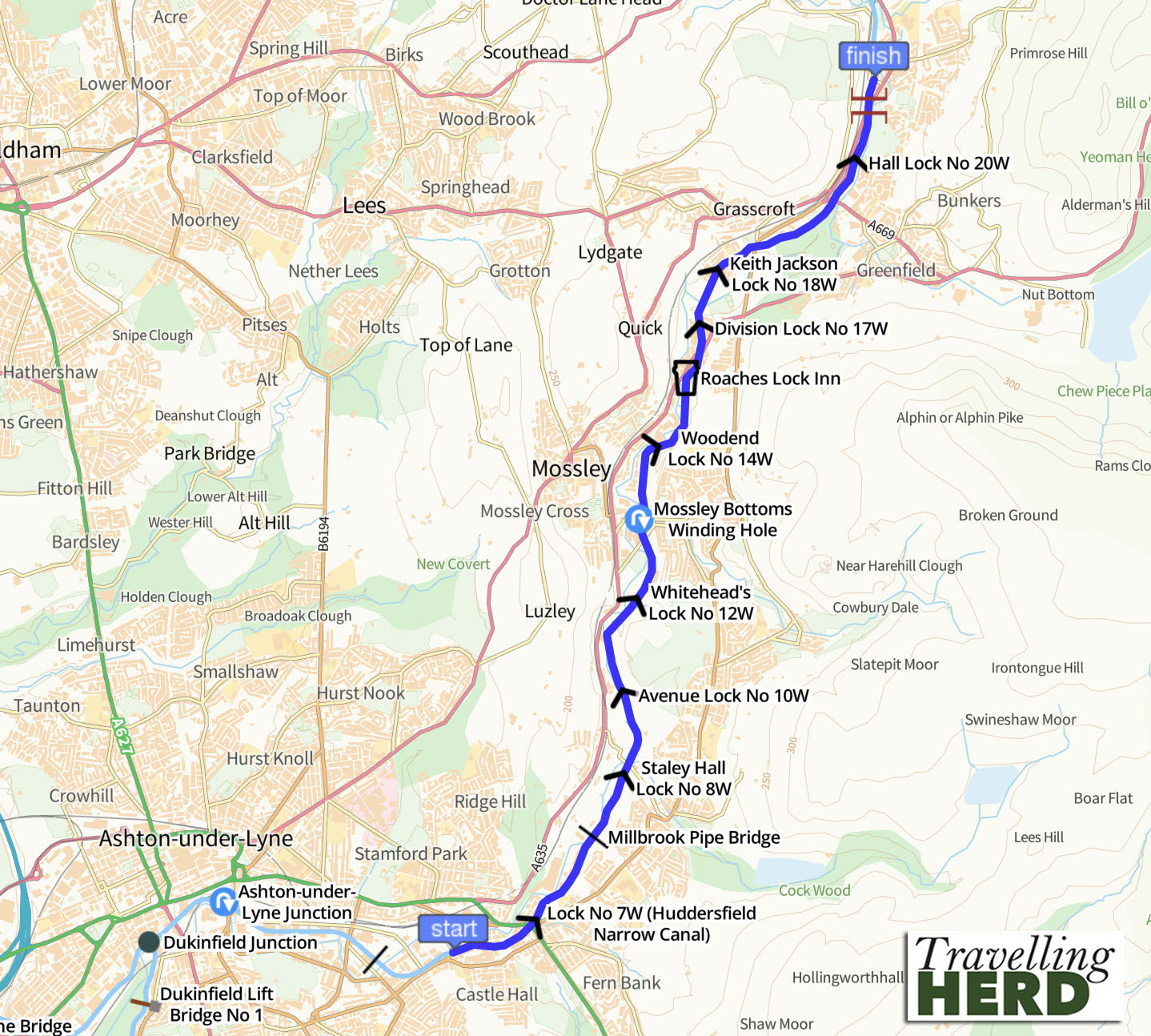 Route Map:
Days: 18 – Miles: 180.69 – Locks: 160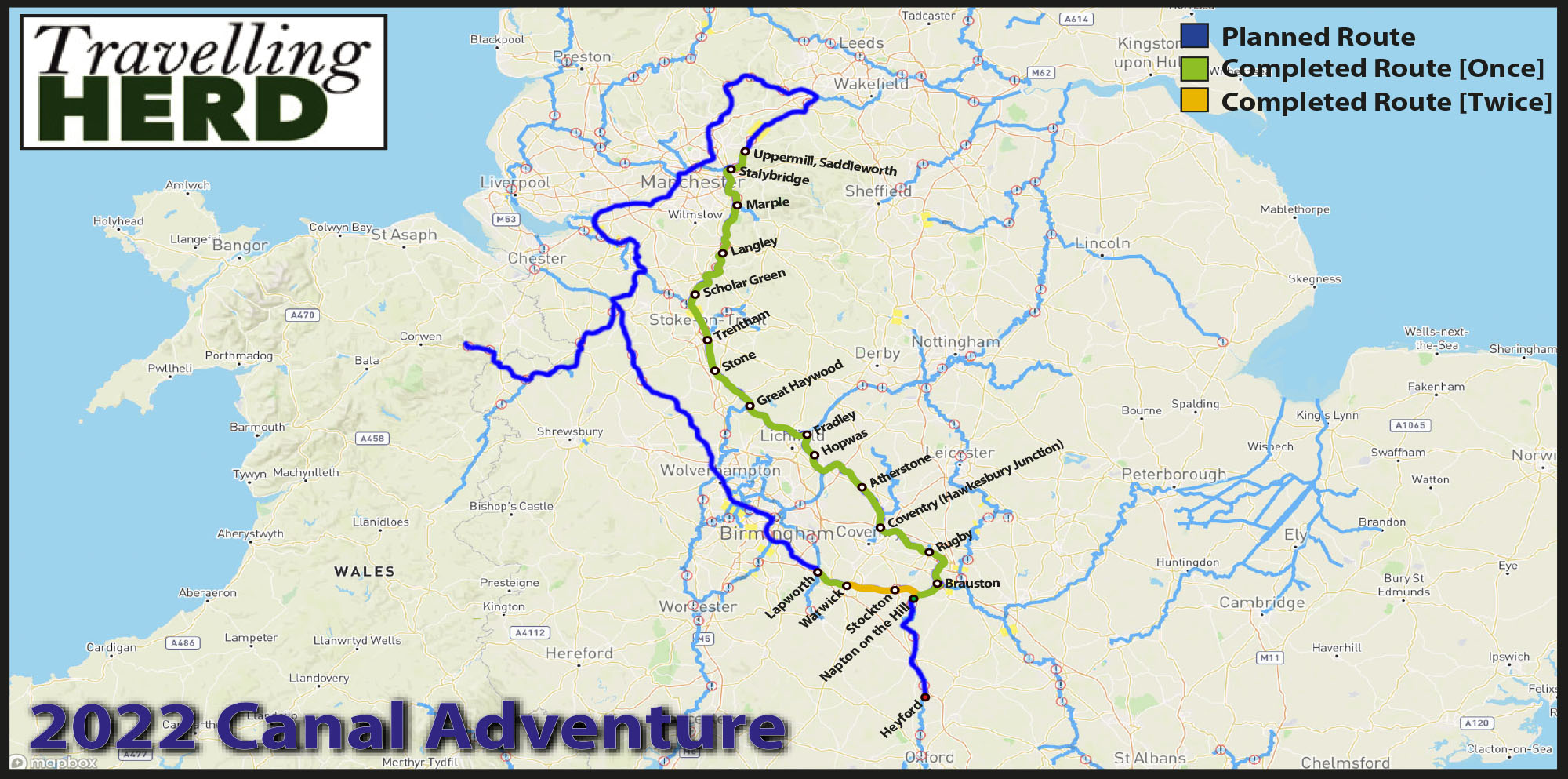 Video of the day:
Selfie of the day: