Wednesday 9th to Friday 11th March 2022
Sue and Henry joined us on Tuesday afternoon and were surprised by how cosy it was inside The Duke. Matilda and Robert explained the vagaries of the stove and the lengthy process to light it and persuaded them it would be better to leave the stove going overnight, rather than wake up cold in the morning. Having spent their first night aboard, sleeping in an oven with most of the windows open, Robert discovered that he had not turned down the diesel supply to the stove after lighting it: once this was adjusted the temperature became more bearable inside The Duke.
Day 22 promised to be bright and sunny and following an evening of planning in The Railway Inn, we set off as a team of four [see Selfie of the Day] to tackle the flight of locks out of Marsden. Sue and Henry have both been on a narrowboat before but not together and not for a while and had a brief practical refresher course on operating the locks.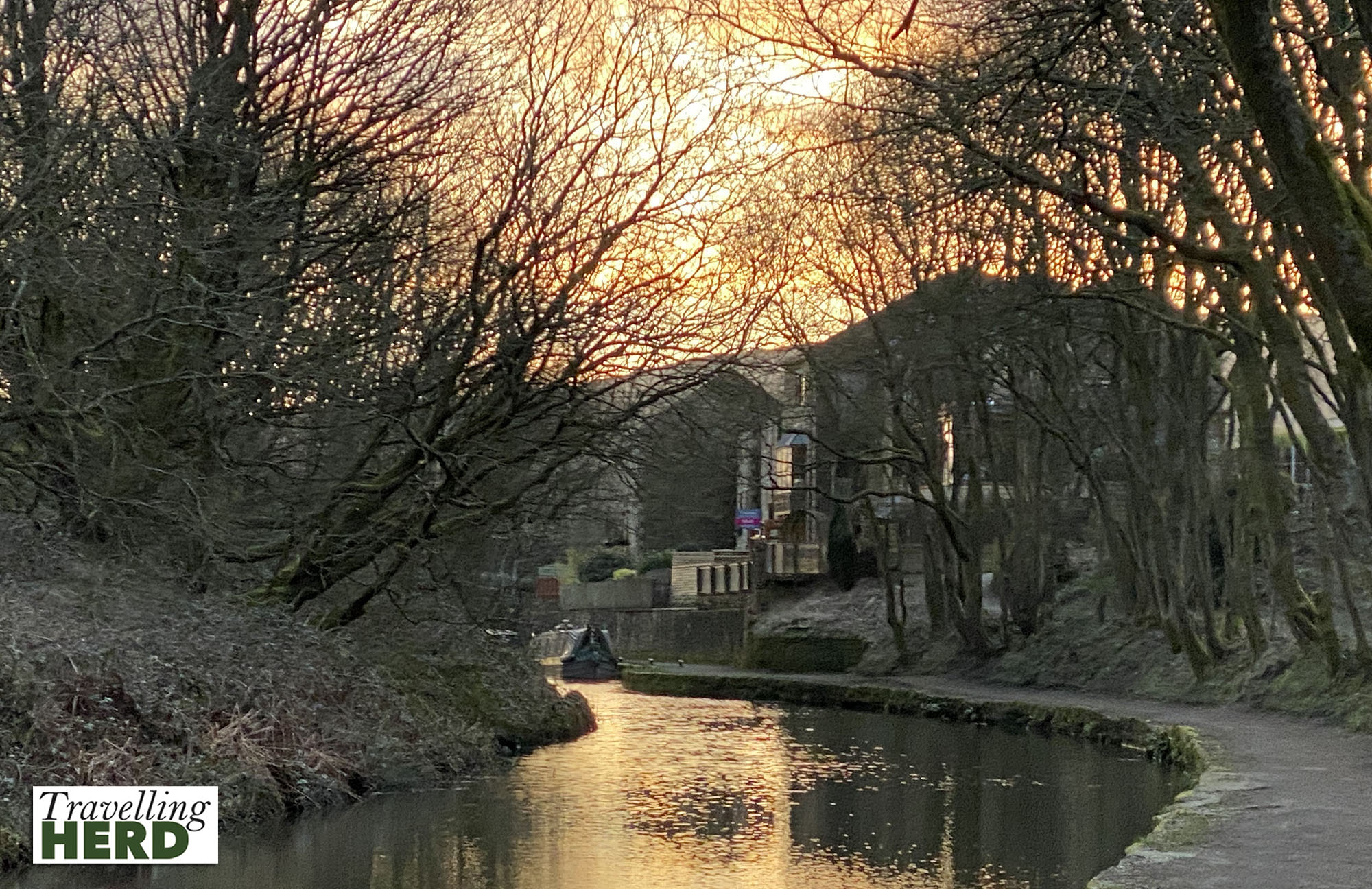 We noticed the Blue Peter logo on the balance beam at Lock 37E and discovered that, in 2016, presenter Barney Harwood had helped carpenters at the Stanley Ferry Workshop measure up, make the new oak lock gate and then fit it.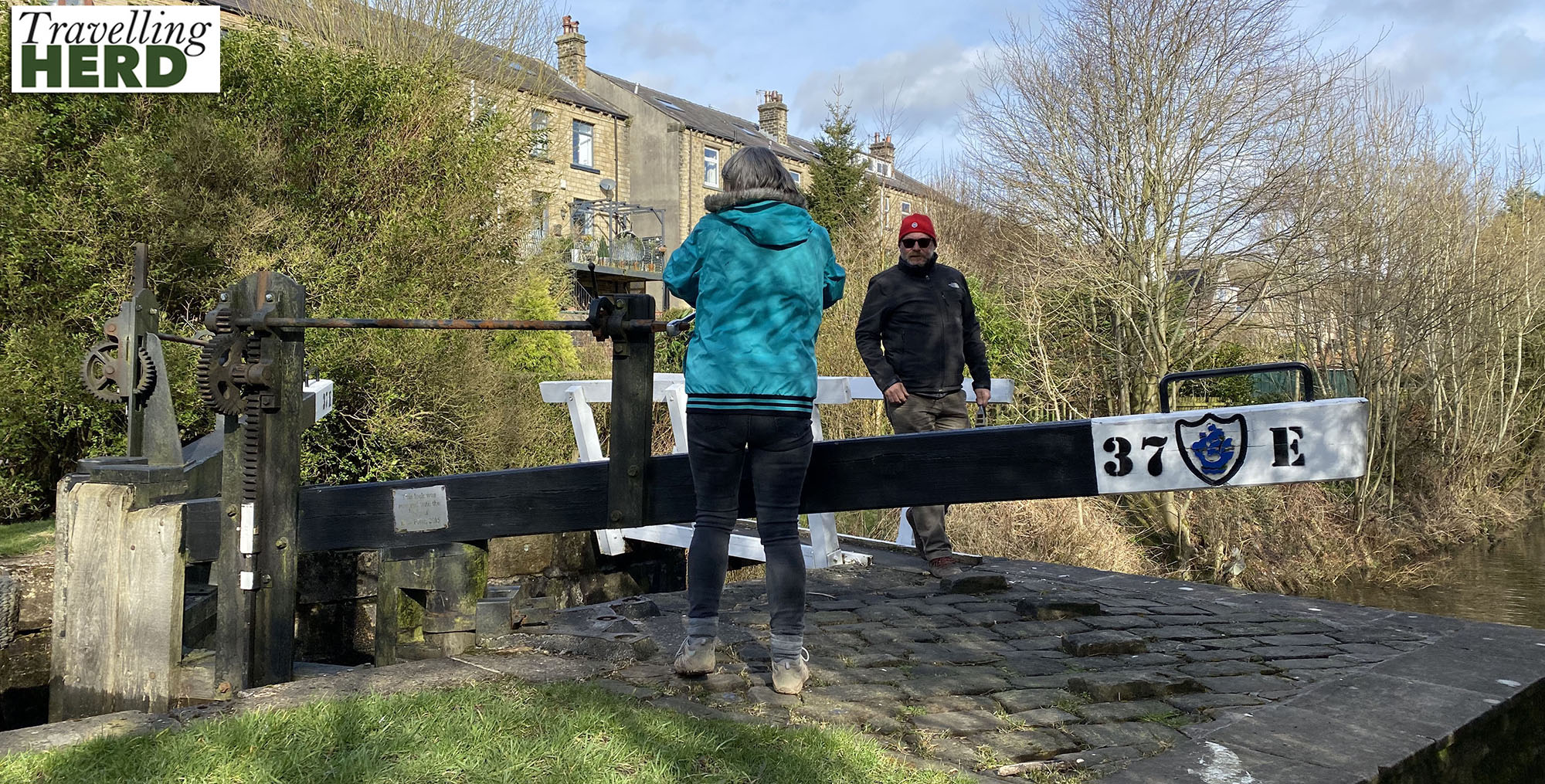 Ralf has been particularly pleased to have extra crew members as this means that Matilda can spend much of her time as chief dog handler walking him slowly along the towpath at his own pace, allowing him to check out every passing scent, frequently retracing his steps for another sniff.
Robert's old school teaching style seems to encompass demonstrating a skill but not offering to support those who are struggling.
Several passing walkers informed us that the pound between Locks 26 and 25 was completely empty and recommended we called the Canal and River Trust [CRT] for assistance. It seemed strange that the level would be that low as some of the pounds were so full that the water was flowing over the top of the lock gates.
When Robert phoned, he was told that CRT had been informed about an hour previously and were already on the way out to deal with the matter. One of the volunteers who turned up was Alistair who had helped us through Standedge Tunnel on Monday. He was accompanying CRT staff member Colin who was very friendly, knowledgeable and helpful and they set off together to review the situation while we continued on.
At Lock 32E Sue and Matilda watched The Duke gradually disappear from view as the lock leaked and it emptied quite rapidly without any of the paddles being opened. Colin and Alistair reappeared and were concerned about the build up of carbon monoxide in the lock and opened the lower gates to help it to dissipate. Matilda was therefore very pleased that as the water level and The Duke started to fall she had promptly removed herself and Ralf. Sue and Matilda were very anxious in case they were expected to move the boat on their own but Colin went down to get a rope for Sue to hold the boat secure.
Colin recommended that we all went for a long lunch while he and Alistair tried to sort out the issue.
Finding a place to stop and moor on the Huddersfield Narrow Canal can be a bit of a challenge. Both Trevor and Colin had told Robert independently that this canal had been built with sloping sides rather than a straight cut. On forays ahead to check on the water level Robert and Henry had identified potential stopping points and so with some difficulty we moored close to Lock 30E but not that close to the bank and those still aboard had to walk the plank to visit Zapato, a very pleasant brewery and bar still under construction.

Sue stepped up to be chief dog handler and looked very professional. However, since it was whilst under her guidance and control that Ralf cocked his leg up against Colin, she has yet to be awarded the full certificate. Fortunately Colin was very understanding and retained his sense of humour, merely commenting, "Just cause we're mates". Since Ralf subsequently sidled up to Sue with intent, Matilda is maintaining it is a sign of canine approval, but she is also now very careful when waiting at pedestrian lights to cross the road with Ralf.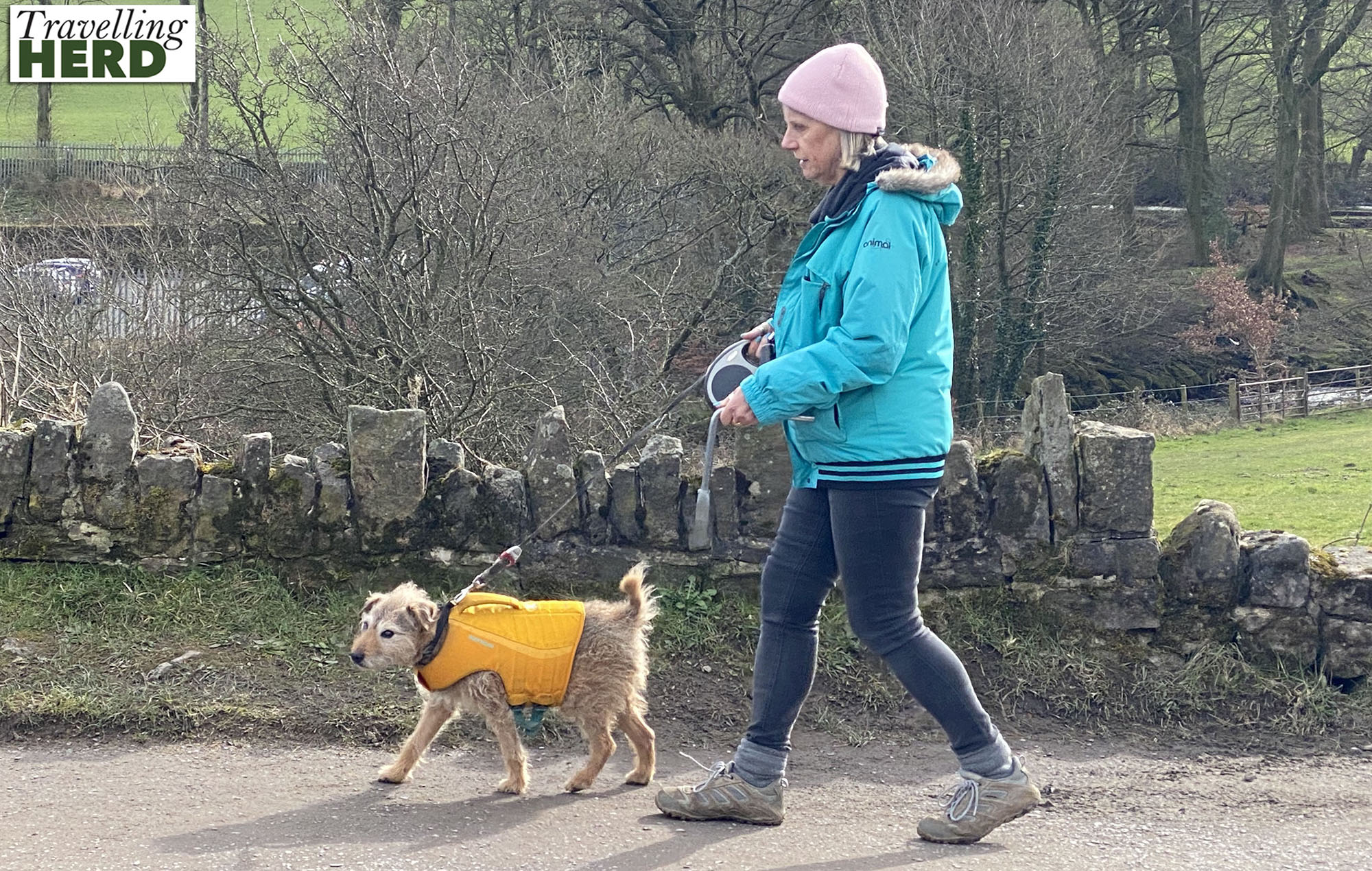 While they were trying to work out whether The Duke would be able to pass through the available water they asked Robert what the draft was. Fortunately Alistair had measured The Duke prior to our going through Standedge Tunnel and was able to inform us that in fact we needed 1foot 9 inches clearance. Eventually we were given the go ahead to proceed. Colin believed that the problem had been caused by some young lads who had broken into an abandoned boat, stolen the windlass keys and opened the paddles.

It was good to be underway again. The level of maintenance of the locks varies and some prove to be very stubborn.
The owner of September Morn moored by Lock 27E kindly opened up for us and this was where Ralf went for his second immersion in the canal and was once again saved by his Ruffwear life jacket and rescued by Robert. And once again, he appeared none the worse for his misadventure.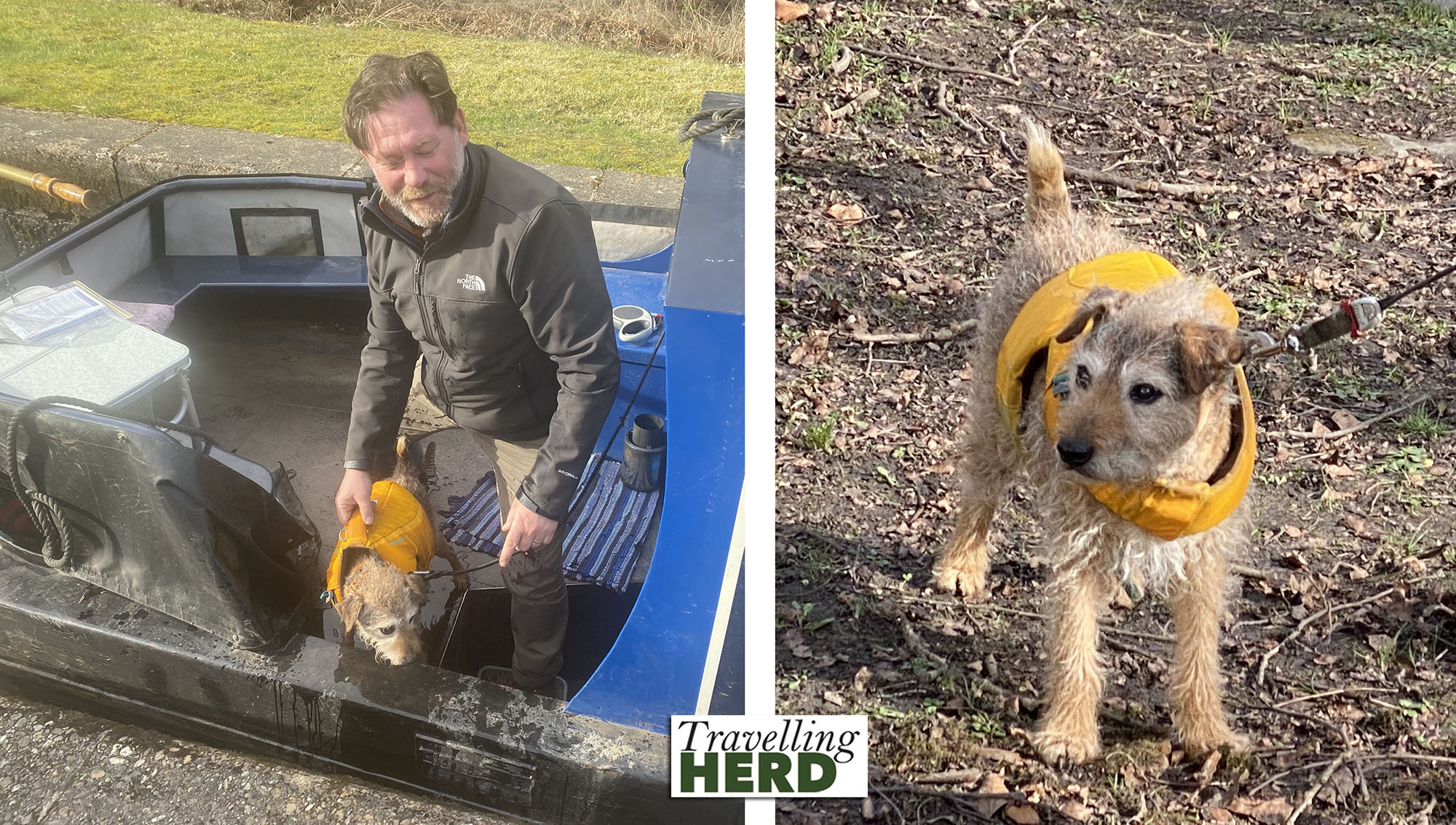 Both Sue and Matilda felt it was cavalier to leave two such novices in charge of the guillotine lock [see Video of the day].
We came across a paddle which all of Henry's exertions could not shift and Robert decided to go and offer his help. Unfortunately this resulted in Robert discovering the comparative weakness of the aluminium windlass key compared to the one made from galvanised steel. It transpired that the solution, in fact, was to unlock the paddle mechanism using a key.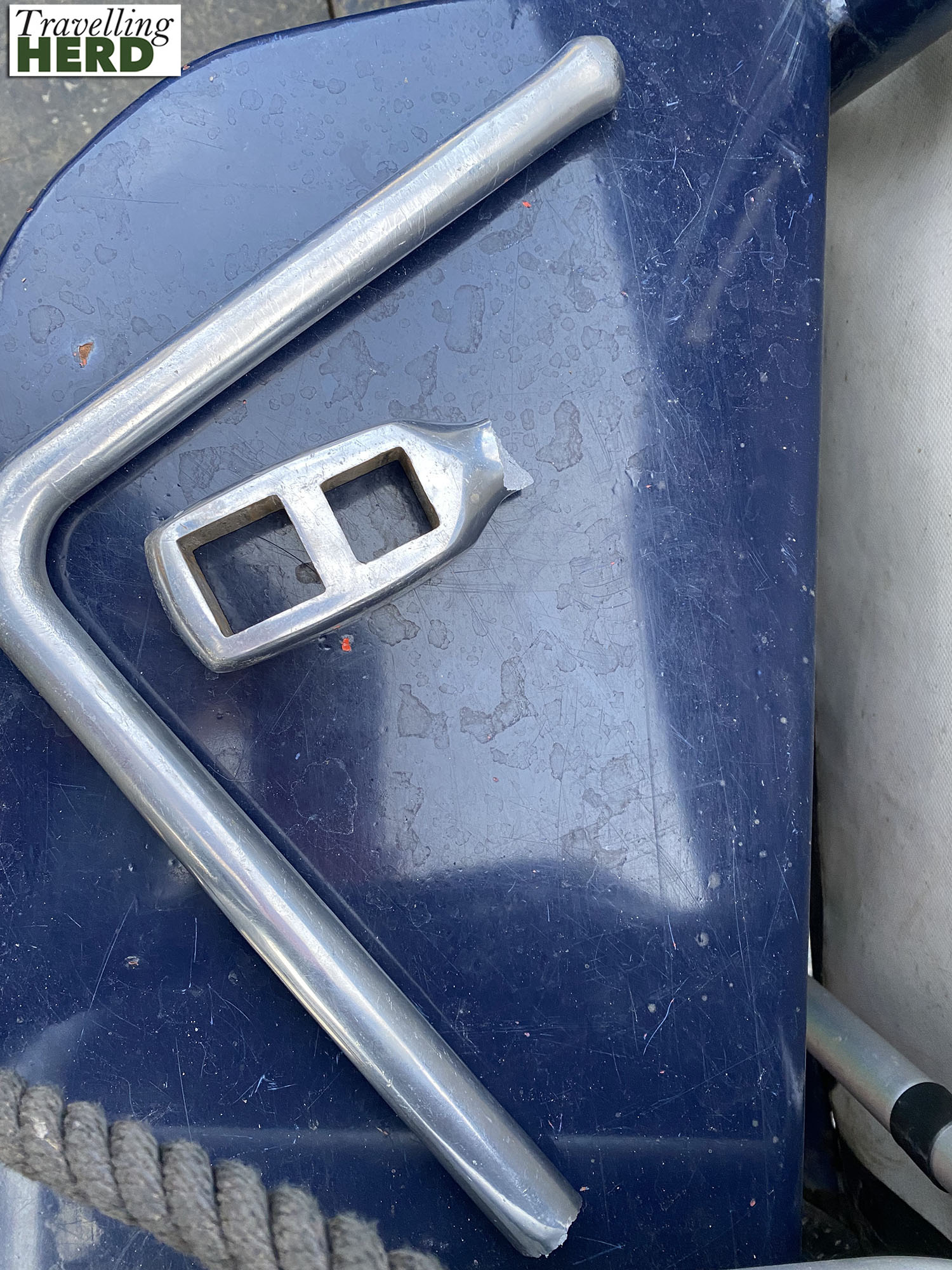 The low water issues made what was already expected to be a long day into a very tiring one and after we eventually moored we discovered that Henry managed to take 27,424 steps covering the equivalent of 11.1 miles on a three mile stretch of canal. Our new crewmates had worked hard on their induction day.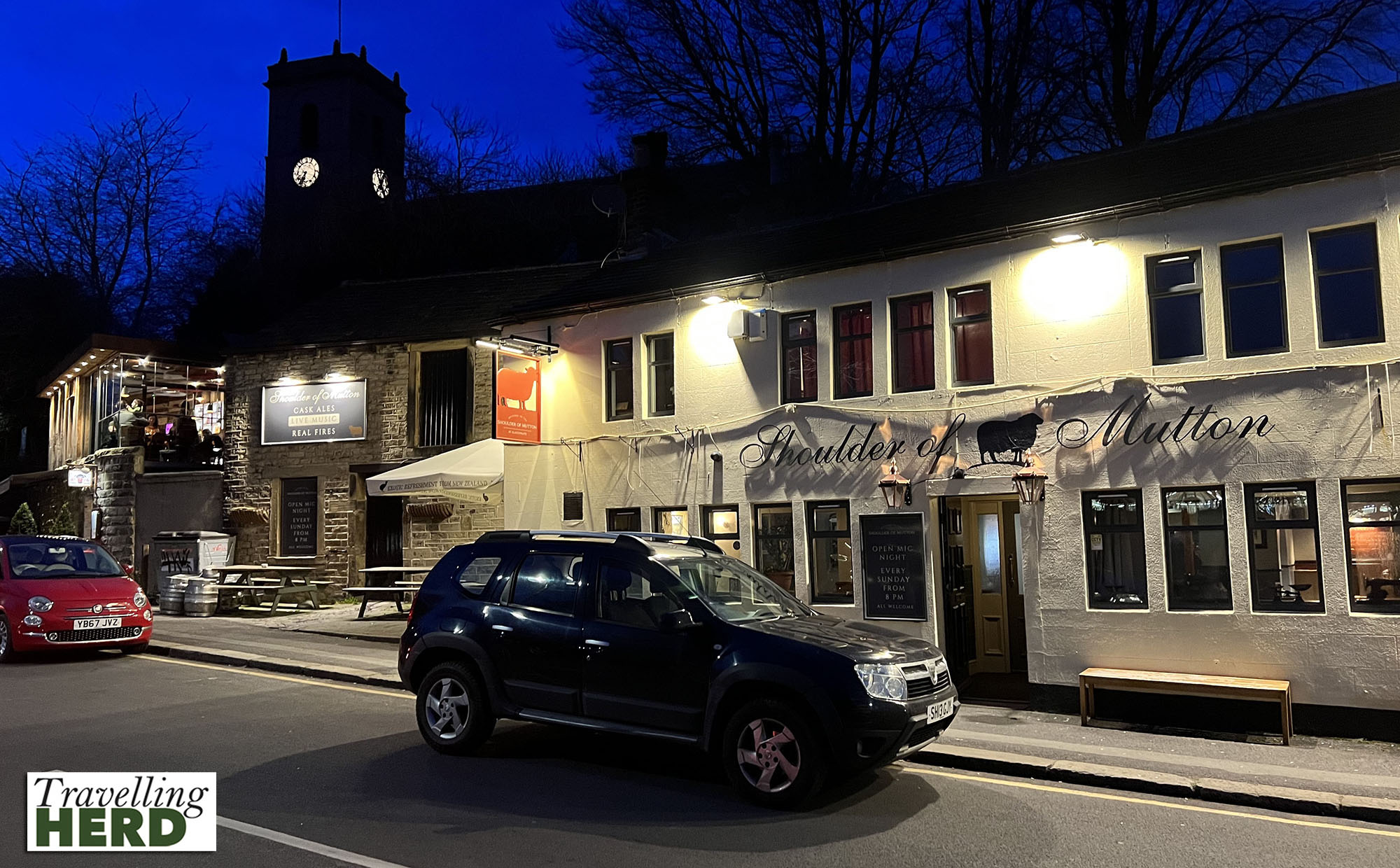 09/03/2022 – Miles: 3.72 – Locks: 23 – 8h00m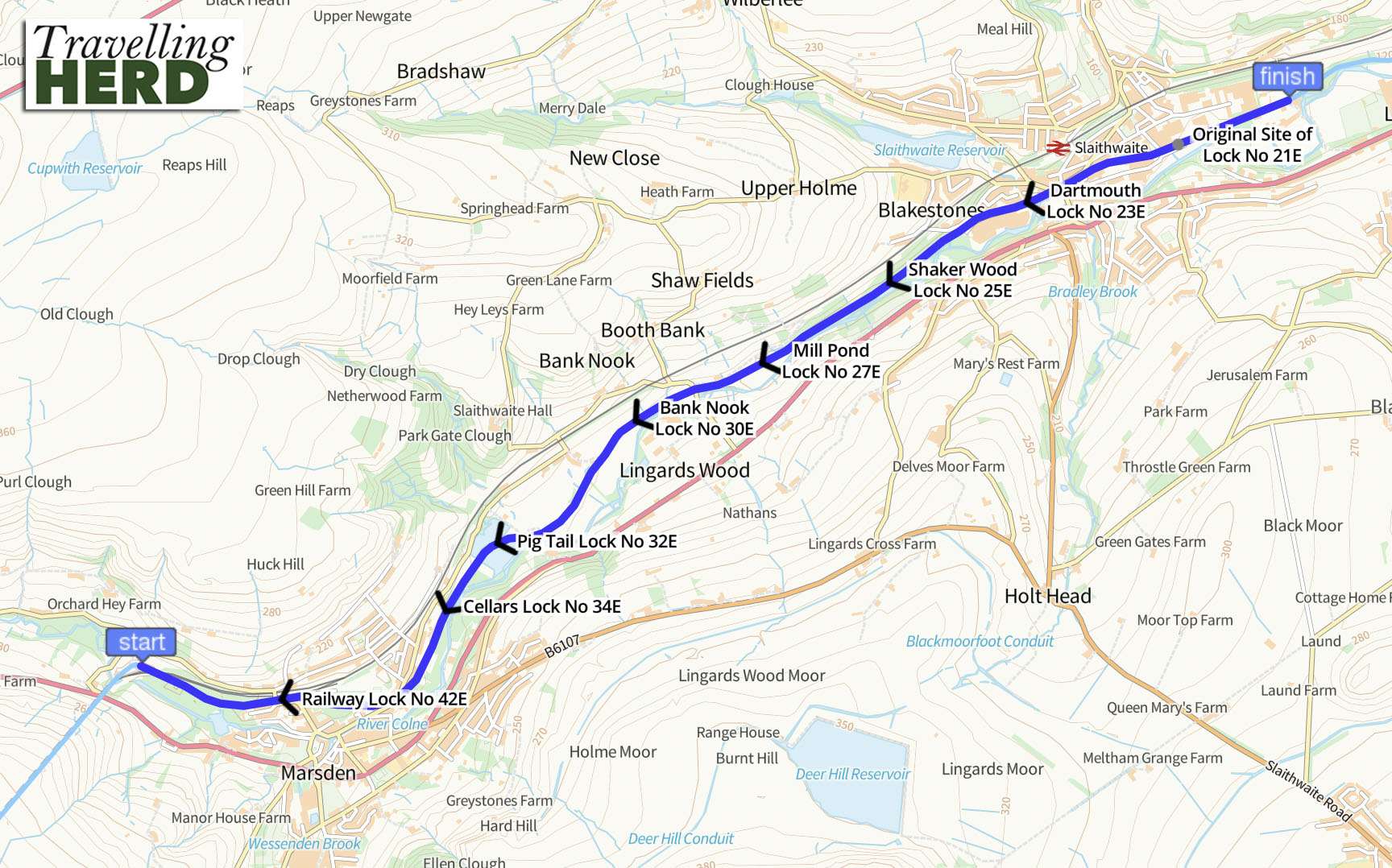 We hoped that their second day would be more relaxing and it seemed initially as though this might be the case.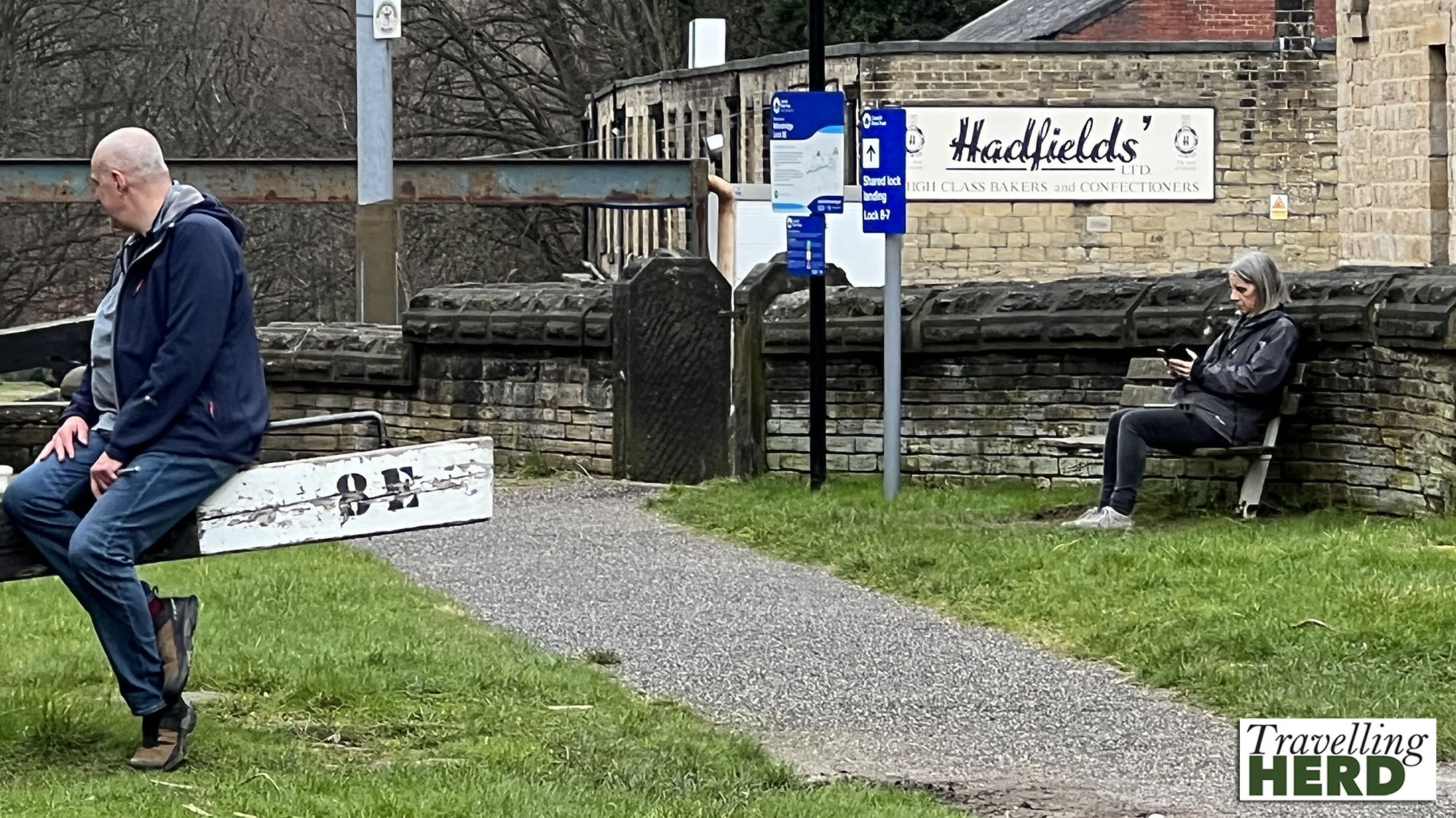 Sue happily used the gates to traverse the lock. . .
. . . and confidently operated the lock gates.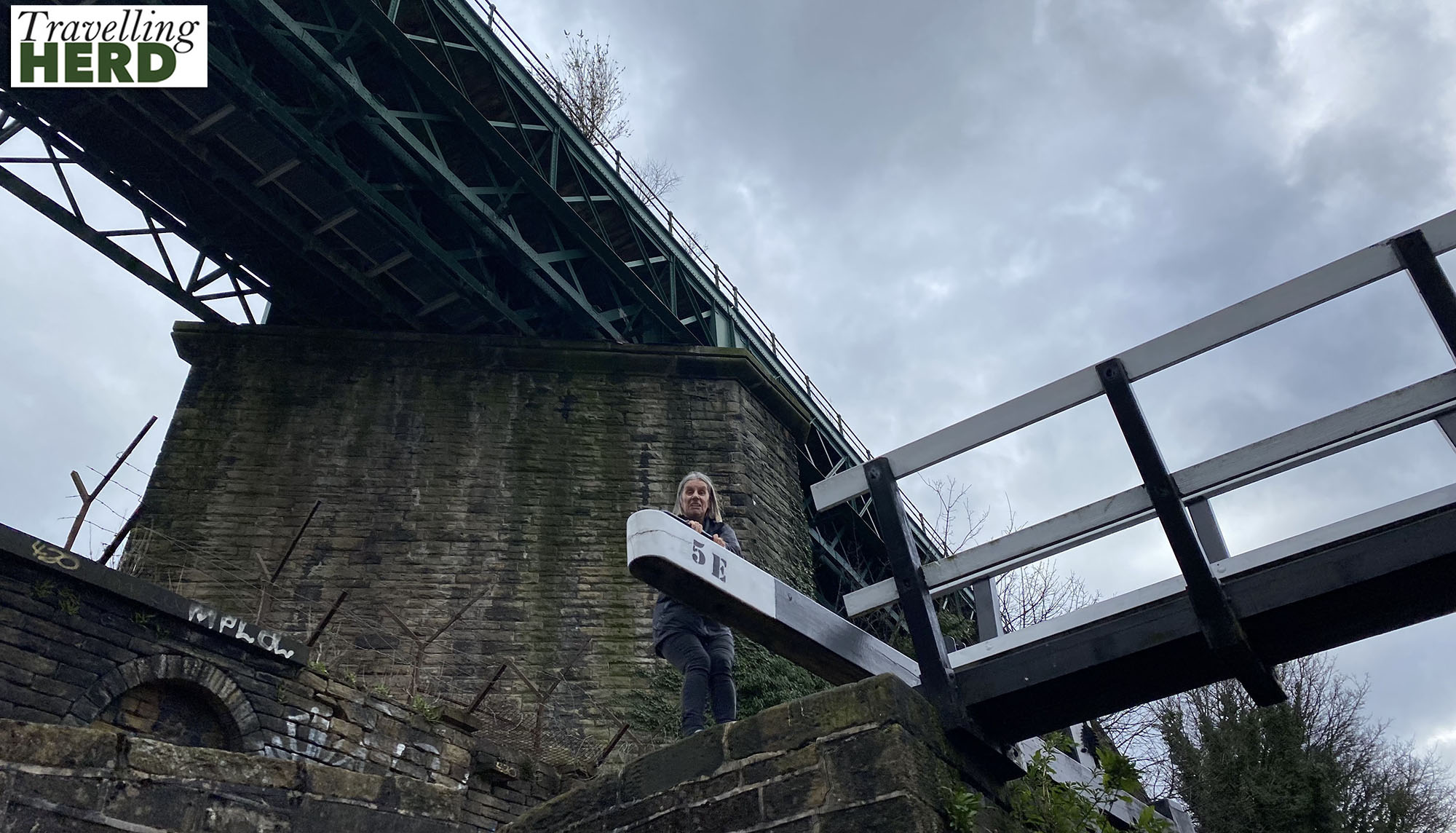 But some of the paddles were still proving resistant.
Sometimes, when the lock is filling or emptying, you just need to take advantage of the sunshine.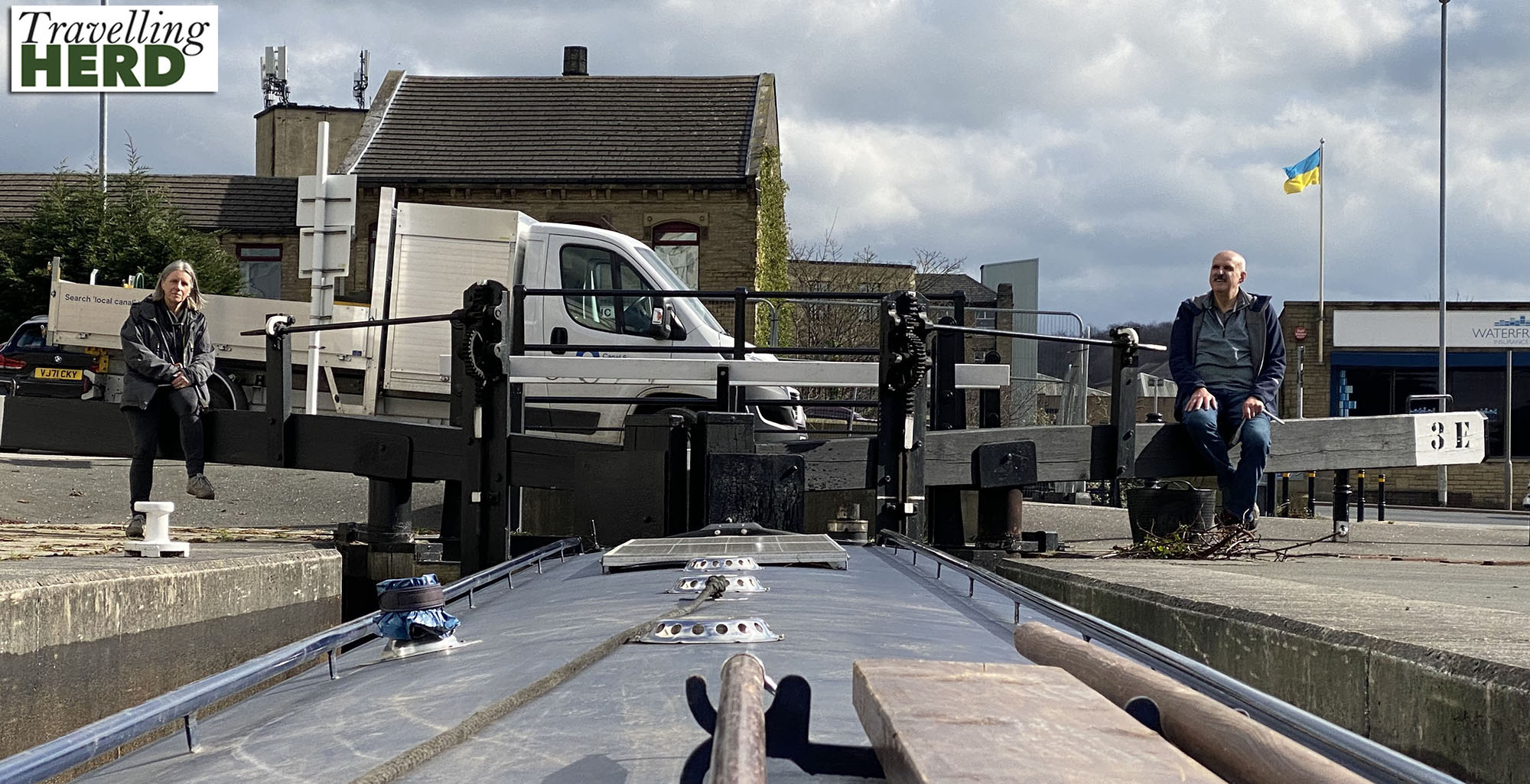 The modern buildings of Huddersfield University are quite striking.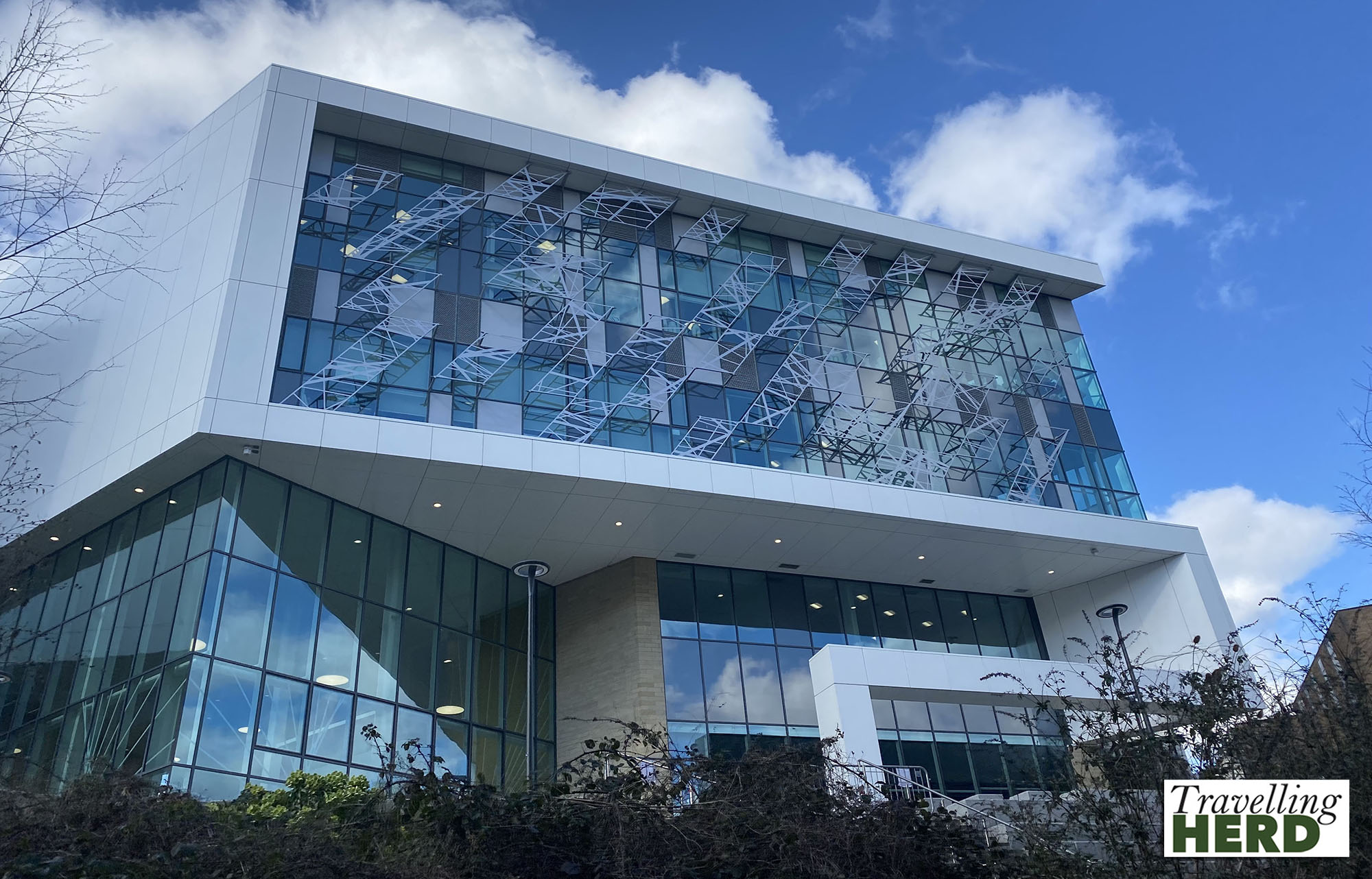 To help to monitor water flow and canal traffic, you have to book on-line to go through Lock 1 on the Huddersfield Narrow Canal and it transpired that it was Colin who was due to open it for us on Friday morning. As he had helped us through the water shortage of the previous day and knew where we were heading, he contacted us to check on our progress as there was a new closure planned for Pound 5 to allow for some works to be undertaken. He also said that he would open Lock 1 when we got there so we could go through without waiting for the following morning.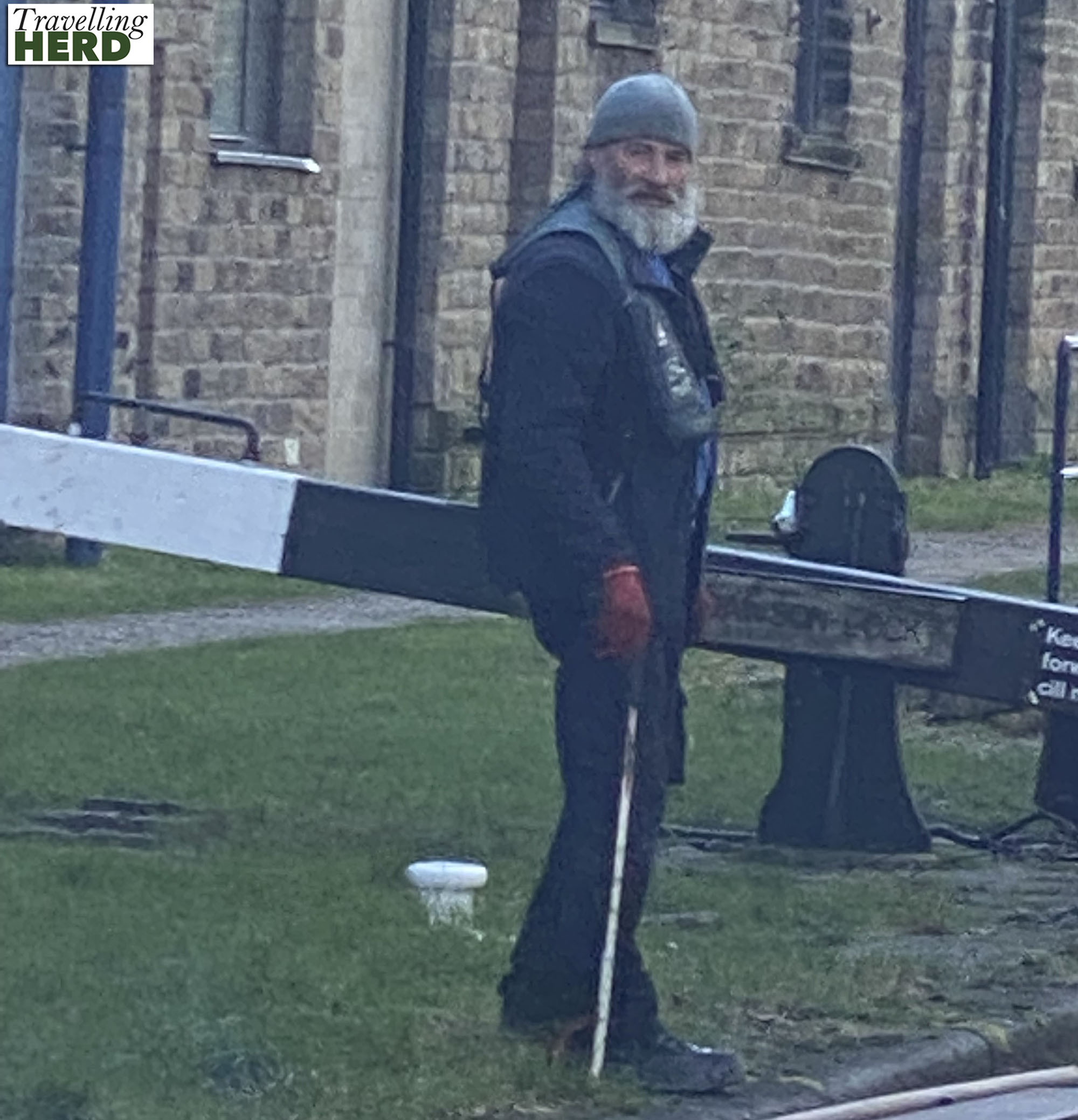 Having passed through Lock 1, we were free to continue at our own speed and went in search of moorings. We have to thank Colin for his good humour, flexibility and assistance.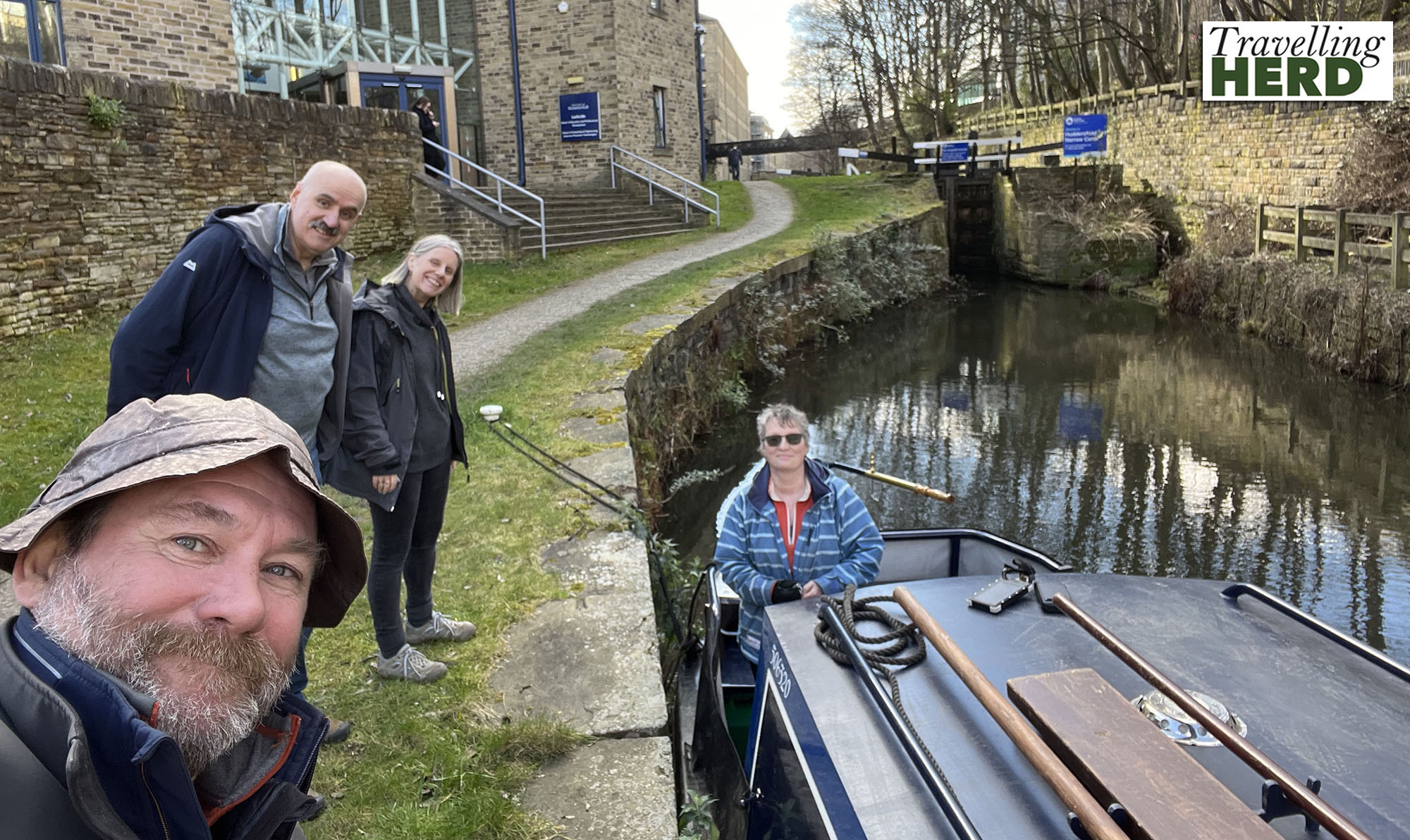 Having had a new memory card delivered to Sue and Henry's, on the next trial, the GoPro ran out of battery so only recorded the first part of the journey.
.
Filling up with diesel at Aspley Wharf we pulled alongside the Old King Cole and the owners told us that before they had bought their own narrowboat they had twice hired from David Dare [longtermnarrowboathire.co.uk]. We said The Duke was one of his and she was right when she said "it will have its own idiosyncrasies then".
The Calder and Hebble Navigation is almost unique in that it requires a special hardwood handspike to operate the paddle gear on some of its locks and we had been advised to buy a "spike" at the shop here.
As we were negotiating the mooring point for diesel another narrowboat arrived to use the water point. They said they had plans to go along the Huddersfield Narrow Canal but had not yet booked to go through Lock 1. Consequently, CRT were unaware of their plans and they would have to wait at Aspley Wharf until the works at Pound 5 were completed and the way was clear for them to continue. Not for the first time, Matilda was pleased that Robert likes to plan meticulously.
We moored right next to The Aspley and although Ralf was threatened with being barred if he barked too much, we managed to have a pub meal in peace and were grateful to Sue and Henry for this treat.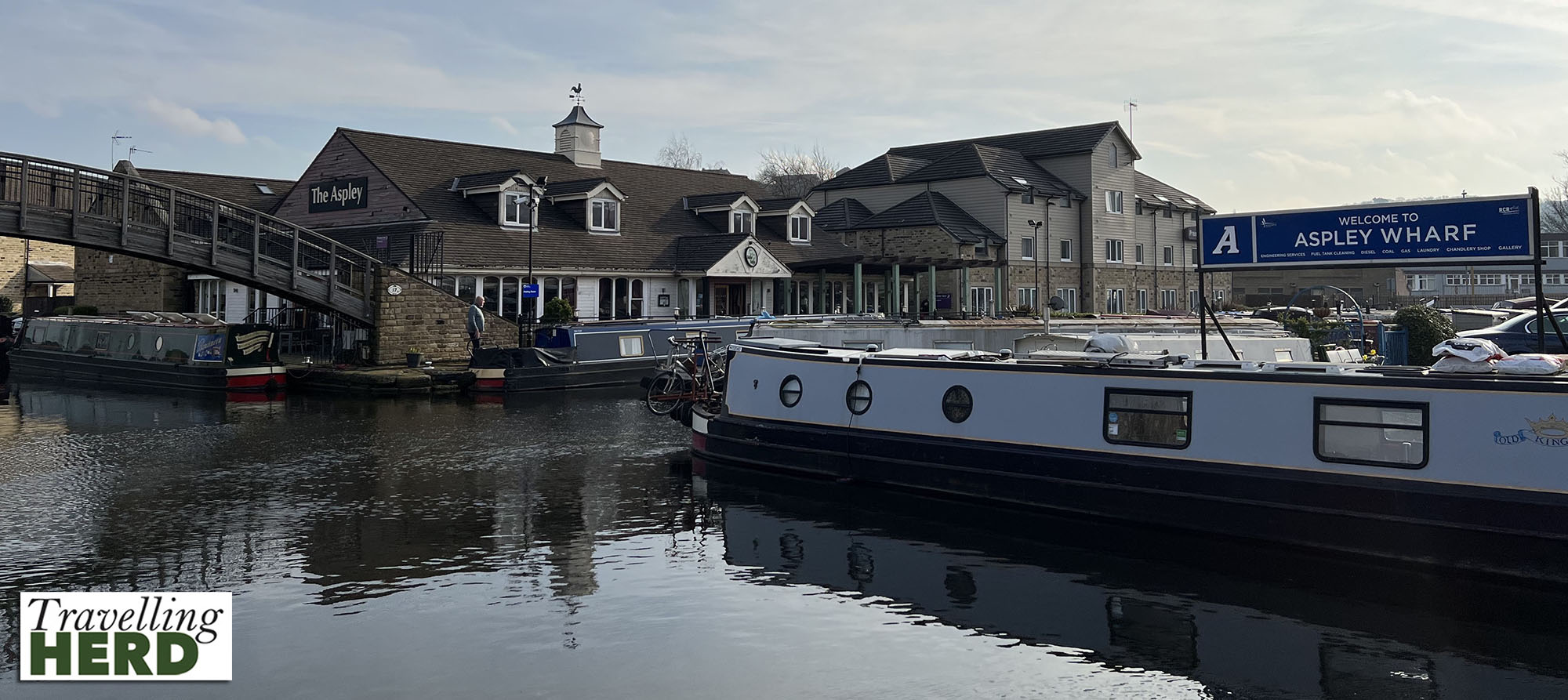 10/03/2022 – Miles: 4.34 – Locks: 19 – 3h30m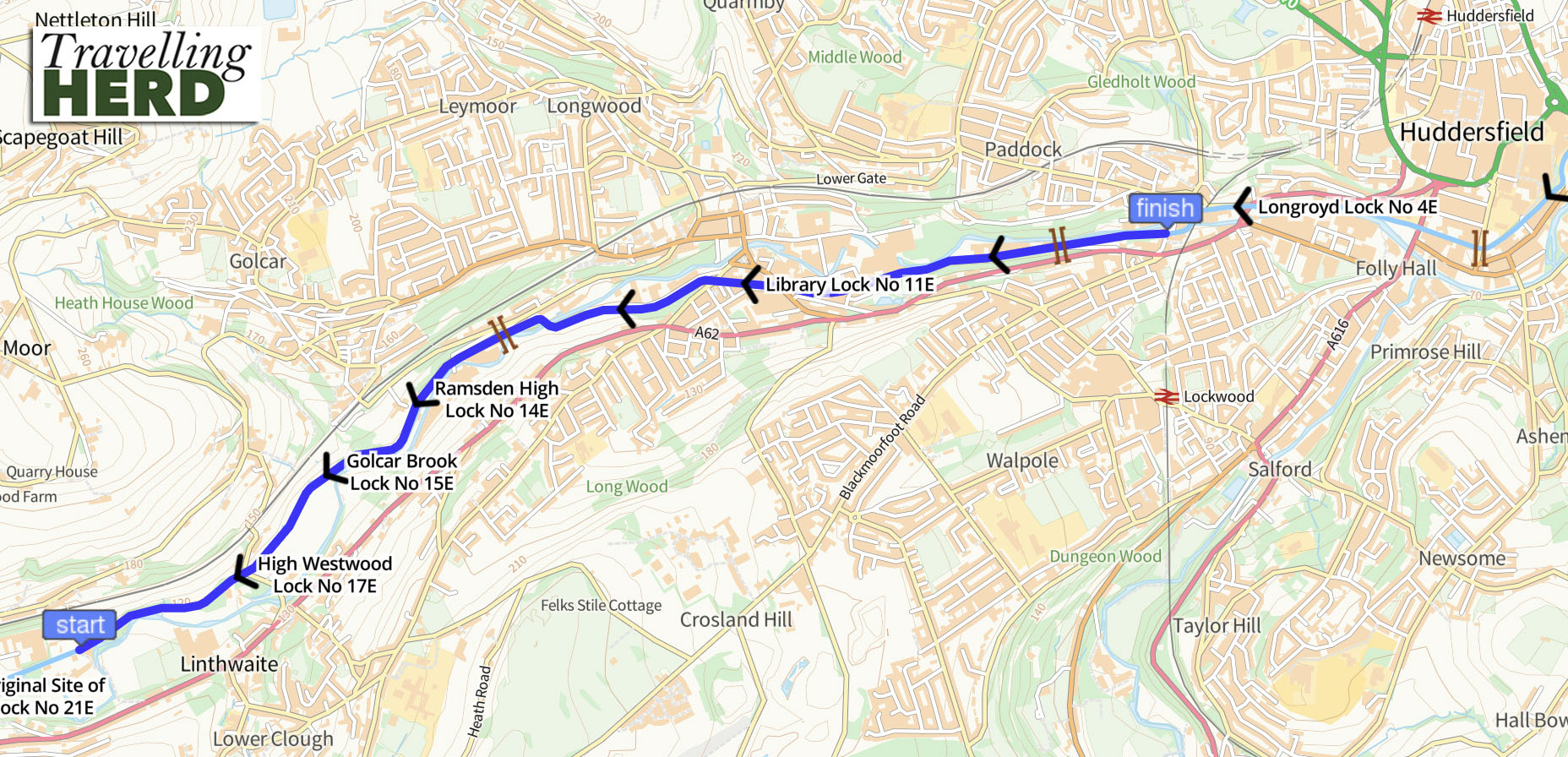 Having checked them out the day before, Sue, Henry and Matilda all decided to make a clean start of it and use of the boaters' facilities to take a shower. Henry and Robert then fortified themselves for the day with a cooked breakfast at The Aspley. Henry had chosen to wear a new pair of trousers with multiple pockets and as it was an "eat all you like/free refills" style breakfast he thoughtfully made use of his pockets to bring jams, marmalade and cereals back to The Duke. On a smaller scale, Robert also brought some Earl Grey teabags back for Matilda.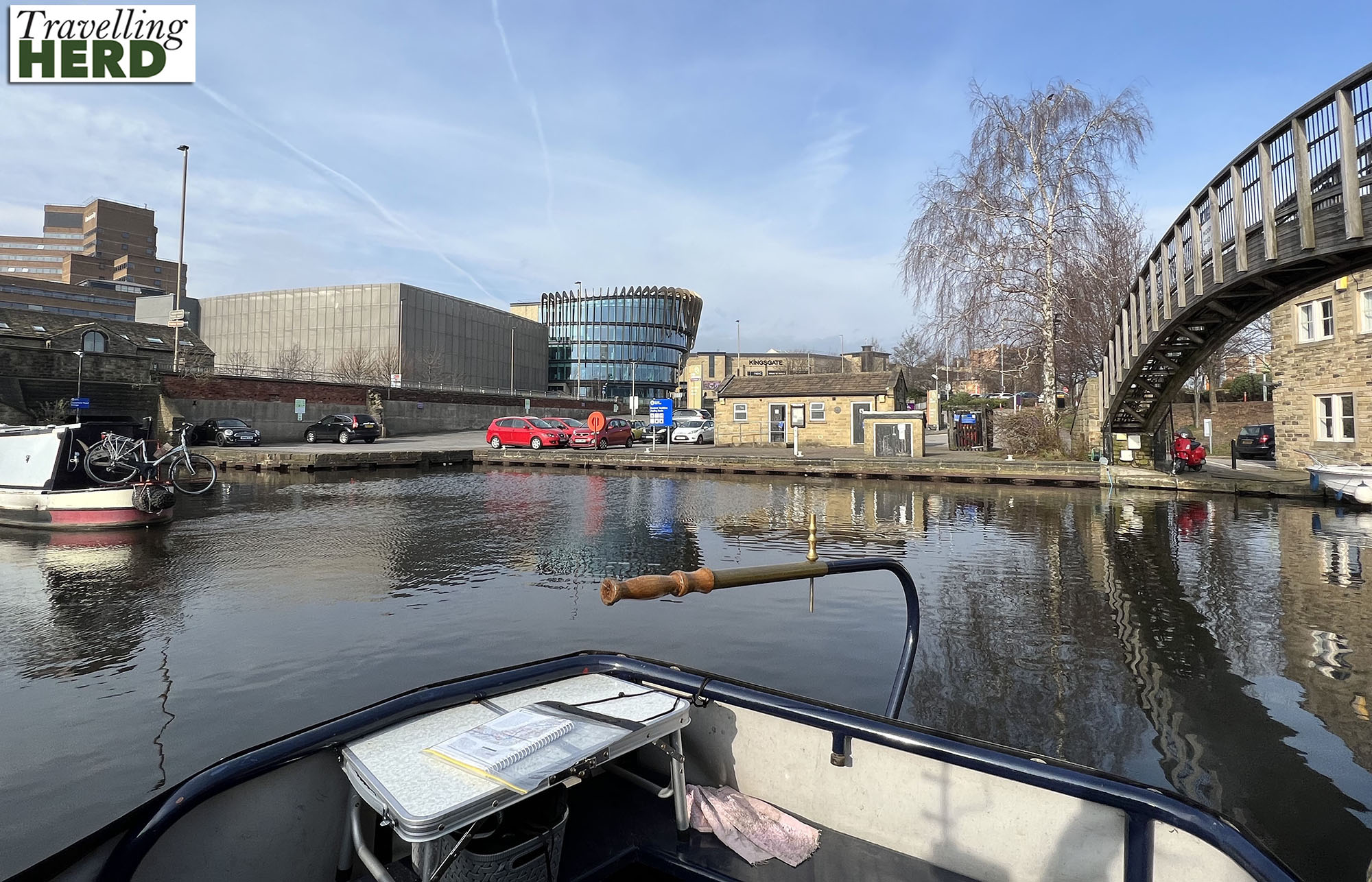 Day 24 started with the Quay Street Bridge Lift which, unlike the guillotine lock gate, was electrified and raised at the press of a button. . .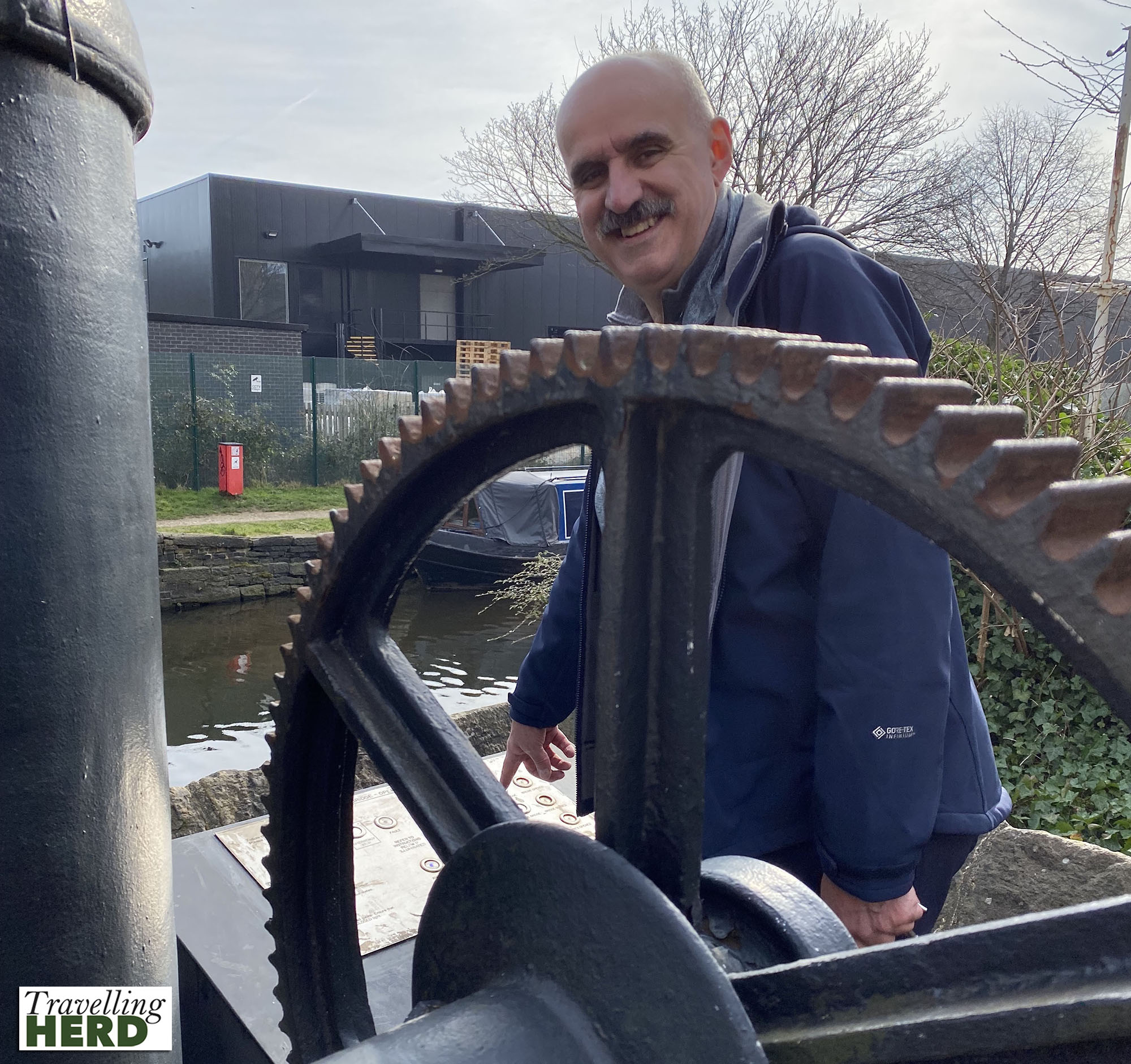 . . . to allow The Duke to pass underneath.
Today's induction was to be steering for Henry. This proved to be a baptism of fire as the locks on the Calder and Hebble Navigation are 14ft 2ins wide but not particularly long at 57ft 6ins. The Duke is the maximum length narrowboat which can fit into these locks but it is a tight squeeze and at several points when Sue and Matilda tried opening the gates the bow of The Duke was in the way and much manoeuvring was required to exit the lock.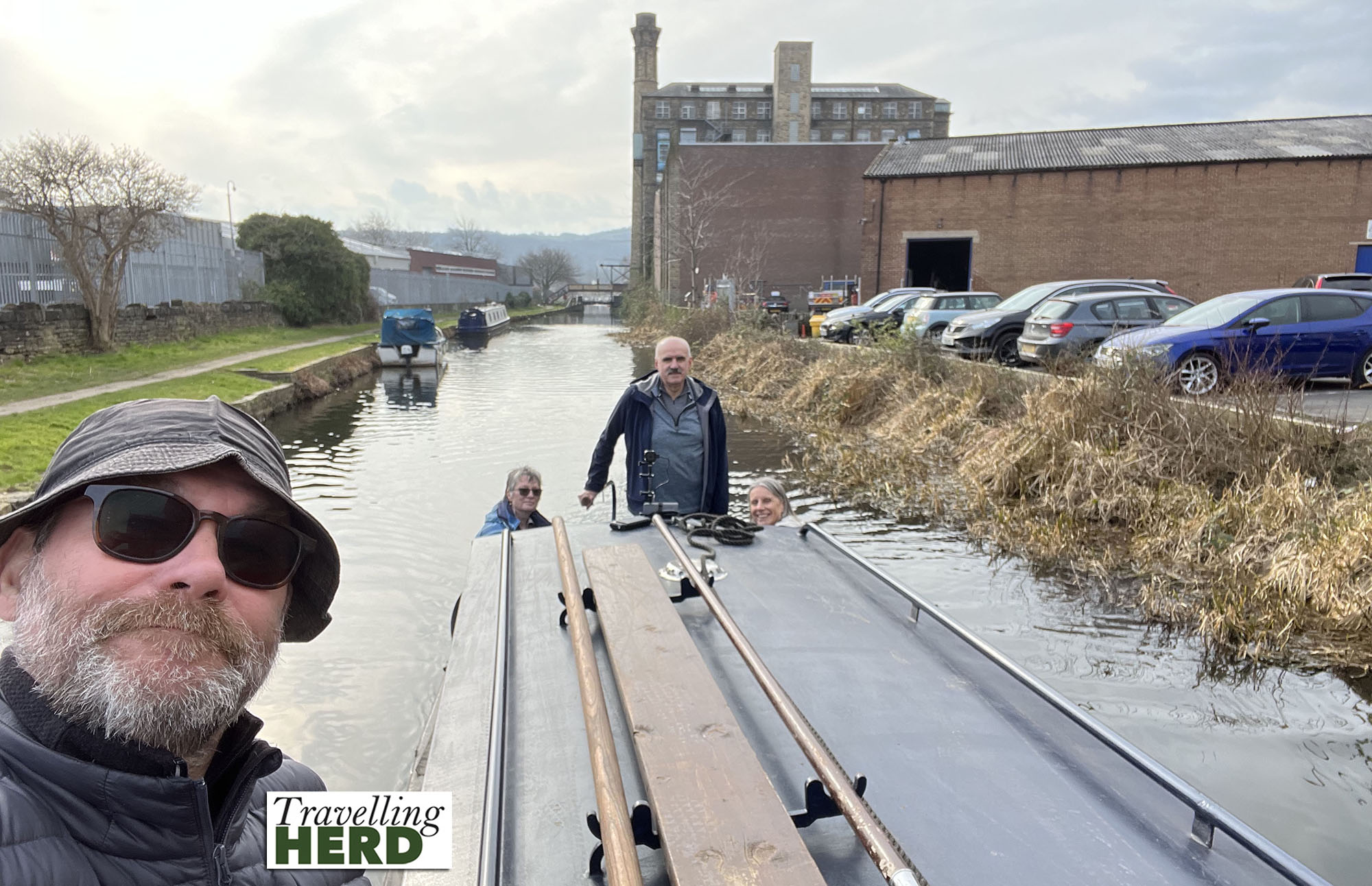 Matilda was disappointed not to be able to visit the Luddite memorial at Cooper Bridge known as the Dumb Steeple, as this must be one of the most uncomplimentary names ever bestowed on a memorial.
We had been told that there was a stretch of canal where there was no towpath and we came across this as we moved on to the Calder River.
Unfortunately this co-incided in a lapse in team spirit at a tricky moment in the navigation.
Robert refused to have Ralf on board and sent Matilda off to walk the non-existent towpath with Ralf and meet The Duke further on. Sue and Henry were also denied the opportunity to come back aboard but fortunately caught up with Matilda in an industrial area as Ralf had not been travelling at any speed.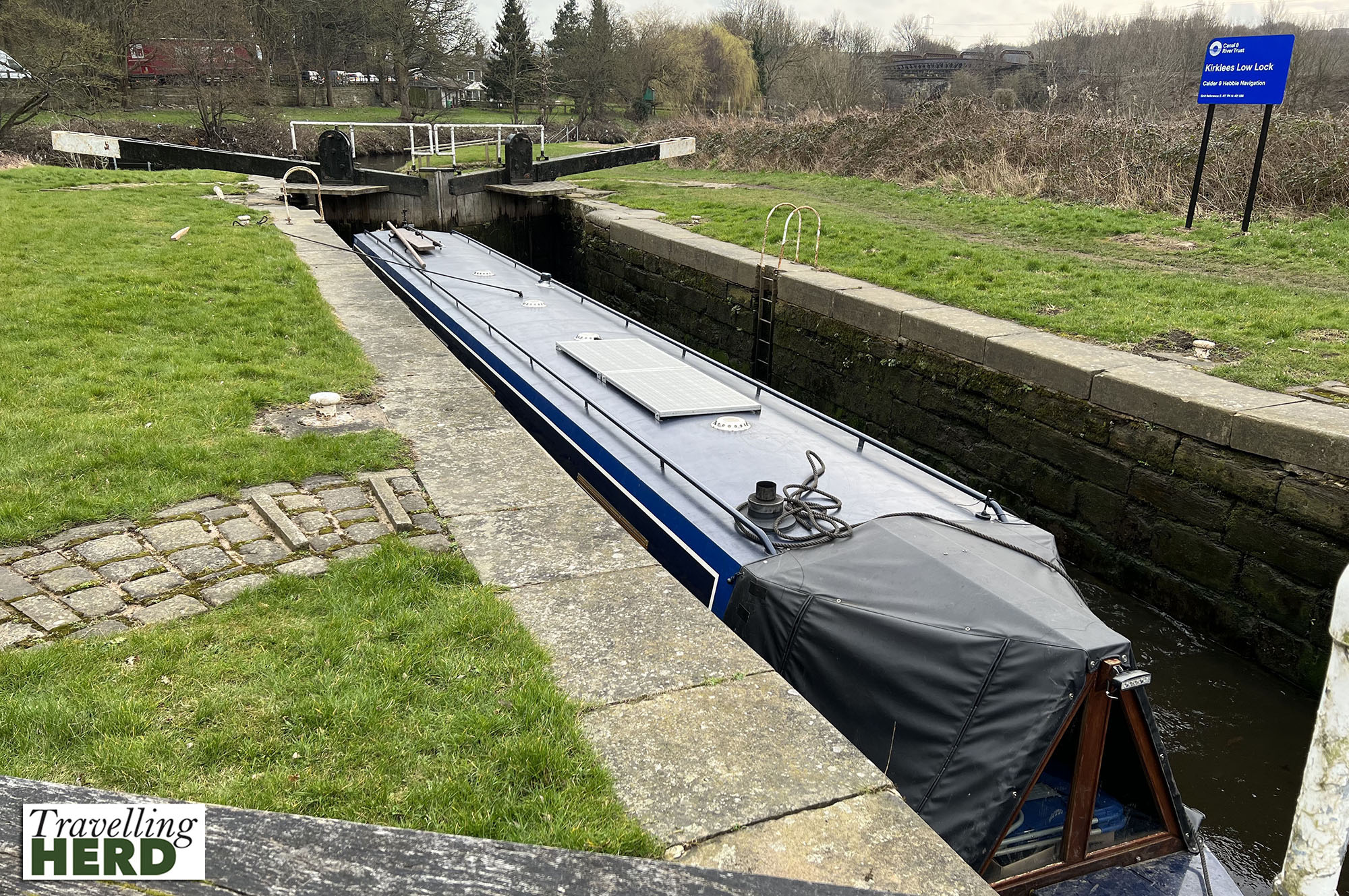 Robert felt himself, perhaps unjustly, to have been abandoned to negotiate getting The Duke through a lock on his own. He waved to the three pedestrians from the lock and phoned them to issue more instructions about rejoining the narrowboat but also rose to the challenge of videoing himself using the spike for the first time.
Henry later took control of the spike and could be seen, armed with it and a windlass key, walking the towpath in a menacing fashion.
In a rare moment of canal camaraderie, we all found ourselves on board at the stern, together.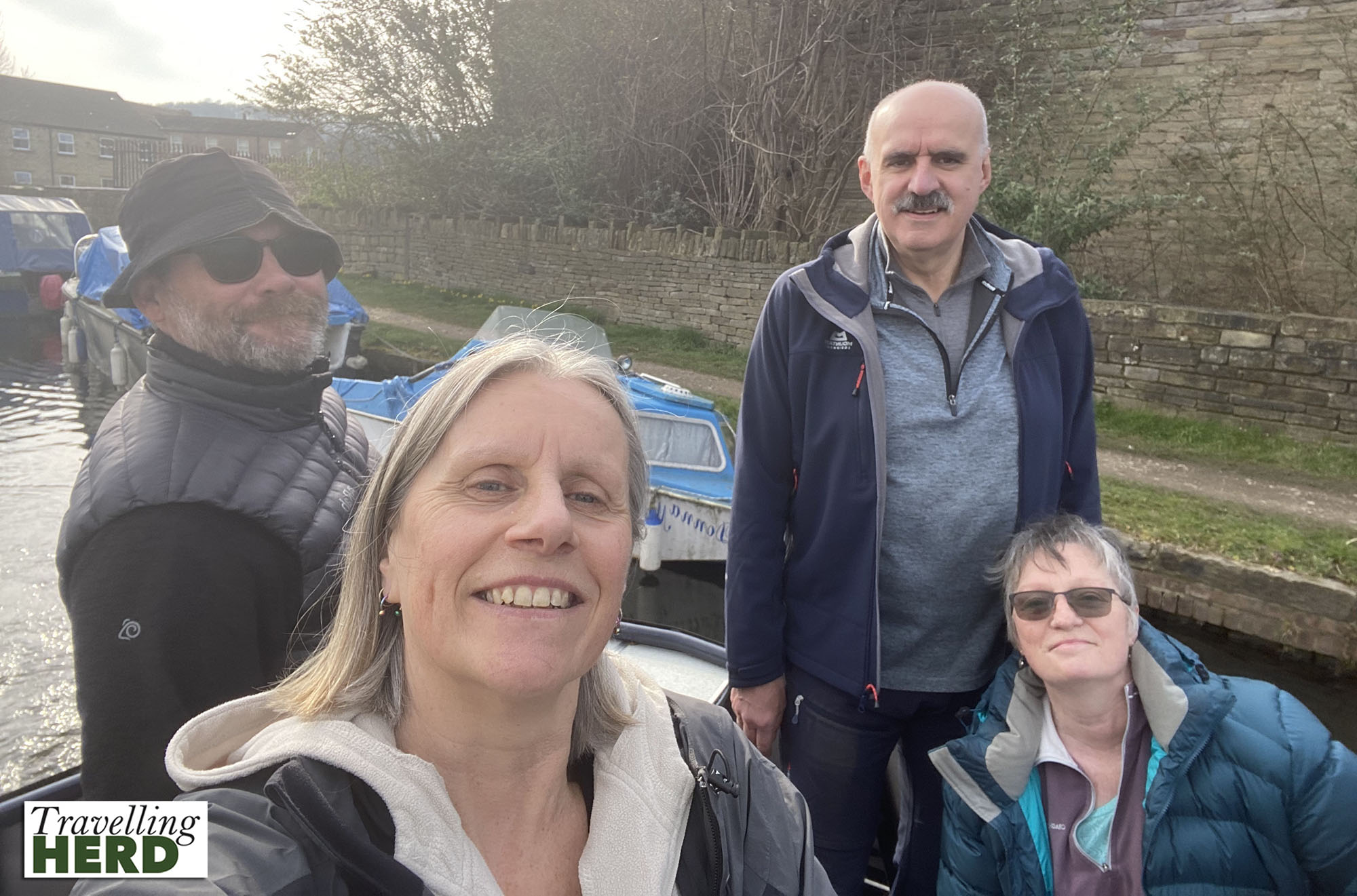 Following the power failure, Robert introduced an external battery pack for the GoPro and finally he adjusted the time delay to one frame every second and is now pleased with his video summation of the route.
Richard Oastler [1789 – 1861] was also known as the Factory King and conducted a campaign for shorter working hours that was in part responsible for the Ten Hours Act of 1847. The Wetherspoons pub of the same name was converted from a Methodist chapel built in 1878. It was subsequently extended into a later chapel annex. Organ pipes and pews can still be seen on the upper floor around a circular balcony but unfortunately these are currently partially obscured by scaffolding.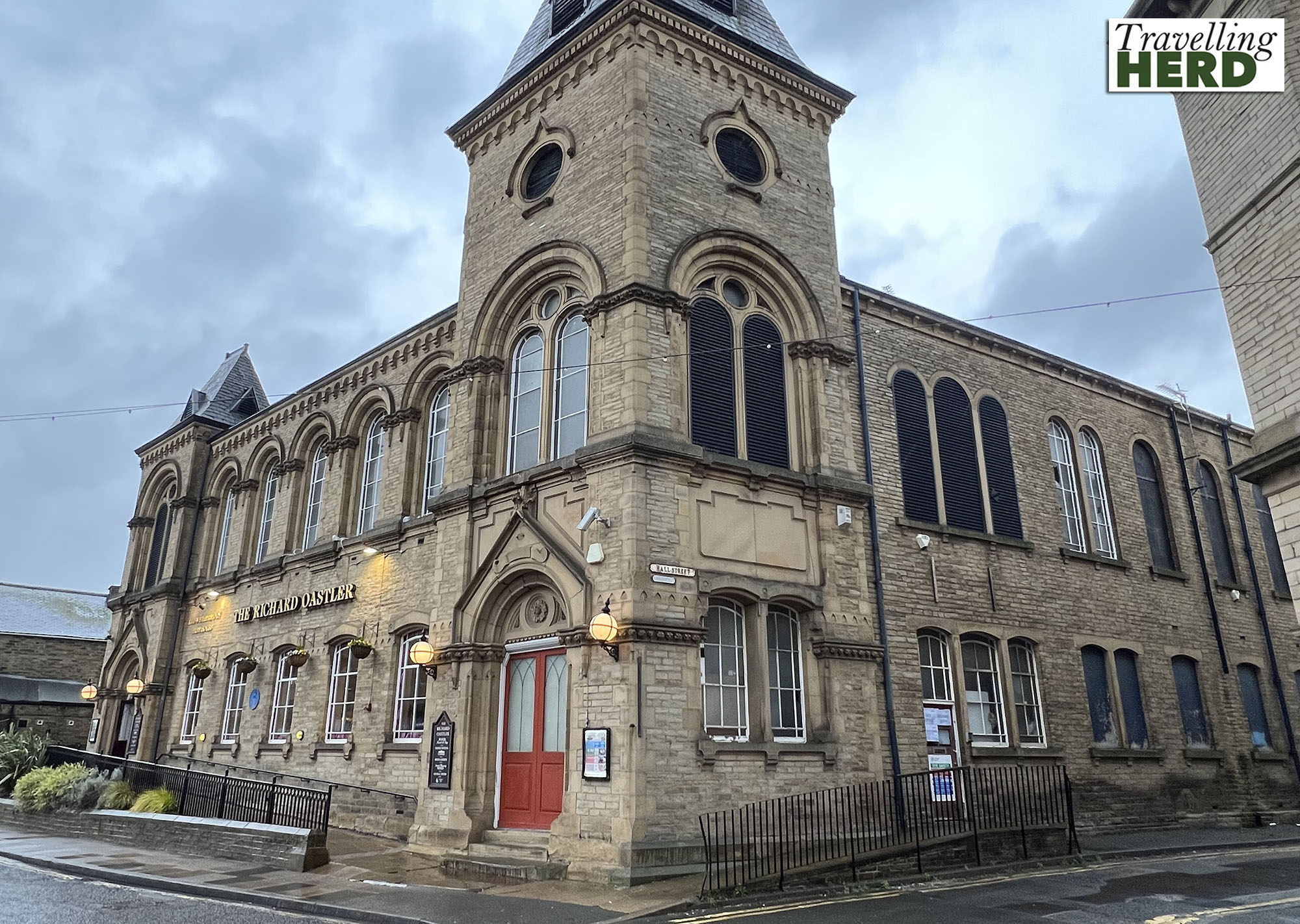 11/03/2022 – Miles: 7.13 – Locks: 18 – 5h00m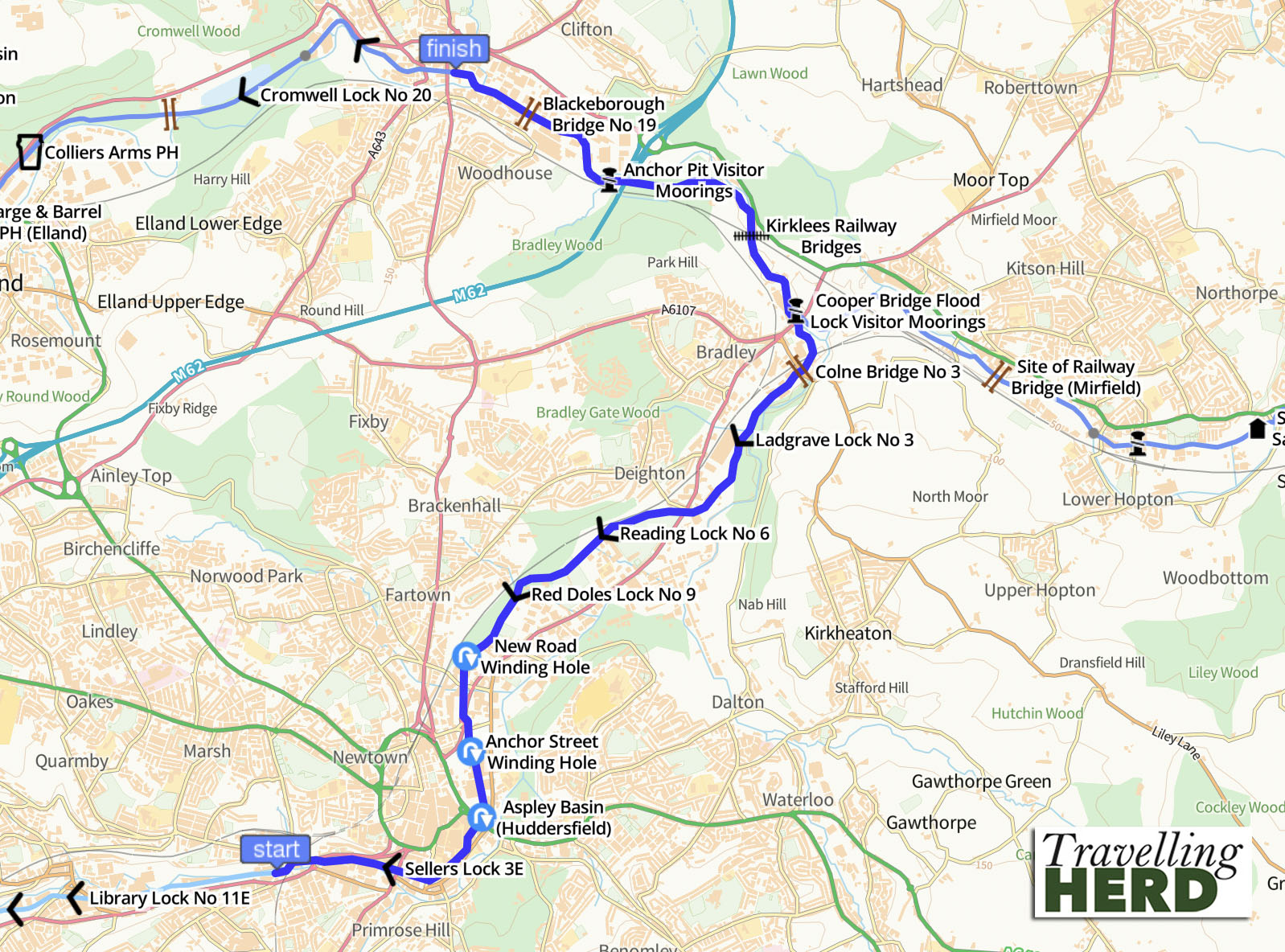 Route Map:
Days: 24 – Miles: 202 – Locks: 231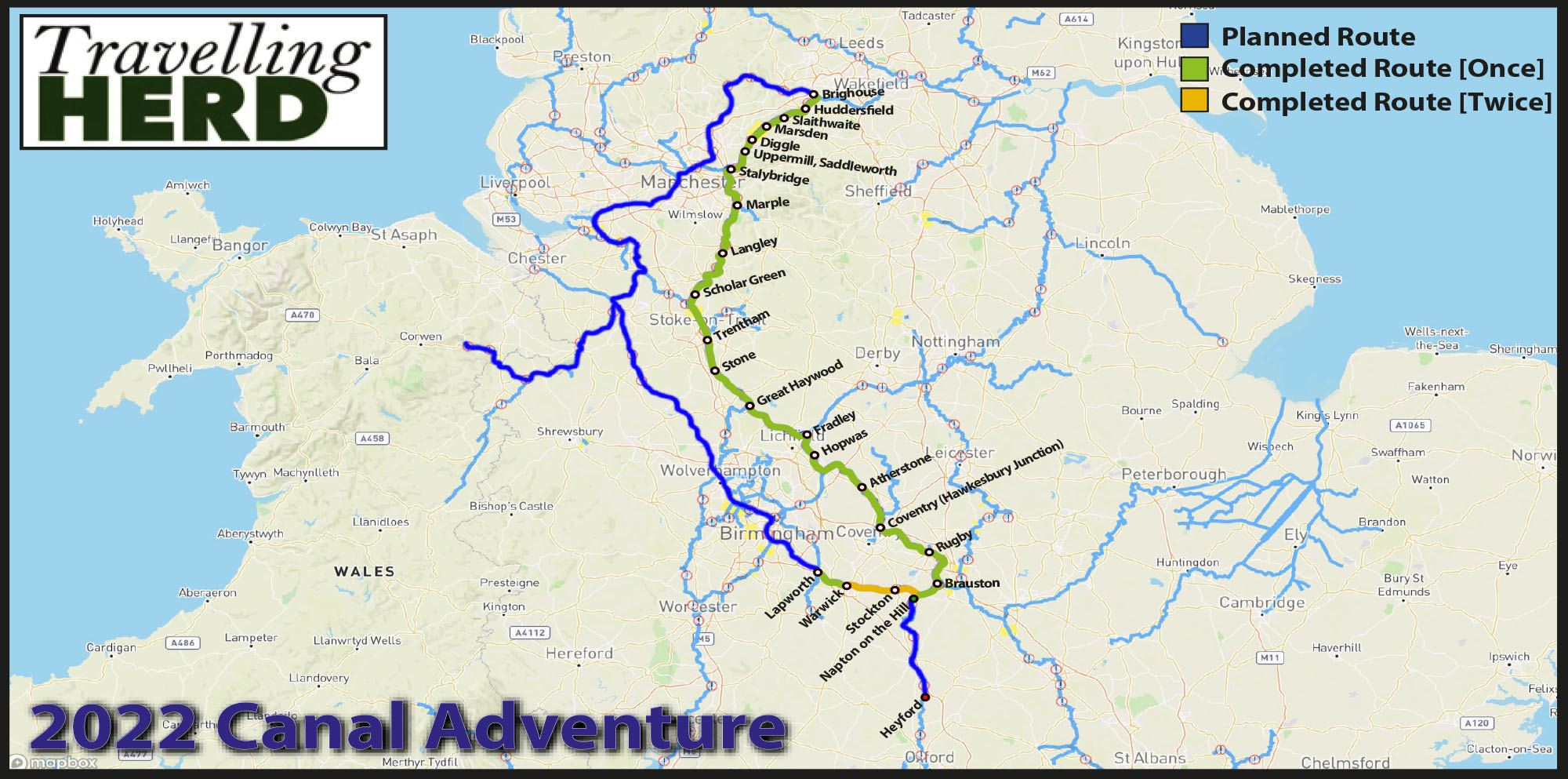 Video of the day:
Selfie of the day: