Monday 28th February to Wednesday 2nd March 2022
As we left Stone at the start of day 13 we passed the old warehouse and bottling plant for Joule's Brewery which was established in 1780 but ceased brewing in October 1974.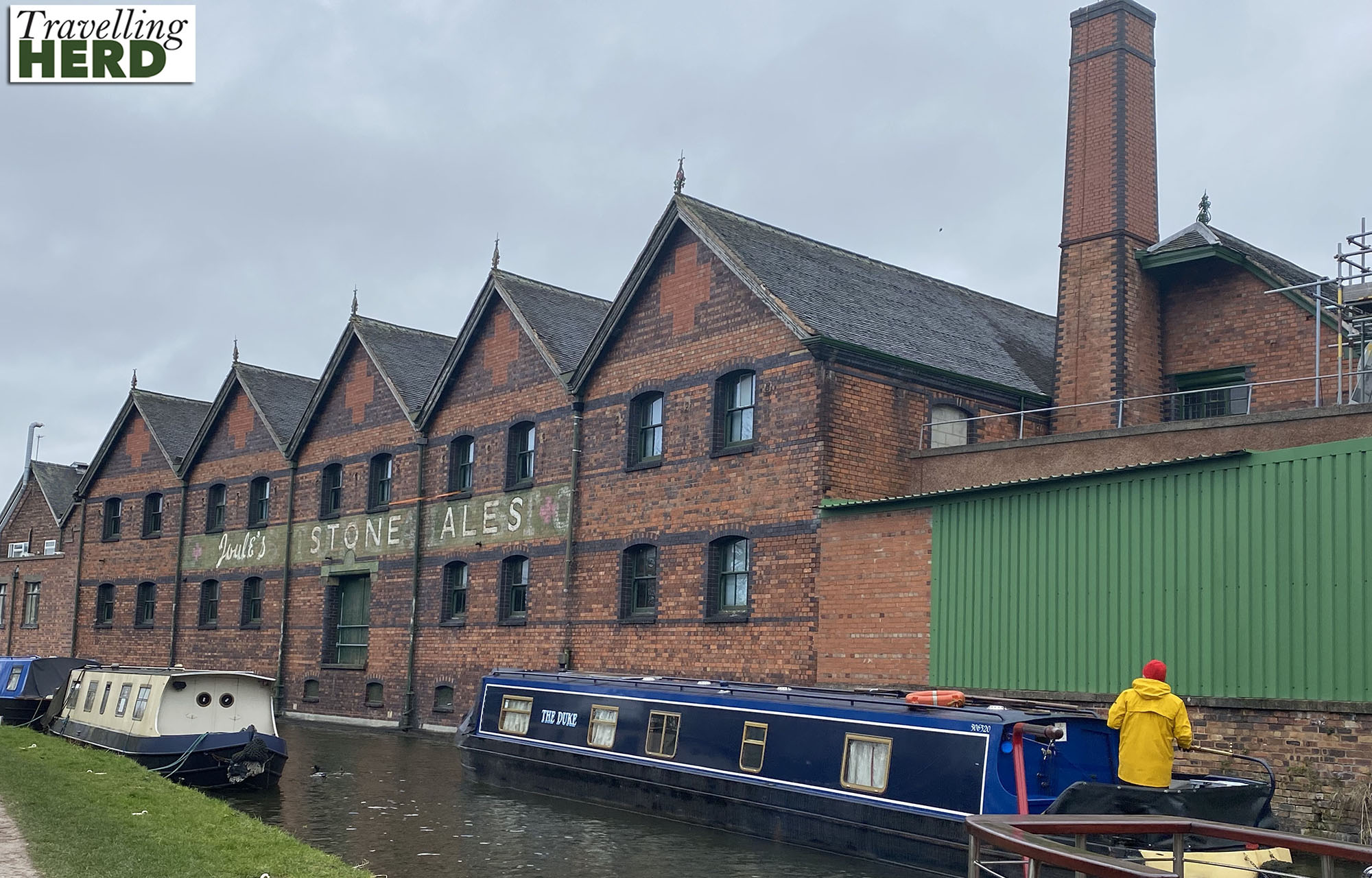 A little further on Robert gazed enviously at a canal-side property by a bridge which not only had its own private mooring but also had a signal box installed in the back garden. Clearly a fellow enthusiast on several fronts.
We also passed The Plume of Feathers, owned by Neil Morrissey but it was too early for it to be open and it was not a stop scheduled on the spreadsheet so we carried on.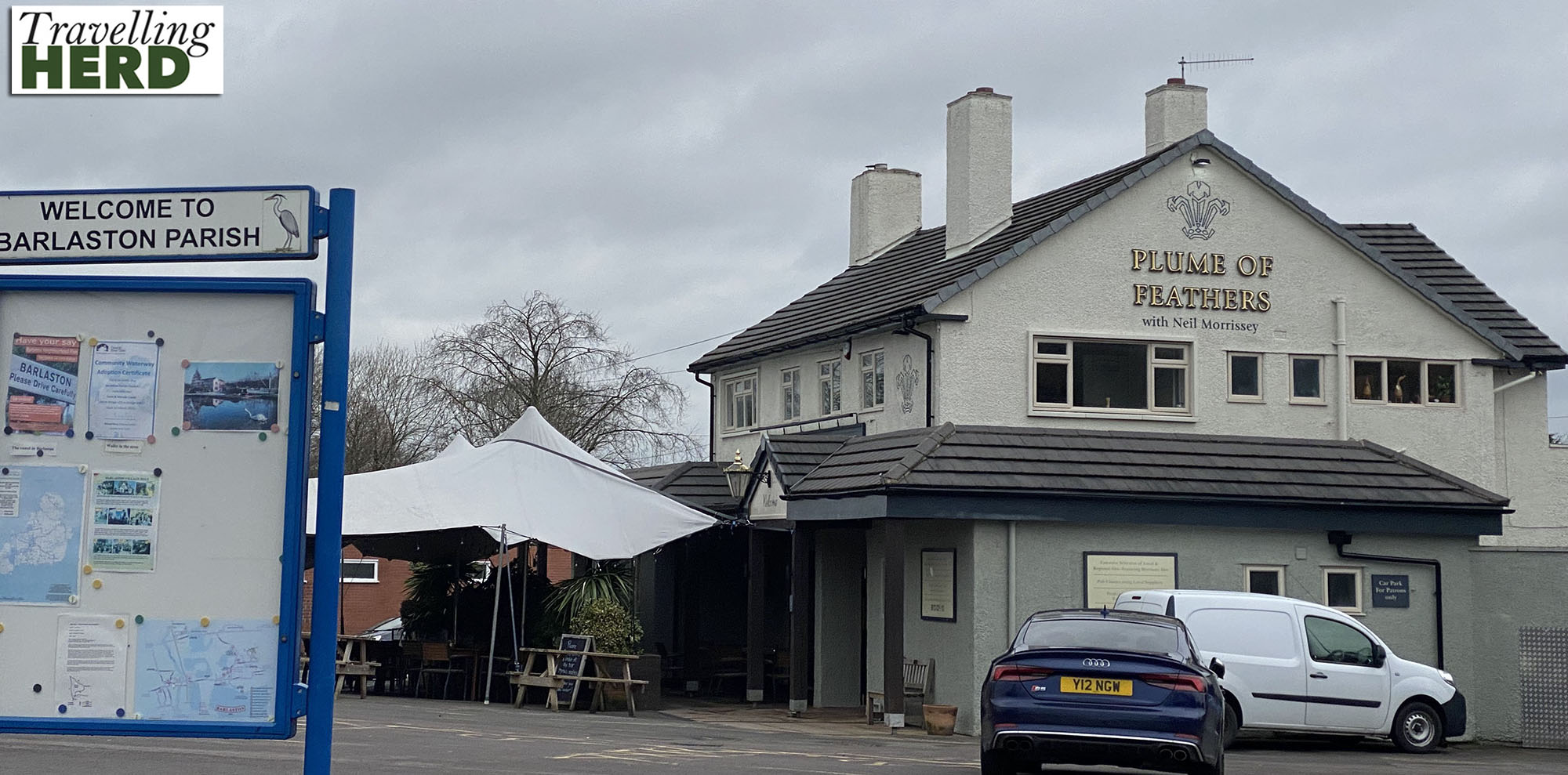 The canal often rubs shoulders with the train tracks and it is easy to see why the waterways were superseded by train as a means of transporting freight swiftly around the country.
The route also took us past The World of Wedgwood which Duncan and Phil had recommended the day before. Having moored up, Robert encouraged Matilda to take in some culture whilst he was tutoring and she set off, despite the forecast of rain, to find The World of Wedgwood which includes the V&A's collection of this iconic brand of fine porcelain. Her phone took her a scenic route through Hem Heath Woods.
However, when she arrived, ready for a cup of Earl Grey tea served in some fine bone china she realised the World of Wedgwood was closed on Mondays and Tuesdays. Matilda had assumed that those with local knowledge who were promoting the visit might have known this, but next time she will definitely do her own research.

Not to be deterred in her search for culture Matilda set off for Trentham Gardens, even though the website said it was due to close at 15:30. Fortunately, from 1st March onwards, the opening times were extended to 18:00 and they kindly took pity on a wet and bedraggled visitor and charged a reduced entry fee as there were only a few hours left to her. Trentham Estate has some gorgeous sculptures and would have been so much lovelier in the sunshine.

On her way back from the gardens, Matilda had noticed that the pub closest to our mooring was closed for refurbishment but a short walk away was bod Trentham which retains features from its previous life as a police station and then a bank.

28/02/2022 – Miles: 5.28 – Locks: 8 – 3h45m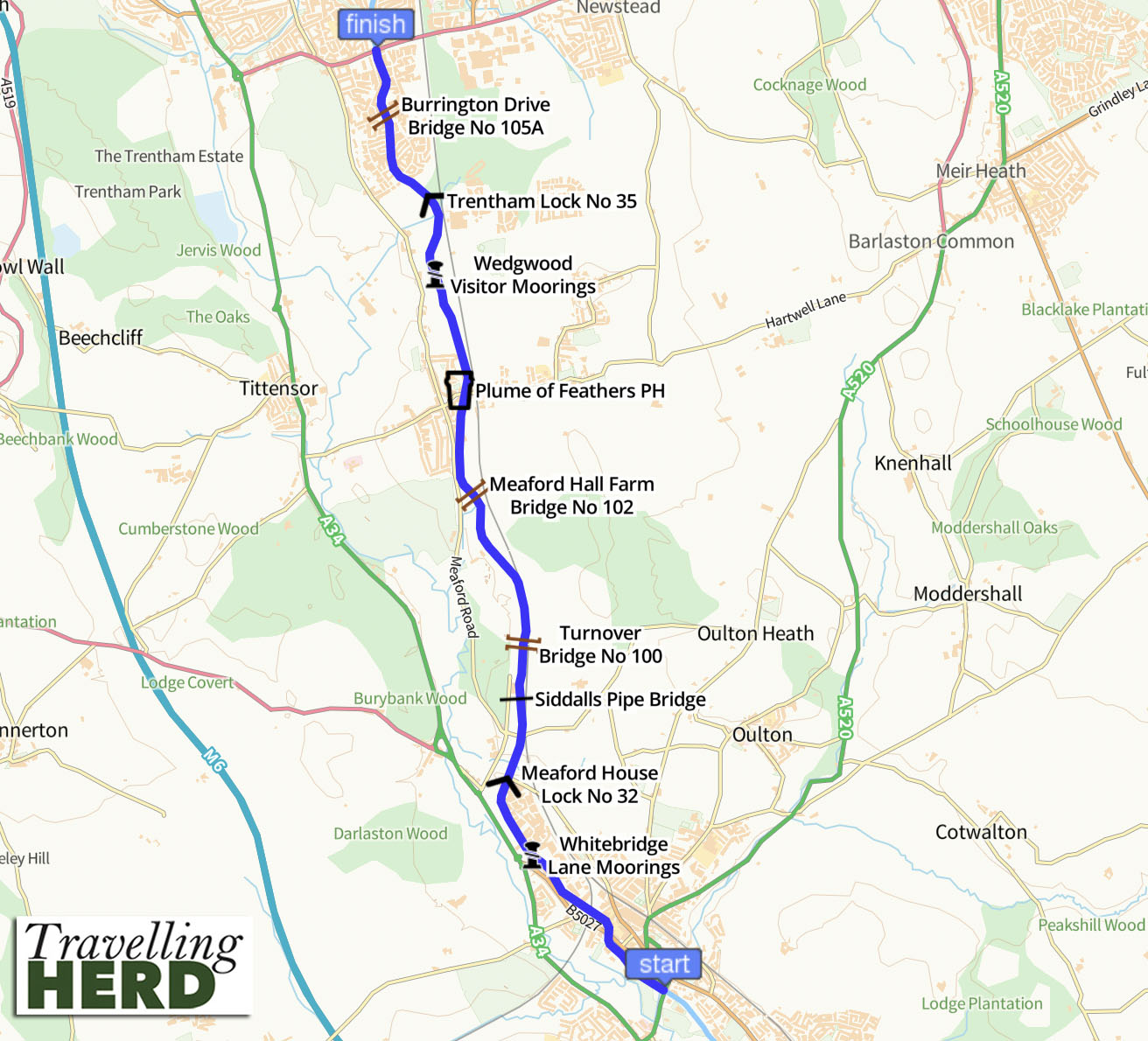 Travelling north through Stoke there are frequent reminders of the city's place in history as a major centre for pottery manufacturing with old brick bottle kilns appearing in residential areas as well as in disused industrial sites.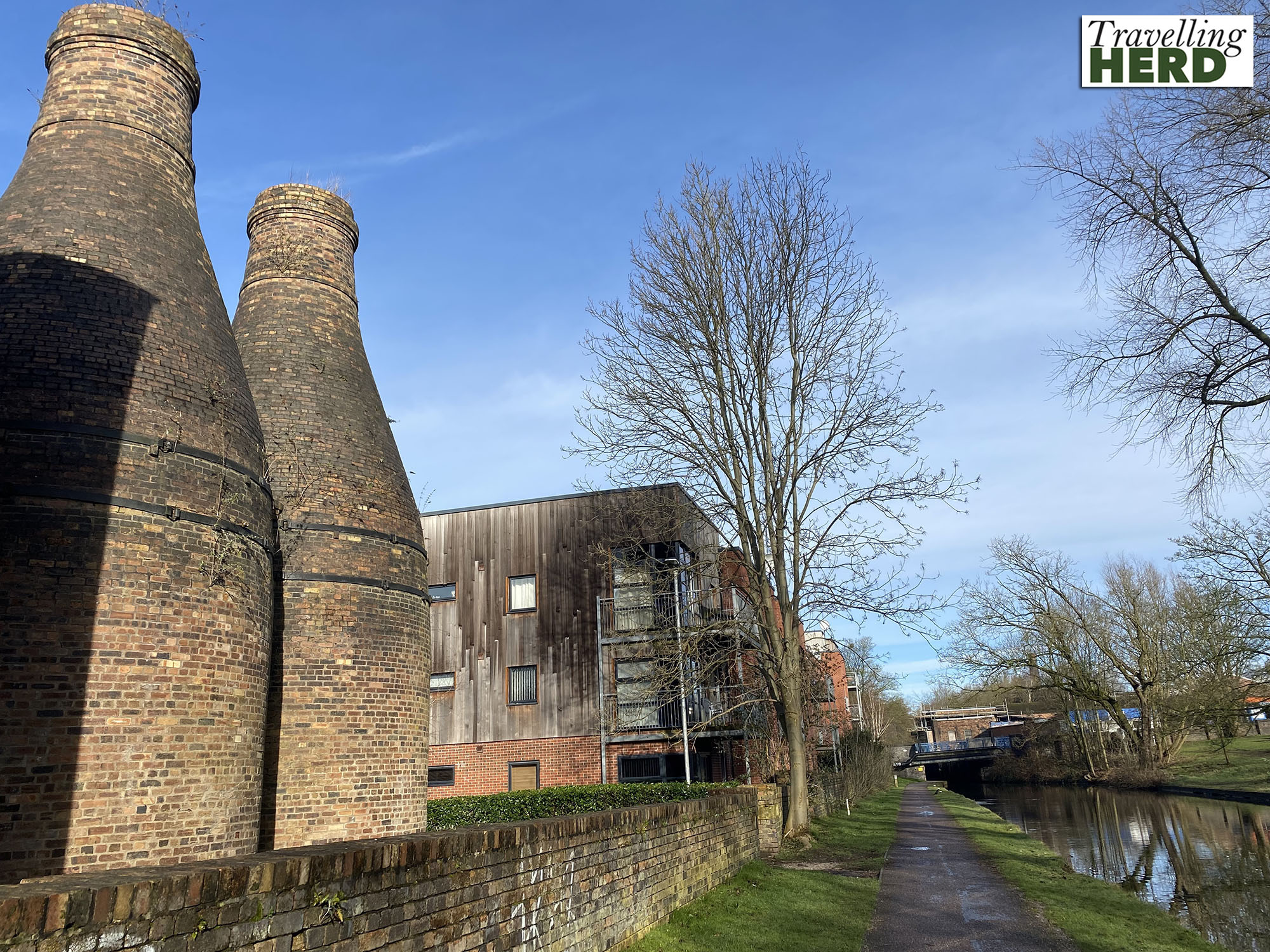 Adjacent to locks 39 and 40 was the Etruscan Bone and Flint Mill which is home to the Etruria Industrial Museum and the only steam powered potters mill in the world. It is open on selected weekends only when the volunteers operate the steam mill.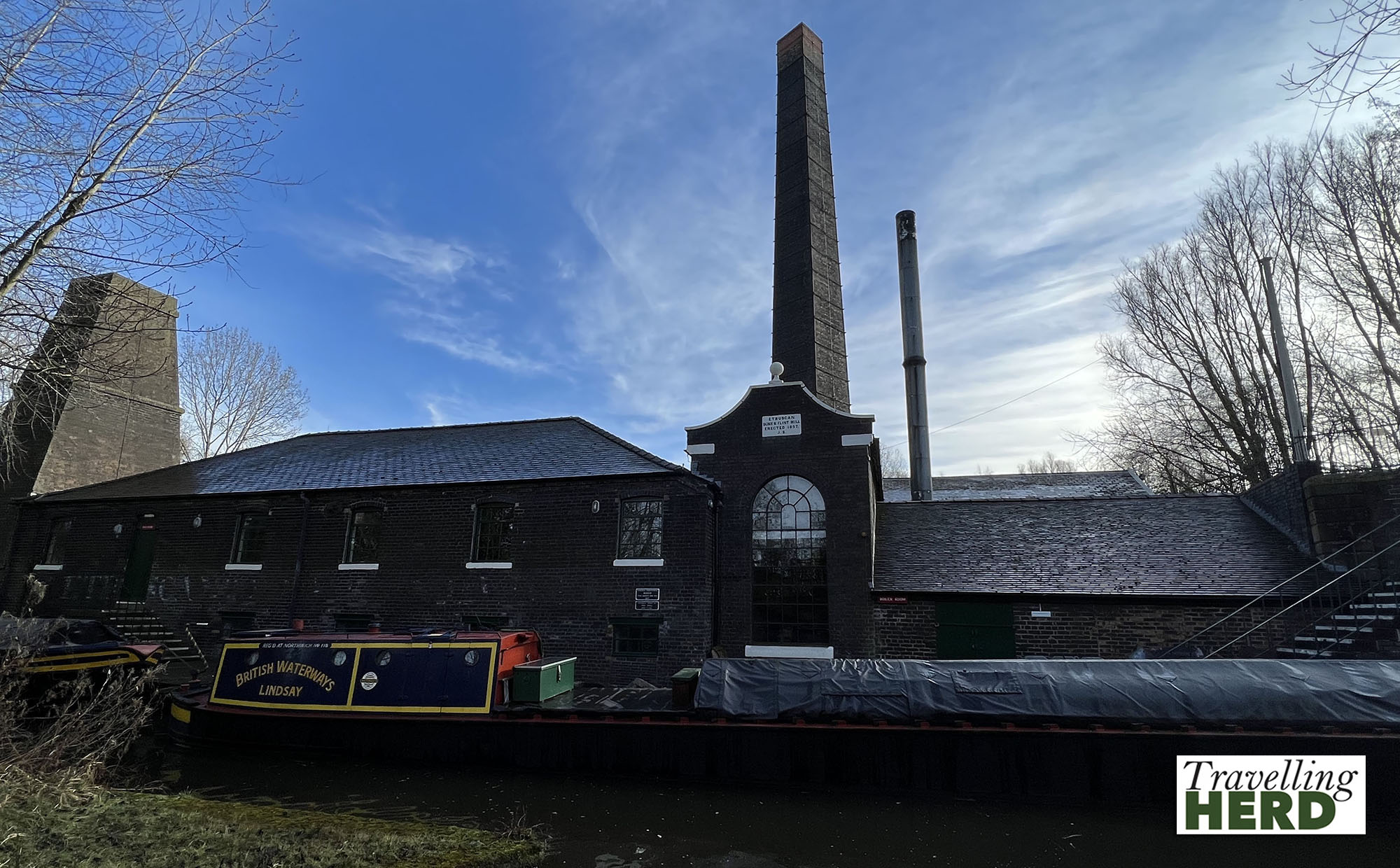 The majority of the locks as you travel through Stoke are very well-maintained and the one at Etruria Wharf includes an old gauging dock [below left] used to weigh the cargoes for tolls.
We had an audience as we negotiated the junction by Etruria wharf with the Caldon Canal.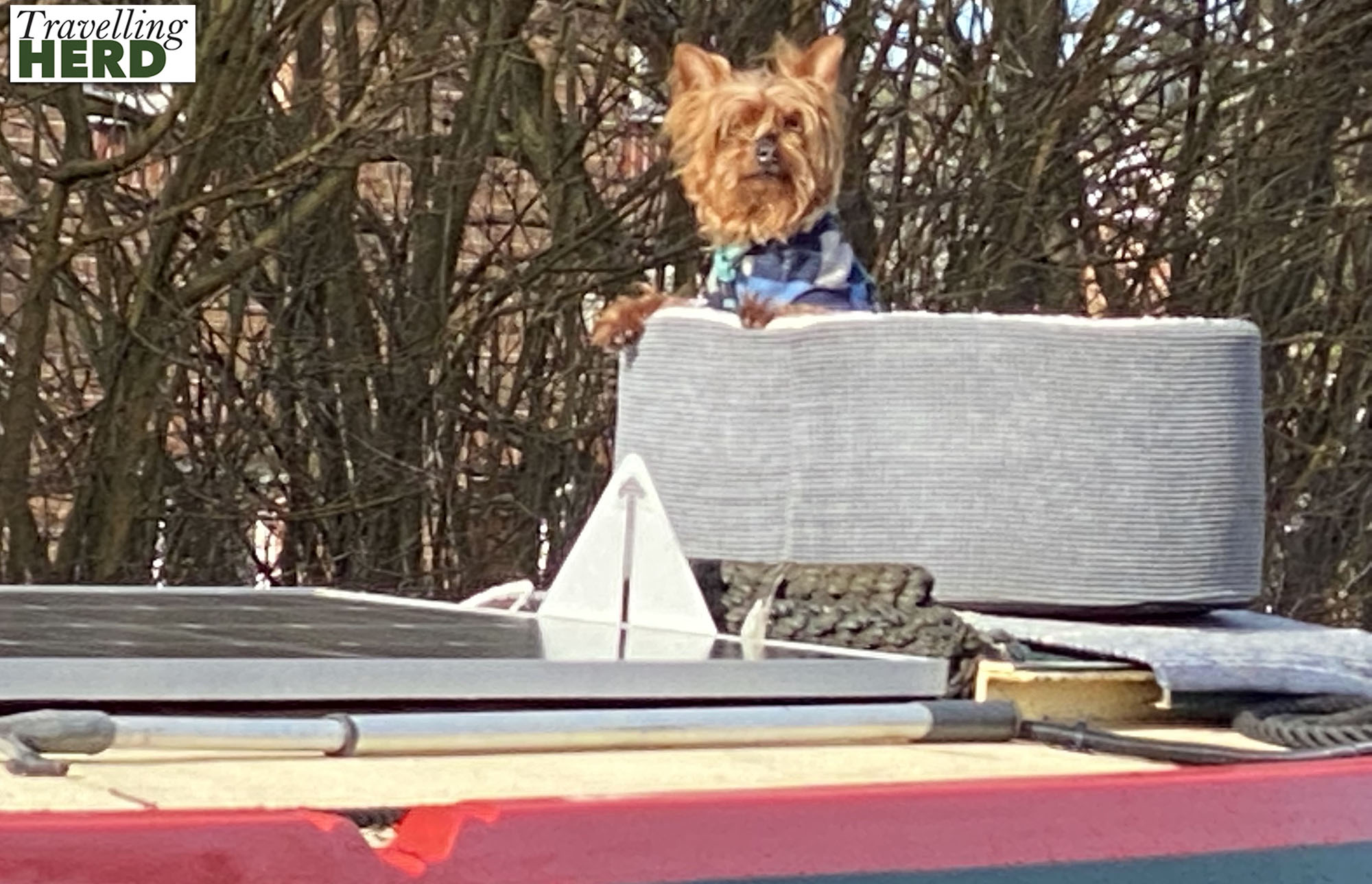 The concrete counterbalance weight for this swing-bridge was impressive.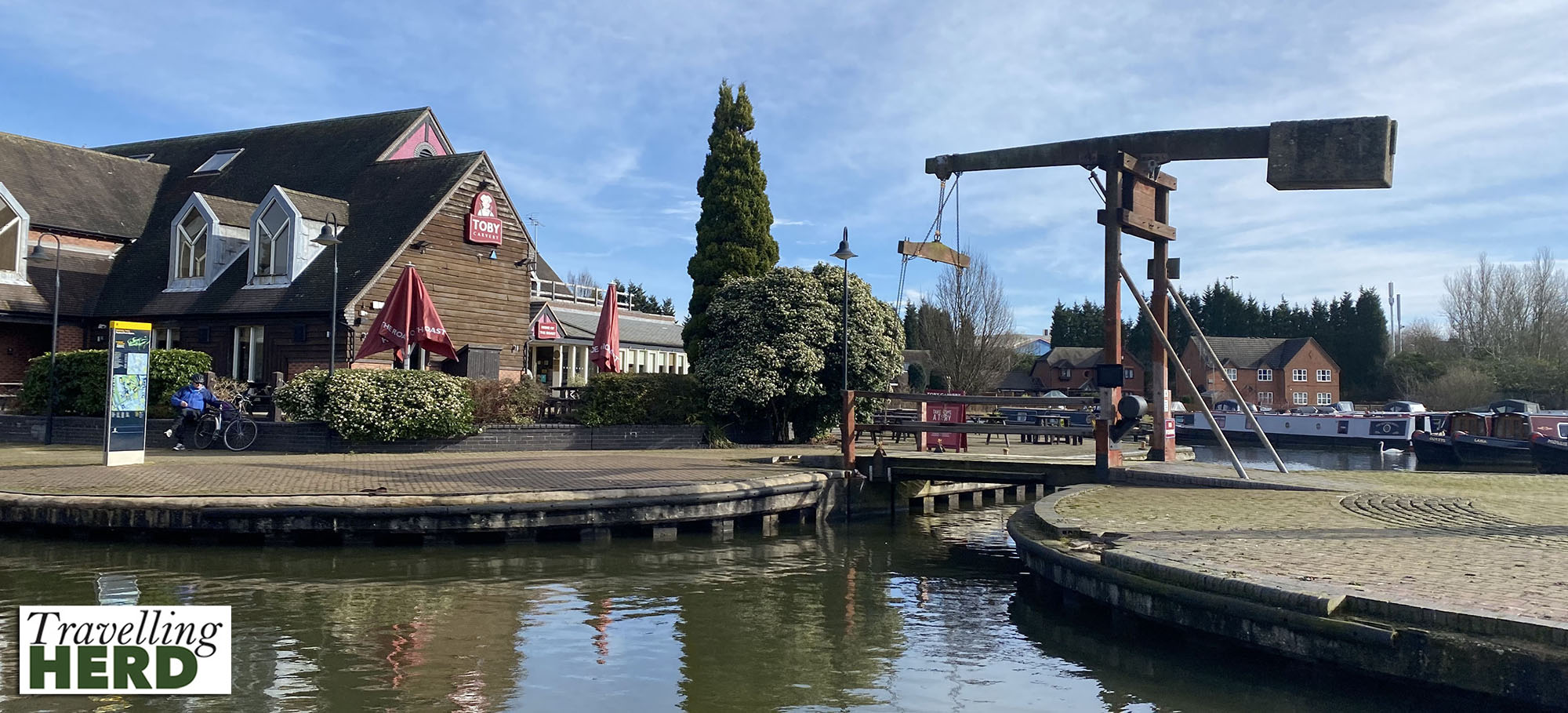 Dating from 1888, we discovered that the Middleport Pottery in Burslem has featured in the TV show Peaky Blinders.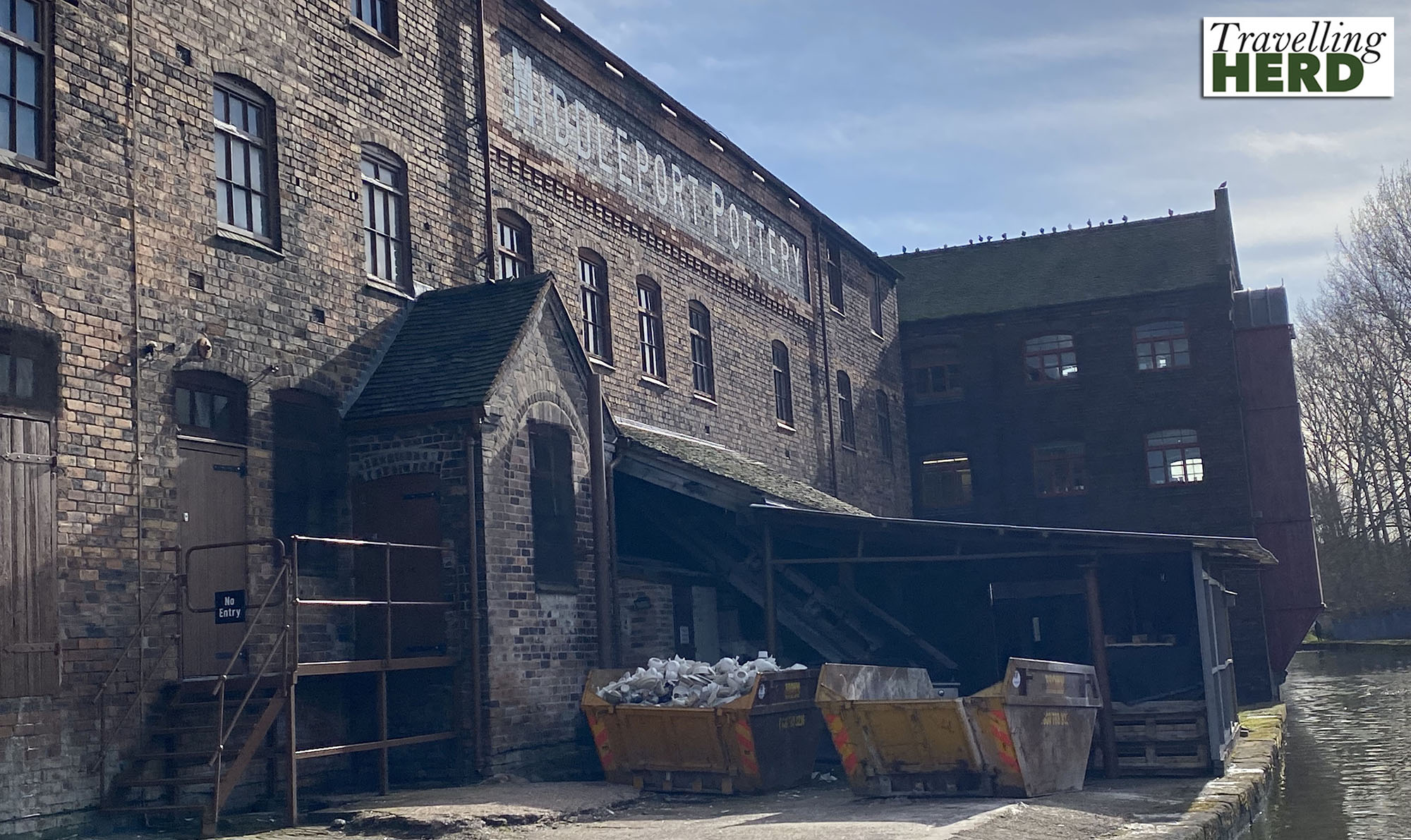 Some of the locks on the Macclesfield Canal are very deep and Matilda was glad she was on firm ground up above.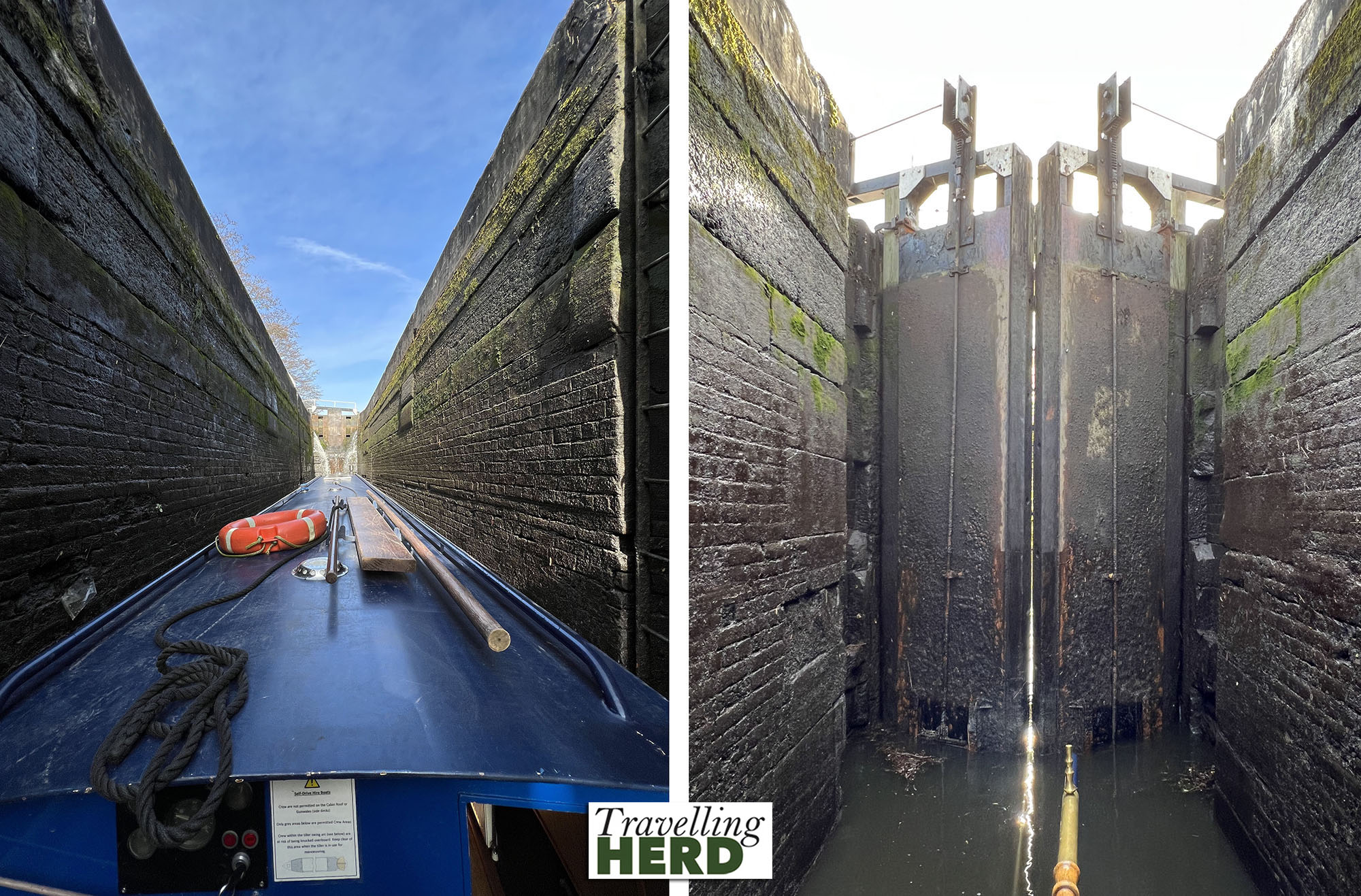 Robert's daily planning and research had identified the need to book to travel through Harecastle Tunnel but also that the booking system would change on 1st March which was the day we wished to go through. After some on-line issues were ironed out, we managed to book for 15:00 on Tuesday 1st March.
James Brindley built the original tunnel which joins Kidsgrove and Tunstall in 1777 but as narrowboats had to be legged through and the horses walked over the hill it soon became a bottleneck for trade. Thomas Telford recommended building a second tunnel, in parallel, to handle the volume of traffic much like the addition of the Queen Elizabeth II Bridge at the Dartford Crossing.
After our booking was confirmed, we were contacted by the Canal and River Trust to let us know that we could present ourselves whenever we arrived and we would be allowed through so that the staff/volunteers would be able to go home early.
We therefore made our way to the Harecastle Tunnel without delay where we were met and briefed on the transit. The tunnel currently in use is Telford's tunnel as the original one built by Brindley partially collapsed in the early 1900s. At 1.66 miles long it is the sixth longest tunnel still in use in the UK.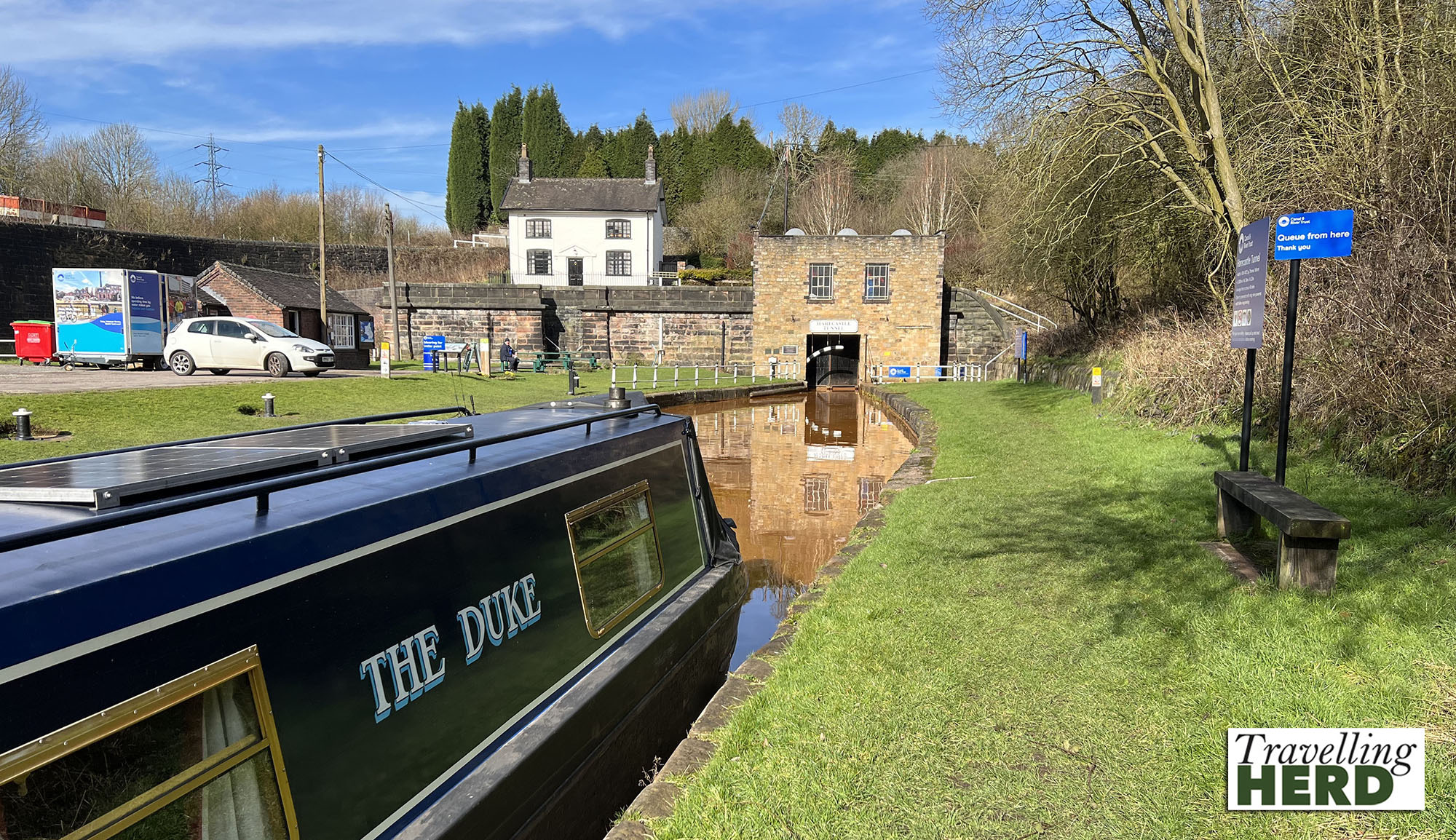 The canal water as you approach Harecastle Tunnel is a startling vivid orange due to the iron rich springs nearby.
We had to wait briefly for two narrowboats to finish the journey southwards before we were allowed to head northwards. The second of which was another sister ship of The Duke, namely The Marquis.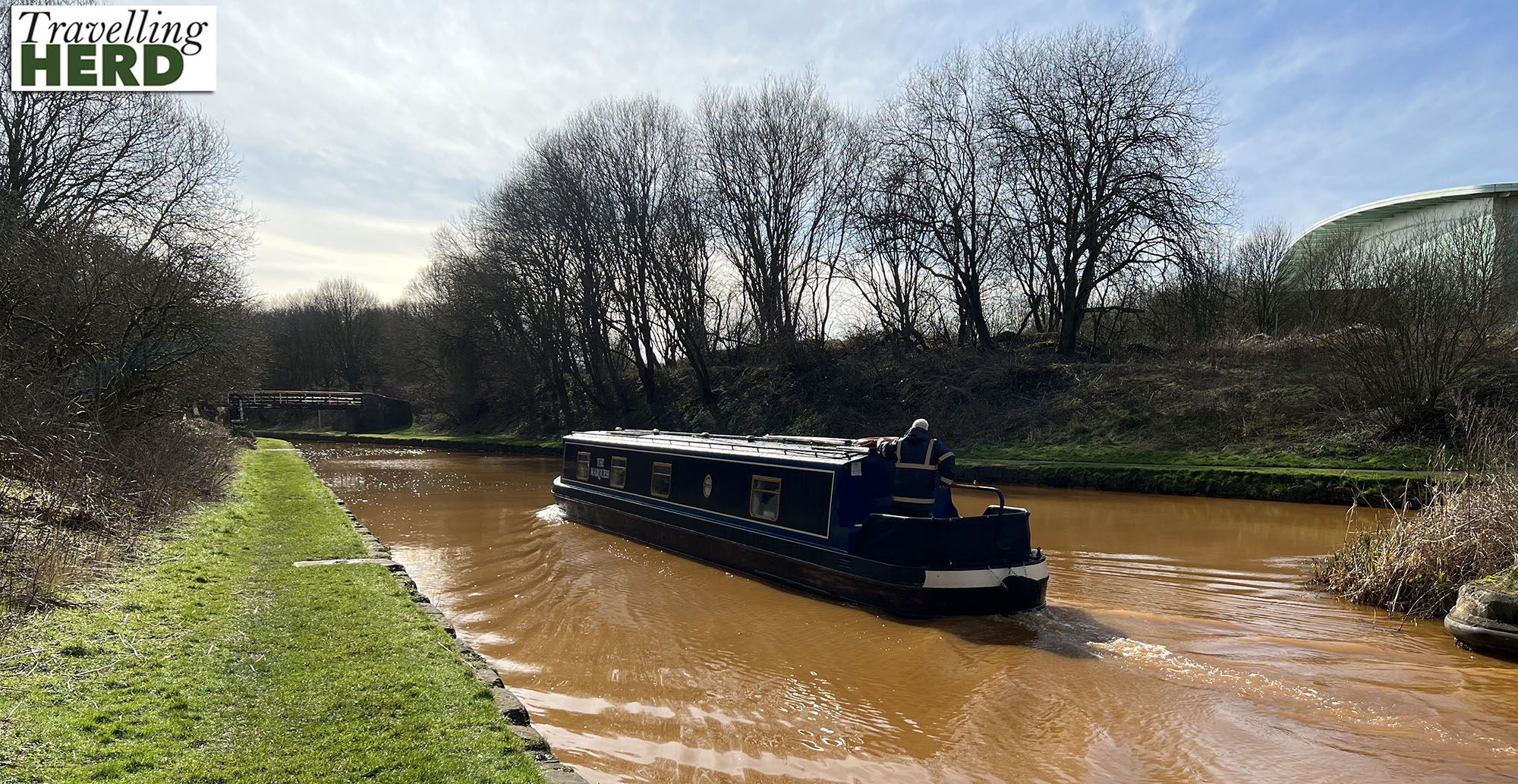 Robert was told go as fast as he wanted to as it made it easier to steer. He also had the advantage of two additional lights which the volunteers had lent to a boat without tunnel lamps coming southbound which we were asked to return to the northern entrance.
Later, we turned onto the Macclesfield Canal which covers 26 miles from the Green Stop Lock junction with the Trent and Mersey Canal near Kidgrove up to the junction with the Peak Forest Canal at Marple.
We will be travelling the full length of the Macclesfield Canal but for today our mooring was at Scholar Green.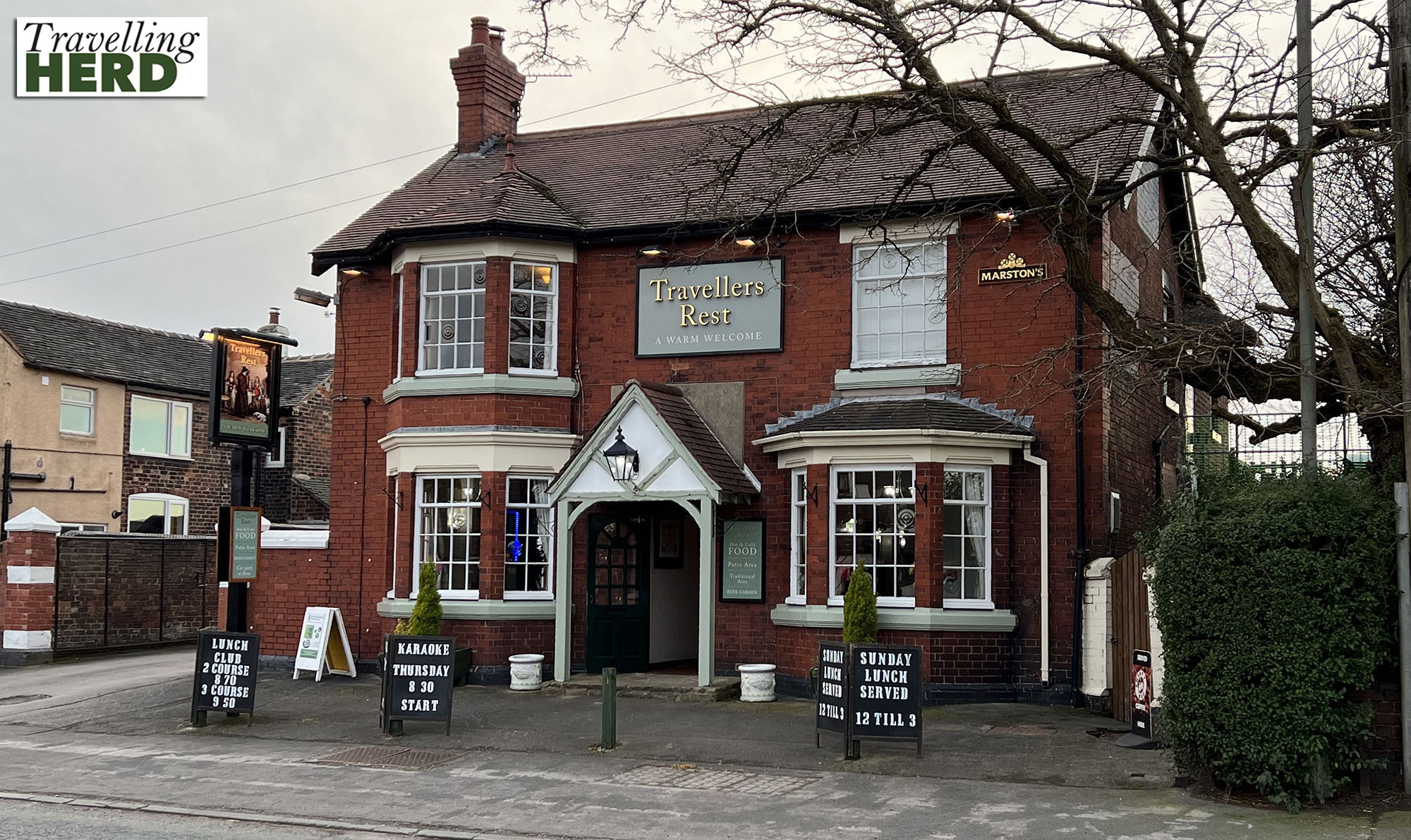 01/03/2022 – Miles: 11.91 – Locks: 6 – 4h45m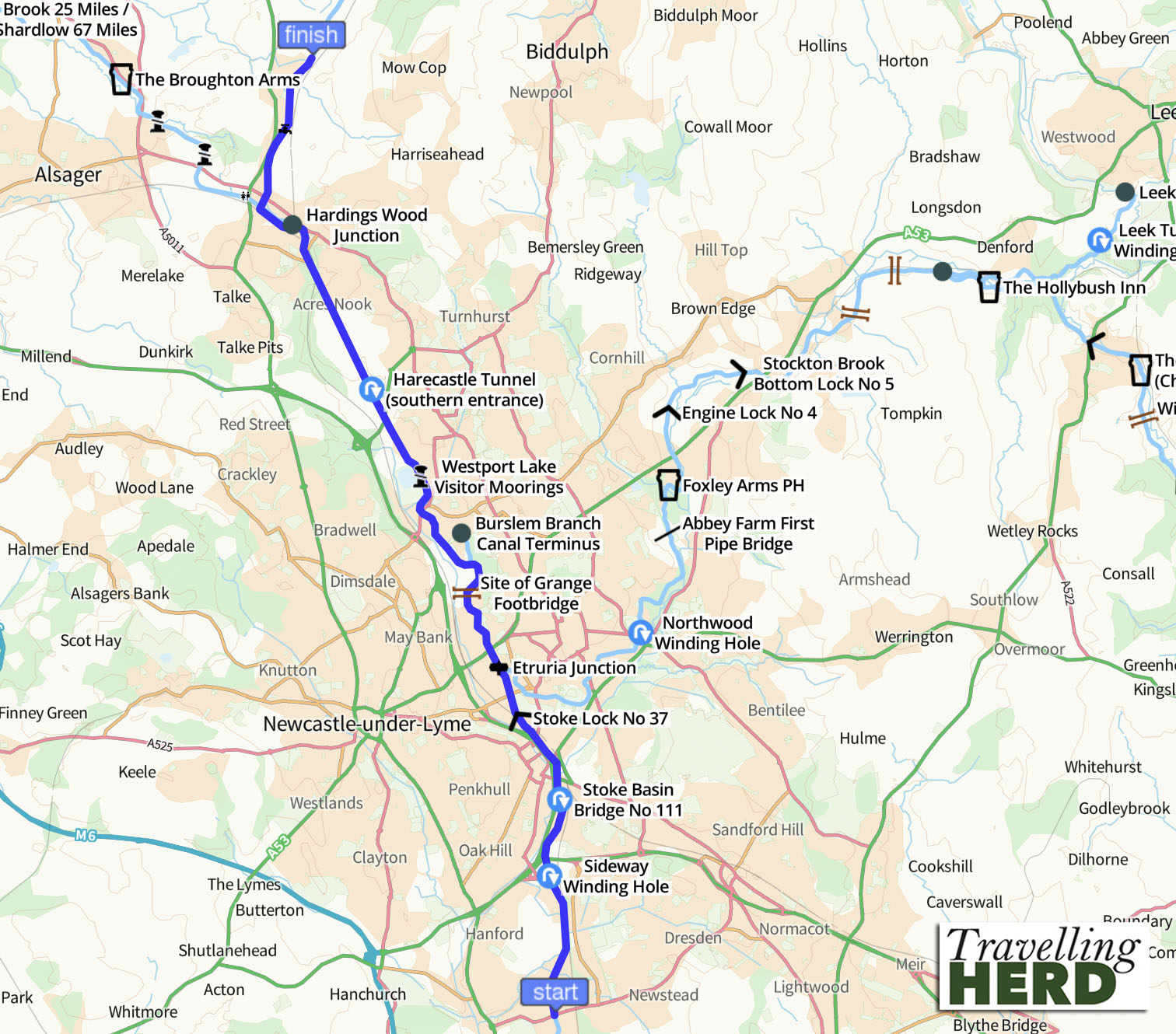 Day 15 was scheduled as a morning off on the spreadsheet with Matilda allocated time to go to the National Trust property, Little Moreton Hall. This soon changed.
As Little Moreton Hall opens at 11:00, Robert settled down to some forward planning and tried to book our transit through Standedge Tunnel only to find that the day we had planned to go through was already fully booked. It is open on Mondays, Wednesdays and Fridays and there were only very limited slots available on the Monday and Friday. We had misinterpreted the instructions to book 48 hours in advance to mean that the slots were released then. In order to safeguard the rest of our route we quickly agreed that we should aim for the Monday, even if this meant some longer days and Matilda forgoing her trip to Little Moreton Hall.
Robert also remembered seeing a sign saying that transit through Bosley Locks was limited in order to conserve water: the last entry to the flight of locks was 13:00 so further planning was set aside to try and get to Bosley bottom lock before the restrictions were imposed. Along the way there are views across to viaducts and . . .
. . . you can look back through all the bridges on the long straight stretch between Vaudrey's Wharf and Buglawton.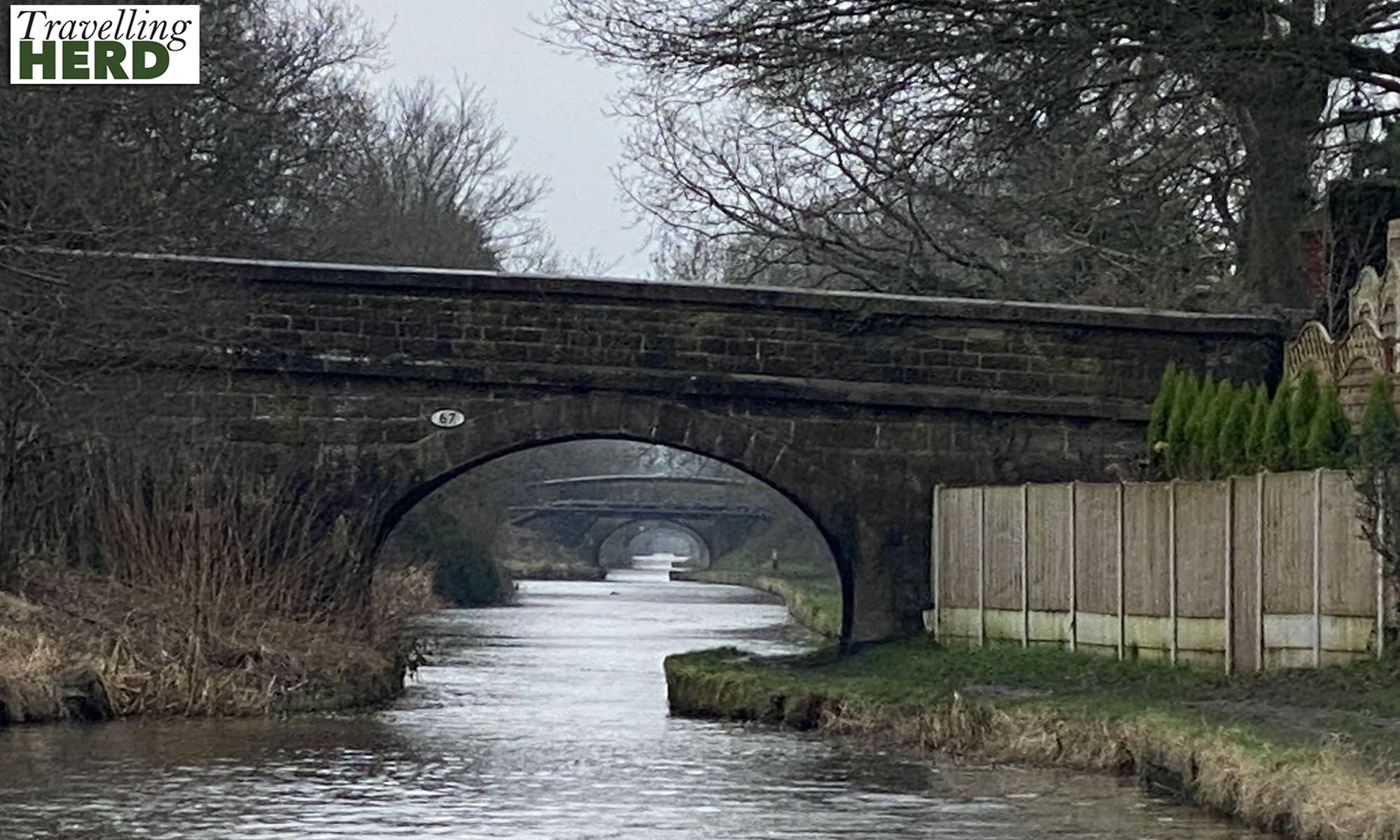 The Bosley Flight comprises locks 1 to 12 on the Macclesfield Canal and there are views as you rise up the flight.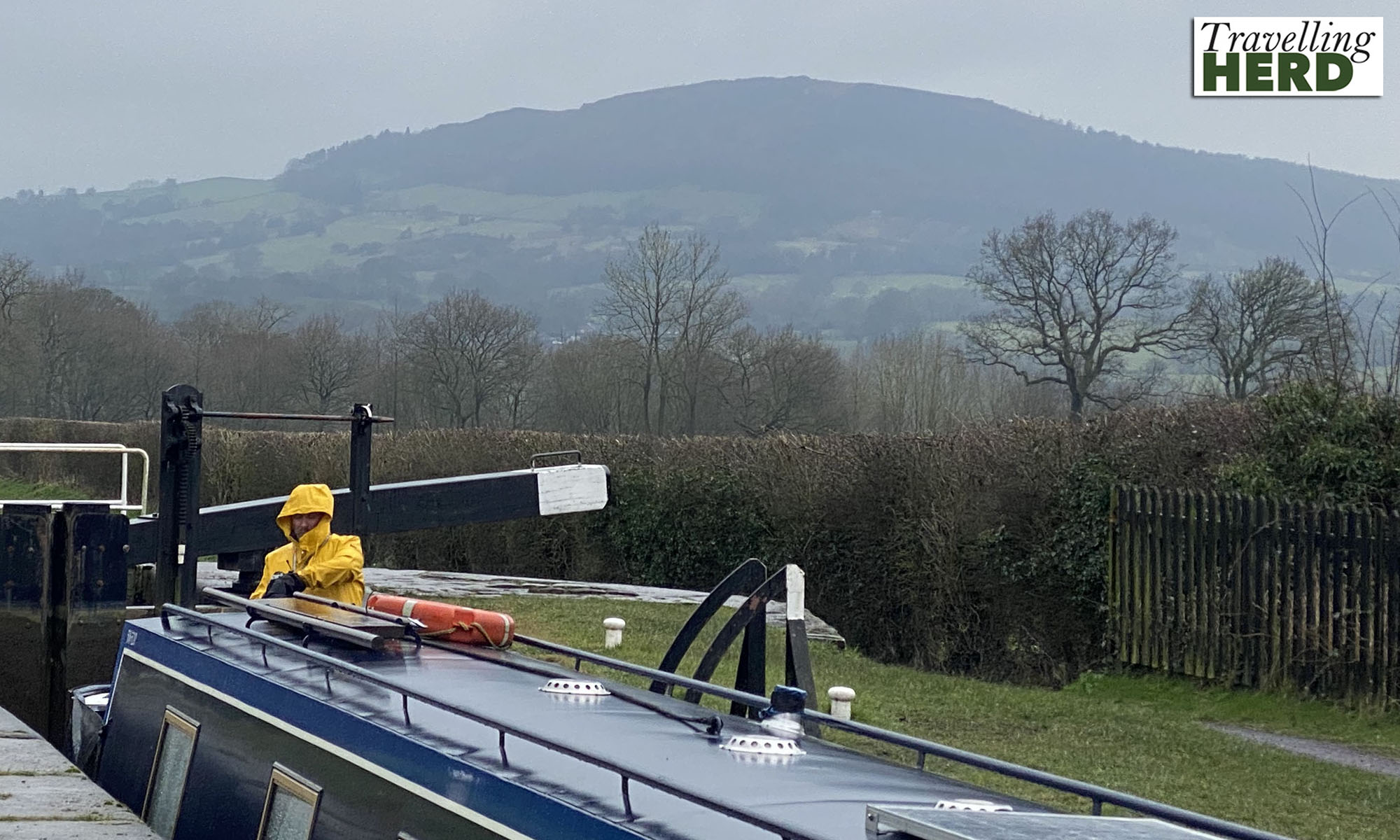 Continuing on our way after the locks, Matilda felt very special and important as she opened Bridge 49, an electrically operated swing-bridge. Although it only carries a small by-road, barriers drop, traffic is halted and the bridge rotates at the turn of a key and the press of a button. One car turned round to go a different route but one car waited for the process to be complete. Unfortunately as Matilda was called out unexpectedly to operate the bridge she had left her phone charging inside the boat and so could not video her traffic-stopping moment.
A roving bridge [also known as a snake bridge, turnover bridge or changeline bridge] was designed to allow the horses to cross the canal whilst towing a narrowboat when the towpath changed sides. The ones on the Macclesfield Canal are particularly attractive; very organic in design with the graceful spiral of a seashell.

Having changed our plans to make our tunnel booking, Martin was kind enough to join Robert for a drink in Ye Olde Kings Head and to hand over the parcels we had had delivered to his house.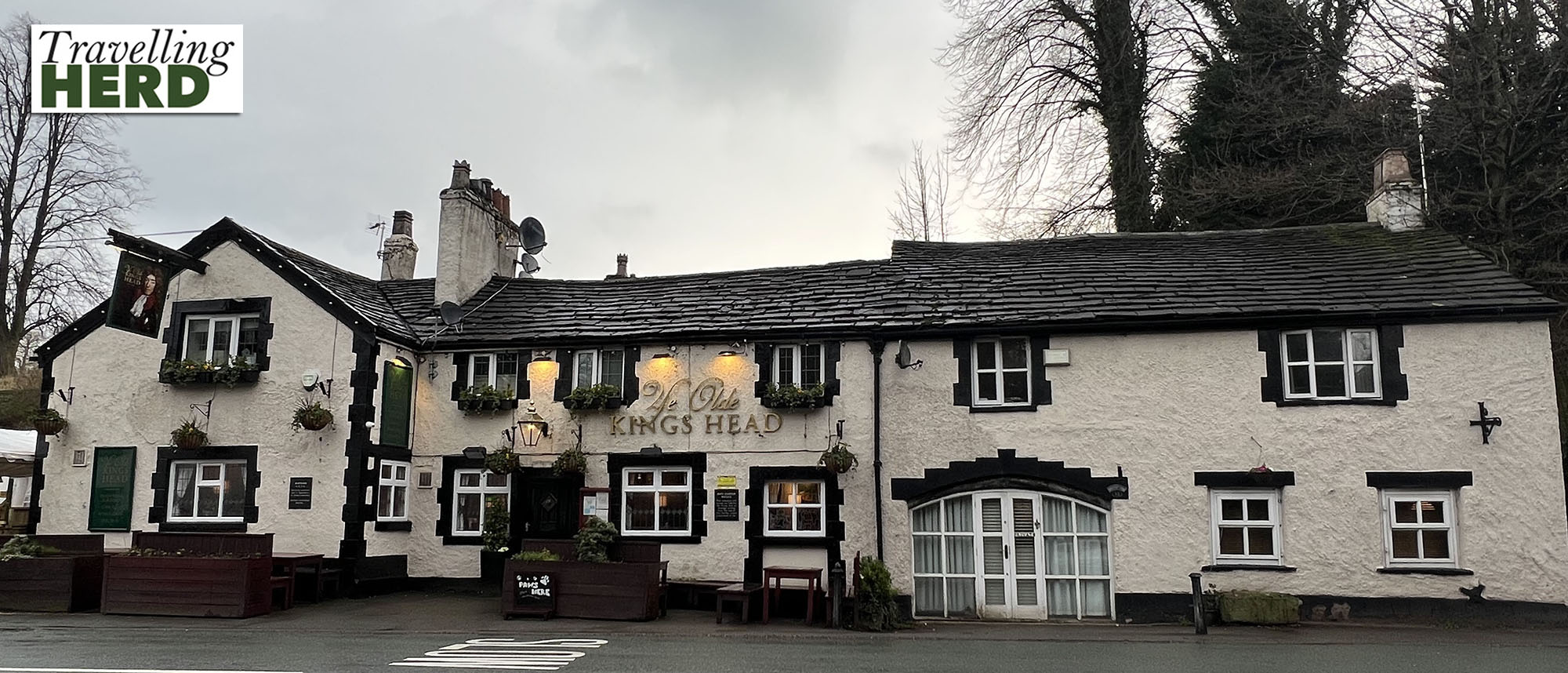 02/03/2022 – Miles: 12.81 – Locks: 12 – 6h45m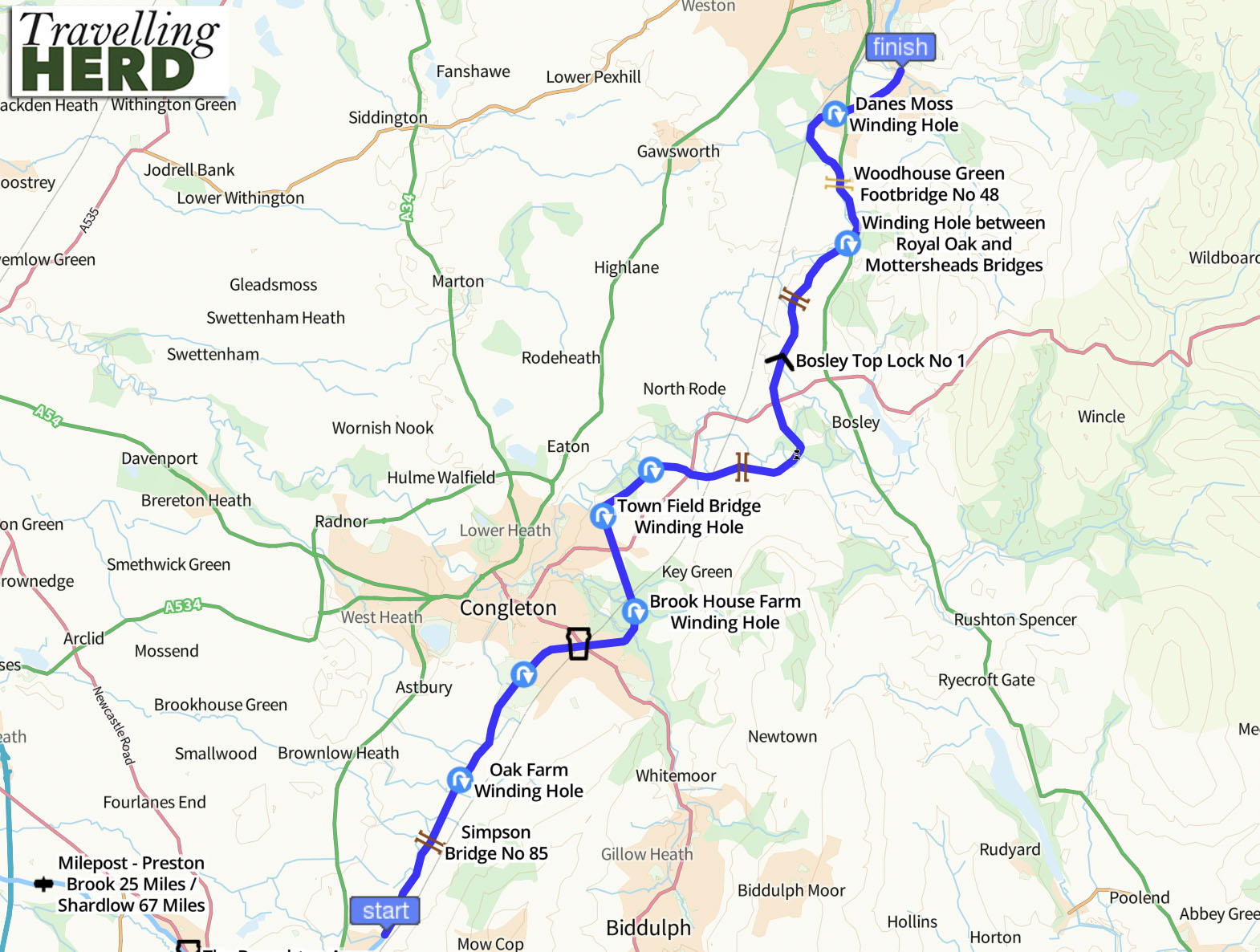 Route Map:
Days: 15 – Miles: 149.88 – Locks: 123