Sunday 17th to Tuesday 19th April 2022
Early on Day 61, we passed The Princess, another of The Duke's sister narrowboats.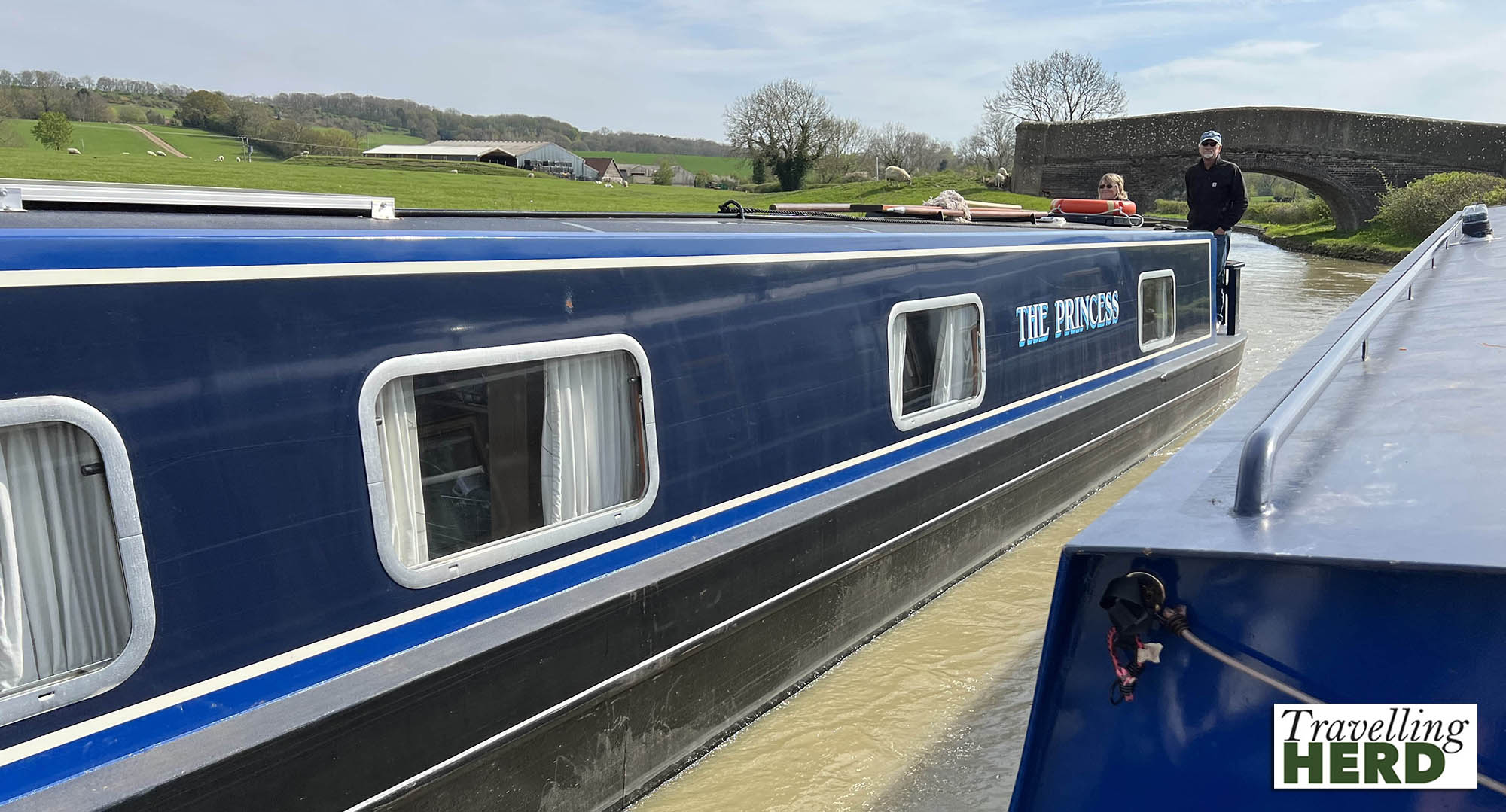 Over the last eight or nine weeks, Robert has perfected his hand gestures indicating Matilda should go on and set the next lock.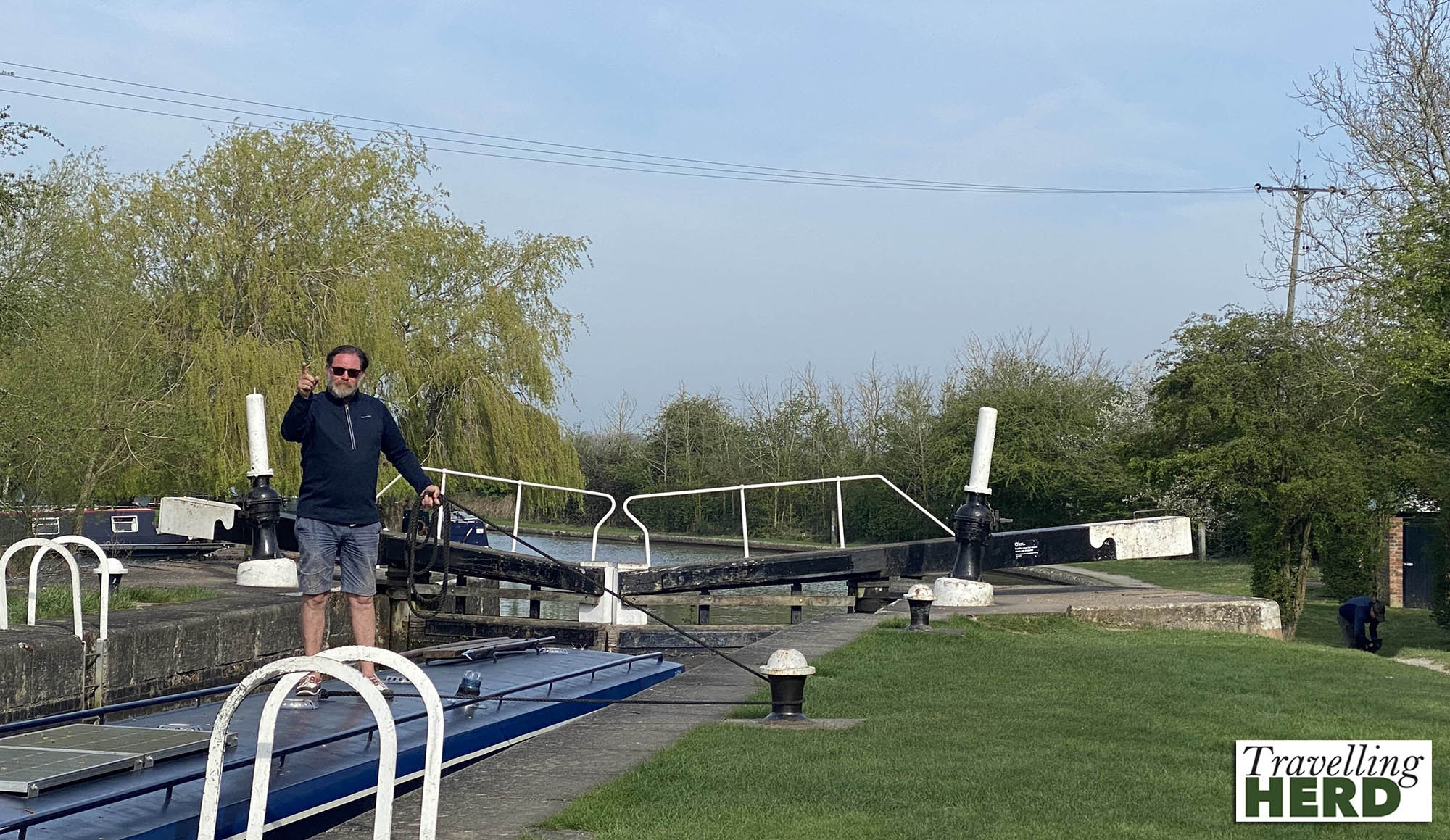 After we had filled the first of the three Calcutt Locks we saw another boat following behind and as etiquette demands waited for them in the middle lock so we could travel up the flight together and conserve water. It seemed to take them a very long time to join us as they were opening and closing both gates and we were beginning to regret our decision.
The boat was from Kates boatyard and was called Robert appropriately enough. The crew had only just taken possession so as we travelled with them through the top two Calcutt Locks, Robert was able to give them narrowboating tips to speed them on their way in future.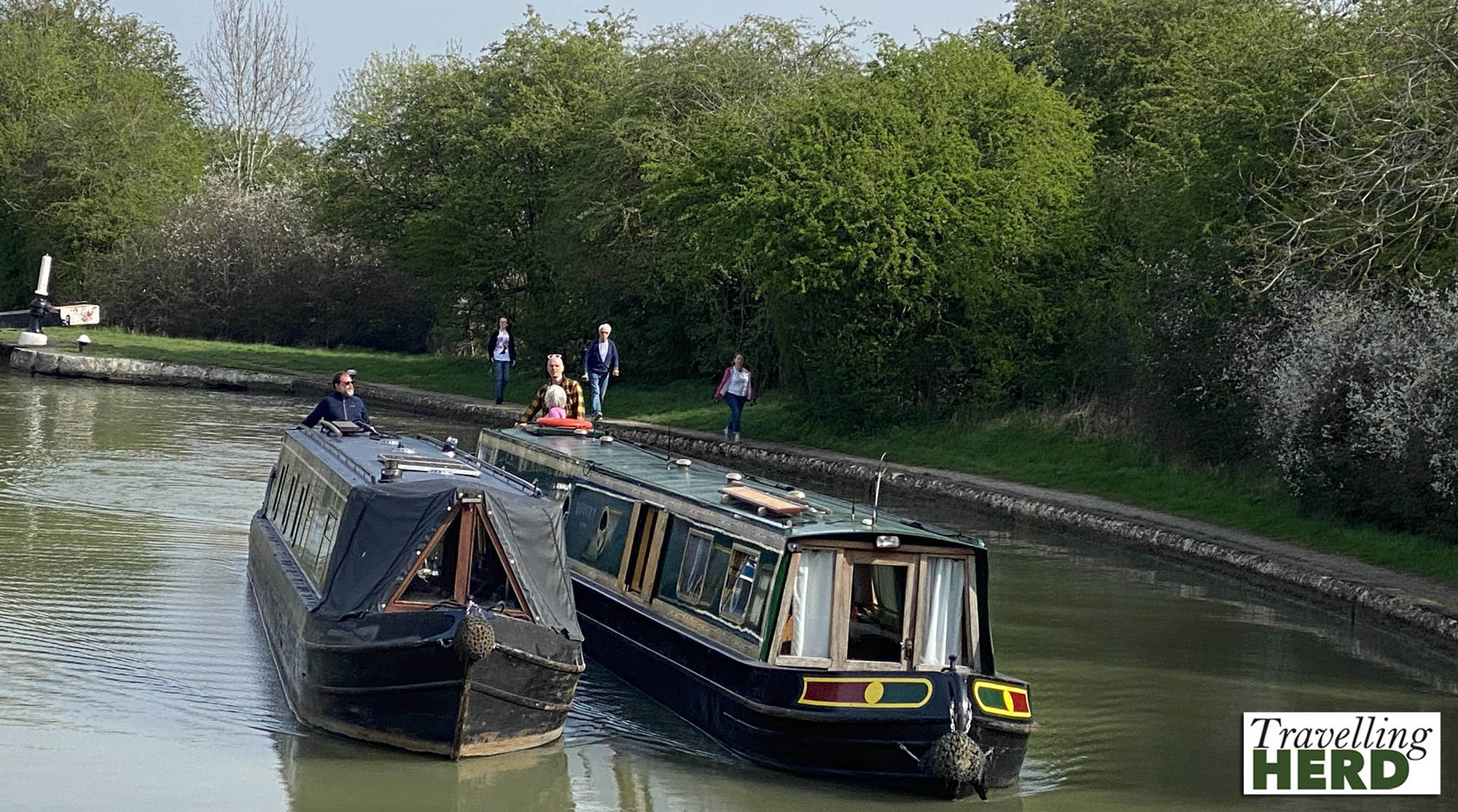 At Napton Junction we turned right onto the Oxford Canal. As we neared the Napton flight, we kept hearing reports of the locks being closed. Matilda, who has been dreaming of a hot bath, was praying that this would not delay them whilst Robert was already quietly preparing himself for an afternoon in The Folly – the very picturesque pub by the bottom lock which Martin and Liz had recommended.
Matilda could see the appeal but was relieved when we approached the bottom lock [where we had originally undergone our training when we picked up The Duke] to find a small queue and volunteers in attendance.
This helped to speed up the process of clearing the queues on both sides.
We learned later that a narrowboat had become wedged in Lock 10. Apparently the boat, named Iron Maiden, had been over-plated and so was now slightly broader in the beam. As usual, the Canal and River Trust staff came out to the rescue but people had had to queue overnight for the locks to re-open and Iron Maiden will now be limited to the Oxford Canal.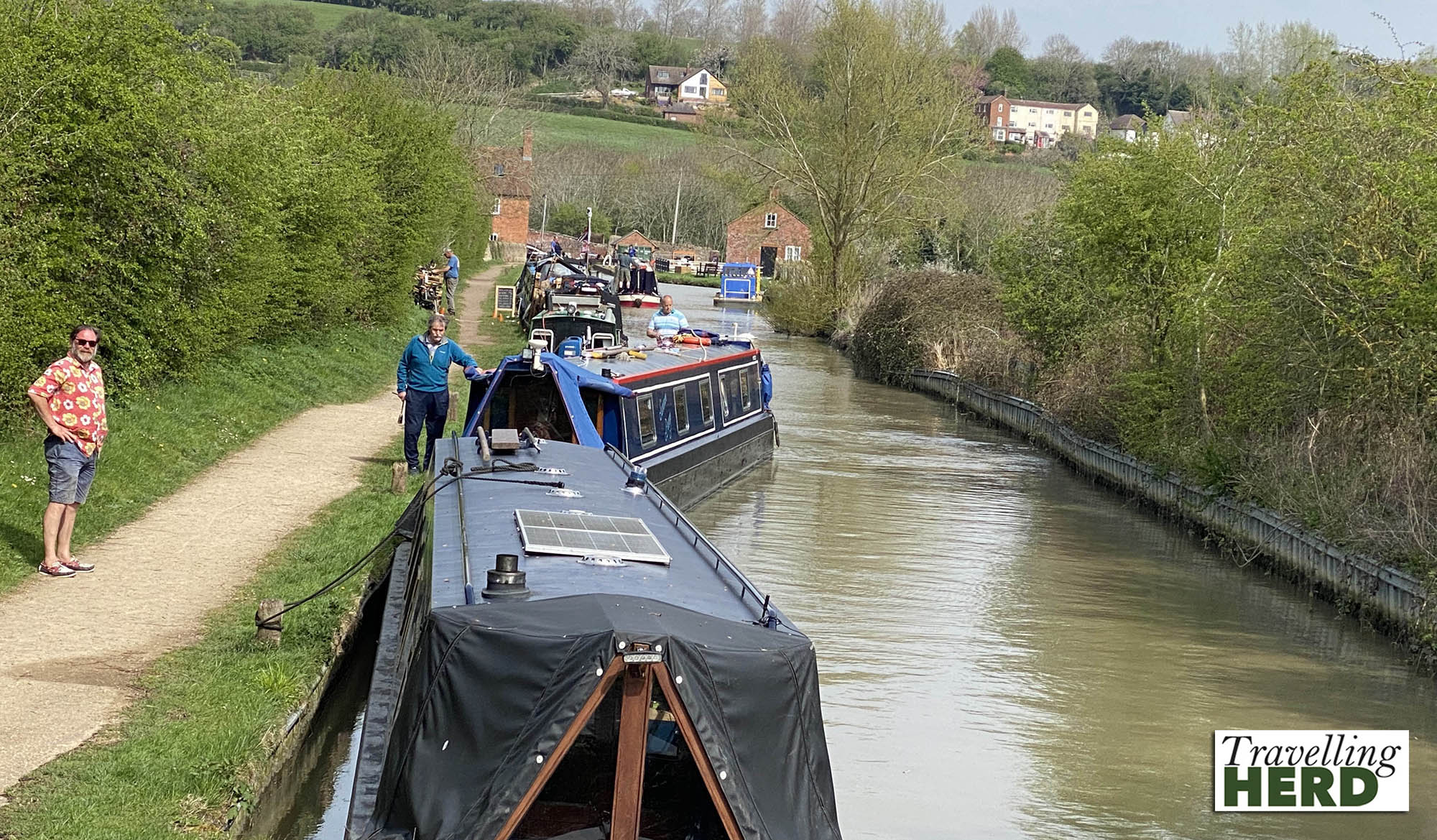 It felt as though we were taking a risk passing under some of the bridges which were showing clear signs of their age.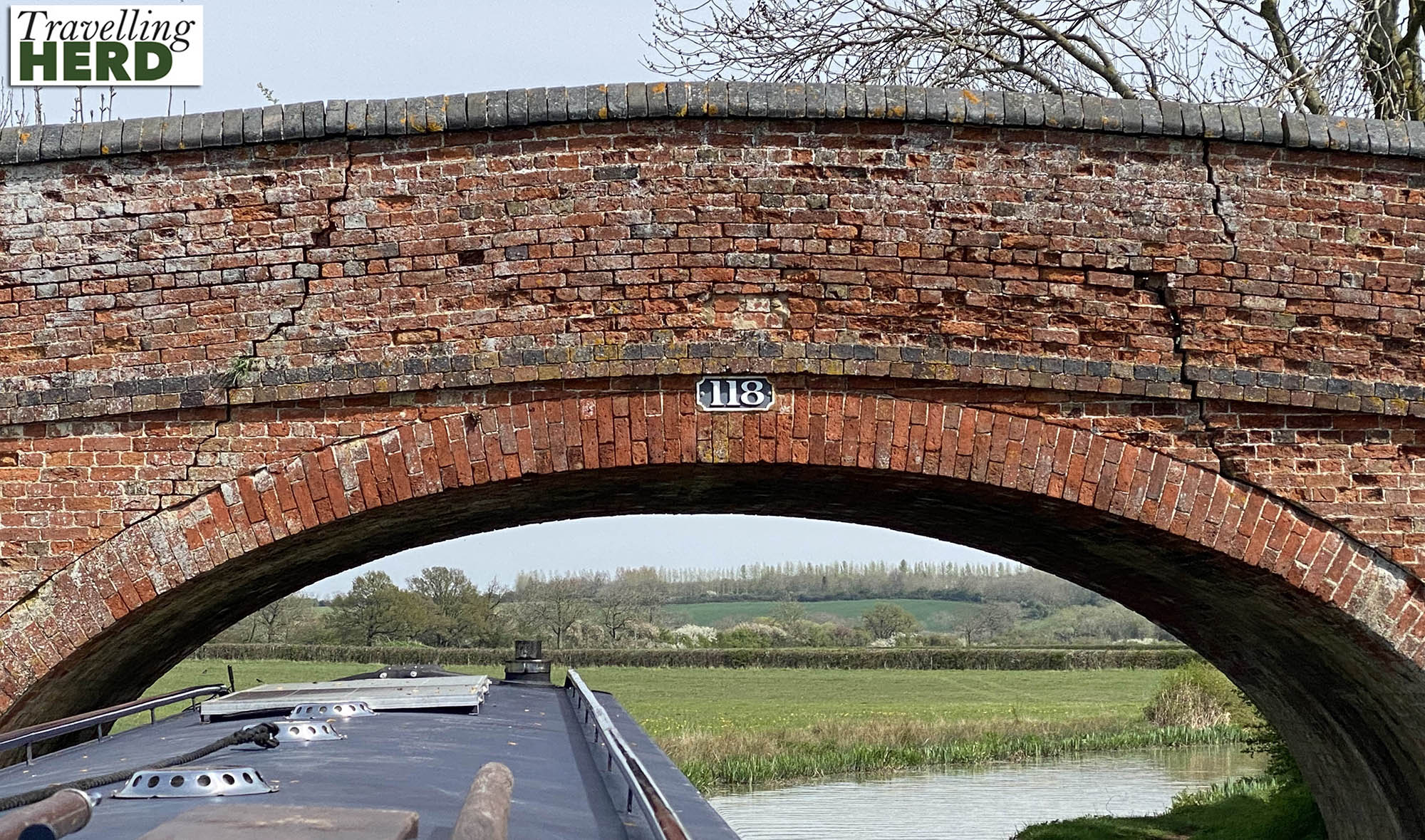 Initially we thought that this narrowboat was moored in a small spur off the main canal but as we approached we realised that it was in fact landlocked in its own little pond. We could not understand why anyone would want a narrowboat which could never be moved.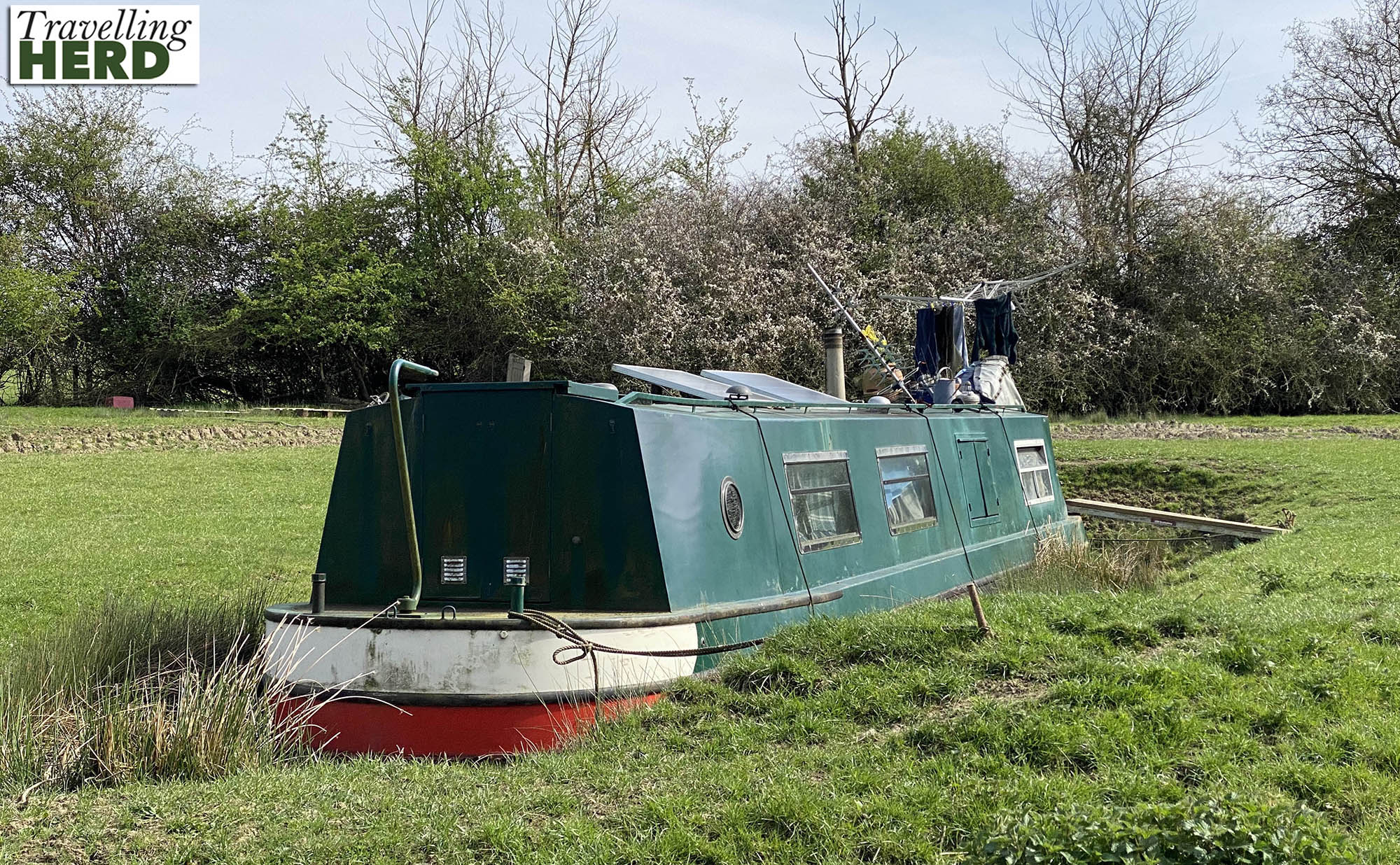 Robert identified this carving as the Wookie, Chewbacca but Matilda thought it was more like the cowardly lion from The Wizard of Oz.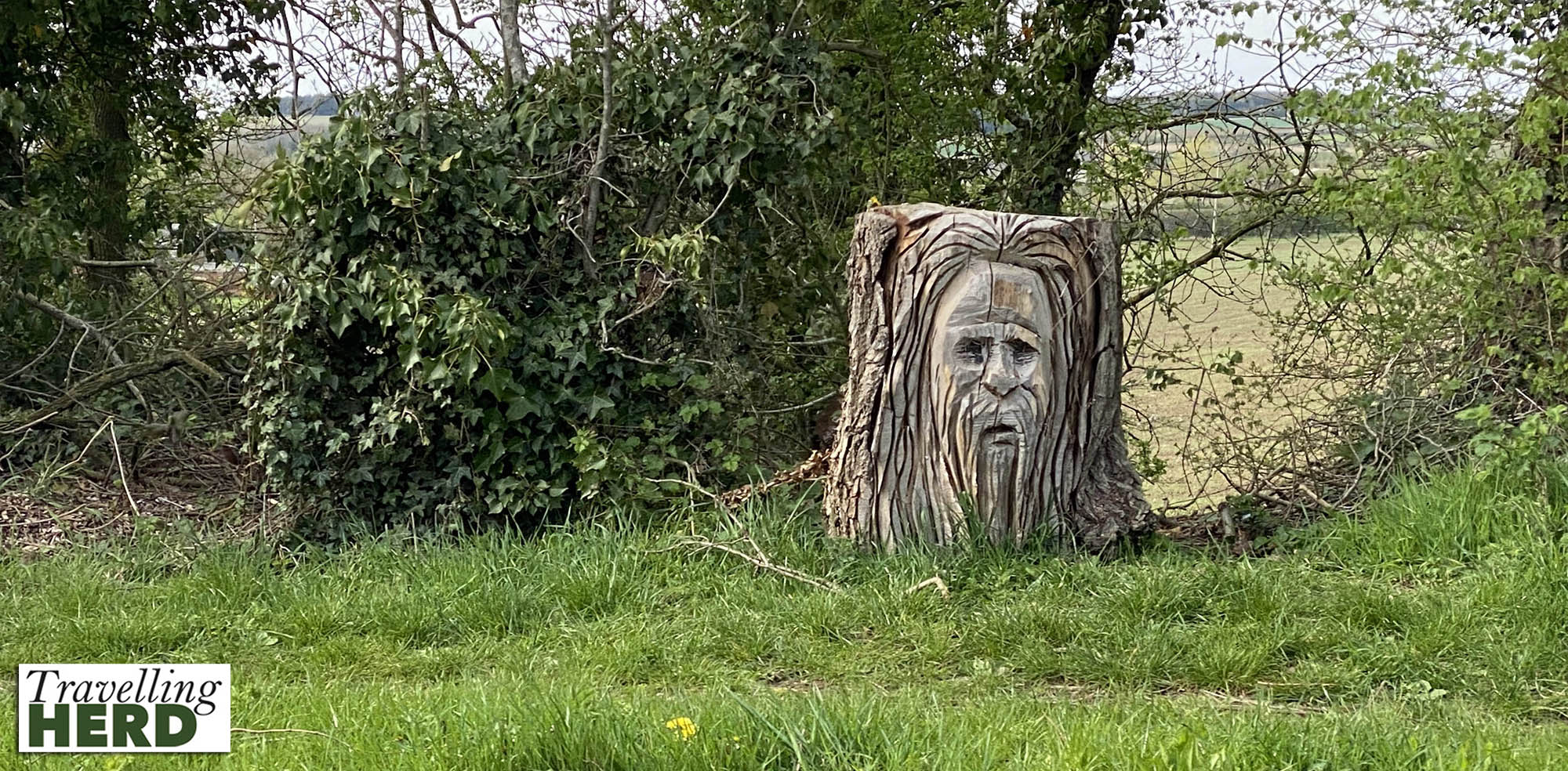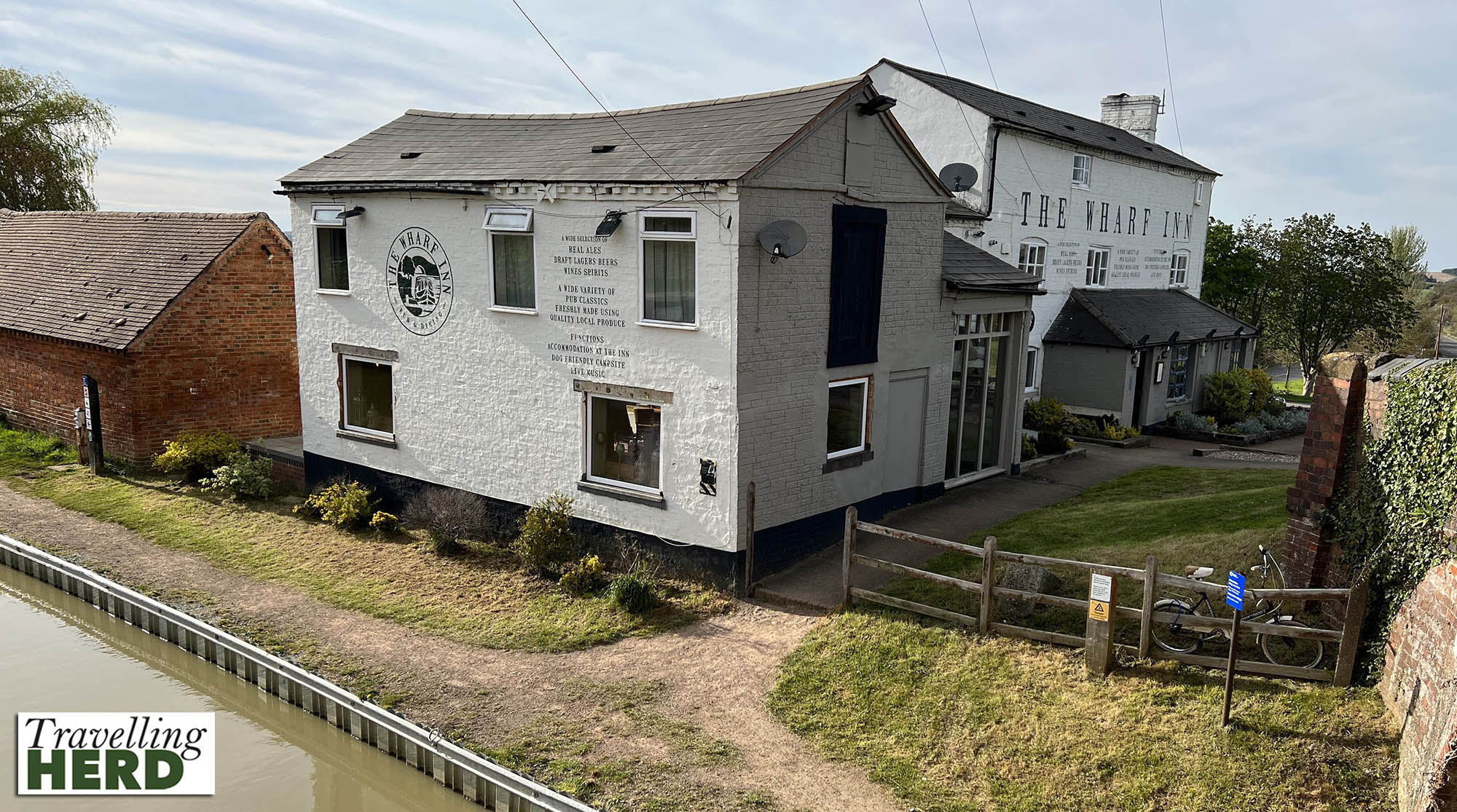 17/04/2022 – Miles: 14.34 – Locks: 17 – 8h15m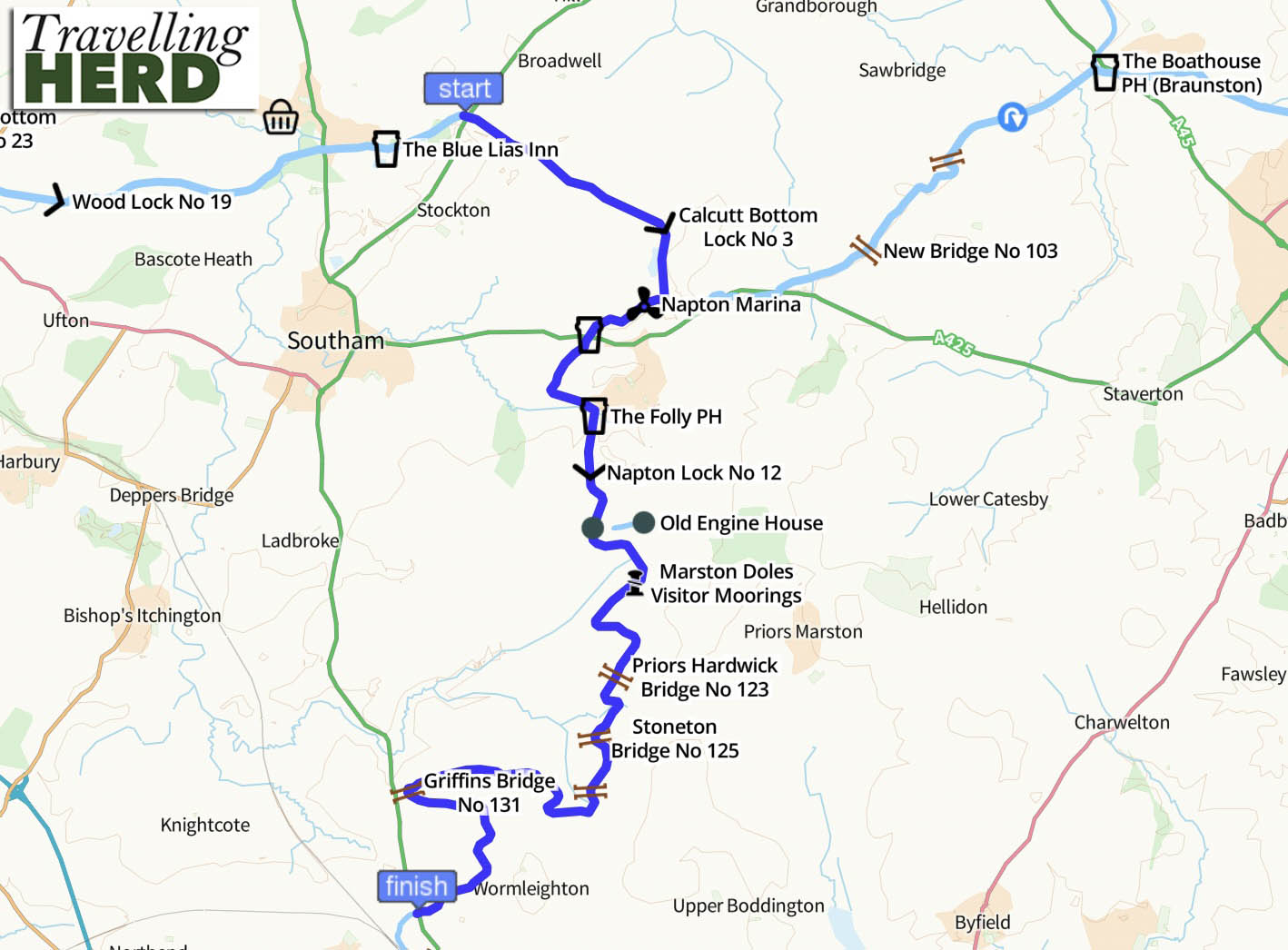 The Fenny Compton Tunnel is possibly the only tunnel with a view. It was originally opened in 1776 but suffered from subsidence as it was not very deep underground. In 1838 the canal company bought the land above the tunnel and work began to open it up. It was done in several stages; starting with removing the roof at both ends and a central section to create two separate tunnels. The roofs on the remaining two tunnels were finally removed by 1860. This straight cutting contrasts with the rest of this winding contour canal and it is still referred to as Fenny Compton Tunnel.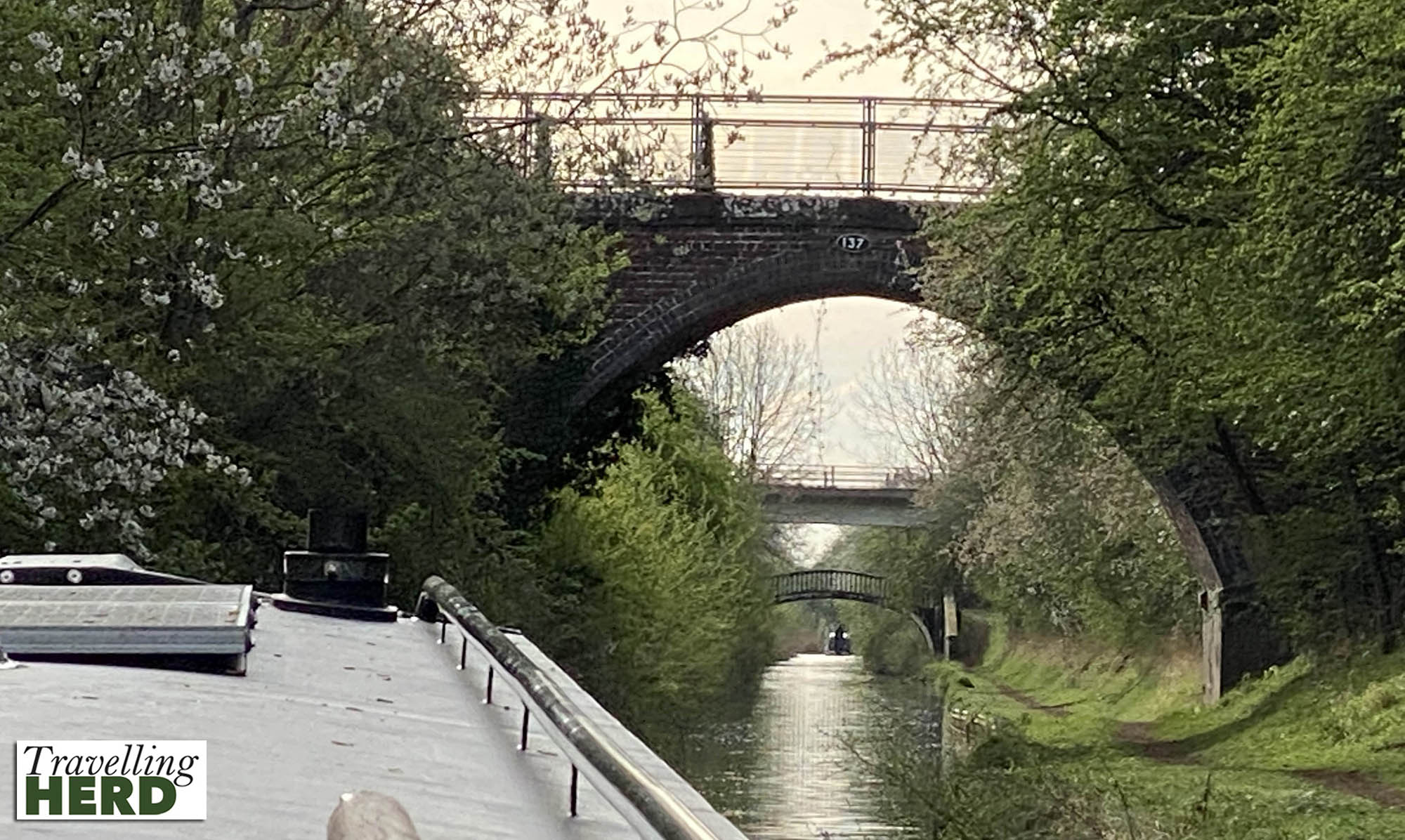 We have increasingly seen swans nesting but not, as yet, any cygnets.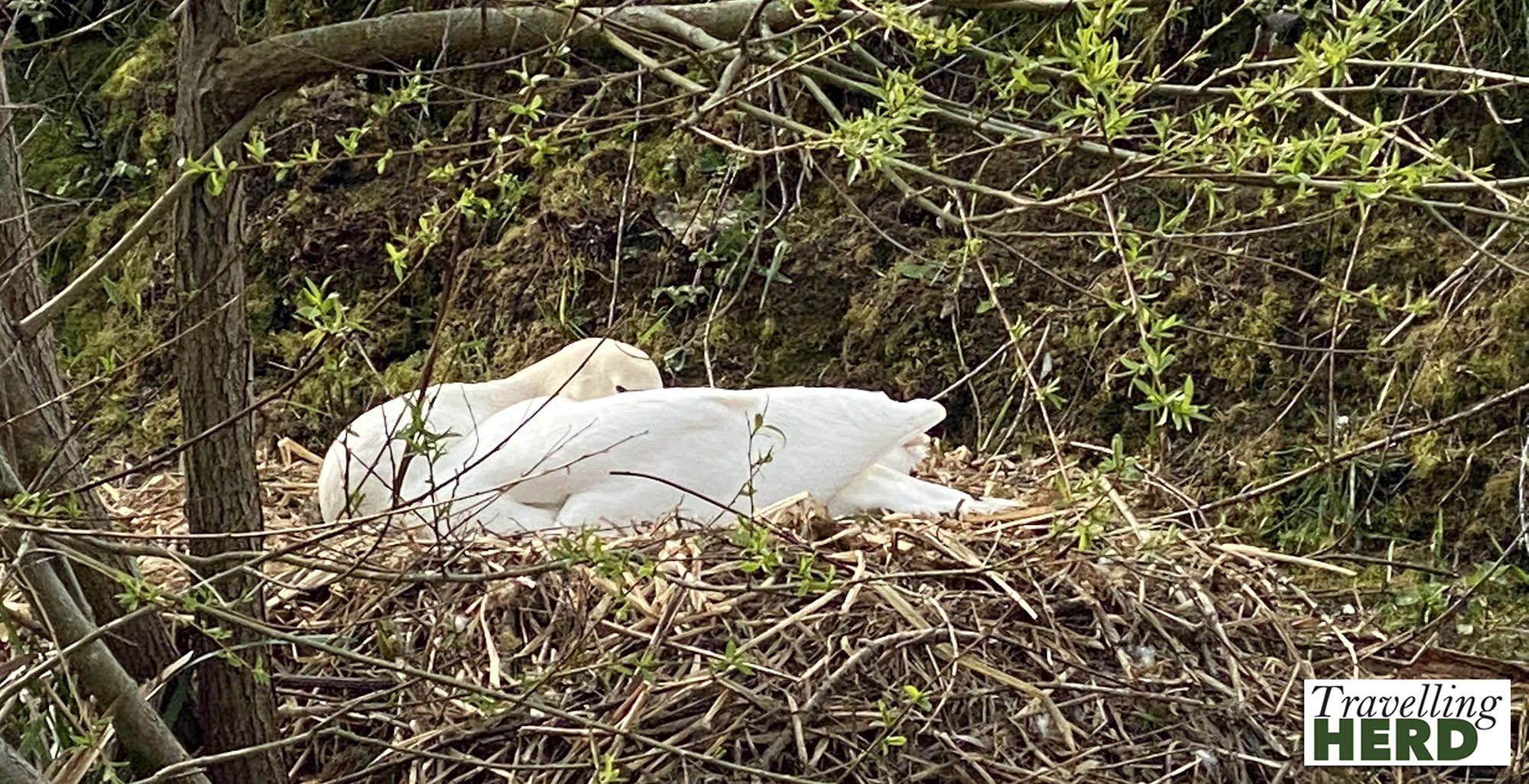 Over the last two months, we have seen spring come to the landscape which is now looking very lush and green.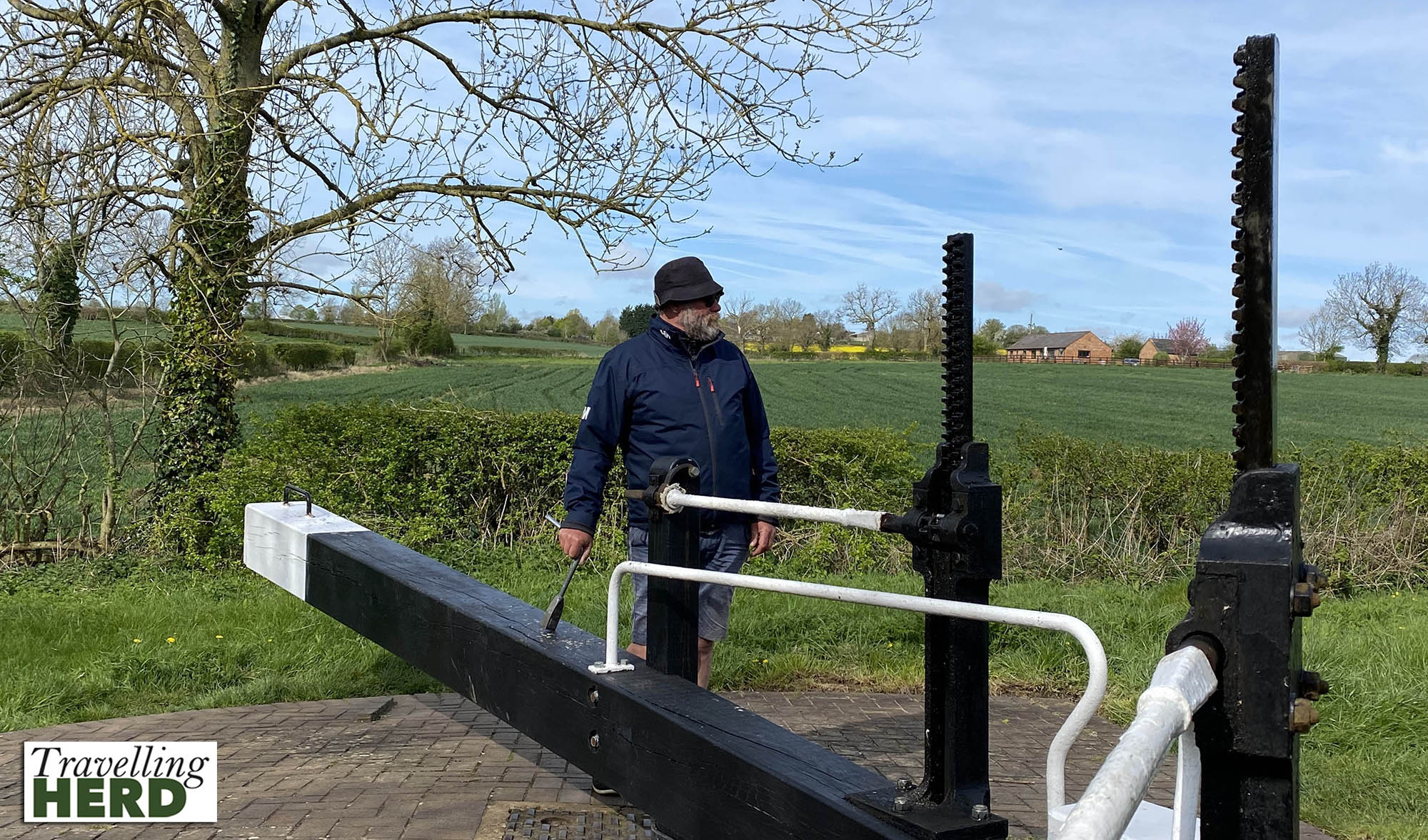 As we waited to go into Lock 25, we passed a mobile blacksmith moored up, displaying his wares and busy in his mobile workshop which could be towed behind his narrowboat.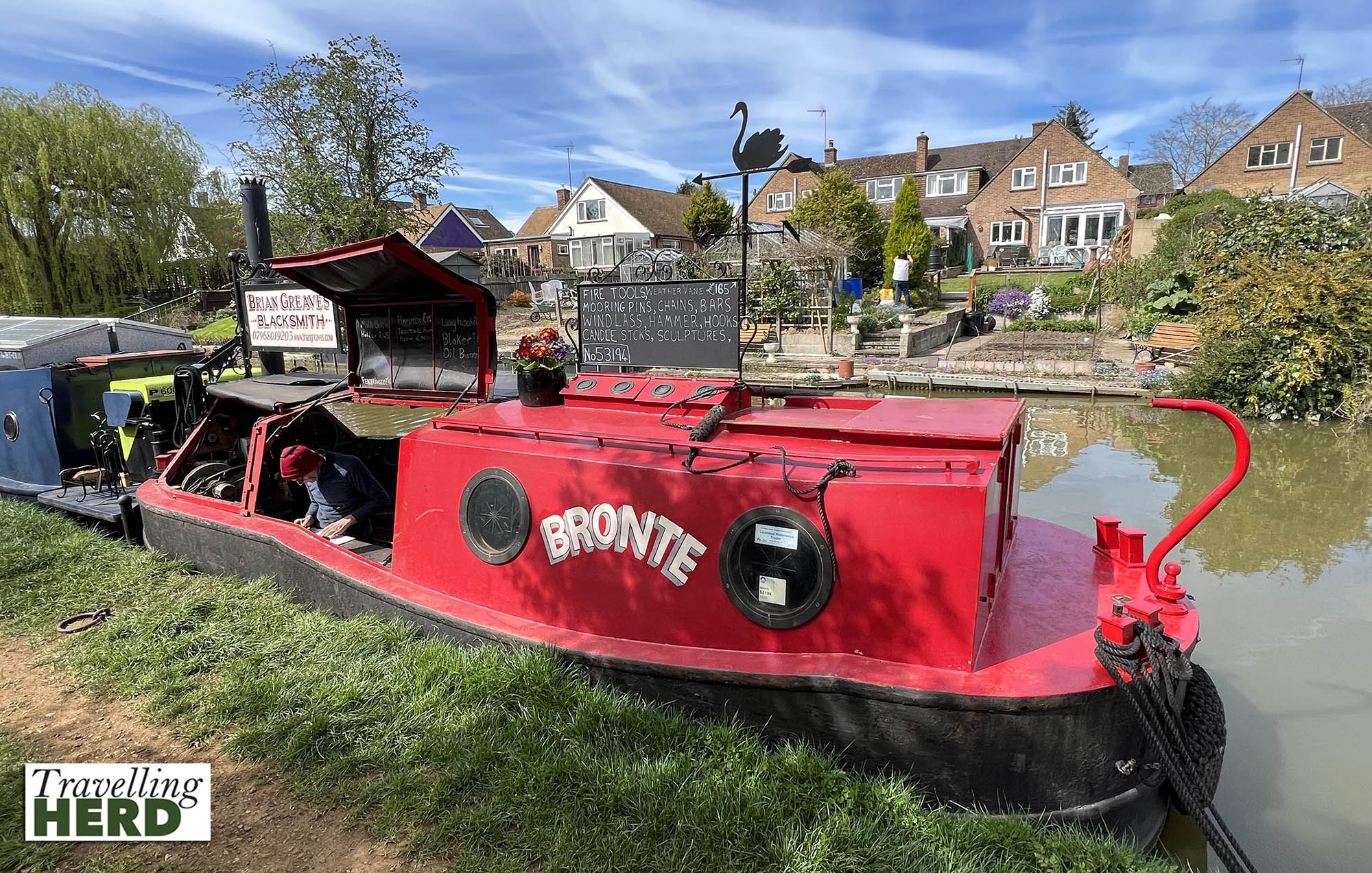 Matilda gets disproportionately excited when she sees a brood of cute fluffy ducklings.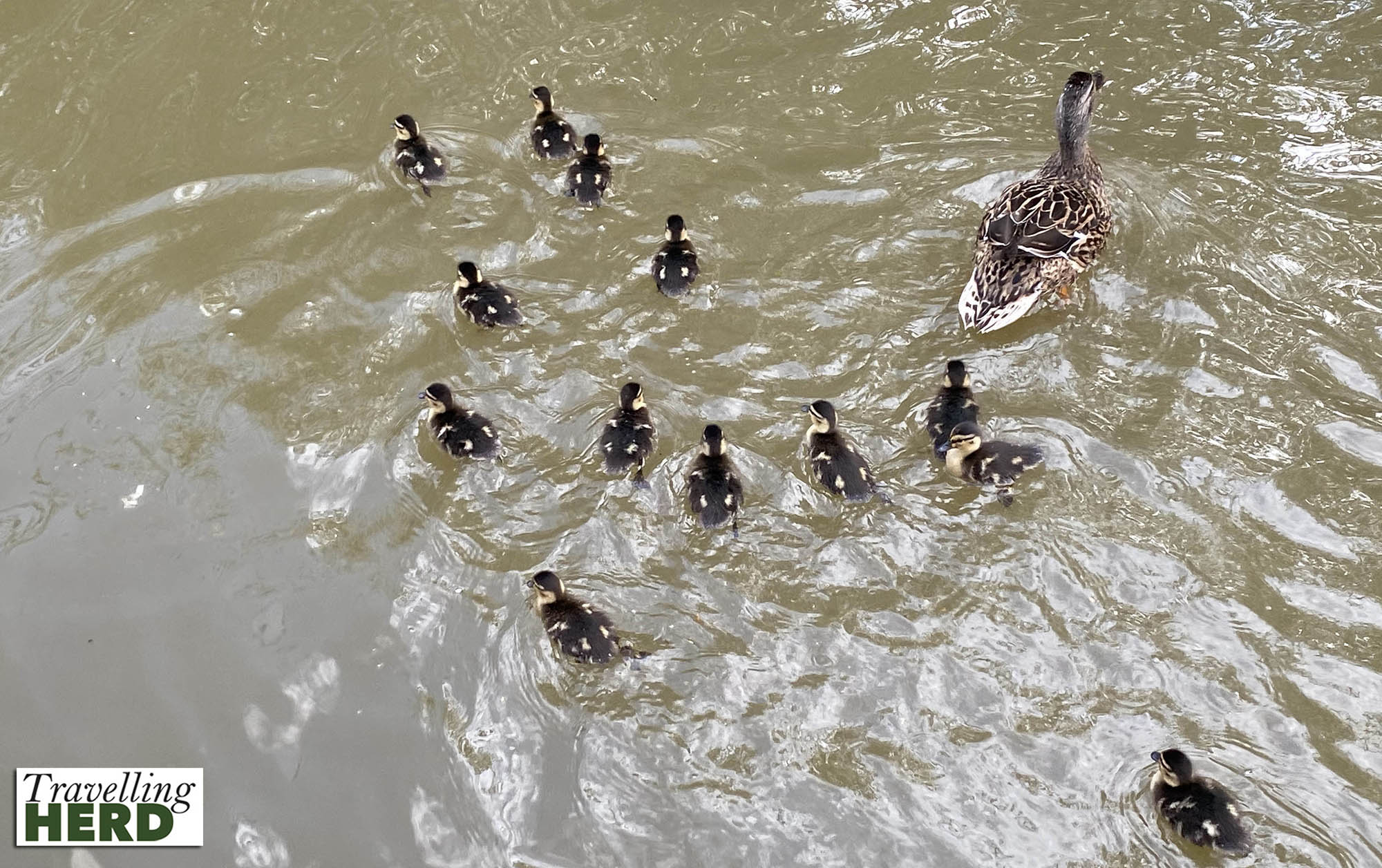 We passed some strange effigies propped up outside a building which looked as though they might form part of a strange rural ritual.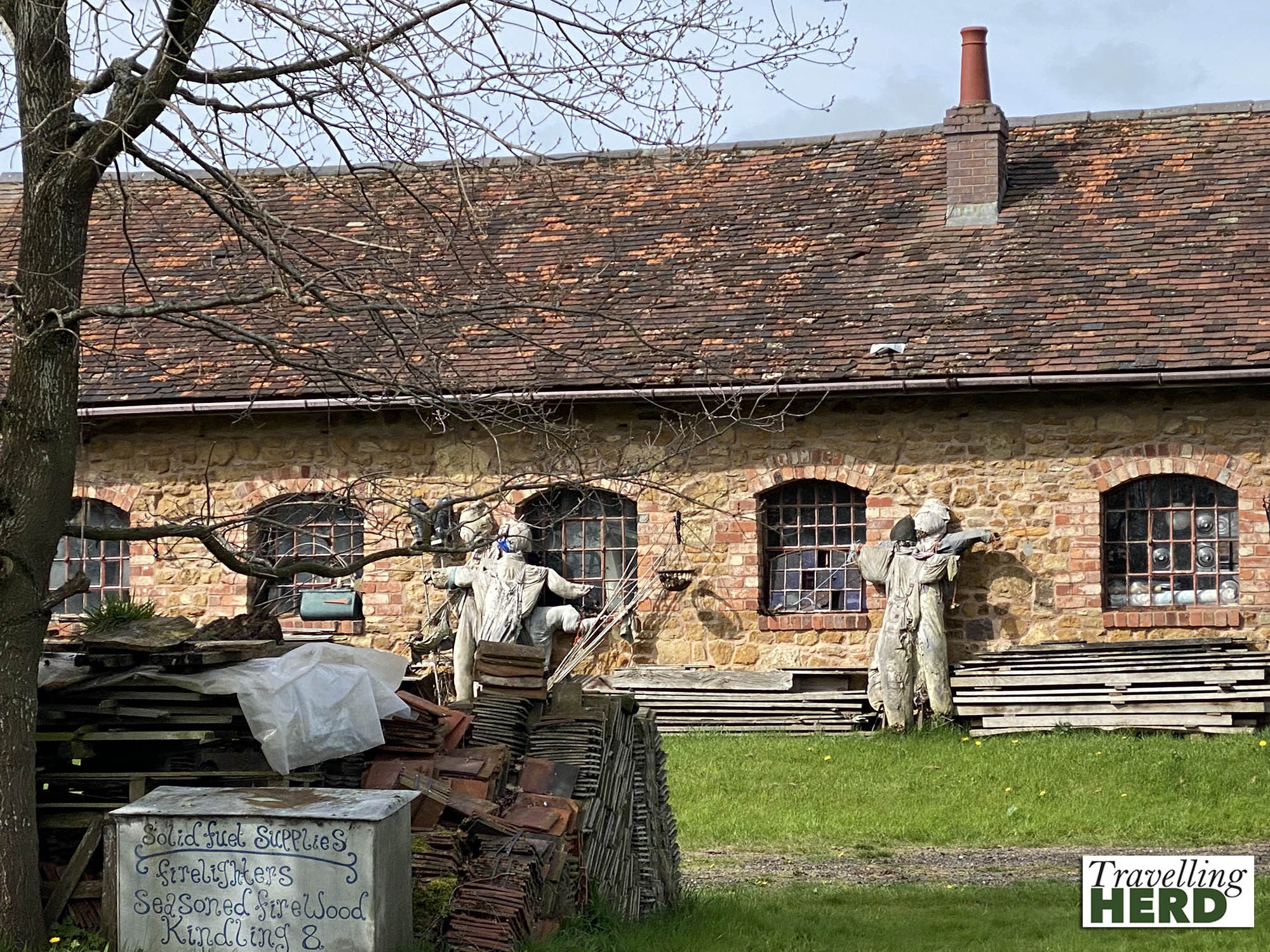 At Lock 25, someone had been feeling lyrical.

The lock-keeper's house there was also very well cared for and the gardener clearly had a sense of humour.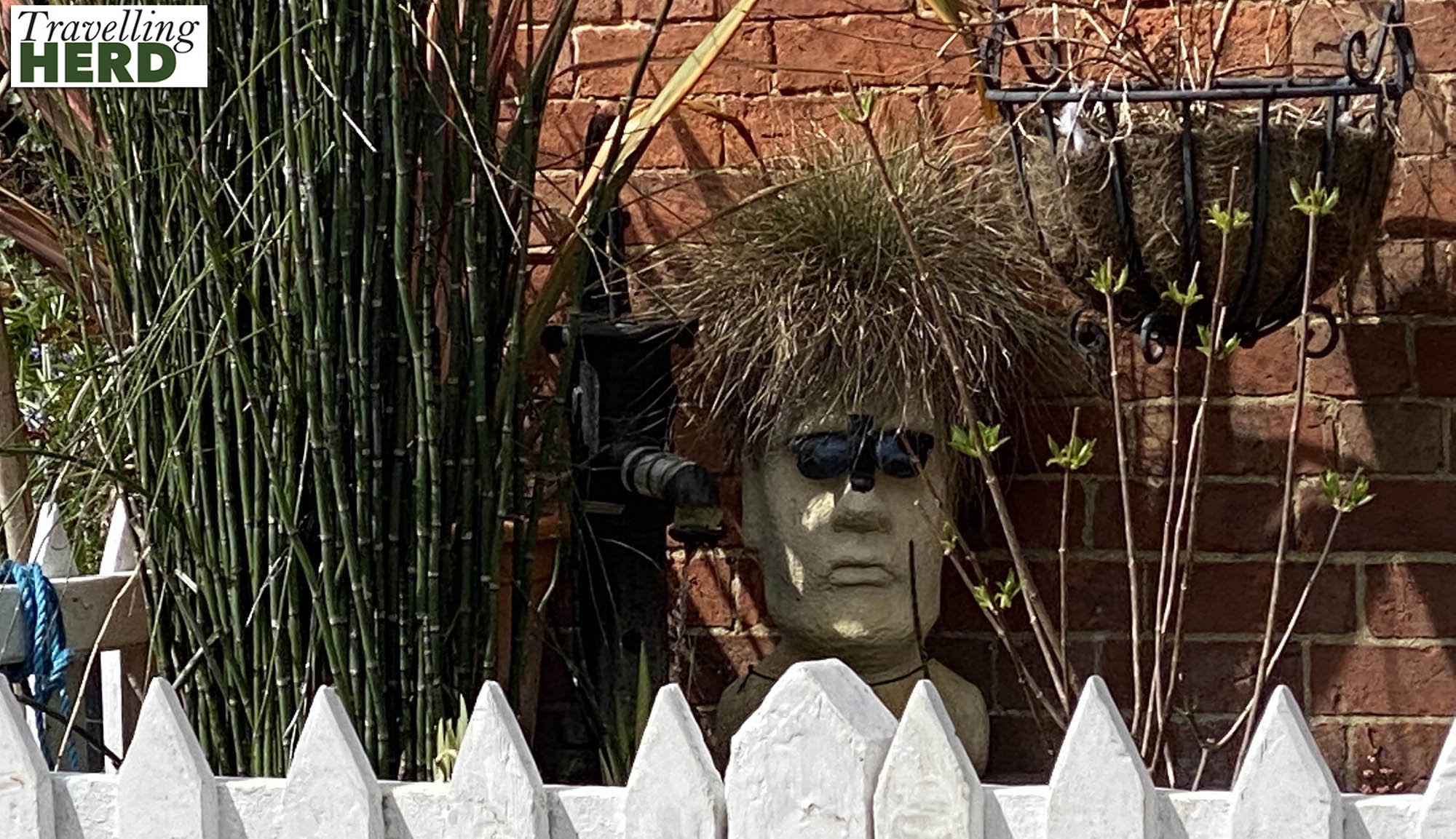 There are warning signs on the approach to Shipton Weir Lock 41. Between here and Bakers Lock, the Oxford Canal and the River Cherwell share a course and it is dangerous to proceed if the river is full and fast-flowing following heavy rains.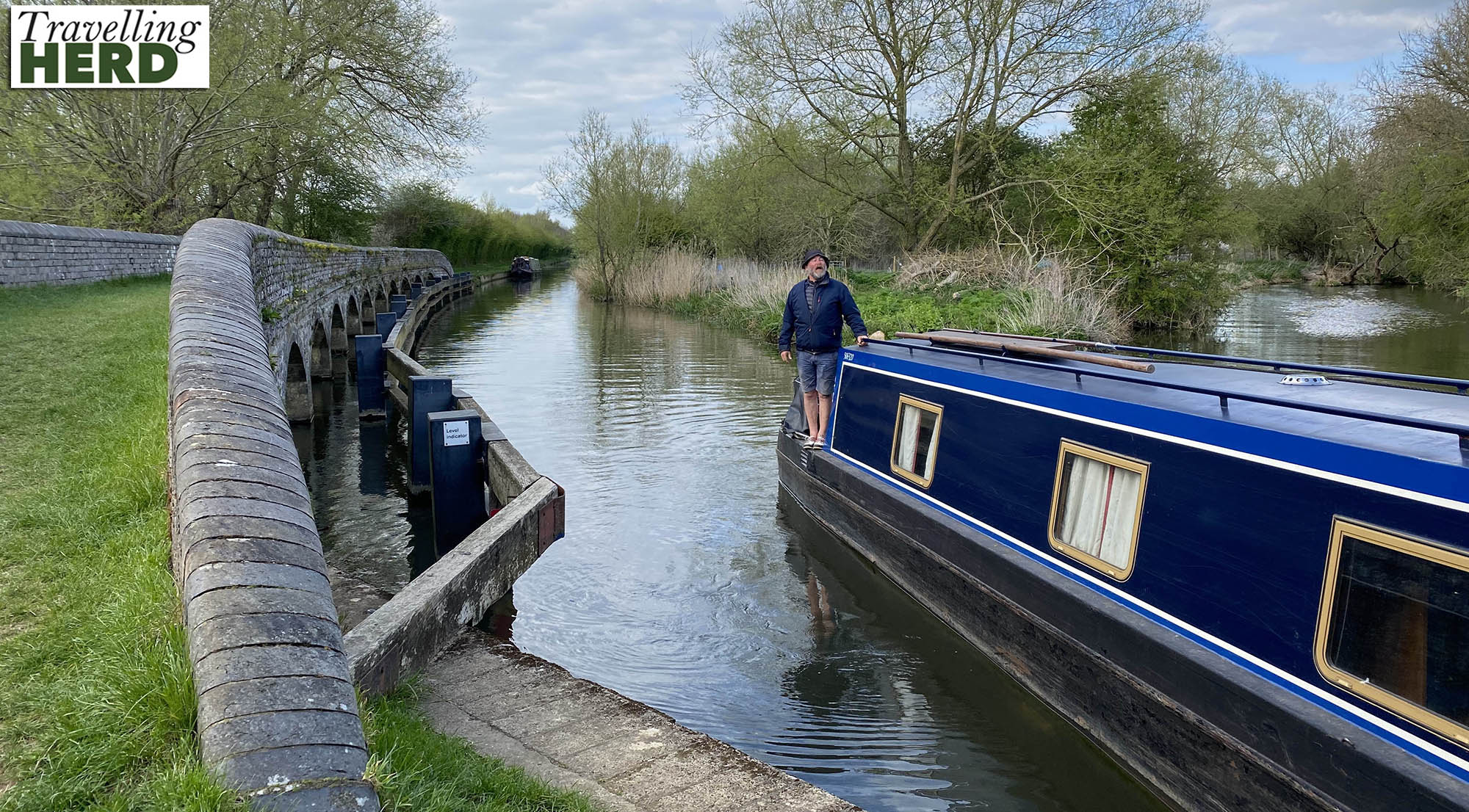 The lock itself is an unusual, irregular hexagonal shape, narrow at the two entrances but wider in the mid-section.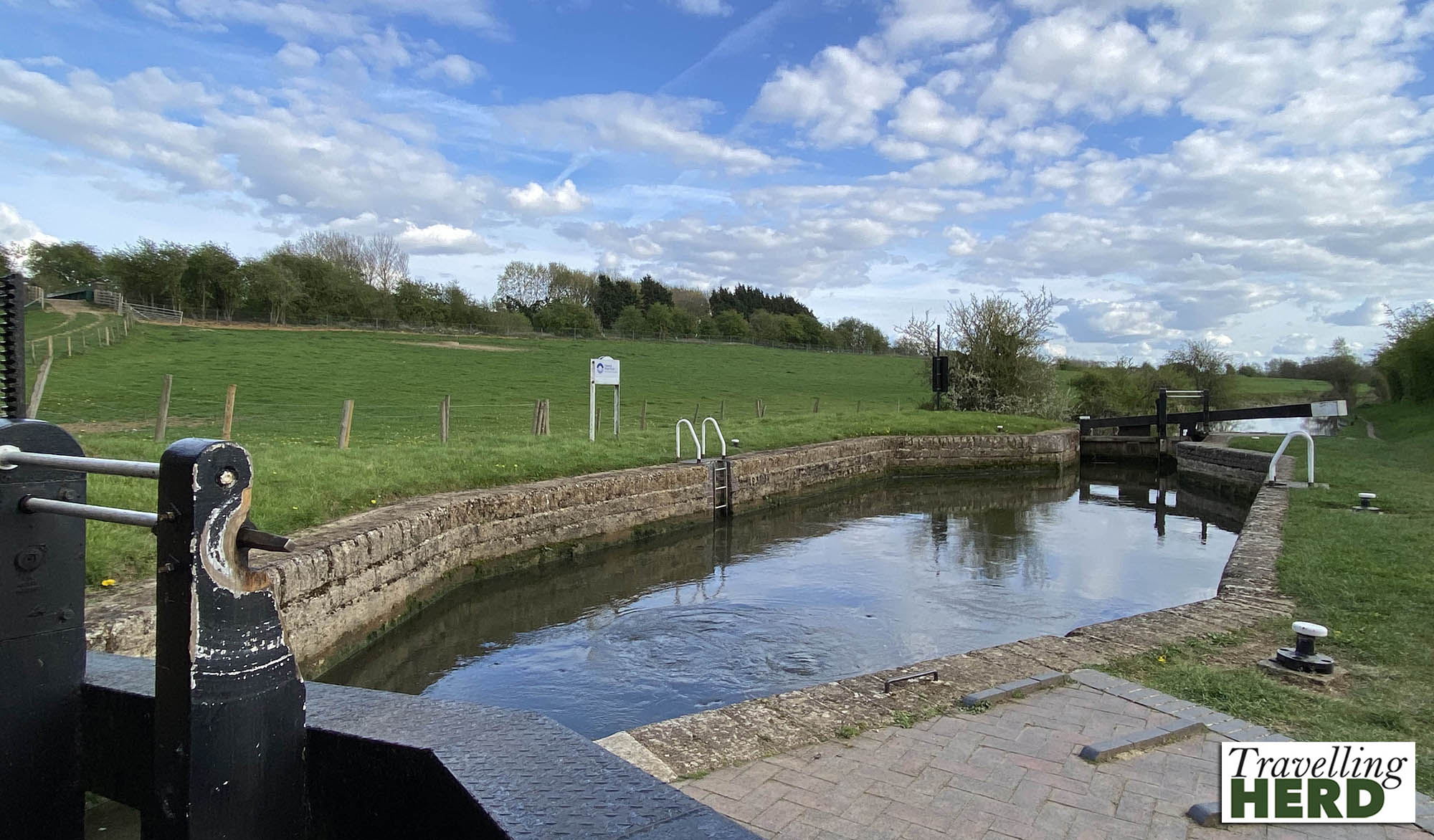 Once inside there seems to be space for two narrowboats.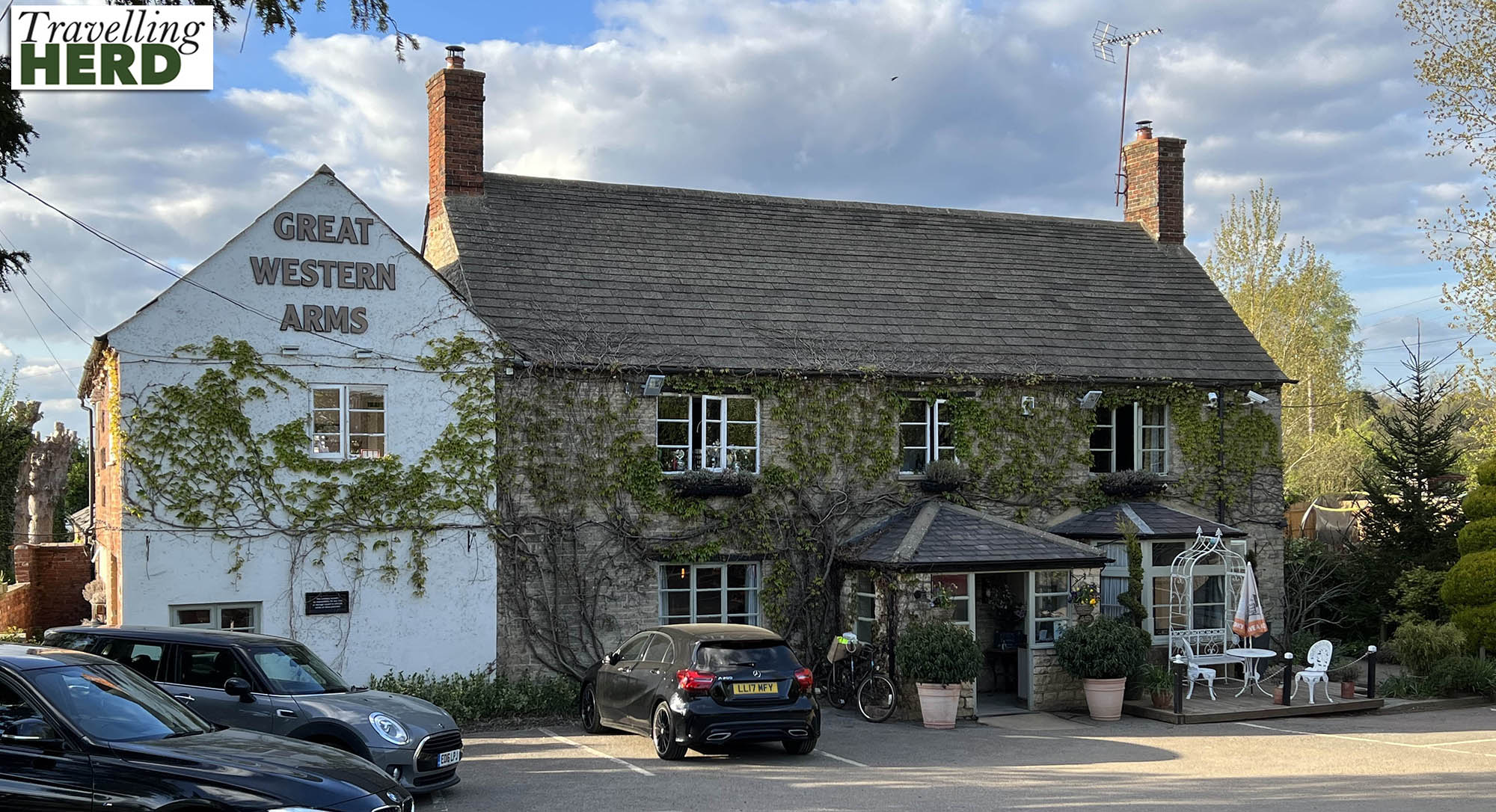 18/04/2022 – Miles: 17.56 – Locks: 17 – 10h0m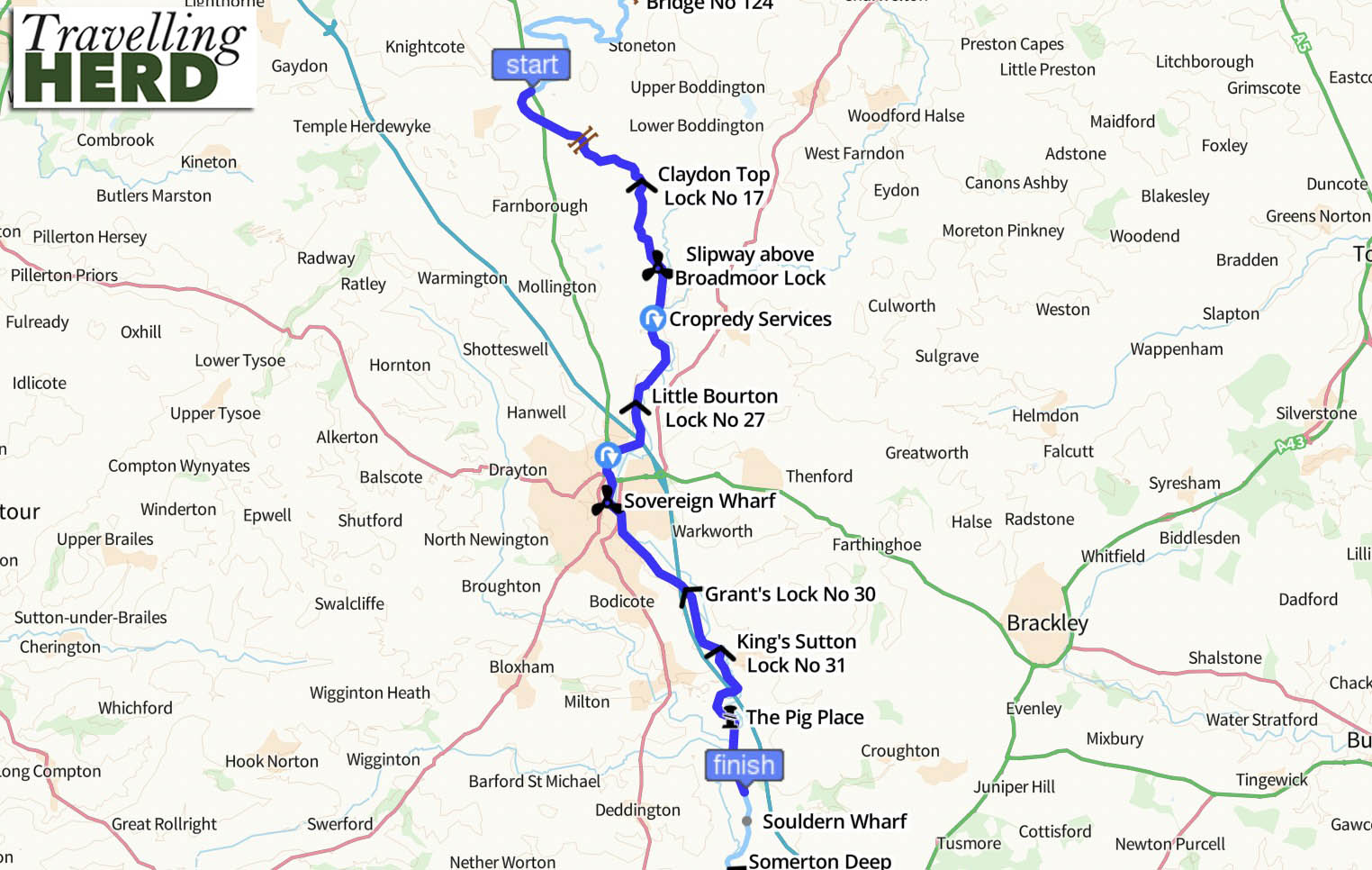 Matilda felt that our last day of travel was off to a good start when she saw a brood of ducklings wide enought to fill the whole canal.
The first lock on our last day was Somerton Deep Lock, so named for a reason. The lock-keeper's cottage had a small window on the side which we thought might have been for collecting the tolls.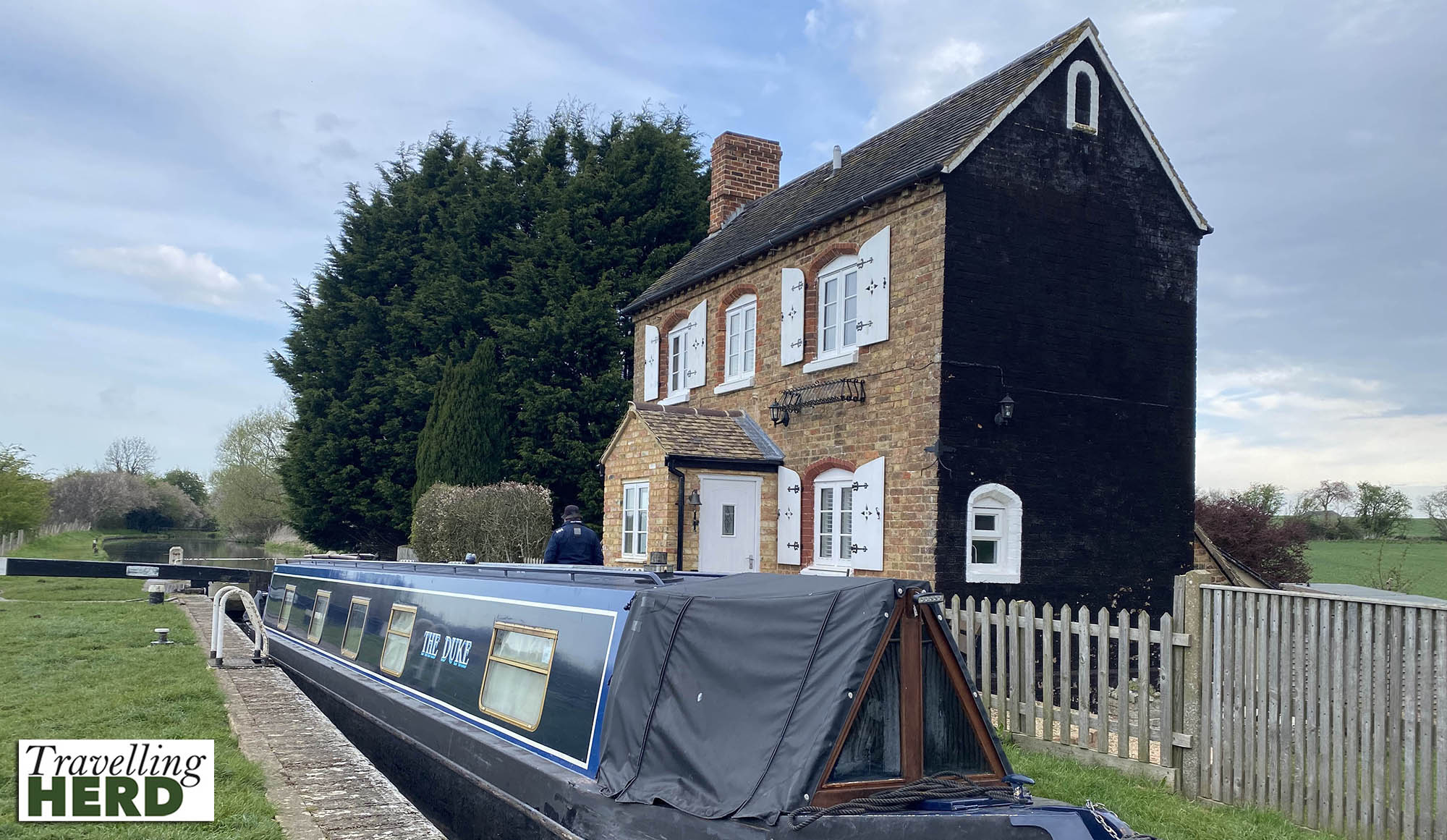 The penultimate lock of the journey was next to bridge 200 where Matilda was feeling artistic.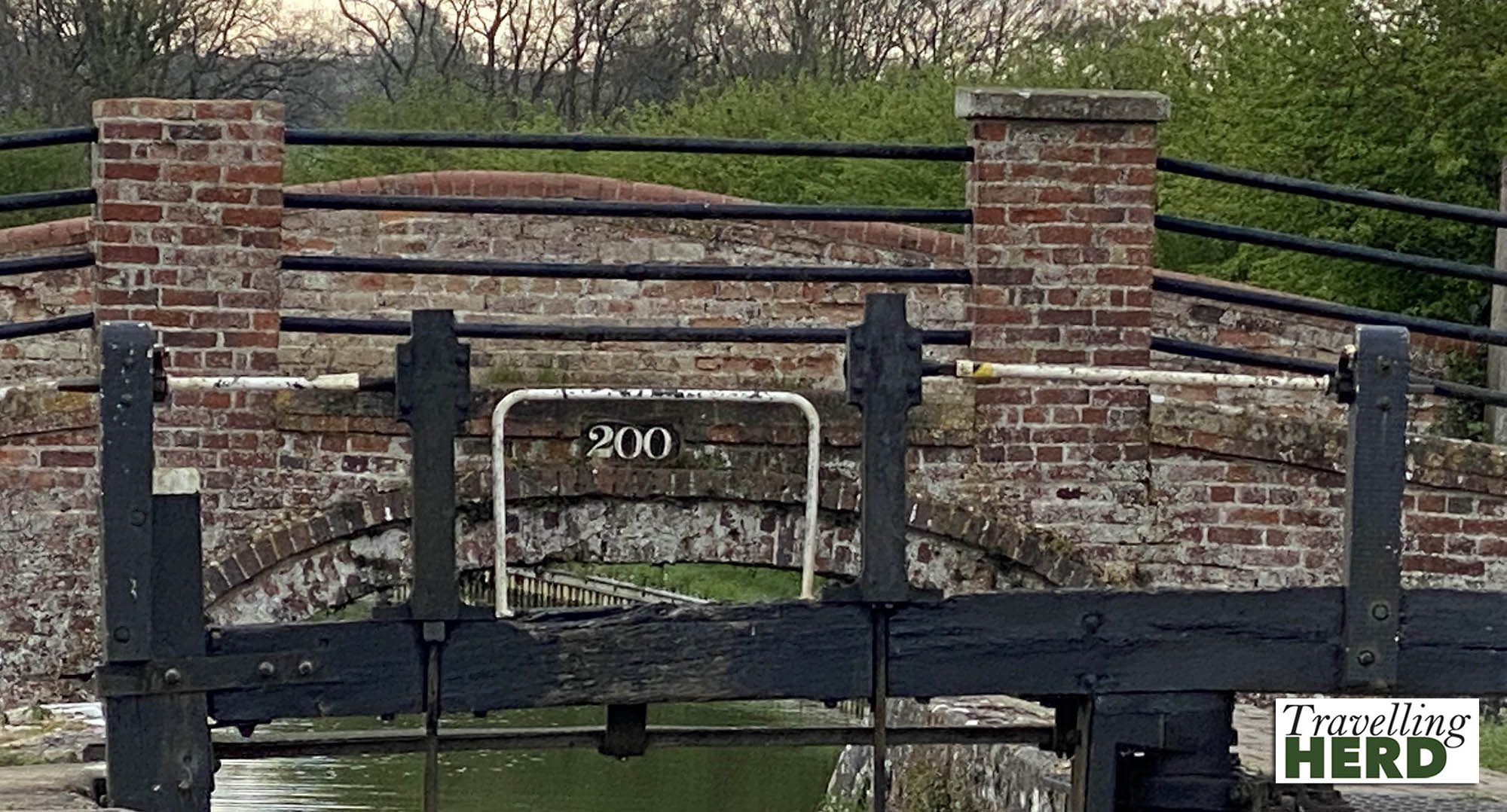 Our very last lock of this whole narrowboat adventure was Allens Lock [see Selfie of the day] and as a boat approached from the other direction just as we were emptying it, we left the gates open for them and we carried on our way just minutes before 10:00.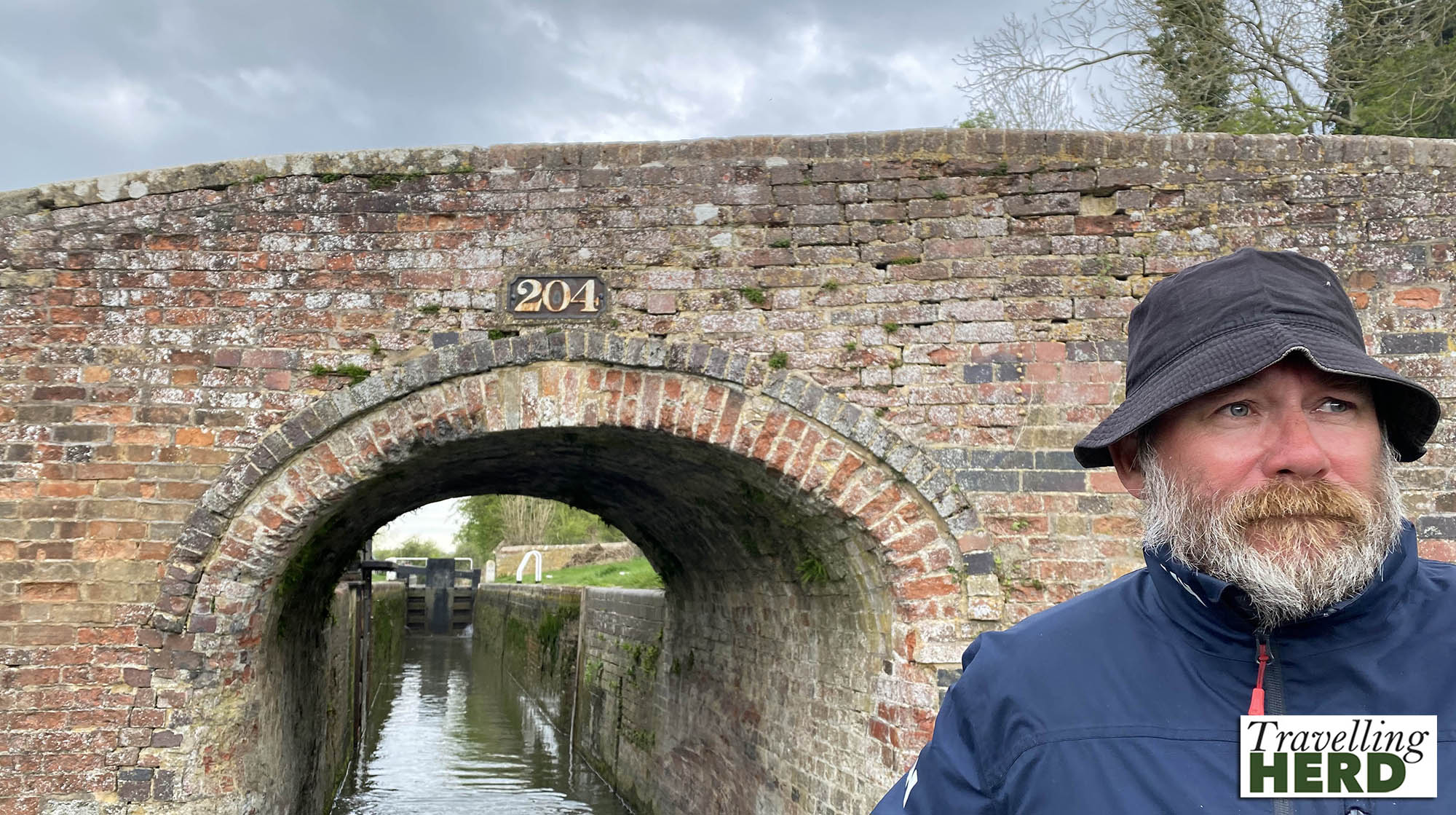 Matilda also had one final traffic-stopping moment.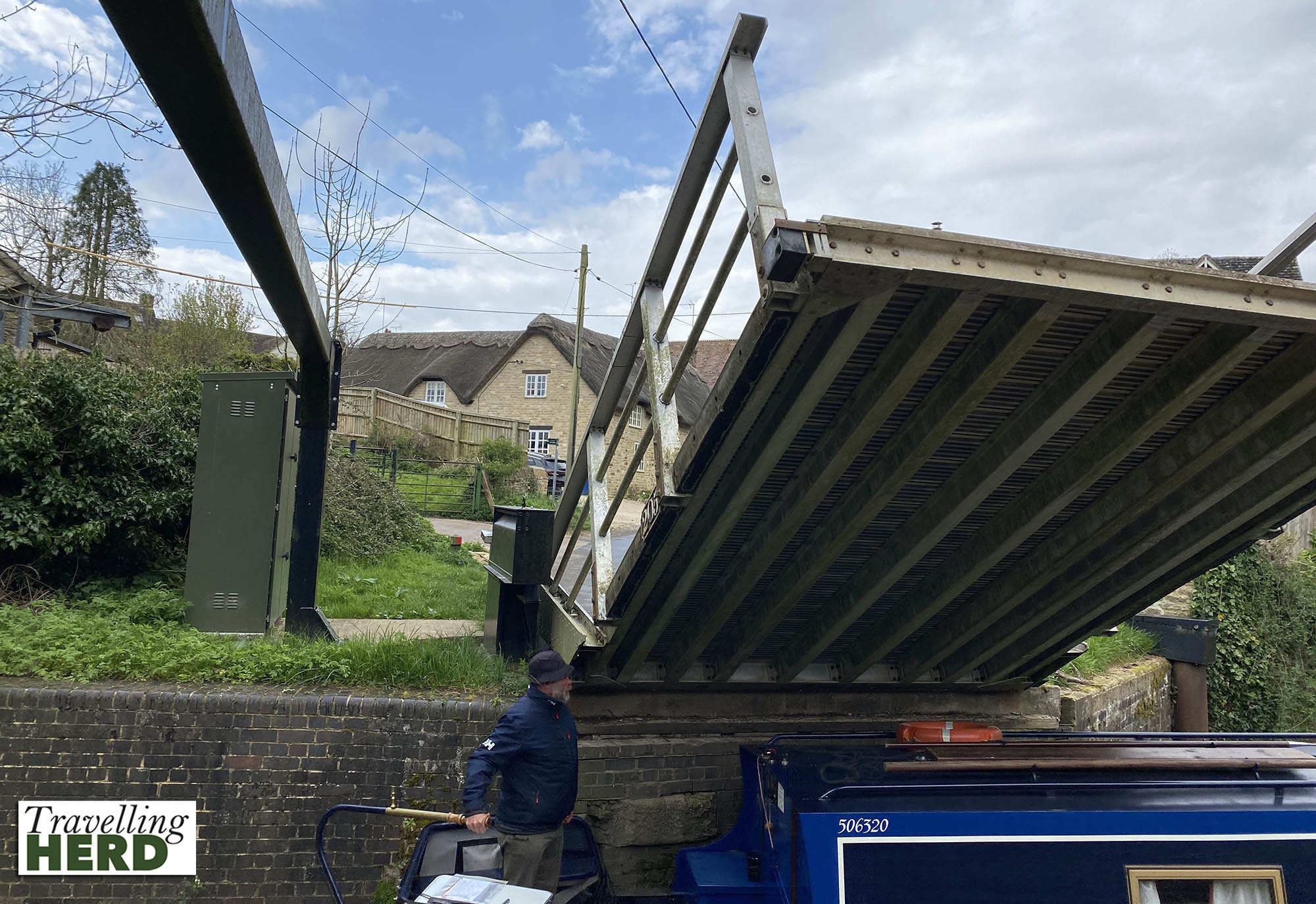 Using the BWB key to raise a bridge is always fun and engenders a sense of power.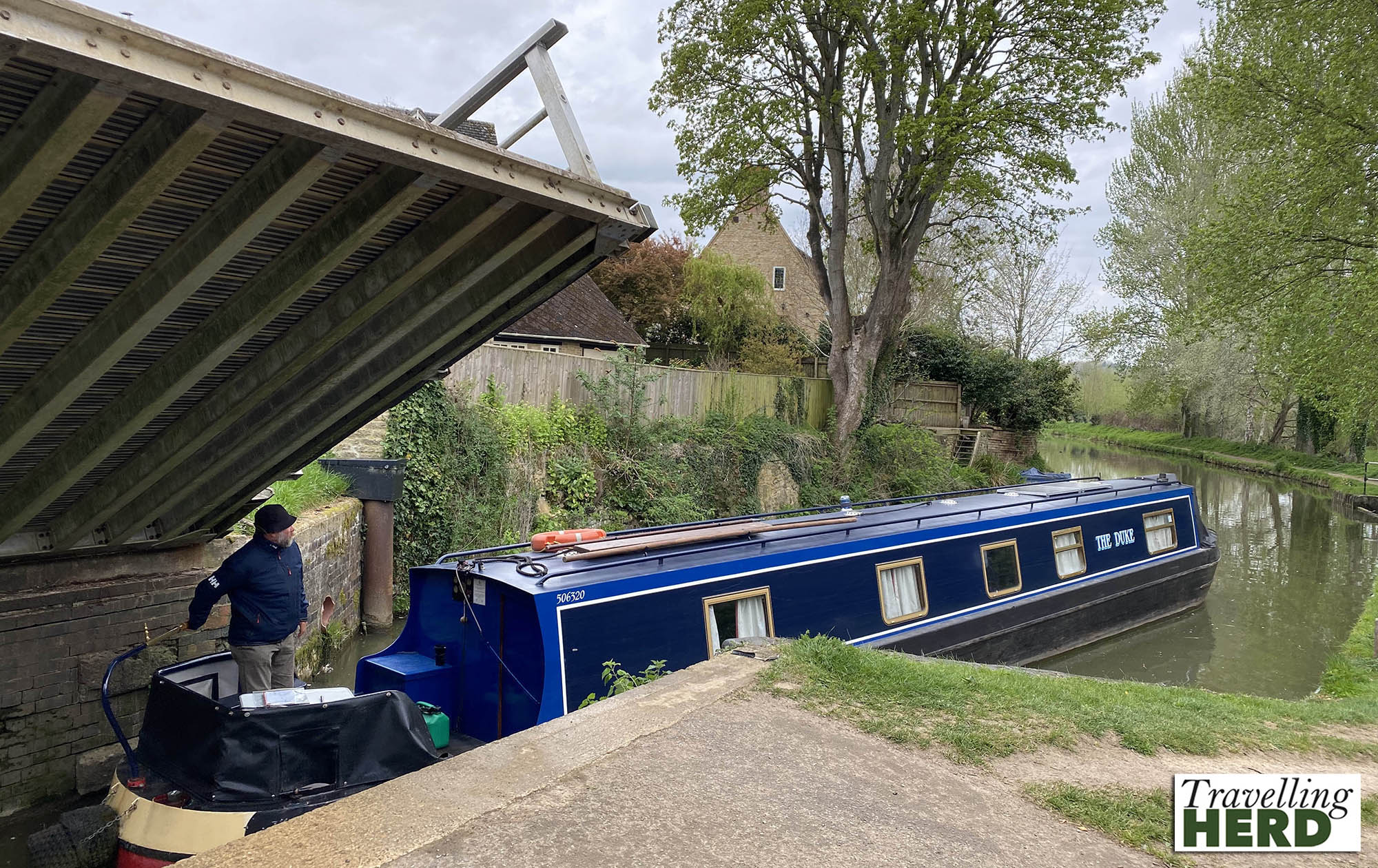 There was actually no traffic to stop however as this particular bridge seemed to lead to a single property.
We had been told to moor at Heyford Wharf but when we arrived the moorings were already three deep as this was a changeover day and Robert had to complete a tricky reversing manoeuvre to bring us alongside.
Robert felt that the skill required might not be apparent without a diagram.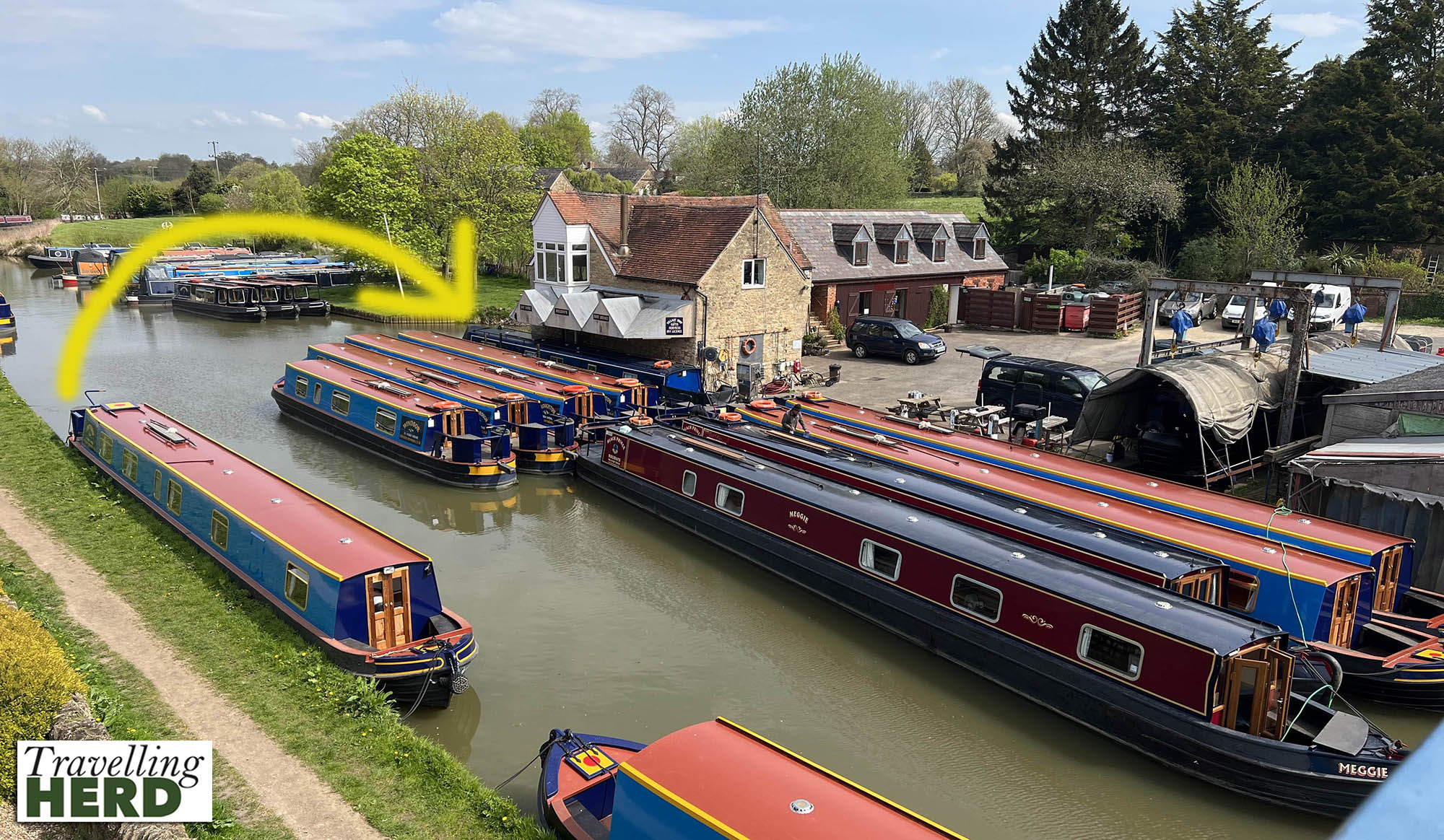 We moored up for the final time. The wharf is adjacent to the railway station and after filling up with water and doing some basic tidying we went to catch a train to Dorridge to collect our car from Robert's parents.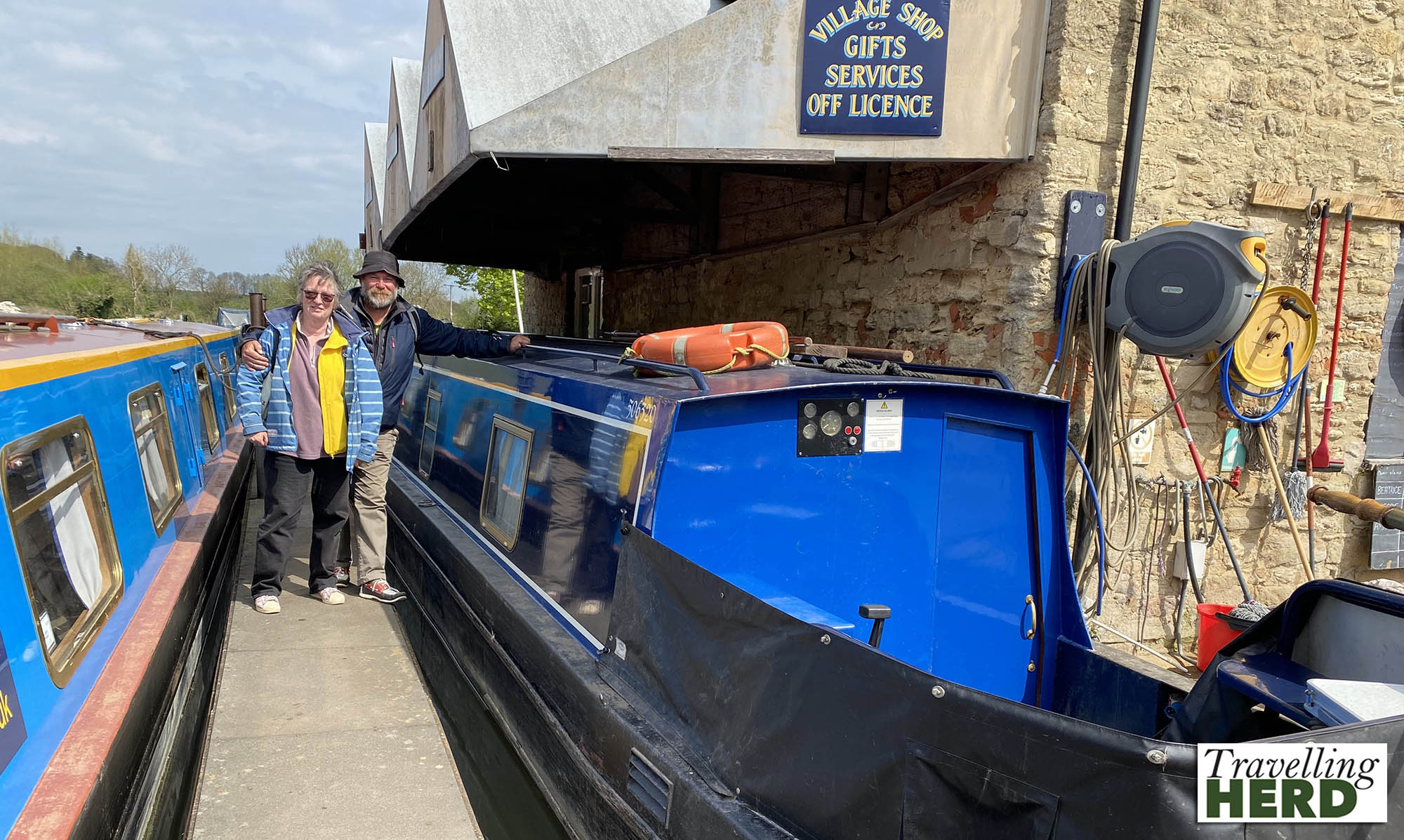 As we have a hybrid Mini, which had not been plugged in for about two months, we were not sure that it would start first time and had discussed whether we might need to stay overnight in Solihull while it charged.
Even though the car started first time, the lure of proper plumbing, a hot bath and a full sized bed in which no-one needed to be wedged against a wall proved too much for us. Robert traded in some of our IHG points for a free room and the following morning we drove back to Heyford to pack up, clean and say farewell to The Duke.
A narrowboat adventure indeed.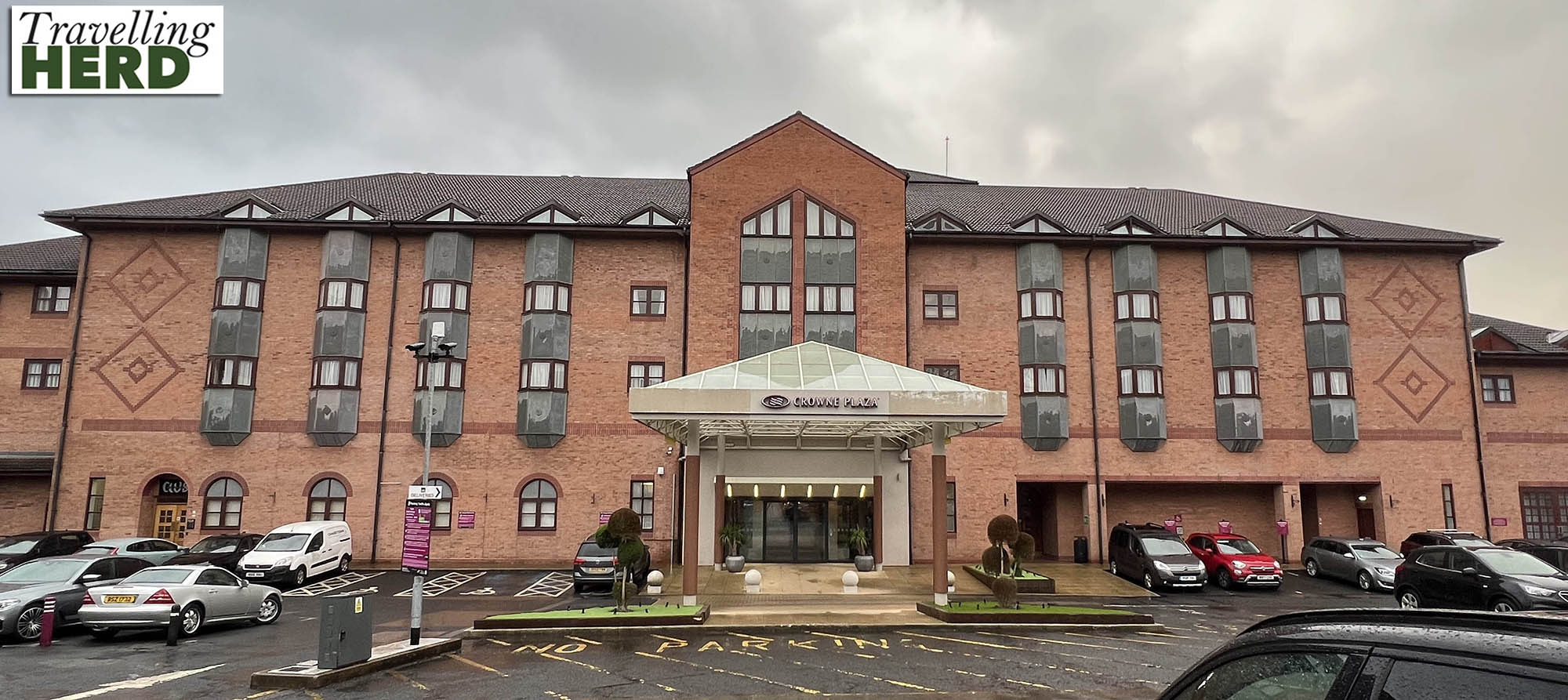 19/04/2022 – Miles: 6 – Locks: 3 – 3h0m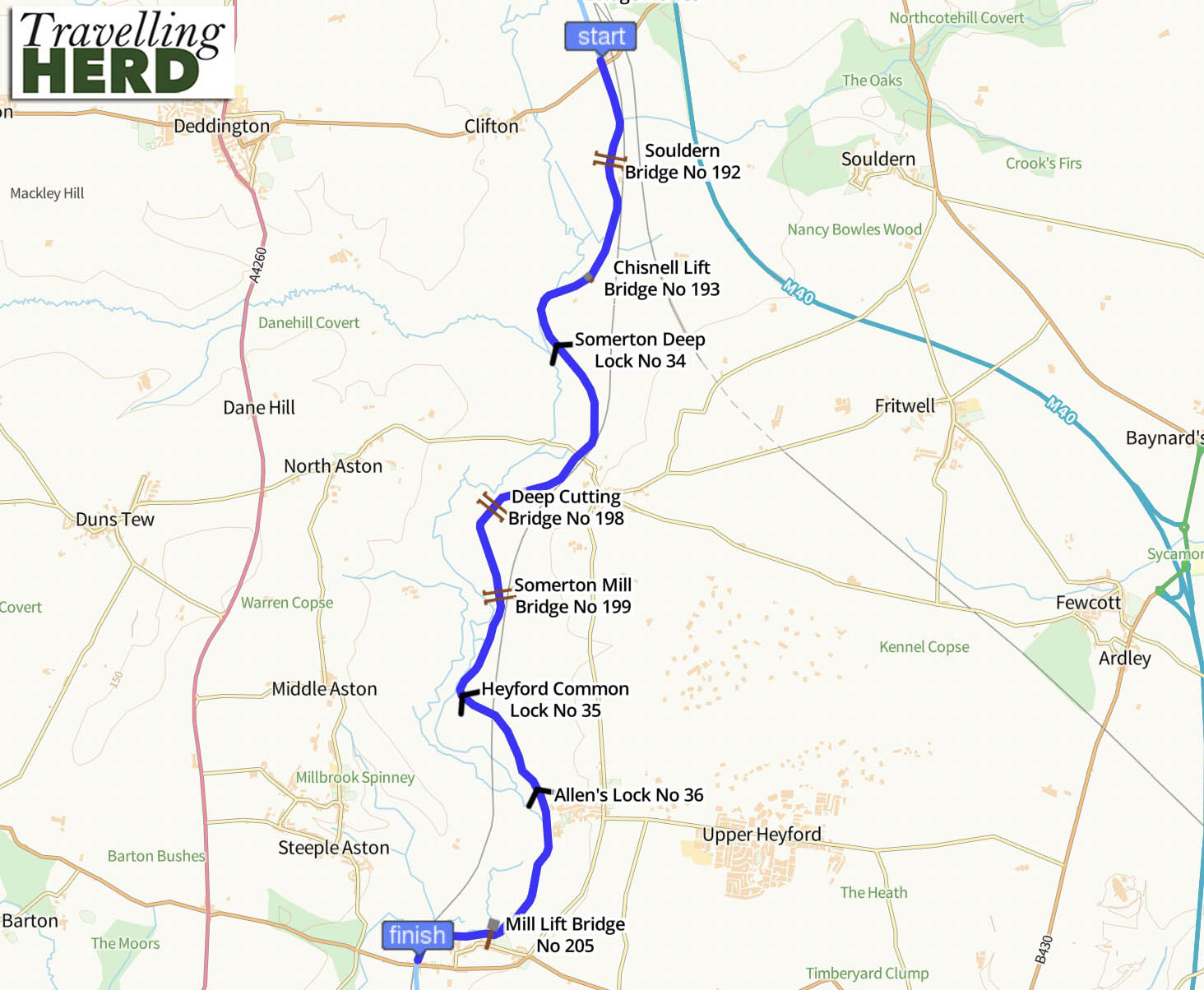 Route Map:
Days: 63 – Miles: 507 – Locks: 531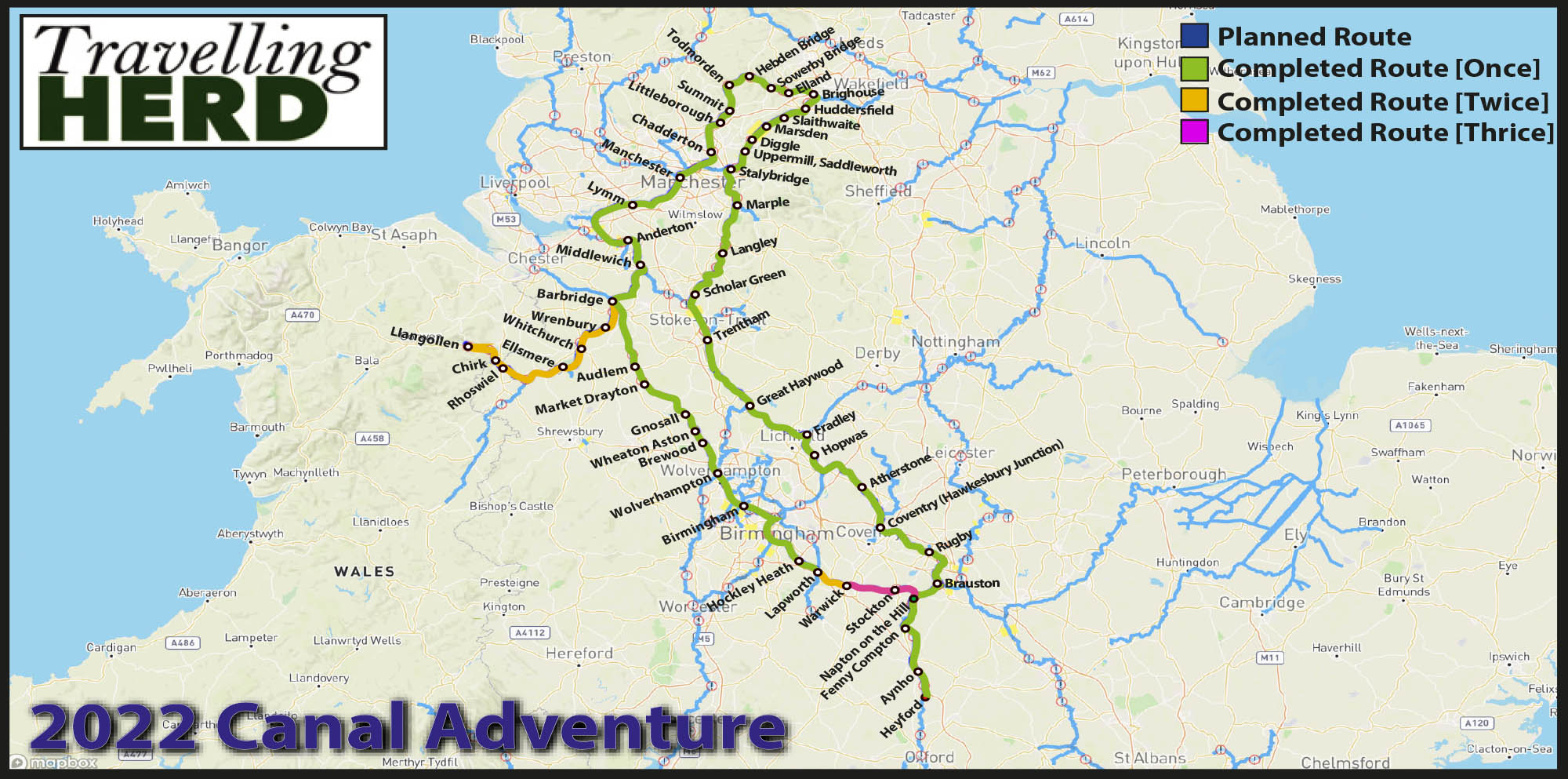 Video of the day:
Selfie of the day: