Sunday 27th to Tuesday 29th March 2022
We have now reached day 40 on The Duke – a number with Biblical associations – and Ralf will be returning to his homeland. The only problem is that it is difficult to identify exactly when we will be entering Wales: looking at the map, the canal seems to cross and re-cross the border. We are hoping that a sign will proudly announce when we arrive in Wales properly.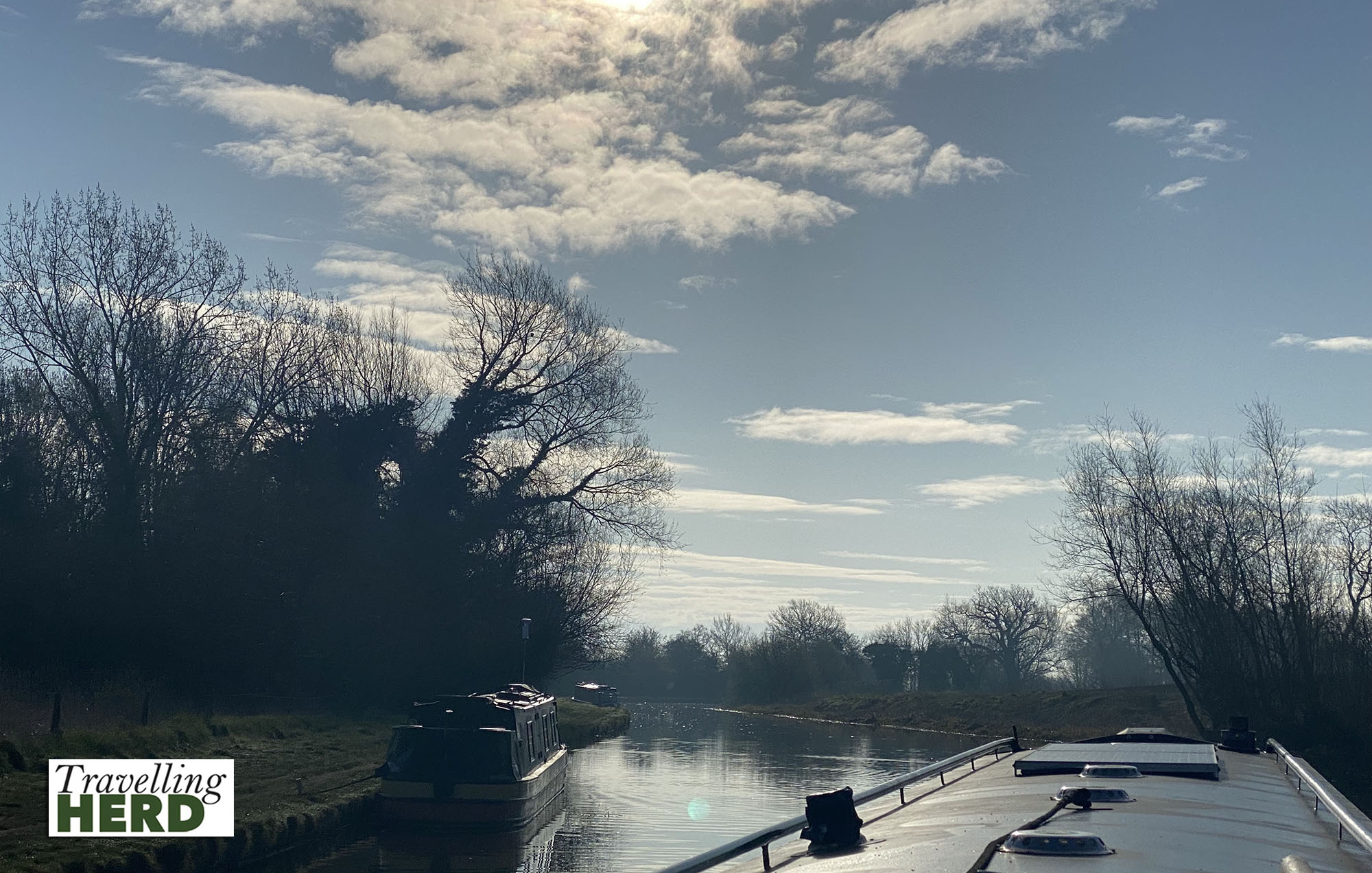 A short distance from Barbridge, although still in England at this point, we turned onto the Llangollen Canal.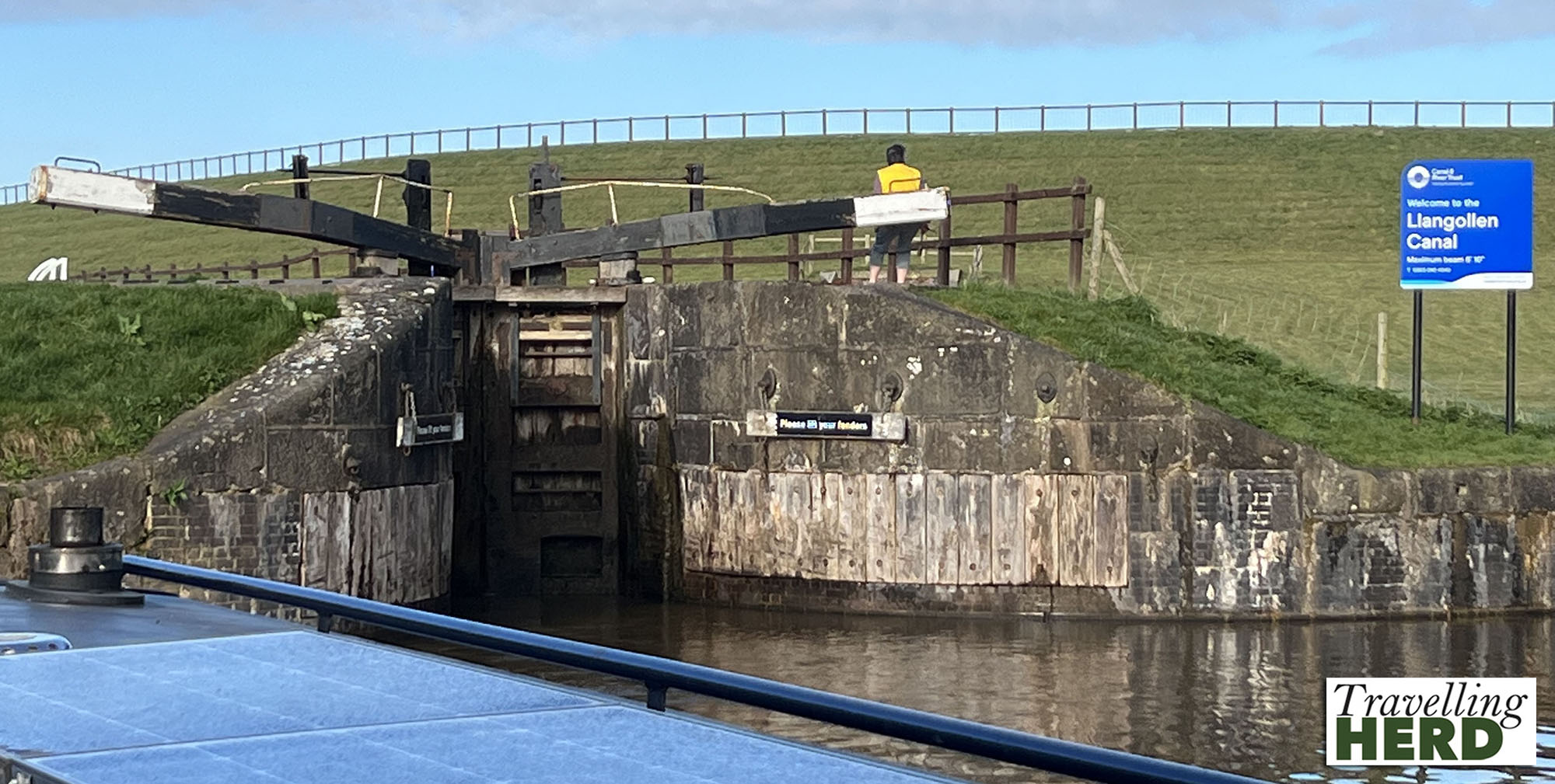 Immediately, we were faced with the first of the 21 locks on the Llangollen Canal – the flight of four Hurleston Locks which rise 34 feet 3 inches from the Shropshire Union Canal.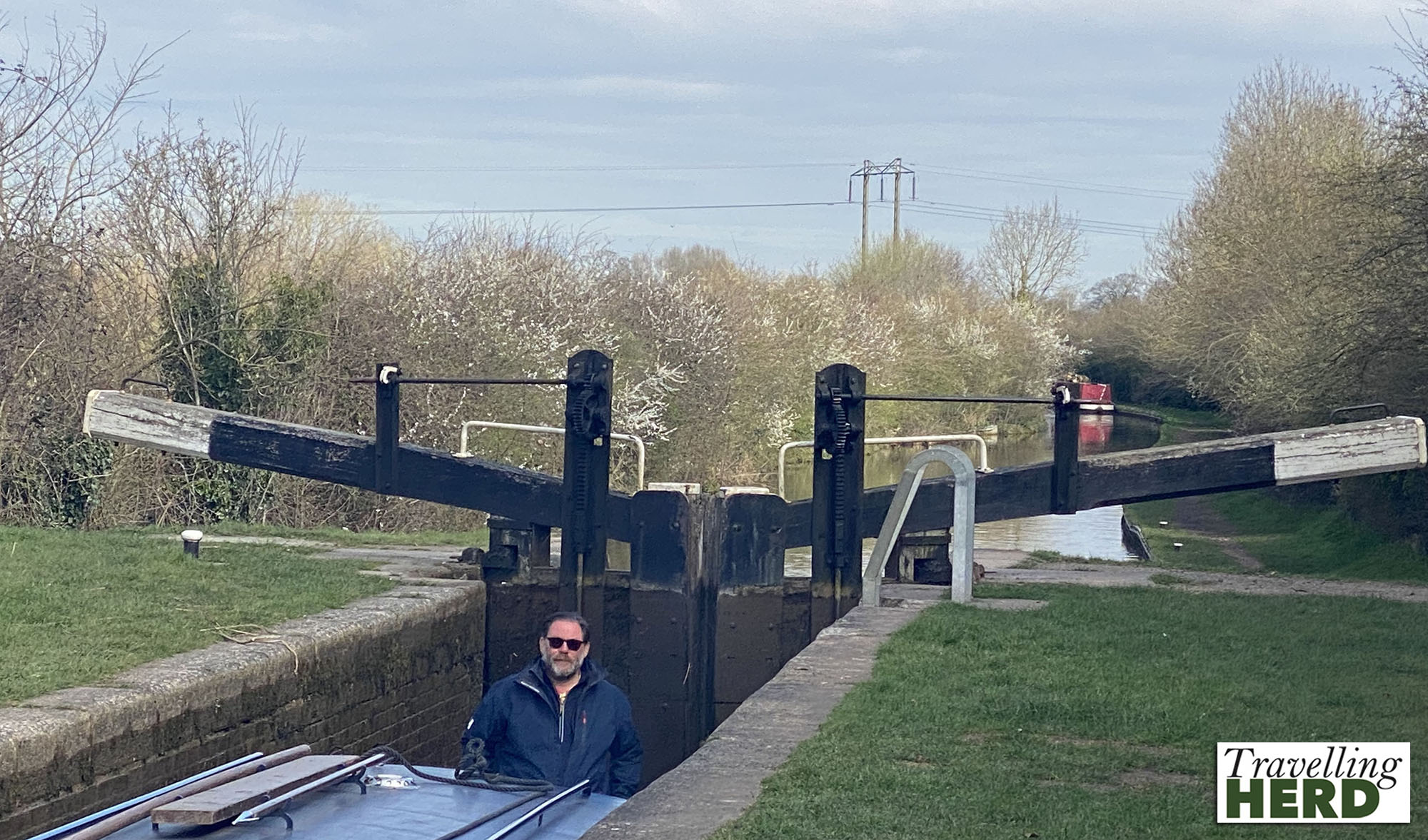 Ralf again wanted to participate in the adventure and perhaps plant his paws on his motherland once more.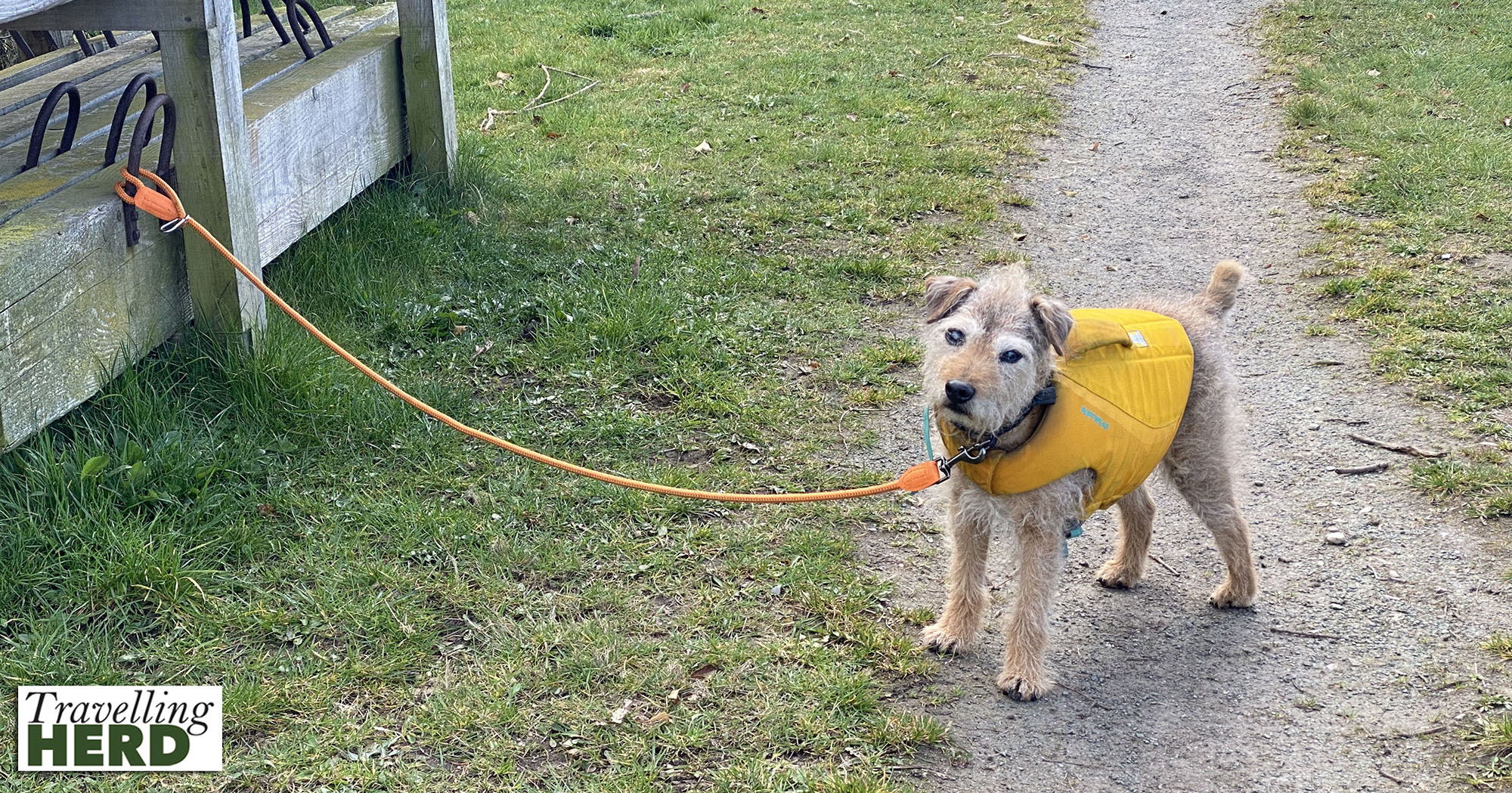 Matilda had to crank open a lift bridge. . .
. . . and watch The Duke glide past before closing it again.
Robert had read that there were cast iron embellishments to the graves at St Margaret's in Wrenbury but Matilda could not identify them and as there was a man tending a grave covered in fresh floral tributes she did not want to intrude by trampling around like a tourist.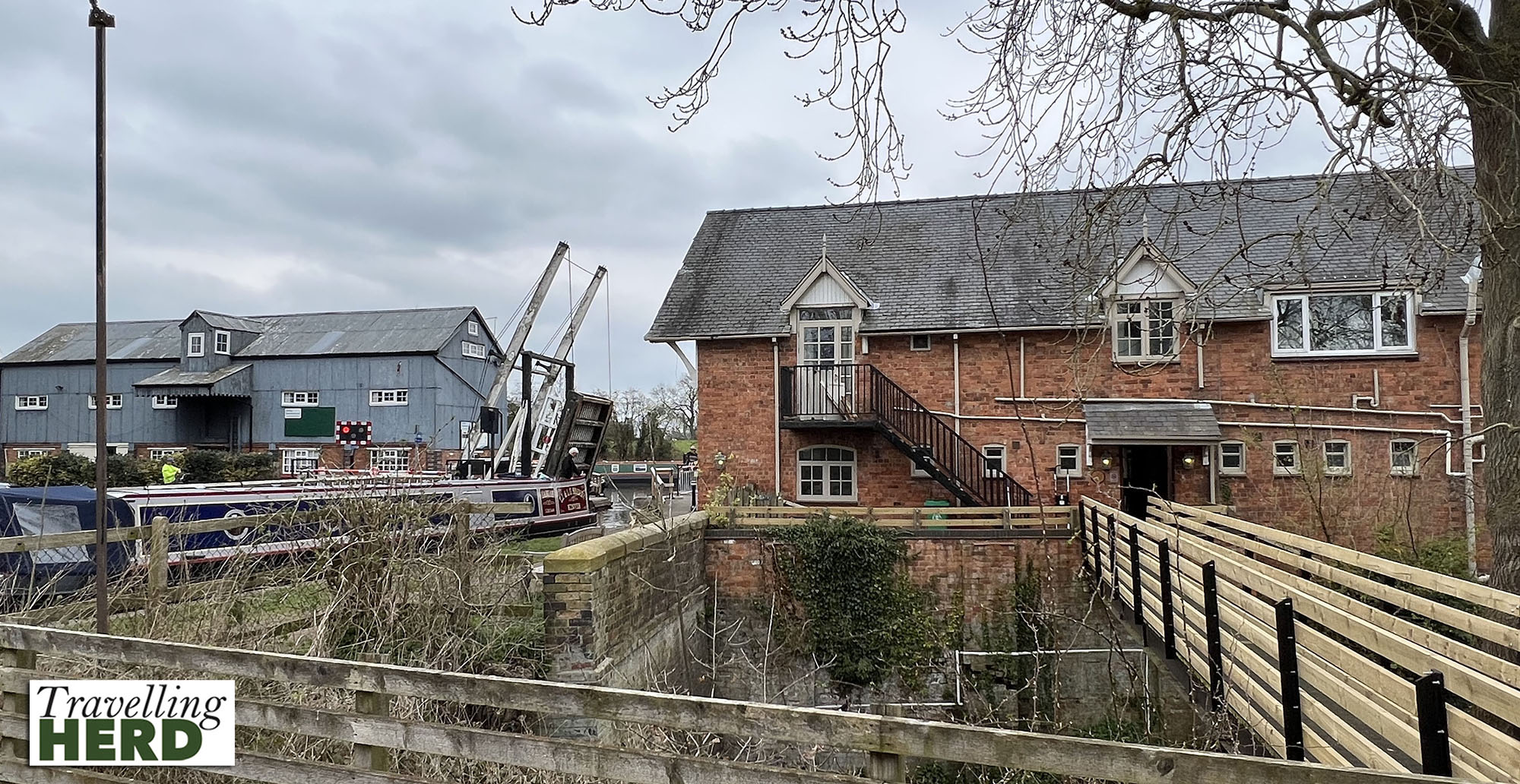 27/03/2022 – Miles: 7.25 – Locks: 9 – 4h30m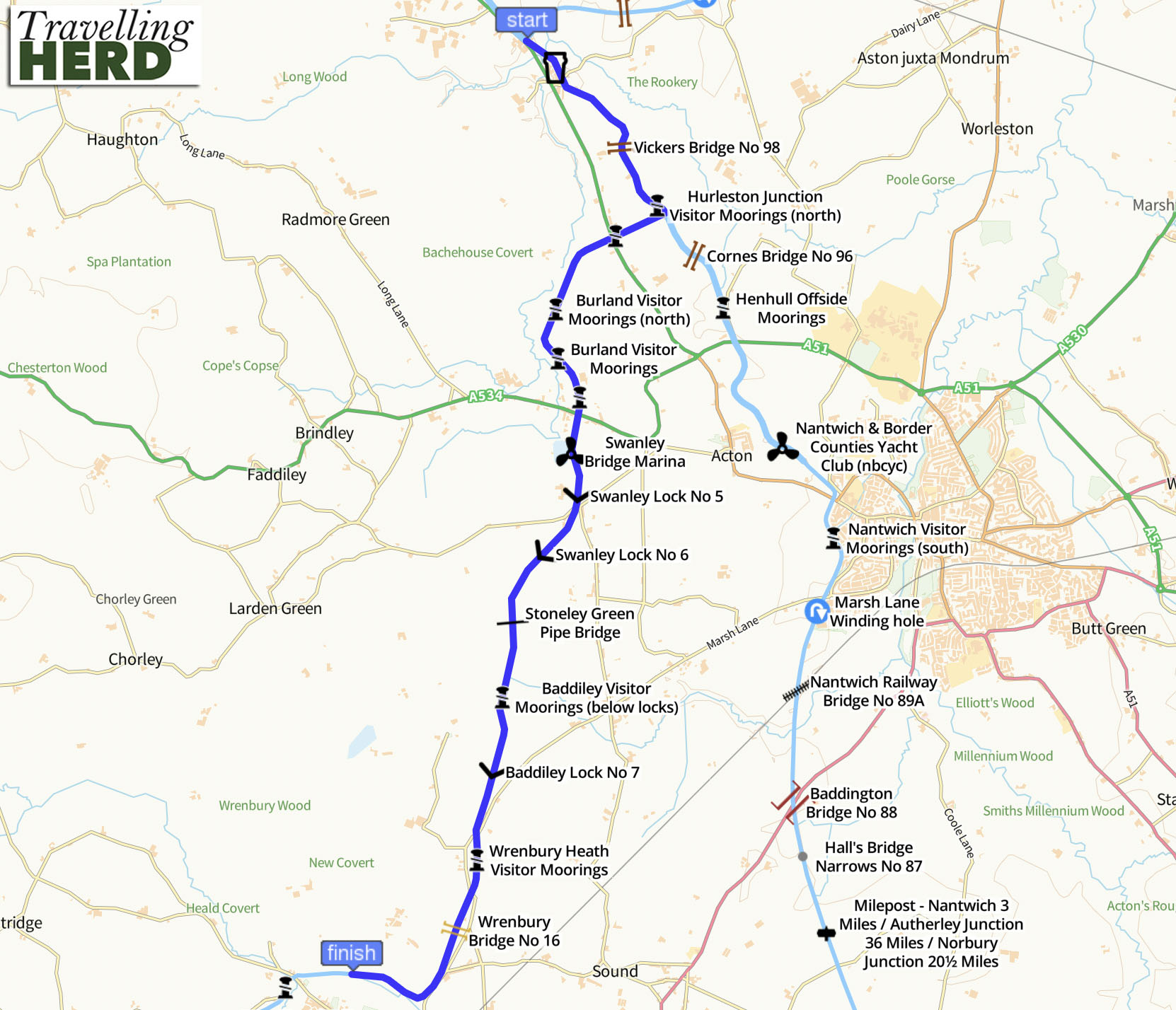 When we awoke in Wrenbury the following morning, the cows were coming down to the canal for a drink.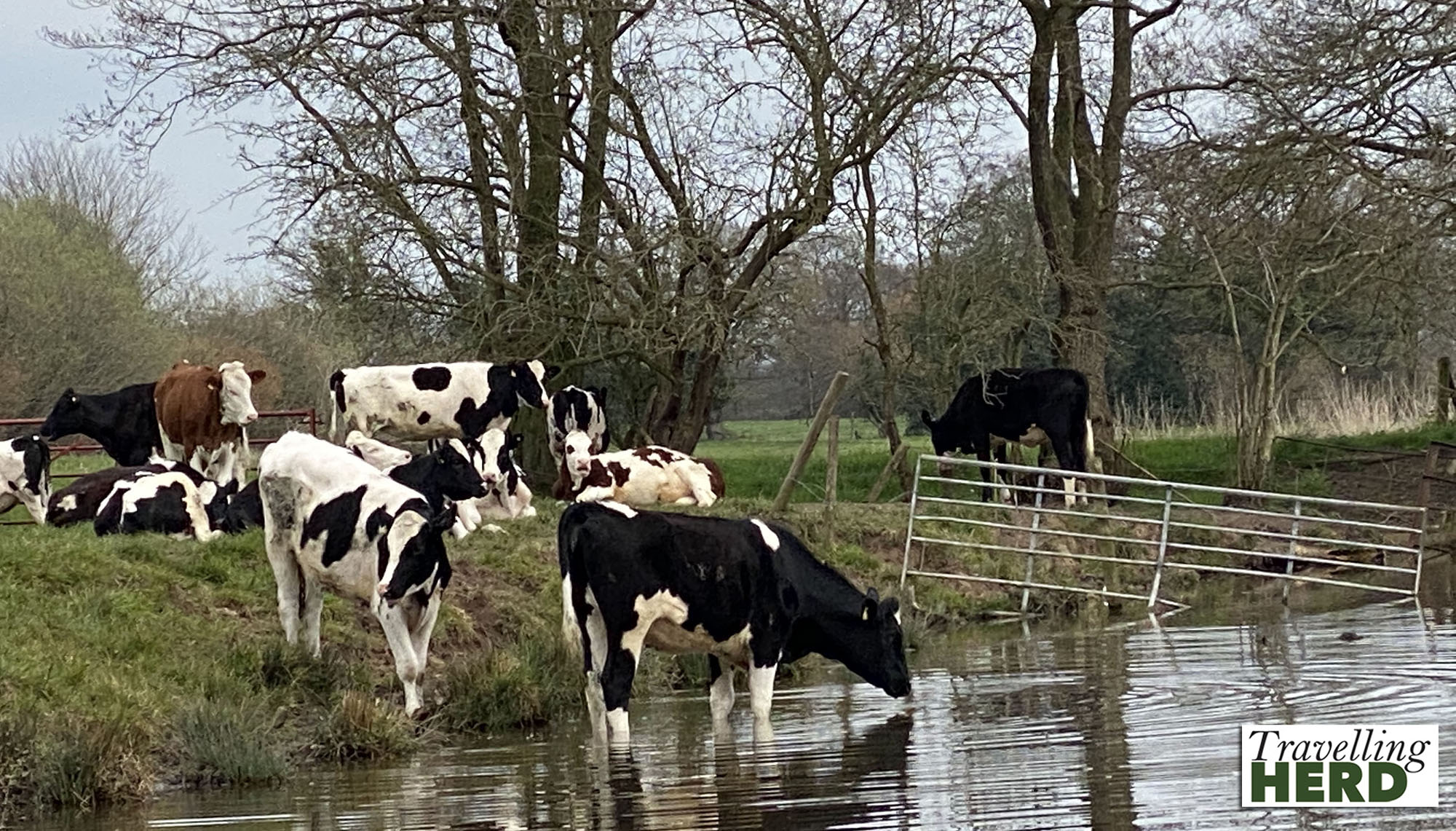 The Wrenbury Lift Bridge was just a short distance from where we had moored. Unfortunately, as Robert pulled away from the bank, he found he had very little power and the engine was making very laboured noises. It was a slow transit underneath the bridge, with cars waiting on either side.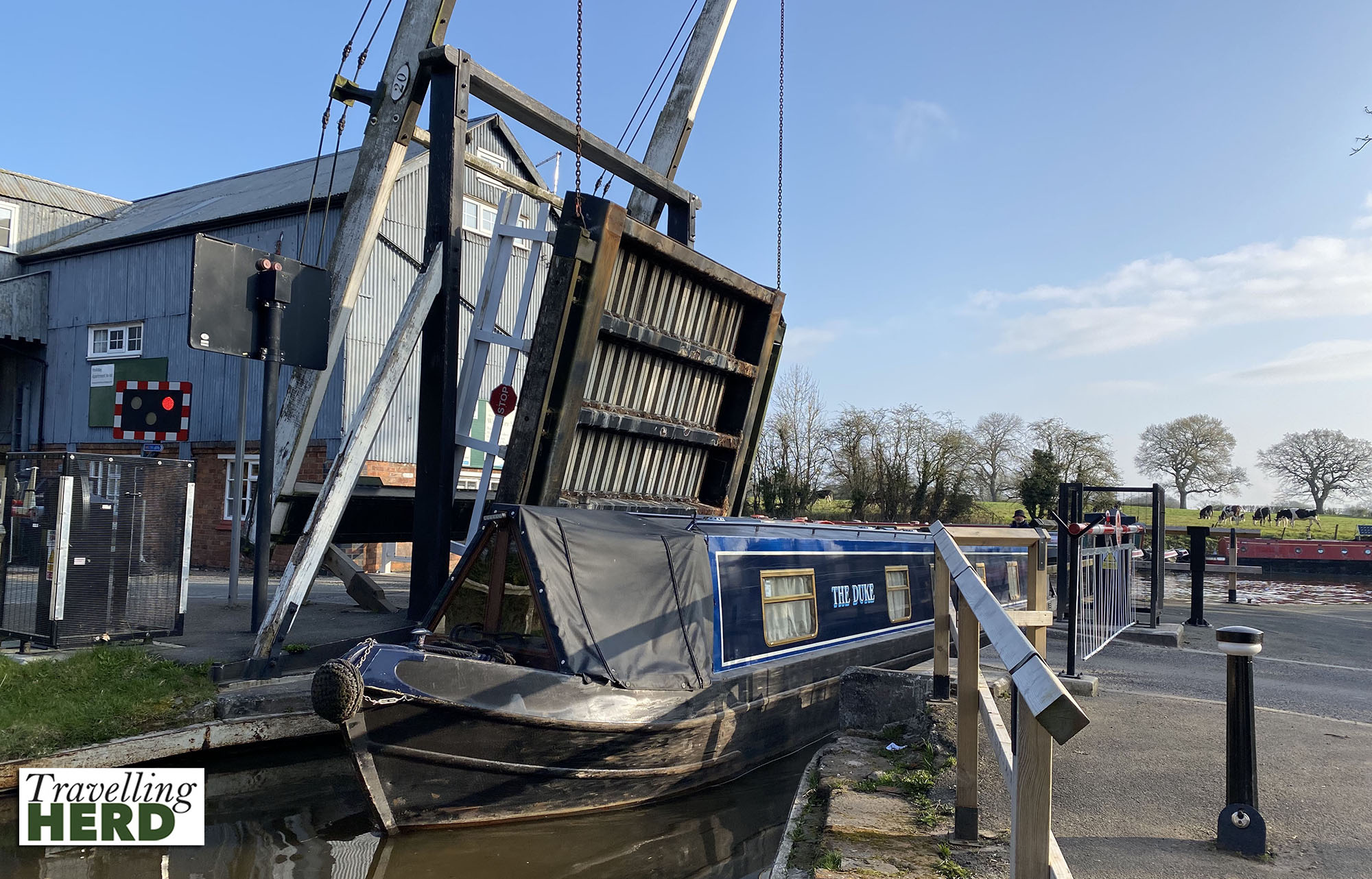 We could not continue and so pulled over for Robert to investigate. He phoned David Dare and left a message then began his own troubleshooting. He tightened the alternator and topped up the gear box oil. At this point David Dare called back and confirmed that the symptoms Robert described were typical of low gear box oil.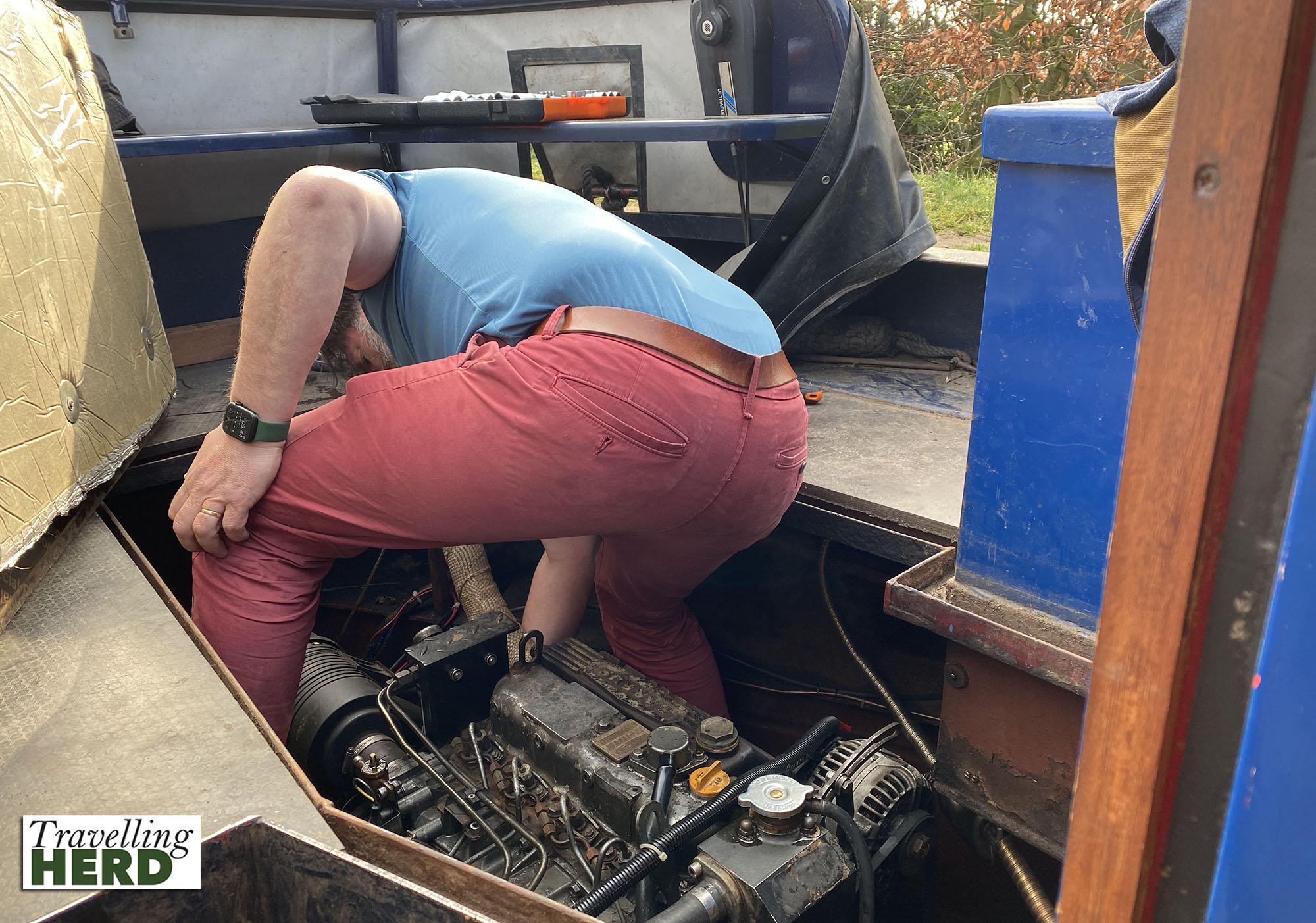 Thankfully, after a tweak and a top up, The Duke sounded much more healthy and we were able to continue on our way. We are hoping that tightening the alternator might help to alleviate some of our battery charging issues.
Once we started travelling again, Matilda toasted hot cross buns and put the kettle on so she could finally satisfy her yearning for this Easter treat [see Dish of the day].
At one point, Robert had planned we might stop near the Willey Moor Lock Tavern, but this is closed on Mondays so it was fortunate that our route had already been revised and extended.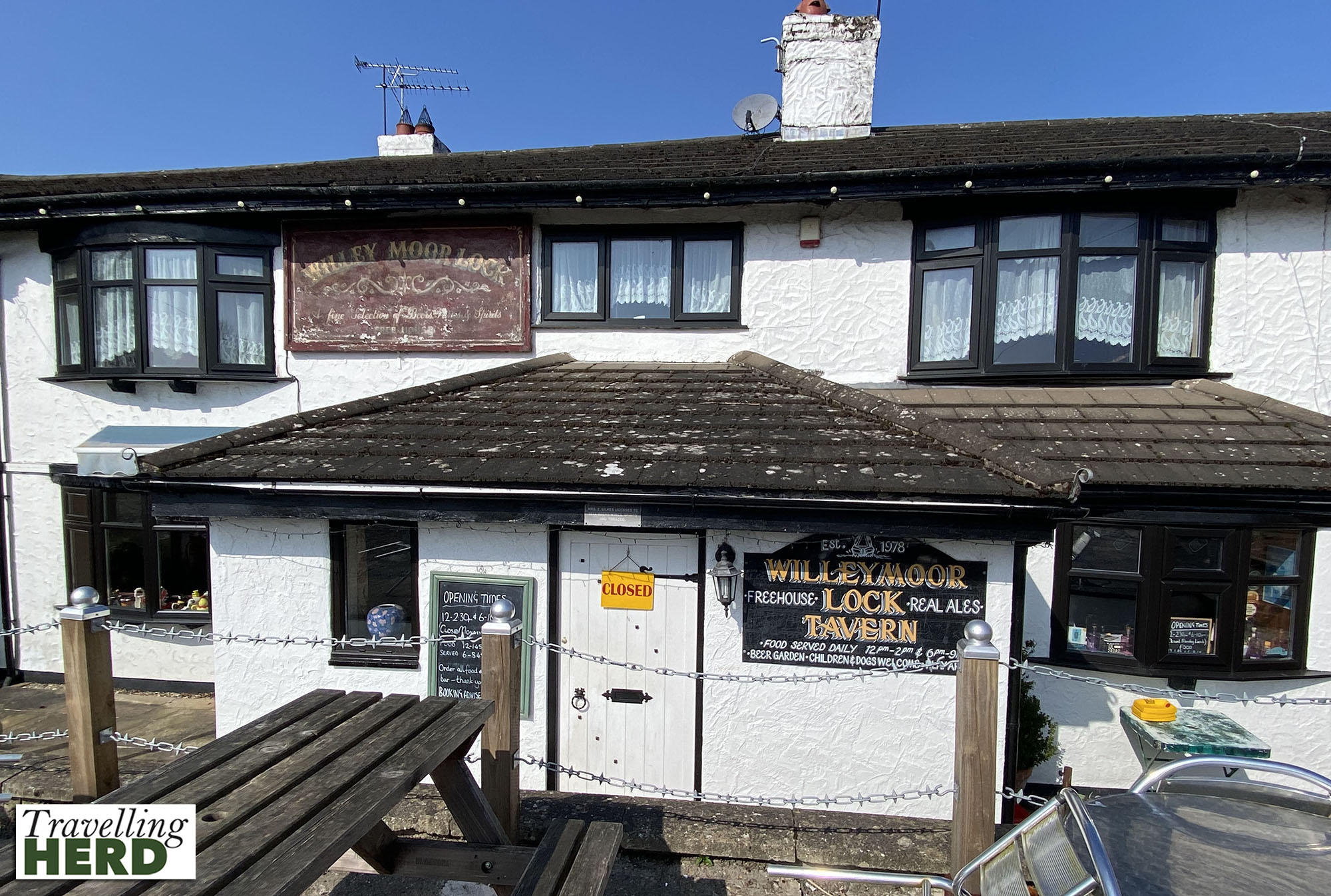 Although there were helpful instructions at the Grindley Brook Staircase Locks, this is a triple chamber staircase and Matilda was particularly pleased to see the Canal and River Trust volunteers walking purposefully towards The Duke, windlasses at the ready.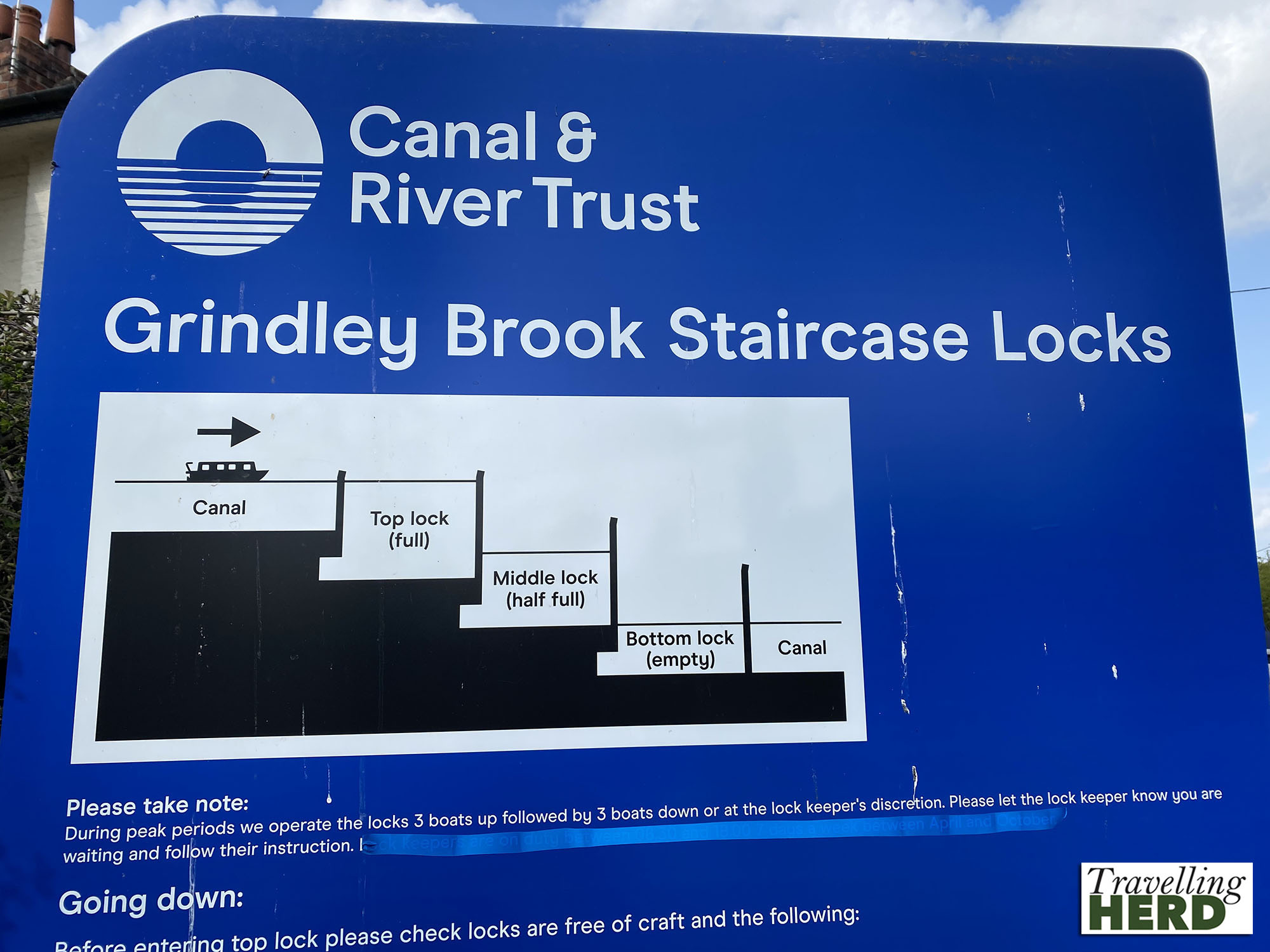 They were under instruction by the new local controller [below left] who was charming and helpful and provided us with an information sheet. Apparently the locks have recently been repaired and therefore the necessary water levels have changed slightly so further training was required.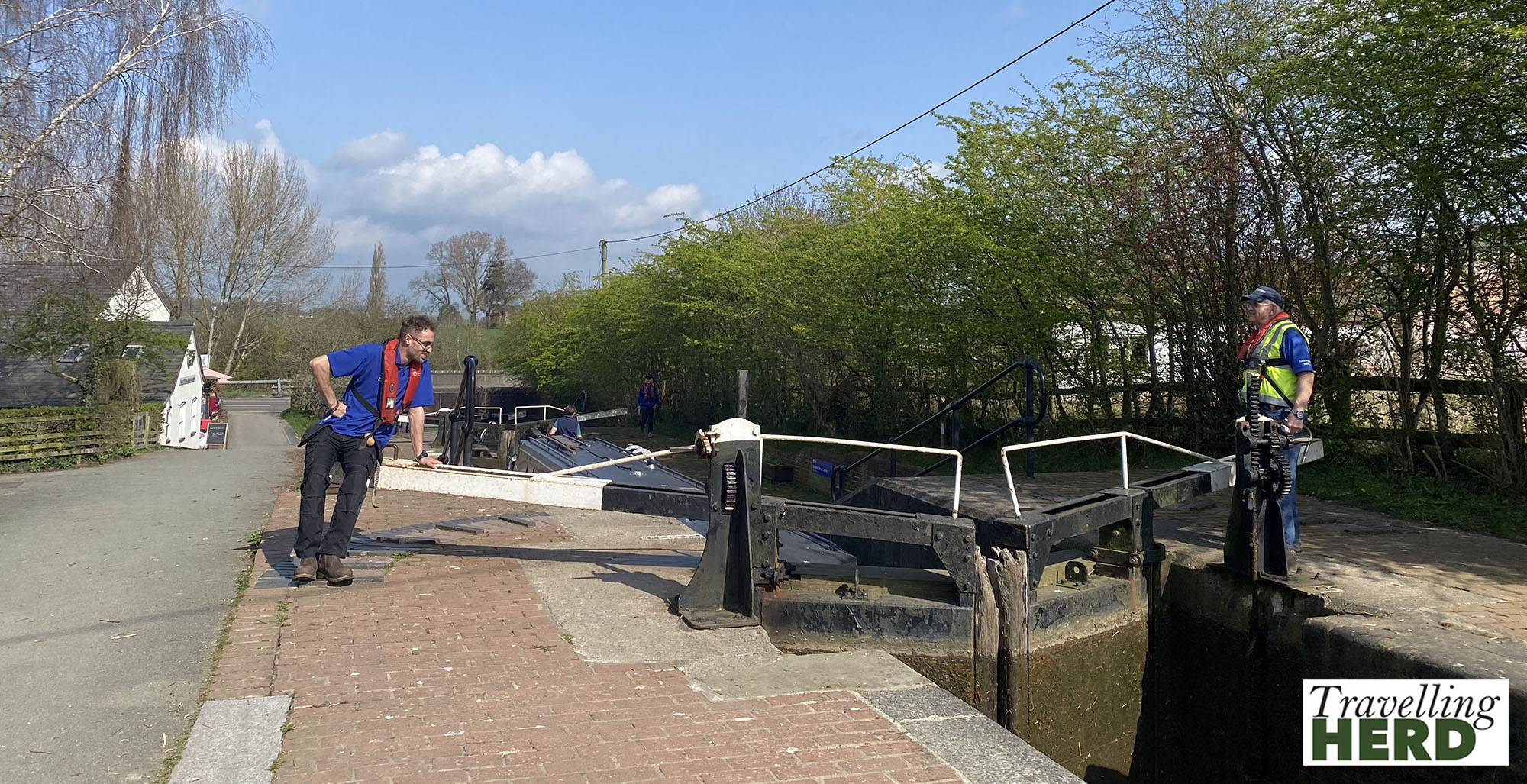 With three chambers, the water needs to be very carefully controlled and Matilda felt there was a lot that could go wrong under her direction.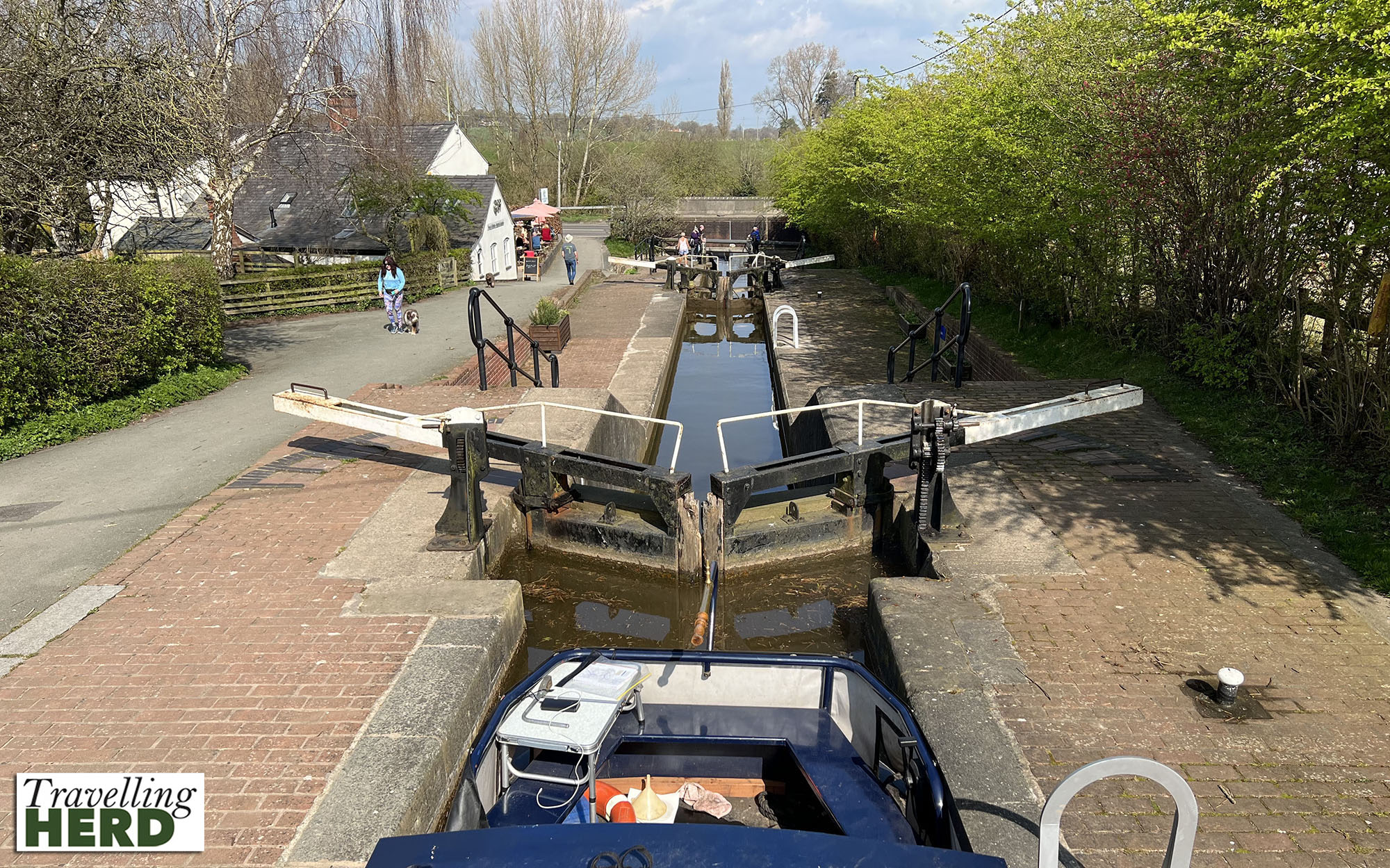 Having successfully travelled through the staircase lock, with almost no input from Matilda, we pulled over to take on water and empty the Elsan [toilet]. Robert decided that this would be a good place to stop. However having moored and strolled back down to the lock-side establishment we found that as a café they only served hot and cold beverages, cakes and ice cream. Walking a little further we found that The Horse and Jockey pub was not open on a Monday. It goes without saying that without a hostelry within ready walking distance, Robert needed to relocate. We therefore started up the engine again and travelled a short distance further on through another lift bridge and on to Whitchurch.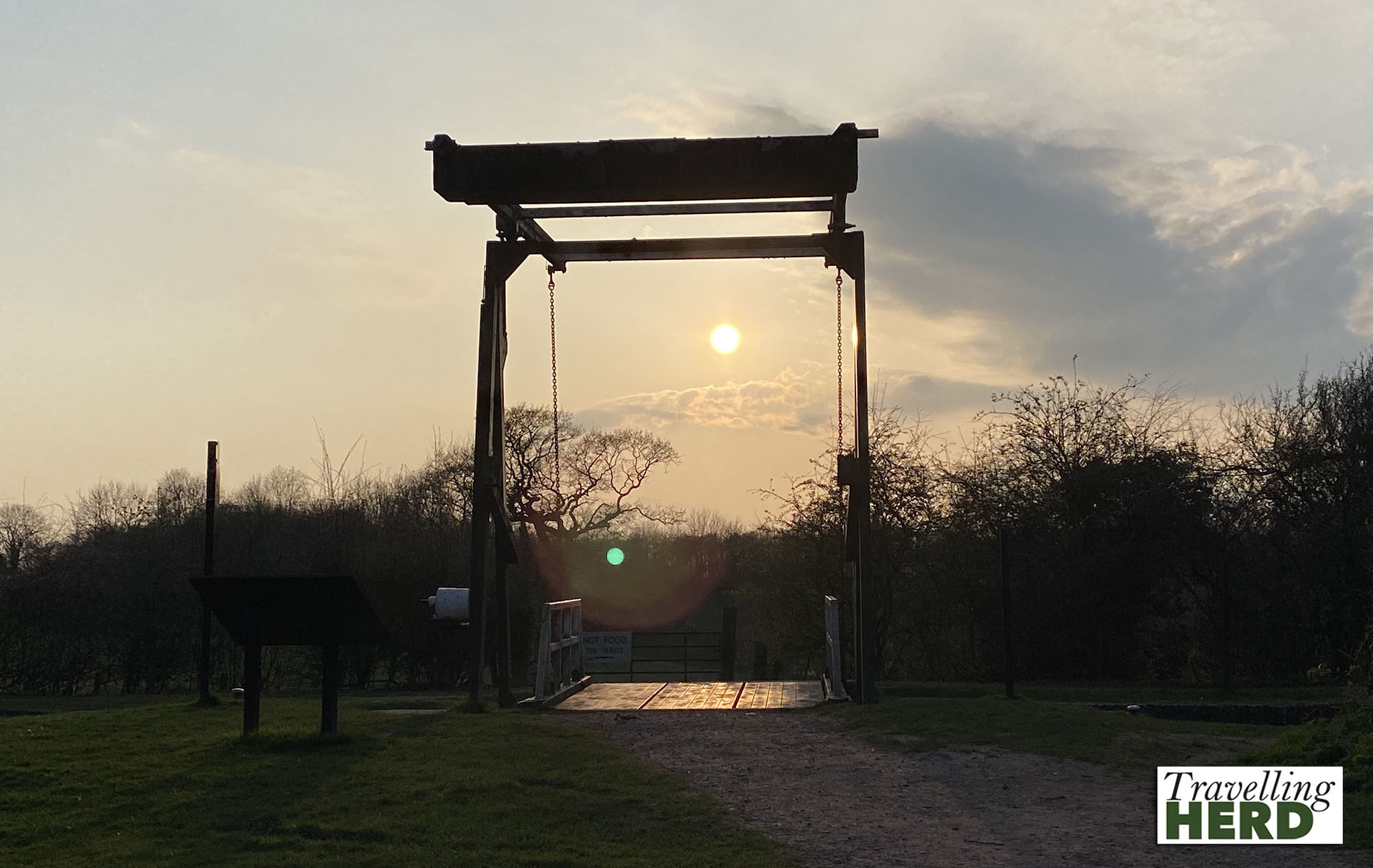 Unfortunately the section of the canal which used to run right into the centre of the town was filled in and it is about a thirty minute walk to the centre of Whitchurch itself. Ralf started off with us on this route but soon decided he needed to turn round and return to The Duke for food. Robert continued on, shopping bag in hand, in search of groceries [and beer]. Whitchurch is another charming town with lots of independent cafés and shops, interesting architecture and plenty of pubs.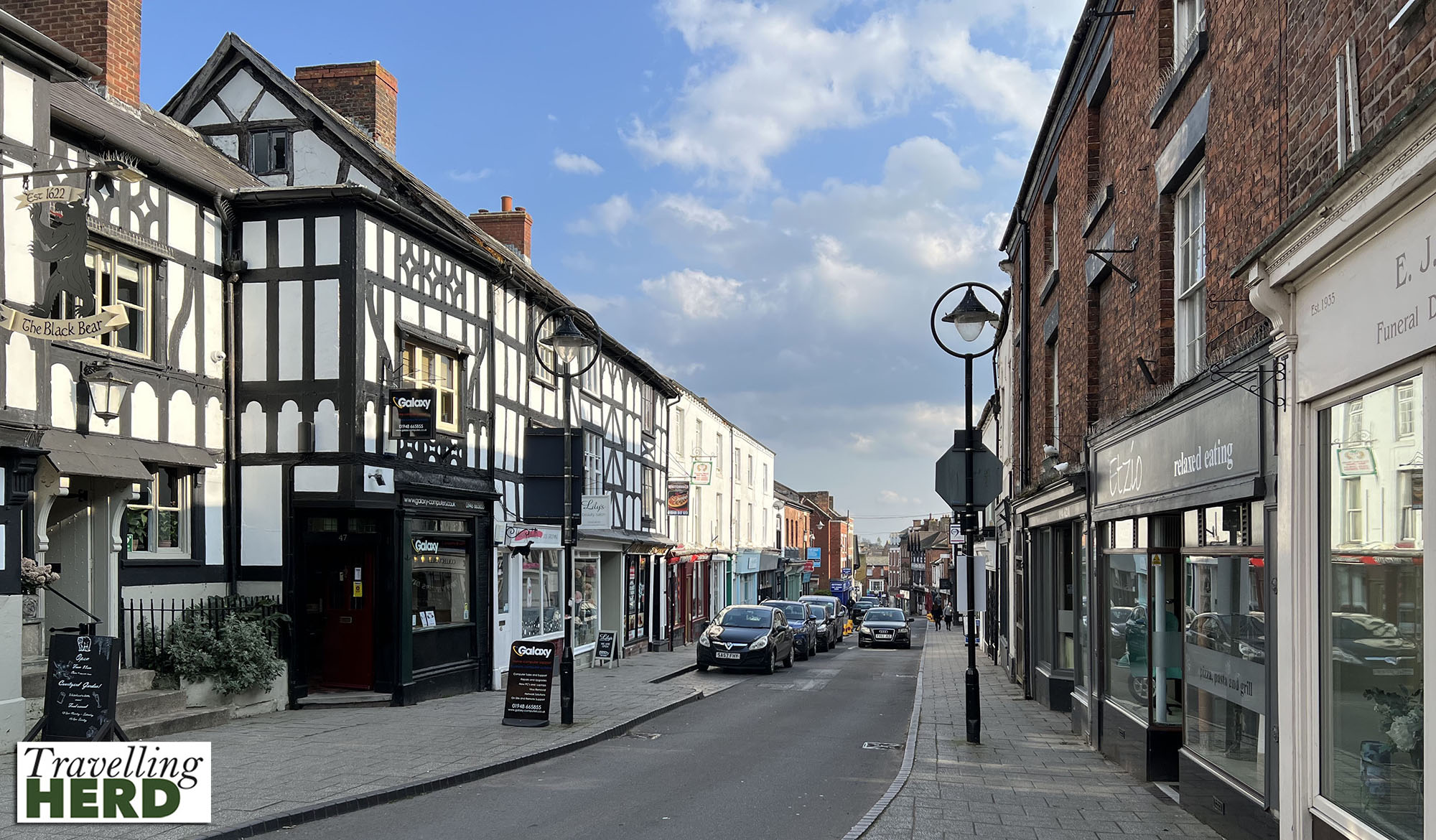 Whitchurch Grammar School was founded in 1548 by the Reverend Sir John Talbot. Buildings dating from 1848 in a Jacobean style have now been converted into residential properties.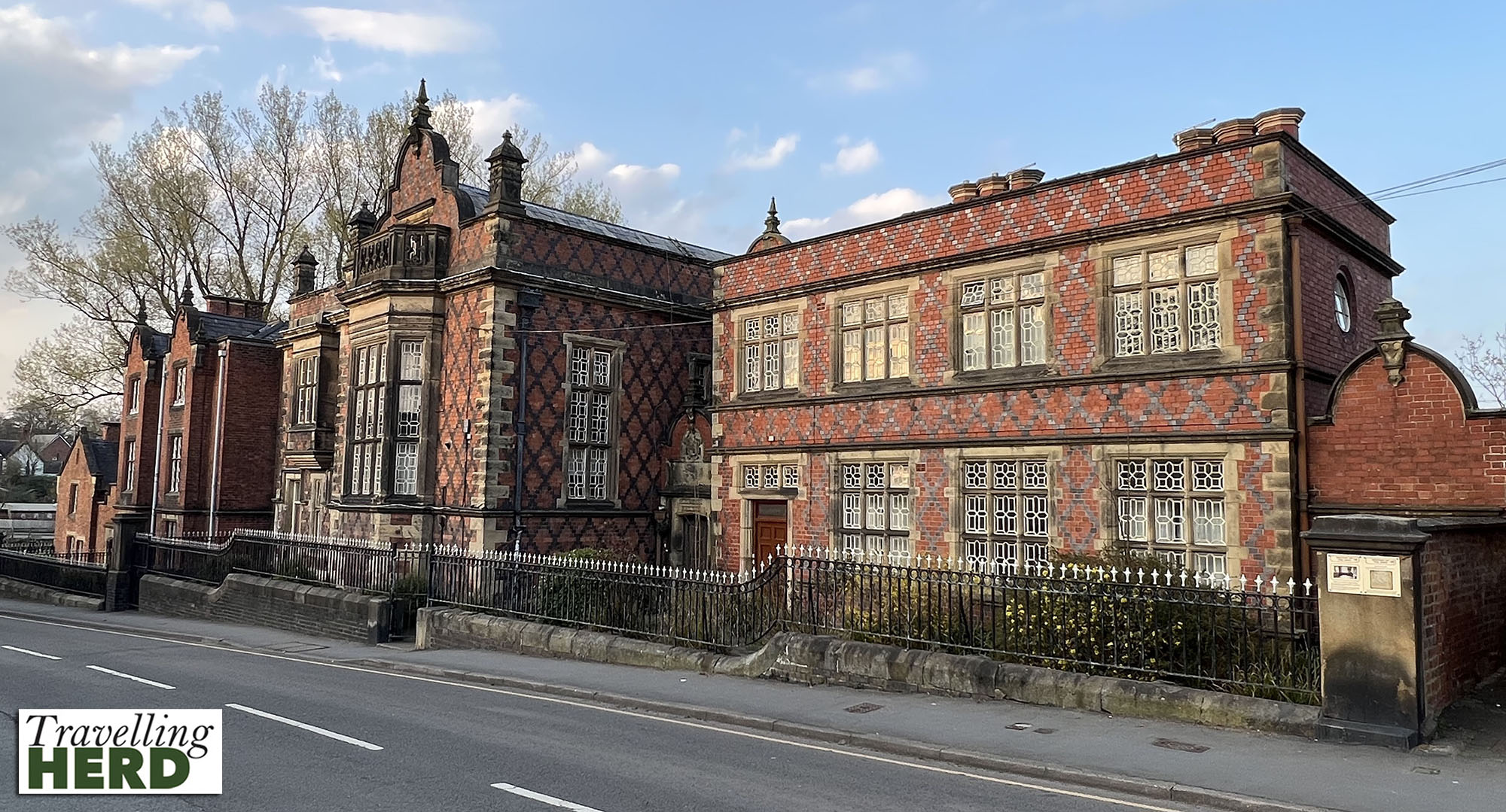 St Alkmund's Church was originally built in white stone hence the town's name. The current neoclassical building of red sandstone is still quite striking.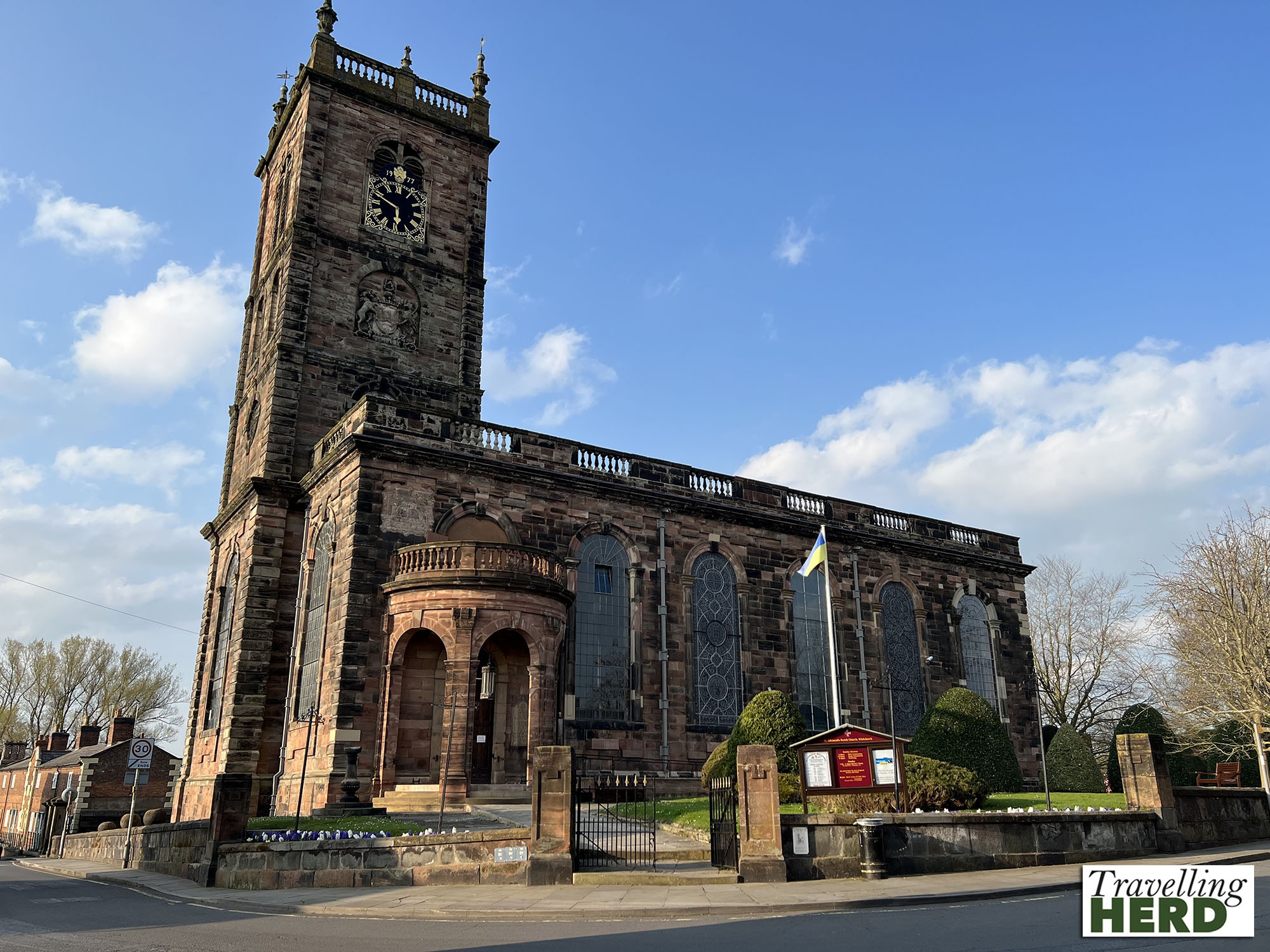 Having looked around the town and done the shopping, the groceries proved to be so heavy that Robert had to stop off for a sustaining pint to fortify himself on his way back.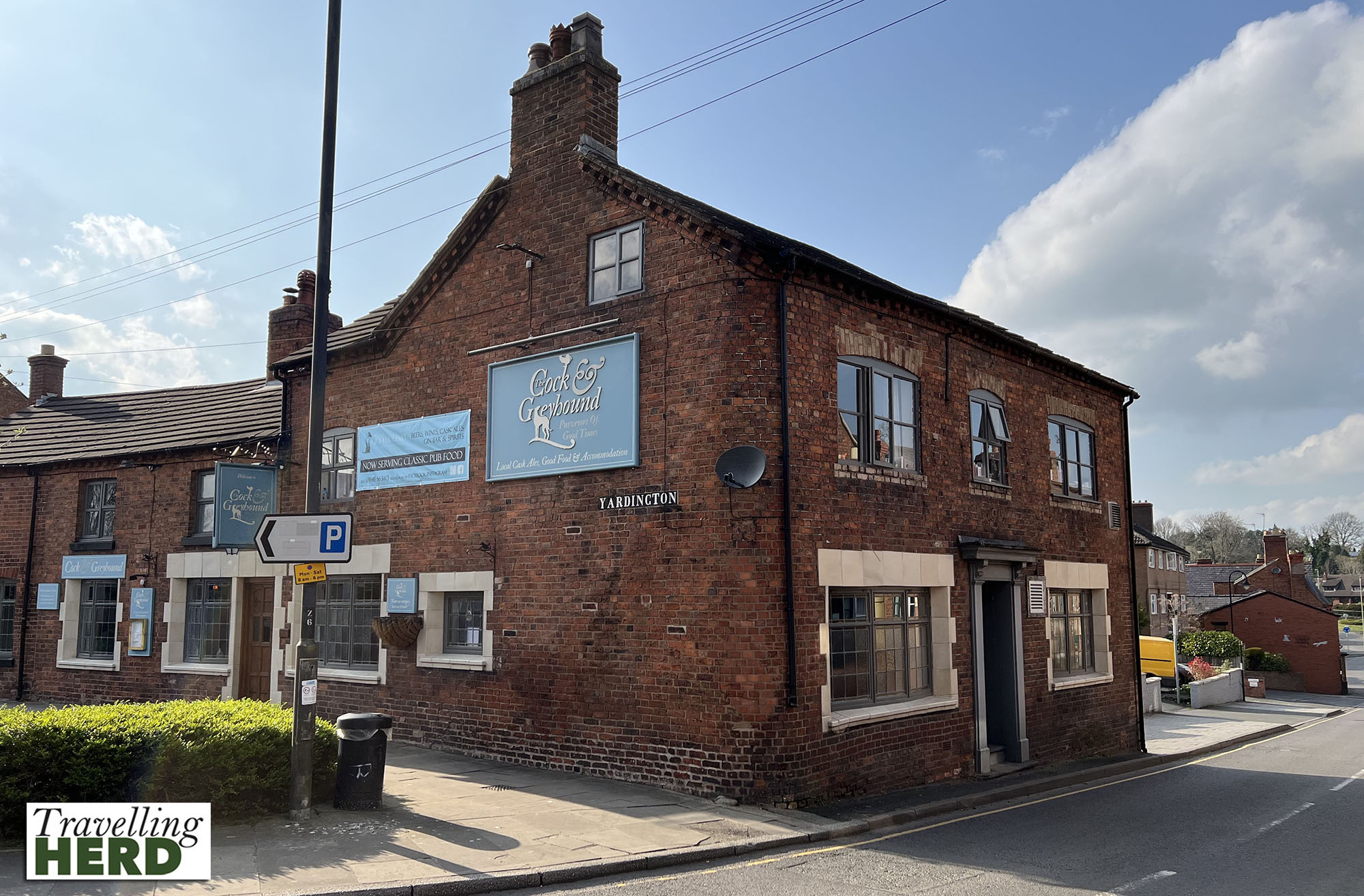 28/03/2022 – Miles: 7.44 – Locks: 10 – 6h00m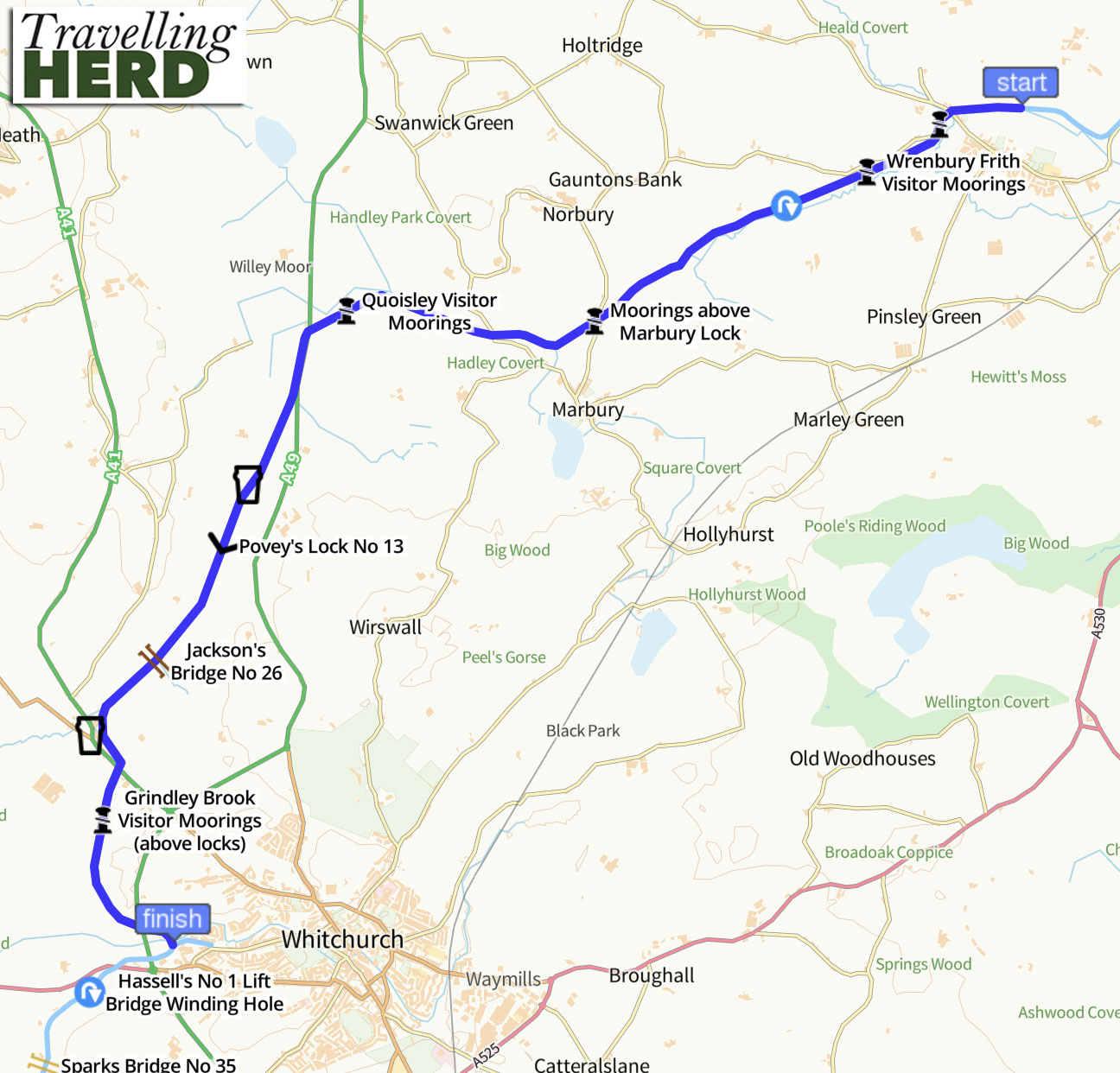 Day 42 was to be a day of rest as we had arranged to meet two new crew members in Whitchurch who have agreed to share in some of our narrowboat adventure.
Matilda took the opportunity to stroll round the town in the morning, popping in to see the interior of St Alkmund's.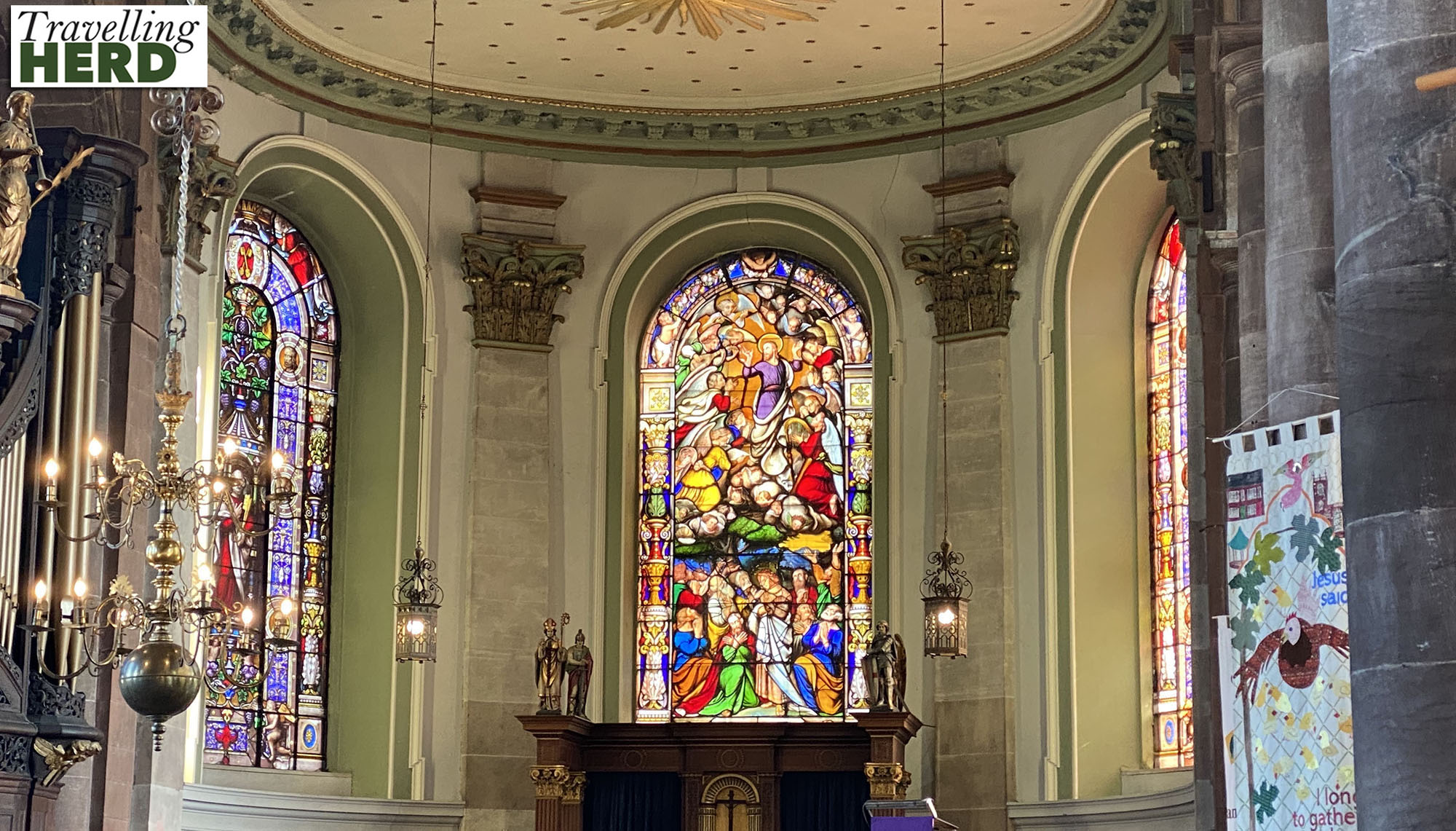 She also sampled the coffee at Benjamin's.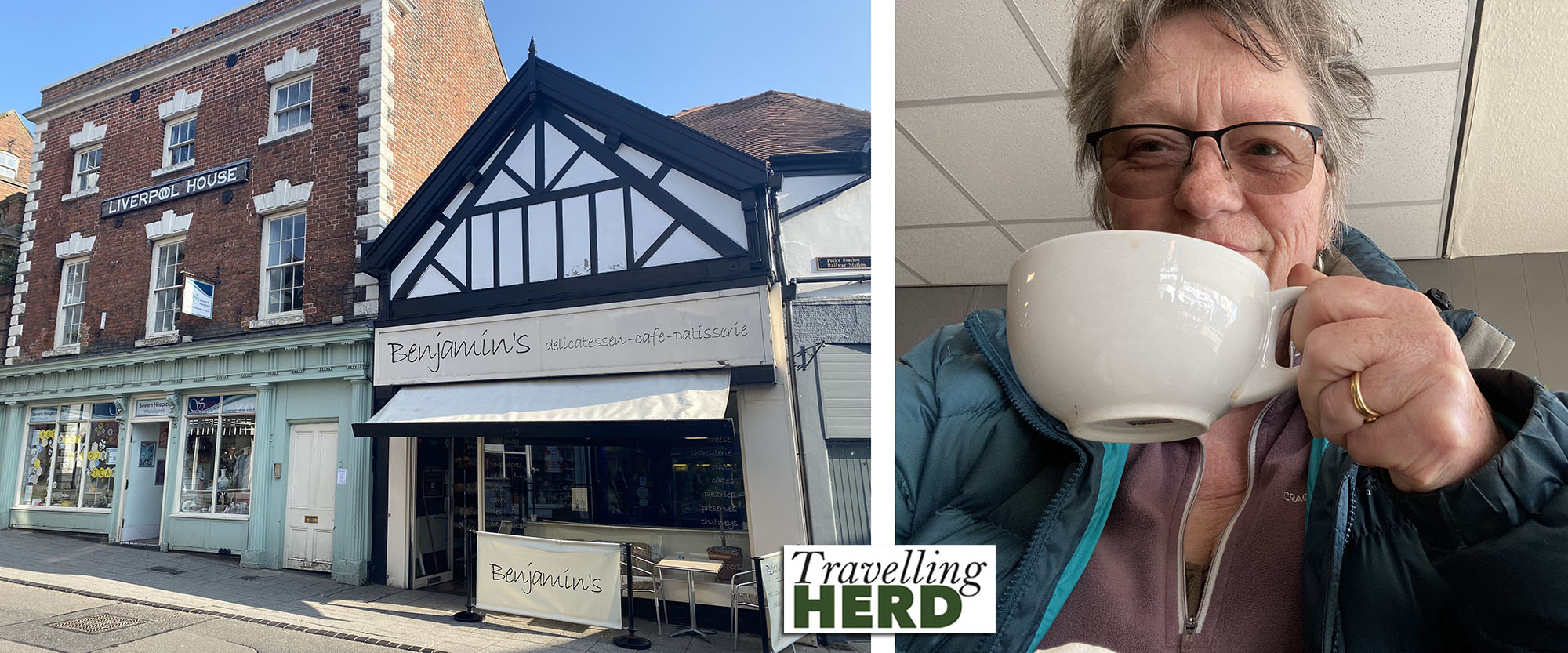 After a slight delay to their journey, Robert went to meet Gill and Derek who alighted from a train comprising just a single carriage. Despite the minimal size of the train, the guard had taken her role seriously, providing regular cheerful updates on the cause of the delay, and warranted a farewell wave.
Later, back at The Duke, Ralf seemed particularly pleased to welcome the Robinsons on board as he has known them both since he was a puppy [see Selfie of the Day].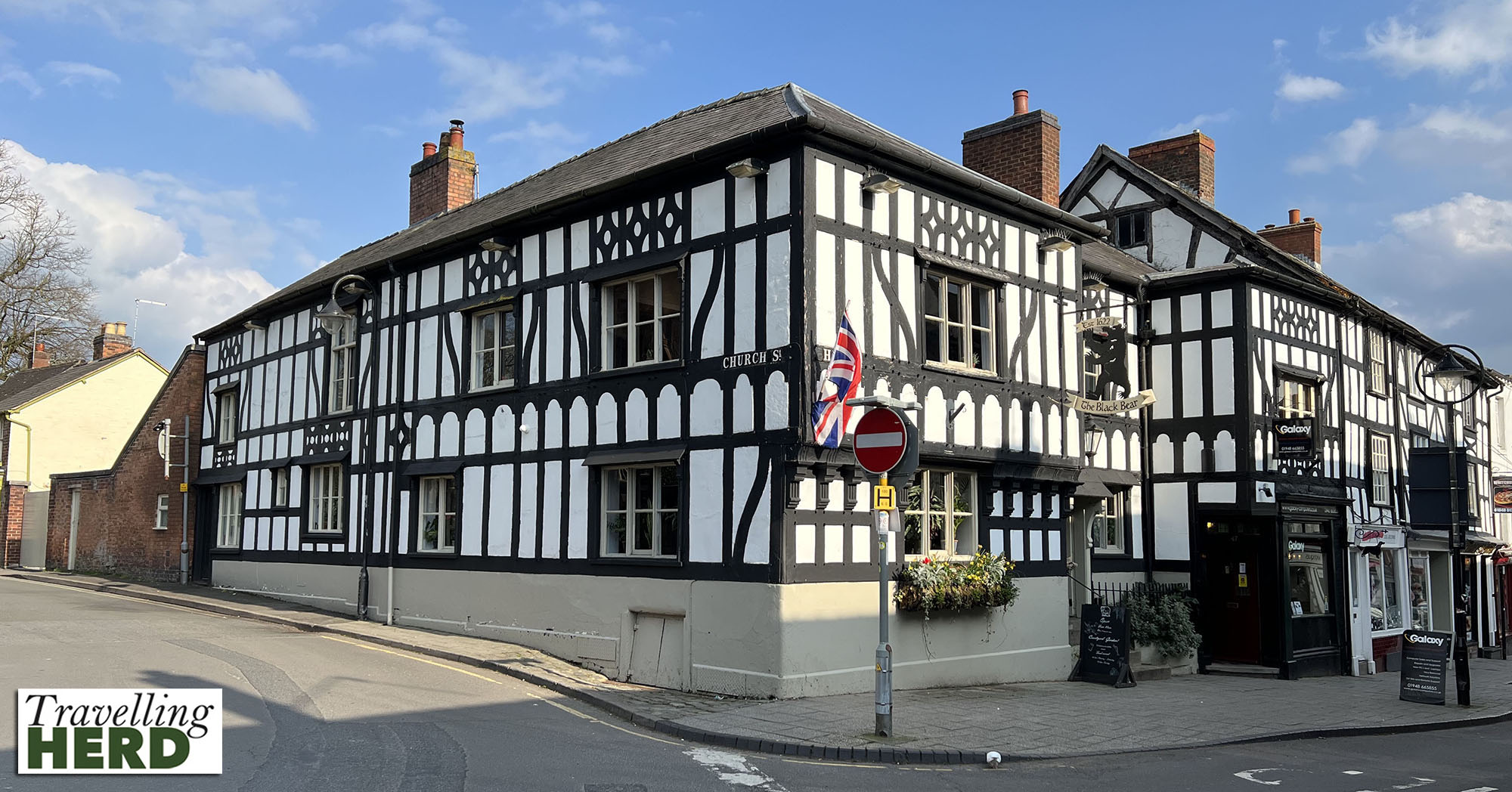 Route Map:
Days: 42 – Miles: 300.31 – Locks: 360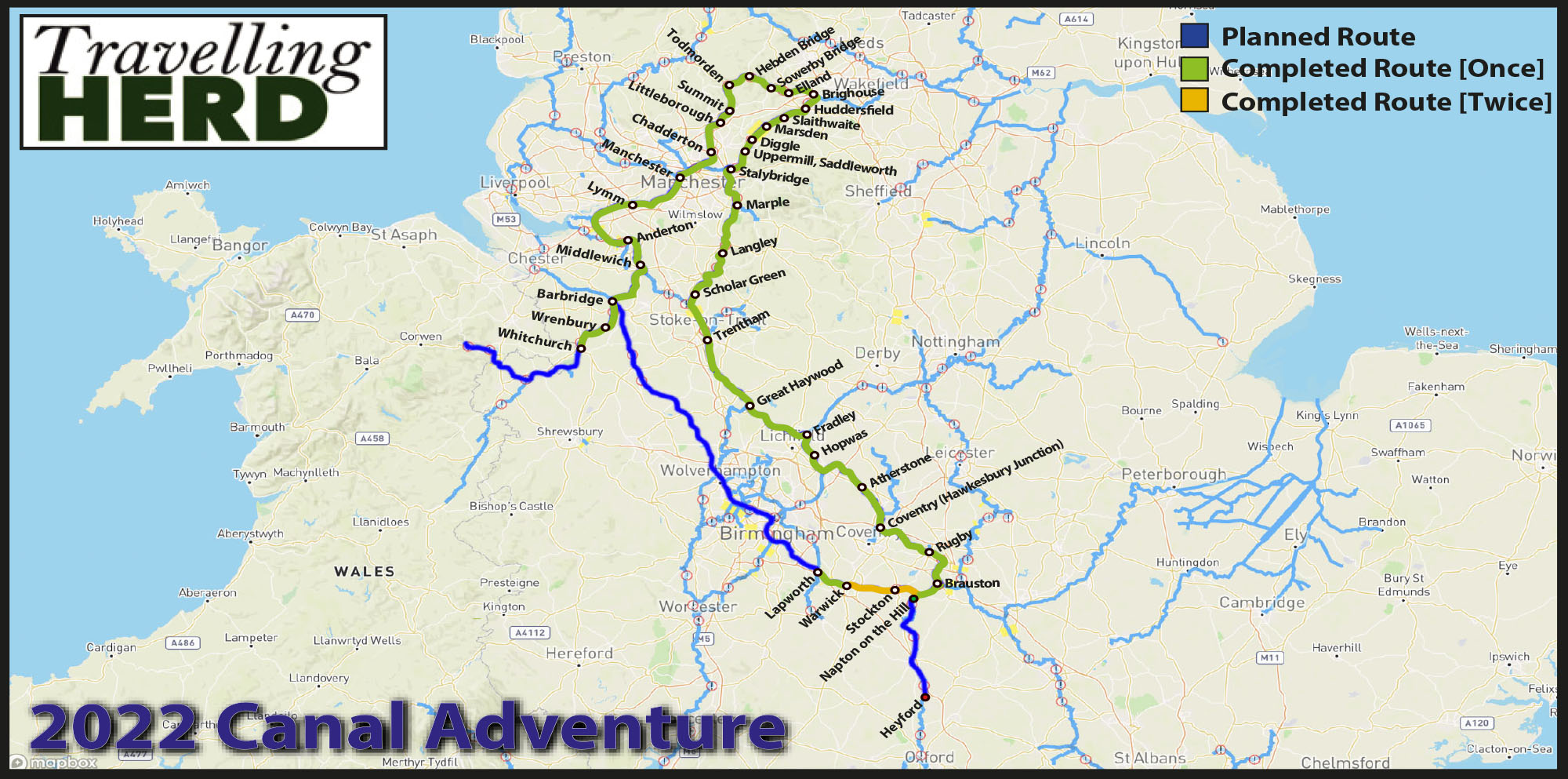 Video of the day:
Dish of the day: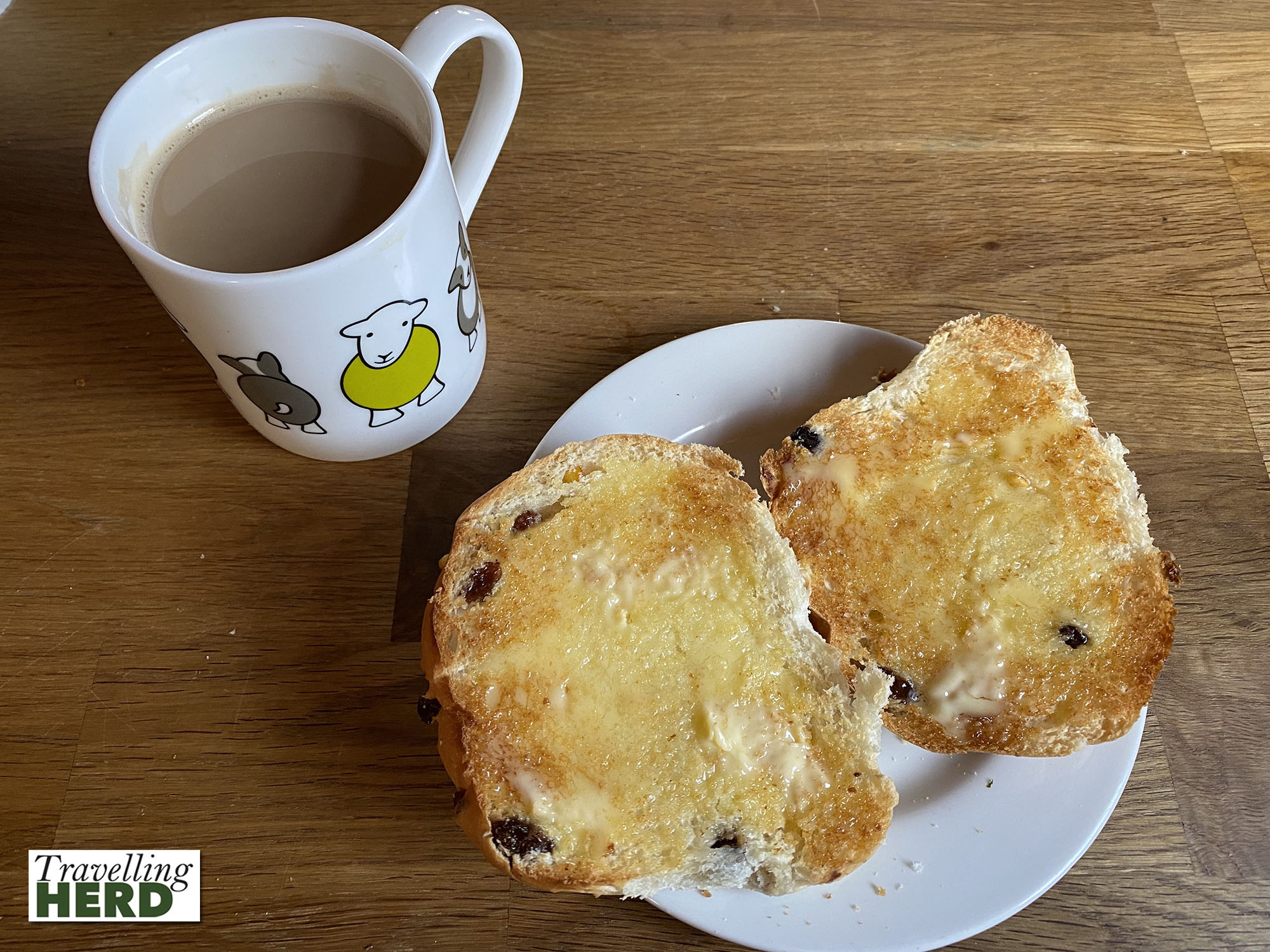 Selfie of the day: