Tuesday 15th to Thursday 17th March 2022
The Jack of the Locks sculpture [see feature image] in Sowerby Bridge depicts Richard Tiffany, the town's lock keeper in the canal's final days of carrying commercial goods. A sign by the wharf says that Richard Tiffany was a well-known local character and his great grandson modelled for the figure of the boy beside him.
The stove has been playing up again and proving very difficult to relight after it goes out. We have not been able to pinpoint exactly what causes this but it fails with unpredictable regularity. Attempts at relighting it invariably result in the cabin filling with diesel fumes and sometimes also smoke so that windows and doors have to be left open to clear the air and the atmosphere becomes even fresher. Henry has heroically been doing overnight duty, trying to keep it alight through the small hours with varying degrees of success.
The Wainhouse Tower in Halifax is visible from various points in Sowerby Bridge. It was originally built by John Edward Wainhouse as a chimney for his dye works. The 275ft tower was to be connected to the factory 350 metres downhill by an underground tunnel in an attempt to tackle the pollution the works created by carrying the smoke up and out of the valley. The structure was completed in September 1875 and even then it was apparent that it would never be used as a chimney. It is regarded by many as one of Britain's finest follies and is the tallest folly in the world. It has a corona dome and elaborate viewing galleries which we saw illuminated at night on our way back from a pub meal one evening.
In a rare lapse Robert found he had forgotten to pre-book our transit through Lock 1 on the Rochdale Canal. During the winter months, which run from mid-November to mid-March, boats must give 48 hours notice to ensure staff are available. Robert had originally planned that we would arrive as the new season started but because we were now ahead of schedule, we had reached the Rochdale Canal before mid-March without a booking. Giving 48 hours notice, we made a booking for Wednesday which turned out to be the last day of the winter season when these restrictions are still in place. We would therefore have an extra rest day in Sowerby Bridge.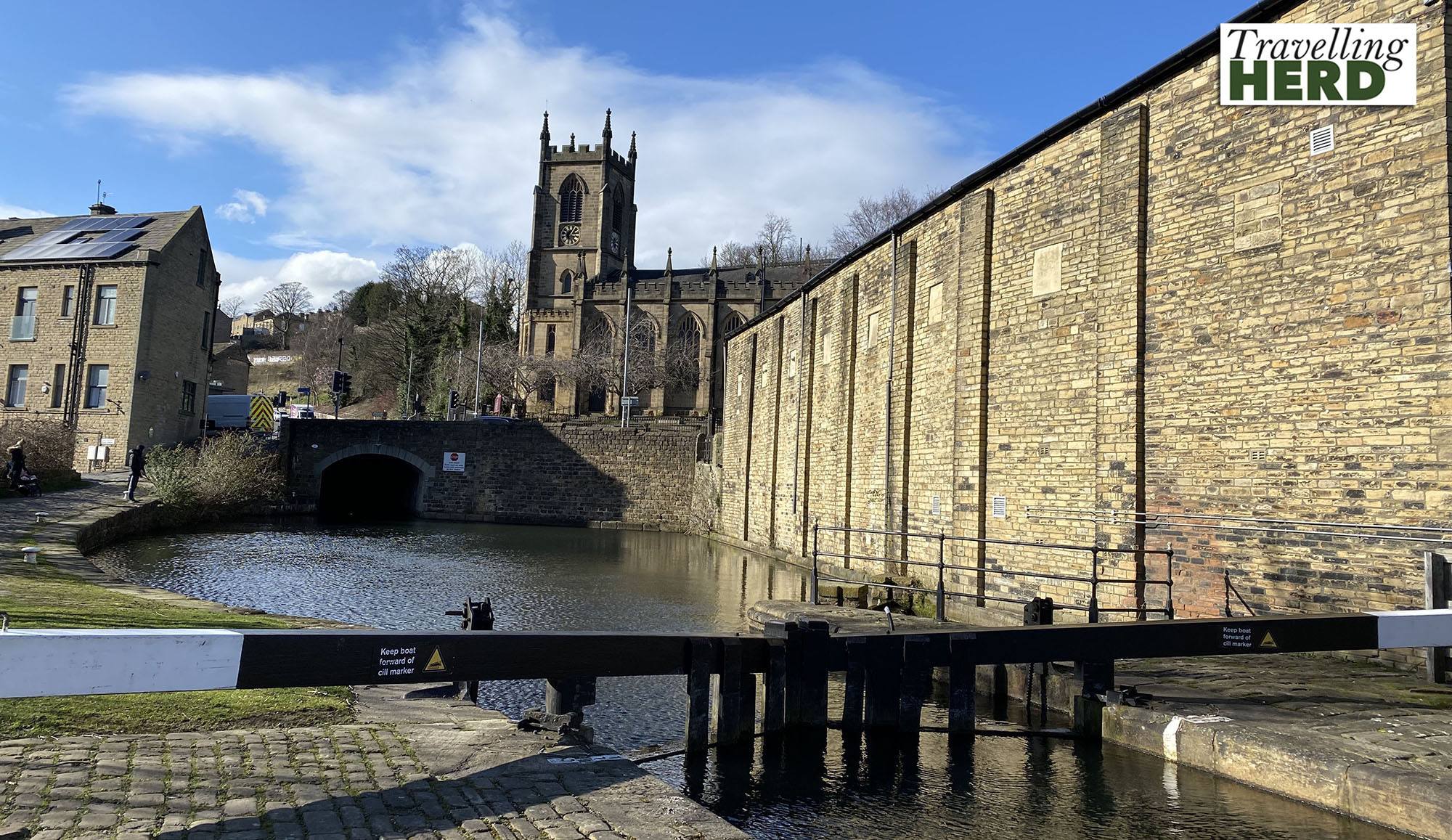 We moored next to a friendly and experienced gentleman – both he and his mother owned narrowboats which they were living on – who shared lots of local knowledge with us about things such as the best place to buy diesel. Sue asked if it was acceptable practice to share mooring bollards and he introduced her to the phrase 'twat gaps' referring to the spaces left between narrowboats by novices, which significantly reduce the number of moorings available. More of this later.
Sowerby Bridge Wharf is a picturesque setting and home to many holiday narrowboats. We were told that during the season, about one per week will come back with a broken swan's neck [the curved steel bar to which the tiller is fitted]. We were lucky to escape a similar incident yesterday when the stern nearly became trapped under the walkway on one of the lock gates as the water level rose.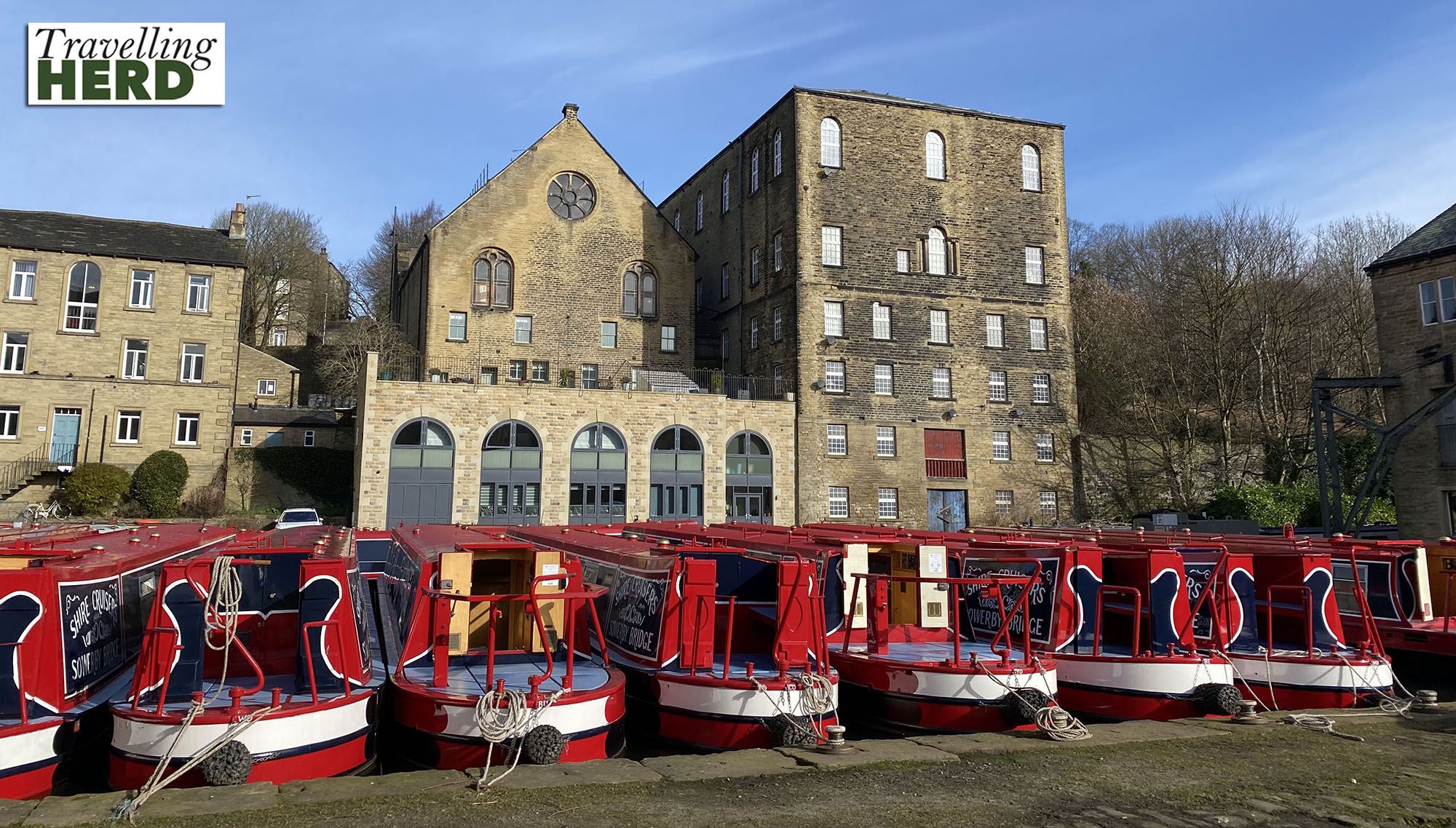 We can only use the on-board washing machine when the motor is running as it draws too much electricity. We have also discovered that if you use anything other than a half hour cycle, the drain on the battery is such that the lights dim in the evening when you run the water and the pump turns on. Sue thoughtfully googled local launderettes and found the Small House Launderette which advertises on its website that it has a large machine which costs £10 per wash. If we were going large, we decided, we could also take the linen from Robert and Matilda's bed. Sue, Henry and Matilda packed up the laundry and set off to catch the 579 bus to Sowerby Town, leaving Robert as chief dog handler. Since it has the word "town" in its name we assumed it would be larger and more bustling than Sowerby Bridge. We were quite wrong.
The church looked very utilitarian, almost prison-like from some angles but the graves were well-tended and many of them had fresh tributes placed on them.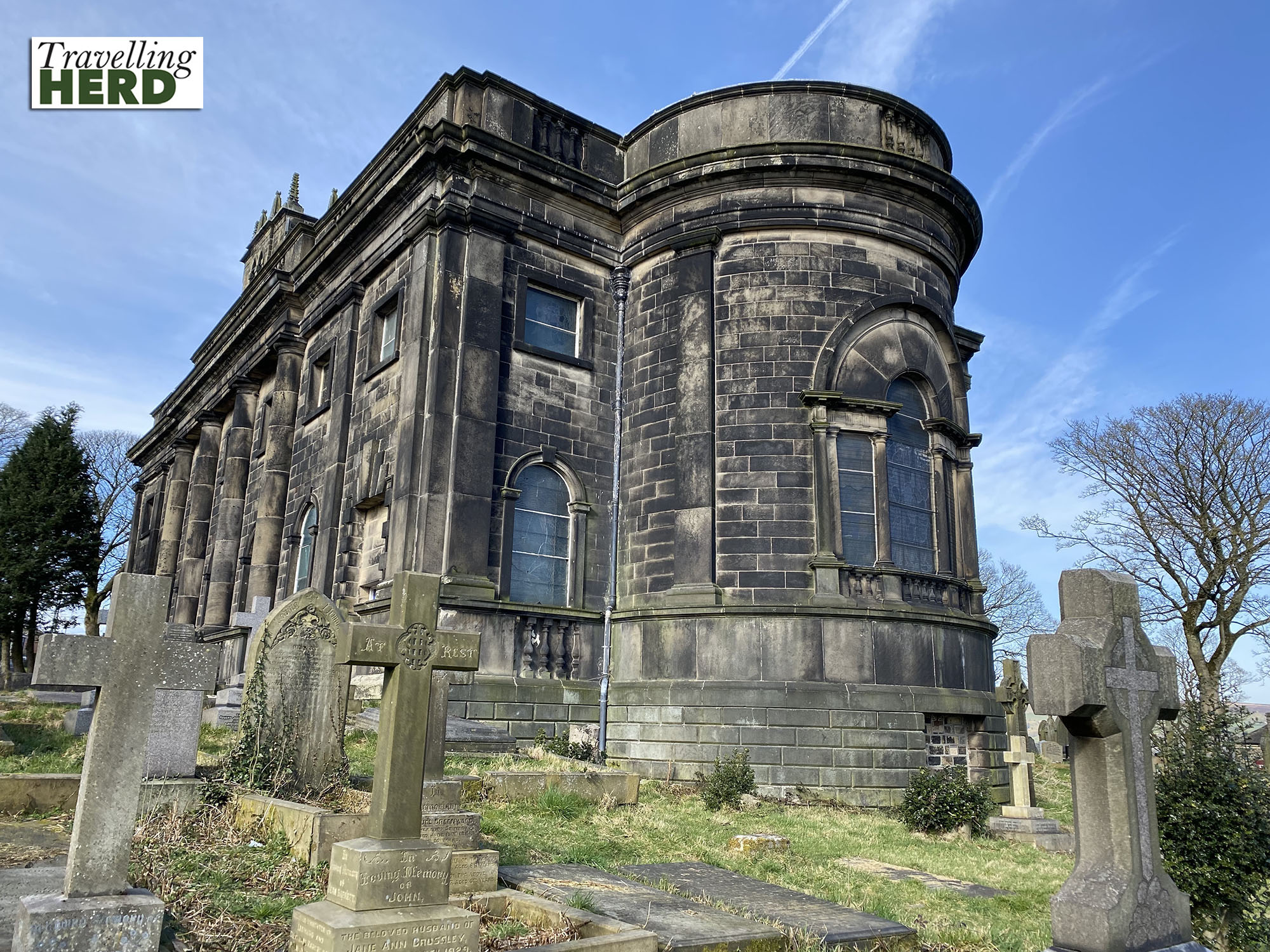 The owners of the Small House Launderette, situated in a very small row of shops, were both friendly and welcoming and we offered to take a flyer to put on the pinboard in the boaters' facilities. If we had known beforehand we might well have taken advantage of their delivery and collection service with prices starting at just one pound. It would probably have been cheaper than three return bus fares although we had thought we were combining this with some sightseeing. A service wash might also have prevented some slight shrinkage in the dryer.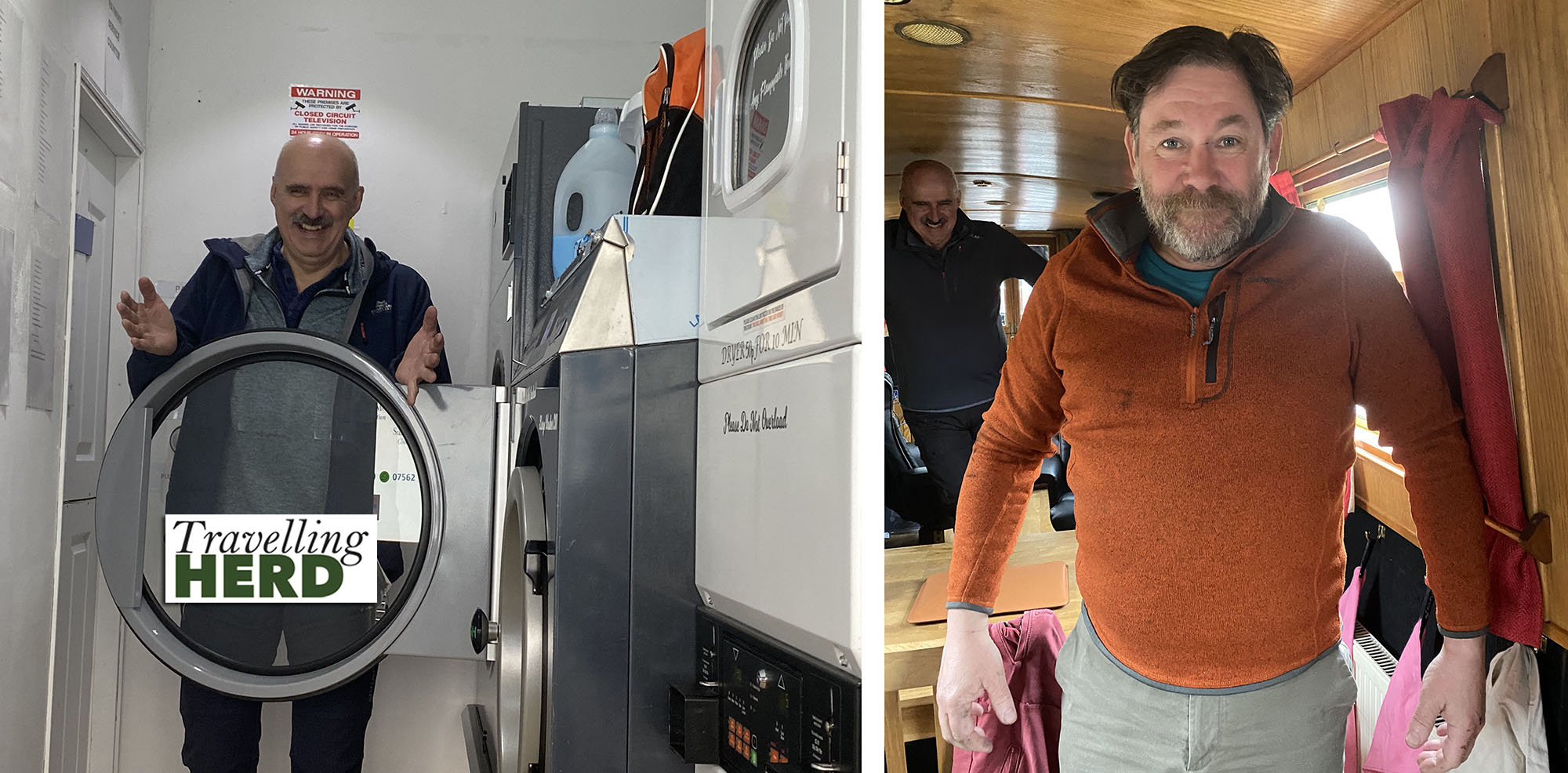 The Rochdale Canal, was the first of the three trans-Pennine canals to be fully opened in 1804. It was built to go over the top of the Pennines and without tunnels: with 91 locks in just 32 miles, it is also physically demanding and the sheer effort and time taken eventually made this canal less economically viable than the other routes. Restoration of the canal included the construction of the Tuel Lane Deep Lock and Tunnel. The deep lock replaced two locks in a section which had been filled in and the combined fall of 19ft 8.5 inches makes it the deepest canal lock in England and Wales.
Although we had booked for midday, we were allowed to go through the lock with another boat which had booked an 11:00 departure. As the locks on the Rochdale Canal are wide, it is easier to travel through in tandem. Leaving Sowerby Bridge, boats are advised to wait before entering the tunnel which leads to the lock as the tunnel suffers from turbulence when the lock is emptying. The tunnel, unlike some we have been through, is modern and very well-lit and leads . . .
. . . directly into the Tuel Lane Lock which is operated by a lock keeper for safety reasons.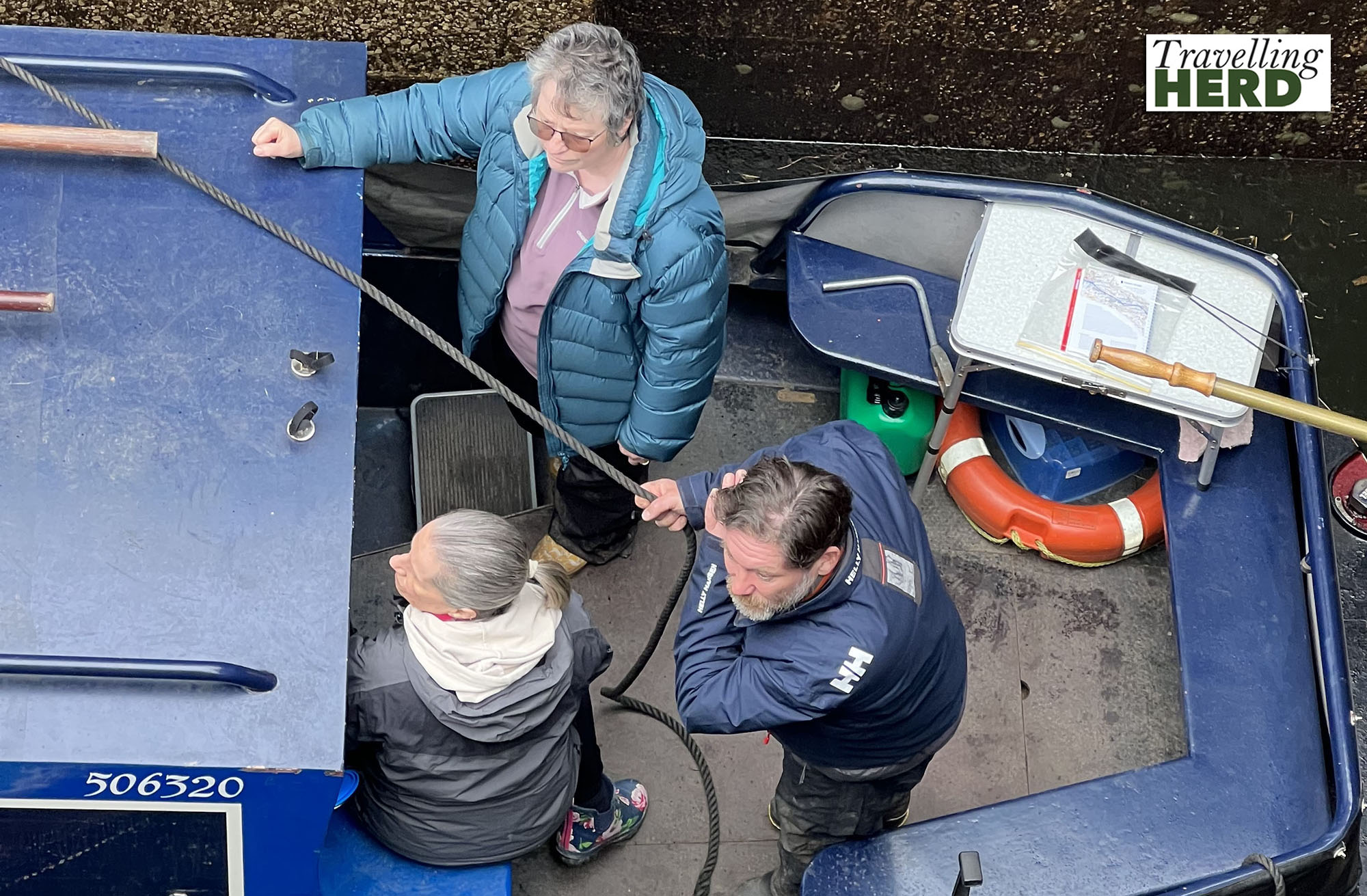 As it is so deep it was built with three sets of gates so that smaller craft can use a shorter lock and therefore considerably less water.
From Henry's view point it did indeed seem a long way down.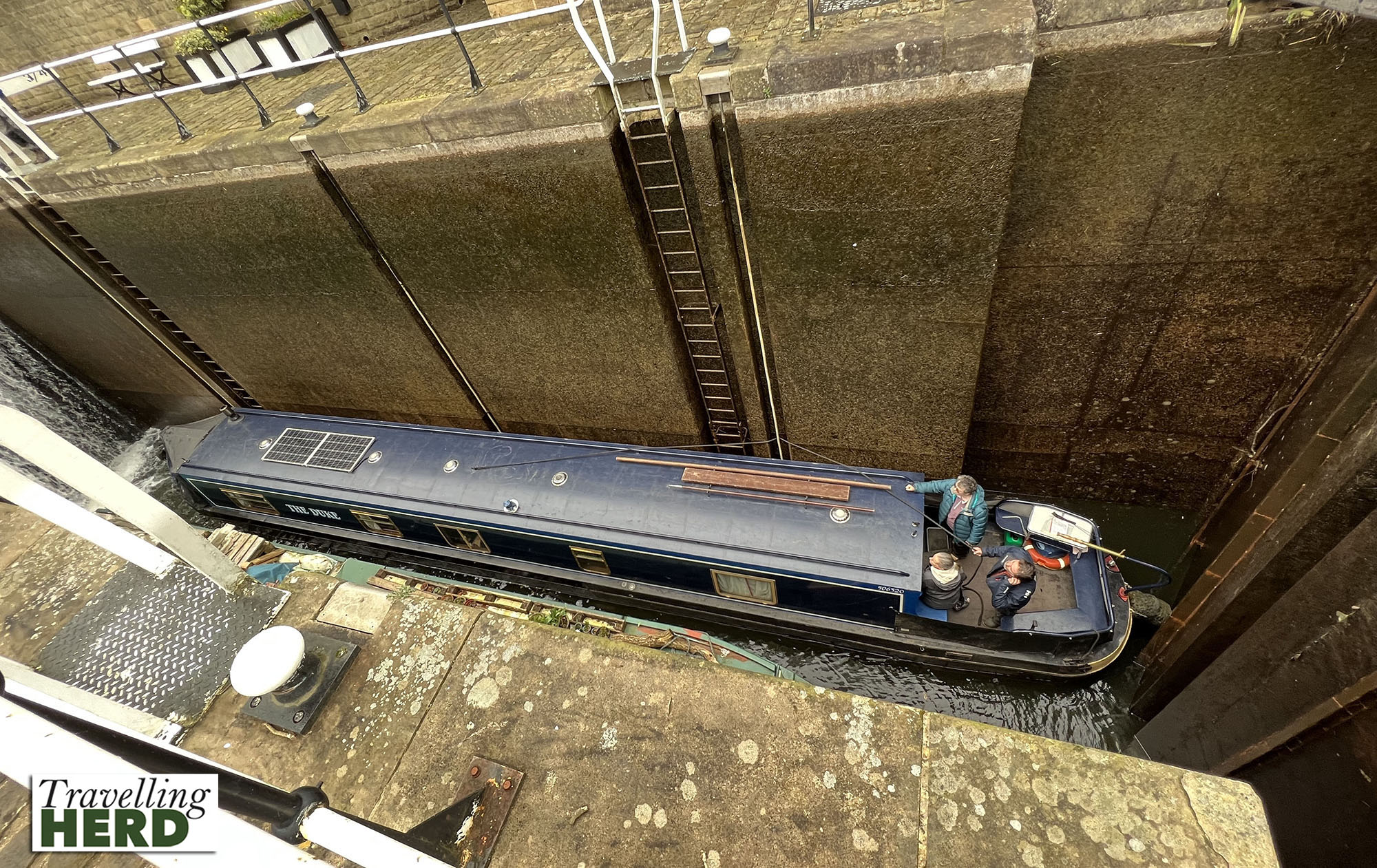 It was good to see that the crew retained a sense of humour when it started to rain later in the day.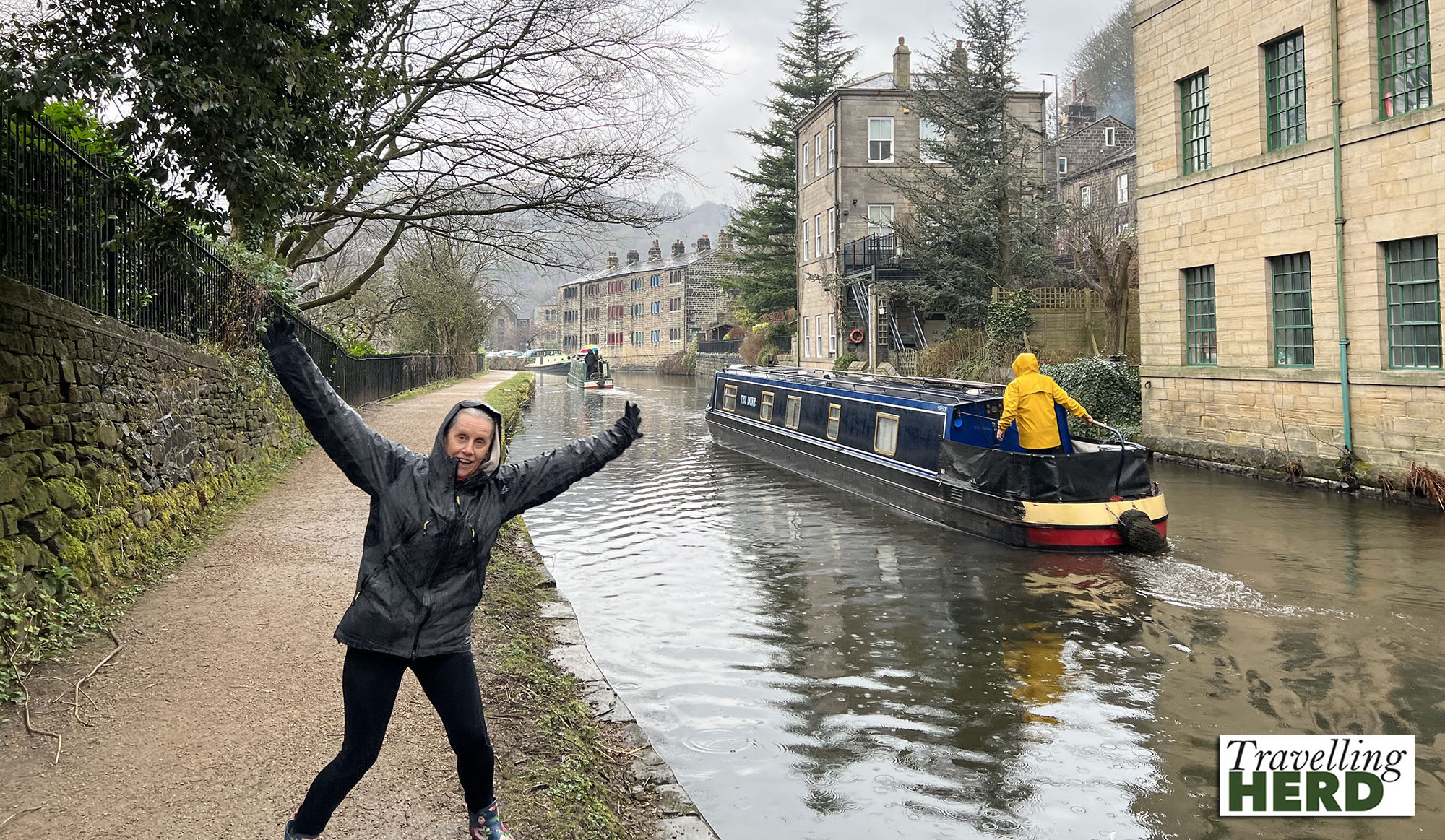 We arrived in Hebden Bridge in the rain and Henry and Robert elected to go and identify the hostelry of the day, whilst Sue and Matilda decided that staying dry was preferable and they would look round the next day when the weather forecast was more favourable.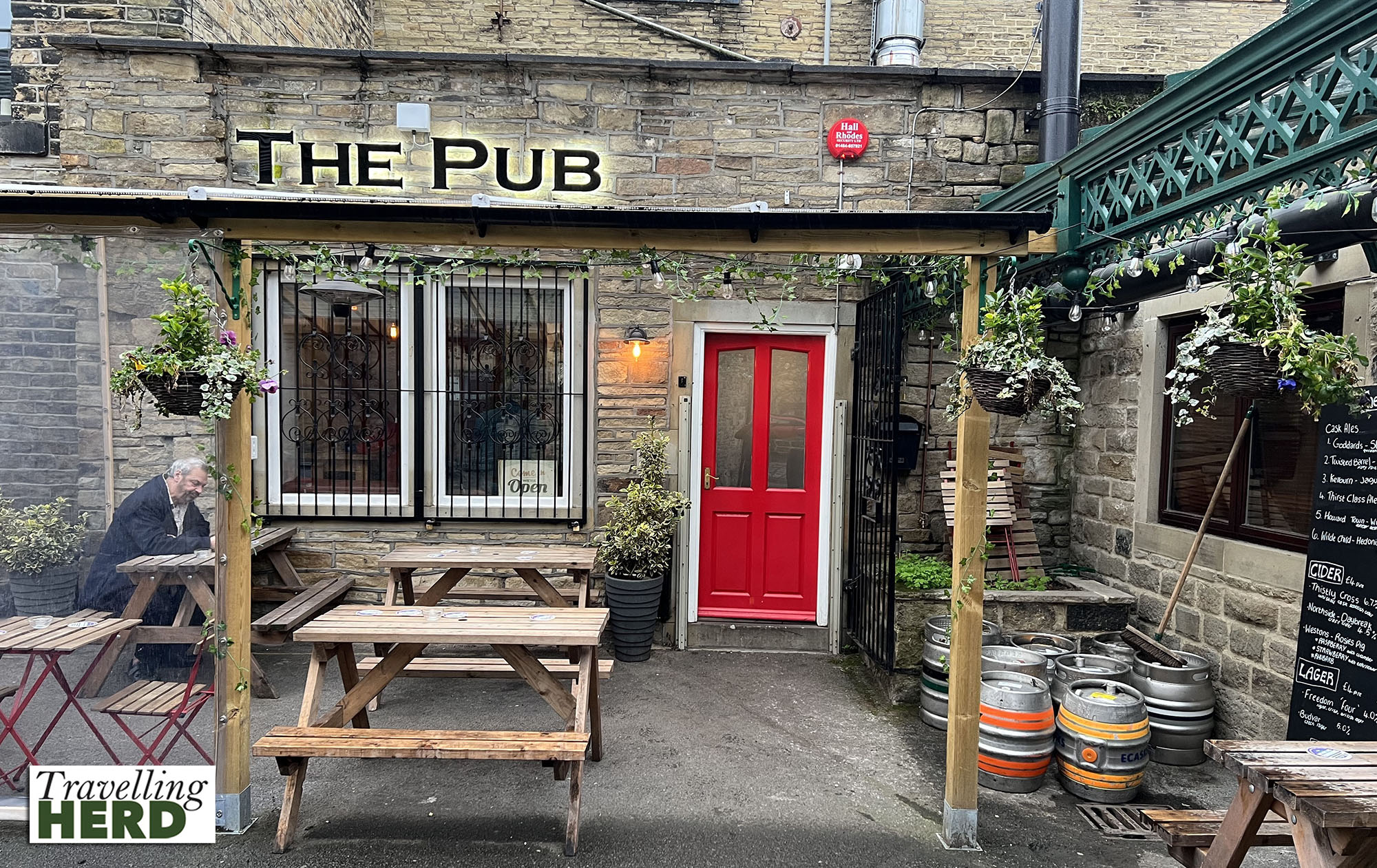 As evening entertainment, the Herds have been teaching the Brennans some card games to the accompaniment of 80s music, which seemed to involve them trying to guess each other's cards through telepathy.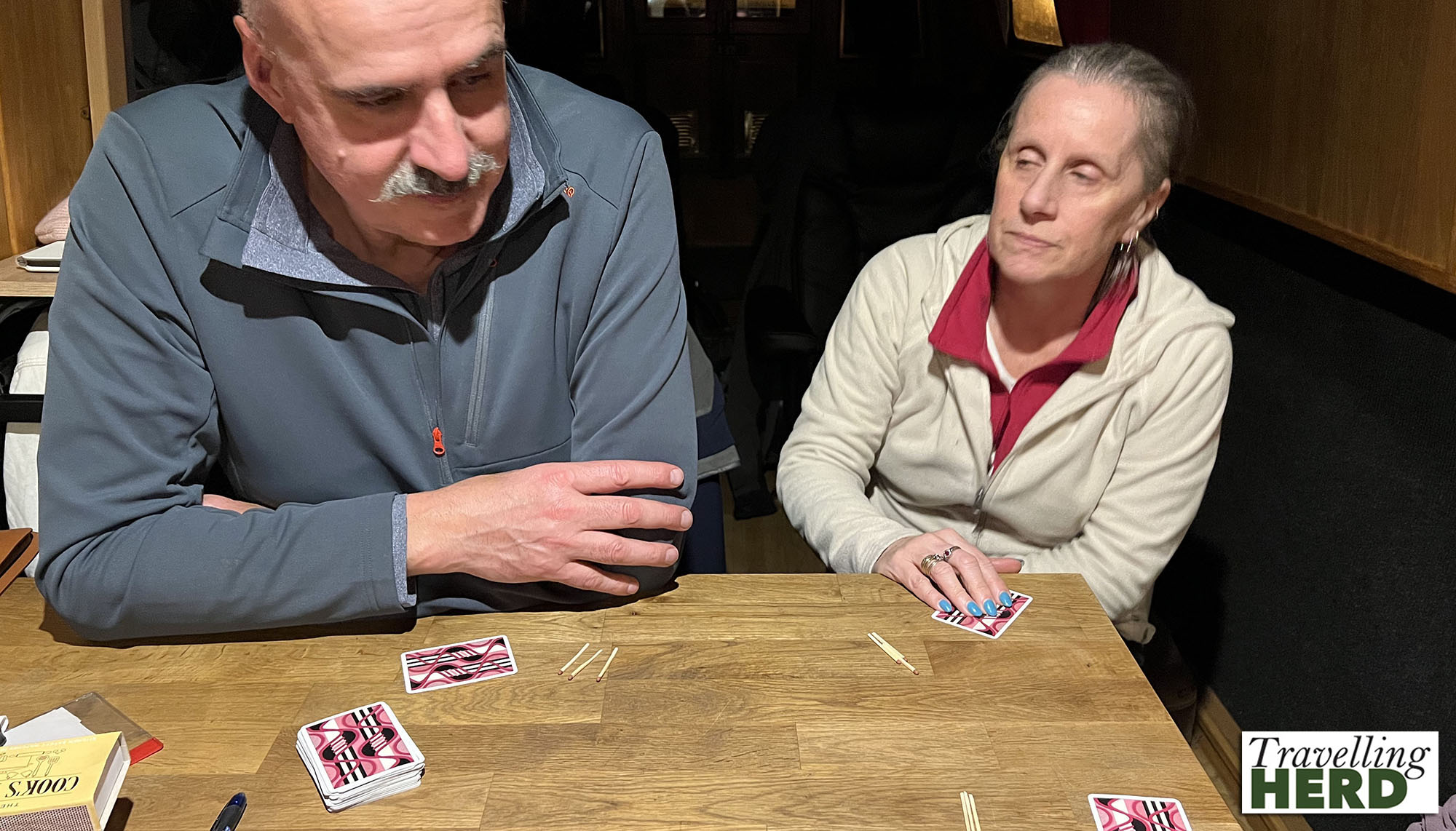 16/03/2022 – Miles: 5.56 – Locks: 7 – 3h30m
As we expected to wait a day for Lock 9 to be reopened, Sue and Henry had decided to head home a little early and before leaving Hebden Bridge, we all took a stroll round the shops and sat to aprocate in the sun with a breakfast bap and a coffee. Hebden Bridge is a charming place, with many independent shops and cafés. At the heart of the textile industry, it apparently used to be known as Trouser Town as 20,000 pairs of trousers were manufactured here every week. That's over a million every year. It also specialised in Cordoury.

The old Town Hall is still quite imposing.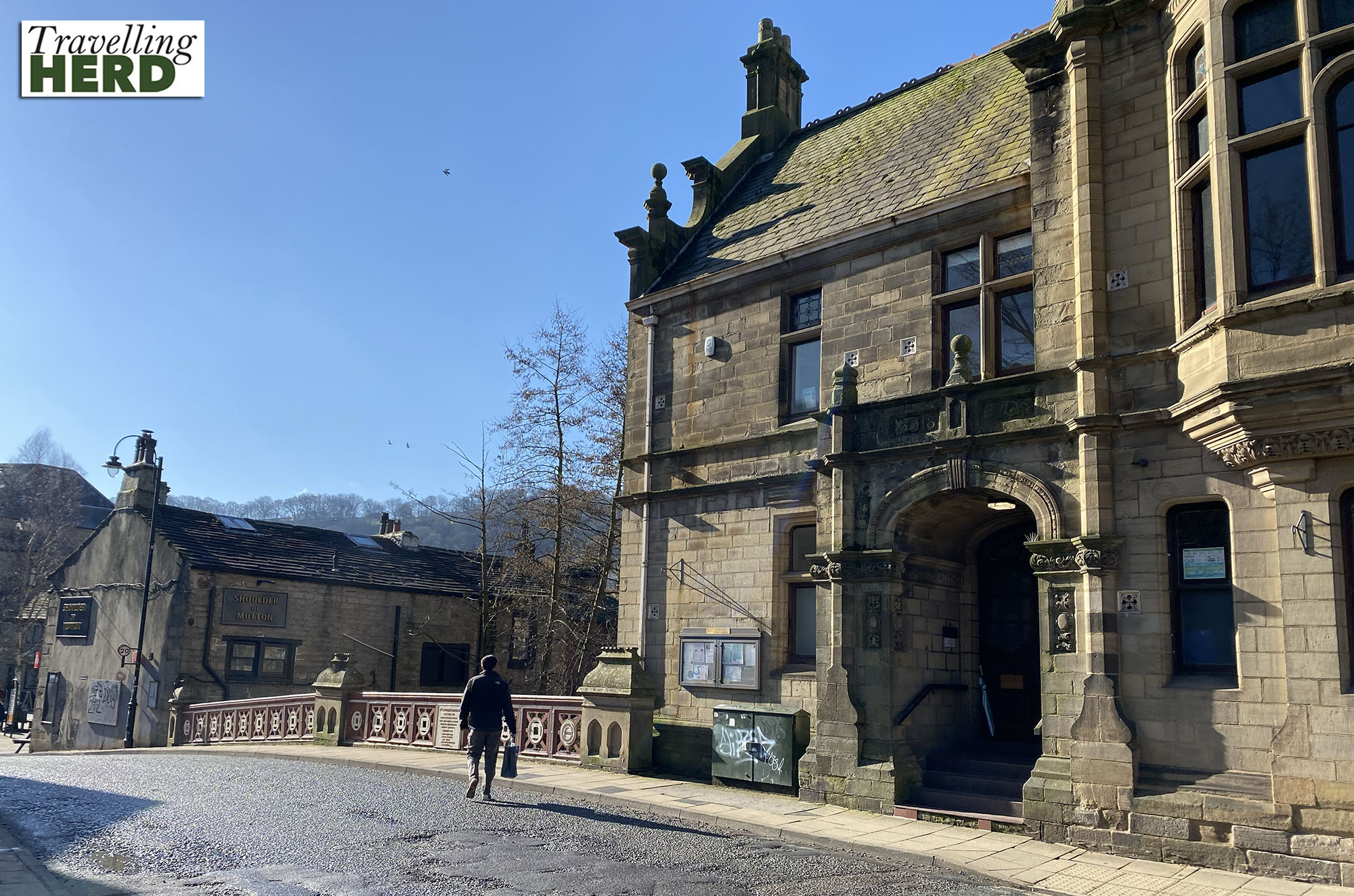 The reason for our extended stay in Hebden Bridge was repairs to Black Pit Lock 9. Robert went regularly to talk to the CRT workmen and check on progress. Just as Sue and Henry were making some last minute purchases, we heard that although the work was not quite finished – there was still more pointing to be done – The Duke could be the guinea pig for the Black Pit Lock 9 repairs and would be allowed to go through in tandem with a red narrowboat, Hovey, which had also been waiting. Having already packed their bags, Sue and Henry were sorely tempted to spend another day with us, but felt that it made more sense to start their journey home.
We therefore said our goodbyes and had an audience of workmen to send us on our way, some taking photos of the first use of the repaired lock.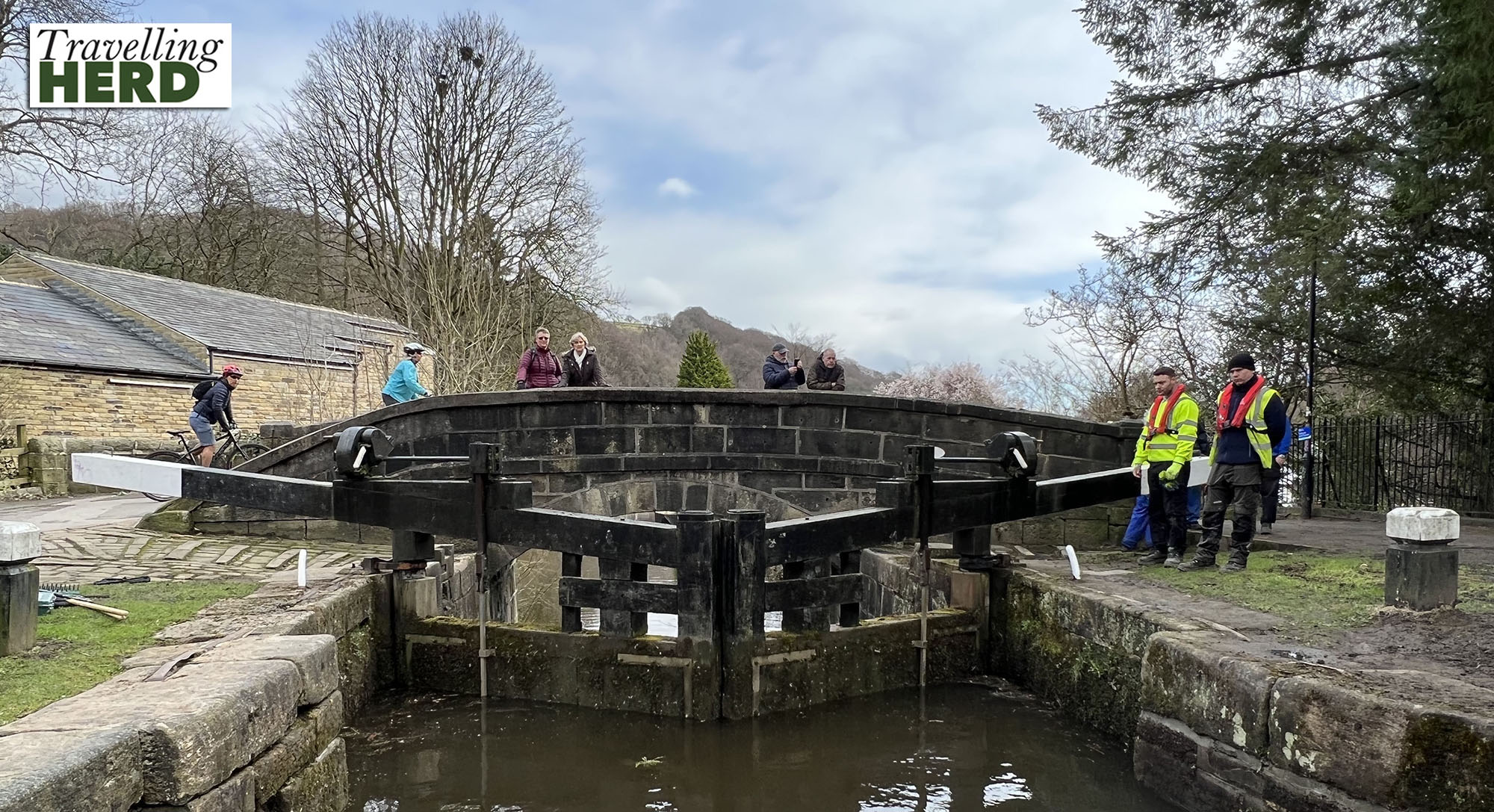 Walking the towpath out of Hebden Bridge, Matilda felt the strong sense of community. She passed traditional back to back terraces, some with bunting strung between the rows. She also passed high tea set out in a narrowboat and wished she could have stayed to partake. Further on several permanent mooring communities had set up community libraries inviting people to leave a book and take a book.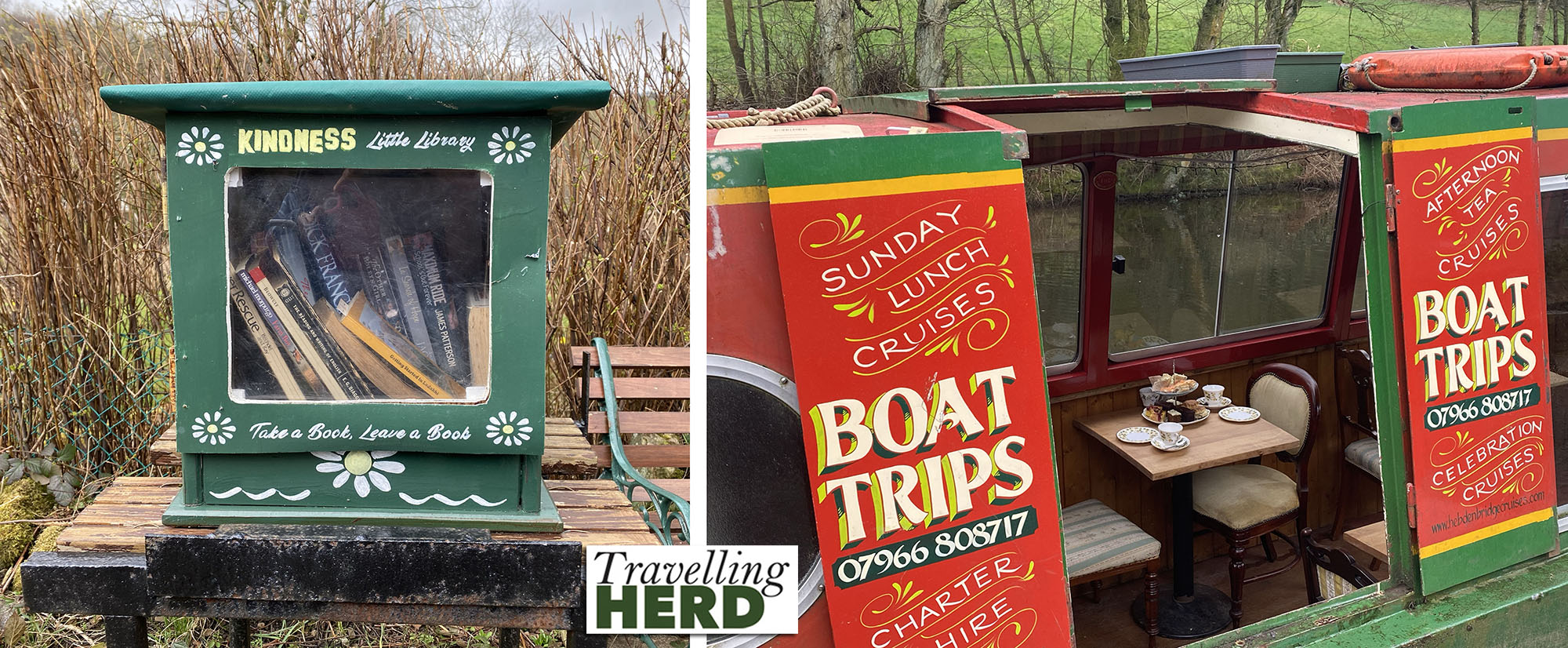 In Todmorden we had cause to bemoan the 'twat gaps' as the boats were moored with sufficient space between them all to fit in at least one more visitor. Instead we stopped just before the lock, suspecting that we would be the last to moor up and the first to leave in the morning.
Although the Golden Lion was just across the canal from our mooring, Robert was easily diverted . . .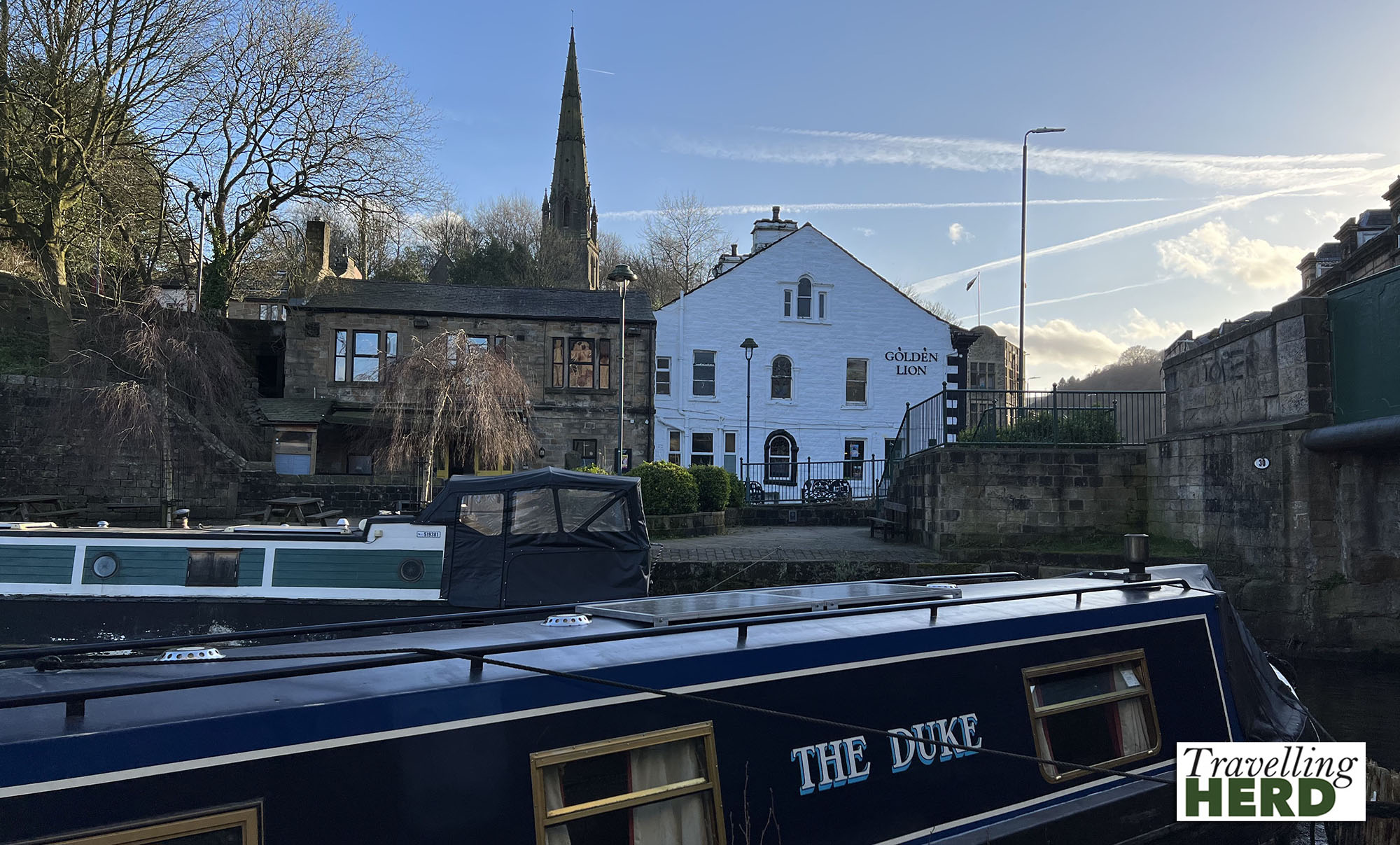 . . . into the lockside micro pub on the opposite side of the road.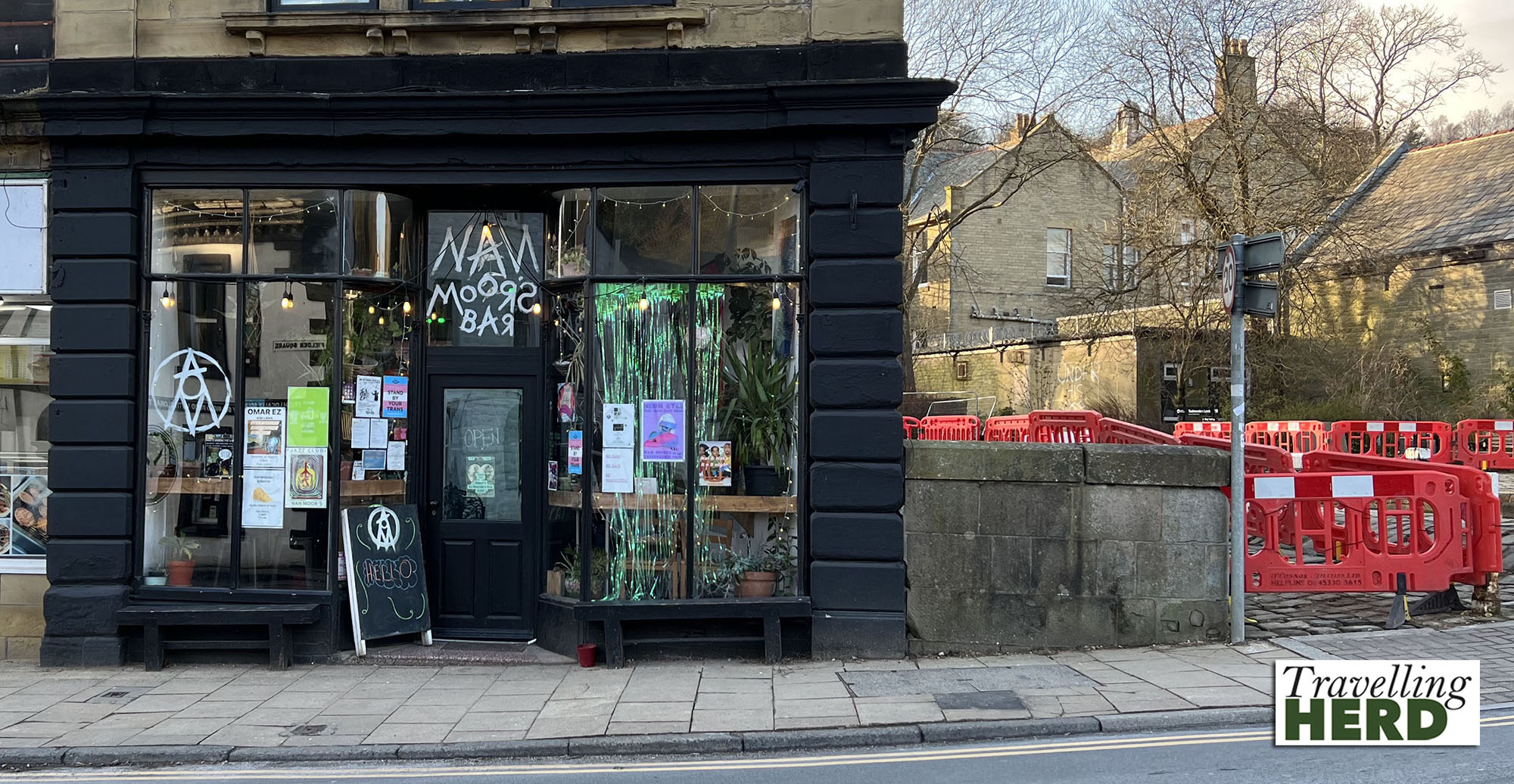 17/03/2022 – Miles: 4.44 – Locks: 10 – 4h30m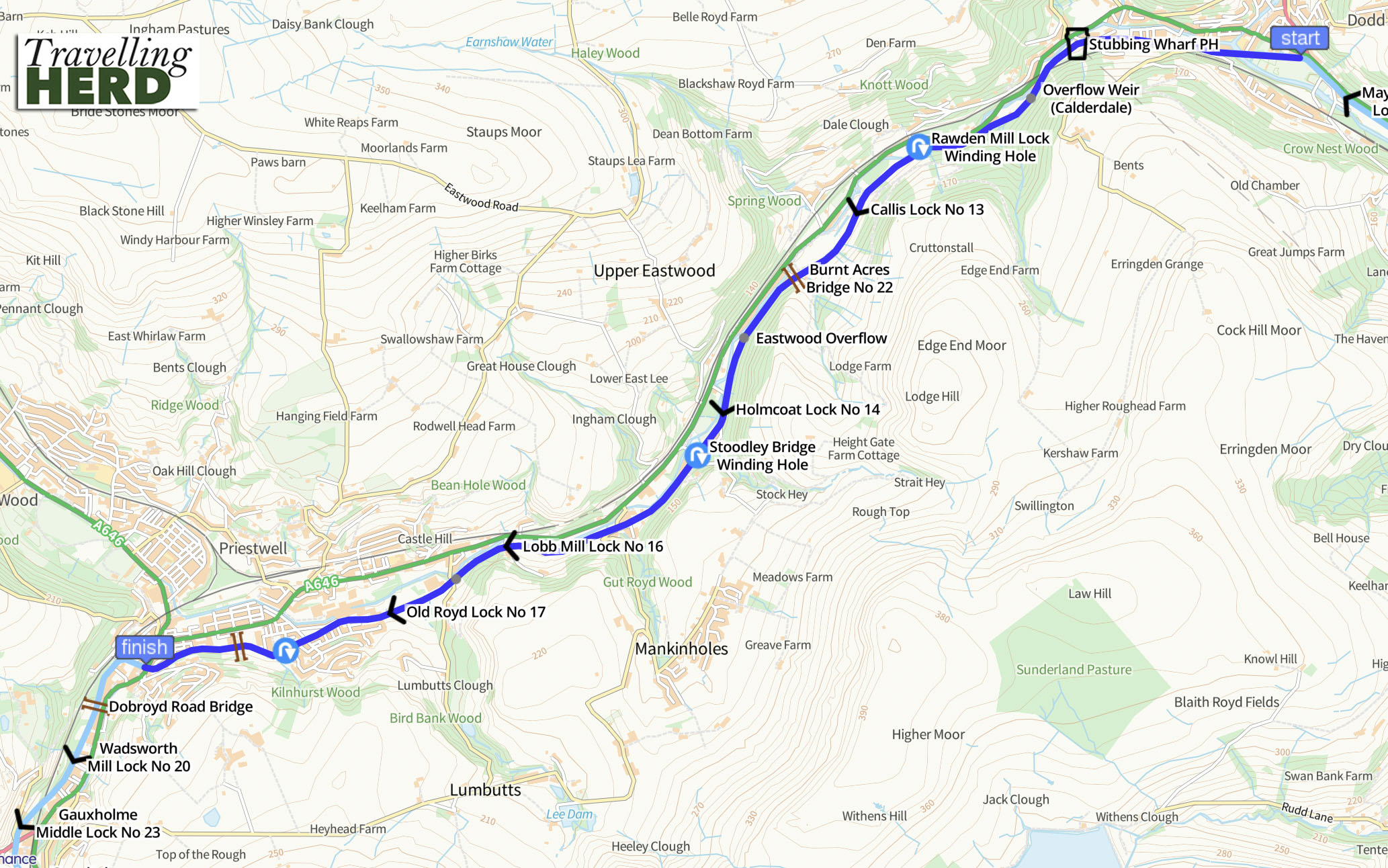 Route Map:
Days: 30 – Miles: 216.25 – Locks: 259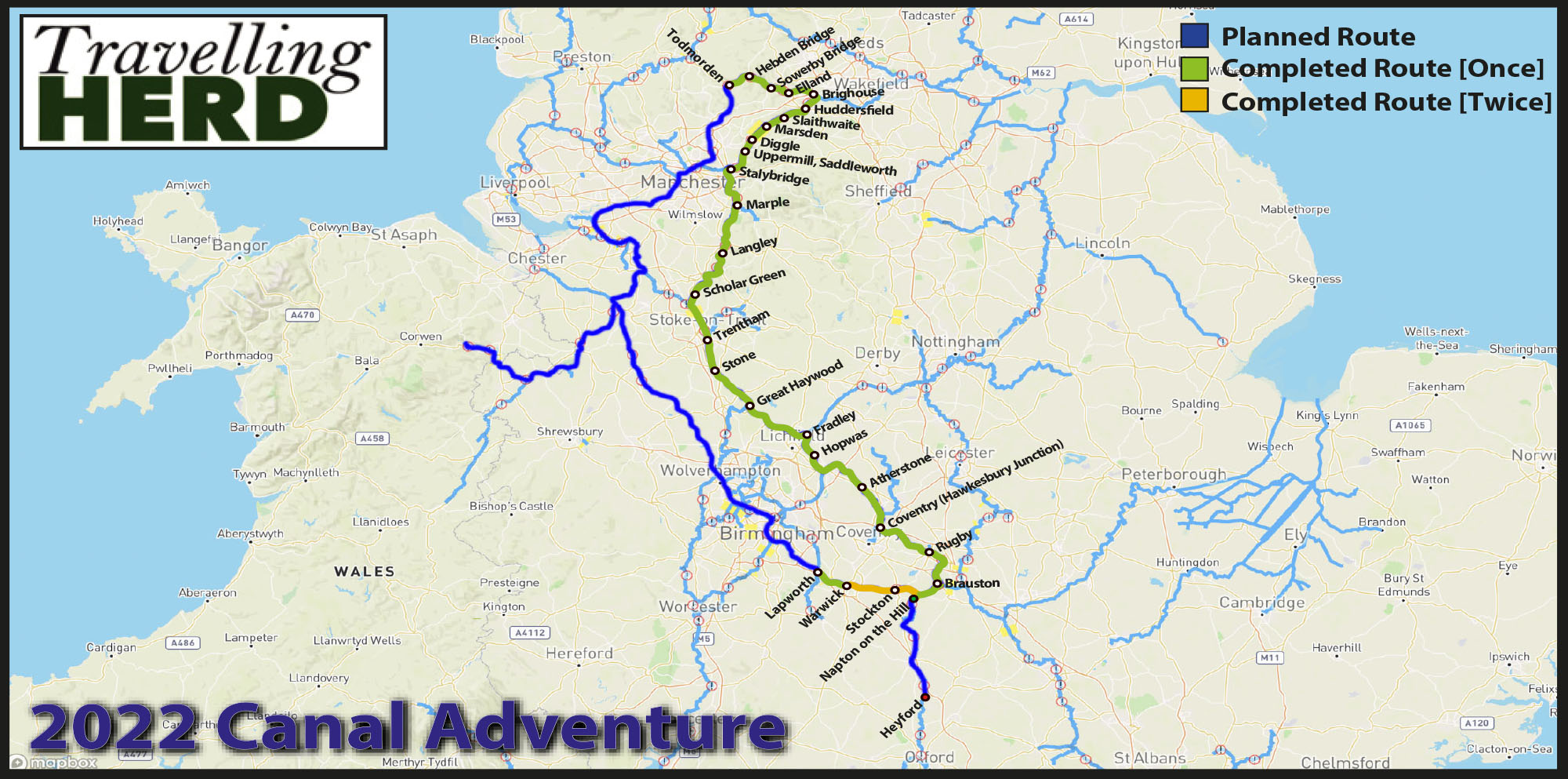 Video of the day:
Selfies of the day:

Dish of the day: