Monday 21st to Wednesday 23rd March 2022
Having received updates on the state of the canal from Martin the day before, Robert decided that he needed to check whether it was navigable before we left as we did not want to become stranded in "bandit country". He set an alarm for 06:00 and set off on a reconnaissance mission down the towpath.
There were so many empty cans and so much broken glass that Robert swiftly decided that it was not a suitable place for us to walk Ralf.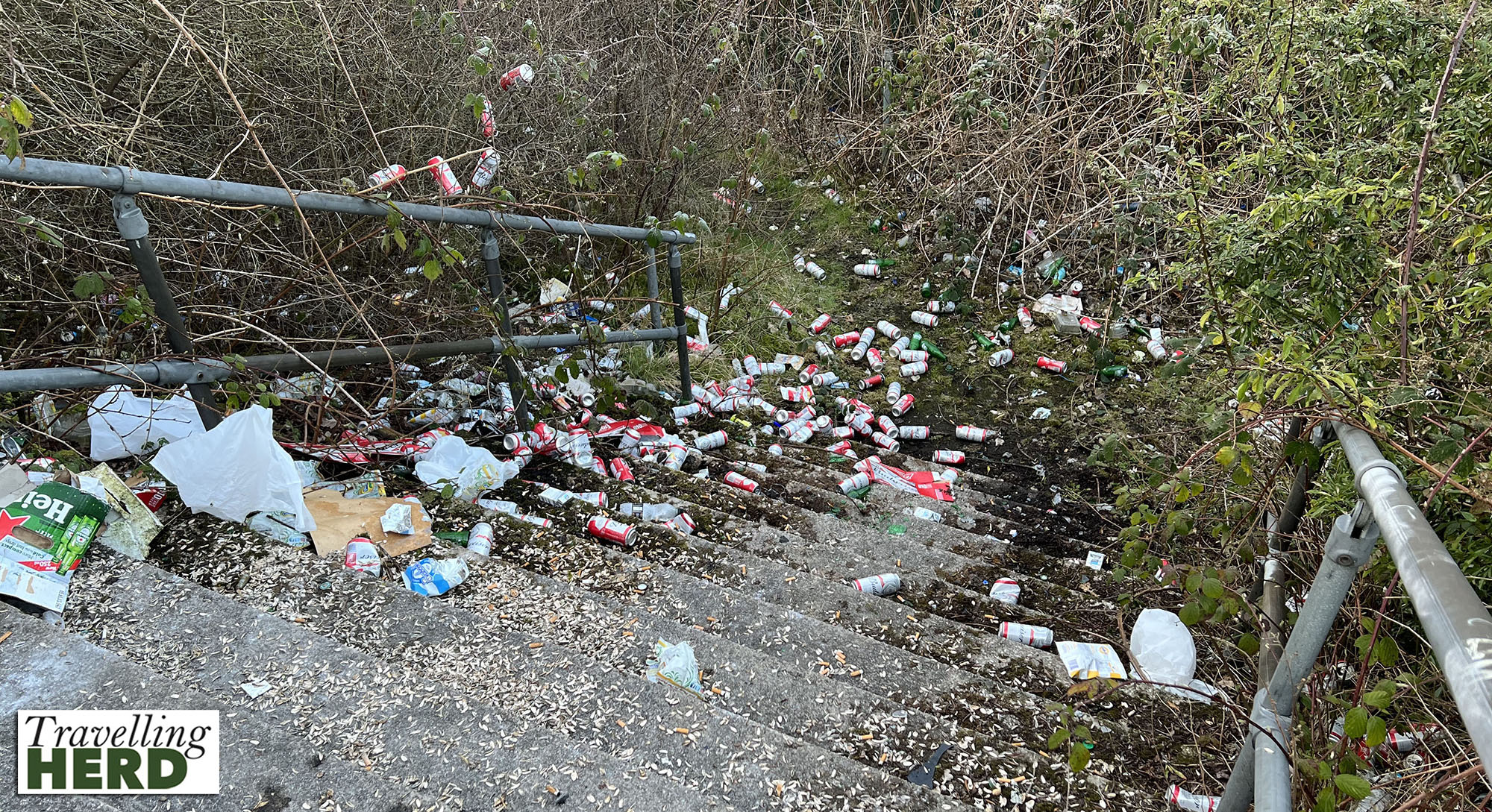 Vandals had opened both the top and bottom paddles on Lock 77 so there were stretches that were almost totally devoid of water. Robert managed to close and lock the top paddles but without a windlass could not close the bottom ones.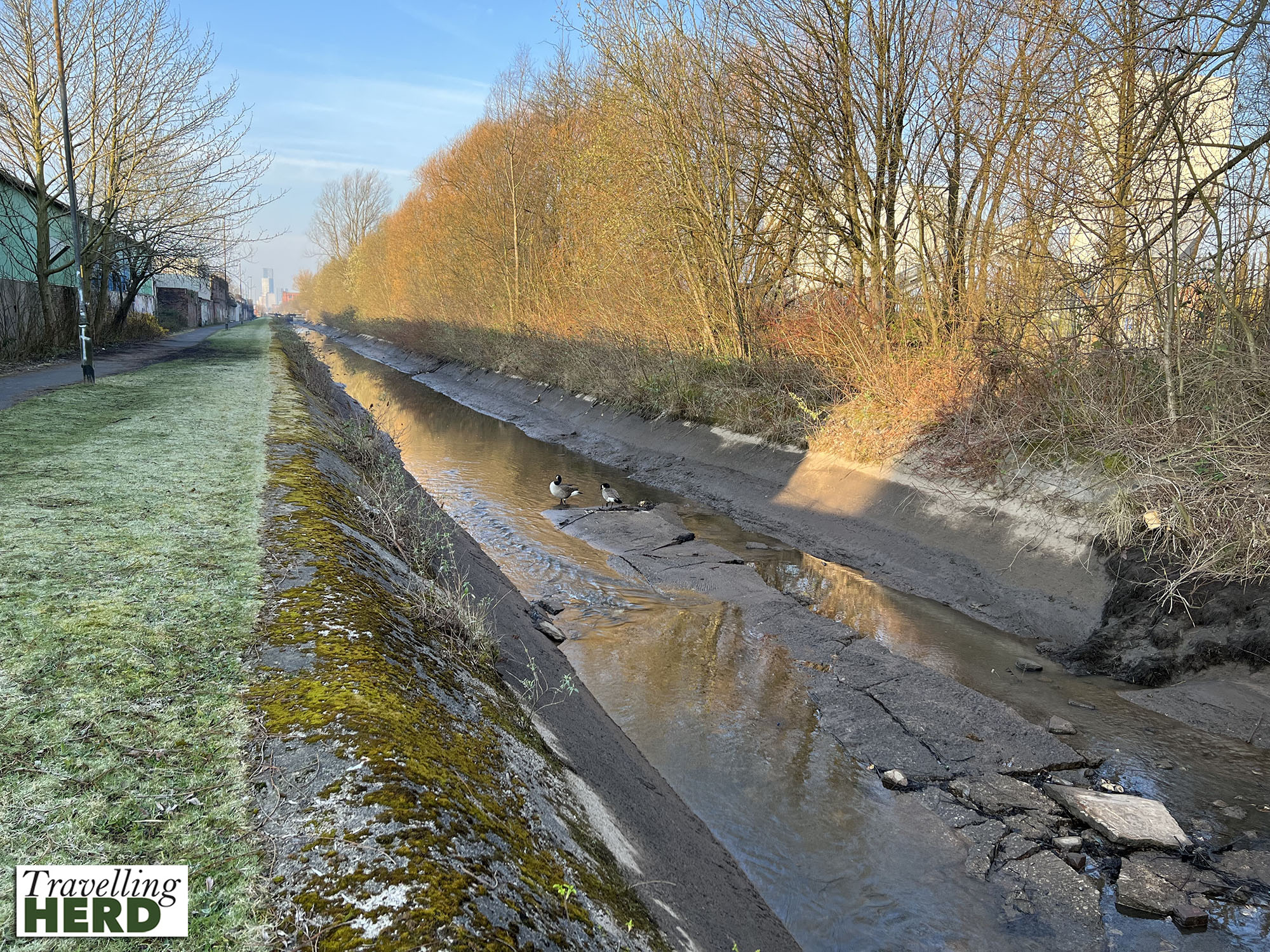 Robert walked down to Castlefield looking for suitable mooring spots then, having revived himself with a hot beverage, caught the tram back to Lock 77 to see whether his closing the top paddles had made any difference. Nothing had noticeably changed so we had to accept that we could not possibly travel any further until the Canal and River Trust staff managed to open sluice gates and send more water down. He passed one boat which was stranded on its way up the locks and which spent the night grounded on mud.
A second tram bought Robert back to Chadderton and Matilda was able to go and replenish supplies. She went into the adjacent Costco but decided that we did not have space on board for bulk purchasing in this way so went for smaller scale items in the local Lidl. As we settled down to spend another night in Chadderton, Robert concluded that our best option was to start early before most people were about.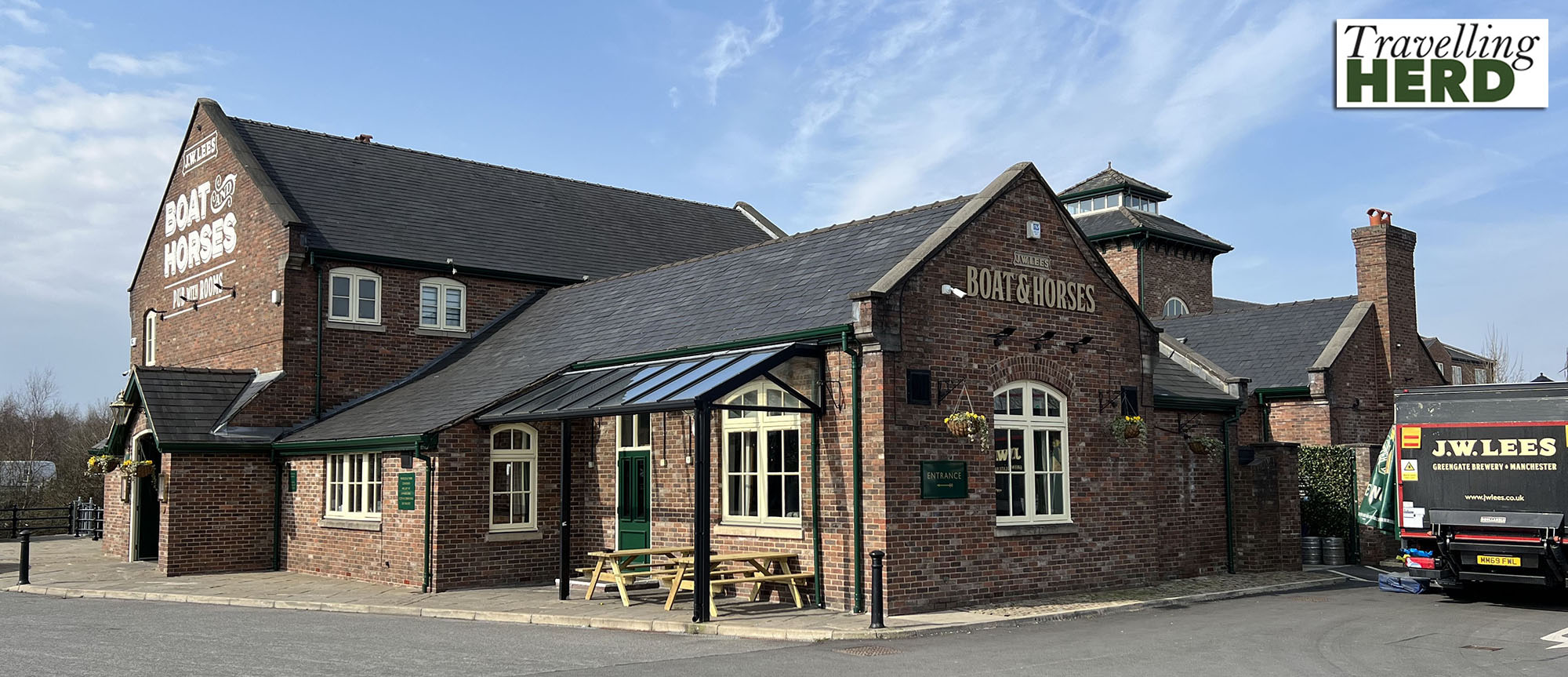 The alarm woke us at 06:00 and Robert ordered an Über to take him to look at the pound between 76 and 77 once again to check whether it was now passable. He returned, pronounced the sortie into 'bandit country' was on and gave the order to advance. At this point Matilda was under the impression that she would be doing about 16 locks and stopping in Piccadilly Basin. Later it transpired that this was not Robert's plan at all. In fact it may never have been.
Matilda noted that Alfred Street Lock 65 was the first lock of the day so that she could calculate progress. There had been talk of stopping between Locks 81 and 82.
This stretch of the canal itself is more dangerous than others we have travelled. In addition to the vandalism which affects the water levels, signs warn of underwater obstructions and posts, some of which are barely visible when the pounds are full, show the no-go areas. There was also a hazardous watery trolley graveyard near a supermarket.
As we approached Lock 69 we saw the way ahead was blocked. A Canal and River Trust barge had been loosed from its mooring and tied across the front of the lock.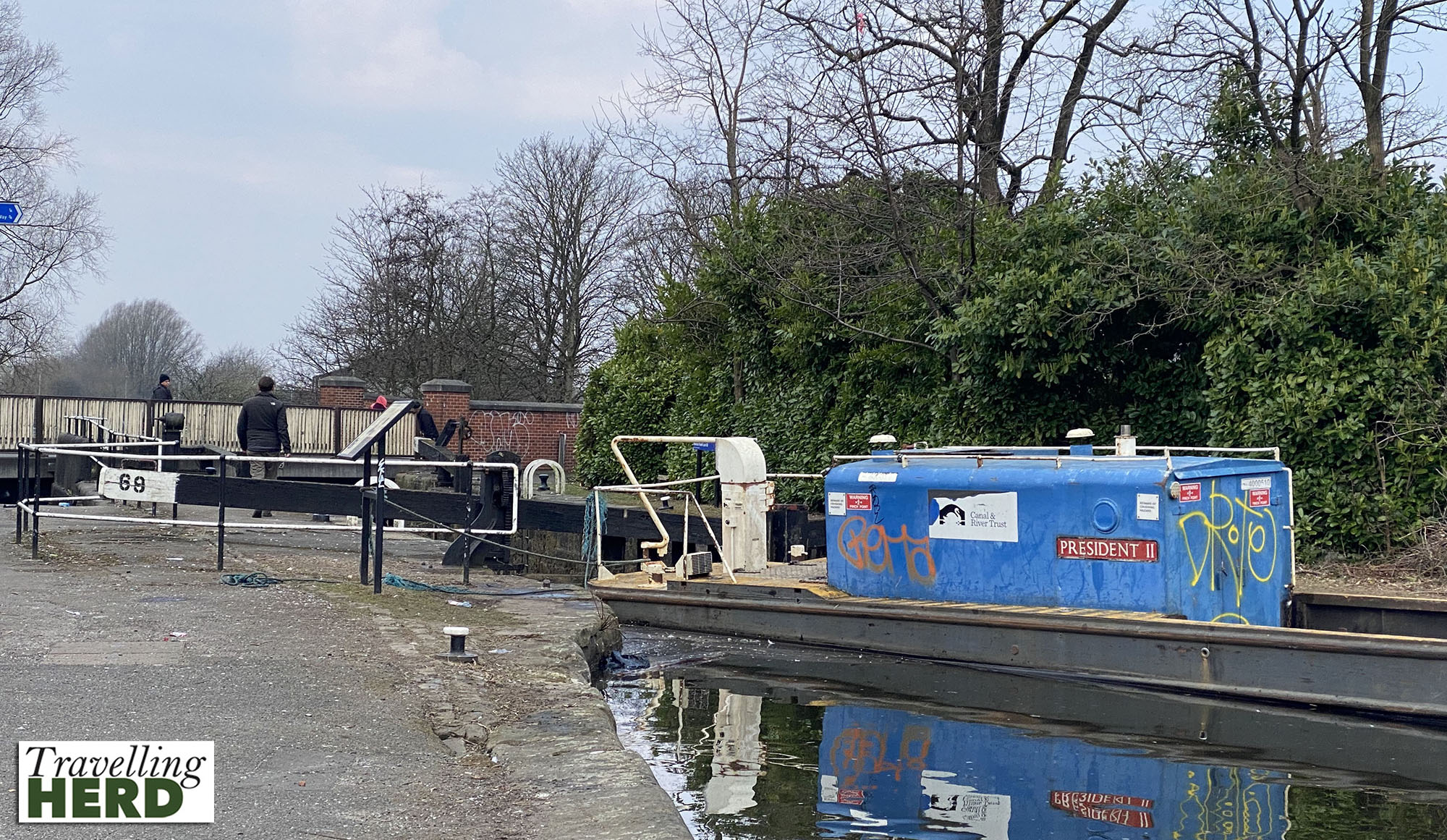 Fortunately the narrowboat that Robert had seen on his reconnaissance mission the day before had arrived simultaneously from the other direction. The experienced crew were on their way to collect a broken down boat to bring back to Castlefield so would be crossing bandit country twice.
The extra hands proved invaluable in helping to move the barge and moor it at the side of the canal so that both boats could continue on their way. We were told that some young people had used the barge to party in the night before.
If literal place names are anything to go by the Drunken Bridge Lock 74 should have given us pause to think.
Despite the neglect of the canal in places, some old industrial buildings have been converted into desirable housing with the chimneys still rising up to bear witness to their past glories as centres of manufacturing and there are some attractive new developments springing up.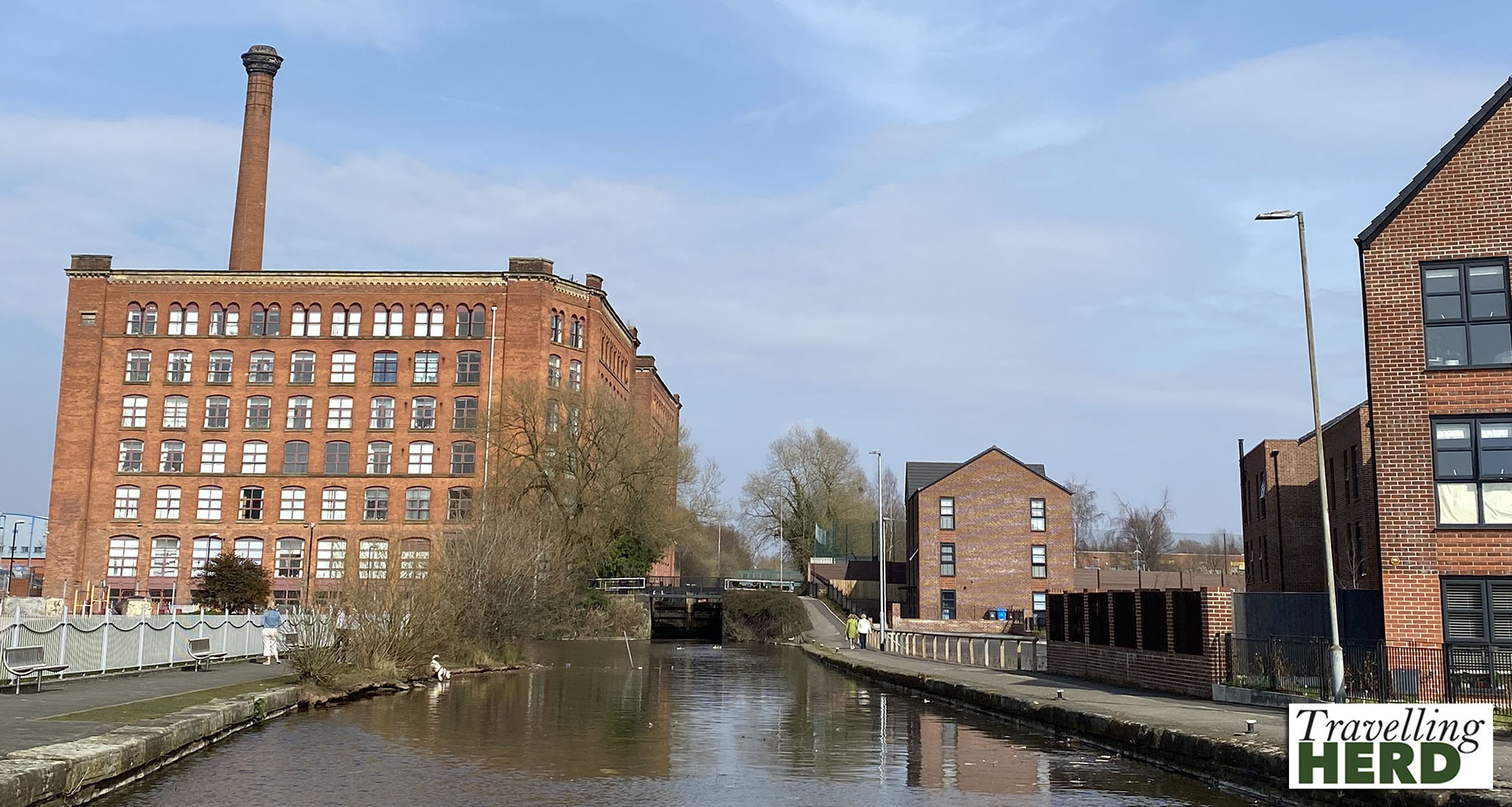 Having set off early without breakfast, at Lock 75 both Robert and Matilda lifted their noses to sniff the air, like Ralf, as the smell of hot cross buns wafted tantalisingly towards them from a nearby bakery. It was at about this point that Matilda, with the thought of warm baked goods making her mouth water, mentioned to Robert that she thought they were over half way. Robert felt they should push on through enemy lines and could neither confirm nor deny their position.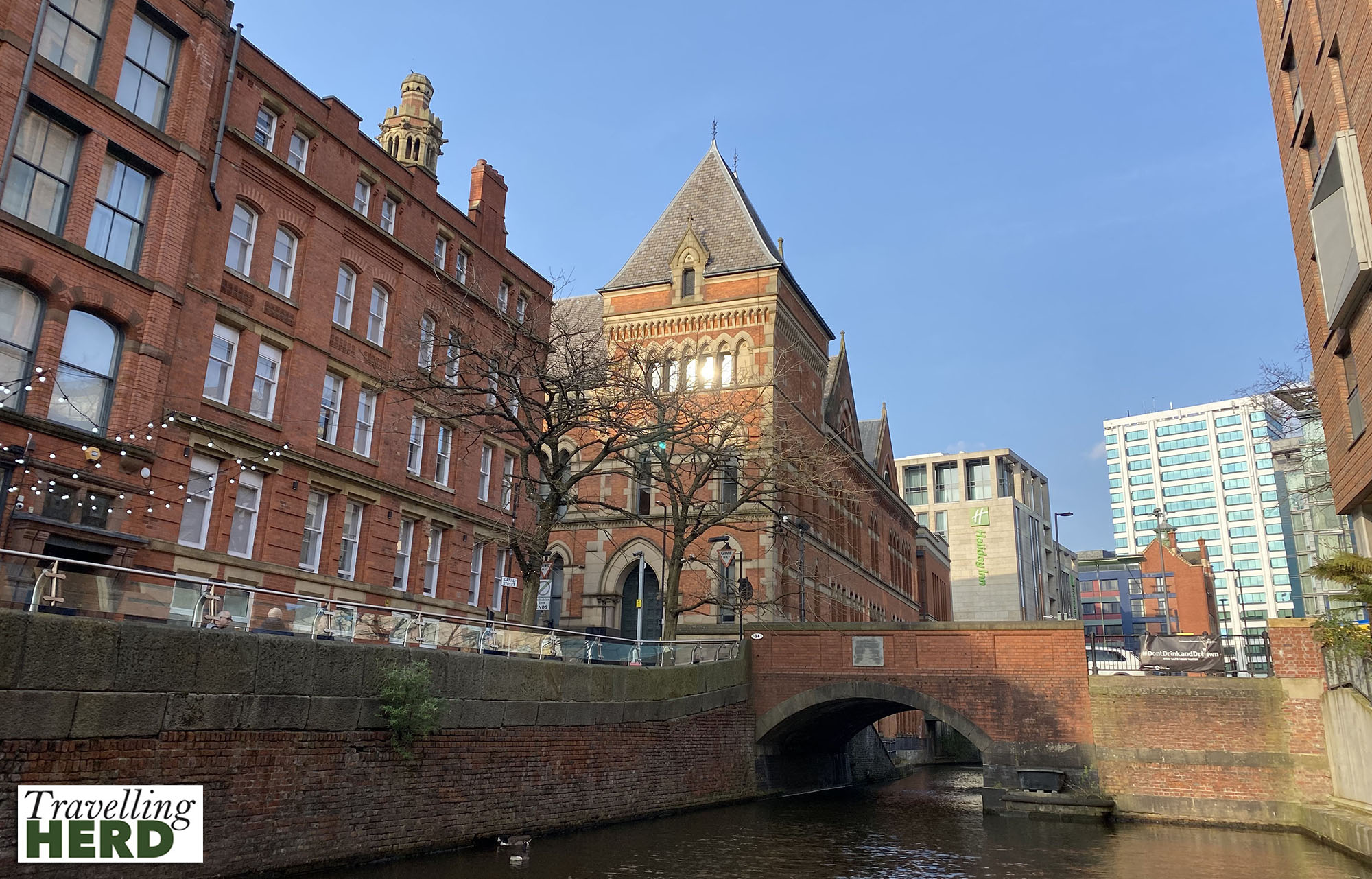 Unfortunately, where the city has encroached on the canal there are no overflows to manage the water level and it was pouring over the top of the gates at several of the locks [see also Video of the day]. In some places, there is a floating towpath in the pound as there is no longer any space for a traditional one.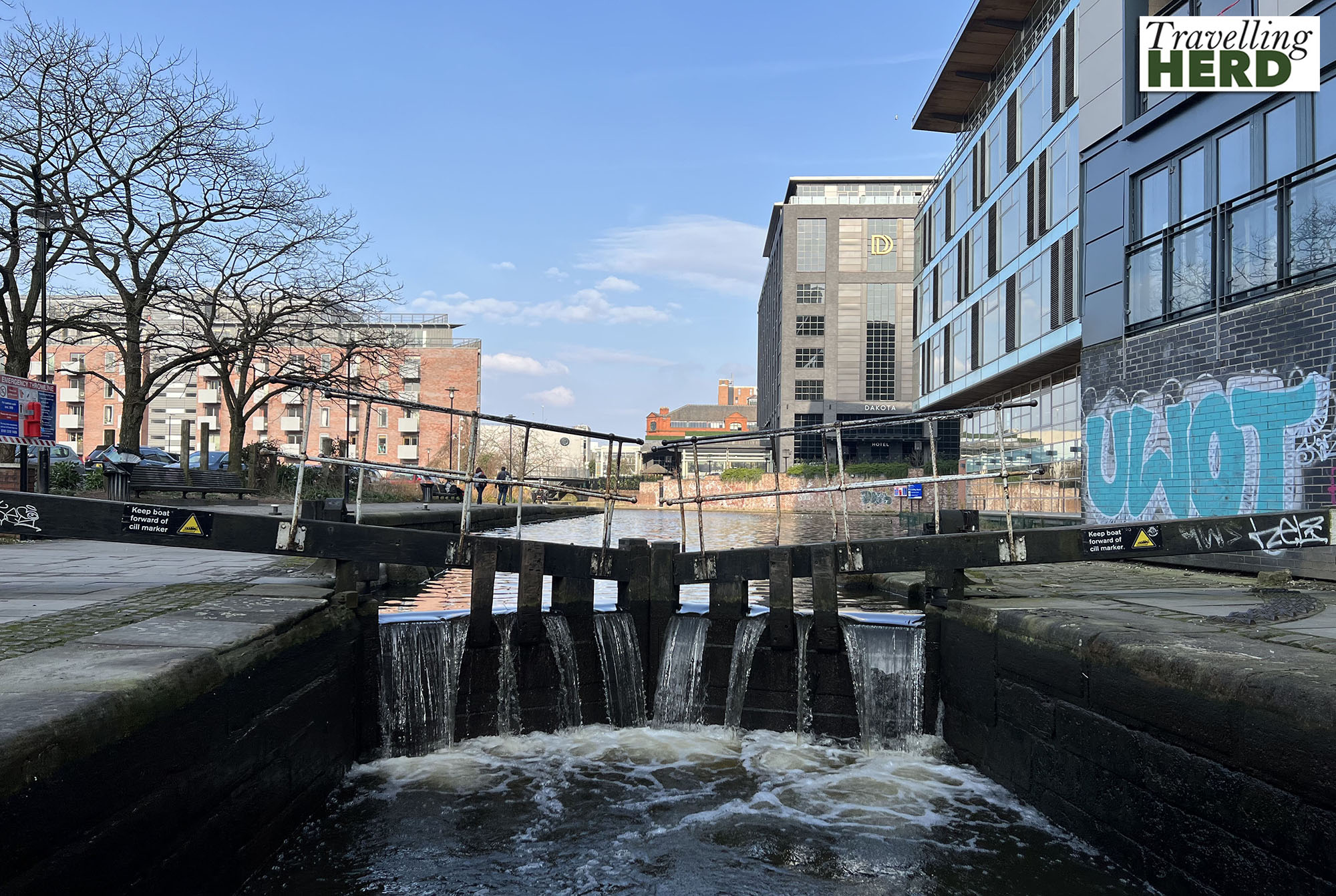 Although the canal itself is full of flotsam and jetsam which sometimes stops the gates opening fully, the lock mechanisms themselves run relatively smoothly – providing Matilda remembers to take the safety catch off. The canal fell out of use and in some sections was filled in and built over. When it was regenerated, particularly in the inner city areas where space is limited the canal passes underneath some buildings and there are space-saving chain mechanisms to open the gates. Matilda found the cavernous underground sections very unnerving and she simply could not work out which way to turn the windlass to get the chains to move in the right direction.
At one such underground lock we were both struggling to close the gate behind The Duke as it had become wedged on some underwater debris when a passing gentleman kindly leant us his extra strength to help. After the lock had emptied Matilda was attempting unsuccessfully to open the gates using the chain mechanism and asked a large man lurking in the underpass there for a hand. She was not expecting him to simply say "No" and was quite shocked by the abruptness of his refusal particularly after so many passers by have offered to help her unsolicited over the course of the past month.
An ironic riposte about his kindness and helpfulness rose to her lips but she realised just in time that he could not possibly be sightseeing in such insalubrious surroundings and must be there for some form of illegal activity. Wisely she kept her comments to herself and was relieved to remember that she was brandishing a windlass. This was probably the closest we came to a bandit.
Part way through our journey through the city, things improve.
The canal side has been regenerated and there are cafés, restaurants and bars. The clink of glasses and the buzz of conversation as we passed sounded even more convivial after the exertions of the day and the silence of lockdown.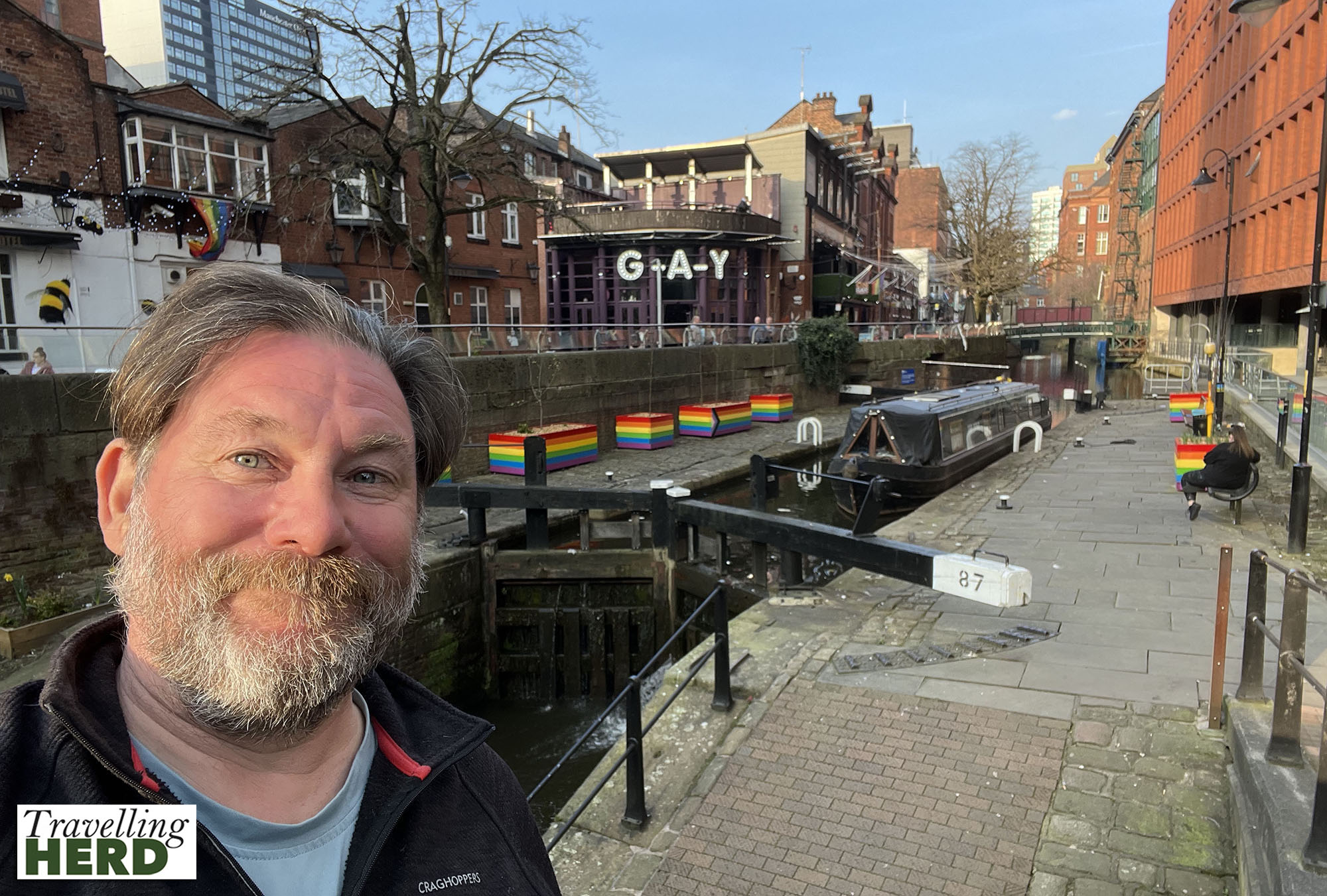 Steps lead up over the canal-side bars to the tram at Castlefield which Robert had caught the day before.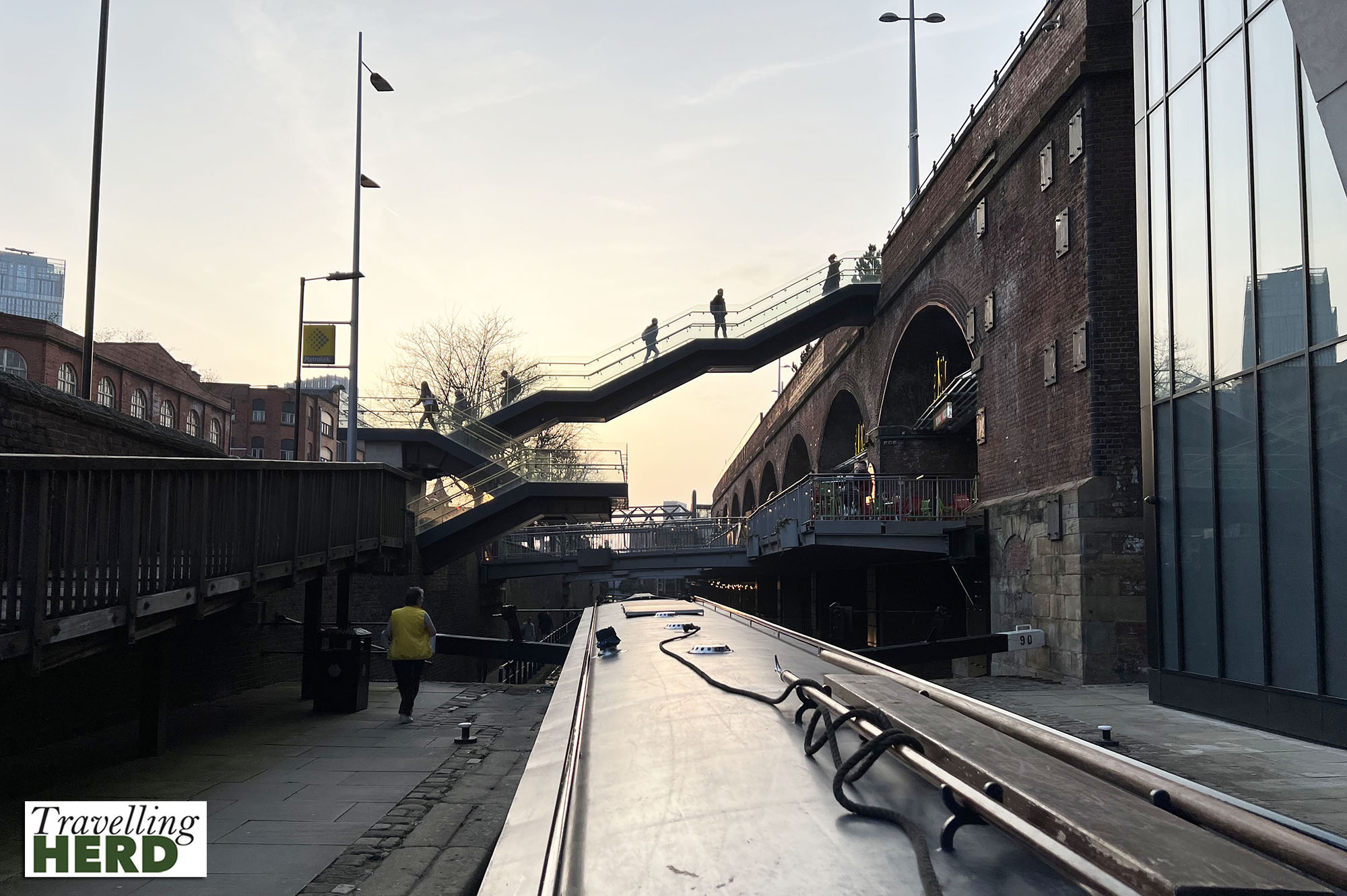 At the last lock of the day Robert found he had a fan club of two who became quite excited at the prospect that he was going to let water out, although Matilda felt that as she was doing all the work, she should really get the credit for this.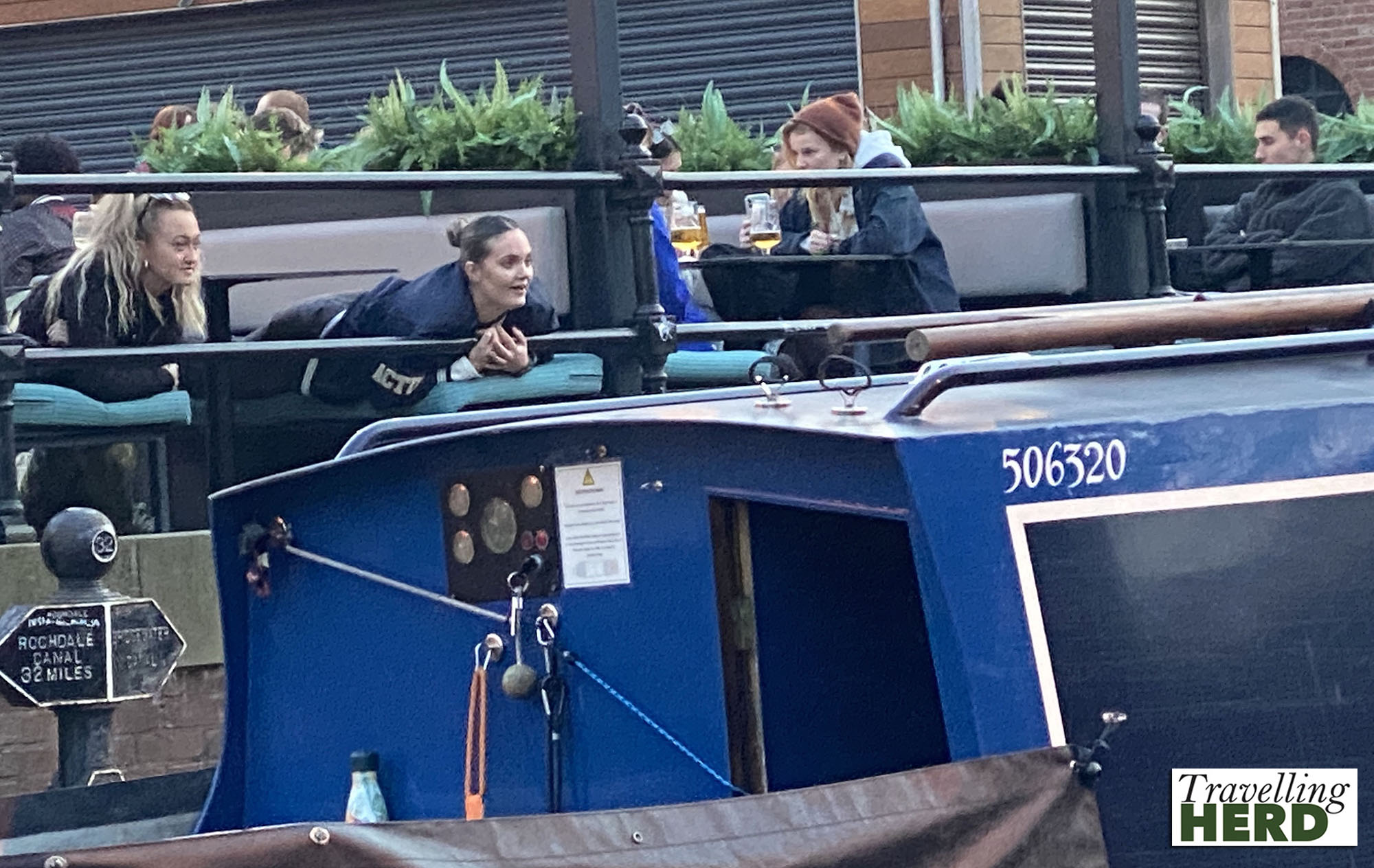 As we exited Lock 92, we left the Rochdale Canal for the Bridgewater Canal, which opened in 1761 and claims to be the fist pure canal in England.
Only after we had moored up did Robert confirm that having walked nearly 13 miles over a period of 12 hours Matilda had opened and closed 28 locks.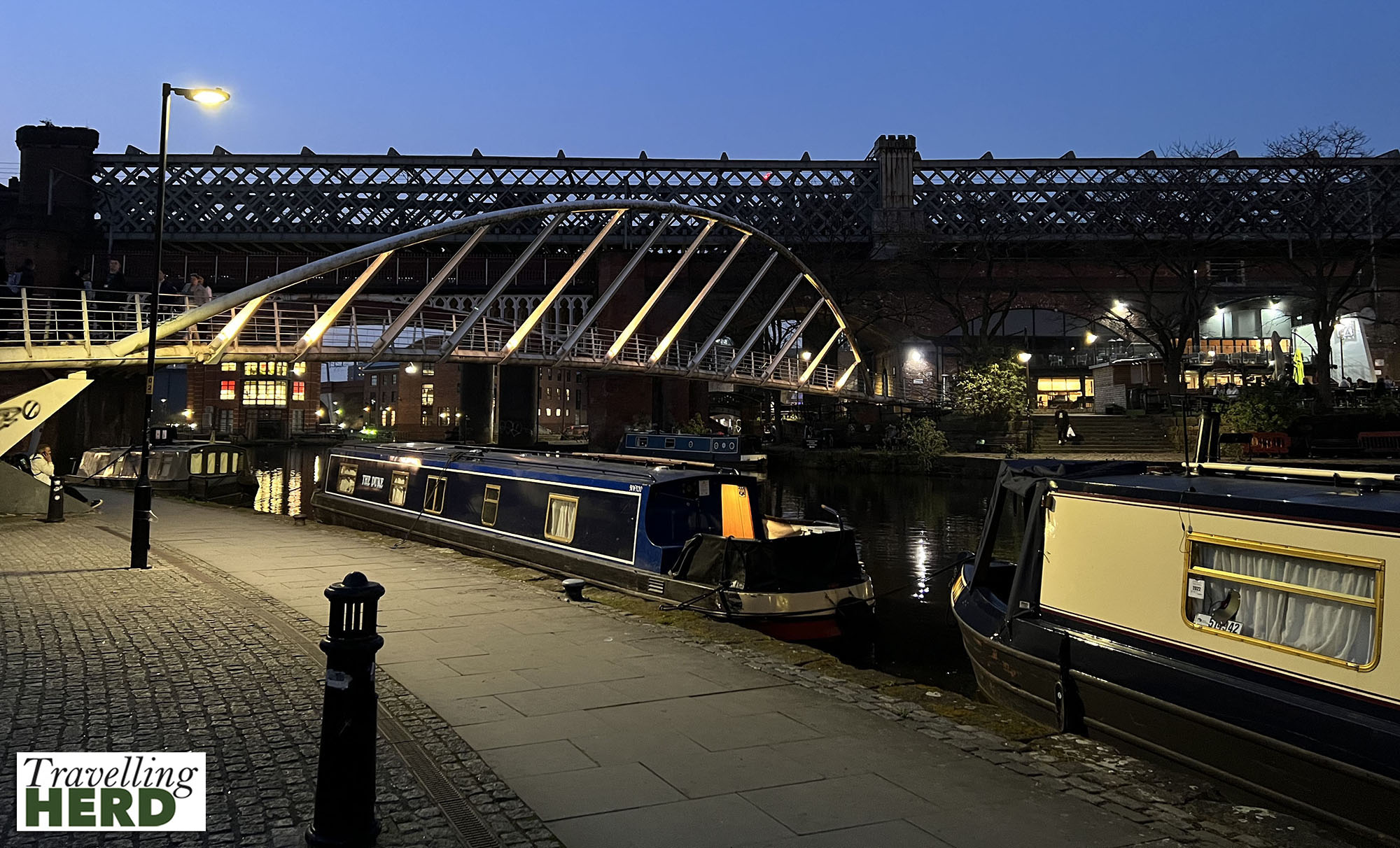 Despite the bustle of nightlife around Castlefield Junction, we all slept well.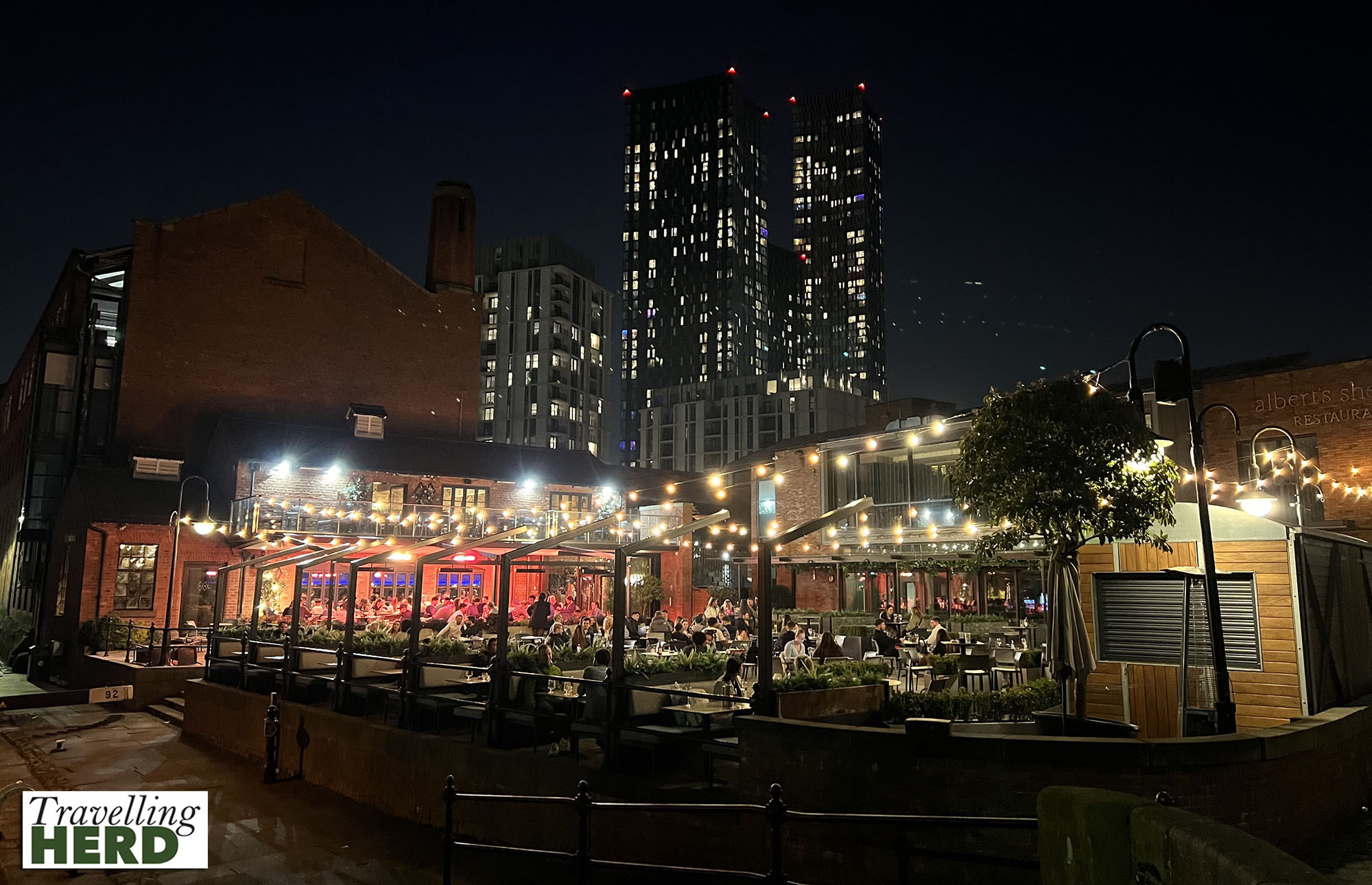 22/03/2022 – Miles: 7.16 – Locks: 28 – 12h0m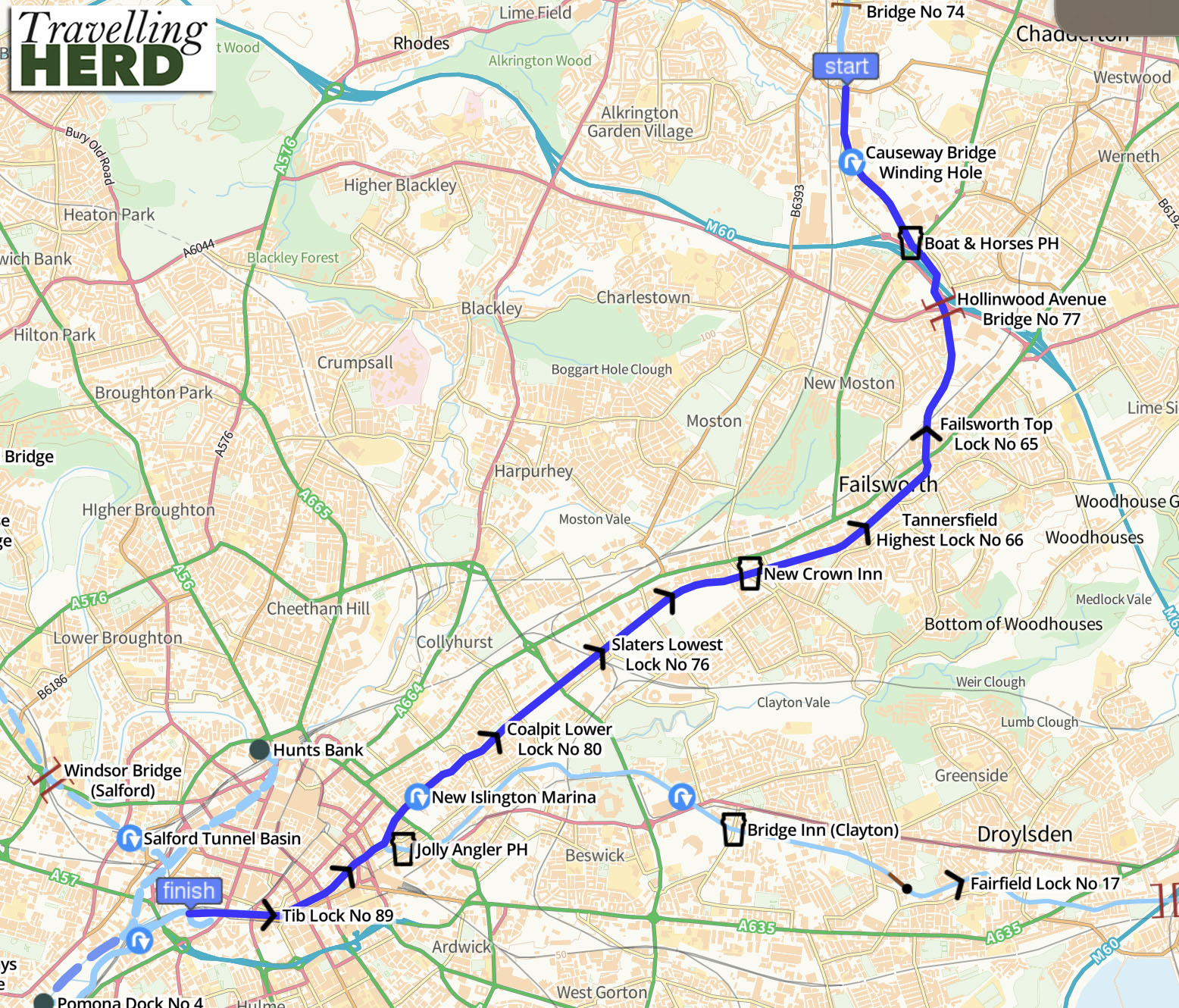 The following morning, we decided we would take a little time to look round Manchester before setting off along the Bridgewater Canal. Castlefield was the site of the Roman fort of Mamucium the remains of which survived until the Industrial Revolution when the Victorians developed the area, sweeping ancient history away to build canals and railways, but acknowledging the historical significance of the site in its name.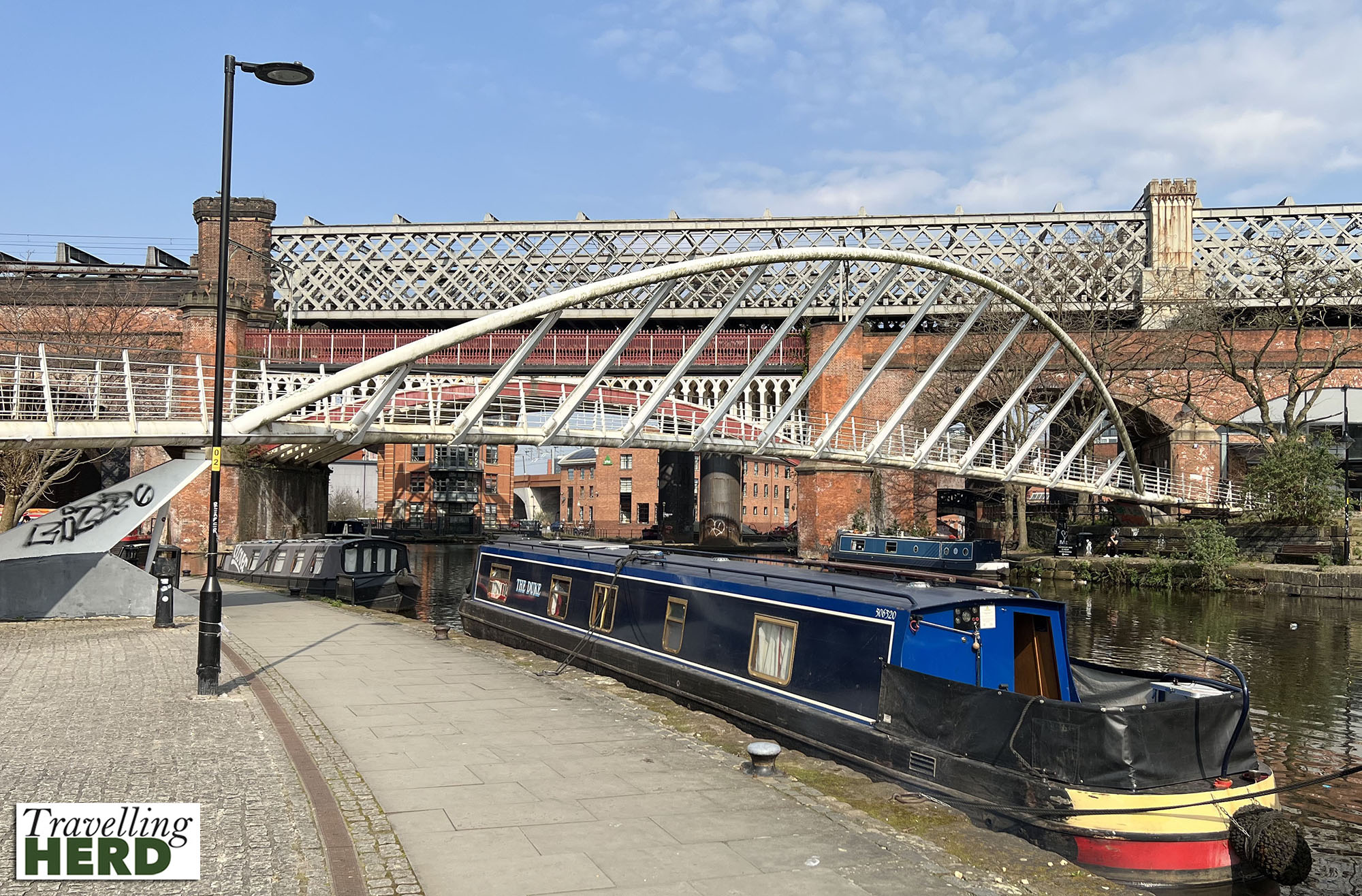 Castlefield is now steeped in industrial history. We passed the LNER Goods Depot, now the Great Northern Leisure Complex, which was Britain's first large steel framed building. This transhipment warehouse was built between 1896-98 and could be accessed by rail on two floors, at street level and via canal in the basement.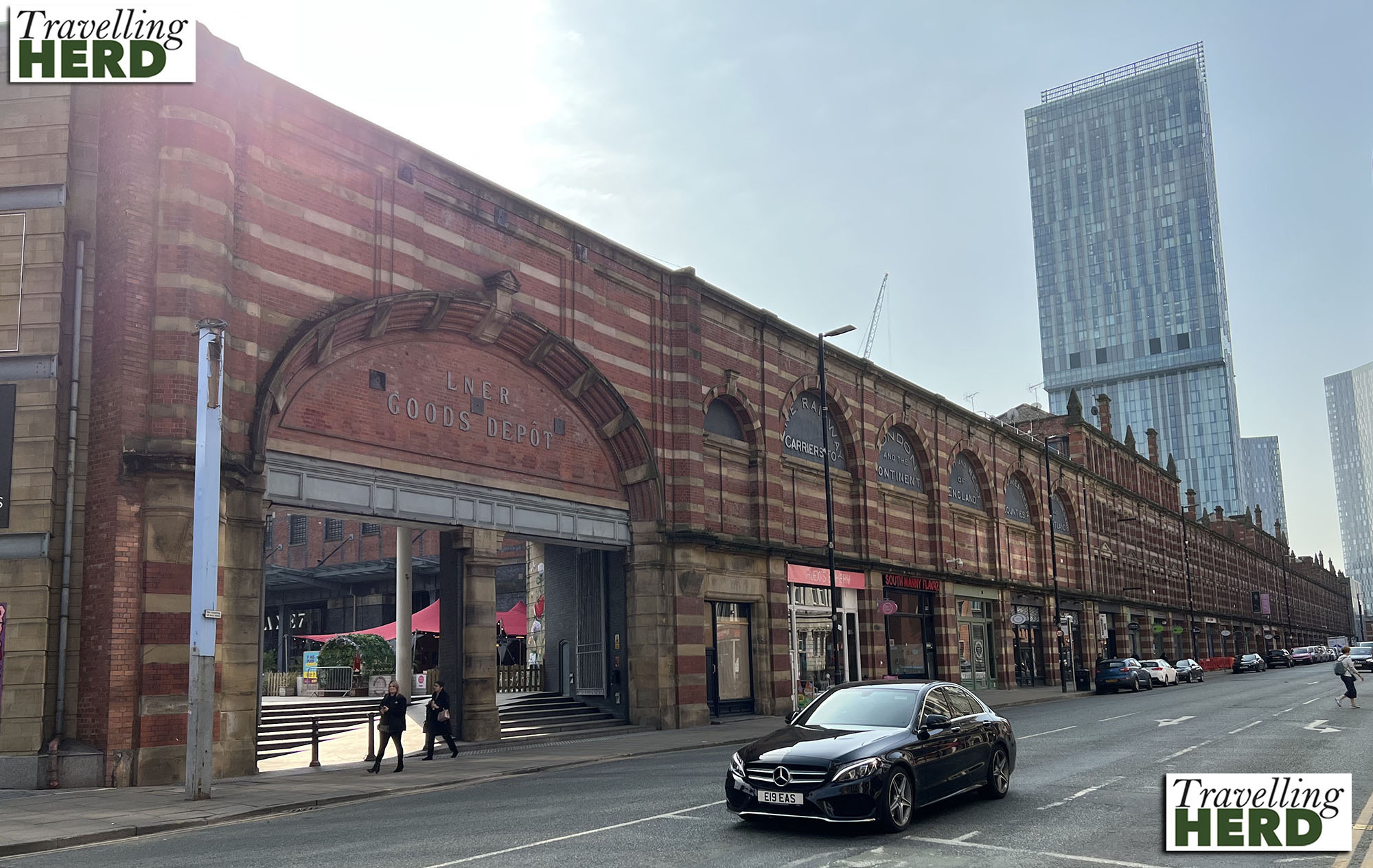 We both felt that the Science and Industry Museum would be worth a visit another time without our canine companion. It is housed in the old railway complex in Liverpool Road which was sold to a conservation group for a nominal £1. It opened in 1969.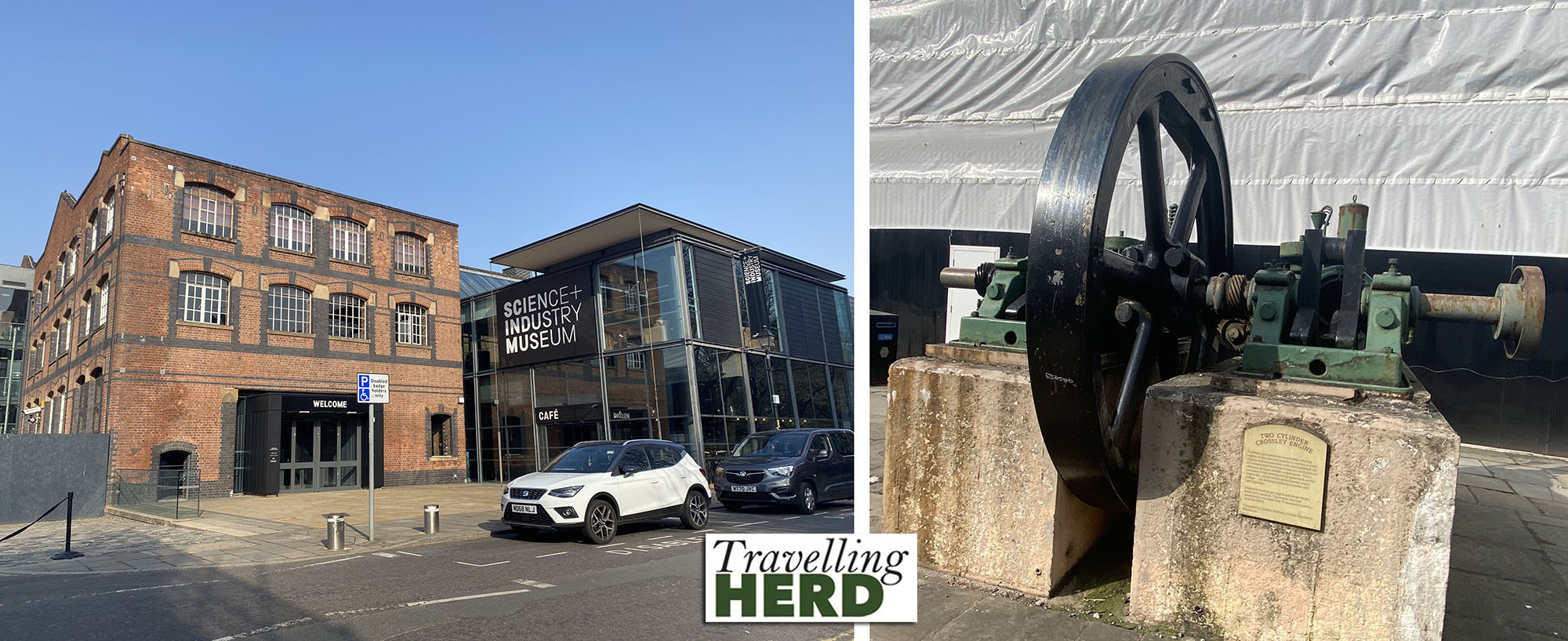 The Castlefield Viaduct was built in 1892 by Heenan and Froude, the creators of Blackpool Tower and the National Trust is now involved in plans to develop the site into an urban park.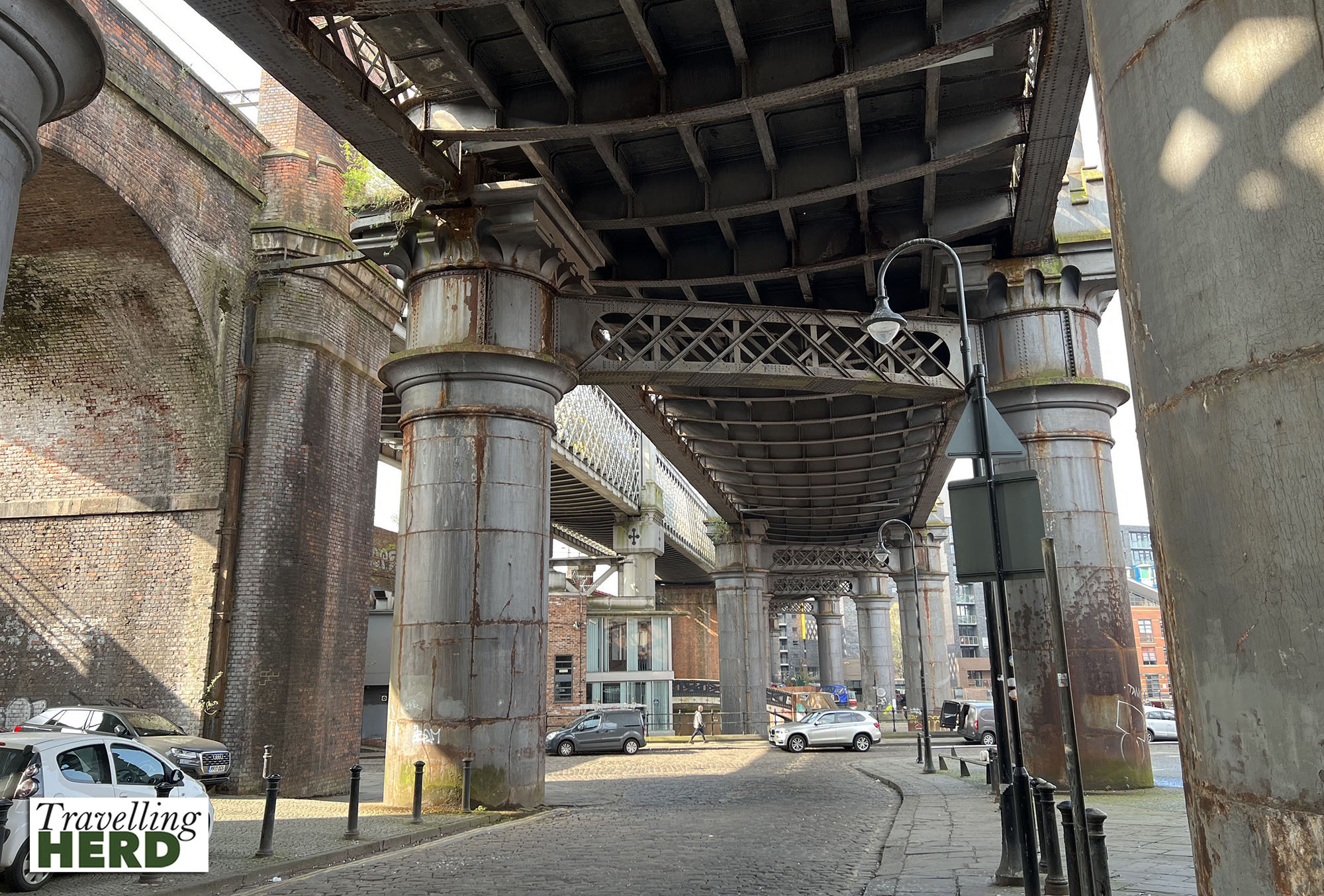 The sun shone as we left Manchester behind and set off for Lymm.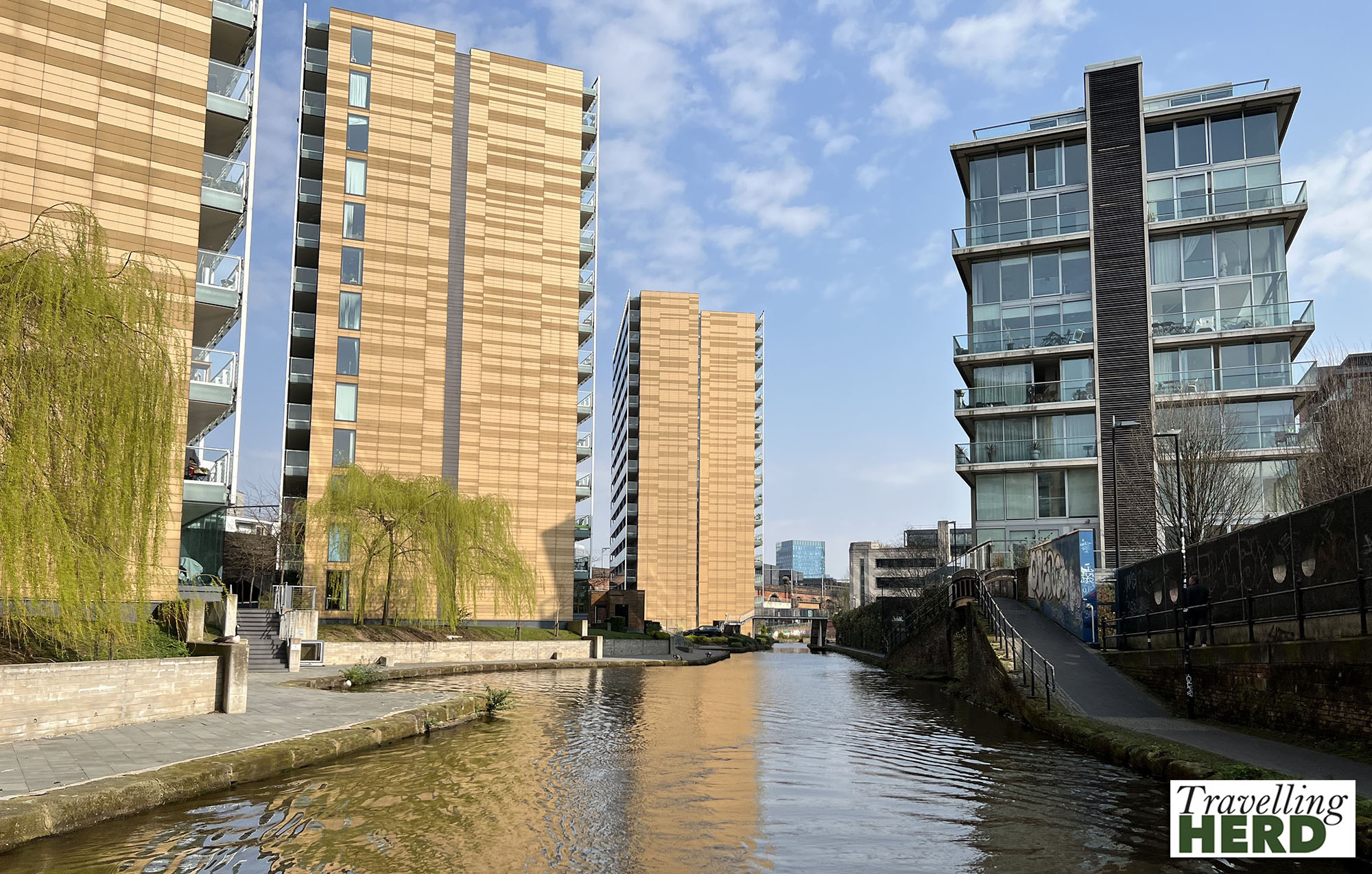 The Bridgewater Canal runs alongside the Manchester Ship Canal in places and we passed Old Trafford.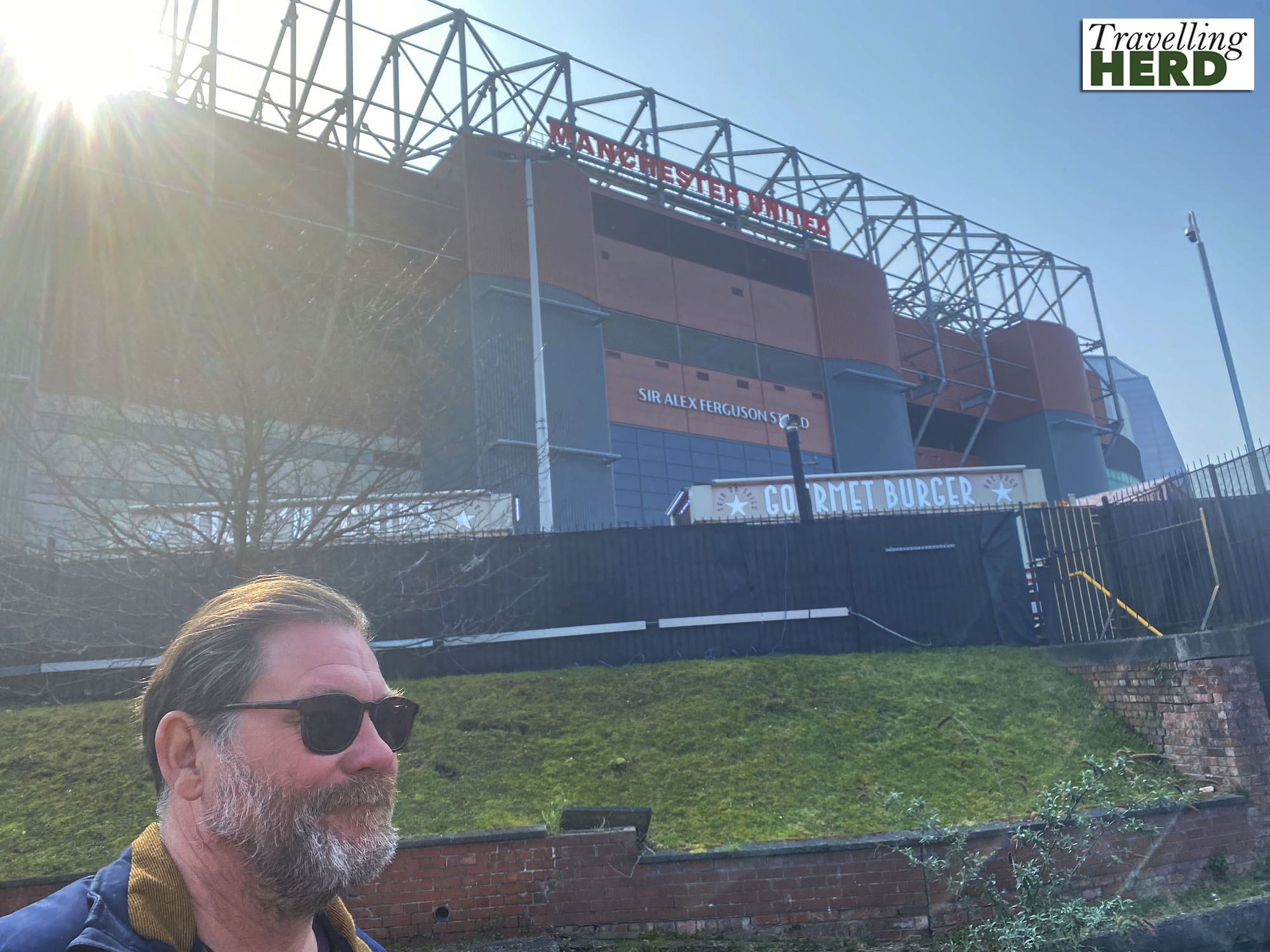 Stretford Marine is not mentioned in our Nicholson Waterways Guide but Robert spotted a sign saying diesel and we pulled over to take on both fuel and water. A very helpful woman appeared instantly to serve us and also gave Ralf some treats. As she stood with one foot on land and one foot onboard, The Duke treacherously shifted and it looked as though she would certainly fall into the canal. Matilda looked on helplessly [secretly wanting to get her phone out to photograph the event] but Robert grasped the woman in a bear hug to keep her on the boat while he shouted commandingly at a local man to pull on the mooring ropes to bring them back to the bank. Disaster was averted and she was able to joke about it afterwards. We would thoroughly recommend Stretford Marine.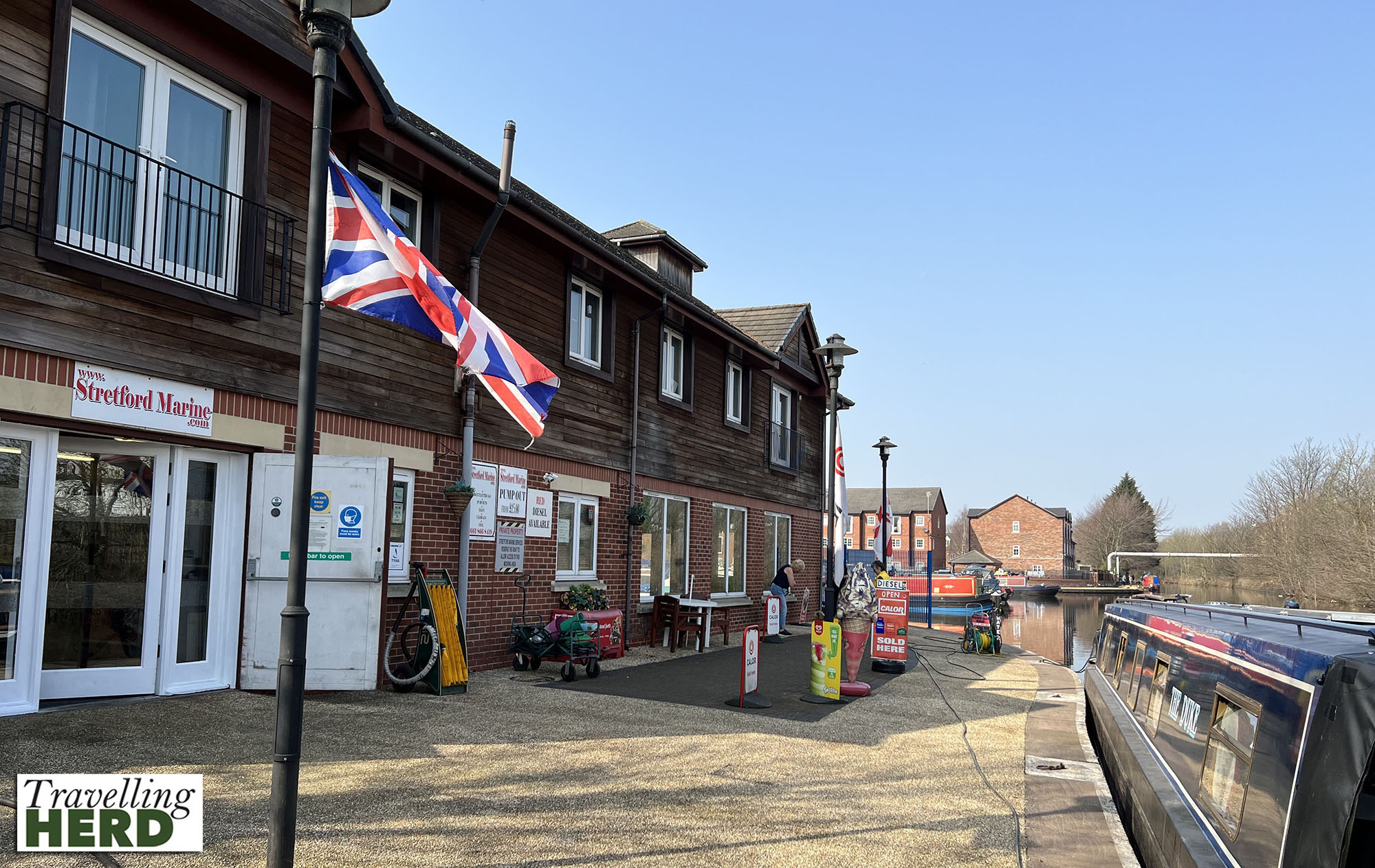 There are some interesting modern buildings, including some designed to reflect the nautical setting, overhanging the canal like the prow of a boat.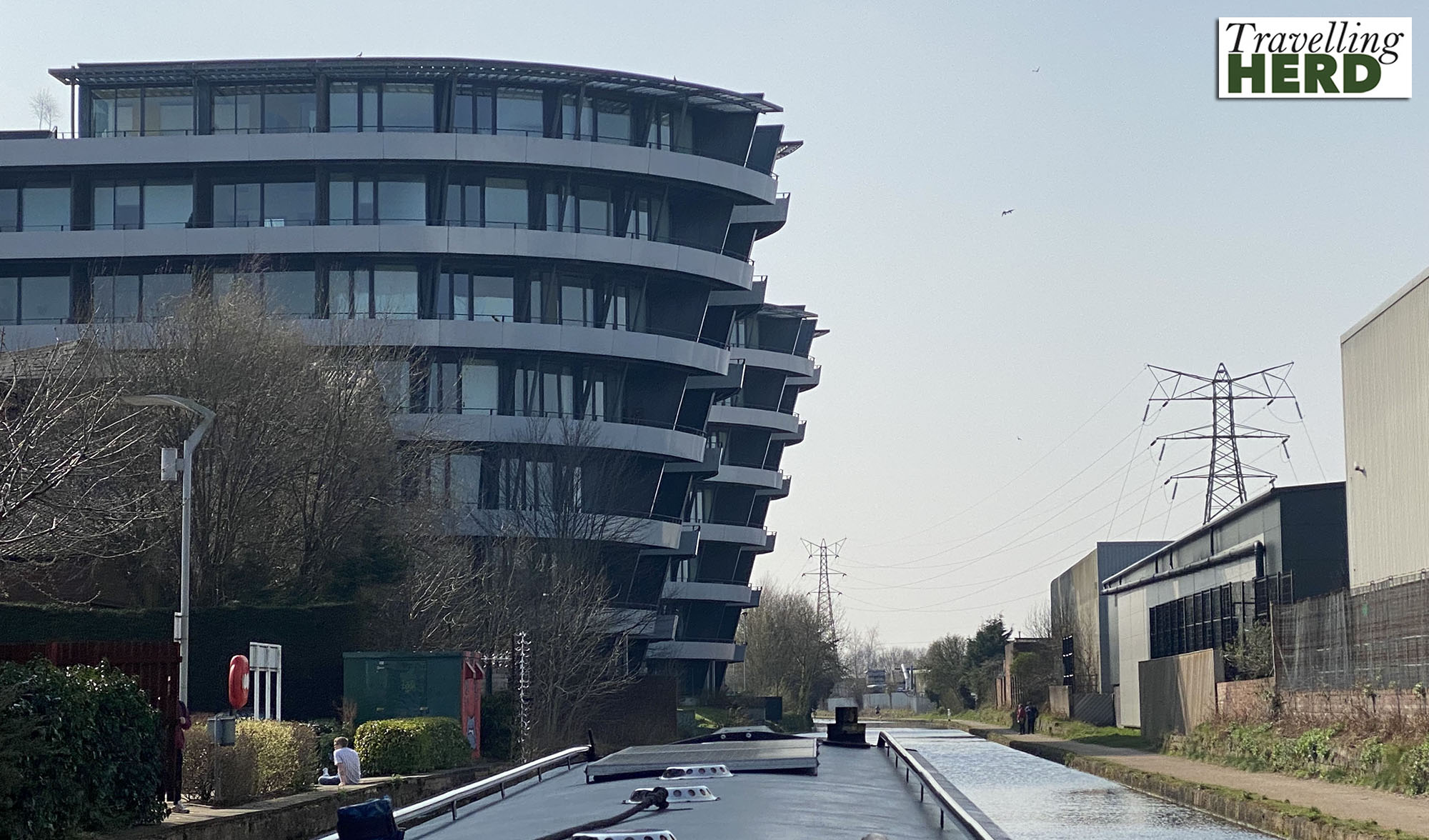 Robert spent many years working in the type and print business, and was interested, and pleased, to see the Linotype factory in Altrincham, created in 1897. Linotype was a revolutionary printing machine that could create and entire line of metal type – hence the name. The site included more than 170 houses, as well as leisure facilities such as two football grounds, a cricket ground, tennis courts, bowling greens and allotments, creating a whole community, similar to the industrial village at Bourneville in Birmingham. The factory itself is now being repurposed into residential buildings.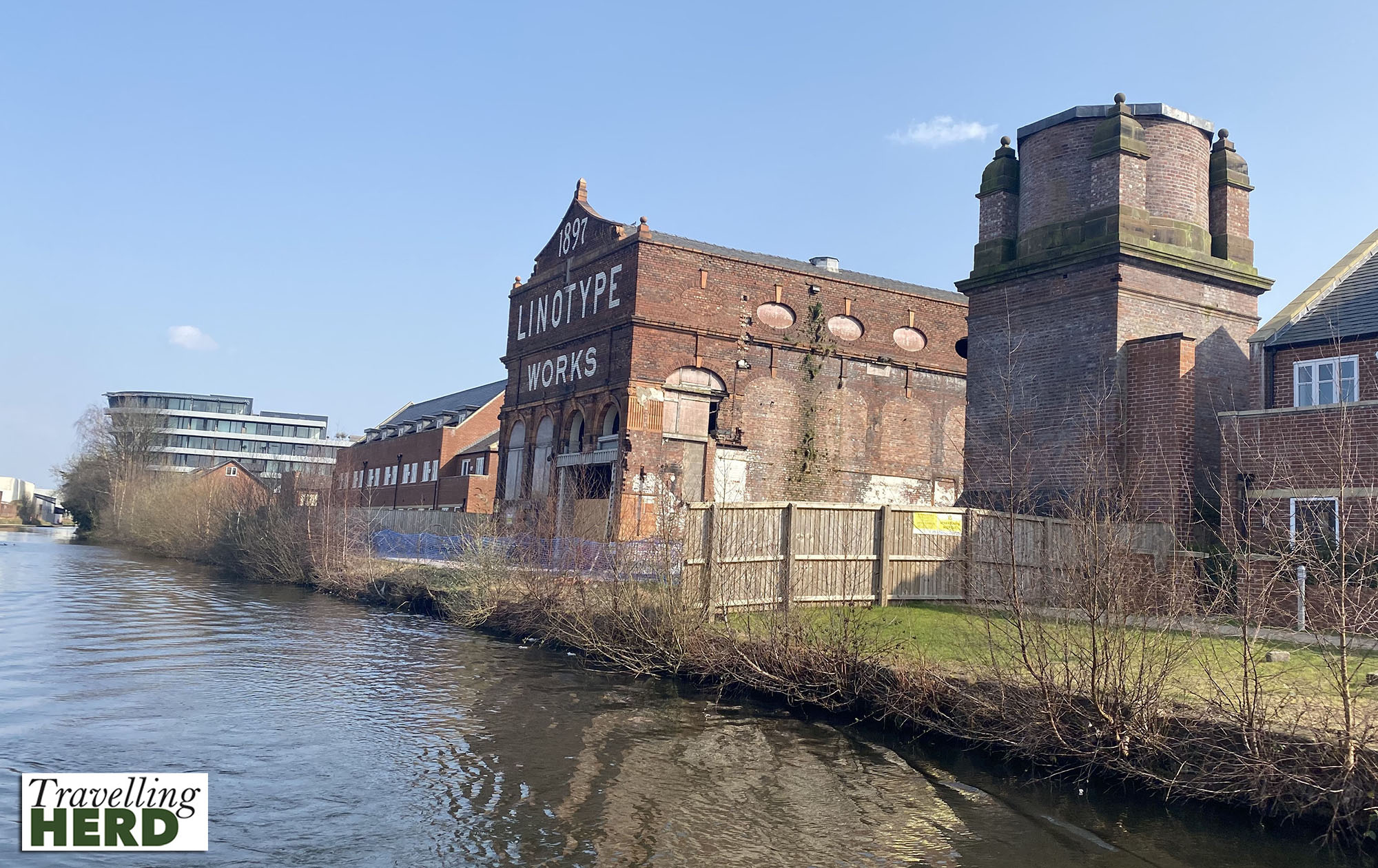 In several places we saw cranes next to piles of the planks for closing and draining the canal.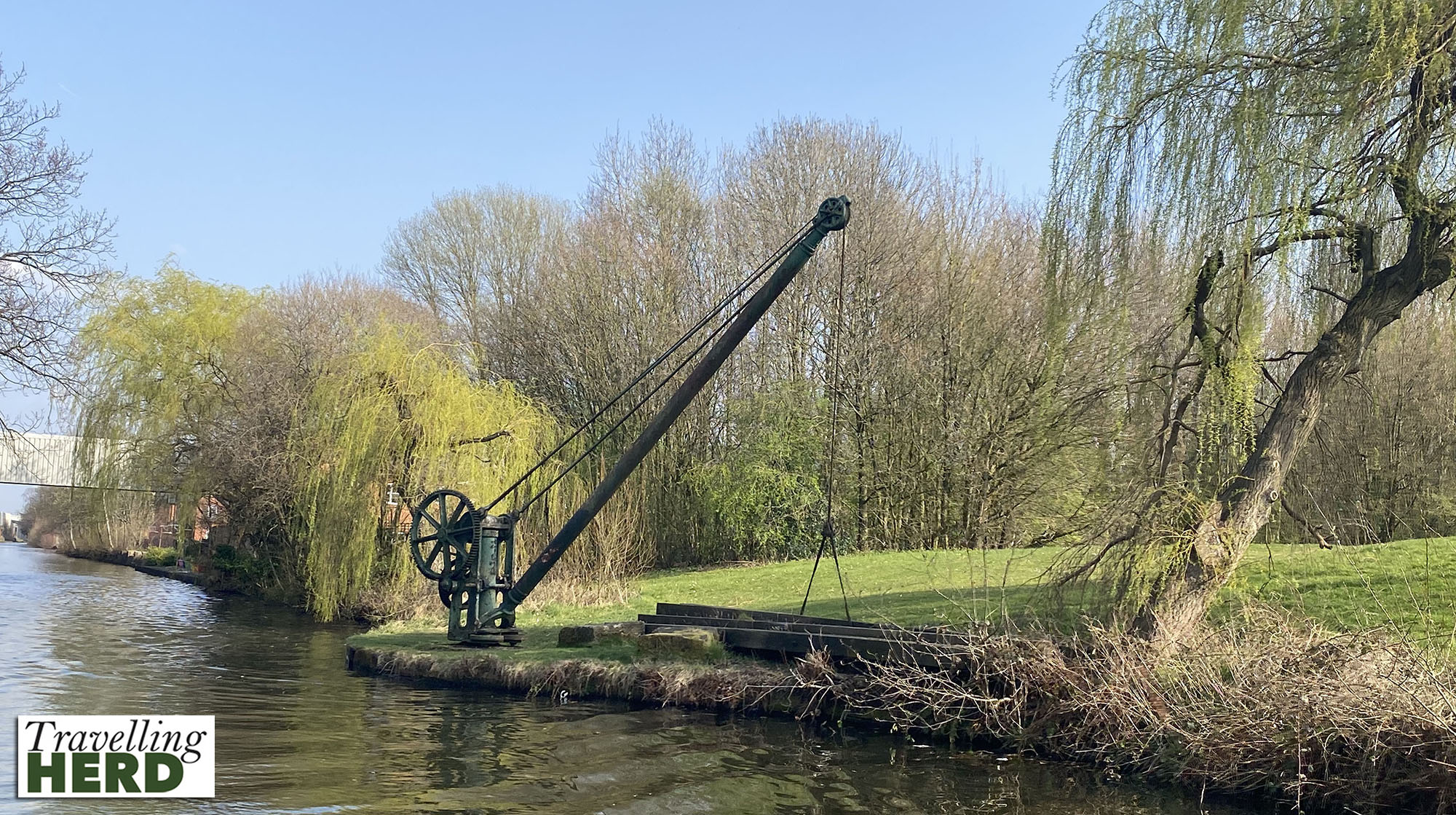 We found a good spot in Lymm, where imperceptibly spring is starting to appear: the bulbs are giving way to trees in blossom and flowering magnolia and forsythia.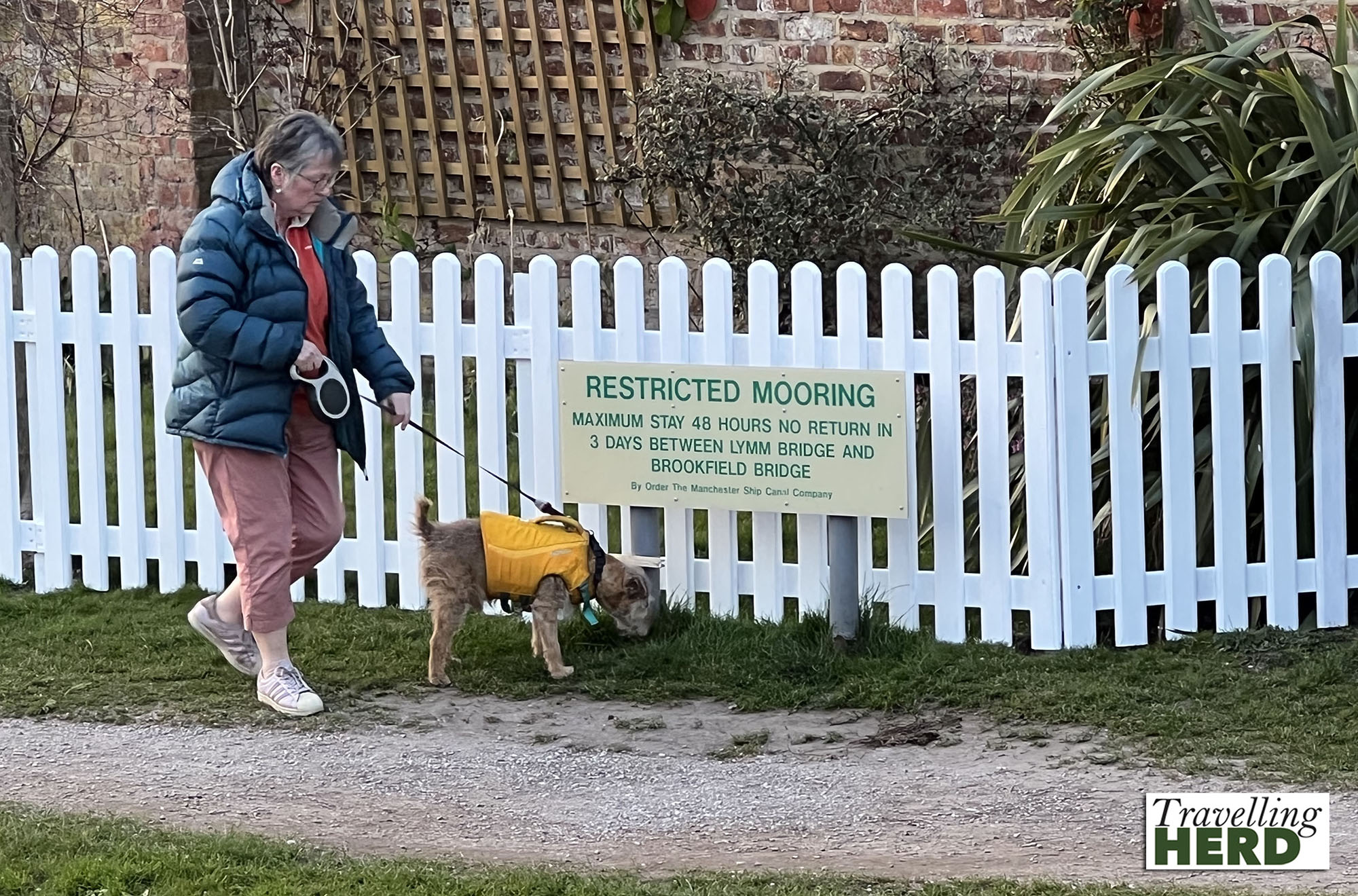 Many people had told us that Lymm was a good place to stop and it was undoubtedly picturesque.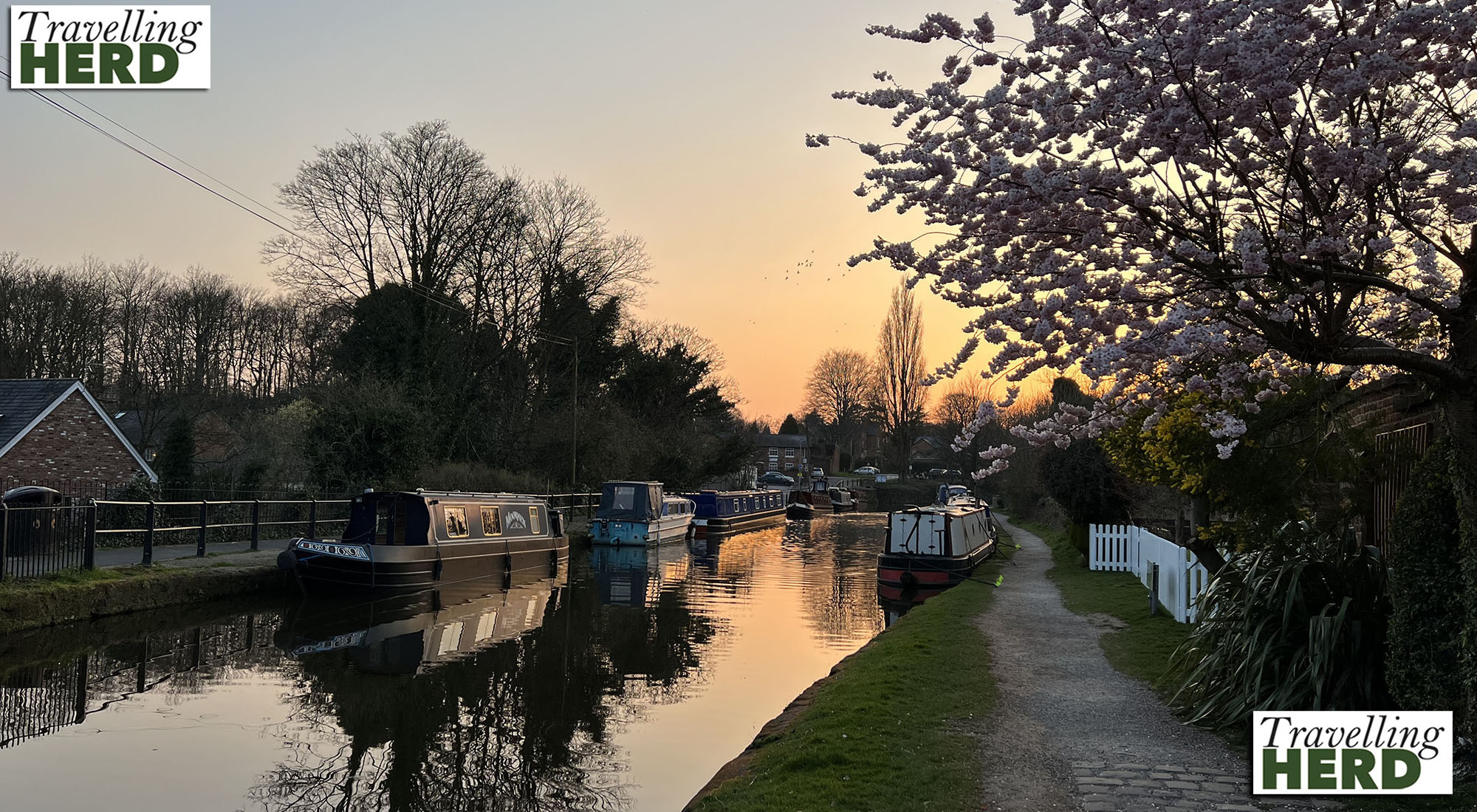 In the centre stand Lymm Cross and stocks. The cross dates from the early to mid 17th century and was restored in 1897.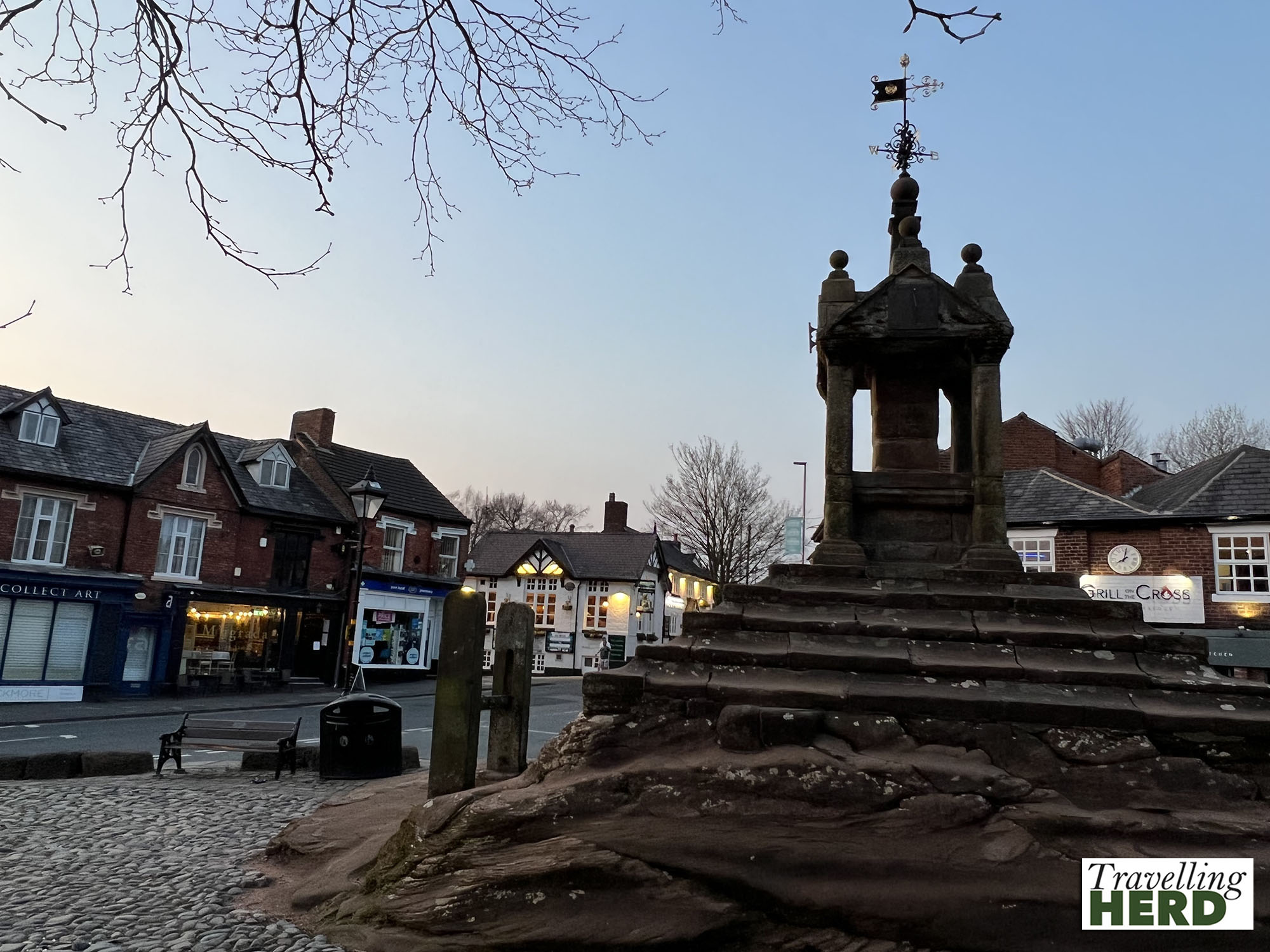 23/03/2022 – Miles: 13.56 – Locks: 0 – 4h45m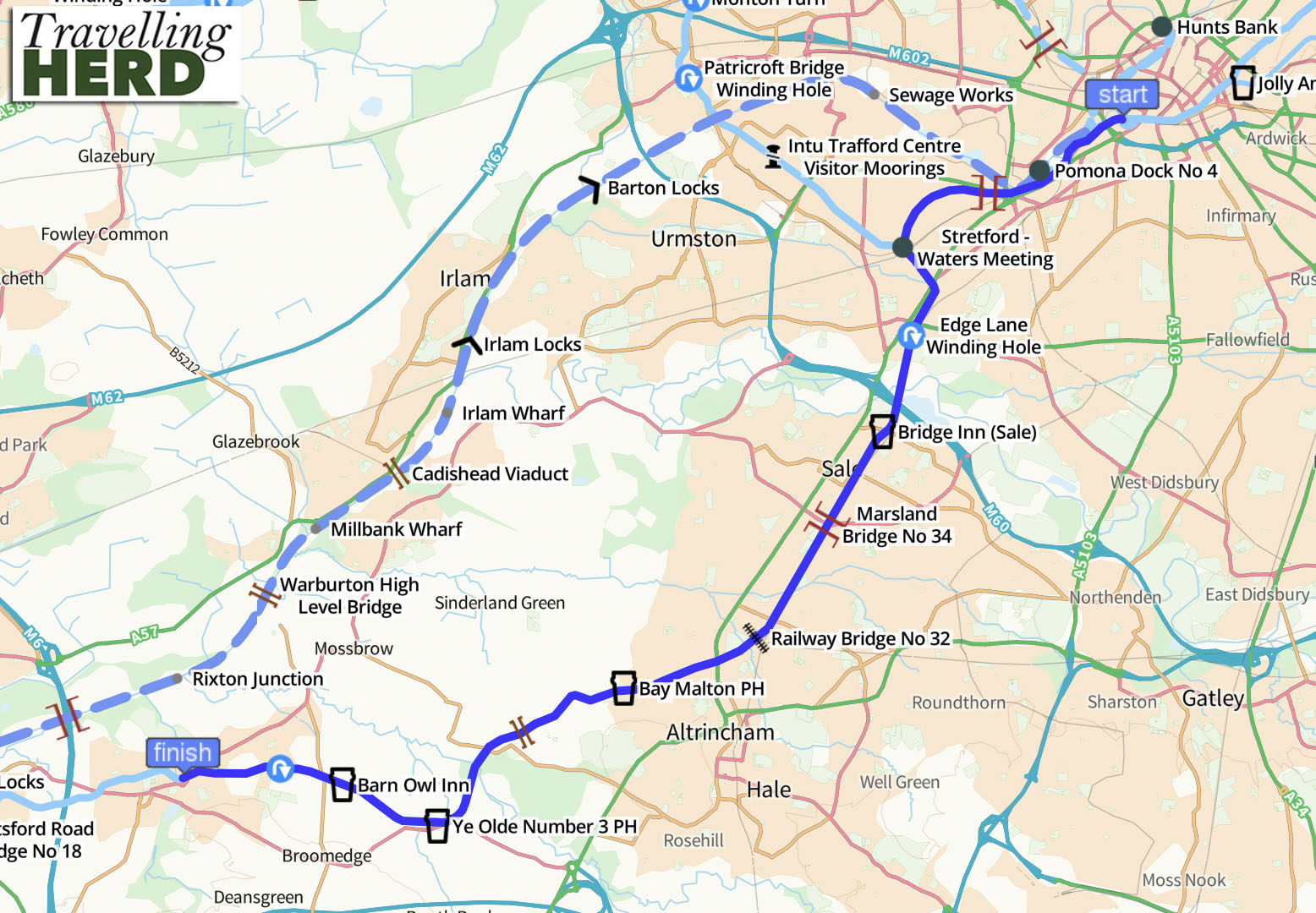 Route Map:
Days: 36 – Miles: 251.91 – Locks: 332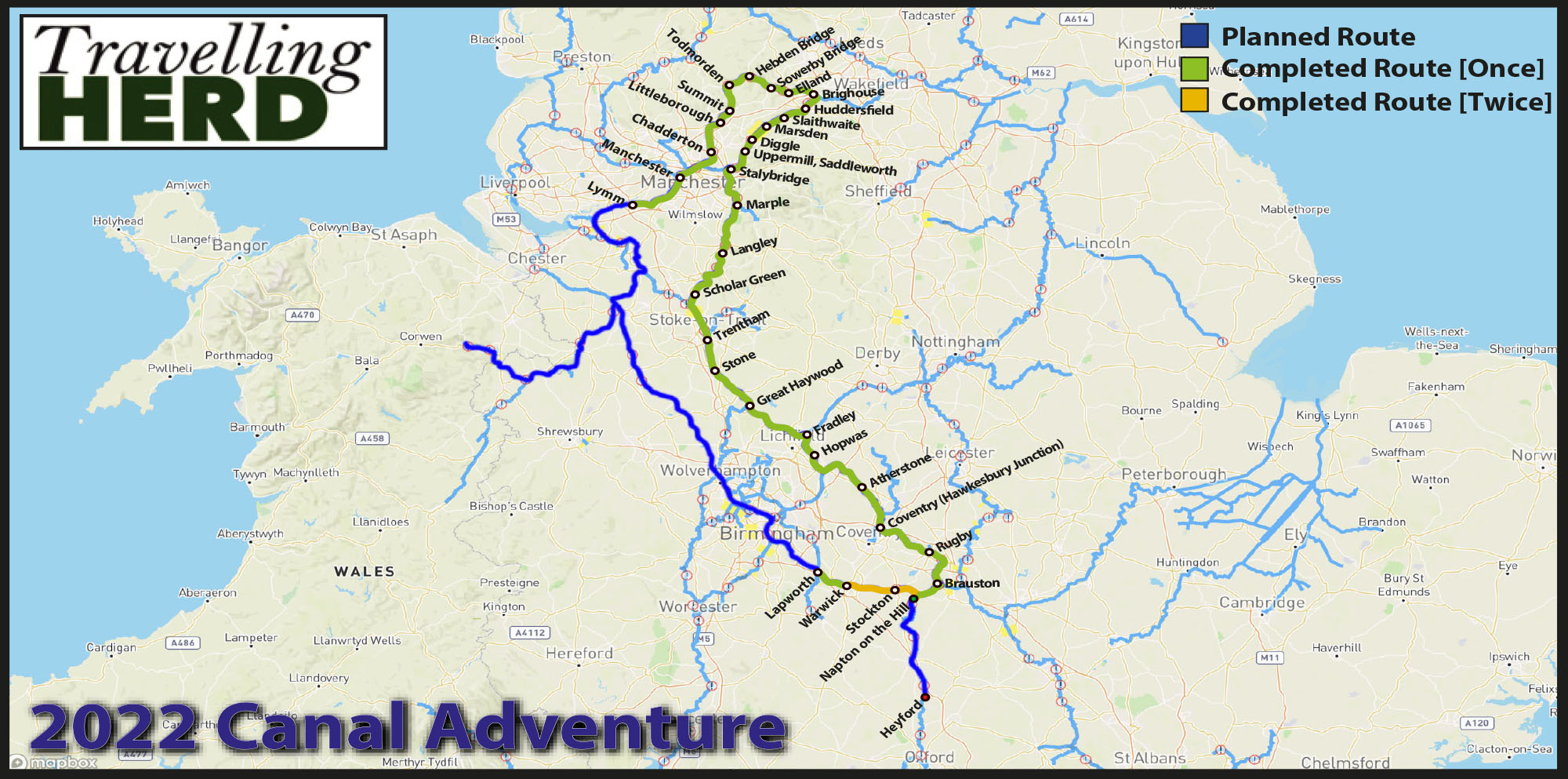 Video of the day:
Selfie of the day: