Monday 25th March 2019
Today was an early start, our train was timetabled to leave Jodhpur at 05:30, so we had arranged a taxi from the hotel at 04:45. Getting up at 04:00 it was dark, and the first job was to check the PNR number of our ticket, so we could find out our carriage and cabin numbers. Unfortunately our PNR gave us an error: not an auspicious start.
When we arrived at the station we checked with the 'Reservation Counter' and we were told we were in HA-2, C and C. So a first class AC1 carriage and both in cabin C. The train arrived into the station on time at 05:00, not bad when you consider it had travelled over 400 miles from Delhi overnight. We found the HA-1 carriage, but we were told we were at the wrong end of the train because it was splitting at Jodhpur and the other end was the one going on to Jaisalmer. We duly walked down to the far end of the train only to find there was no HA-2 carriage.
Robert had a lengthy discussion with the guard and it transpired that there was in fact no first class carriage on this part of the train. The guard had pages and pages of computer printout which details the names, PNR, sex, source, destination, carriage numbers and berth/seat numbers of every passenger – and we were not on it anywhere. We had a ticket and the guard confirmed we were on the Indian Railways computer system, but had no carriage allocated for us to sit in.
With the engine hooting to signal its imminent departure the guard told us to get in to carriage A1, second class, and told us beds 23 and 25 should be free. True to his word they were unoccupied.
Second class sleeper carriages do not have separate lockable cabins like first class, but are a more communal area like a dormitory of bunk beds with the odd curtain to form a division. We were in amongst a troop of Indian Army soldiers and Matilda once again found herself yearning for the Maharajah's Express.
Later on in our journey the guard came to see us and filled out the necessary form – there seems to be so much paperwork in India and we have been told that this is a present left by the British. While filling out the 'excess fare ticket' form Robert was amused when he spotted the name on the guard's ID badge – 'Marshall Stalin' (we wondered if he had stopped using his first name – Field). Anyway Marshall told us to hand the form in at a station and we should be able to get a refund.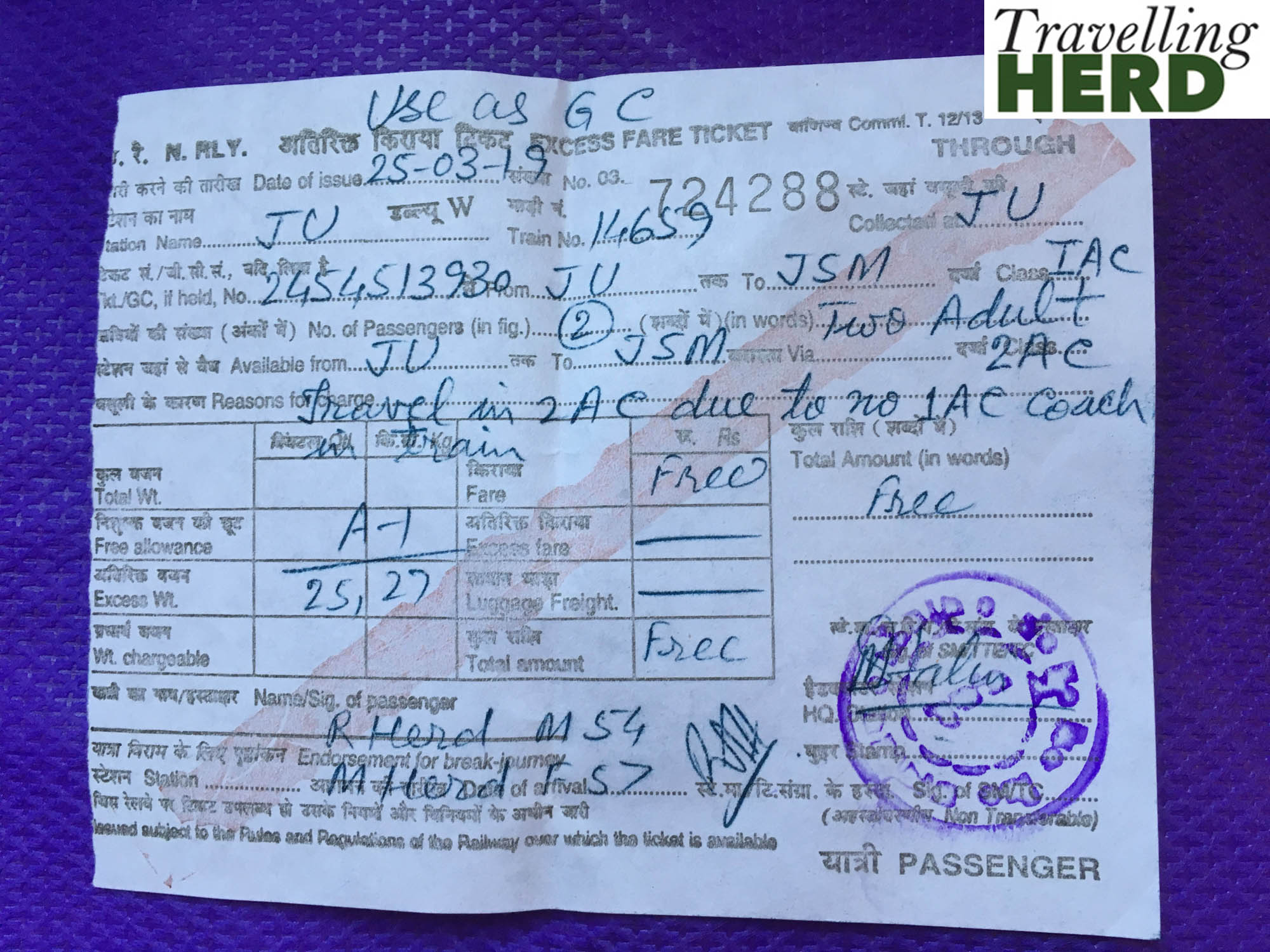 Arriving in Jaisalmer, the town seemed pleasantly quiet with wide streets and relatively low levels of hooting horns. We took a tuk-tuk to our hotel – The Gulaal, named after the brightly coloured powder used in Hindu festivals such as Holi.
We wondered just how remote the hotel was going to be when the driver turned down a road which became a dirt track. However, The Gulaal is truly lovely – a modern haveli style building, with pool and spa, completed seven years ago. The central internal courtyard can be open to the sky or closed in poor weather and the rooftop restaurant has views across to Jaisalmer Fort. As the owner, Virendra Singh Bhati, who we have been told is also the architect of the hotel, explained it is difficult to get good toilets in an old building.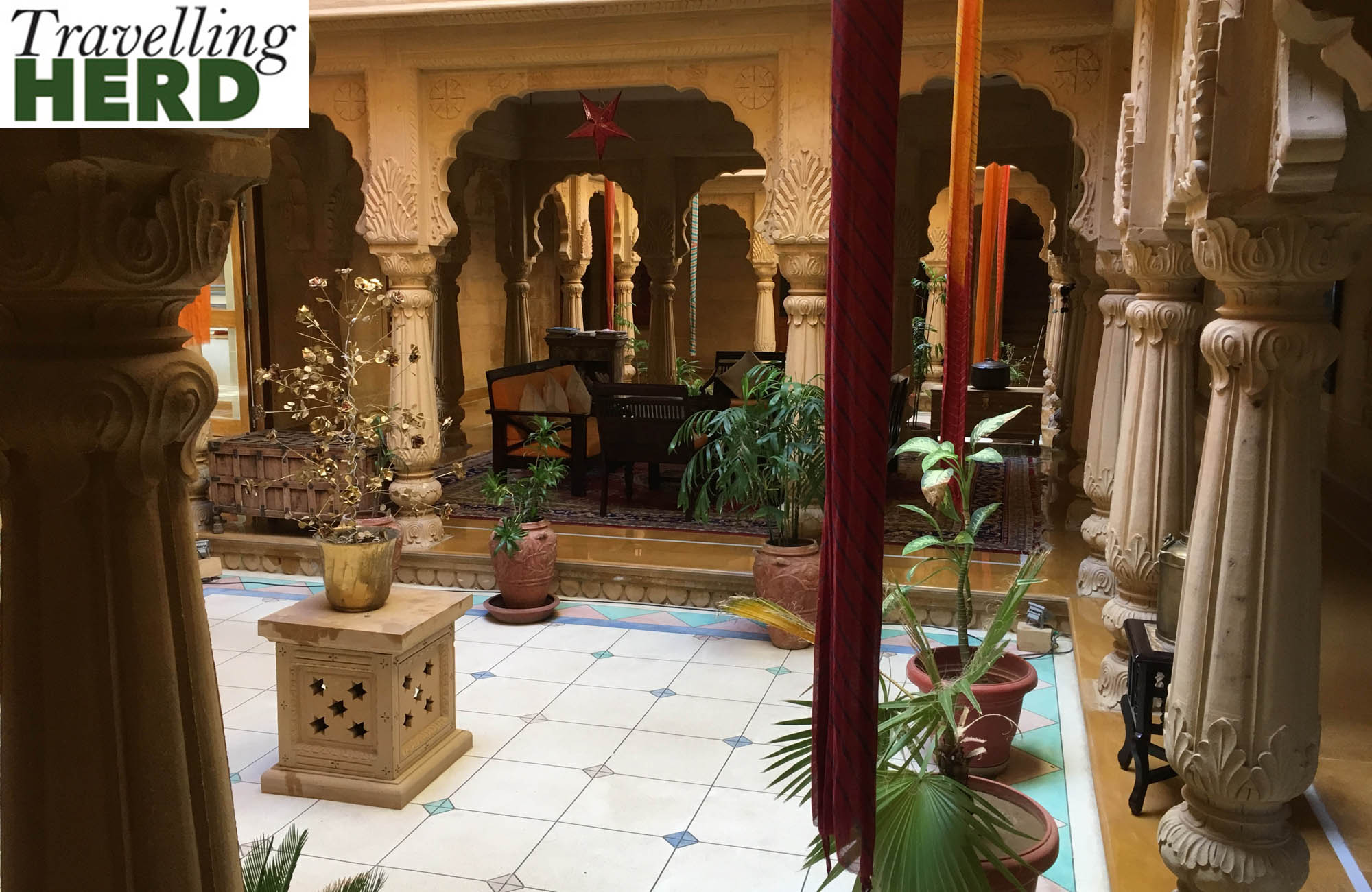 The atmosphere is very calm and welcoming.
Although Robert is accustomed to getting comments about his Hawaiian shirts, this time the owner complimented Robert on his "African shoes". He is very proud of them and is convinced that they are going to be stolen whenever he takes them off to enter a temple. Much to Matilda's amusement, when Robert asked, "What about the shirt?", Virendra replied that these are comedy items, he sees these all time in Indian Bollywood films and everyone wears them in Goa.
Asking about a car for the following day, we were helpfully told that we would not need to hire one to see the sights as these were clustered in a relatively small area and we could easily walk round them.
As it was Matilda's turn to feel some digestive discomfort, we decided we would have plenty of time to sightsee the following day and spent the rest of the day relaxing at the hotel.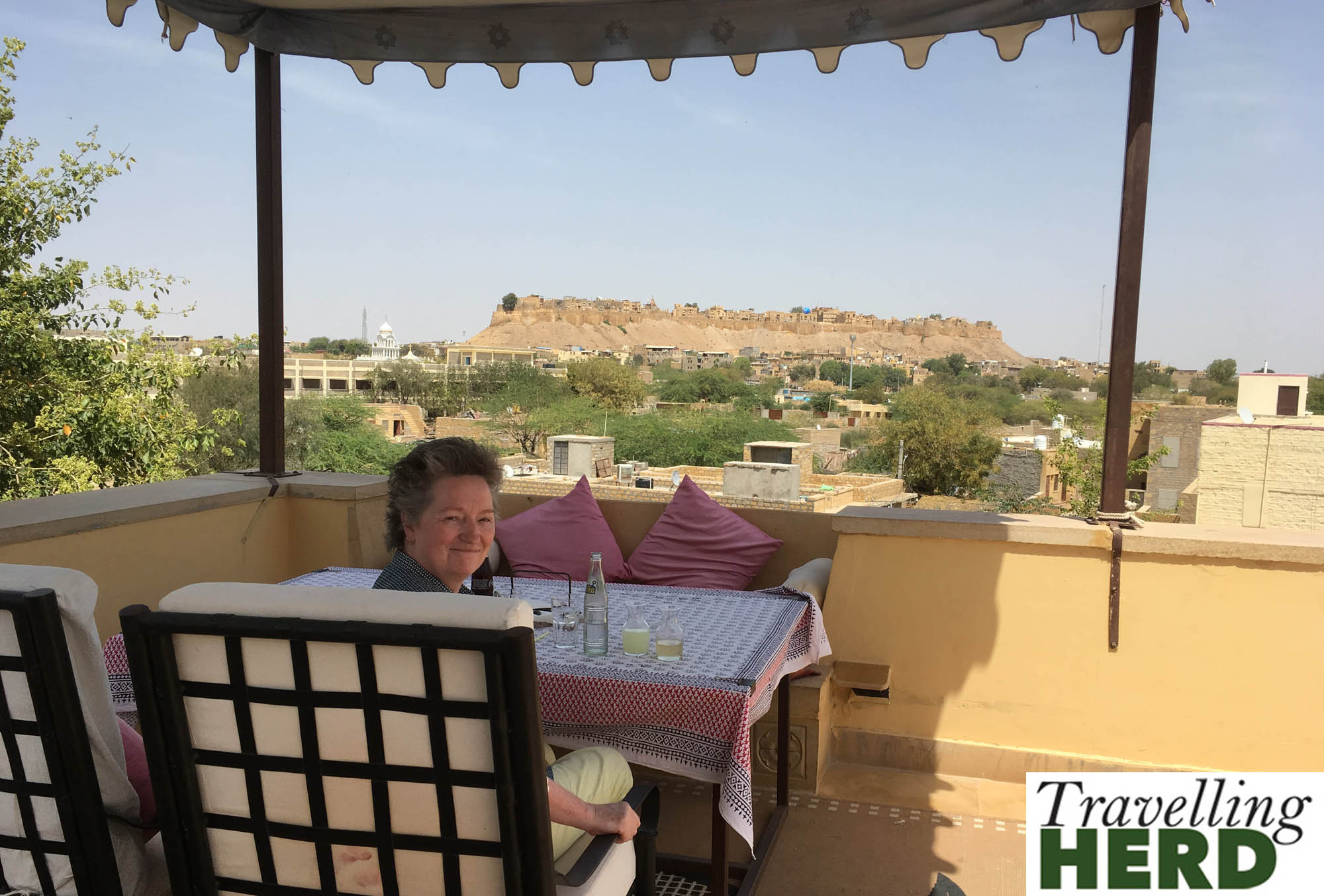 Current Route Map: