Tuesday 26th March 2019
We had our bespoke breakfast [no pre-prepared buffet here as everything is cooked to order] ready to go into the town to look round the sights. Staff were very helpful in stopping us from over-ordering food in the evening and again at breakfast. We both asked for hash brown potatoes, expecting a portion, but we were wisely advised to share what turned out to be a single hash brown the size of a desert plate. The combination of the view and the food made this one of the best breakfasts we have had.
Jaisalmer is known as the Golden City because of the colour of the stone and indeed it has the lovely, warm, golden tones of a Cotswold village. Partly because it is built out of sandstone and partly because of the rounded crenellated battlements, Jaisalmer Fort does look like a child's sandcastle, made by up-ending those shaped buckets you can find at all British seaside towns, whether they have sandy beaches or not.
Jaisalmer Fort is described as 'India's only living fort' as, rather than a monument, it is a walled city where an estimated 4,000 people live and work. We took a tuk-tuk [organised by the hotel for an agreed fee] to the entrance and first went in search of the pharmacy to top up our supplies of Imodium.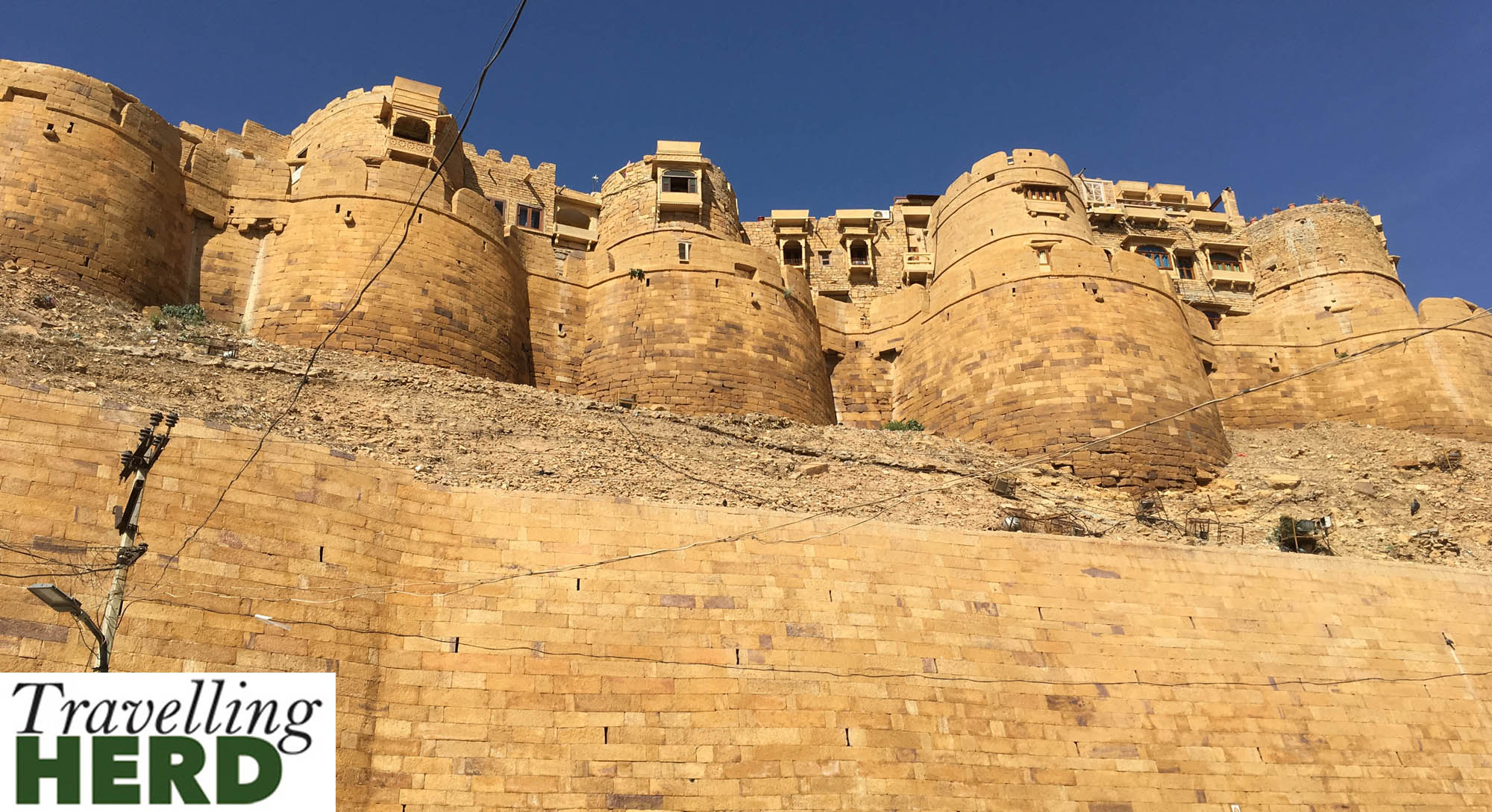 We then walked up through the gate. There is no charge to enter but you do pay to go into the Jain temples and the Palace. There are many restaurants as well as stalls and shops selling jewellery, textiles and clothes but the sales pitch is more low-key than in some other places we have visited and the walk was consequently more relaxed.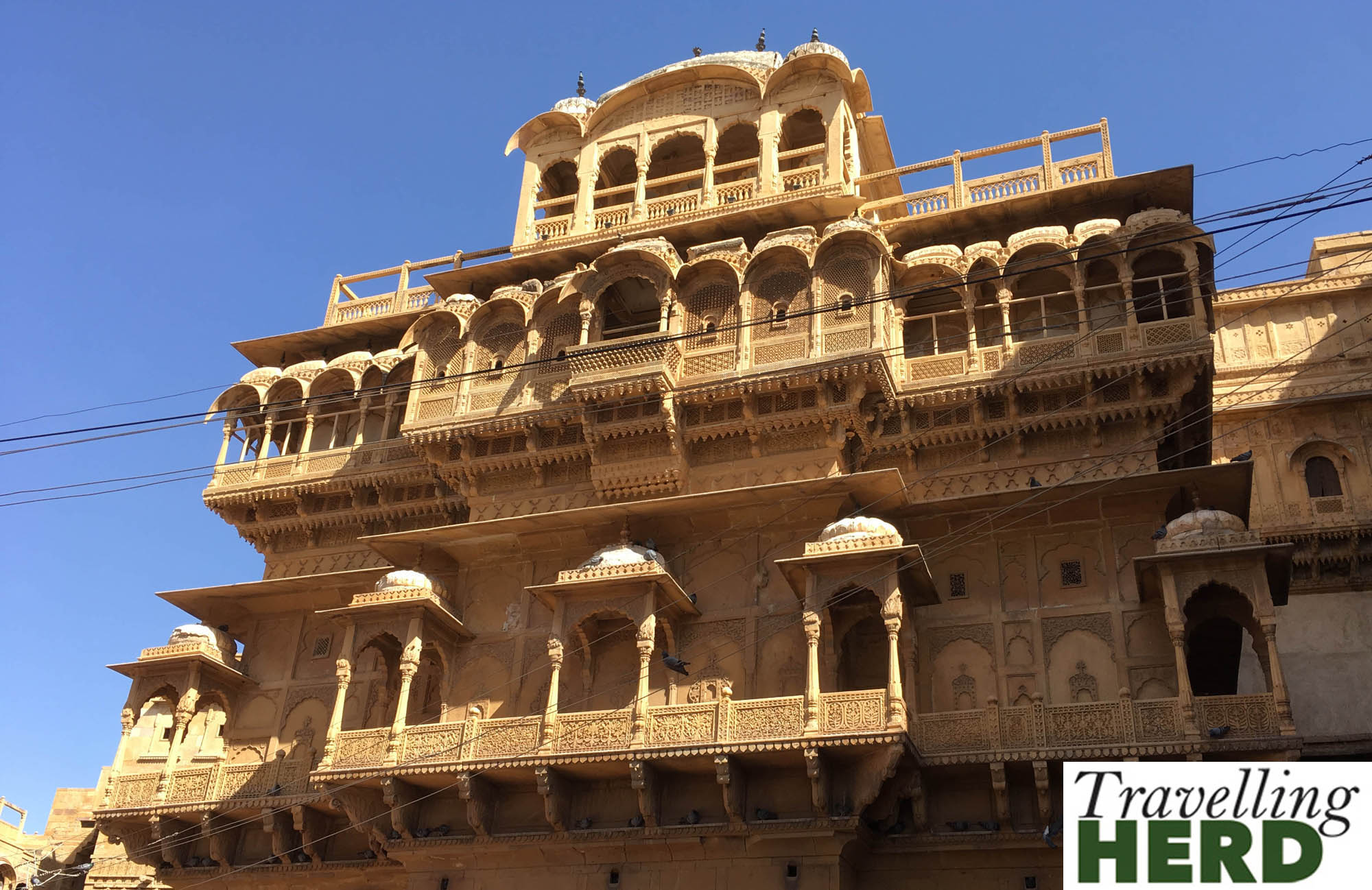 The fort was built by Maharawal Jaisal on the 262 feet high Trikuta Hill, in the sands of the Thar Desert, in 1156 and was subsequently added to by his successors. The fort was built for arid conditions without drainage or a water supply and the introduction of piped/mains water and a rising water table now pose a threat to its fabric so Indian and international agencies are working to preserve this unique fort and the buildings within it.
The Jain temples inside are highly decorated with intricate carvings and we were joined on our walk round one of them by a local cat. One of the temples did not allow foreign tourists to enter before 11:00 and although we intended to return, in the end our unstructured stroll did not take us back past the entrance.

The Royal Complex within the fort includes several palaces with balconies . . .
. . . and views out towards the desert.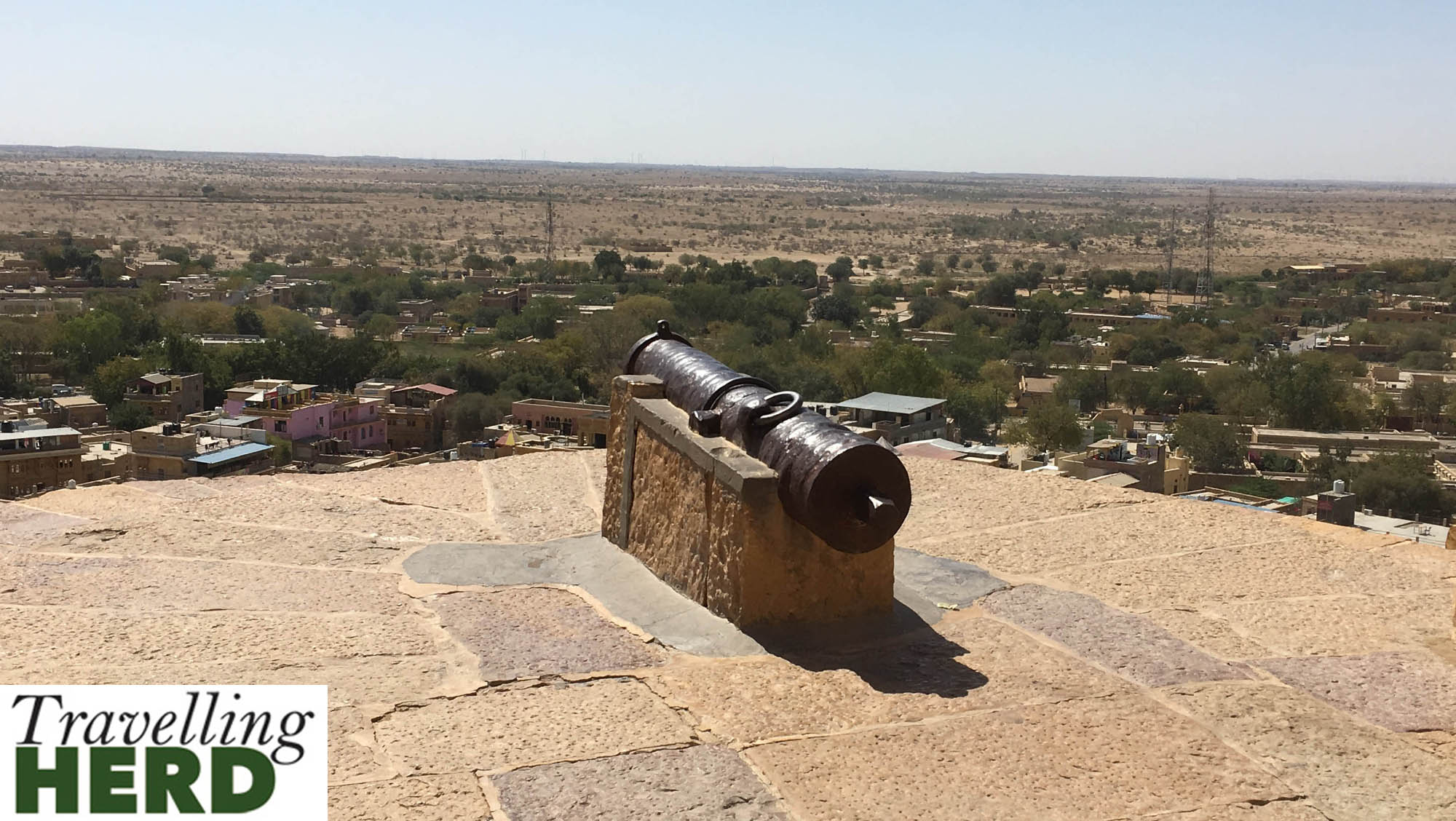 Whether it is a product of our increasing familiarity with India or whether it was down to the more relaxed, as we perceived it, atmosphere we were happy to walk through the streets to find the renowned havelis which are town houses with intricate carving and internal courtyards, usually built by wealthy traders.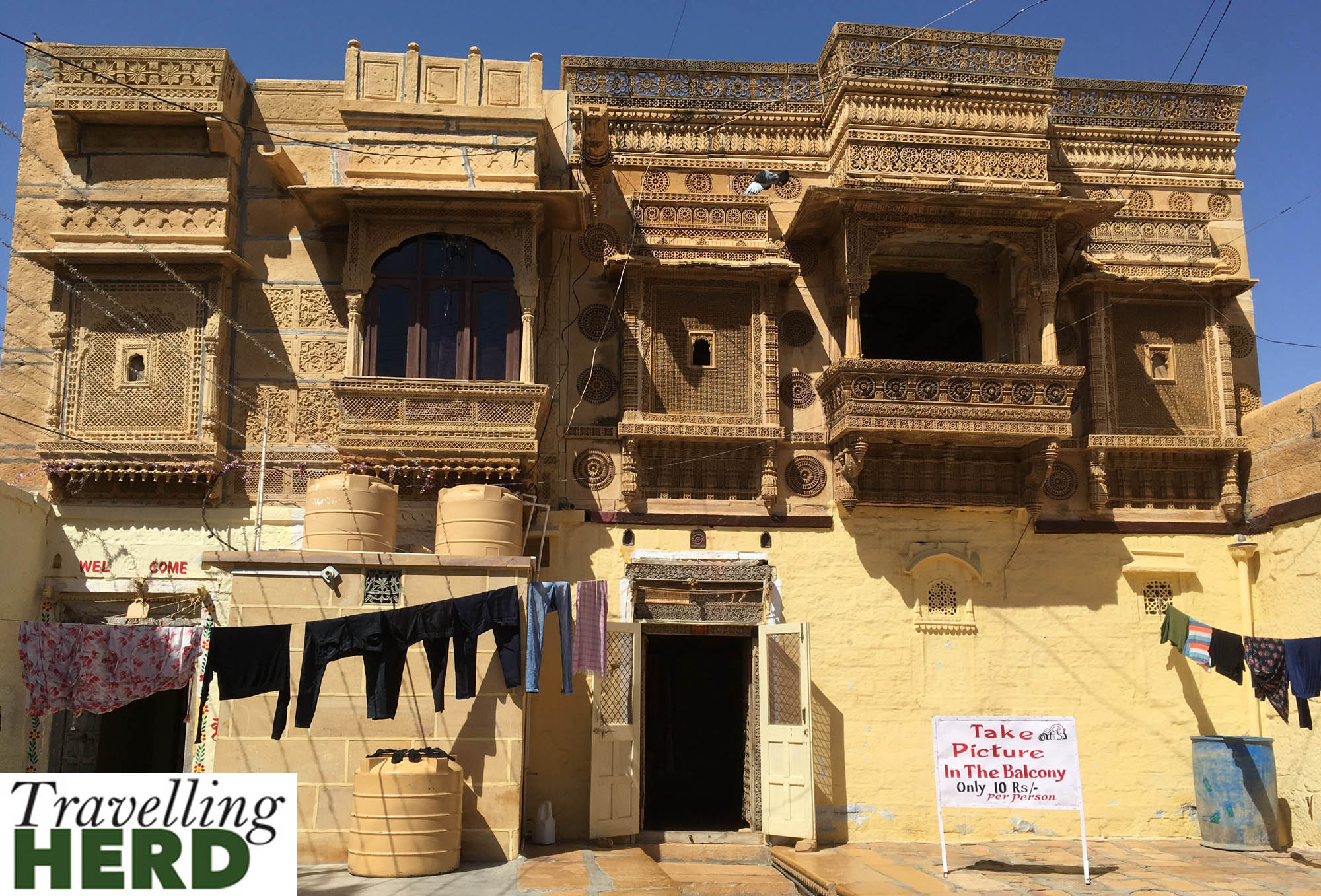 It is strange however to walk through an urban area and have to avoid cow pats or make a circumspect detour around the rear end of some cattle as you never know what may be about to happen.

The guide books recommended three havelis in particular: Nathmalji's Haveli [below],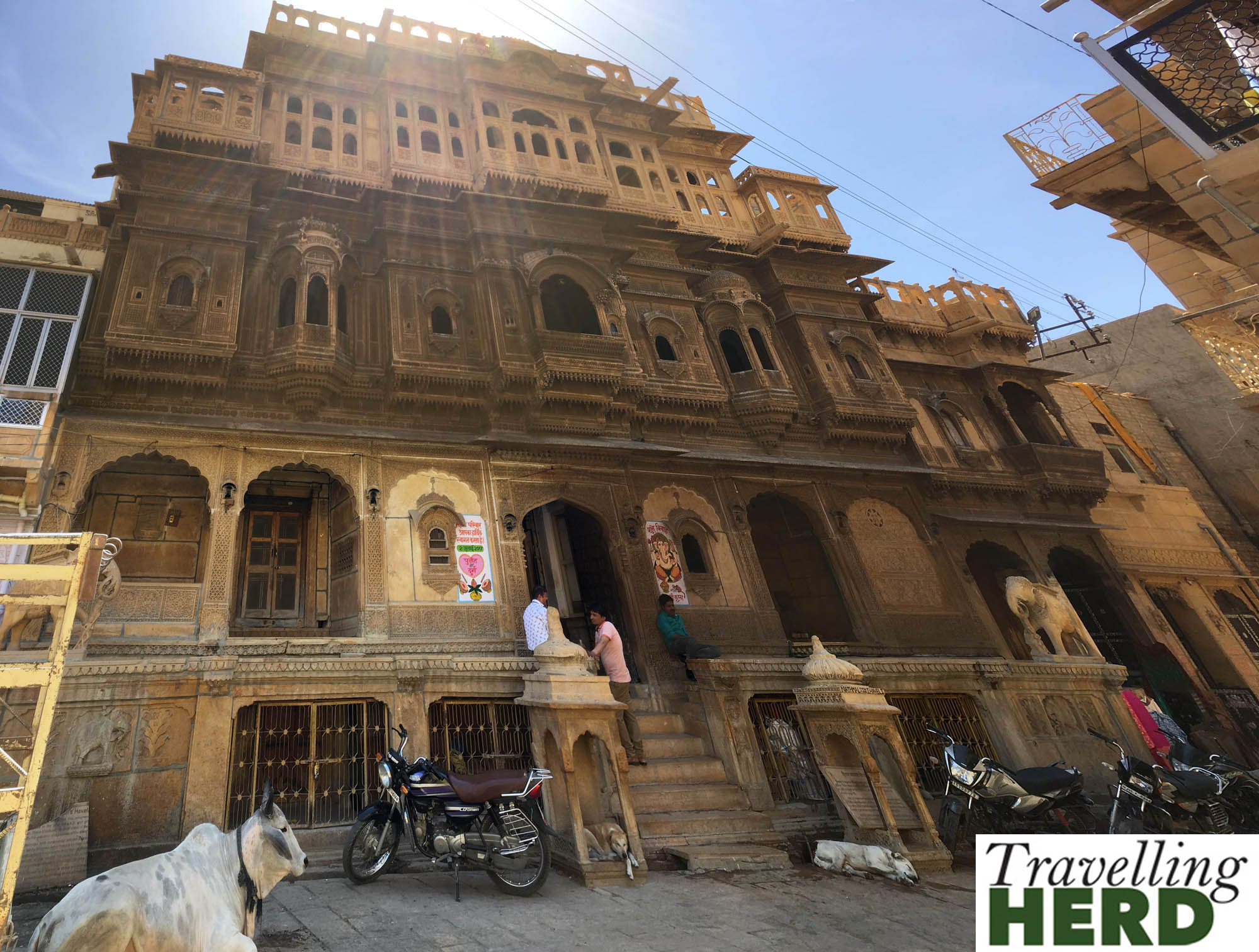 Robert particularly like the contrast between the building, the cow and the Hero bike.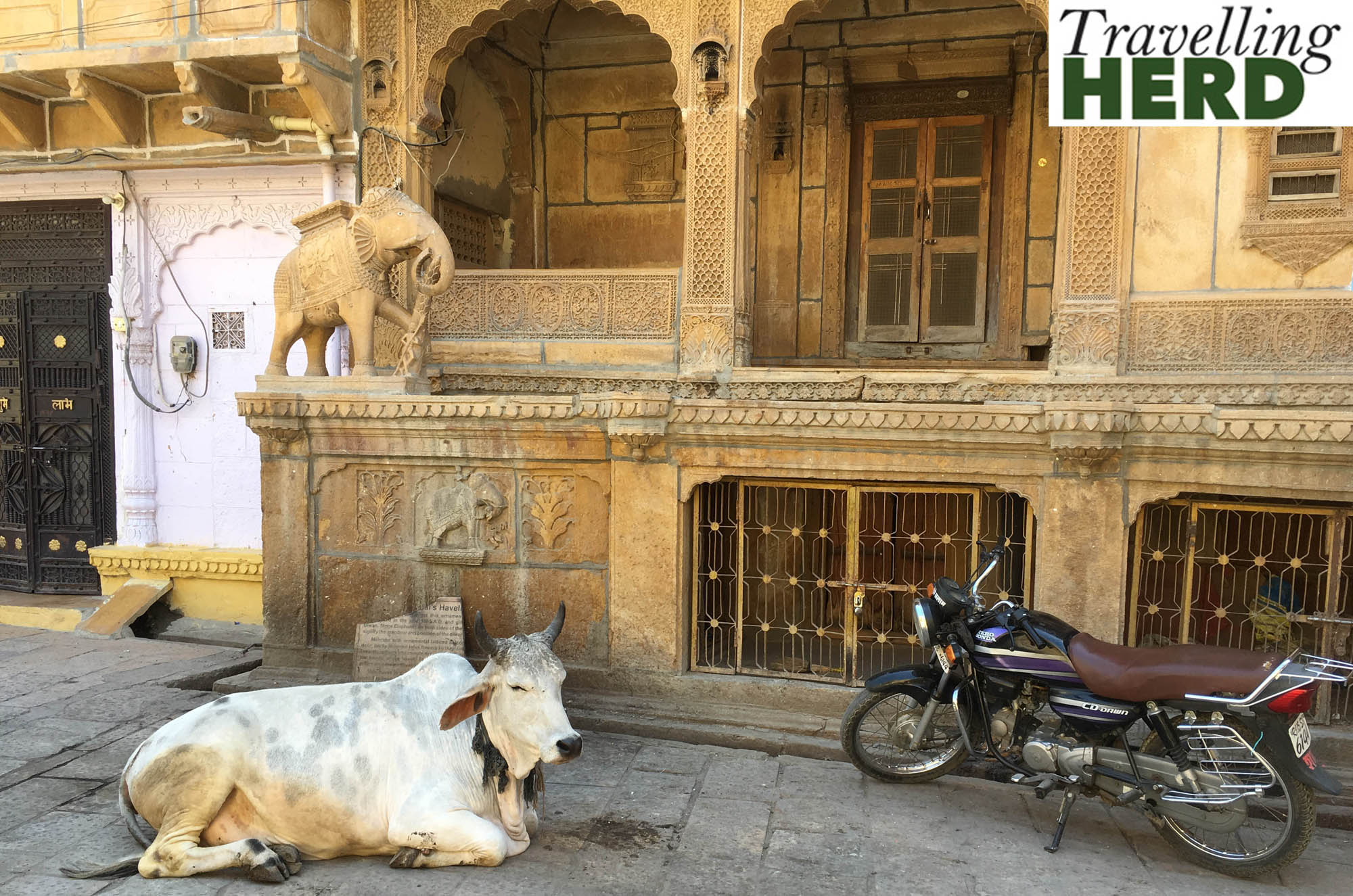 Patwon Ki Haveli [the photo did not come out] and Salim Singh's Haveli [below].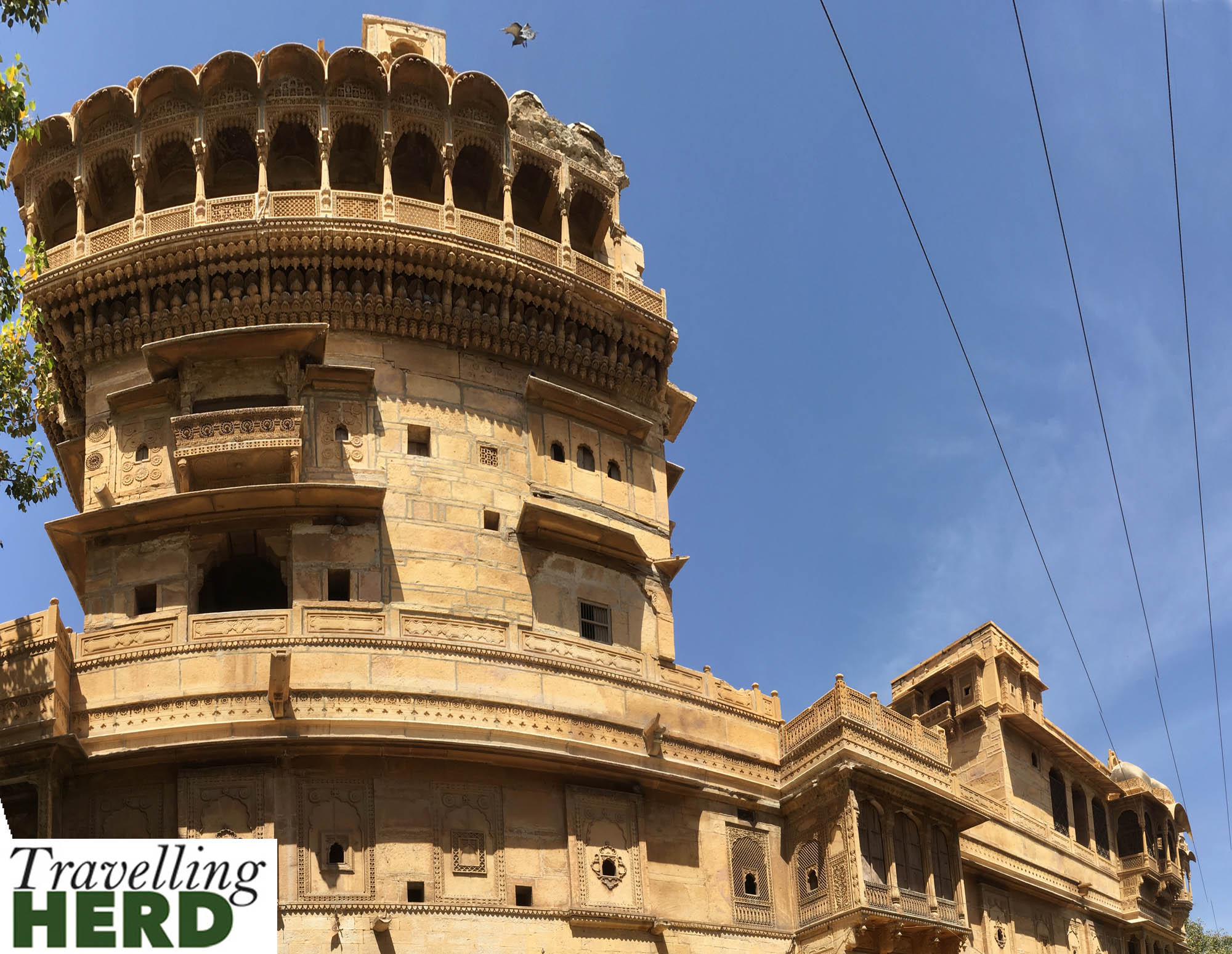 For us however, the more enchanting moments came when we looked up a side street to see many houses on either side with equally intricate carvings and beautiful balconies. They are continuing to build in Jaisalmer and some of what was once carved by hand is now partly done by machine.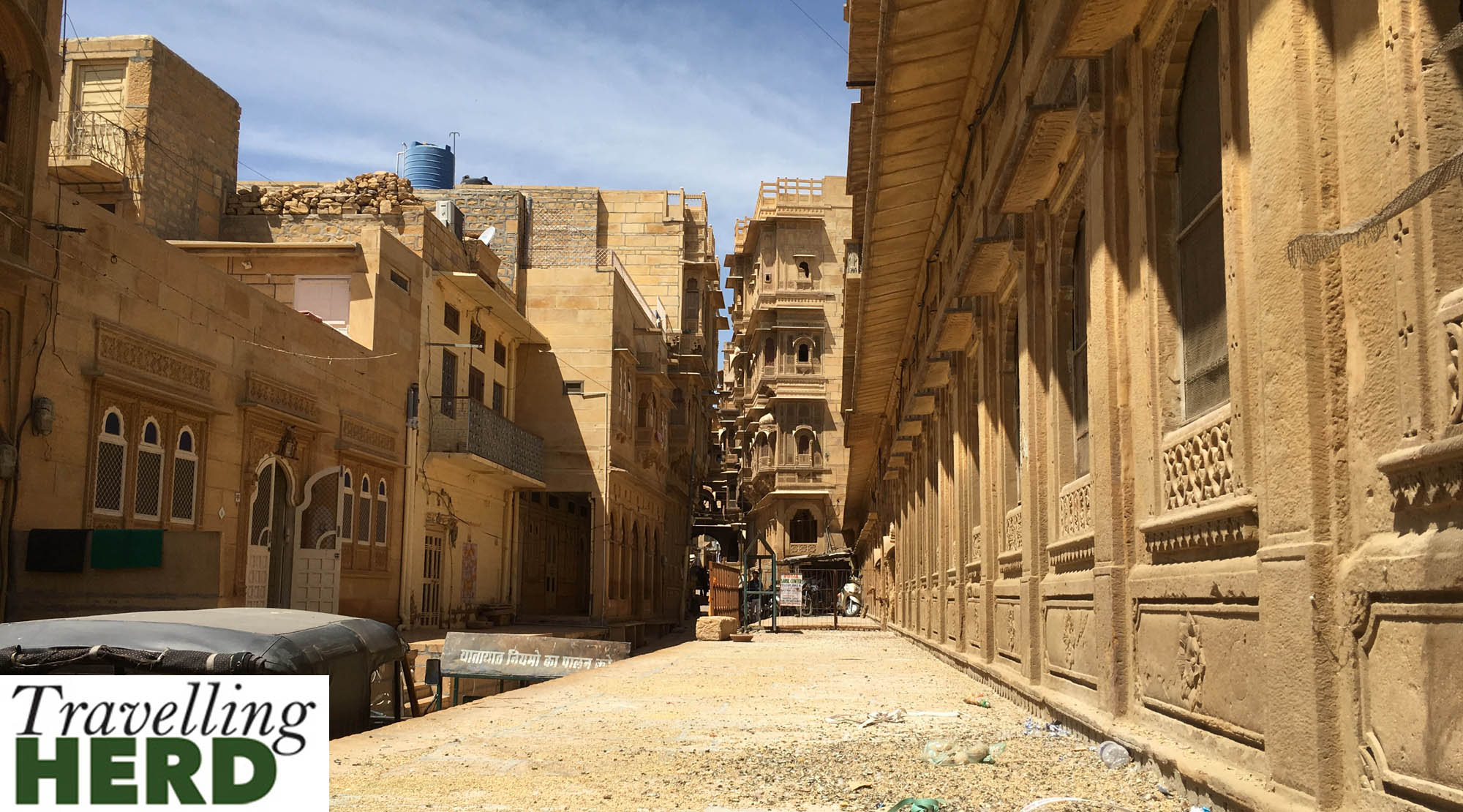 From the city outside the fort we walked to Gadisagar Lake.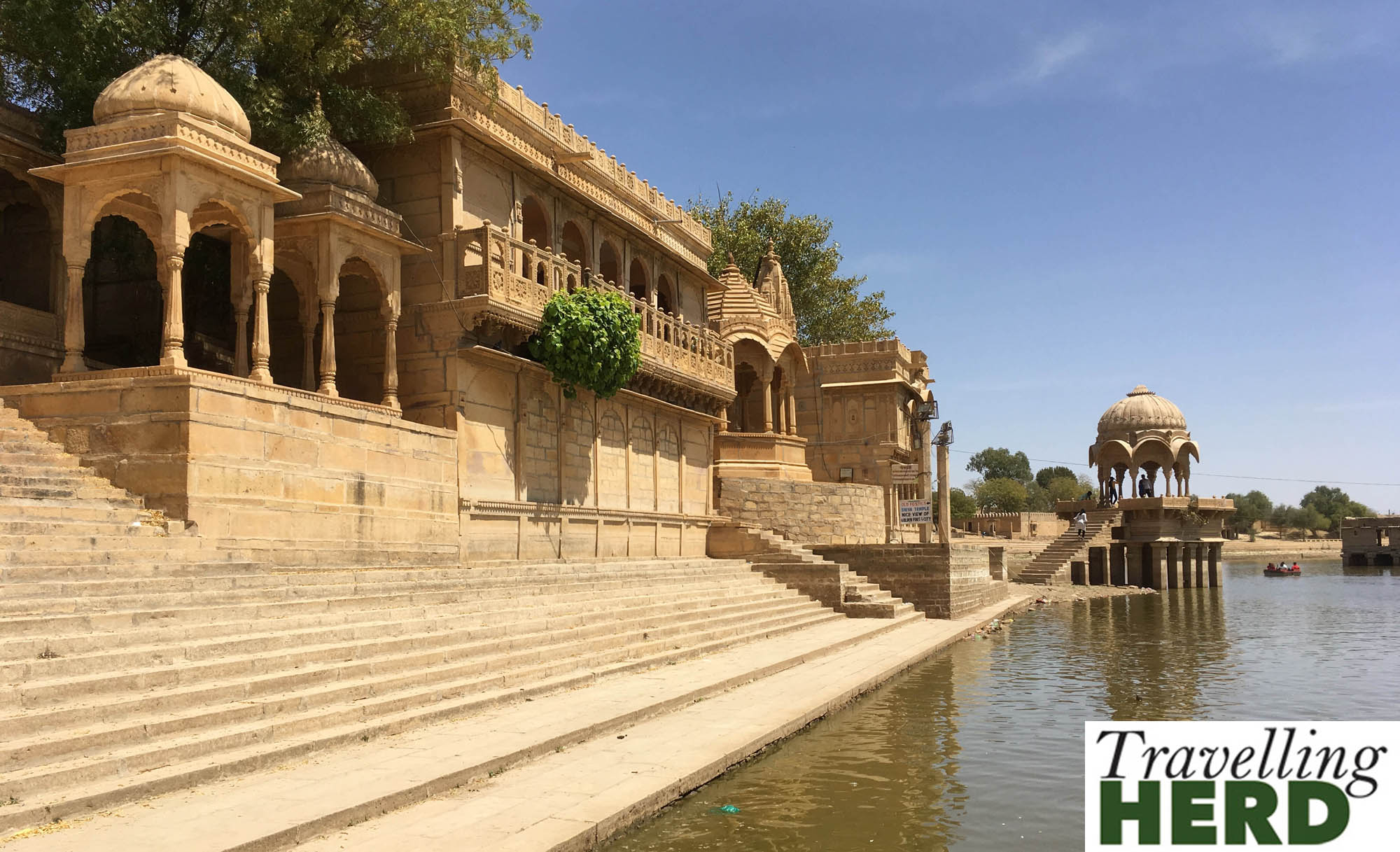 This is a man-made rainwater reservoir built in 1367, which is lined with ghats [steps down to the water] and temples and was once the only source of water for the city.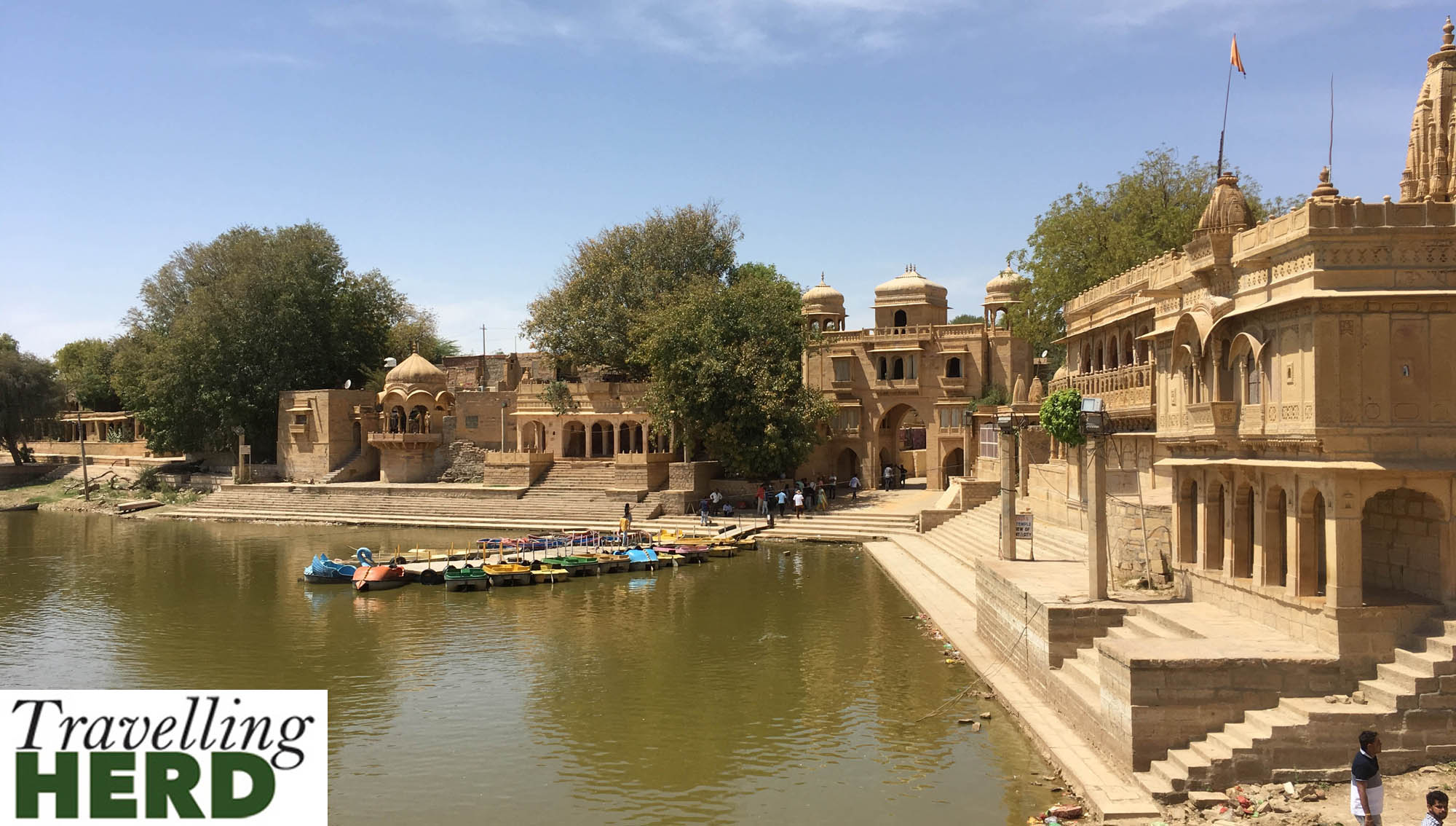 With temperatures around 35 degrees we agreed to return to the hotel for a cooling dip in the pool.
The people we met here were both gentle and friendly although sometimes their language seems loud and abrupt and it was easy to ignore them, thinking they are addressing someone else in their native tongue. Today we were frequently greeted and asked where we were from. Invariably, when we said London, the response was "lovely jubbly" and this will be one of our abiding memories of Jaisalmer: a truly lovely jubbly place.
Current Route Map: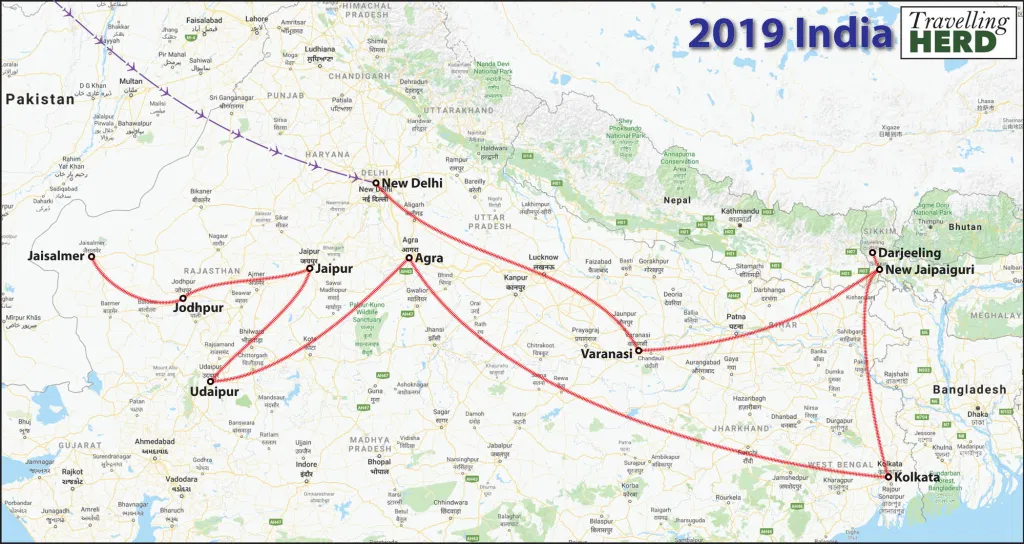 Distance travelled so far:
By Air to Delhi: 4,187miles
By 12 trains to Jaisalmer: 3,332miles
Selfie of the day: