Wednesday 27th March 2019
As mentioned previously our hotel, in Jaisalmer, looks old but is actually very new. There is a huge amount of building work going on in India, Jaisalmer included. What sets Jaisalmer apart is the wonderful and fantastic sculptured sandstone buildings created by the skilled local craftsmen.

Whilst trying to find the best spot in the hotel for WiFi, Robert started chatting to the owner and better WiFi speeds swiftly ensued. As the owner is also an architect, a discussion of hand drawn versus 3D computer drawn building designs followed. The owner's brother and business partner is starting to create all the new designs in Google 3D Sketch-up. Robert is familiar with this software, obviously, and was able to give them a few hints, and further discussion about 3D printing sandstone was unavoidable.
As it turns out heavy machinery is now used extensively to cut the sandstone into slabs of the specific required thickness. These are then either 'distressed' by hand or with a ball-bearing gun, or are intricately carved by chisel. This led to our next day's adventure. The hotel owner arranged a trip for us to see the skilled craftsmen at work at the stonemasons he uses for his building projects. A 5ft x 1ft x 1ft hand carved golden sandstone pillar takes five days to create and can be yours for just £250. Robert is now hatching plans for the garden and working on the shipping costs.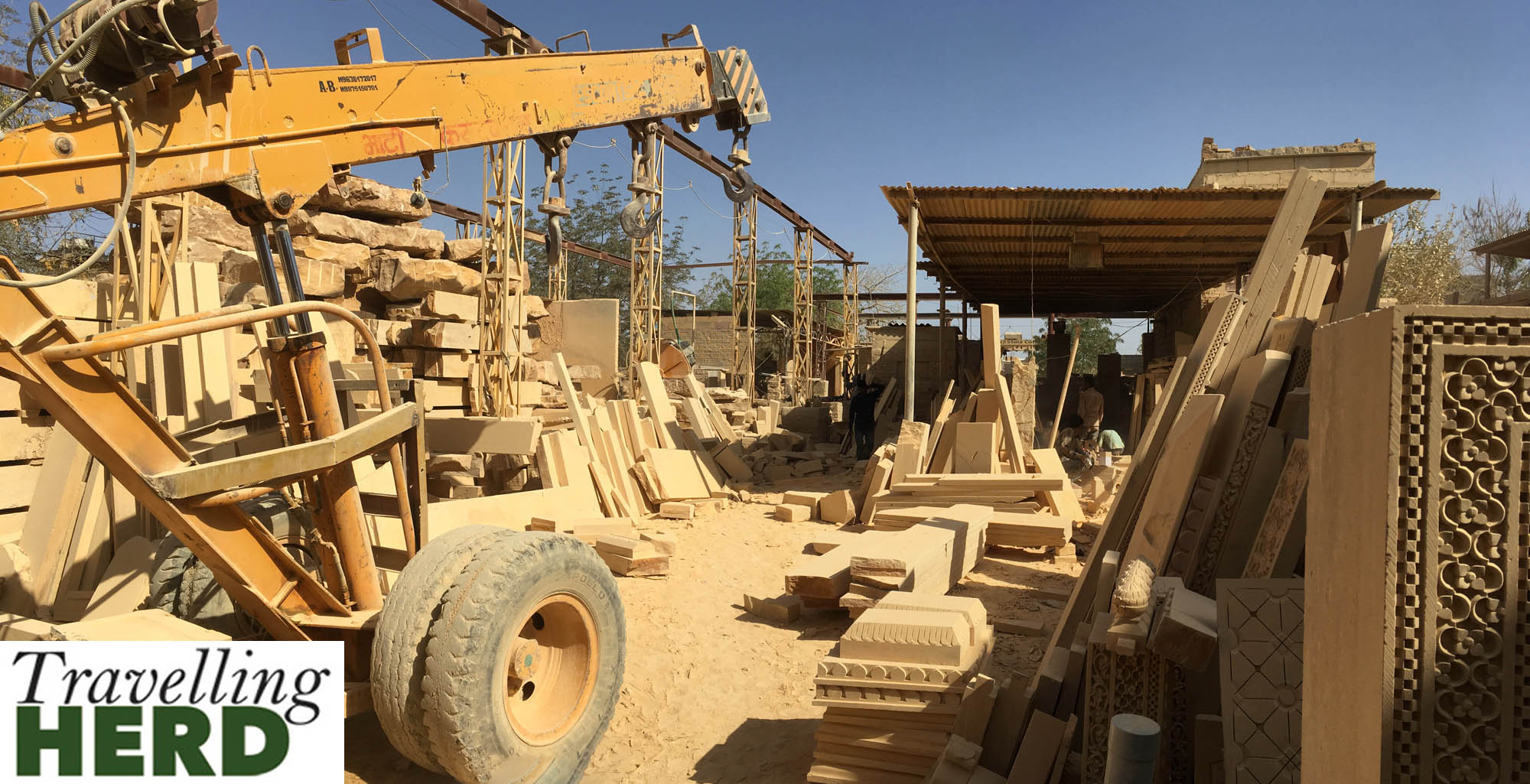 Matilda had been dreading the final overnight train journey, partly because it involved eighteen and a half hours on a train where the toilets can be less clean and sanitary than western tastes demand and partly because our agents had not managed to secure both our tickets on the same booking. Matilda's was also not a through ticket, but showed a break in the middle, so it was possible she would be evicted from her berth in the middle of the night. As it did not appear as though we were travelling together it was also unlikely that, as "unattached" members of the opposite sex, Indian Railways would put us in the same berth.
Arriving at the station to catch our train scheduled to leave at 16:45, Robert went in search of the booking office. By sheer weight of using his teacher voice, talking loudly and authoritatively he was able to access the computer control room, where they linked Matilda's two tickets together, but he was unable to get them to change us into the same cabin as the allocations had already been finalised and issued to the other passengers.
Initially, Matilda was sharing with a very intrepid French woman who was undertaking a world tour alone and Robert was placed in the adjacent apartment with an Indian family with a teenage son.
After Jodhpur Matilda was joined by three local males, one of whom snored loudly for most of the journey and although Robert came to ensure she was comfortable and offered to swap places she preferred to stick to the lower level as she knew he had been allocated one of the top bunks.
When the three gentlemen got off, Matilda was joined by an Indian lady, who also snored gently but at about 07:30 Robert found he had his compartment to himself and we regrouped.
Matilda was on the point of congratulating herself that the dreaded journey had passed without serious incident, when she felt it might be wise to go to the toilet before the end of the line, given that Indian trains can be delayed getting into stations.
The experience has compounded her dislike of Indian train toilets as, turning round in the cubicle, her glasses fell off [she had been thinking the arms needed tightening] and went straight down the toilet. Had this been an old fashioned style carriage, they might have been retrievable, but as it was a new bio toilet, they disappeared without trace. Hundreds of pounds, literally down the drain. She wanted to cry, but thus far has managed to refrain.
On arriving in Delhi, we took the metro, found our hotel and went straight out in search of cheap reading glasses.
Although the lifeguard was on duty at the pool side bar, the pool itself was actually closed and after a restorative cold beer [Matilda needed one] we went in search of The Beer Cafe, near Connaught Place which we found serves Hoegaarden on draft and this in some small way helped to compensate Matilda for the stress regarding her glasses. Happily there are also branches of The Beer Cafe in two of our next destinations – Amritsar and Chandigarh.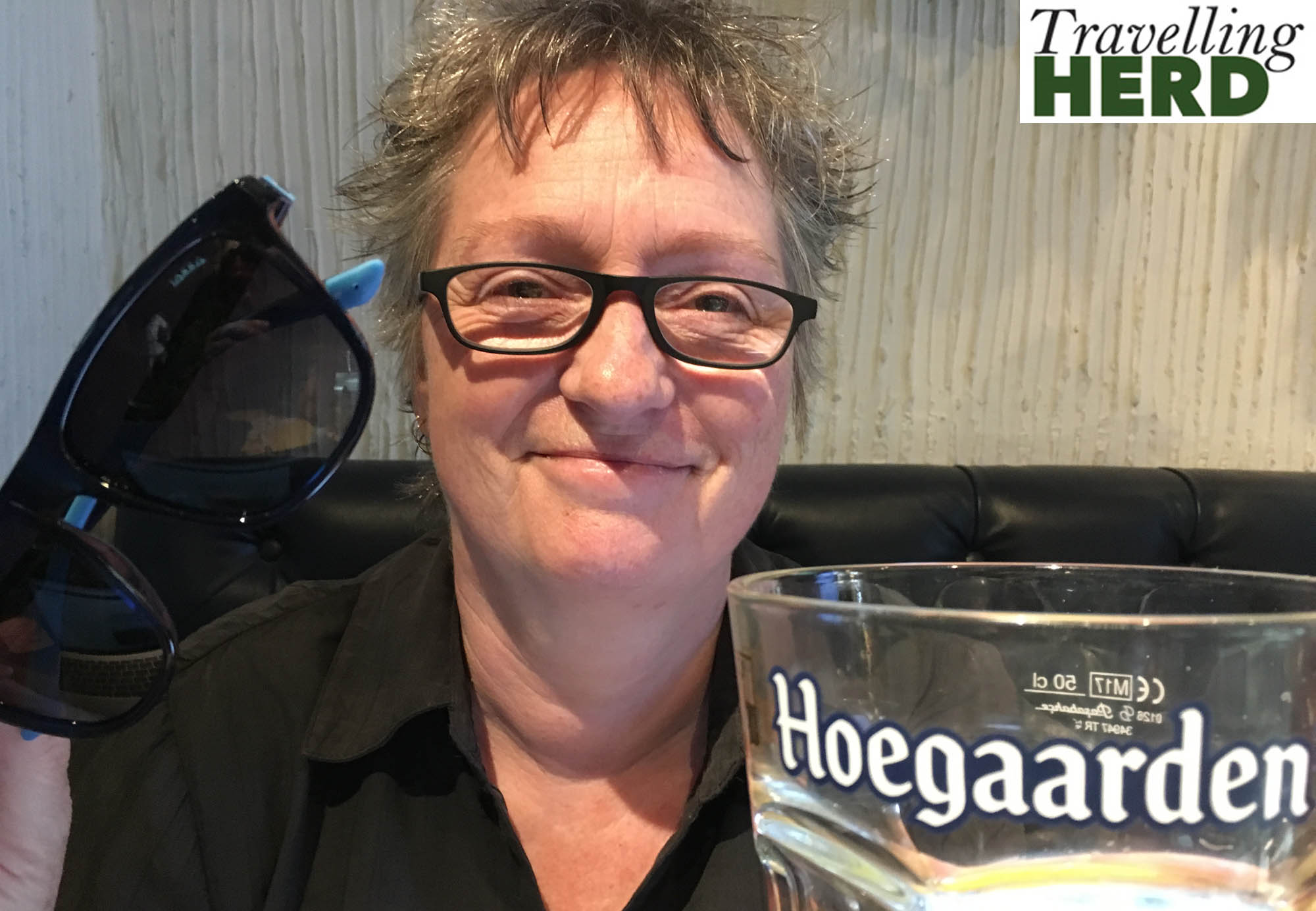 Current Route Map: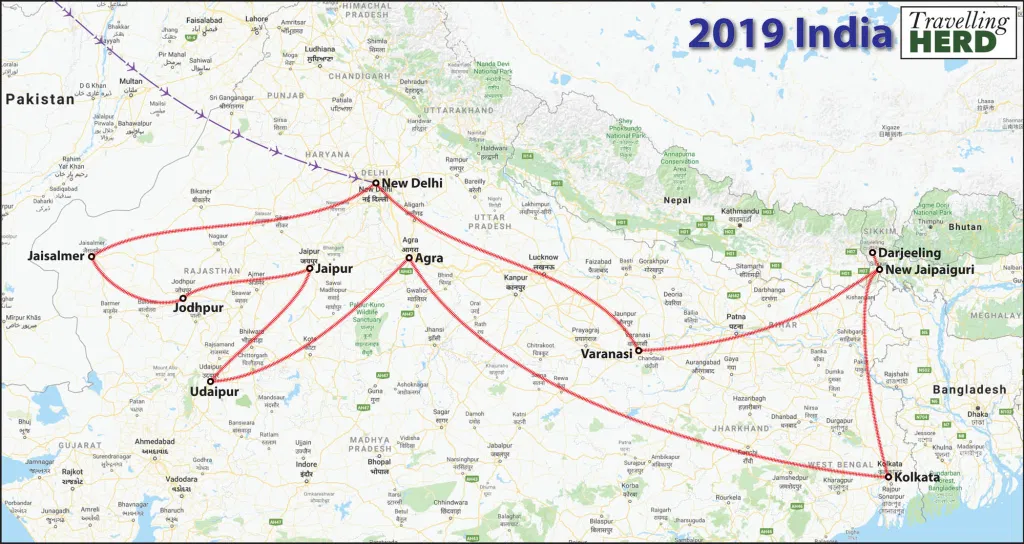 Distance travelled so far:
By Air to Delhi: 4,187miles
By 13 trains on round route from Delhi: 3,904miles
Selfie of the day: