Wednesday 20th March 2019
Checking our berth allocation for the sleeper, we were extremely relieved to see we had both been assigned to the same compartment, albeit in a four berth cabin, for this journey.
On boarding we found we were sharing with two Indian businessmen, both of whom had initially entered the adjacent compartment where some rather boisterous and giggly Chinese girls had already established themselves. Each, in turn, seemed relieved to find they would actually be sharing with us instead.
In an ironic, yet somehow predictable, turn of events Indian Railways' train number 19666 from Udaipur to Jaipur [the one train we would have appreciated being delayed as it would have allowed us to have a little more sleep] was running on time. Alarms were set for 05:20.
We were awakened around midnight by hammering on the door. One of the other occupants just shouted, "Ignore it", the other opened the door. There thus ensued 15 minutes of arguing amongst the various Indians about berth numbers. Eventually the 'hammerer' moved off to his second class air conditioned [2AC] bed having been defeated by those in first class [1AC].
We got ourselves up and ready to alight, on time at 5:45am. We had had to set an alarm to be sure we did not miss our stop anyway, but we might have been able to nod off again if the train had been delayed.
We secured transport to our hotel, arriving at about 06:30. The kindly overnight receptionist said we could have an early check in, but that he would not apply the usual surcharge. So, once again, showered, changed and in possession of our room we were able to have breakfast in the hotel to sustain us for a day's sightseeing.
Jaipur was founded in 1727 and is the capital of Rajasthan. It is often known as the "Pink City" because of the colour of the buildings of the old town.
Apparently when the then Prince of Wales visited on a tour in 1876, in a gesture of welcome, the Maharaja Ram Singh of Jaipur had the whole city painted pink as this colour represents hospitality.
Often when you visit cities, the old town is a welcoming maze of narrow streets and alleys. Although these exist behind the facades, Jaipur was planned around the prevailing Hindu theories of architecture and the science of Shilpa [arts and crafts]. Essentially, the major thoroughfares are built on a grid pattern [not unlike New York] and the city was divided into nine blocks, two of which contain the state buildings and palaces, with the other seven available for the general public. There are high defensive ramparts which can be entered through seven fortified gates, one of which is reserved for members of the royal family: now the current descendent of the city's founder.
Like Turin, the pavements are shielded by a covered promenade of shops – shade is needed here – and it is said you can walk throughout the city, without either an umbrella or a parasol.
Regular readers may remember that Robert had an unsuccessful visit to Pompeii in his early twenties when he travelled 48 hours by train, just to find it was closed for a national holiday. It is safe to say that Indian festivals and holidays did not play a major part in the planning process for this trip and we have discovered that our time in Jaipur coincides with Holi – the Hindu festival of colour marking the start of spring. We were subsequently not sure when the major sites would be open during our stay and felt we needed to maximise our sightseeing on day one.
We therefore engaged a car and driver for the day and the Amber Fort, being the furthest away, was the first item on our itinerary.
Our route took us past the Hawa Mahal, or Palace of Winds, a five storey building which is just one room deep and which was built with many windows and balconies to allow the ladies of the harem to watch events and processions in the street below without being seen themselves.
We also passed the Jal Mahal, or Water Palace on Man Sagar Lake.

Many tourists queue for an elephant ride up to the the Amber Fort, but we preferred to leave these majestic animals in peace and our driver took us up the streets and alleys around the back of the fort to the entrance, stopping by an impressive step well on our way up.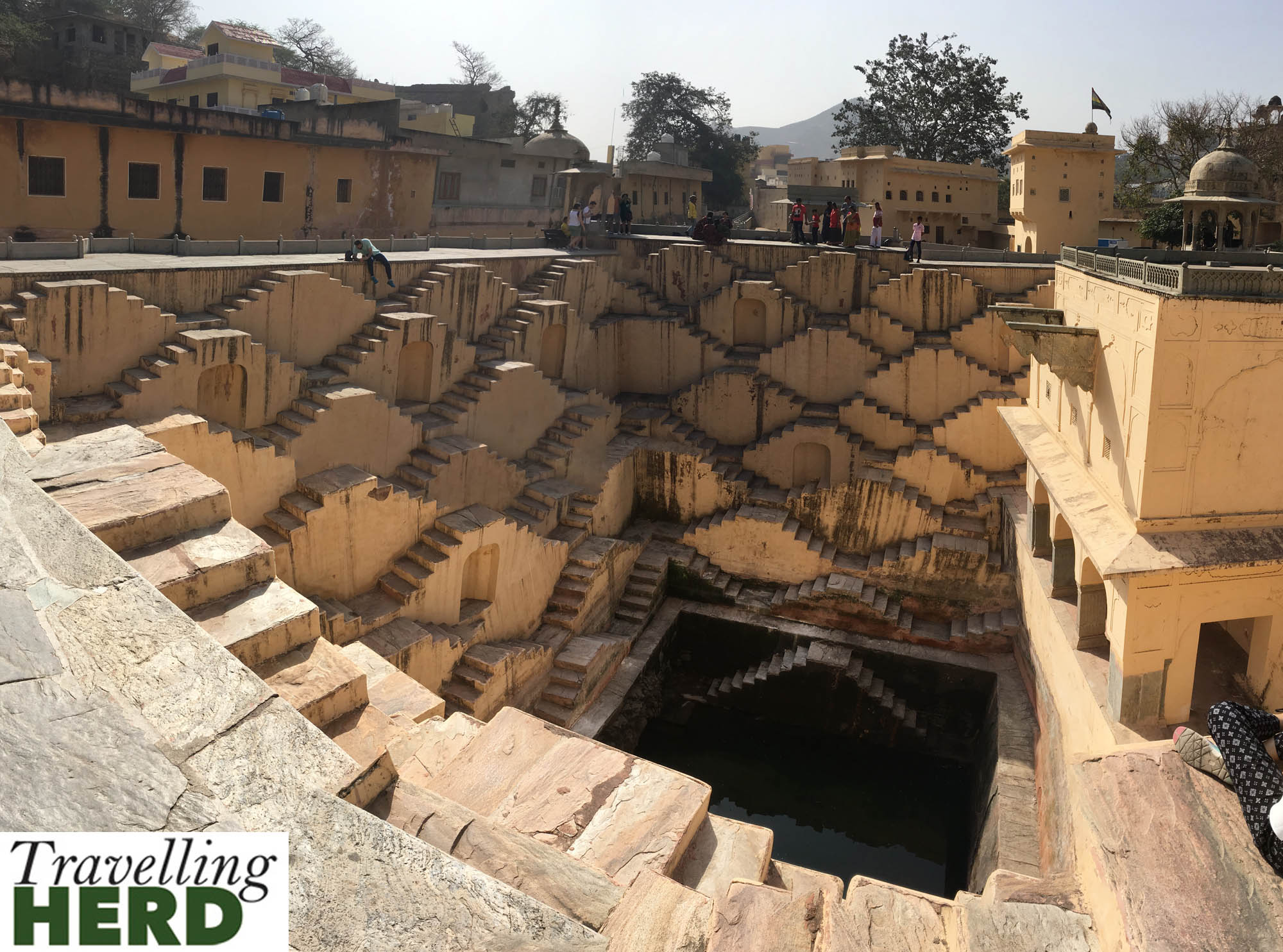 The Amber Fort is in a commanding position.

Yet despite its obvious defensive strengths is also a beautiful palatial residence.
The outermost area called the Dewan-I-Aam or the Public Audience Hall features a covered space where the ruler met his subjects and officials.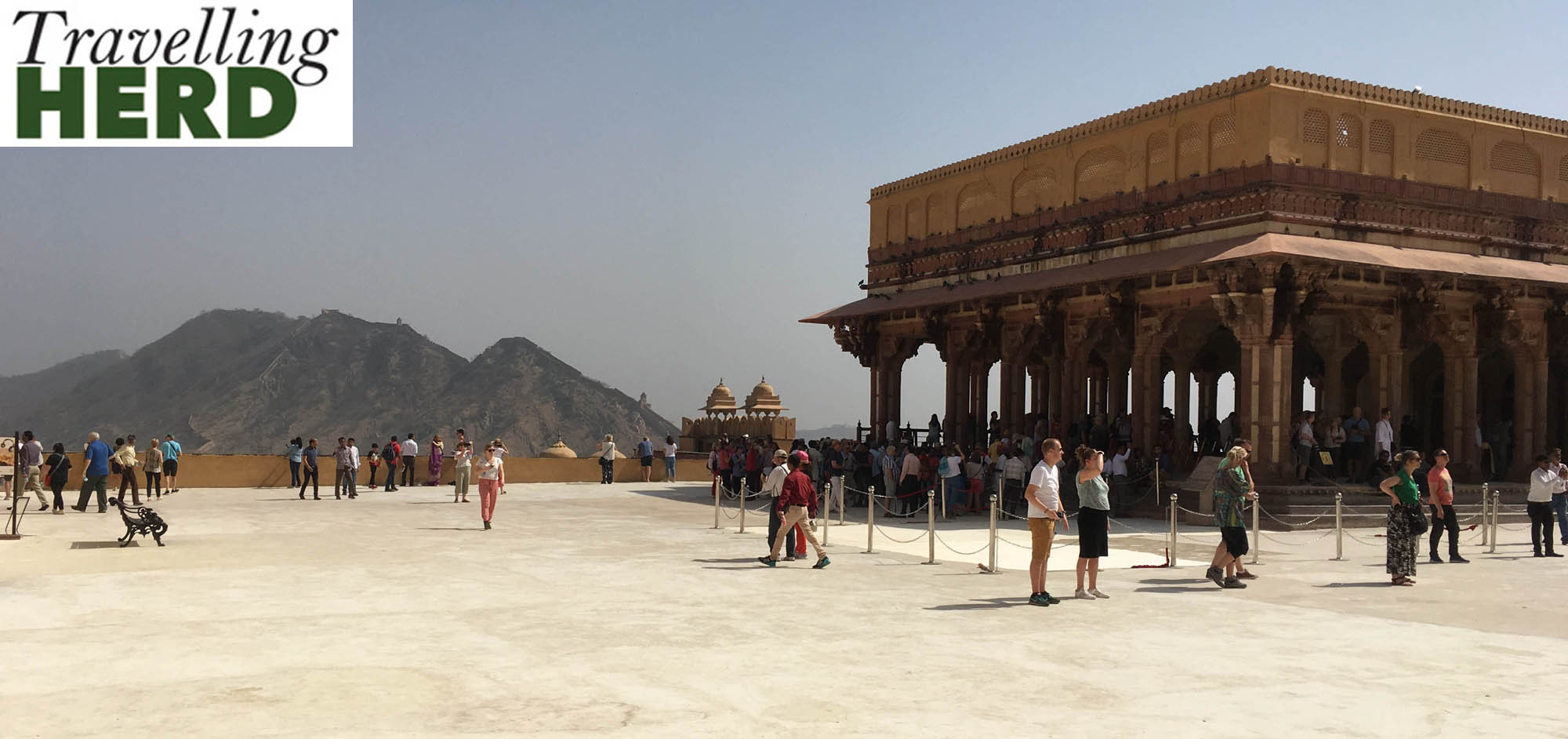 The Dewan-I-Khas is the "Hall of Private Audience" for special guests and is also known as the Jai Mandir, featuring beautiful mirror work.
There were more Western tourists here than we have seen anywhere else on our travels here so far and many of them were taking arty selfies in the mirrors, but sadly Matilda was not quite tall enough for this. There are Turkish baths and parterre gardens . . .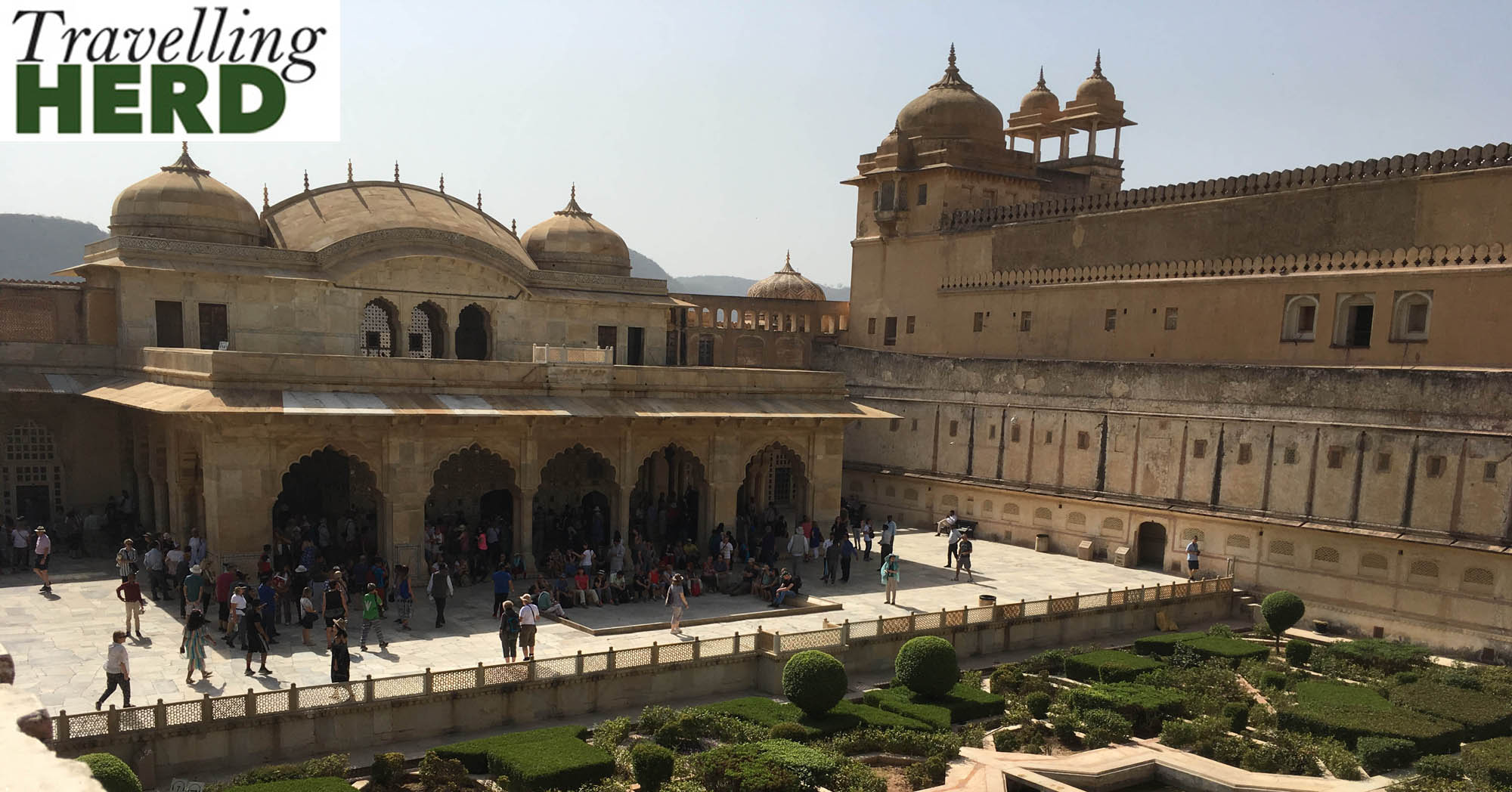 . . . as well as views of Jaigarh Fort, also known as Victory Fort.

Next on our itinerary was Nahargarh Fort, which is also known as Tiger Fort. Presumably there are historical reasons for this but on our visit there was a rather sad moving model of a tiger roaring, as well as restaurants and a wax works. In the palace rooms an exhibition of statues had been mounted but given that Matilda at one point briefly mistook the rows and rows of pink sandals in the cloak room as one of the art installations we can safely say we were not the right target audience.
The views are however extensive.

The boundary wall is made of many lozenge shaped pieces of stone which resemble nothing so much as sponge fingers set on end. And there is also a step well for water conservation and storage.

On our route back we went to the City Palace Museum, but the lack of sleep and the heat of the day were beginning to take their toll. We decided to go to see the nearby astronomical observatory, Jantar Mantar, instead. Five such observatories were built in Northern India between 1724 and 1730 by Maharajah Sawaii Jai Singh II of Jaipur. They all include multiple buildings on a grand scale with unique geometric shapes each designed for a specific form of astronomical measurement.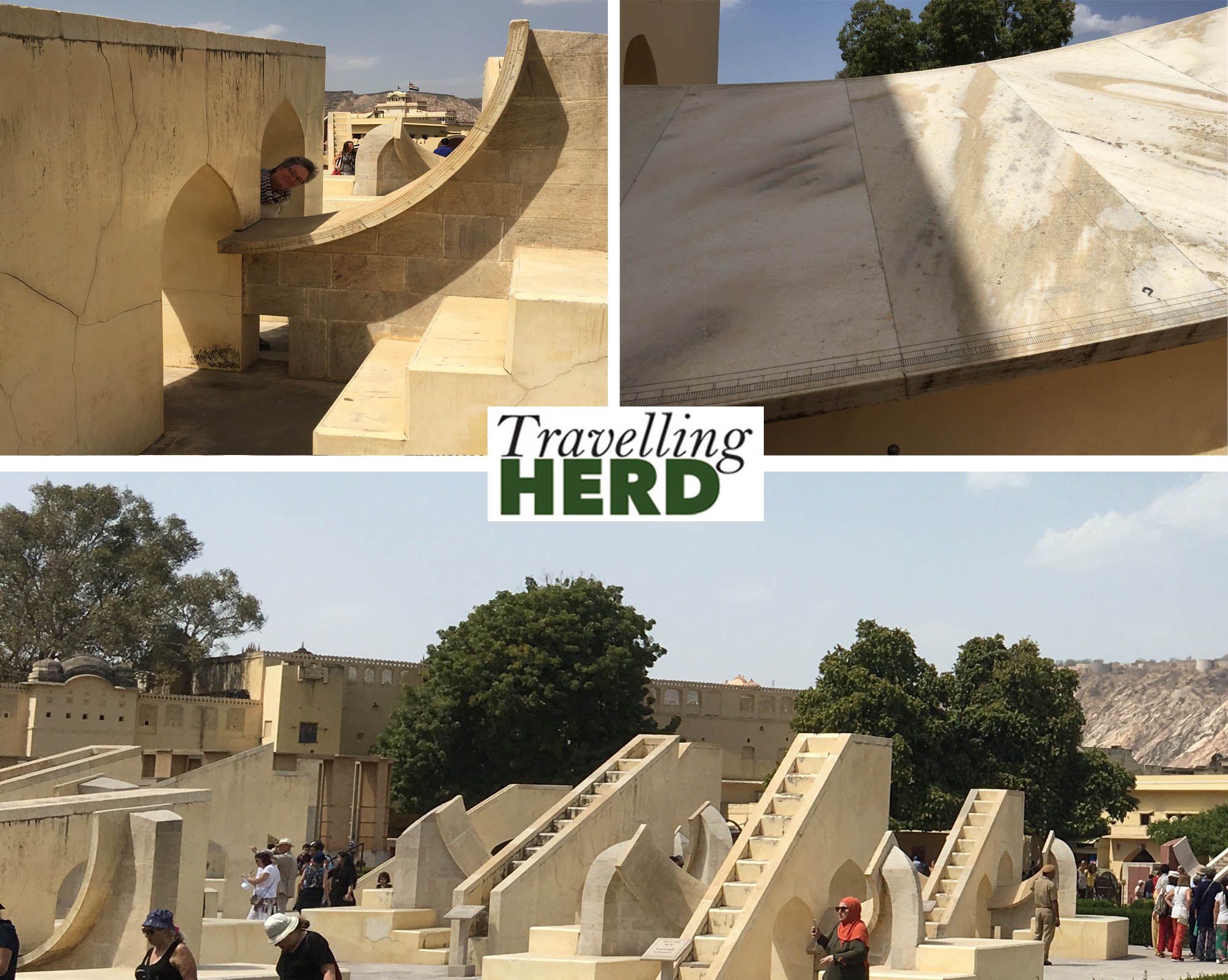 It seemed such a truly forward thinking endeavour.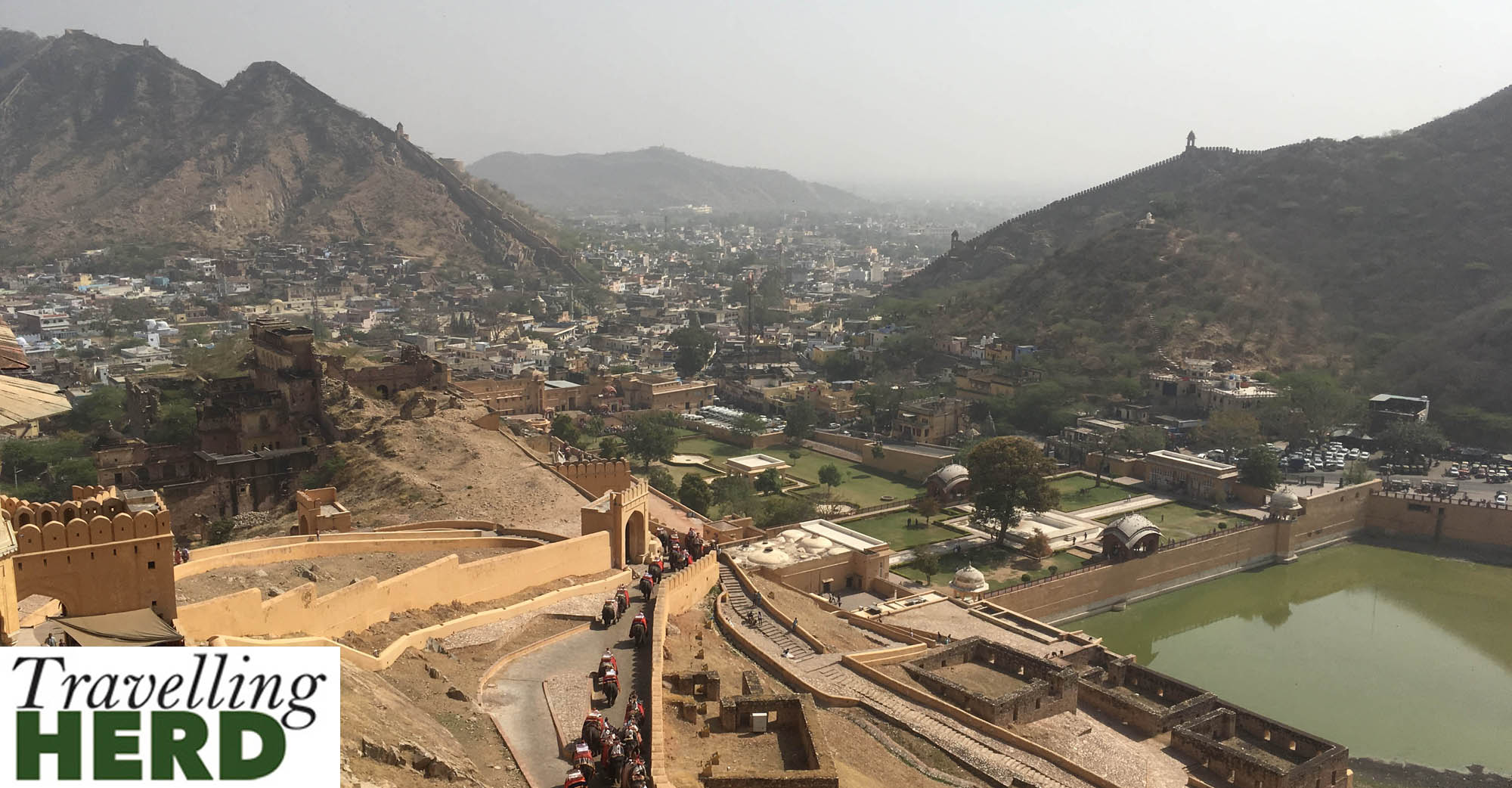 As we drove home through this beautiful and vibrant city, there were many people by the roadside with kindling, dried dung and wood to be used as fuel for the evening's Holika Dahan fire ceremony as well as stalls selling the brightly coloured powder paint for the Holi festival of colour the next day.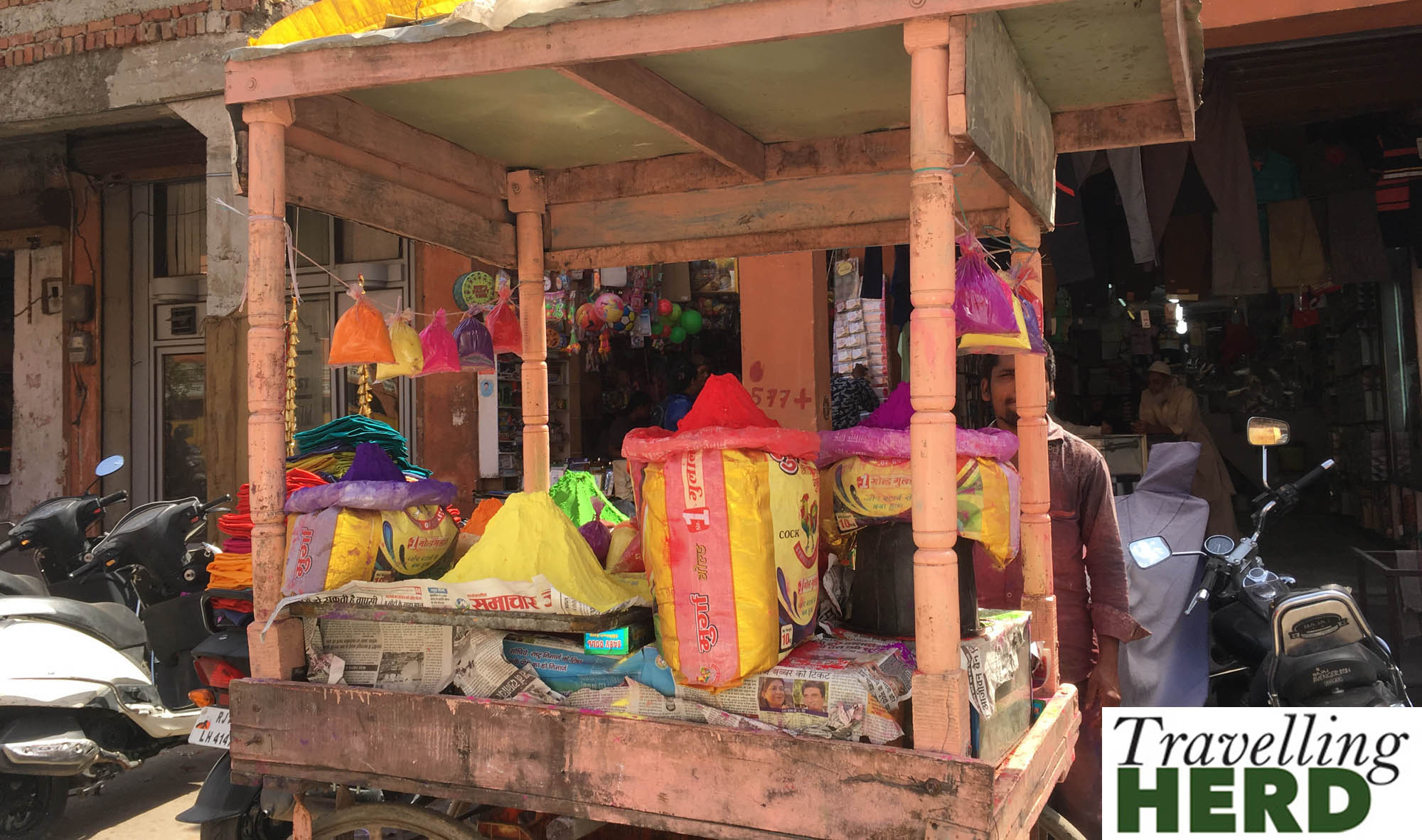 Videos of the day (not because we agree with them though):
Current Route Map: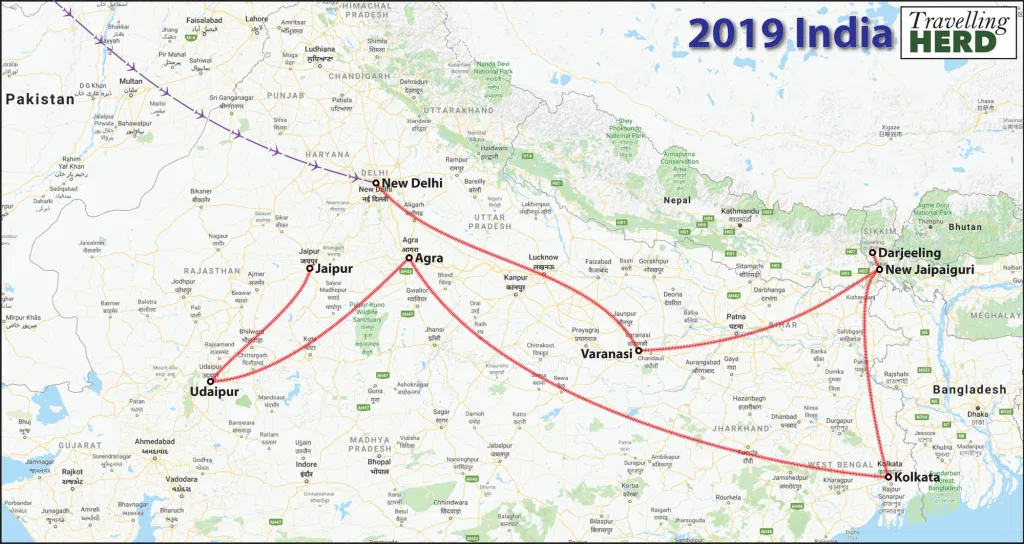 Distance travelled so far:
By Air to Delhi: 4,187miles
By 10 trains to Jaipur: 2,2910miles
Selfie of the day: