Thursday 21st March 2019
Although not part of the planning process, as we were in India for this festival of colour, we thought we should enter into the spirit of the celebration. Holi signifies "the arrival of spring, the end of winter, the blossoming of love, and for many a festive day to meet others, play and laugh, forget and forgive, and repair broken relationships". Coloured powder is thrown in the air and smeared over people's clothes and faces. Dancing and food are also vital.
We bought white shirts from the shop in the hotel reception which seemed to be doing a roaring trade with a Chinese tour group. It took a few attempts to find a top which would fit Robert's broad shoulders and the sizing was a mystery as Matilda's top said 48 in the back and Robert's said 38. We asked the hotel receptionist to take a "before" photo and headed out to the Dhulandi Festival.
Some colours seem to be more adhesive than others . . .
. . . and some are more long-lasting but . . .
. . . there comes a point when they all merge together.
Robert's hair proved to be surprisingly colour resistant. As we walked back, in more colourful attire than we had set out in, people passing in cars and on motorbikes smiled, waved and good-naturedly shouted "Happy Holi" to us.
Although the tourist sights of the city were closed and we did not manage to visit the City Palace, or go inside the Hawa Mahal, Holi was certainly a unique celebration to be embraced and enjoyed.
Videos of the day:
Current Route Map: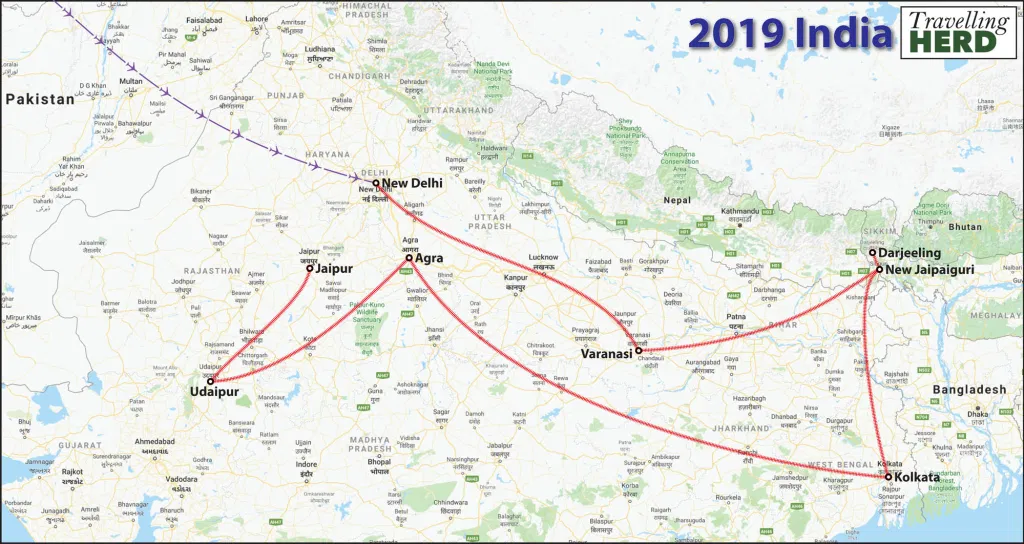 Distance travelled so far:
By Air to Delhi: 4,187miles
By 10 trains to Jaipur: 2,2910miles
Selfie of the day: