Tuesday 12th March 2019
We did not know before our last post but Monday 11th March was Robert's beer free day #2 as he was feeling under the weather [not the chilly weather, but the Delhi-belly kind].
Our fourth and final trip on the DHR takes us back down the 6,700 feet to New Jalpaiguri Junction to catch a sleeper to Kolkata [Calcutta for the imperialists].
The first train of the day is scheduled to leave at 08:00 and we arrived in good time to watch the preparations [see today's 'Video of the day' below].
The DHR is well-staffed [possibly over-staffed like much of the India we have seen] with people taking on different roles in the running and management of the line from cleaning and ticket sales to engine maintenance, as well as actually working on the trains. It apparently takes about seven or eight people, in addition to the steam or diesel drivers and guards, to get ready for the first run of the day. There seemed to be some serious discussion about rearranging the carriages going on. According to Robert, anyone who has ever owned a model railway knows that half the fun is in the shunting and organisation of rolling stock.
The station is also a pedestrian thoroughfare and, as we were waiting, children of all ages passed us on their way to school wearing smart uniforms; some with the tell-tale over-sized blazer which so many younger children have to allow for growing room; some with scarves that looked as though they should be in Gryffindor, attending Hogwarts and some with ill-conceived white pleated skirts.
We also met a family, who asked Matilda to take a photo of them on the station, and who had woken up early to the watch the sunrise at Observatory Hill and seen the Himalayas. We had considered doing this ourselves but as Robert had succumbed to some digestive problems the day before we felt sleep was more important before a long journey.
In an interesting piece of role reversal as the preparations were underway for the first departure of the day from Darjeeling, our train driver took a photo of us waiting on the platform.
After much shunting of rolling stock by the steam engine Whistle Queen we eventually left Darjeeling Station at 08:34.
Due to delays, we had travelled the higher section in the dark on our way up but this time the sun was shining, burning off the early morning mist and as we left Darjeeling we were rewarded with the sight of the snow-capped Kangchenjunga and the Himalayas which had eluded us on the previous journeys and which could easily have been mistaken for clouds.


Each journey on the DHR is different and as we passed in daylight this time we were able to see the Ghum Monastery and women washing clothes and laying them over bushes to dry or collecting firewood in large pannier baskets whilst men were sat in some of the rooms adjacent to the track with sewing machines promoting their trade.
The wild flora was also eye-catching. We are not horticultural experts but we recognised magnolia, rhododendron, datura, bamboo, hibiscus and in a festive twist, pine trees and poinsettia.
There are several trains everyday so you would think local residents would be used to the sight, but there always seem to be plenty of people taking photos or videos on smart phones of the toy train as it passes.
At the passing point, as we were waiting for the northbound train, the driver asked Robert to get out of the train for 'selfie'.
Drawing near to the more built up areas we passed several schools with playing fields. In general, schools seem to be the best-kept buildings providing services for local people: freshly painted and well-maintained. This perhaps reflects the value placed on education here. The majority of the adverts which we can understand are for schools, some of which call themselves "English schools". We passed playing fields where goats were grazing alongside good-natured football games, whilst others were the site of what looked like highly competitive games of cricket.
We arrived at Siliguri Junction which should be just 30 minutes from our destination of New Jalpaiguri when the train driver came to speak to us. It seemed strange that this task fell to him as there were two guards, two ticket inspectors and two engineers [whose job is to hammer failing parts back onto the train with stones from the track ballast] also on the train. Having travelled up to Darjeeling on a full train with twenty people in each of the three compartments this train had only eight people on it in total. With the exception of us, all the other passengers had disembarked. Robert's new-found friend the train driver came to inform us that it would take take three hours to go the final four kilometres because we had to wait for the Darjeeling Mail to pass and we would be better off getting a tuk-tuk which would only take 15 minutes for 20 Rupees [equivalent to 20 pence]. We took this to mean that we would not be going any further and should get off the train as they wanted to finish their day, despite us having bought a through ticket to the end of the line. We were accommodating and did as asked and were charged 220 Rupees [£2.20].
Robert has already commented in this blog about the issue of pre-booked sleeper tickets – you have a PNR, but no coach or cabin number until four hours before. For the last sleeper we were able to pop back to the hotel, after check-out to collect our luggage and use the wifi to confirm the details on-line. This time we were not so fortunate.
Our wait at New Jaipalguri was such that, four hours before our train we were able to ask at the ticket counter for confirmation of our berth booking details. The problem we then had was finding our platform.
Trains can often have travelled several hundreds of miles before arriving at your station and so can potentially be hours late. The thing is that they only put the train on the 'board' when they know an arrival time (which could be several hours after the scheduled departure time) and you still don't know the platform until it arrives. And to confuse you even more 'D' for departure is only for trains starting at your location, otherwise 'A' for arrival shows for through trains. That is the time to start fighting your way through the masses. The train might then depart at any time after that. To know any information at all you need the internet (and an Indian +91 telephone number). Or rely on an accommodating local with those two to double check.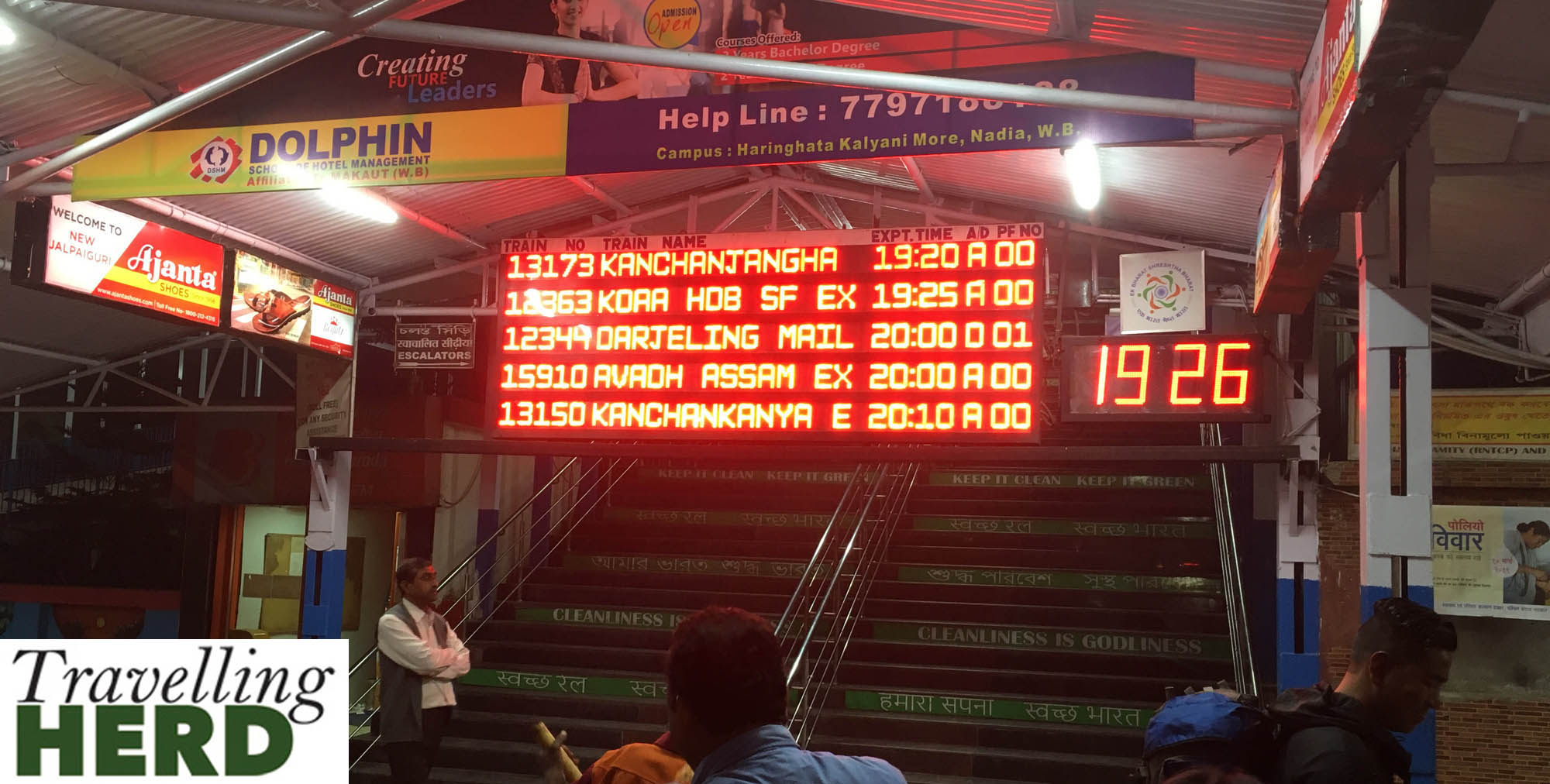 Unfortunately we did not find out our platform until five minutes before the train arrived. We then miscalculated that our coach would be at the back of the train, when it was actually at the front. Indian trains are huge with 20 or more carriages and two locomotives at the front. So we had a bit of a mad rush through the throng of people to get to the correct cabin.
For the first time this trip we found, on boarding the train, that we were sharing a four berth compartment. Indian Railways assigns sleeper compartments based on the final bookings for a train and this time we were sharing with a charming Indian couple. They also had two small children. I don't think either couple were particularly expecting this arrangement but surprisingly it was less stressful than we first feared. Robert maintains that Matilda's snoring offset any disturbance caused by the children and he slept quite well.
As the day was spent almost entirely on trains, Tuesday 12th March was Robert's beer free day #3.
Video of the day:
Current Route Map: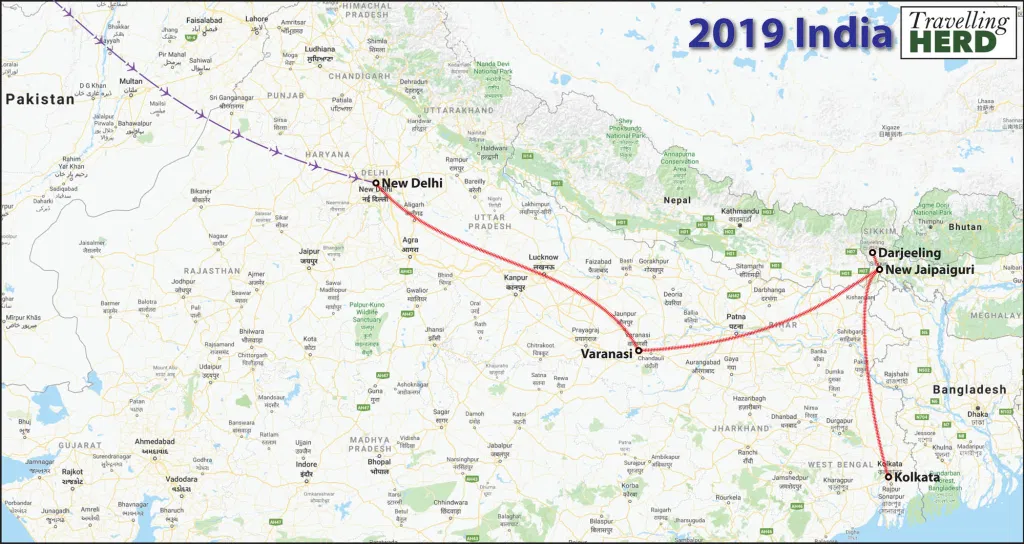 Distance travelled so far:
By Air to Delhi: 4,187miles
By 7 trains to Kolkata: 1,379miles

Selfie of the day: