Ludlow – Friday 25th to Sunday 27th January 2019
We are delighted to be sharing part of our motorhoming adventure in Ludlow with Liz and Martin as they were the first overnight guests to stay in Alan back in the spring and now have their own campervan, affectionately named Connie.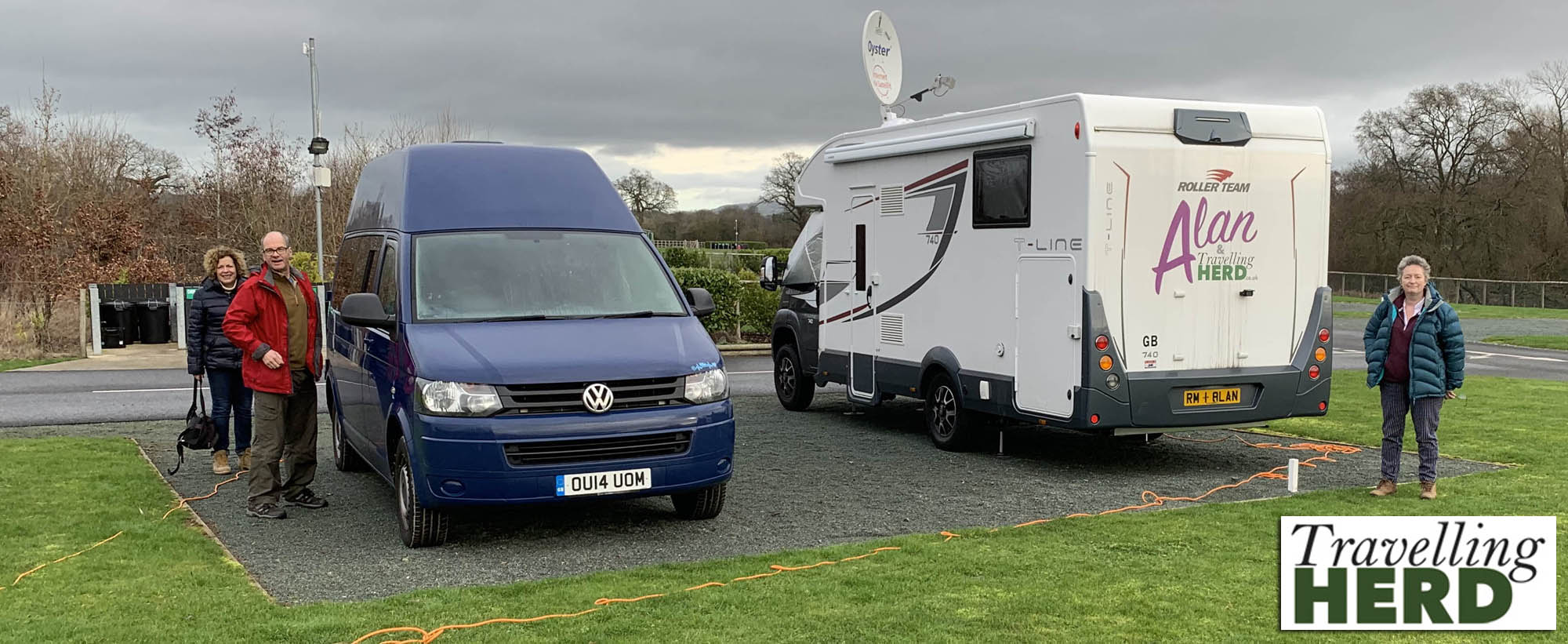 Having previously undertaken all our motorhoming adventures in the summer we were not prepared for our arrival at Ludlow Touring Park in the early evening after sunset. Nothing was visible in the reversing camera which made parking Alan on our pitch more of a challenge. We had also had strict instructions to "keep off the grass".
Connie, being petite [and possibly a little bit flighty] by comparison to Alan, proved much easier to manoeuvre and is able to come and go as she pleases. We therefore went into Ludlow to the Charlton Arms Hotel early doors to sample some of the local Ludlow Brewing Company's ale – judged to be very quaffable – before returning to the campsite for a pre-prepared meal courtesy of Martin.
The following morning, we were reprimanded by the site staff for allowing Alan and Connie to be over-familiar as they had inadvertently shared a pitch overnight. Connie moved to her own space and a decorous distance, in accordance with health and safety guidelines, was maintained from this point on.
Ludlow Touring Park is just a year or so old and the facilities are new, clean and well-maintained. The staff seem to be well-organised and helpful and provided a bus timetable and, given that there were only two buses in each direction on a Saturday, they also provided very useful numbers for taxi companies for our return.
Getting off the bus at the Charlton Arms on Saturday morning we were able to walk along the River Teme, towards Dinham Bridge . . .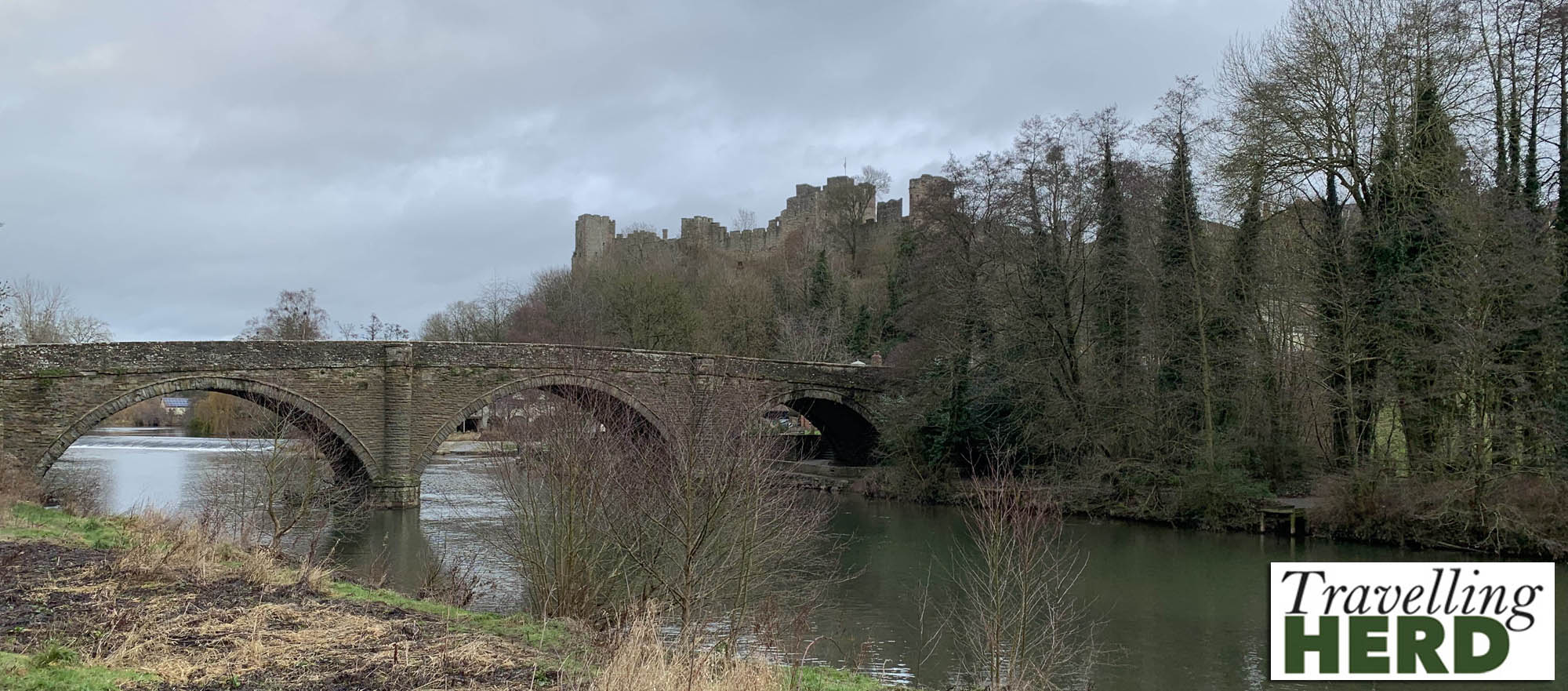 . . .then up to the entrance to the castle.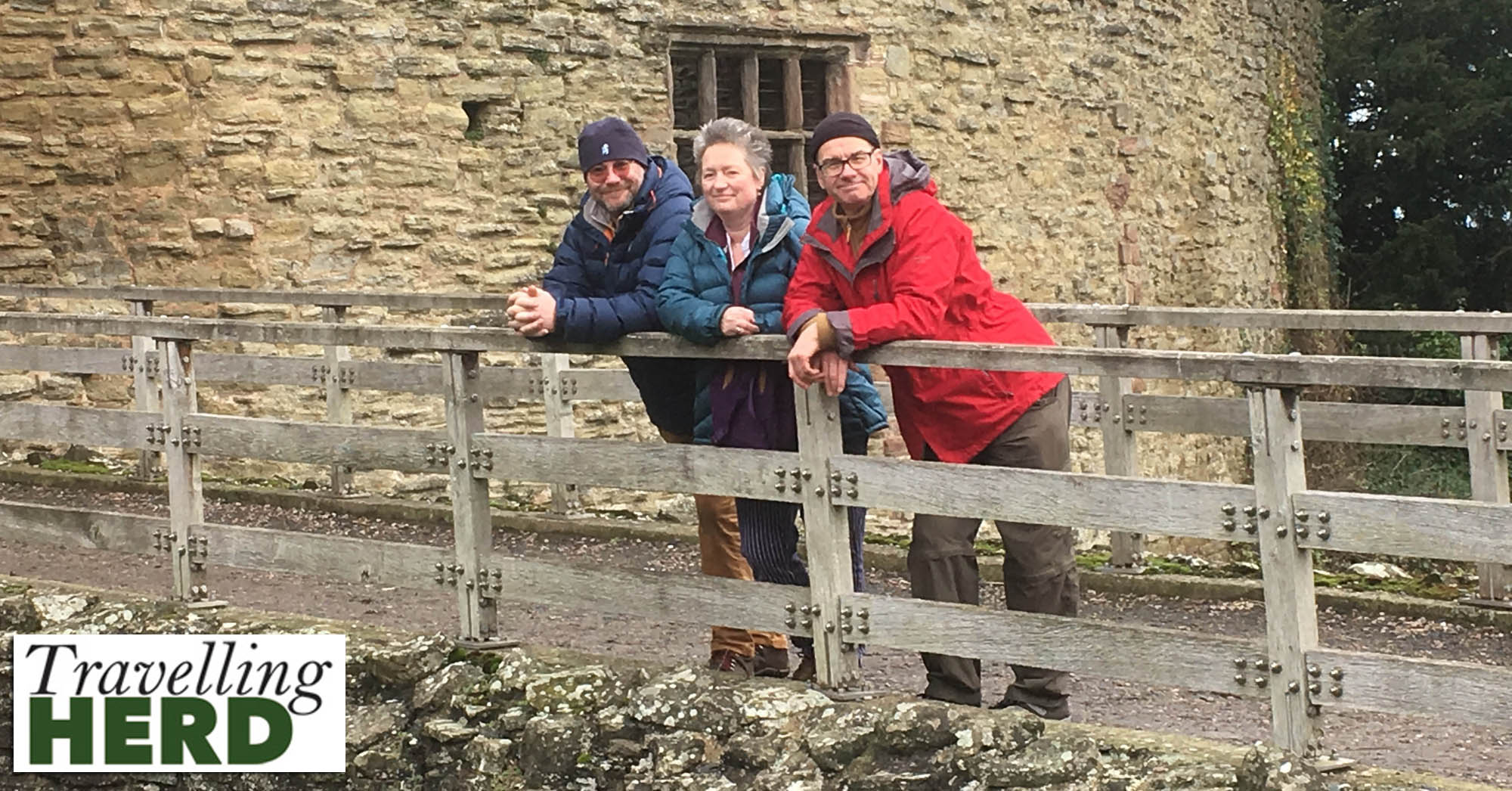 Ludlow Castle is a ruined medieval fortification in the centre of the town overlooking the river and adjoining the historic market square. The town has a wealth of historic architecture including medieval and Tudor style half-timbered buildings. The castle was one of the first to be built in stone in England and the round Norman chapel in the inner bailey is currently being restored.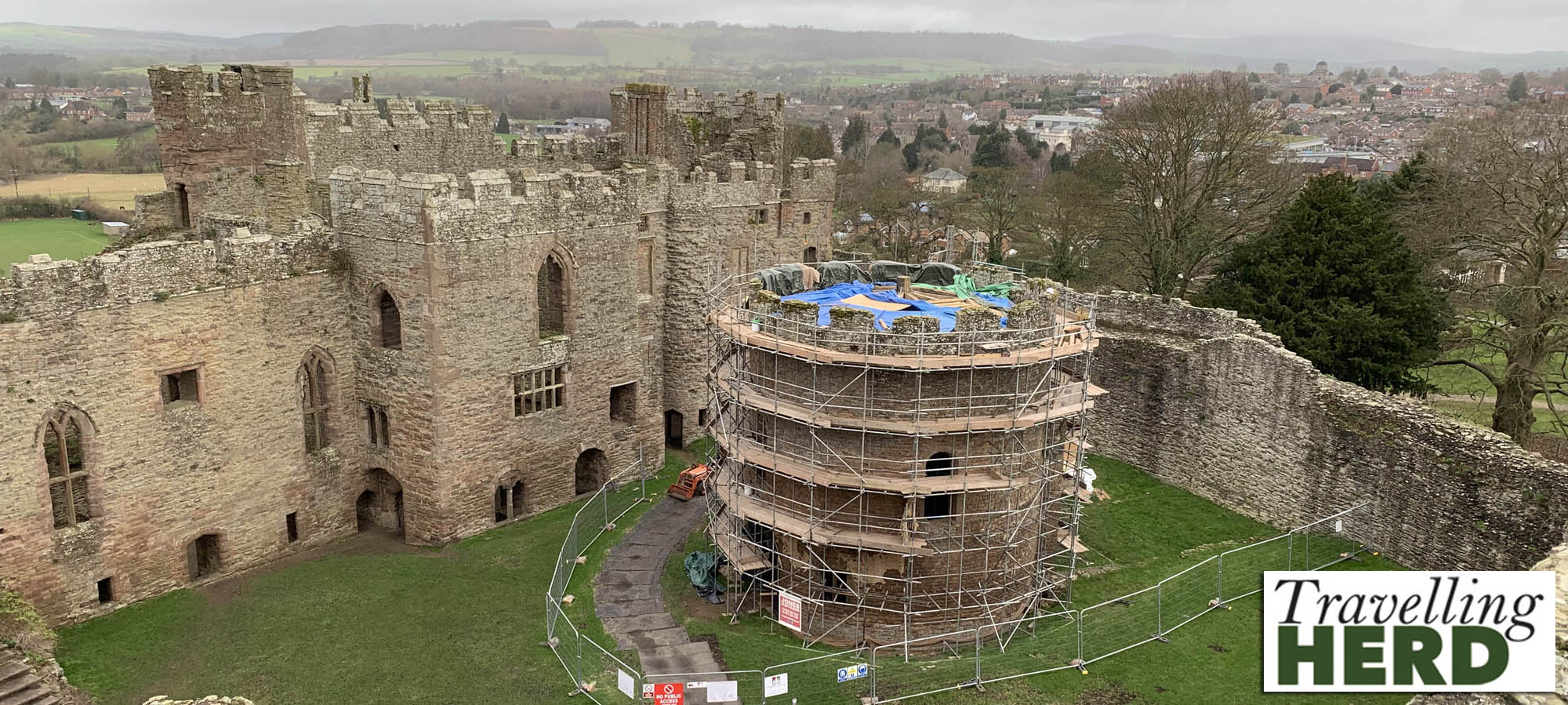 The narrow spiral stone staircases are for the sure-footed only and we were pleased not to pass too many other visitors on our way up or down. It was hard to imagine mortal armed combat in these confined spaces.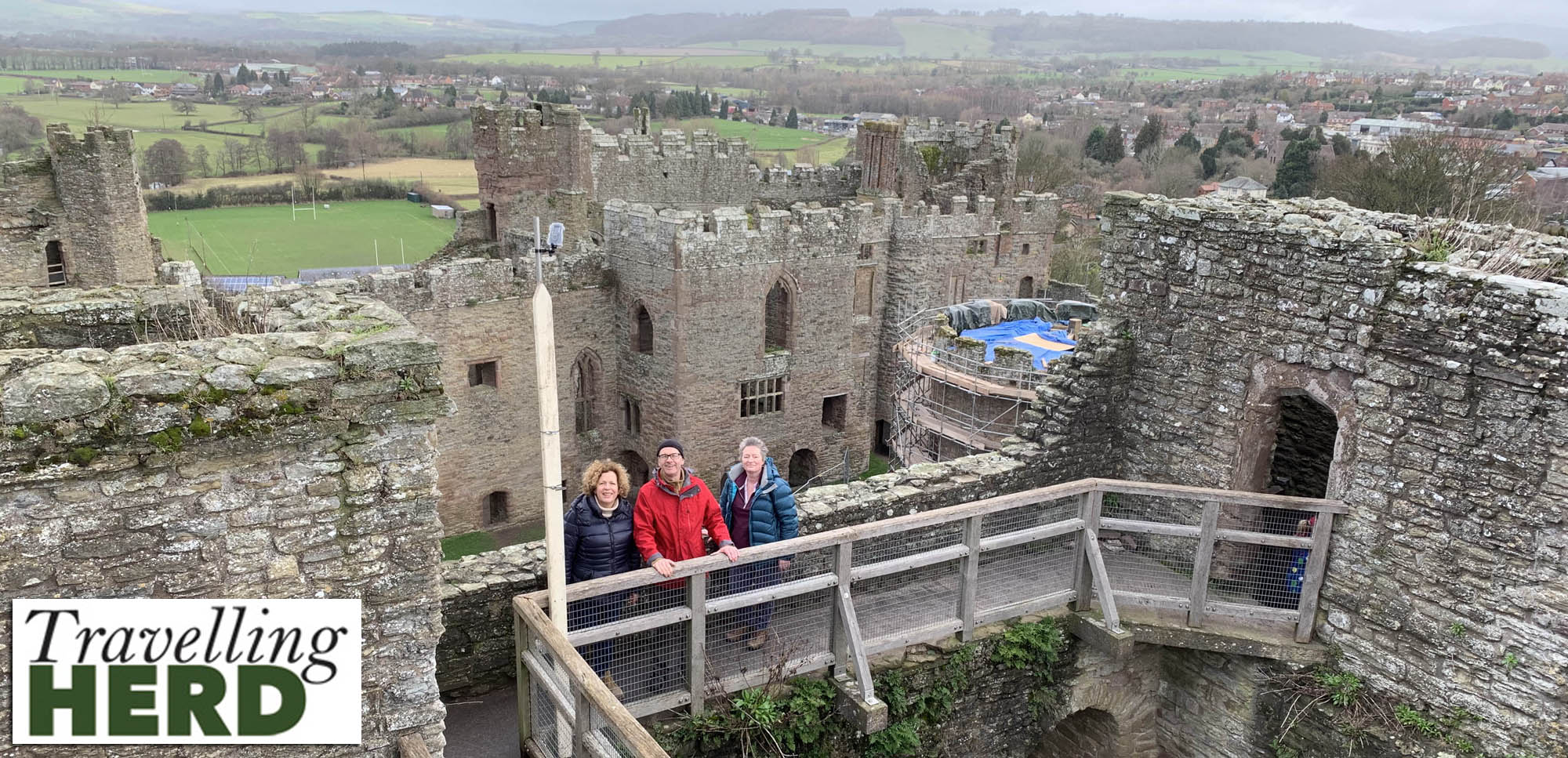 Liz had identified a wool shop she wanted to visit and fortuitously this was next to a coffee shop. Unfortunately all the seats inside were taken and although it was much too cold to take our drinks al fresco we were helpfully directed to The Angel – a tapas bar two doors along. Spanish hams and various other paraphernalia hang from the ceiling. We were sceptical that we would be welcomed here just for coffee but this establishment was a revelation with a really relaxed and welcoming atmosphere.
Feeling ourselves restored by a delicious cappuccino we walked to St Laurence's to see the largest parish church in Shropshire, known as the Cathedral of the Marches.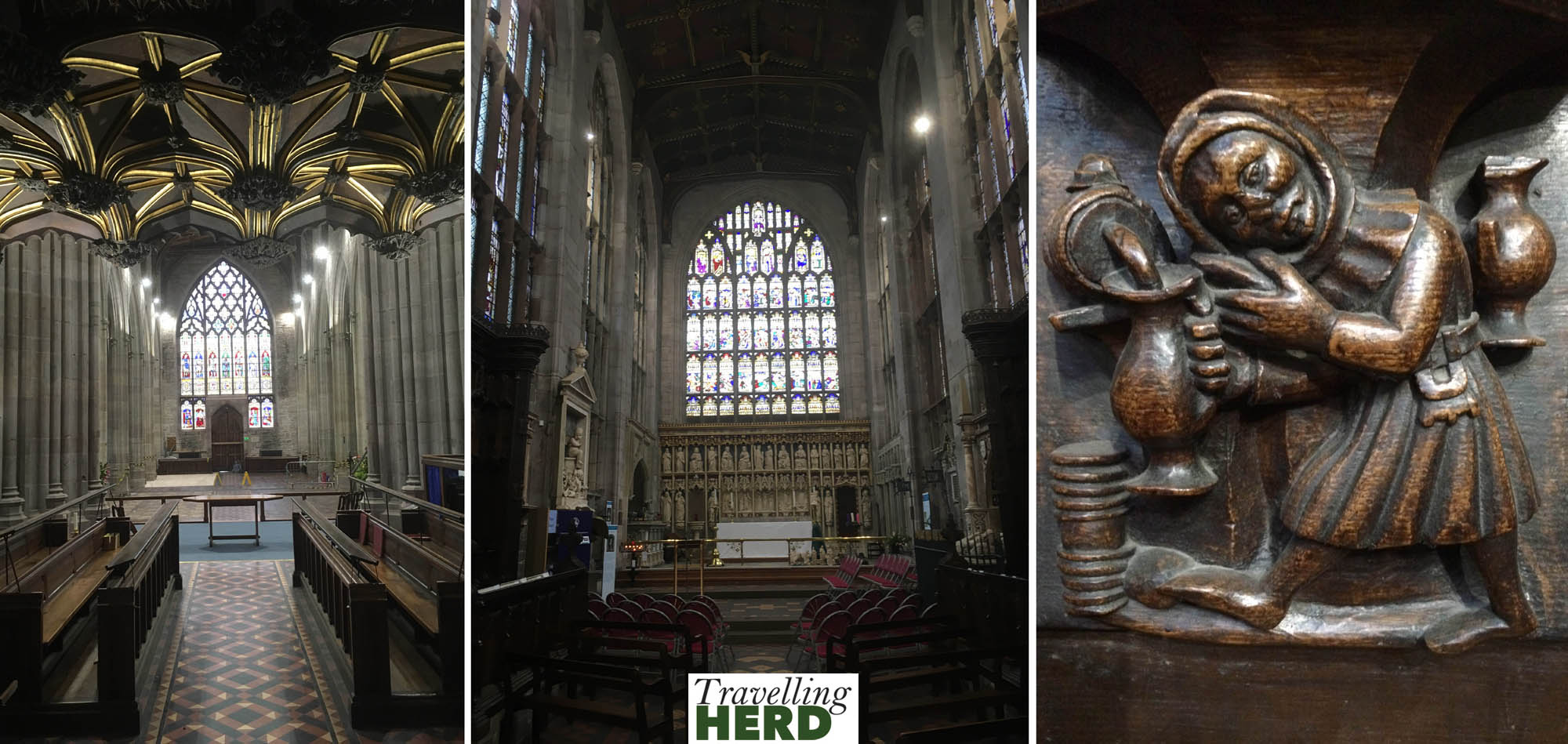 All the pews in the central nave had recently been removed and the area was cordoned off for building works. A very welcoming and informative parishioner told us that this had been done to make the space within the church more flexible for activities other than worship in order to keep the church at the heart of the community. Two people wrapped in many layers of clothing seen snoozing in the comparative warmth of the building seemed to epitomise this inclusive approach.
Our next destination was the Ludlow Brewing Company.

This is now housed in a disused railway goods shed, thereby combining two of Robert's favourite things: ale and rail. The tour was very informative and included samples of all the current brews as well as a token for a free pint. At £7.00 each, this represented very good value for money and proved a most enjoyable way to finish the afternoon. We would have stayed for longer but the bar had been privately booked for a 50th birthday party.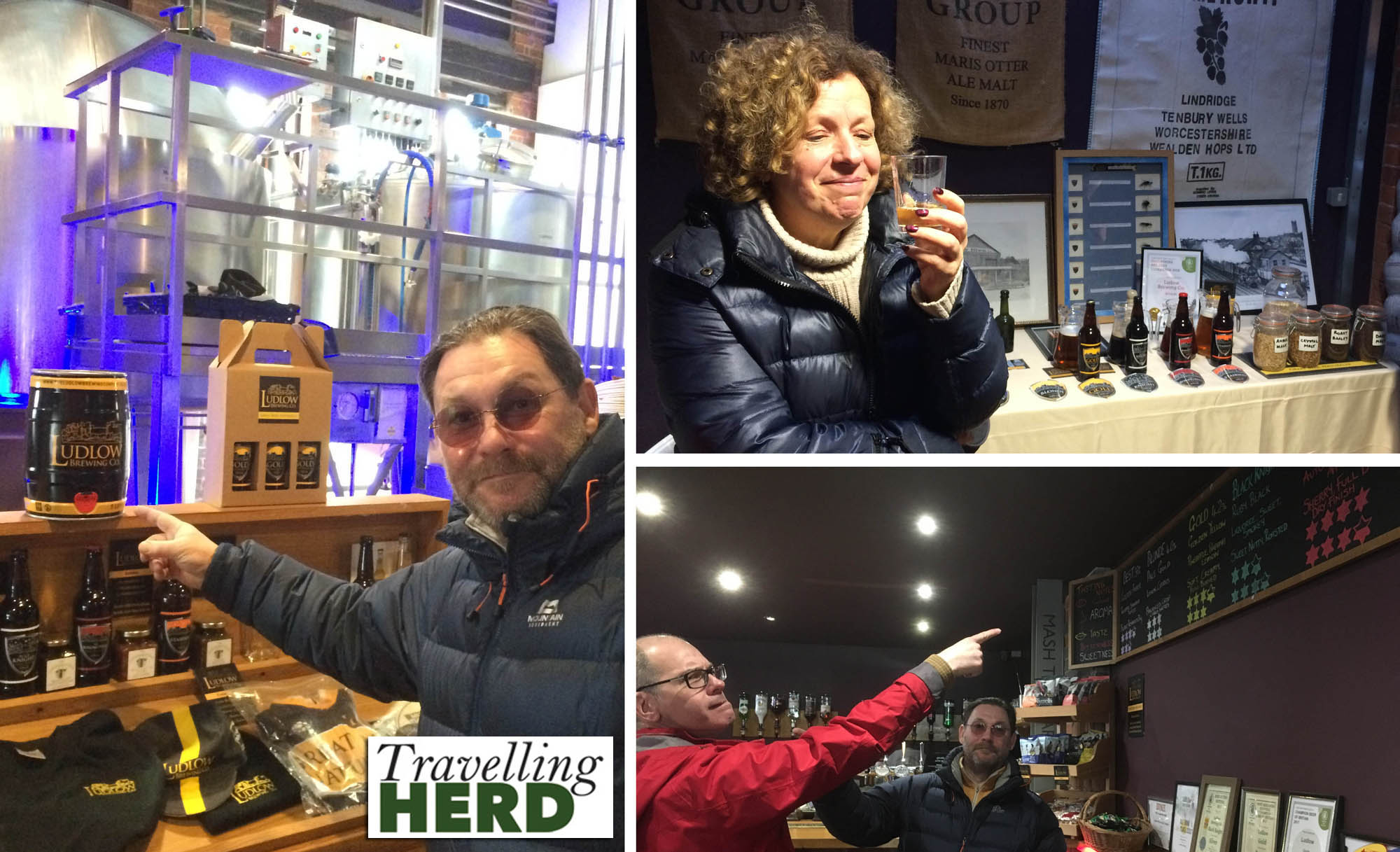 Despite the suggestions of motorhome impropriety, all involved are looking forward to another rendezvous in the beautiful English countryside soon.