Saturday 13th May 2023
We are on our way to join Robert's mother on Tresco in the Isles of Scilly as this is the final year of his parents' 30 year timeshare there. Although part of the UK, getting to the Scillies is an expedition in itself and unfortunately his father is now frail and forgetful and unable to make such a long journey.
We are younger and less forgetful but we still like to break the journey when we can and take in a few sights on the way.
This year, Matilda wanted to include seeing both her ex-neighbour who now lives in Wadebridge and the National Trust property Greenway, Agatha Christie's country home near Brixham in Devon.
Robert had decided to break the journey first at Exeter so that we could then carry on and see both these two on one day. He usually likes to set off early to "beat the traffic" but Matilda knows that this is really cover for him trying to get to a hostelry for the end of the school day. He also wanted to watch the Saracens vs Northampton Saints rugby match. Matilda meanwhile is fighting a rearguard action to delay the first pint to at least the end of a normal (rather than educational) working day. Robert stipulated that if Matilda would take over driving at 15:15 – so that he could watch the match on his iPad while she drove – we would set off at lunch time.
This arrangement proved slightly distracting for Matilda as Robert had the commentary loud enough to drown out the instructions given by the SatNav. Nevertheless, we made it safely to our hotel in Exeter where the historic Tudor House [below] rather incongruously nestled between two modern buildings opposite the entrance to the hotel car park.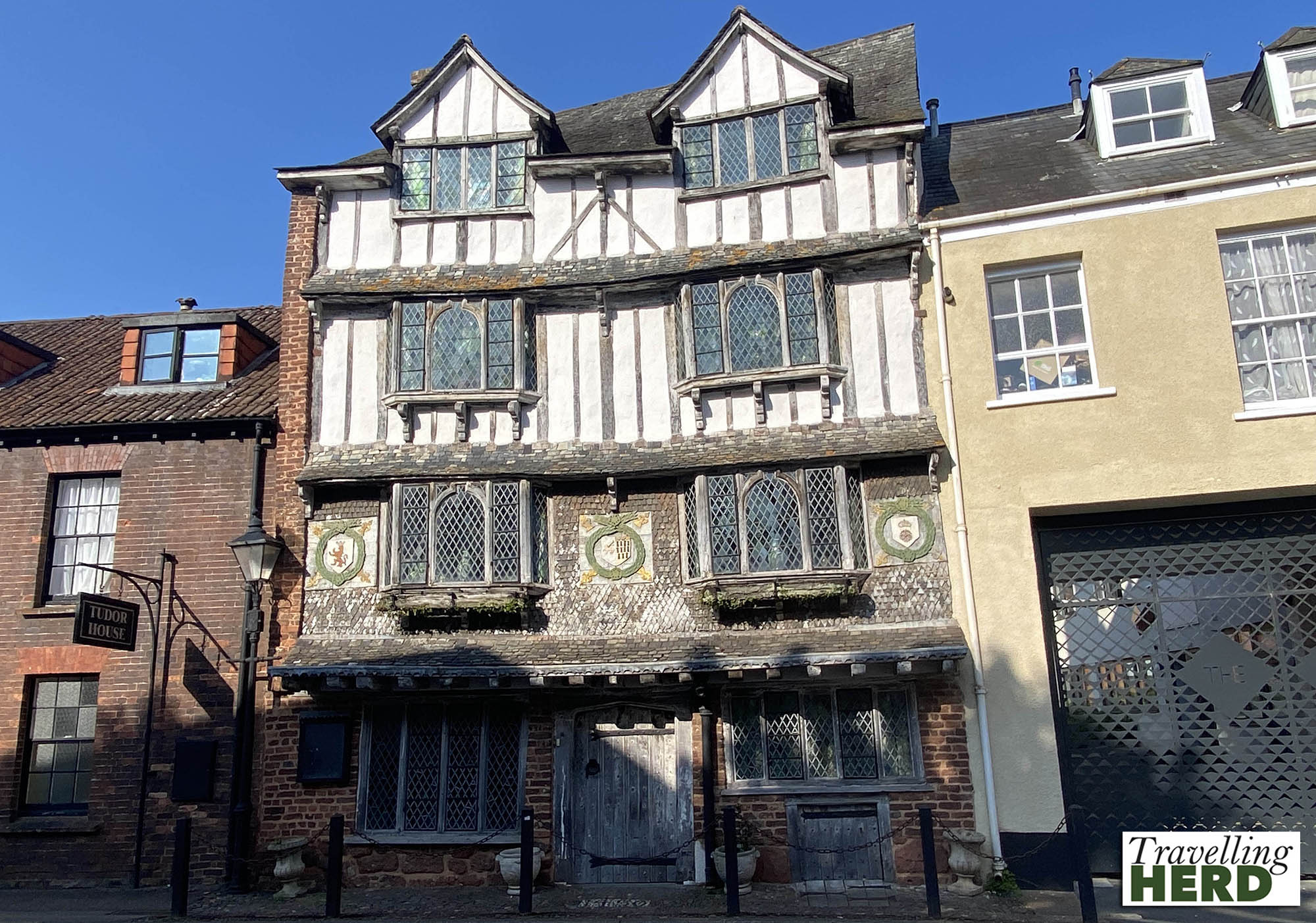 Robert had already booked our stay in Exeter when he discovered that The Imperial [see feature photo] had been voted the best Wetherspoons in the country and he felt that this was clearly cause for celebration as it would allow us to confirm whether or not we concurred with the judgement.
The building was originally known as Elmfield House and was built in 1810 for the County Surveyor James Green. In 1897, Dr William Buller Henderson purchased the property and subsequently added the orangery. From 1923 until 1994 it served as The Imperial Hotel. It is now a vast Wetherspoons, complete with arched ironwork in the spacious orangery, an impressive wisteria arbour and sloping lawns. Situated near one of the Exeter College buildings, it is therefore in an ideal position for some members of its key target demographic.
Our visit coincided with perhaps the sunniest day of the year to date and the place was full of young people who had taken their summer clothes out of the wardrobe for the first airing of 2023. Although there were queues at all of the multiple bars, the building is so spacious that we still found a seat in the old orangery.
At one point we overheard people on a neighbouring table say they had ordered on the App over an hour ago and had still not been served. We had also placed an App order which had not been delivered so Matilda decided she would take a comfort break and then go and queue. She noticed that, in the screened off bar dedicated to fulfilling the App orders, there were trays full of drinks waiting to be delivered but staff obviously couldn't get them out to customers quickly enough. Of course, she returned with drinks just a short while before the waitress delivered our App order so having waited for half an hour or more we then had our drinks lined up.
Whilst The Imperial is undoubtedly a fine building we felt that the Hamilton Hall at Liverpool Street and The Winter Gardens in Harrogate could both be contenders for the crown.
Matilda had noticed during her research that Exeter had more than one historically interesting Wetherspoons and we decided we should also visit George's Meeting House, in an 18th-century Unitarian chapel. Our route took us past the Guildhall.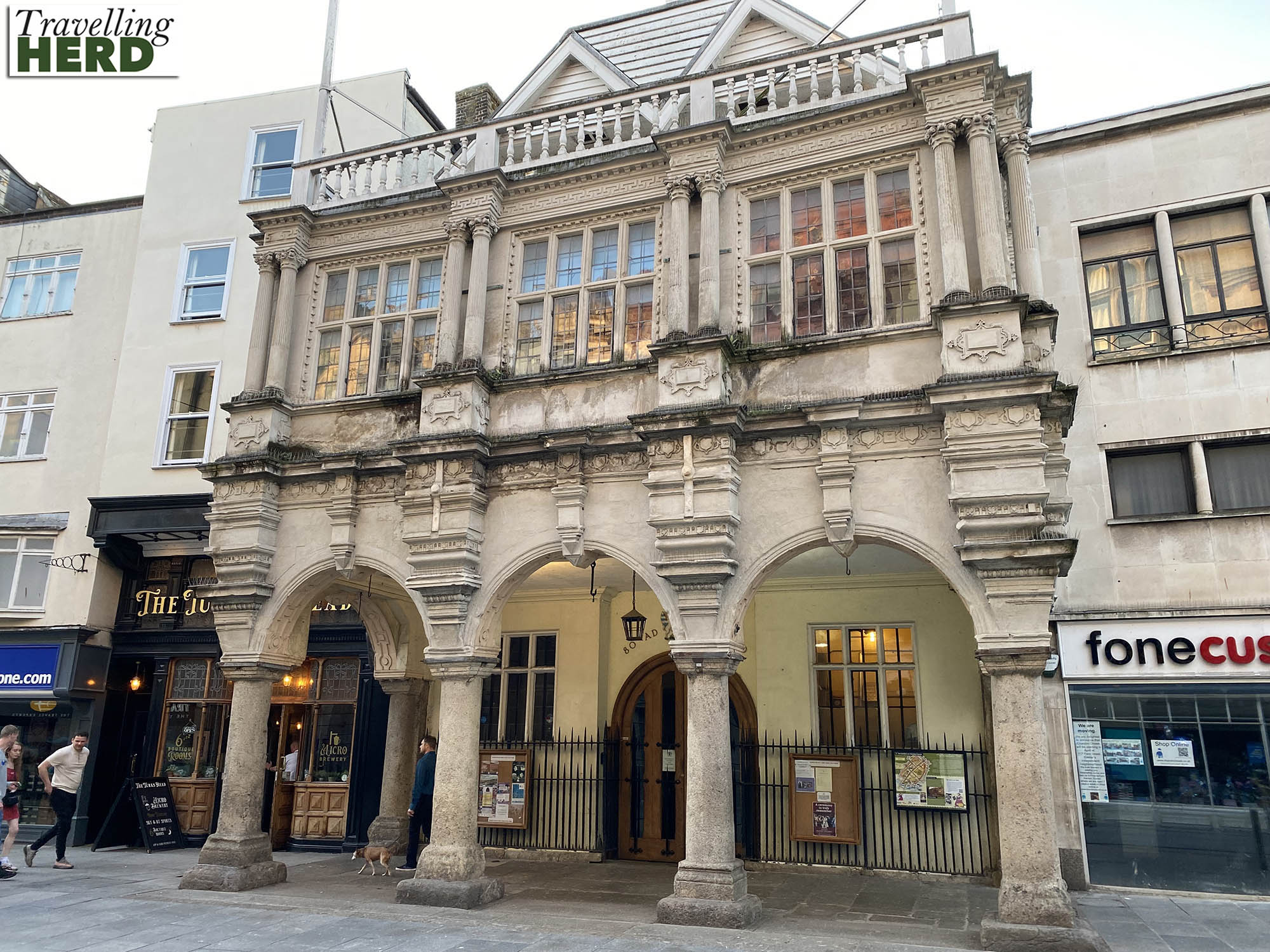 The Guildhall is conveniently situated next to The Turk's Head.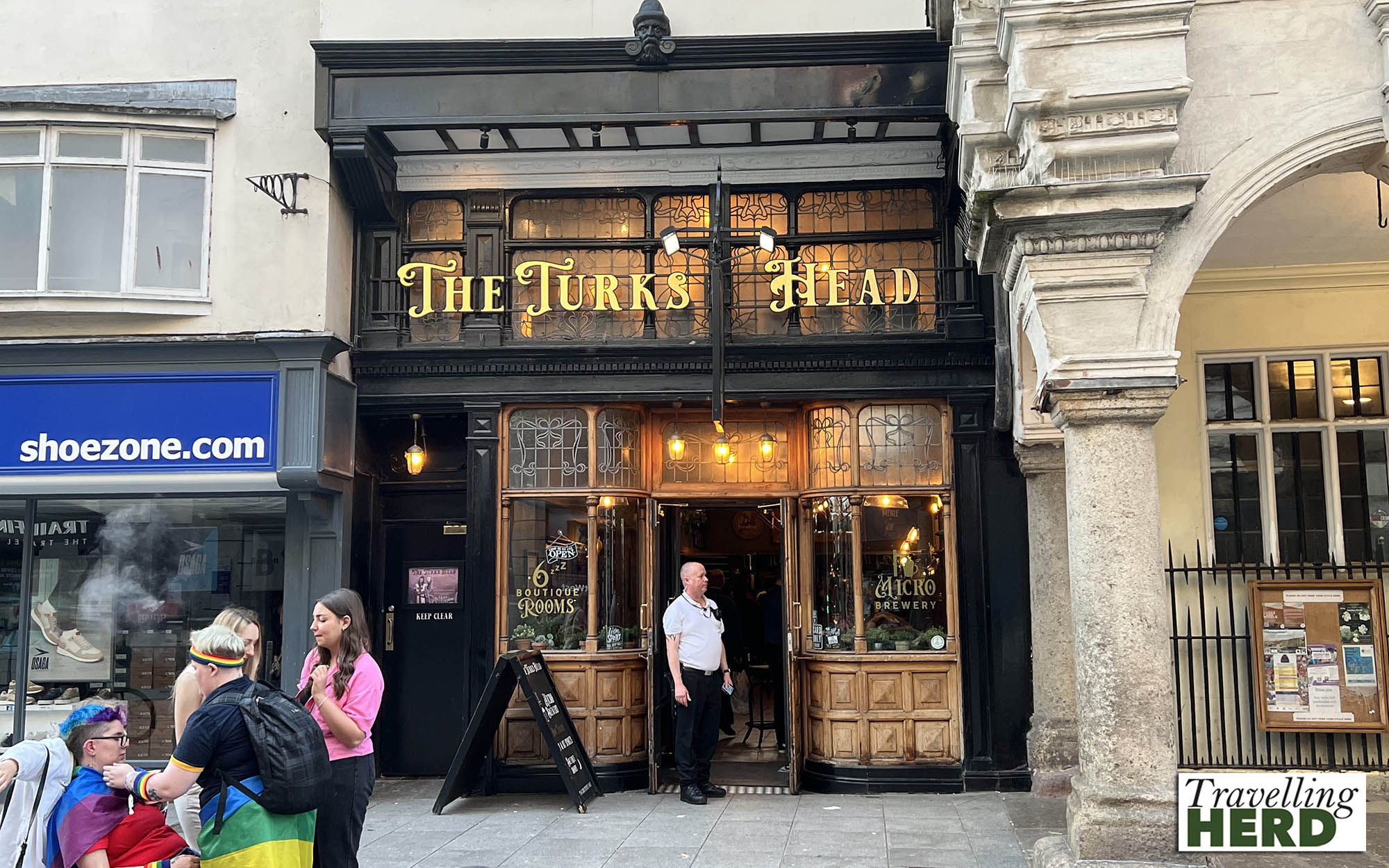 Robert decreed we had to drop in to this microbrewery and bar which is said to have been a popular haunt of Charles Dickens.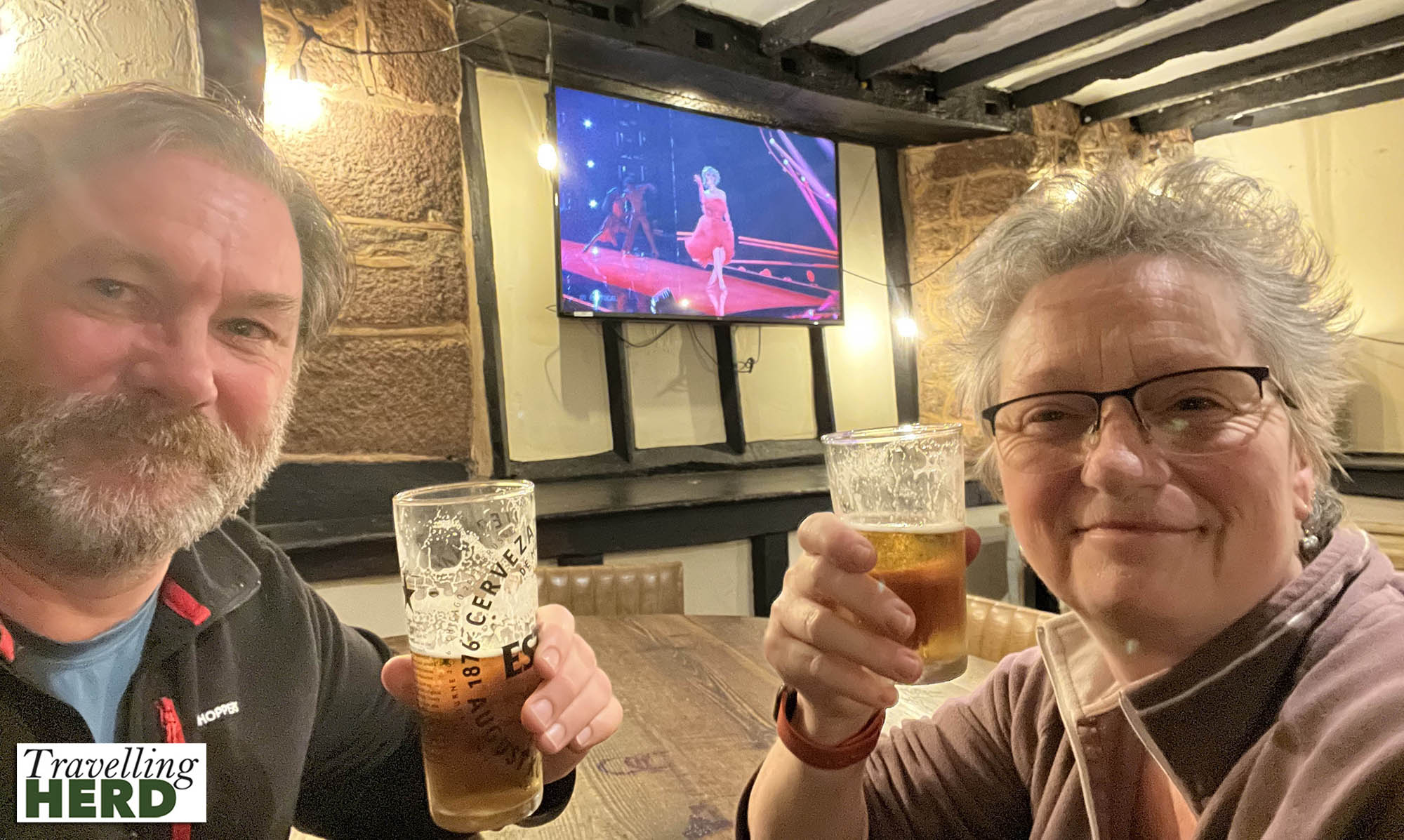 From here we moved on to George's Meeting House [see Selfie of the day]. Built in 1760 it was named after King George III, who ascended the throne that same year. It closed as a chapel in 1983 and was converted to commercial use. Most recently it housed an antiques centre.
Now you can sup a quiet pint whilst sitting in one of the galleries and admiring the stained glass.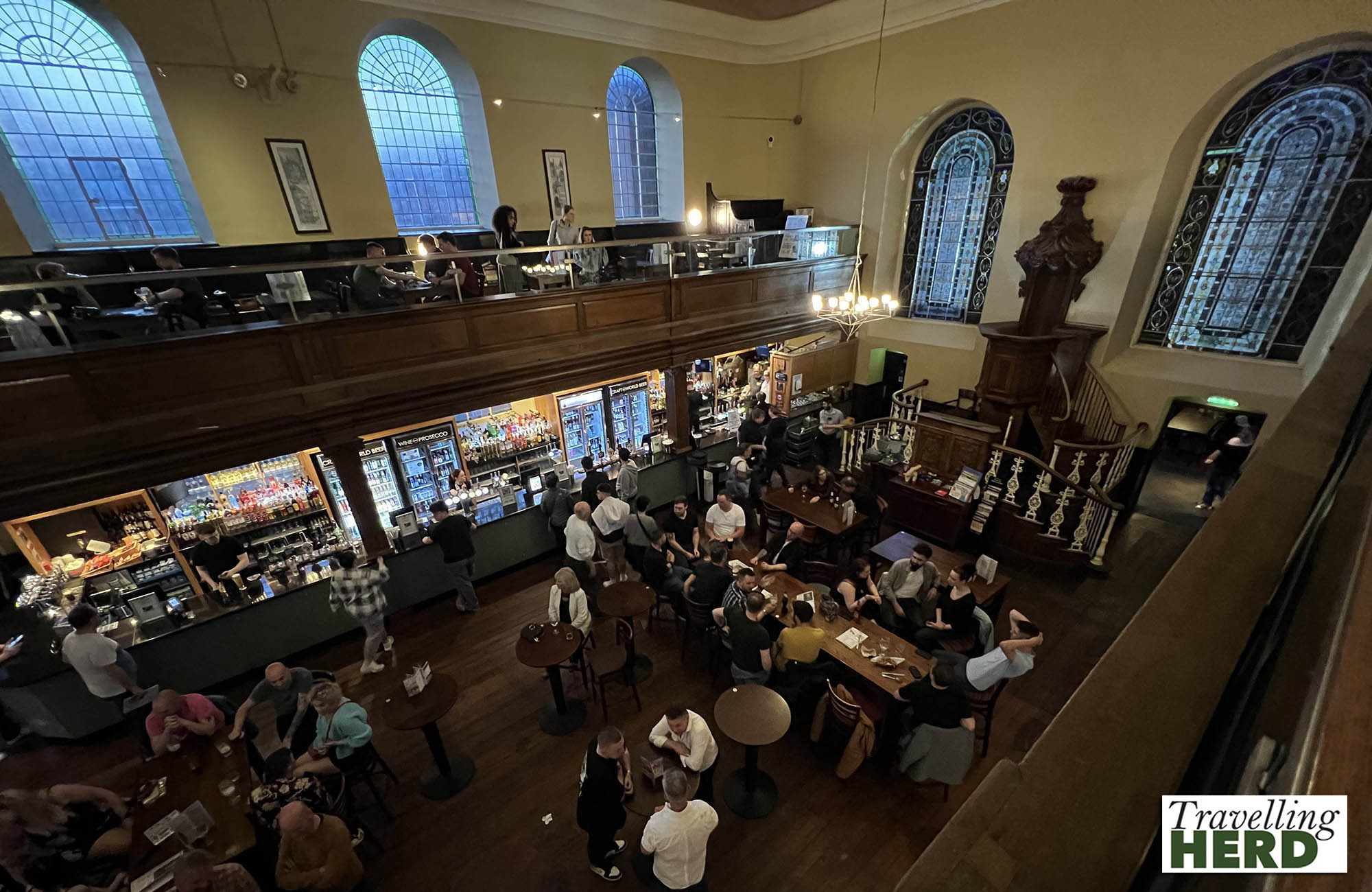 As we entered, we spotted The White Hart Inn opposite. This turned out to offer a fusion of old and new.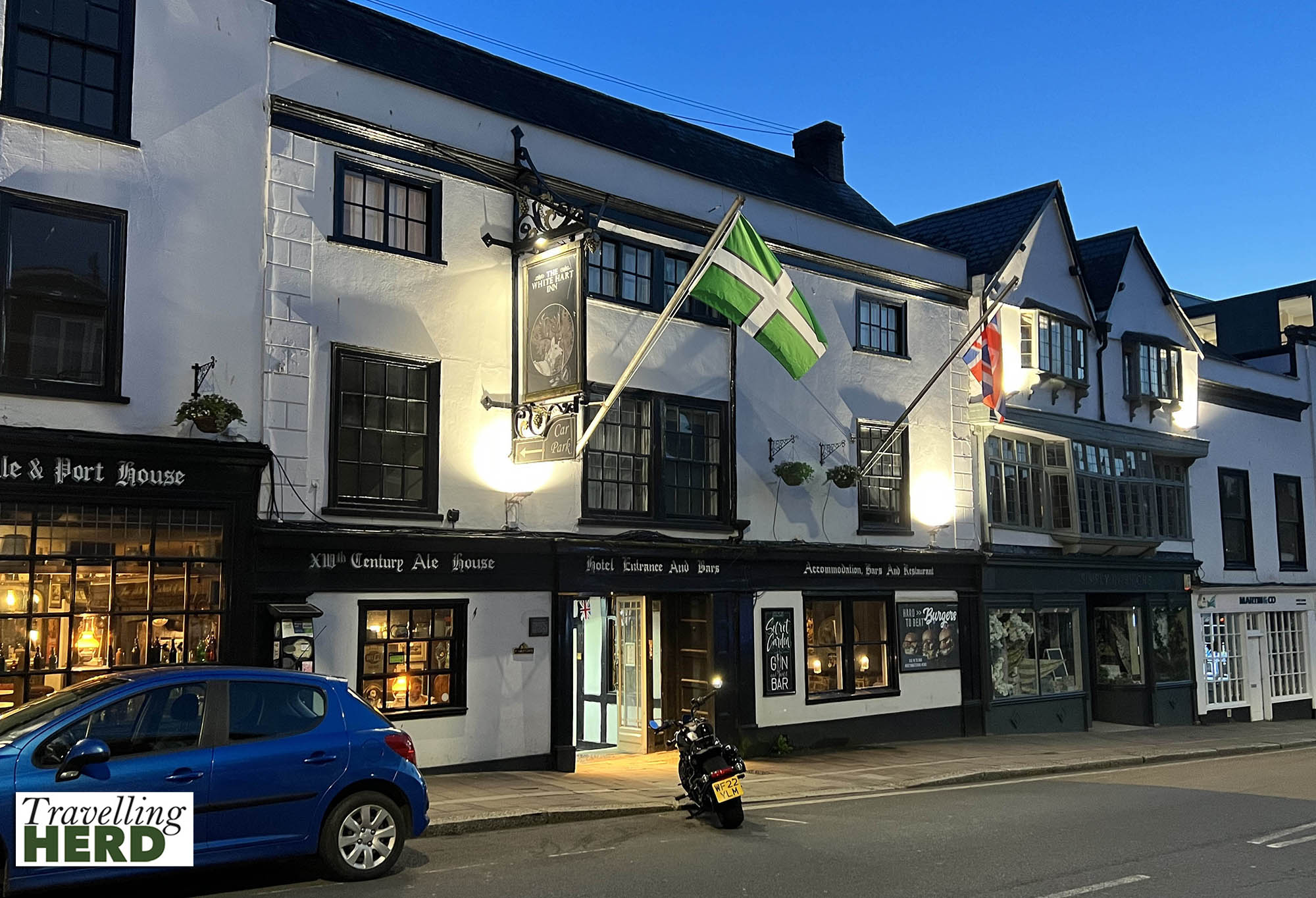 A fabulous historic building which creates the feel of a village: you enter down a covered walkway past a statue into low beamed rooms which extend like a labyrinth back from the street. Meanwhile Eurovision was being shown on the TV.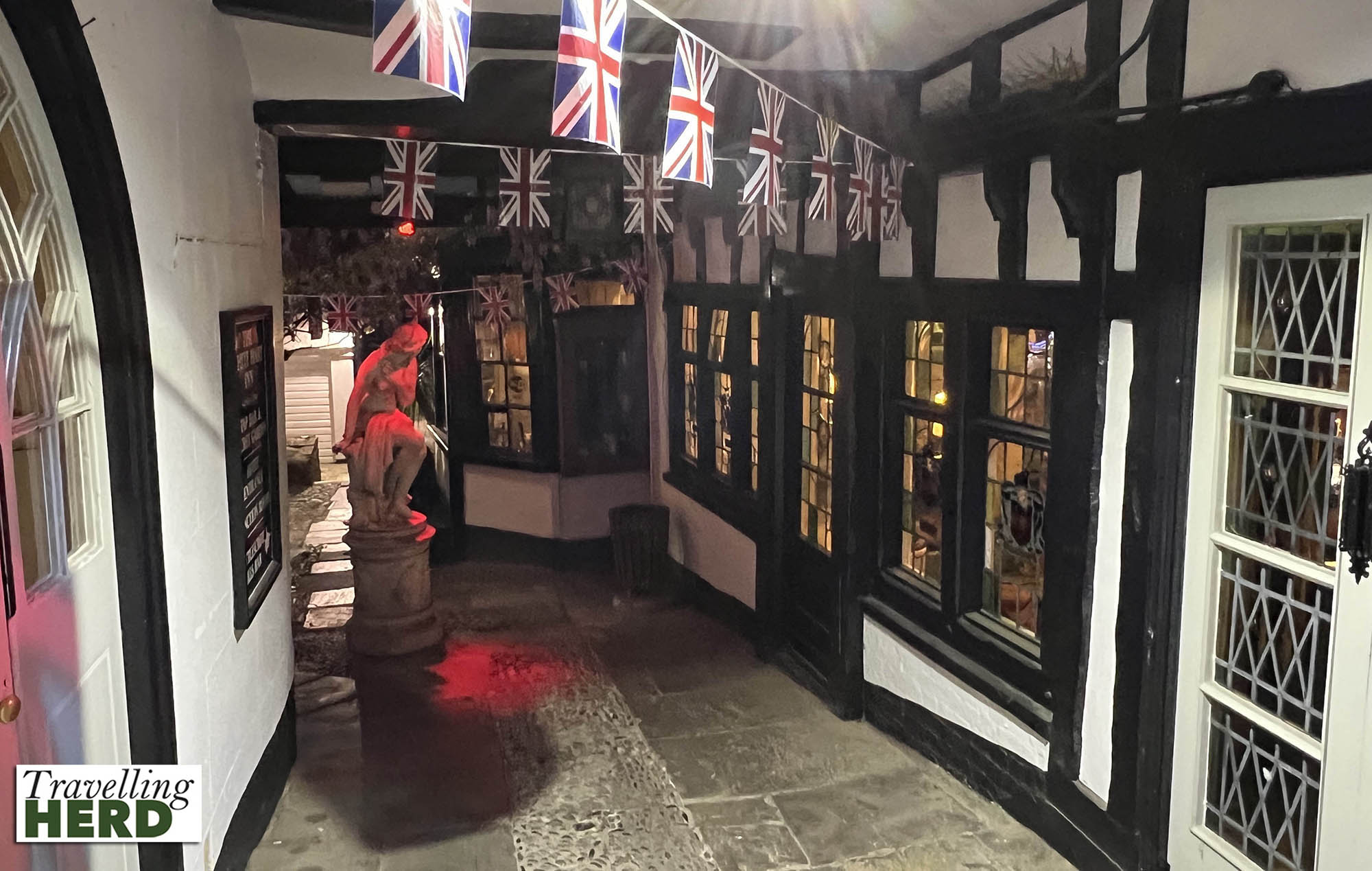 We felt we had seriously underestimated Exeter on our last visit when lockdown had obviously taken a heavy toll. Now that the city is fully "out out" in the sunshine, Exeter has certainly re-emerged as the vibrant county town we always felt it should have been.
Selfie of the day: