From the UK by Ferry – Sunday 3rd February 2019
Although Eurostar trains now run direct to Amsterdam regular readers will have realised that, whenever possible, Robert likes to maximise the number of different forms of transport he can use on any one journey. Therefore, endorsed by our fellow travellers, instead of a direct train from St Pancras International we are travelling by overnight ferry from Harwich. We were informed a few days before departure via email that part of our train route to Harwich has been replaced by a bus service. So our outward journey now includes a car, a train and a tube to get us to our rendezvous with Belinda and John at one of our favourite old London haunts – the Hamilton Hall.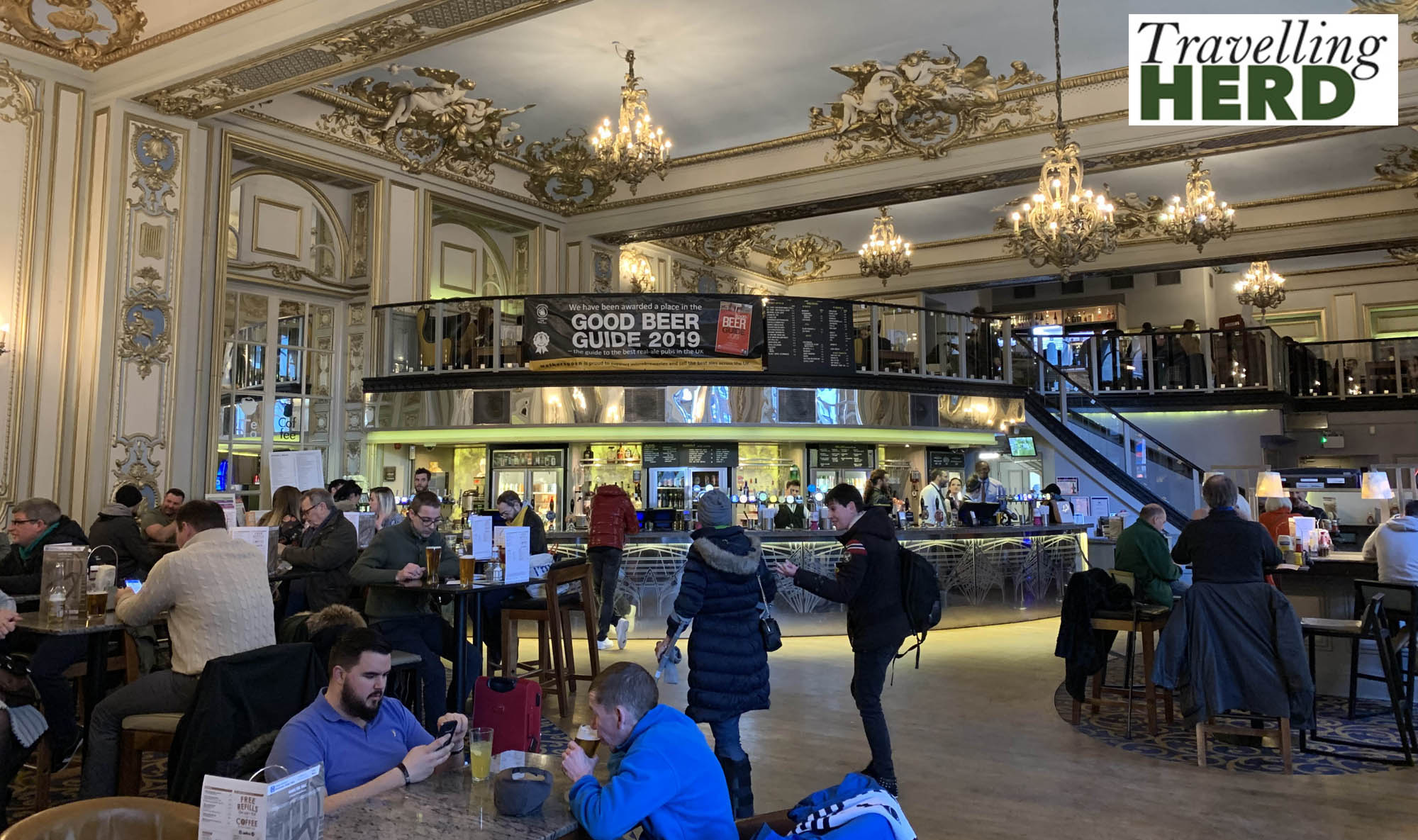 This elegant pub is named after Lord Claud Hamilton who was chairman of the Great Eastern Railway Company from 1893 to 1923. The Company originally built Liverpool Street Station and the pub is in the former ballroom of the Great Eastern Hotel. It retains some of the original painted decorative plasterwork detail on the walls and ceiling. For Robert and Matilda it was also on their commuter route home to East Ham in the early nineties when a missed train frequently provided the ideal excuse to drop in to some rather grandiose surroundings for "a swift half". Painted light blue, it is a bit like drinking inside an oversized piece of Wedgwood.
There followed a tube, a replacement bus, a train and a boat to get us to Amsterdam. Here's to a smooth crossing.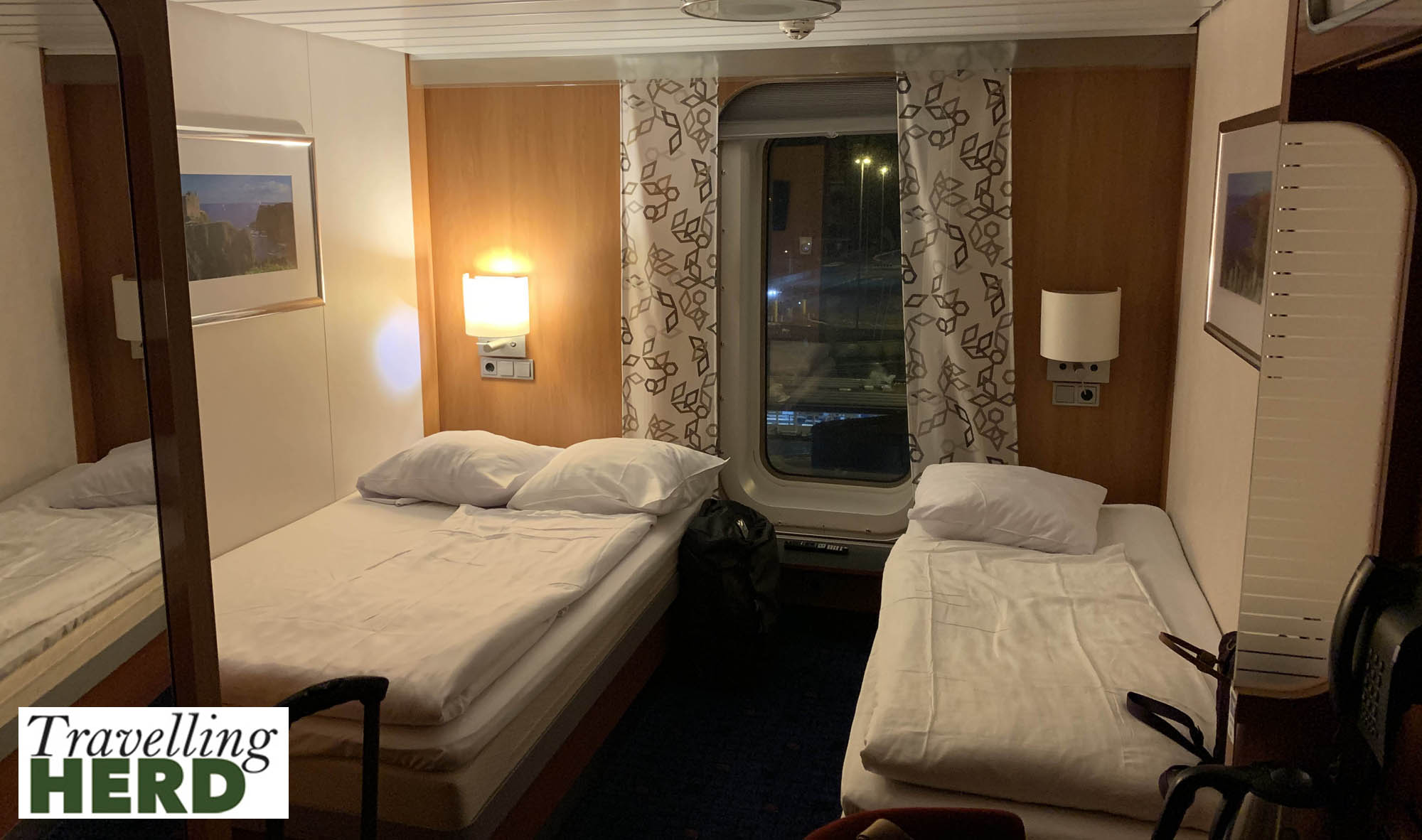 Amsterdam – Monday 4th February 2019
We were awoken by an announcement on the ferry tannoy and were able to have breakfasts as the sun rose and we came into dock at the Hook of Holland. A bus took us to the local station to catch a train to Amsterdam Centraal. And from here a free ferry took us to our floating hotel – Botel.

Having deposited our luggage we caught the ferry back to Amsterdam Centraal and found a coffee shop in which to sit and plan our days of sightseeing. The deciding factor proved to be scheduling a visit to the Anne Frank House. Tickets are only available on-line so we got in the queue and watched as the 187 people ahead of us was gradually whittled down to zero. At around midday, we were able to book tickets for the following morning but at the height of the season you may need to book further ahead.
This done we walked through icy rain to the Van Gogh Museum to learn more about this troubled and tragic artist. The free audio guide is very informative and leads you though the different phases of his life.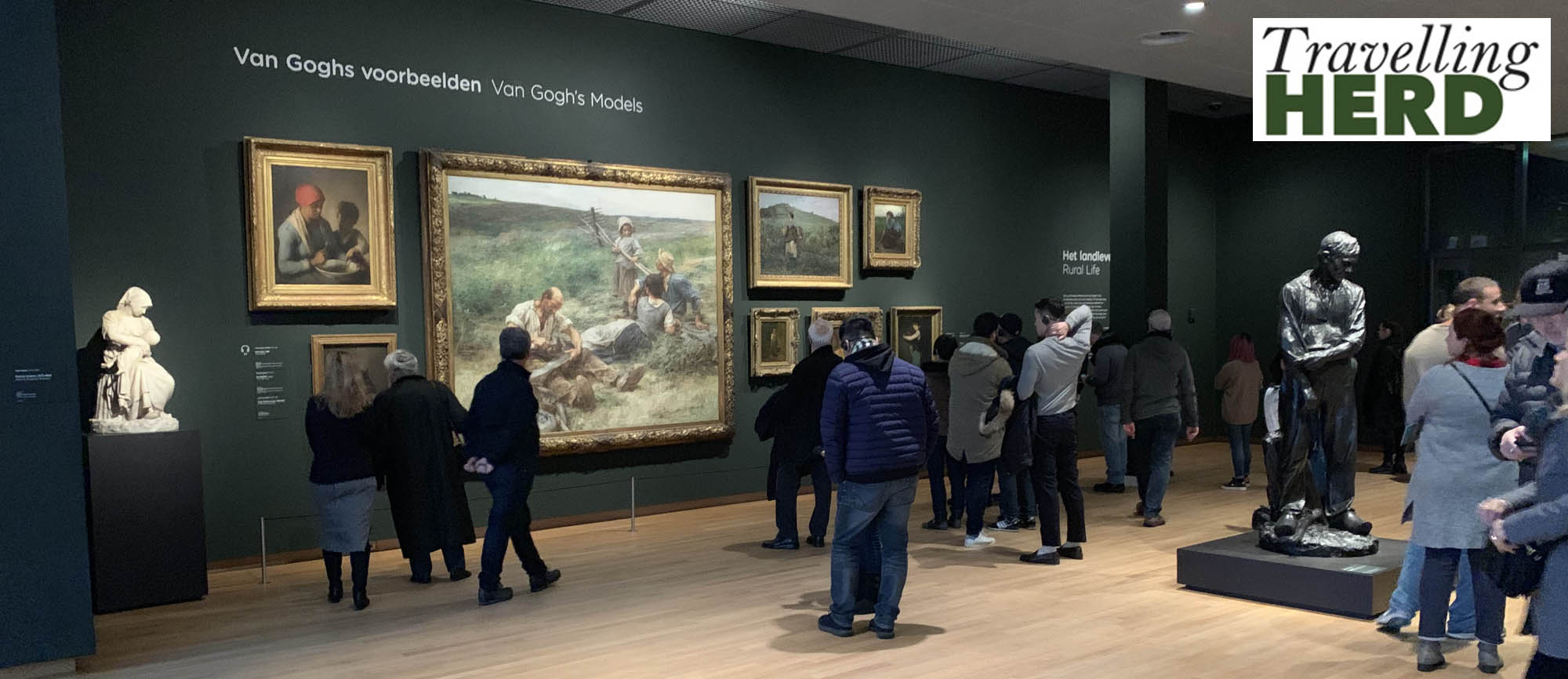 Walking back towards the old town we passed the Brouwerij Troost De Pijp and dropped in to sample some local ales.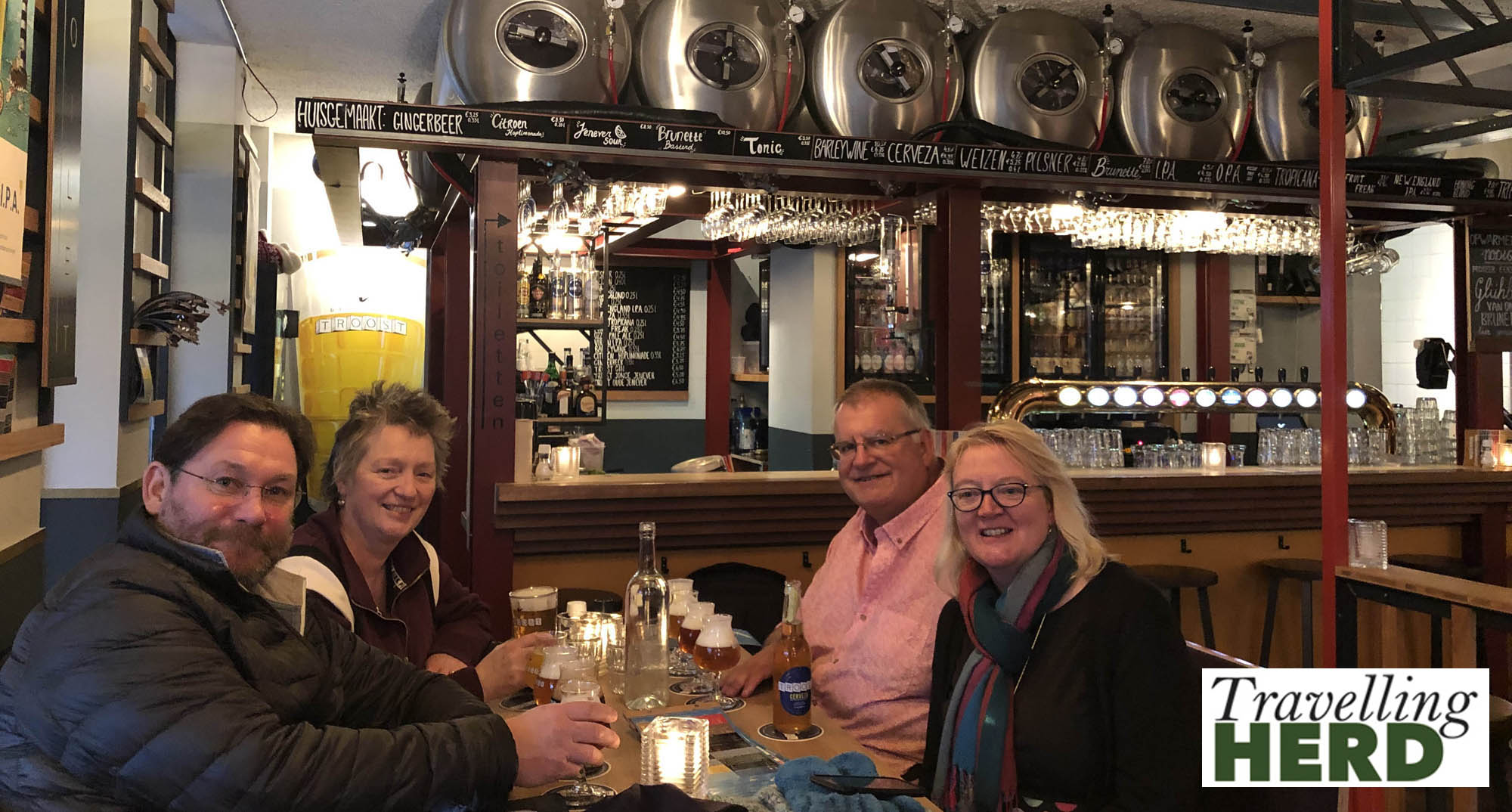 De Hallen Amsterdam offers visitors food, film, architecture and fashion in a converted historic former tram depot. Within this complex, Foodhallen, predictably offers a range of street food as well as a choice of bars.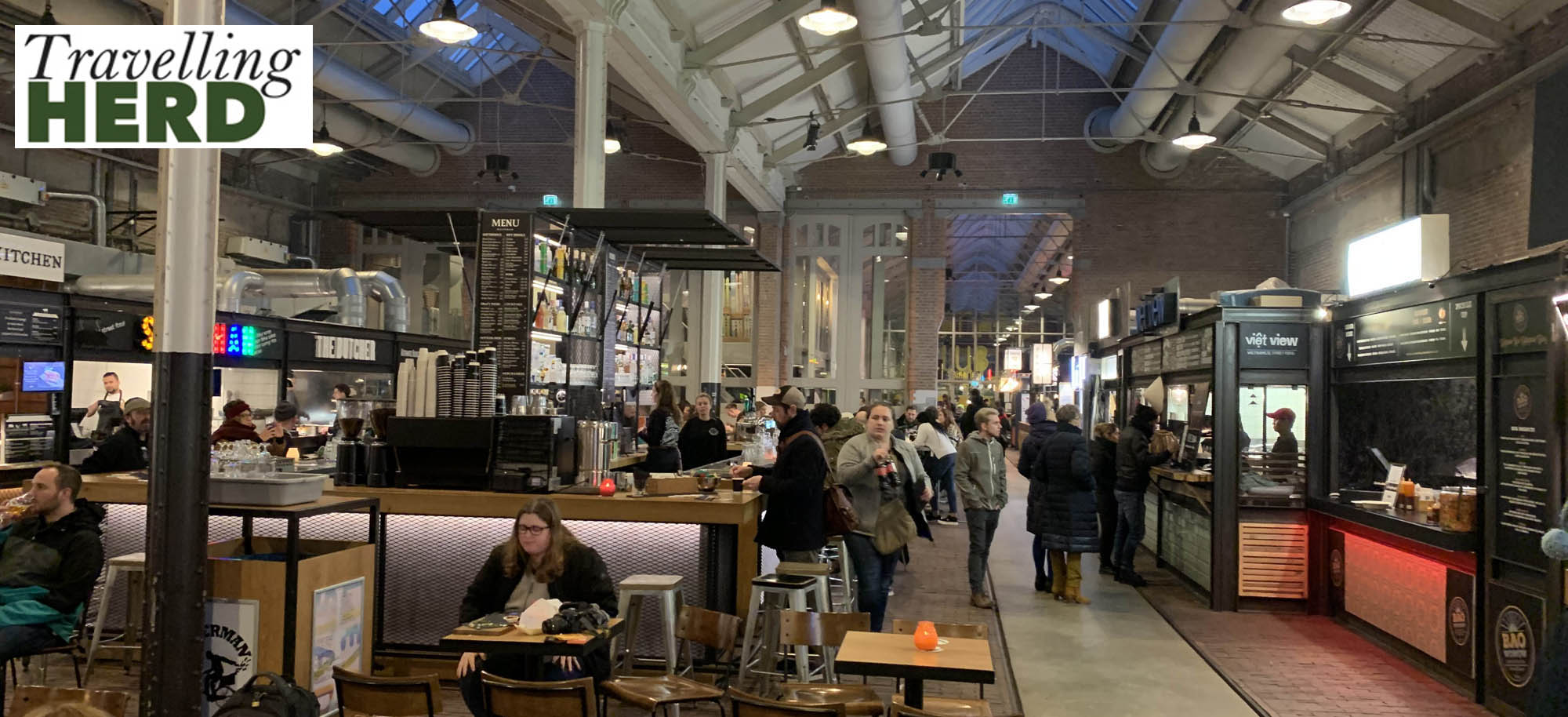 From here we opted to go by tram to introduce John and Belinda to their first Hard Rock Cafe. We were impressed to find that each tram has a conductor behind a reception desk in the centre of the vehicle. The route took us past the American Hotel which looked so civilised and architecturally enticing that we had to walk back for a drink in the bar there as well.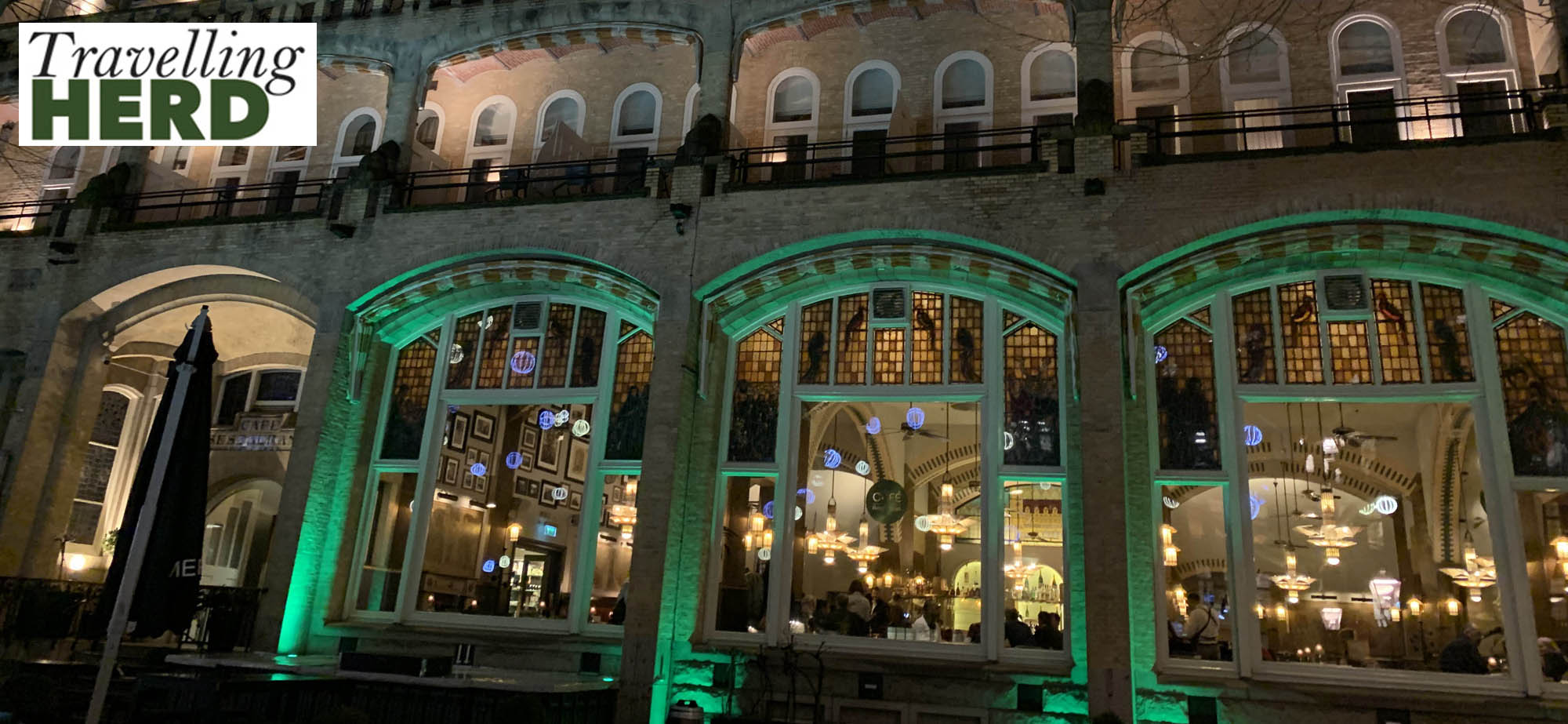 Despite promising luxury, when we finally took possession of our rooms aboard Botel, they proved to be significantly less luxurious than the cabins on the ferry. However, the free ferry to and from the centre of Amsterdam proved an enjoyable way to start and end each day.
Amsterdam – Tuesday 5th February 2019
Having arrived early for our timed entry to the Anne Frank House we filled in time by popping in to the Amsterdam Cheese Museum on the opposite side of the canal. There are plenty of samples available to try, including some interesting flavoured and coloured cheeses.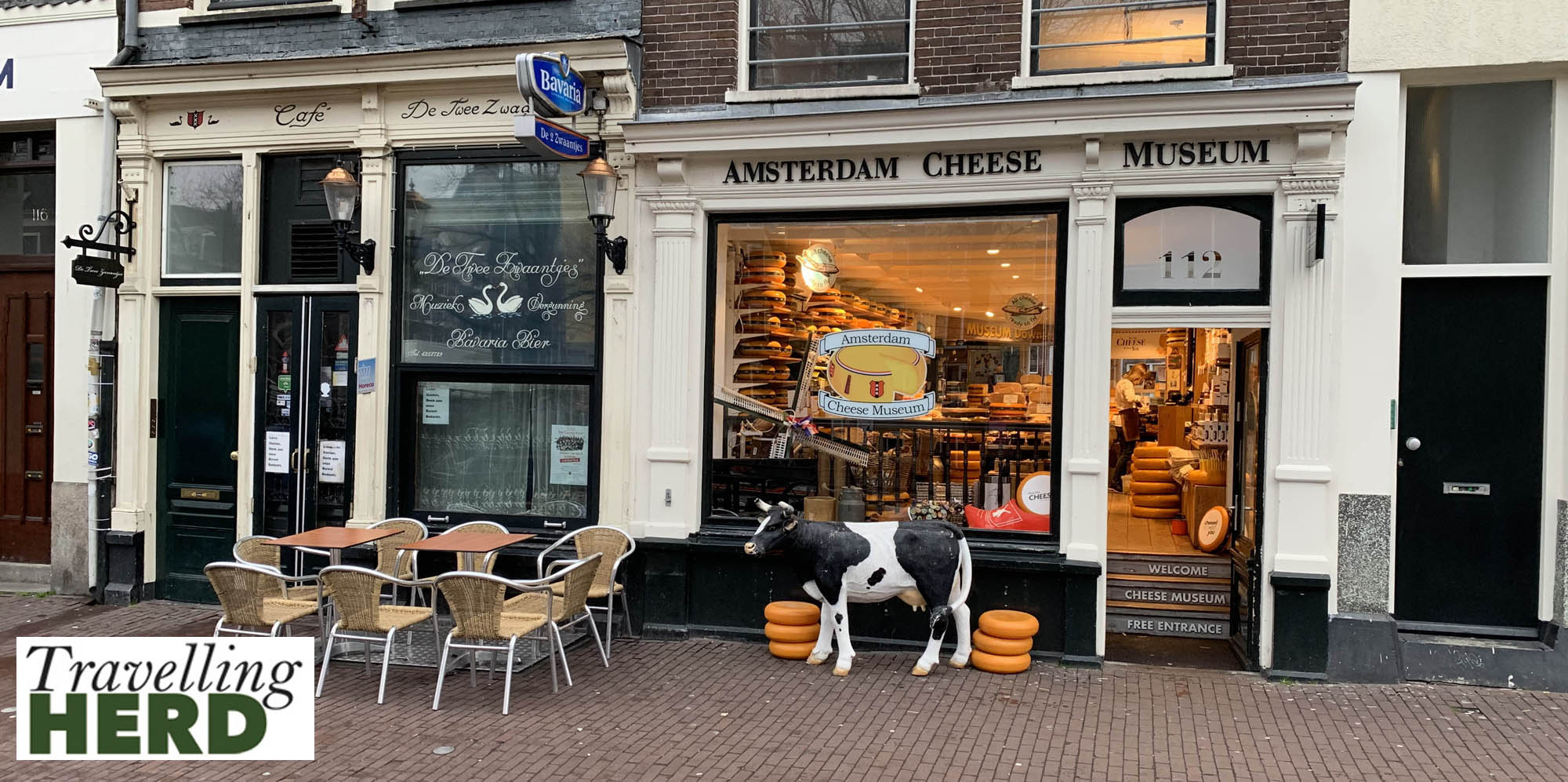 We planned to return to buy some to take home as signs say the cheese is "ready to travel". Walking round the city subsequently we found there were multiple cheese shops and cheese museums, all selling the same sort of products.
Although the atrocities of WWII are well documented and Anne Frank's Diary is known world-wide, a visit to the Anne Frank House is a humbling experience. Visitors were very respectful of the personal tragedies which unfolded in these cramped rooms and those who supported the people hiding in the annexe were indeed courageous in the face of Nazi oppression.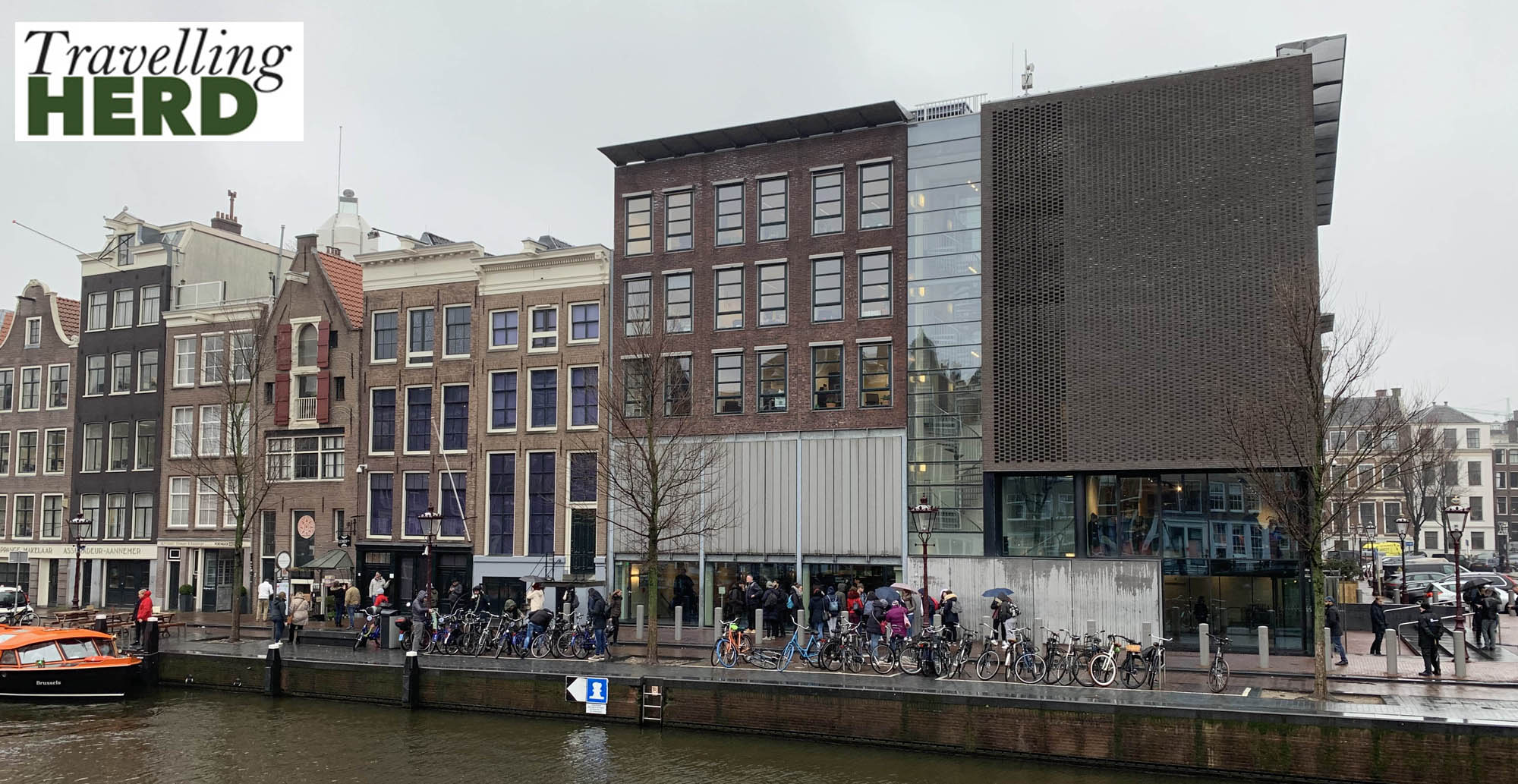 Having visited the beautiful Beguinage at Lier during the summer we were interested to see that there is also a Begijnhof in Amsterdam. We actually walked past the unassuming entrance yesterday and missed it completely but this might be because our heads were firmly down against the wind and snow. The Begijnhof proved to be an oasis of historic calm in the centre of a capital city. The original wooden houses were destroyed by fires in 1421 and 1452 and the current buildings date predominantly from the seventeenth and eighteenth centuries. From 1578 to 1795 Roman Catholics were not allowed to practice their religion openly in Amsterdam but the Begijnen were left in peace as they personally owned the properties in the Begijnhof. In 1607 the city council gave the gothic Begijnhof church to English protestants. Unfortunately, the church was not open to the public due to building works, but the Begijnen had created hidden churches in their houses and we were able to visit the 'official' church, which was created in two adjoining houses in 1671.
The last Begijn died in 1971 but the tradition continues and only women live in these buildings which are now owned by The Begijnhof Foundation.
From the moment we walked through the door and the friendly, personable young man in reception welcomed us and offered to monitor the time until the next video screening so that we could look round the exhibition of modern design, the Museum of the Canals was a revelation. Although it was not exactly what we were expecting, the displays and free audio guide explain how the city council planned the expansion of the city from 1600 including the construction of new canals and houses in difficult building conditions.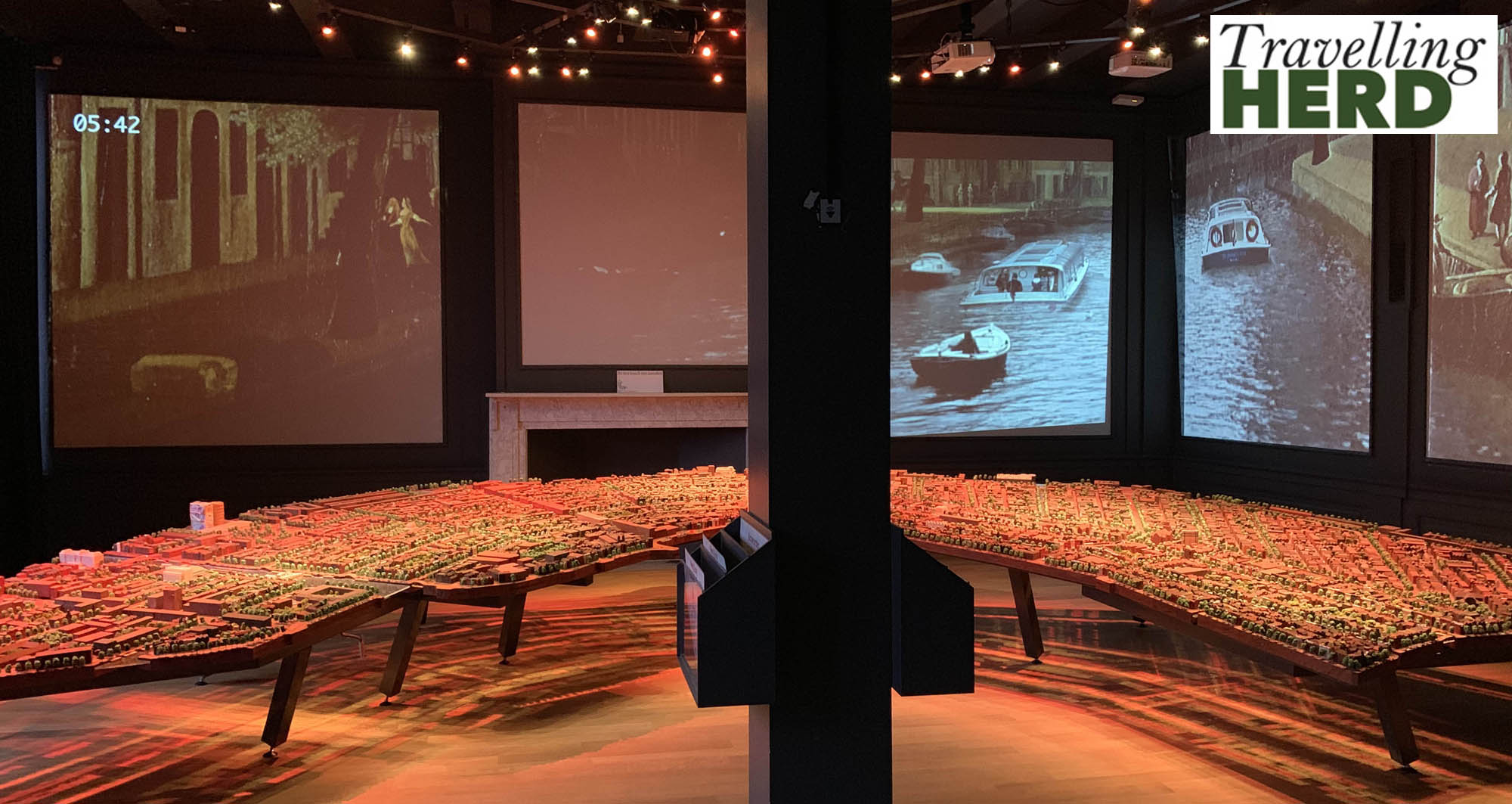 On leaving this museum, we walked to the Katten Kabinet where John and Robert did not seem to share the female fondness for felines and did some traditional male bonding instead.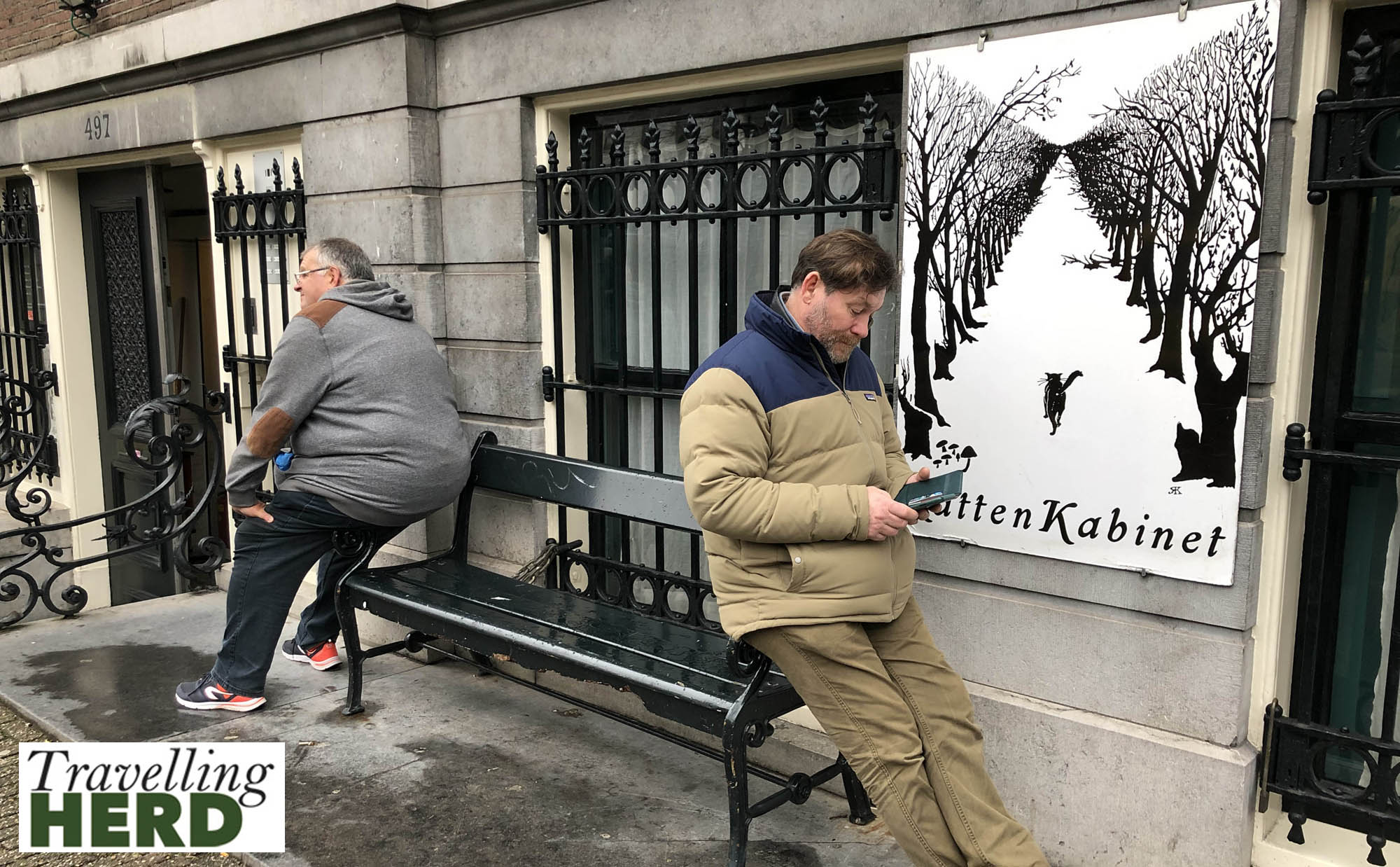 From here, we walked to the Brouwerij 't IJ which has the distinct benefit of being situated in a windmill and serves a wide selection of ales.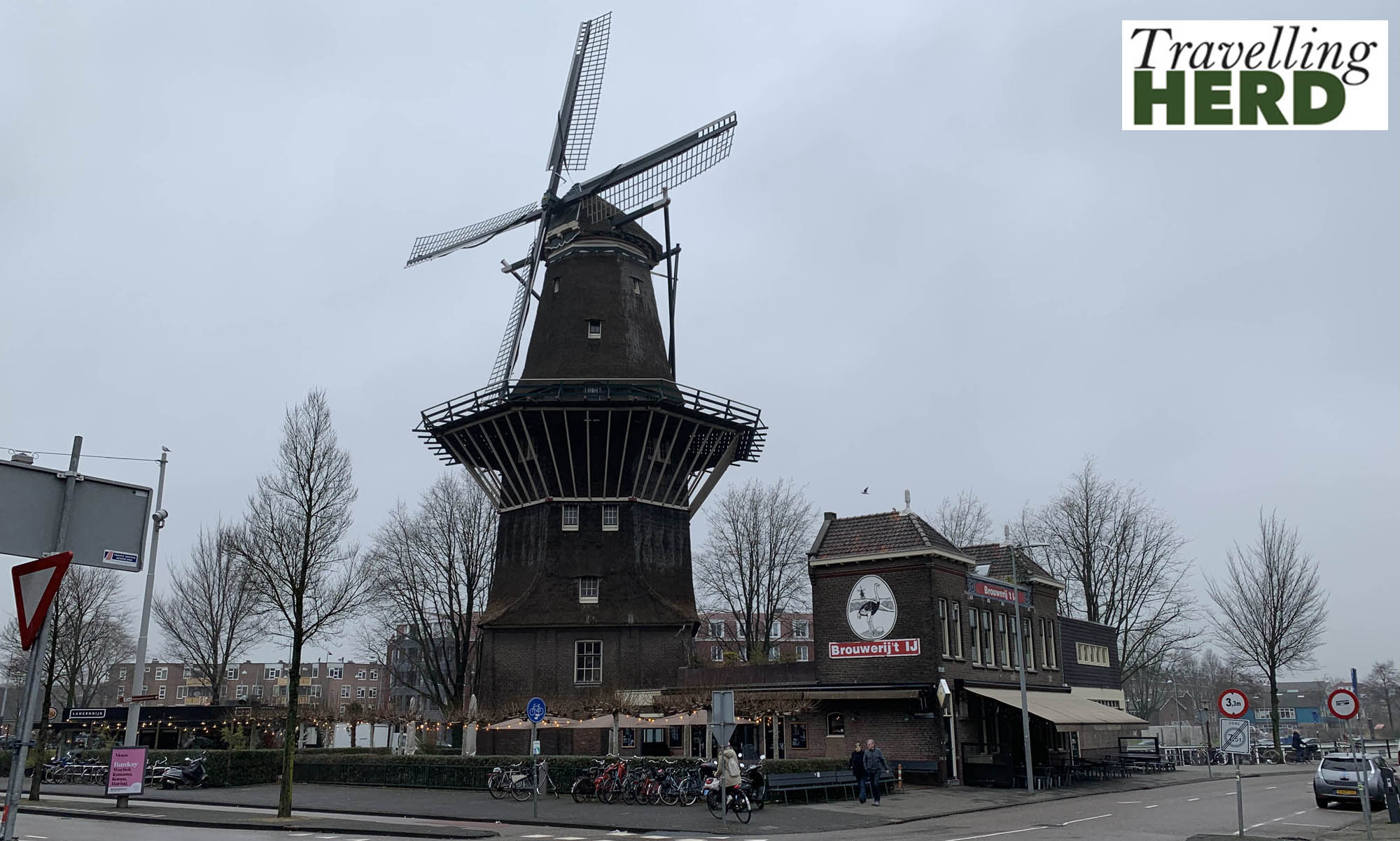 Amsterdam – Wednesday 6th February 2019
We decided to indulge in a little culture and retail therapy and agreed to spend some time separately then meet up at a brewery recommended by a friend of Belinda's. The EYE Filmmuseum is just a three minute free ferry ride from Amsterdam Centraal and is an extraordinary building with contrasting angles and planes which presumably accommodate the cinema screens inside. Here Matilda was able to stock up on cards to send to her daughters.
We returned to the flower market to buy some hyacinth bulbs to grow in a vase and bought some "ready to travel" cheese to take home.
We were unable to view the Nieuwe Kerk as this was closed until February 16th but we went into the Franciscus Xaverius Roman Catholic Church, another "hidden church" which we passed and the Magna Plaza . This Neo-Gothic, Neo-Renaissance shopping centre was formerly the main post office and was built between 1895-1899.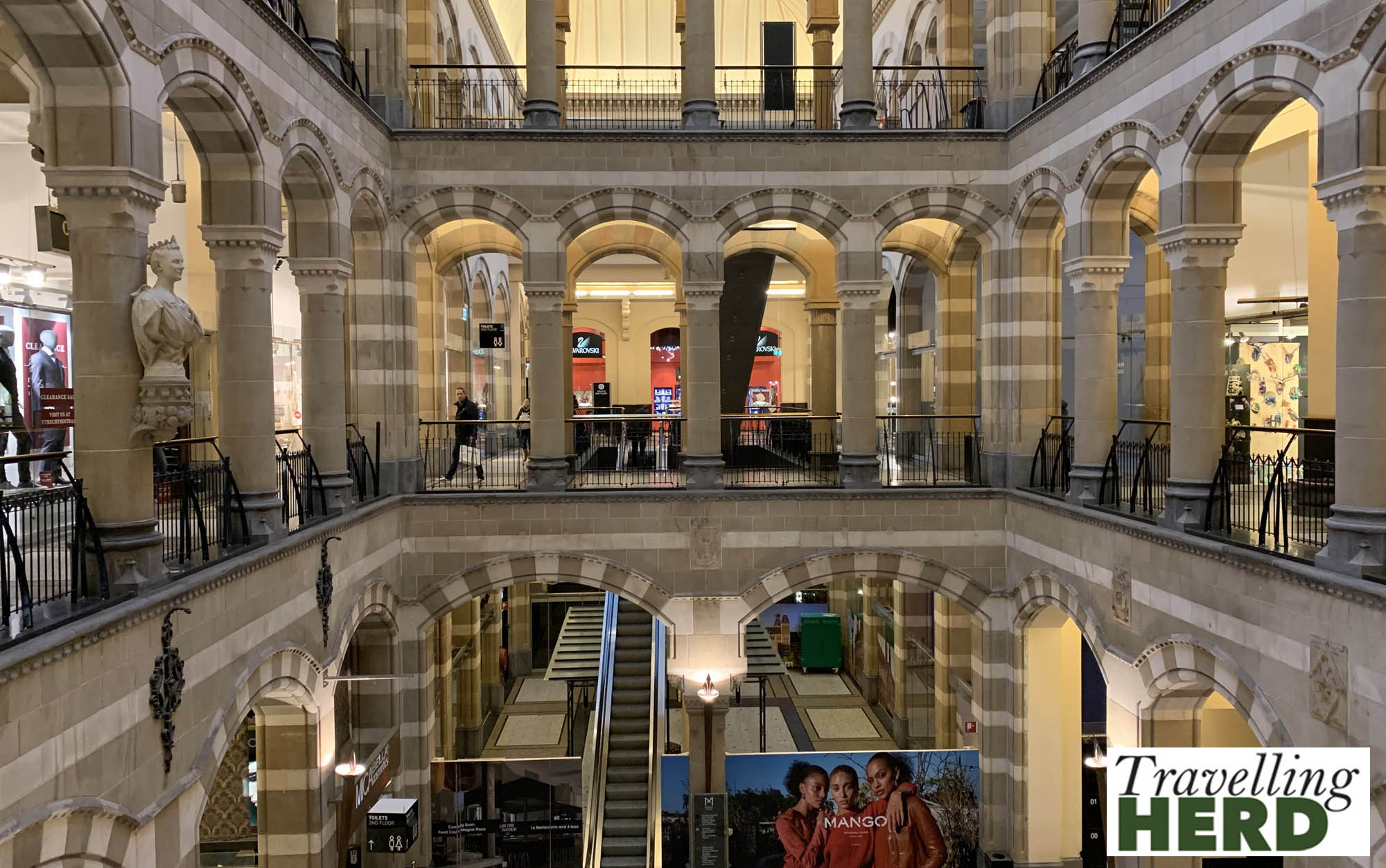 Although highly recommended, we found that Brouwerij de Prael did not serve any gluten free beers . . .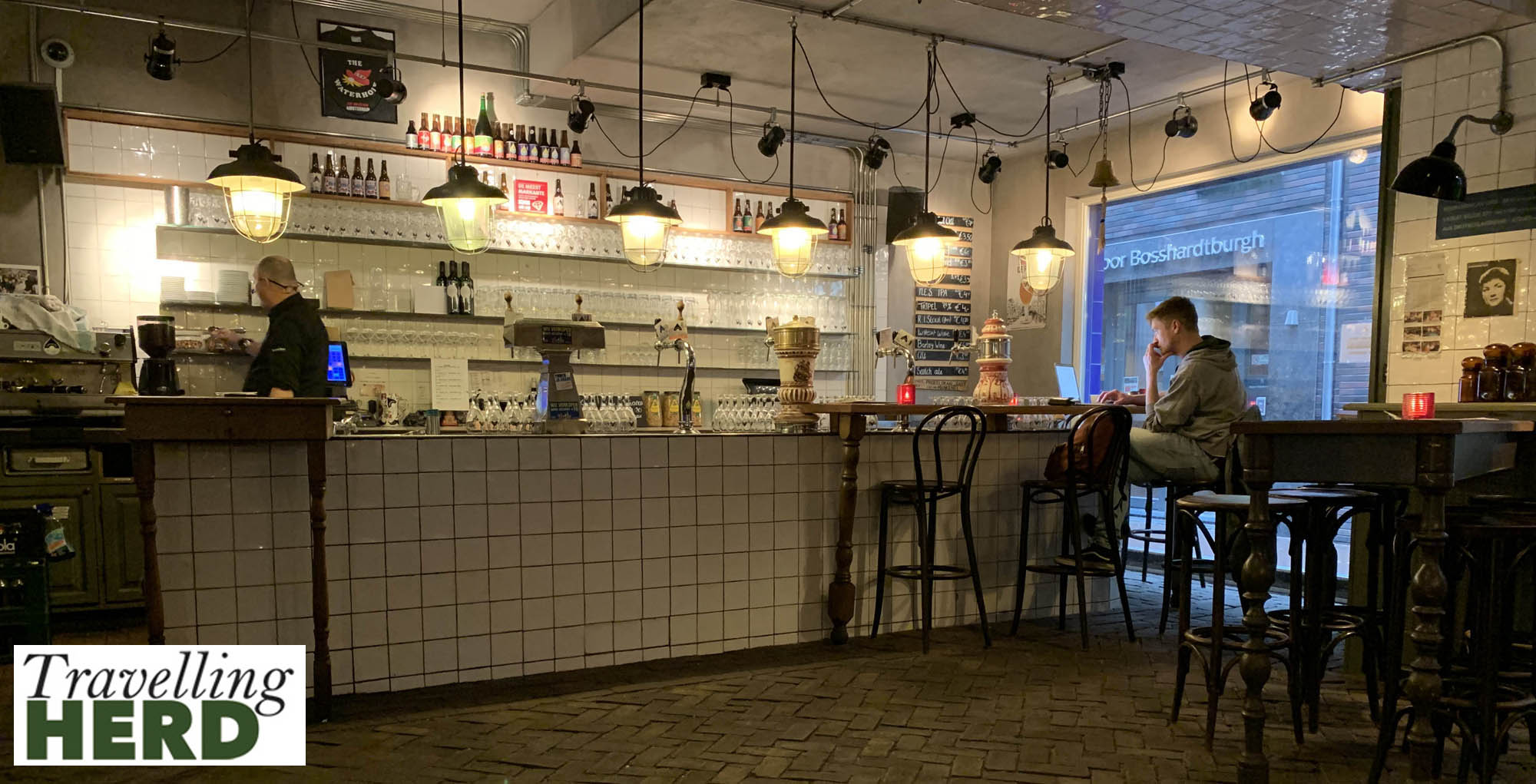 . . . and so we moved on to In de Wildeman, a bar housed in the tasting room of the old Likeurstokerij distillery.
In de Wildeman boasts friendly welcoming bar staff, a relaxed atmosphere, a fine selection of ales including gluten free options; one named Matilda and one from the Wylam Brewery in Northumberland where Belinda's sister lives as well as tasty bar snacks.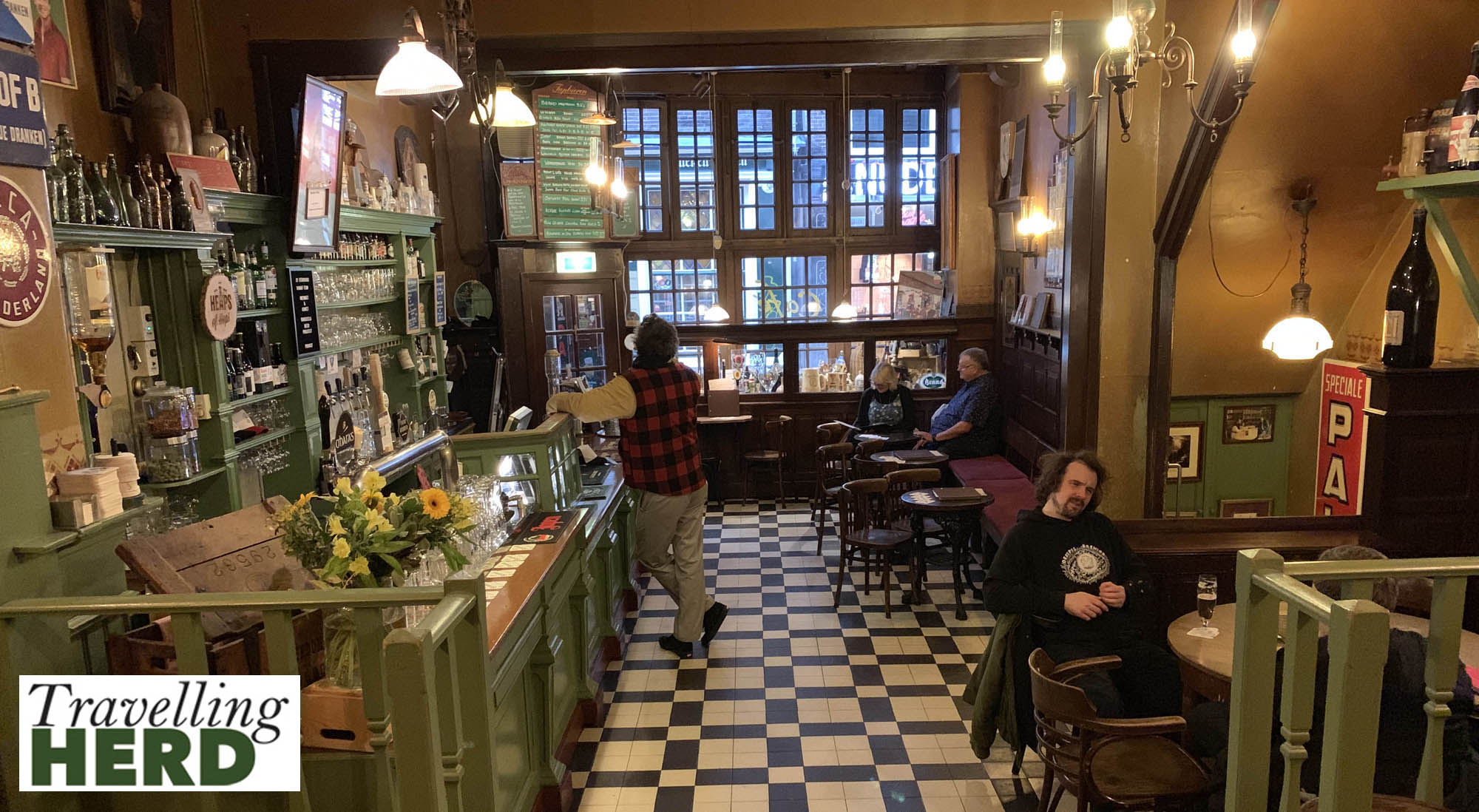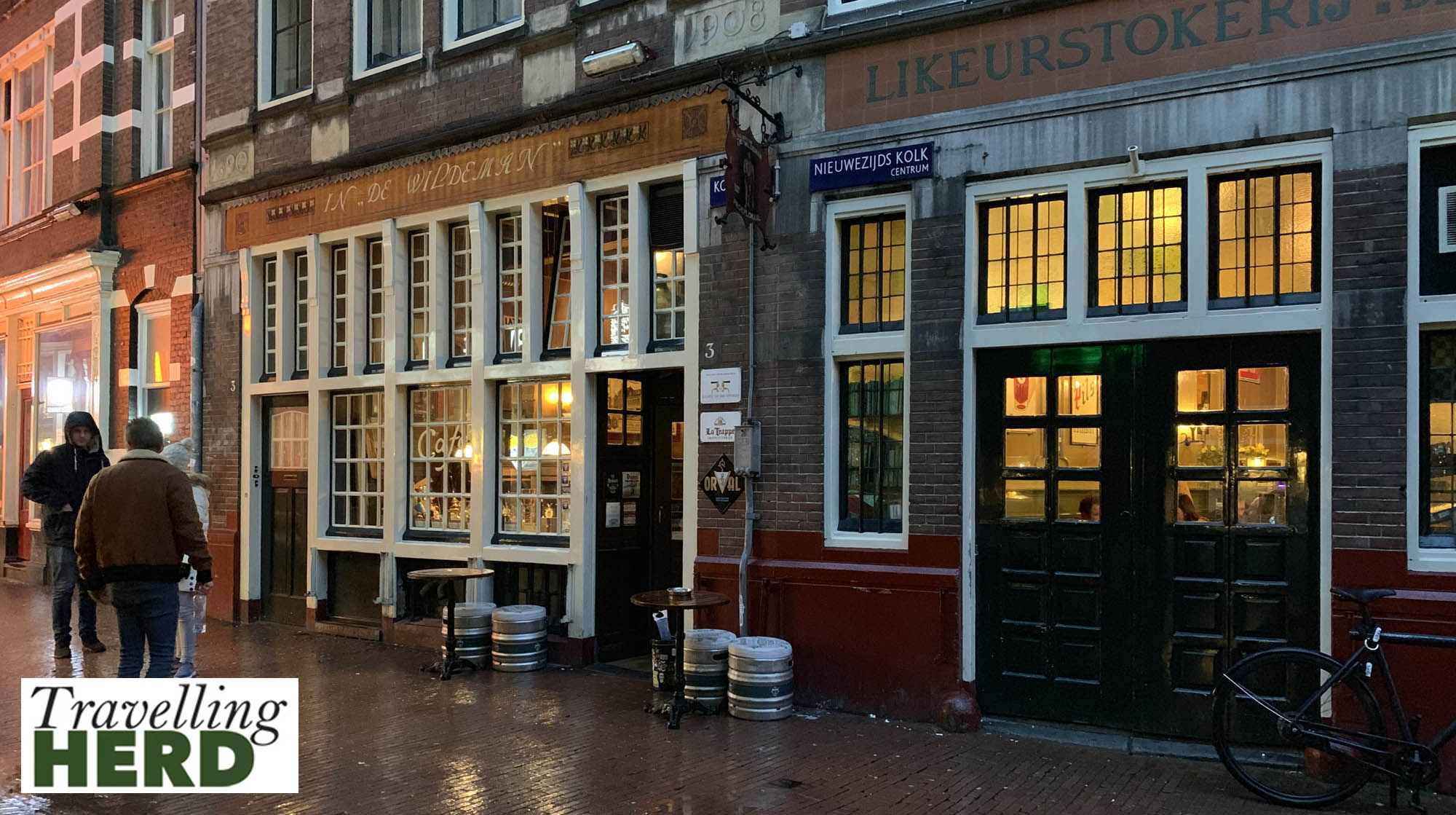 Our next stop was Proeflokaal Arendsnest which translates as Eagle's Nest.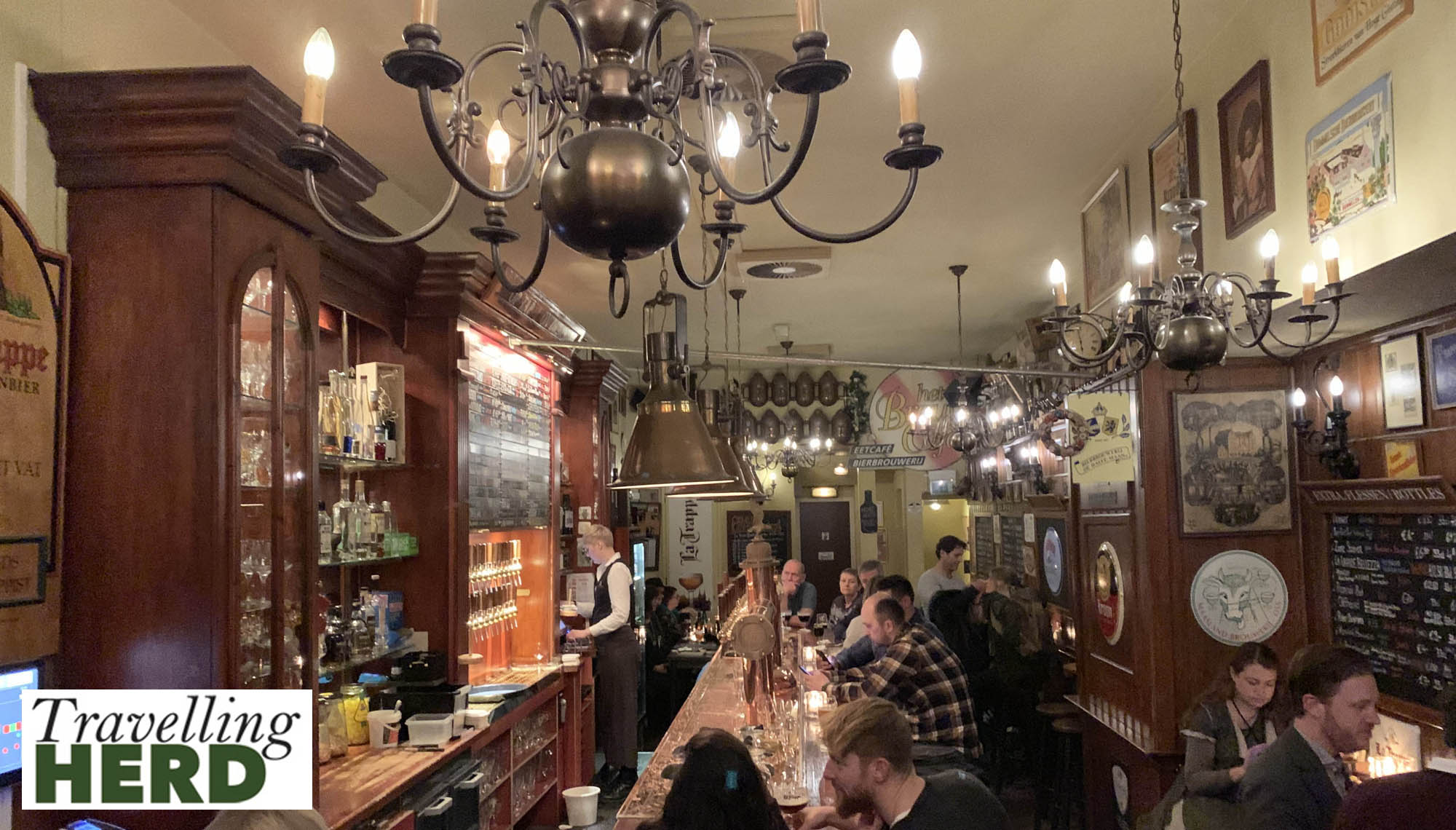 Although John seemed to be struggling to stay awake at some points during our time here, he did pronounce on FaceBook that this pub could be one of his favourites. This was partly because the very kind and helpful barmaid (who was also tall, willowy and blonde) had to touch him gently in the shoulder and wake him up to ask if he wanted another beer at one point.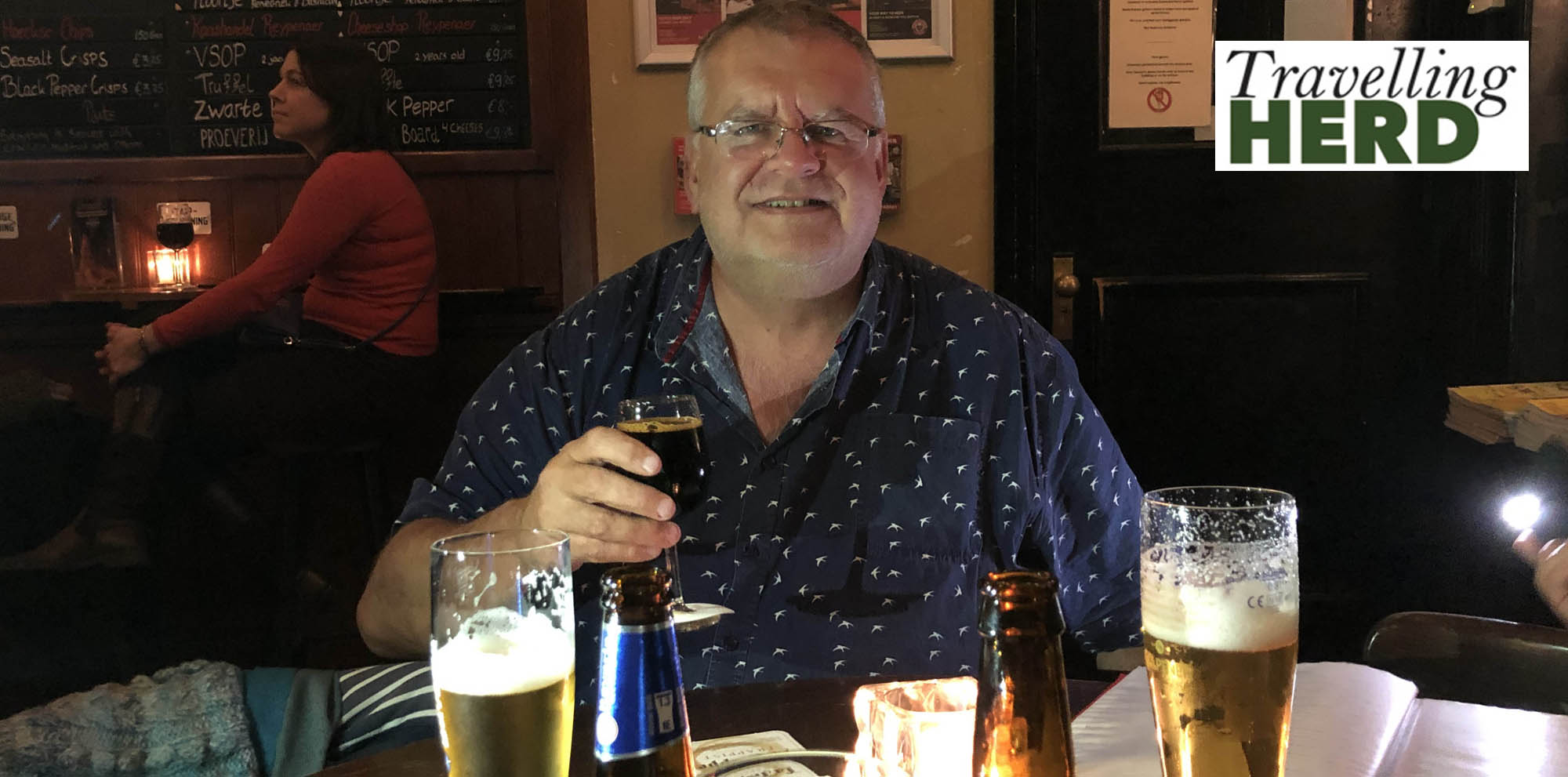 Later in the evening, he had been sampling various local brews and he placed an order with us and went
off to use the facilities which, with beer taps on the sinks, were a recommendation in themselves.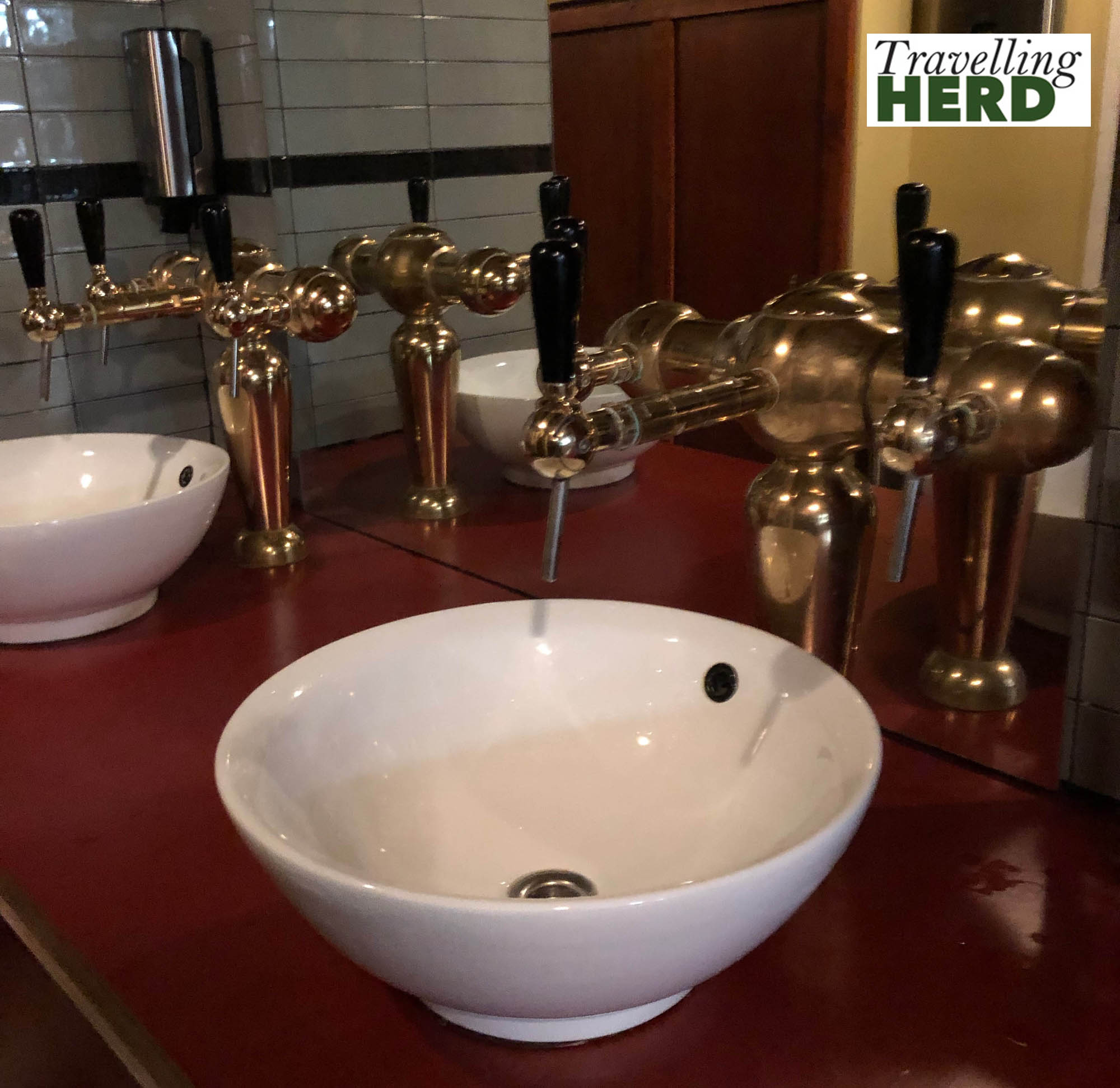 The barmaid refused to accept John's order in his absence as she felt it would be too boring a taste compared to the flavours he had already chosen. On his return the barmaid explained her concerns and between them they settled on a more appropriate option. This turned out to be a small glass of 11% Imperial Stout.
Now that's real service.
Brussels – Thursday 7th February 2019
Our journey home included a few hours in Brussels before the Eurostar in which to visit the Delirium Tremens bar followed by A la Mort Subite. Can anyone detect a theme?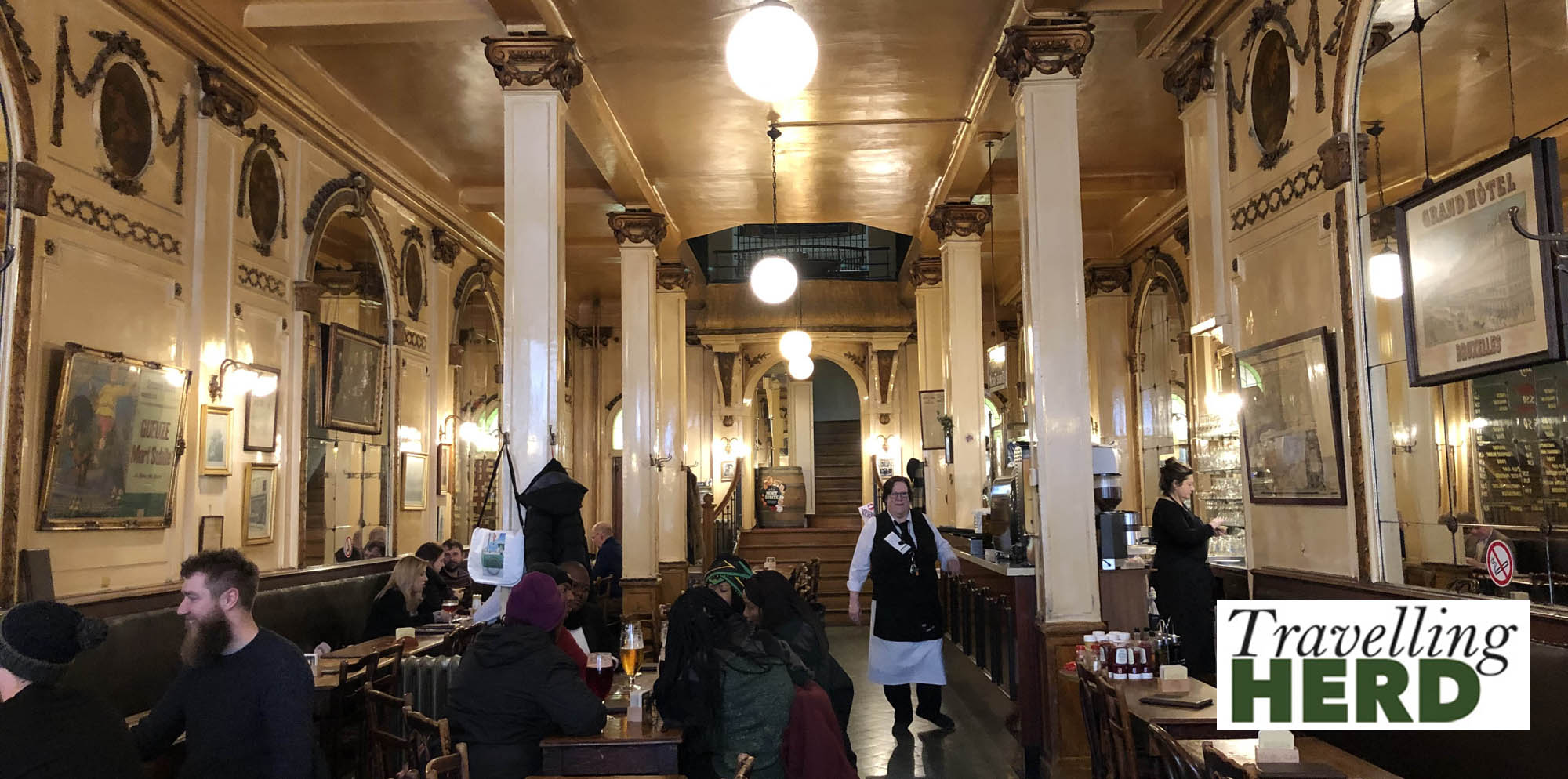 We also visited a favourite bar, just off the Grand Place, where the Hoegaarden is served in a frosted glass.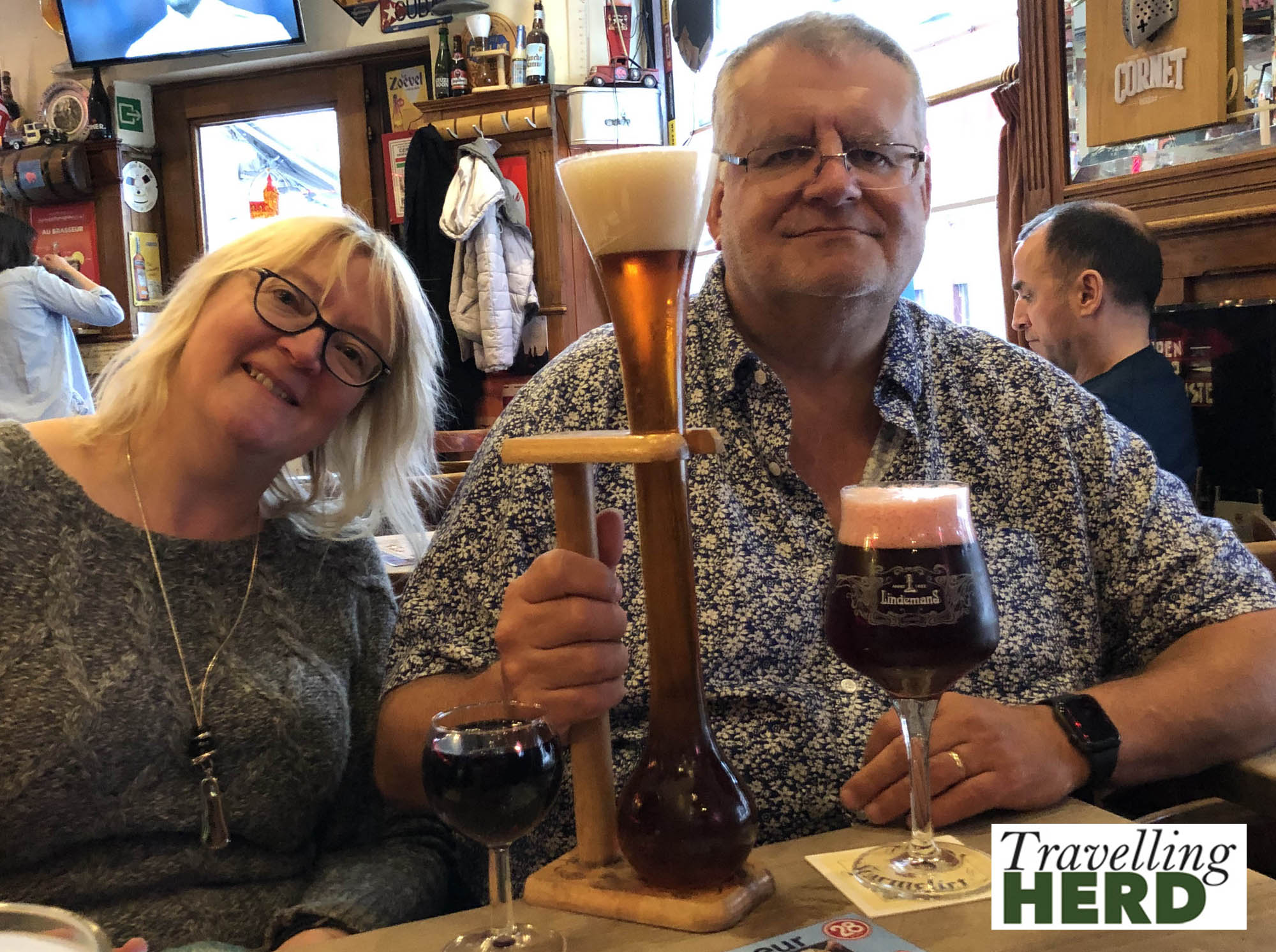 Here a fellow tourist found she did not like any of the samples on the flight of beer and offered them to us. It seemed rude to refuse.