Saturday, 20th October & Sunday, 21st October 2018
About five minutes away from the campsite, Robert heard a noise and suddenly stopped, saying "Something has happened. I've hit something." Looking back Matilda could see a flat black and white shape on the road and feared we had run over someone's cat.
Robert went back to check, recovered one of our shopping bags and discovered that the passenger side door to the "garage space" at the rear had come open and we had lost three out of four of our pads for the levelling system. These can easily be re-ordered, but a pet is irreplaceable.
We then arrived at the campsite at Saverne and were allocated a pitch only to find someone else was already encamped there. Matilda checked with reception and we were told to choose our spot. Having identified one which would catch the evening sun from the right direction Robert reversed and renegotiated the site. We realised we had probably not been offered this pitch in the first place because it was very tight, driving down the path, between hedges and fire hydrants to our chosen pitch. Once encamped, we decided to undertake some domestic chores such as laundry and vacuuming – of course Robert has purchased all the relevant gadgets.
It also allowed Matilda to have a long-awaited swim. She cannot record this in lengths as it was a very small pool and only took 12 strokes from end to end. But the time spent swimming would have been equivalent to 50 lengths at home.
We have realised we need to balance staying in an aire, when you are based in a town/city centre where facilities/services can sometimes be limited but you are close to the sights, with spending a few days at a campsite to catch up on laundry and cleaning. Following our domestic day on Saturday, we planned to go and see the sights of Saverne on Sunday, accepting that not everything would be open.
At this campsite, you can order bread, croissants and pain au chocolats for delivery the following morning so we ordered a baguette. Matilda planned to go swimming so we collected the baguette, Matilda went for her second swim as soon as the pool opened at 10:00am and the baguette formed the basis of brunch before we set off into town to see the canal . . .

. . . the Port de Plaisance. . .

and the Chateau des Rohan.

Although this is not on our list of places to return to, we would recommend this campsite, out of season, as a place to stop, catch up with domestic chores and relax.,br.
Walked this weekend: 8.0 miles
Driving distance today: 70.70 miles

The current tour map: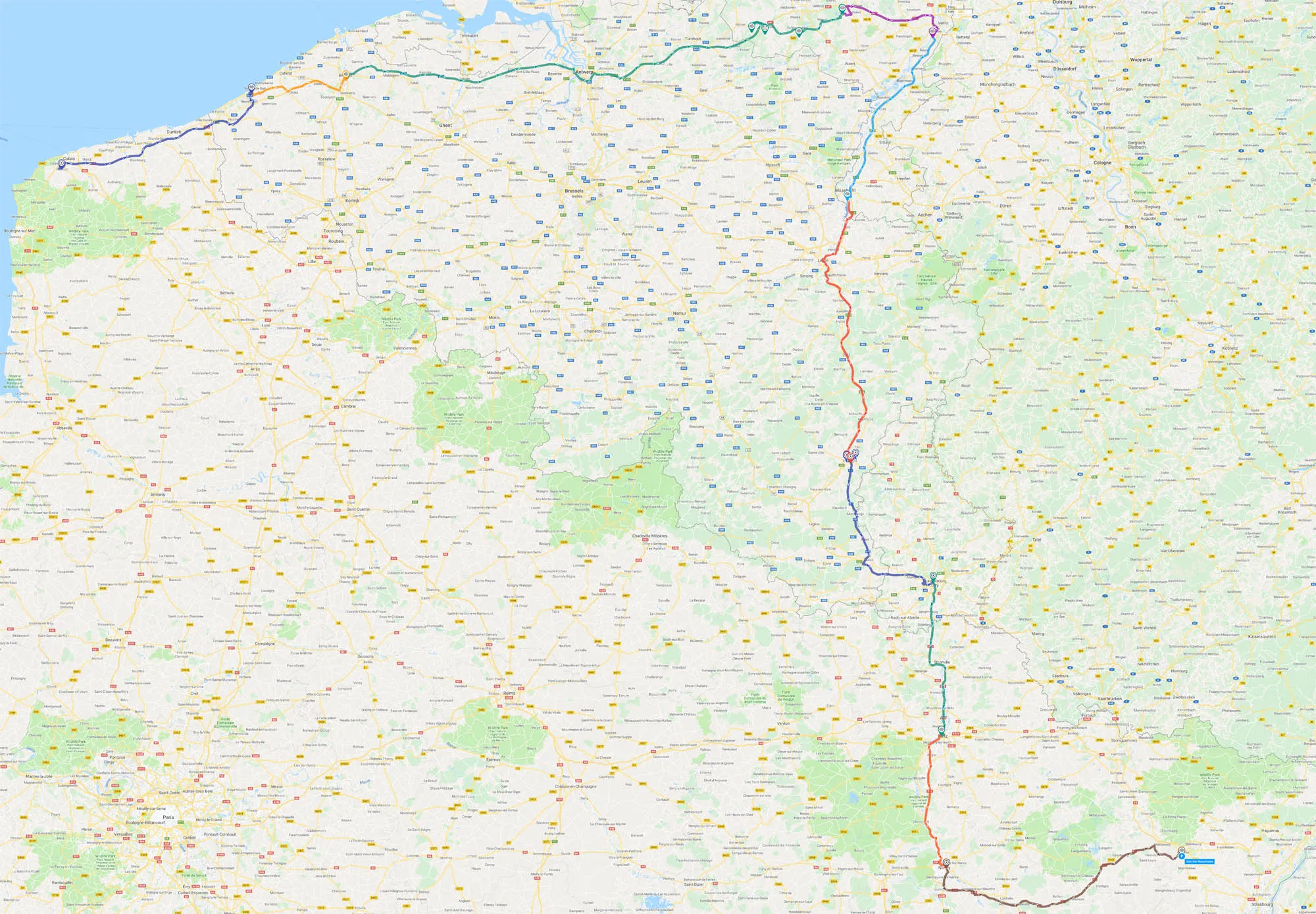 Overnight location: n48º43.52′ e7º21.19′
Seasonova Les Portes d'Alsace, Saverne: