Wednesday, 15th August 2018
Today was an unusually late start for us. We normally like to get a train around 08:00 which allows us to get up about 06:00, pack, then breakfast at 07:00 and then leave the hotel at 07:30-ish. This means that if we do a train ride of around two hours we can walk to our new hotel, drop the bags off, grab a free local printed map and then get to a cafe for the day's planning over a cup of coffee. There is nothing better than circling the spots to visit on a paper map using a real writing implement so that you can visualise, and draw, the day's route.
Our train today is at 14:04, only because it is the only direct service to Brasov that has 1st class accommodation available. The hotel we are staying in has the luxury of a swimming pool. As you know Matilda likes a good swim, but not on a full stomach. So pre breakfast swimming it was. Matilda doing lengths while Robert was doing strange under water exercises to combat his sciatica. After the pool we enjoyed the Romanian's view of a full English breakfast.
After a leisurely start we checked out and deposited our bags at reception to have one last look round Sighisoara. We walked over the Târnava Mare River to the striking black and white Holy Trinity Church. As we were arriving many people of all ages were leaving, dressed fir an occasion, clasping or eating what looked like white bread rolls. We looked this up and found that 15 August is celebrated as St Mary's Day: the Feast of the Dormition of the Mother of Jesus is an annual national holiday in Romania. It celebrates the Christian belief that God assumed the Virgin Mary into Heaven following her death. It seems to be a multi-functional celebration as St Mary is the patron saint of the navy so the day is also known as Navy Day. The celebration may also have subsumed an earlier harvest festival so in many parts of Europe, is known as the Feast of Our Lady of the Harvest. This might explain the bread rolls. We felt slightly embarrassed to intrude on such a service.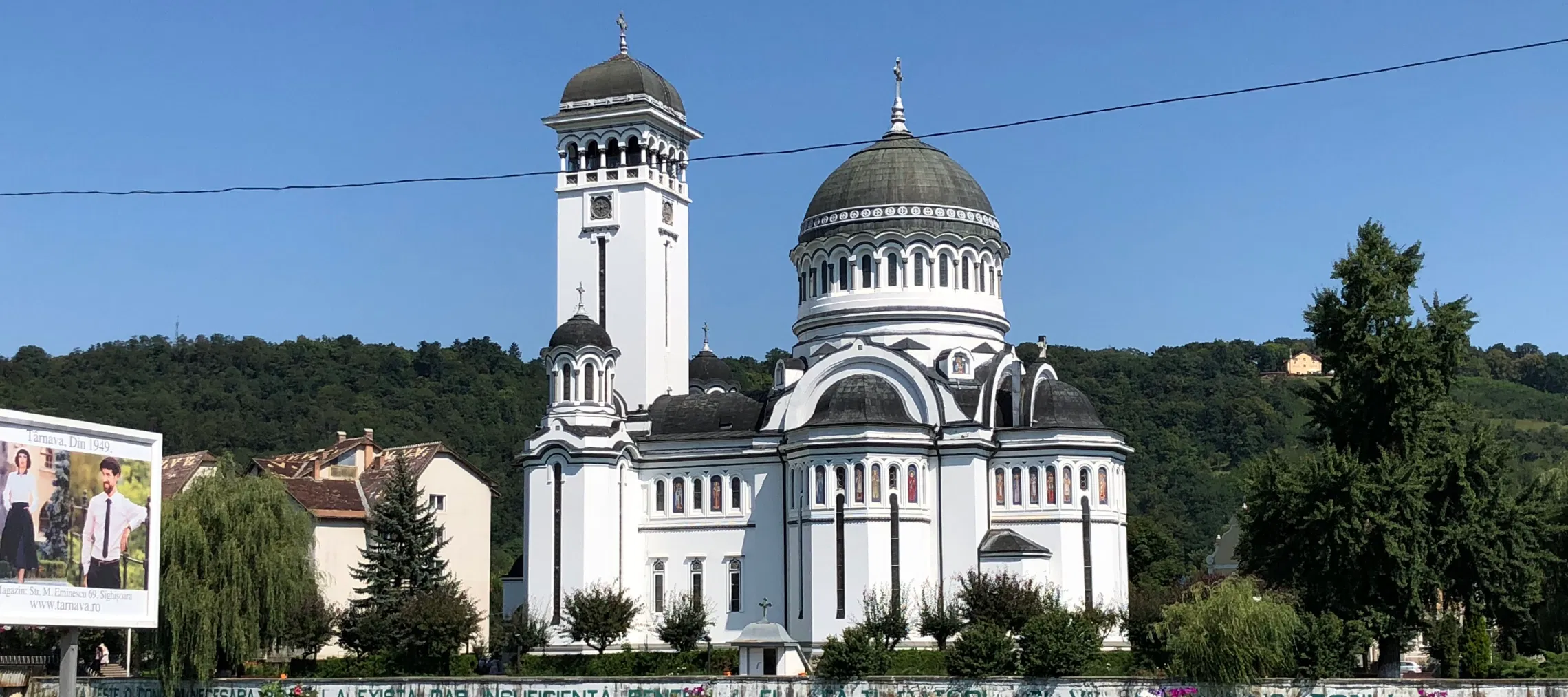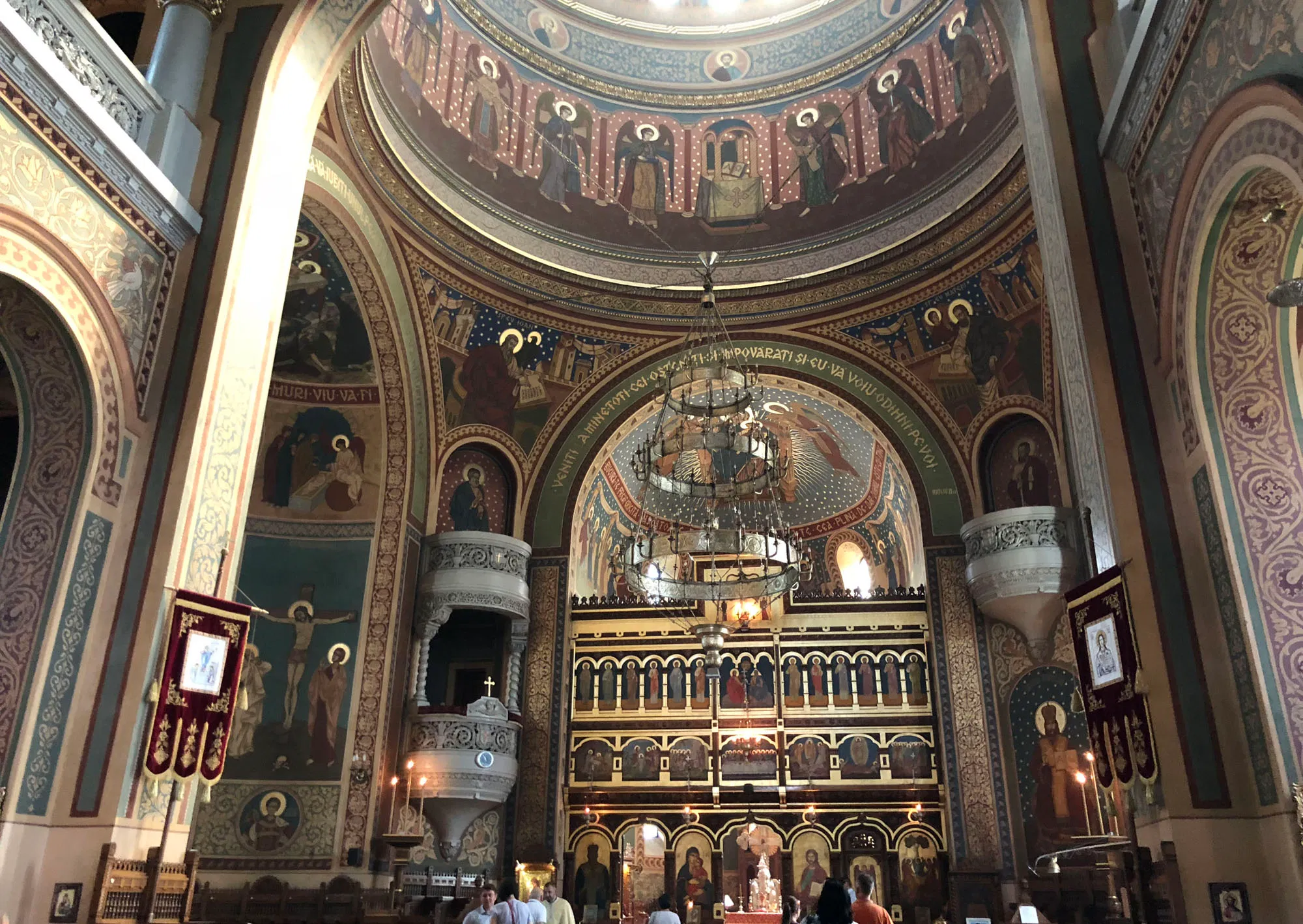 We walked round and came upon a beautiful Orthodox Church where the service had finished but the priest was still talking earnestly to members of his congregation. The interior frescoes were beautiful.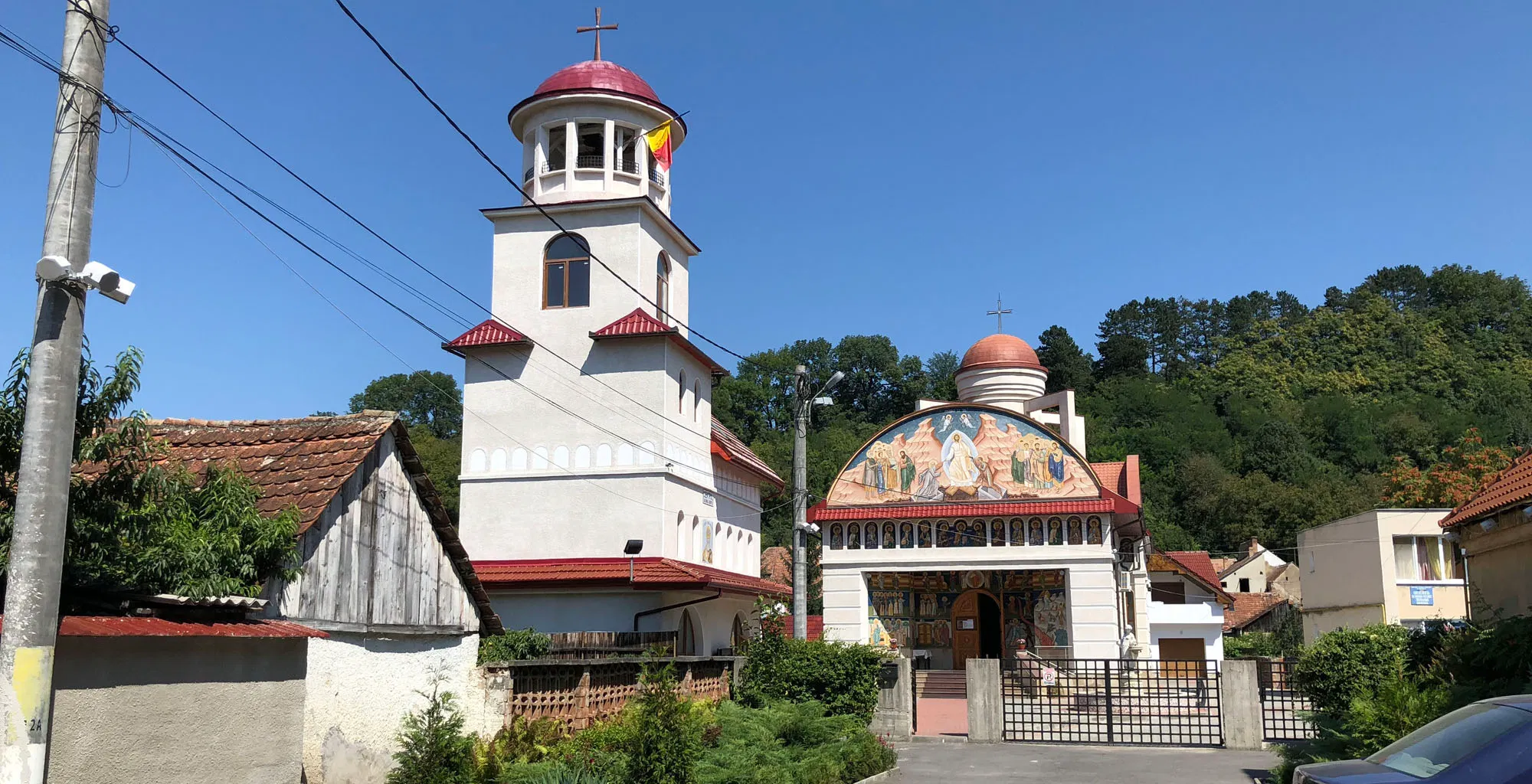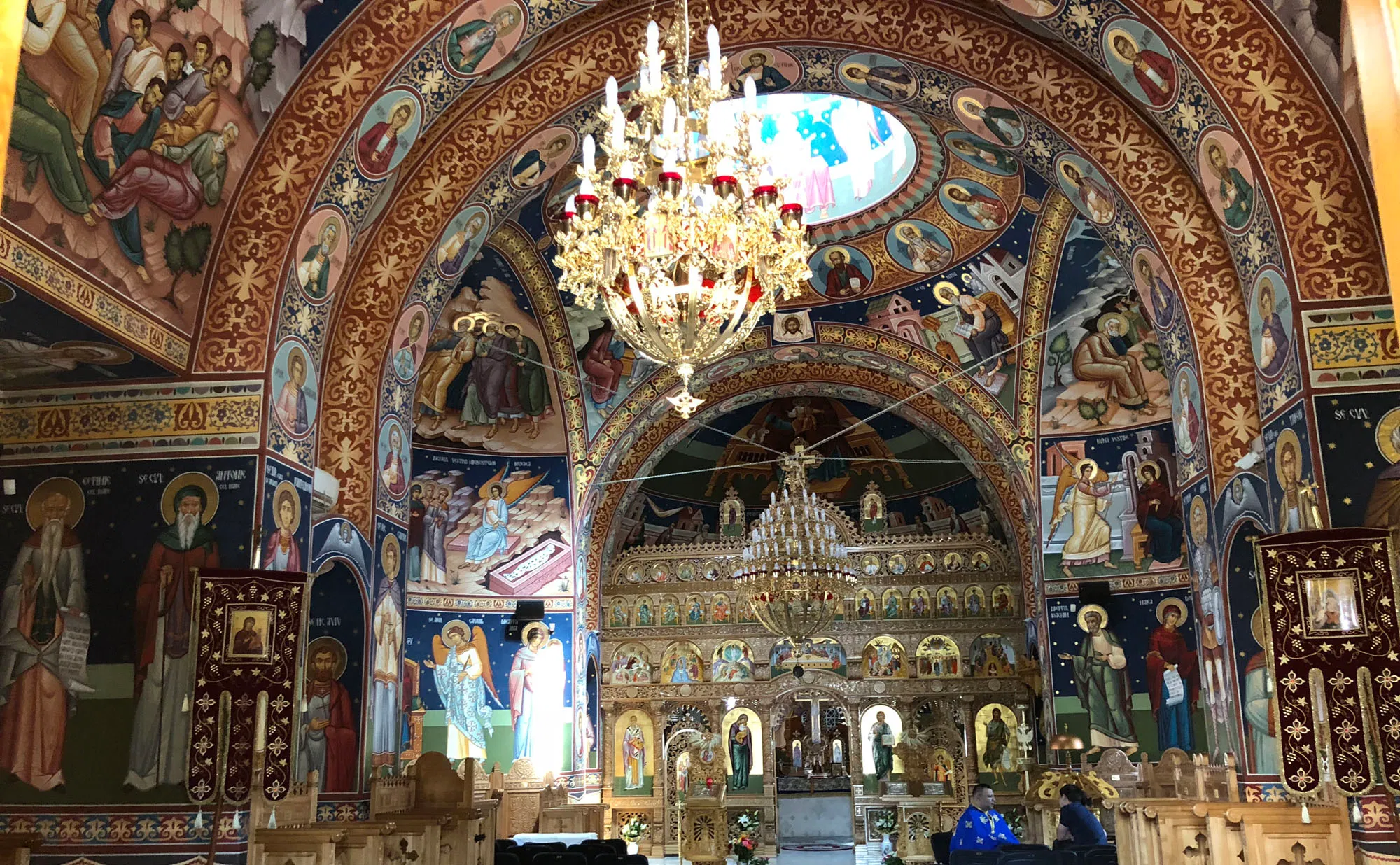 Sighisoara railway station has seen better days. I was too hopeful in yesterday's blog, thinking that we would be travelling on a brand new track. They have not even started the new route here.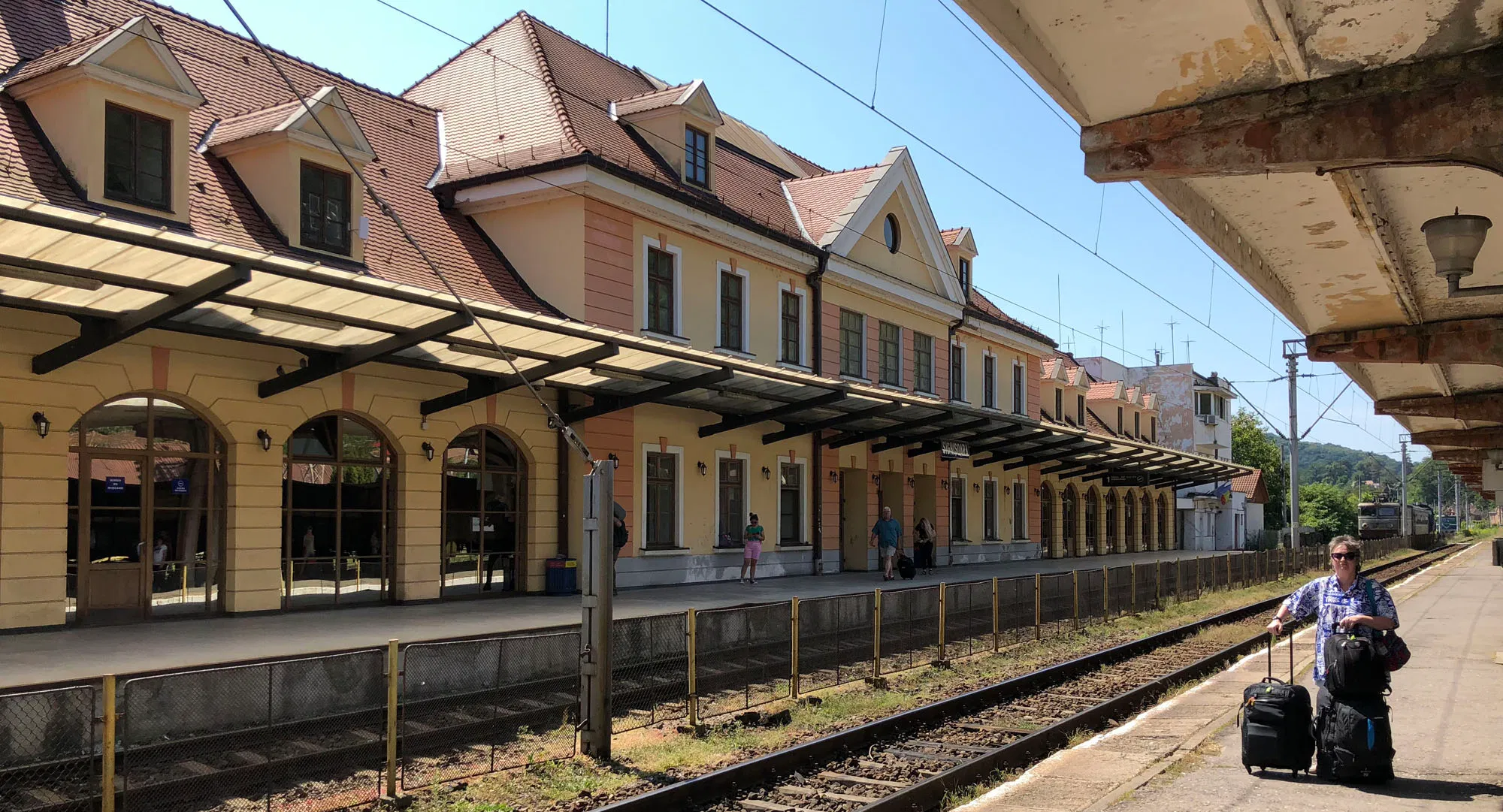 £10. The extra £5 to travel 1st class is worth it for not only the extra legroom but the air conditioning as well. Matilda started a new book while Robert enjoyed the latest episodes of Suits and Better Call Saul which he had downloaded from Netflix courtesy of the hotel's free wifi last night.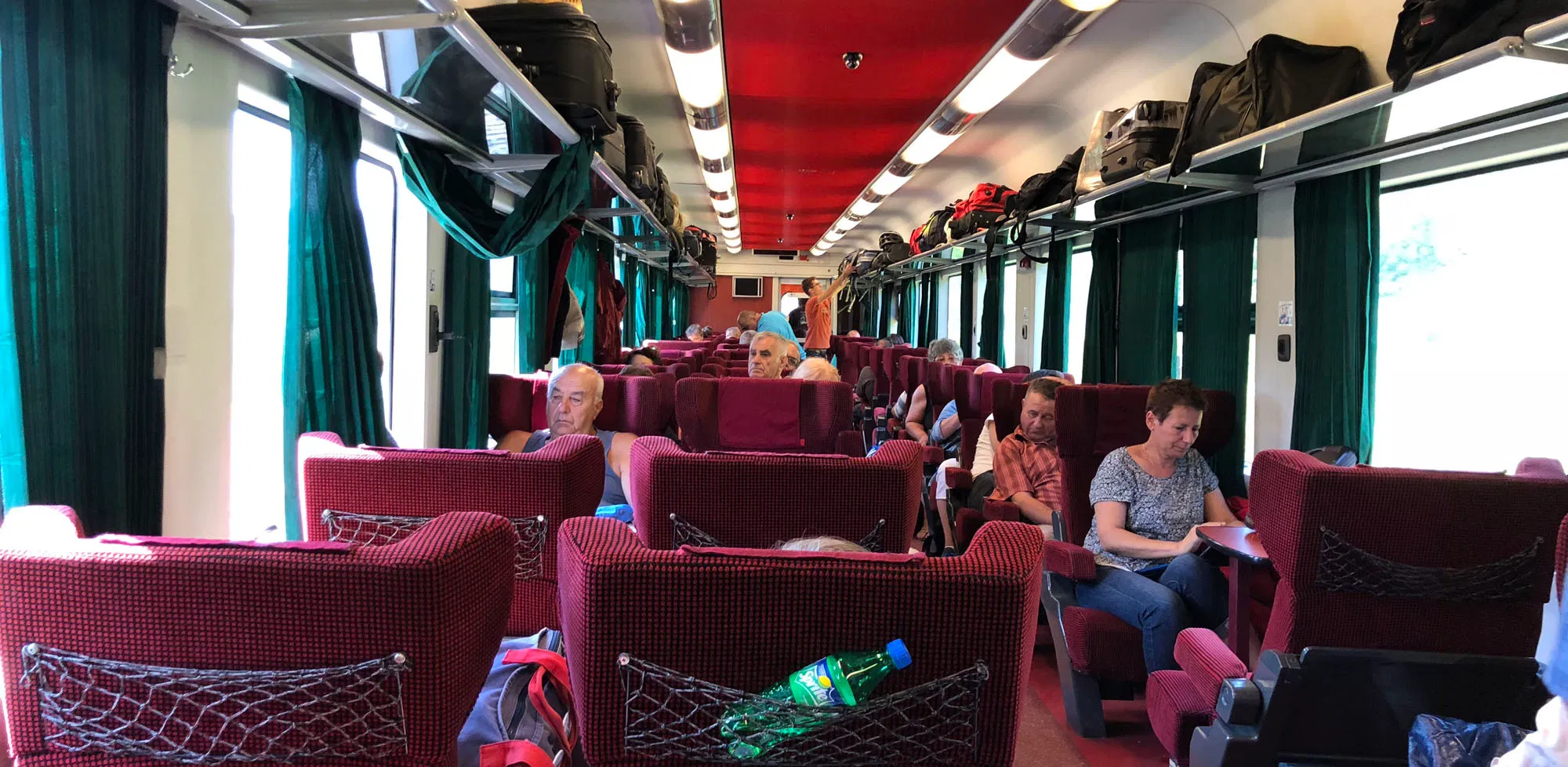 Braşov is another of the Siebenburgen citadels but is much more developed and industrial with more extended suburbs than Sighisoara. The central square is larger and has a central building reminiscent of the market buildings in old English towns. We had planned to have a meal in the main square but as today heralds a two day public holiday there was loud, live Romanian music in the square which drove us to one of the side streets to find a restaurant. Fortunately by tge time we ate the music had finished.
Ah ha, we have now found out were all the Romanians hangout. They're here in Braşov. We have been surprised how few people we have seen in Romania so far and how quiet it has been. Obviously, apart from the annoying tour parties. Well Braşov is different: busy roads with cars racing by. It seems as though it is obligatory to use your horn to prove that you can drive. The centre is heaving and the bars are full although this may be in part due to St Mary's Day which means today and the next two days,Thursday and Friday, are bank holidays, so the Romanians are out to party.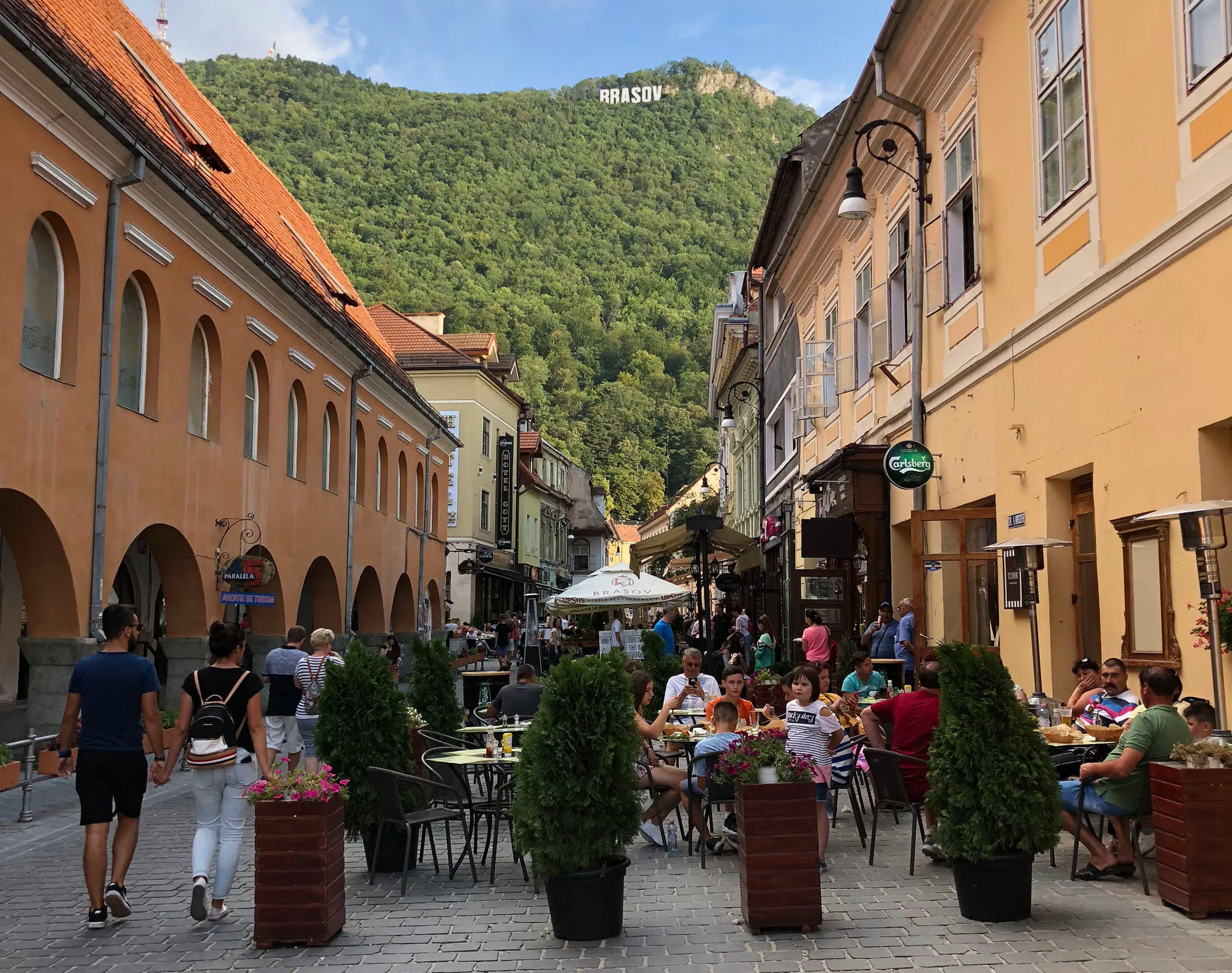 Lesson for the day: Check out national festivals and bank holidays before visiting a place
Miles walked today: 8.2
Route Map: