Read this blog: The one where we see England triumph against the odds
Friday 8th and Saturday 9th September 2023
On Friday evening, Robert wanted to soak up the atmosphere in and around the bars of Marseille and watch both the RWC 2023 opening ceremony and the inaugural match between France and New Zealand.
Various FanZones had been set up including one by the entry to the Metro at Vieux Port but these did not seem very popular and we found ourselves seats with a view of a TV screen outside The Queen Victoria, in the Vieux Port in Marseille.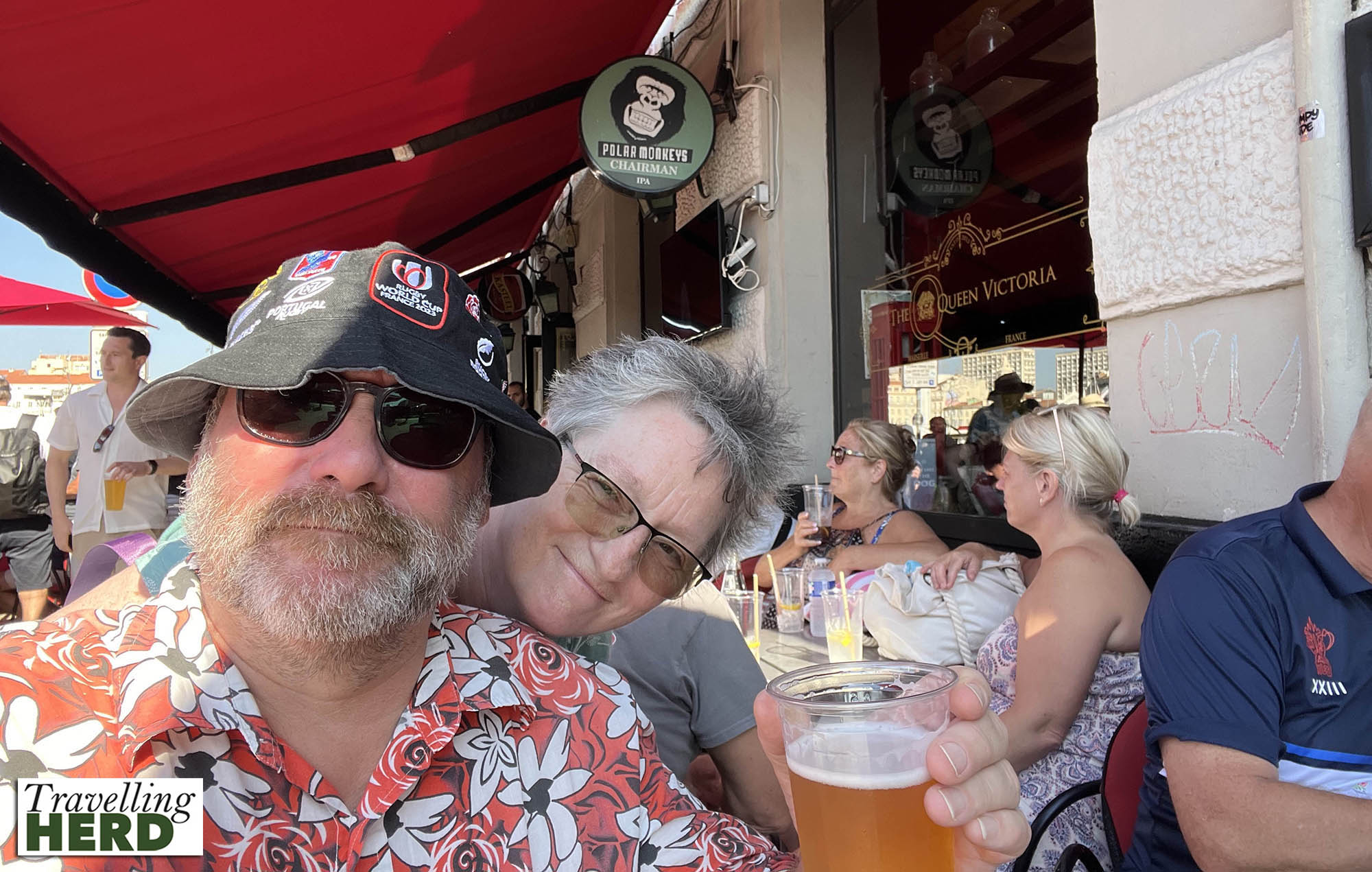 Matches were scheduled for Friday, Saturday and Sunday so fans for all the competing teams had gathered in the sunshine and mingled good-naturedly.
We were surprised by how many Scotsmen were wearing their kilts, since the Scotland game was not scheduled until Sunday, but we were told that kilts are so heavy, it is better to wear them to travel rather than risk being charged for overweight luggage.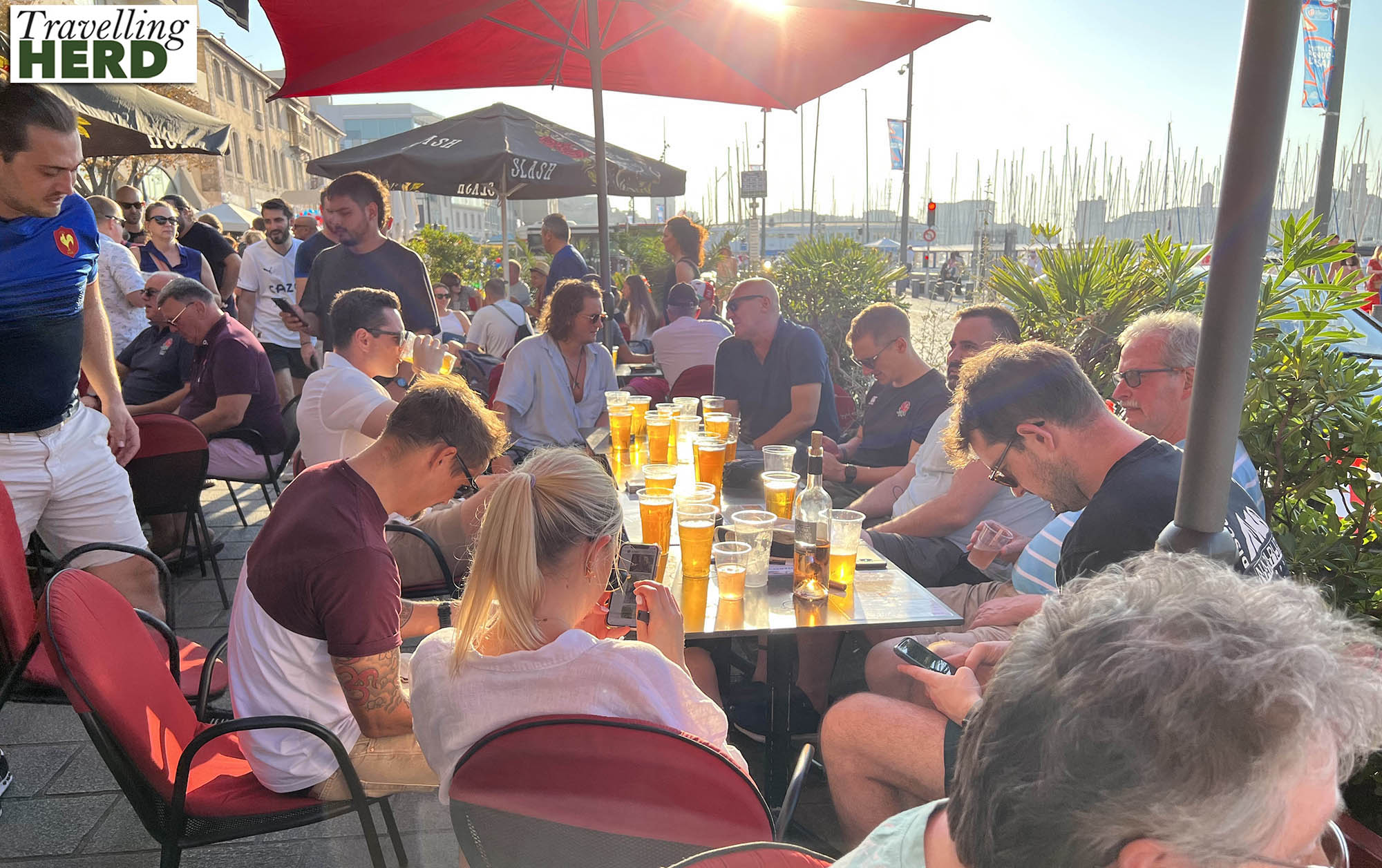 Without any commentary, the opening ceremony was rather confusing but we later discovered that it was based on Les Miserables.
Unfortunately, The Queen Victoria found that three cubicle toilets were not able to cope with the rate that the copious amounts of beer they were selling was being processed. Matilda was pleased to find that without urinals, the queue for the ladies was, unusually, significantly shorter than that for the gents and she was kindly ushered through to the front.
The toilets were closed part way through the opening game, but bar staff still fuelled the problem of the over-worked toilets by continuing to sell beer.
The following morning there was time to reacquaint ourselves with Marseille before attending the England vs Argentina game at 21:00 French time.
We first walked around the harbour at Vieux Port.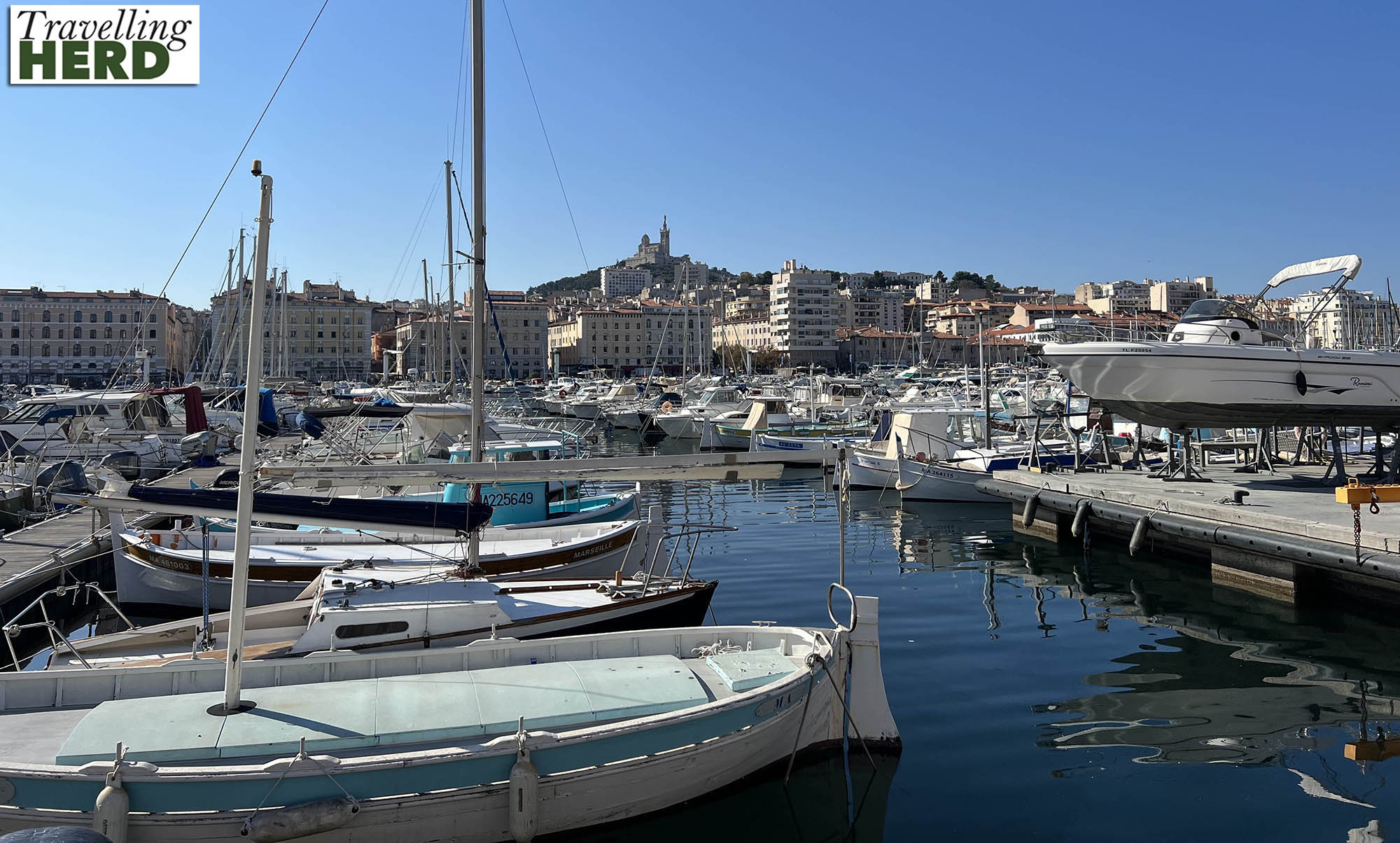 The water in the harbour is surprisingly clear but this proved to be deceptive. Saturday morning seemed to be the day designated for cleaning up the dockside. We watched as men with ropes and, we assumed, metal detectors and magnets trawled along the water's edge. They looked as though they were just crabbing. However, their catch was significantly larger: all sorts of metal detritus including supermarket trolleys, chairs, bicycles and a lot of electric scooters emerged. Some of the objects were shiny and looked almost new so cannot have been submerged for long. Others were covered in slime and smelt of sludge and seaweed so must have been lying on the seabed for some time. It was shocking to see that so many valuable items with lithium batteries had been discarded without any regard for managing the world's scarce resources.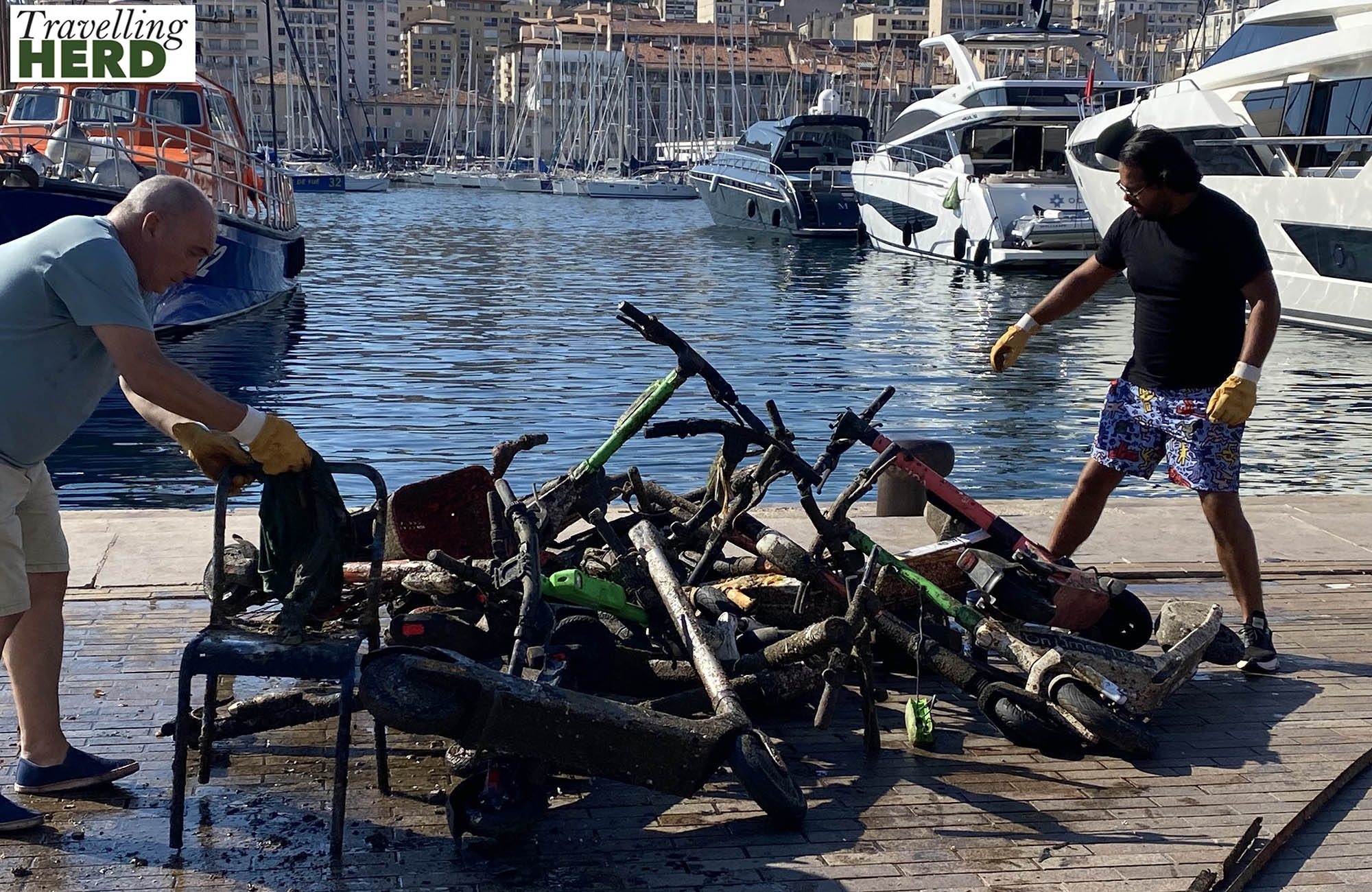 Walking on round the port we passed The MuCEM [Musée des Civilisations de l'Europe et de la Méditerranée] which encompasses three sites. At the entrance to the Old Port, the J4 building (below left) was built on the site of the old J4 pier. It is linked to the historic but restored Fort Saint-Jean by a foot bridge suspended over the water [top left]. We did not go in this time but will be returning for more rugby and hope to visit then.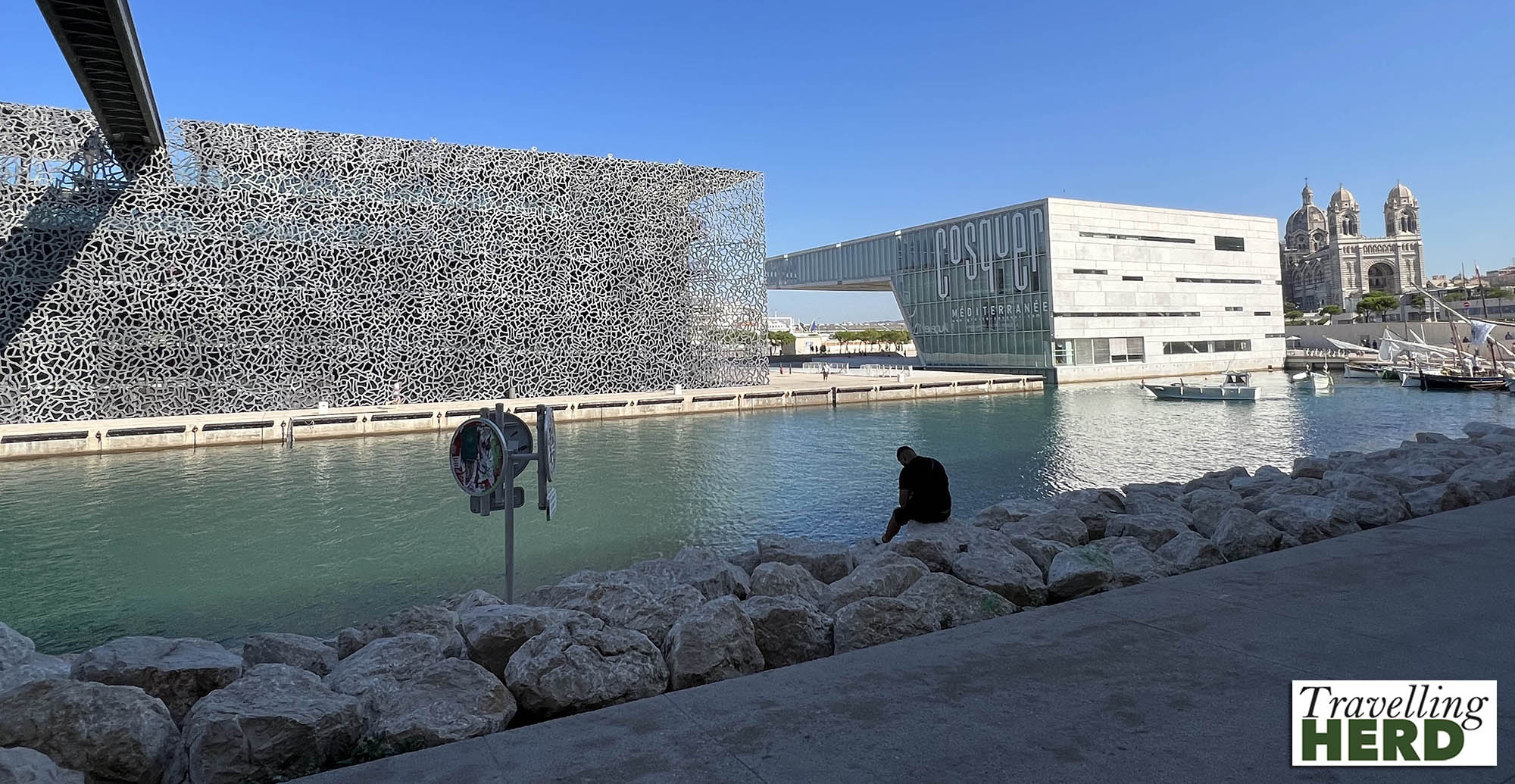 Just beyond the MuCEM buildings stands the Romano-Byzantine Cathédrale de la Major or Cathédrale Sainte-Marie-Majeure. The foundation stone was laid in 1852 by Emperor Napoleon III and the church was completed in 1896. Its design combines Roman and oriental styles to reflect the multicultural make-up of Marseille.

From here we walked into Le Panier, the oldest district in Marseille, which translates as 'the basket' and was first settled by the Greeks in 600 BC.
It is a maze of streets, steps and steep, winding alleys with many small independent shops. Several of these are artisanal shops selling soap [below left]. Savon de Marseille is a traditional hard soap made from vegetable oils and has been produced here for about 600 years. By 1688, Louis XIV had decreed that only olive oil based soaps could be called Savon de Marseille but this has subsequently been revoked to allow other vegetable oils to be used.

There was a large cube of soap left in our hotel room and Matilda would have taken it if it hadn't been branded 'Ibis budget'. She admits to being a bit of a hotel snob.
Matilda had read about a glacier serving black vanilla ice cream on Rue Caisserie near to steps leading down right through a large over-arching building to the Rue du Lacydon.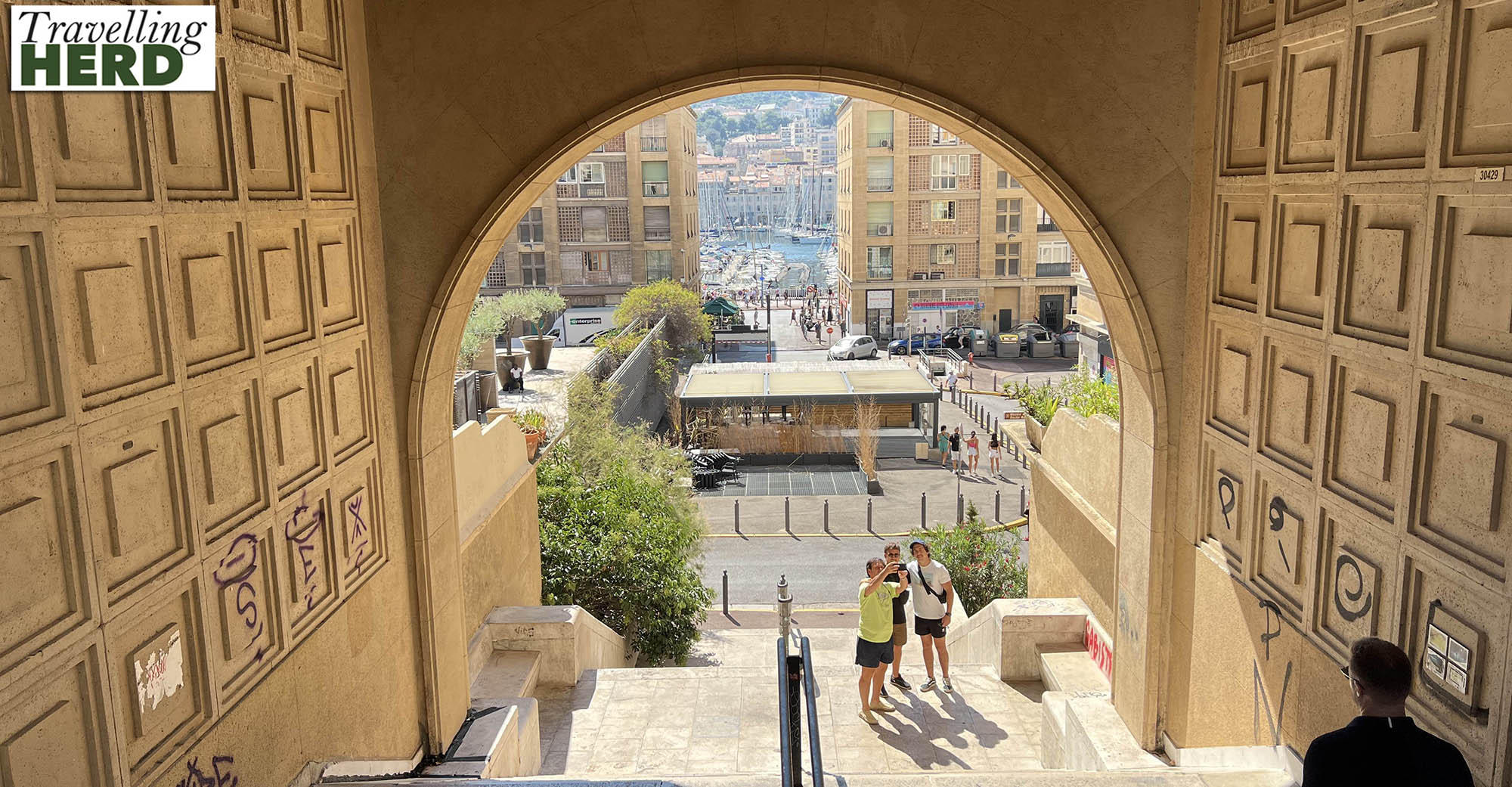 When we first walked past, it was just opening so we had to return a short while later for Matilda to sample the eponymous inky black ice cream at Vanille Noir.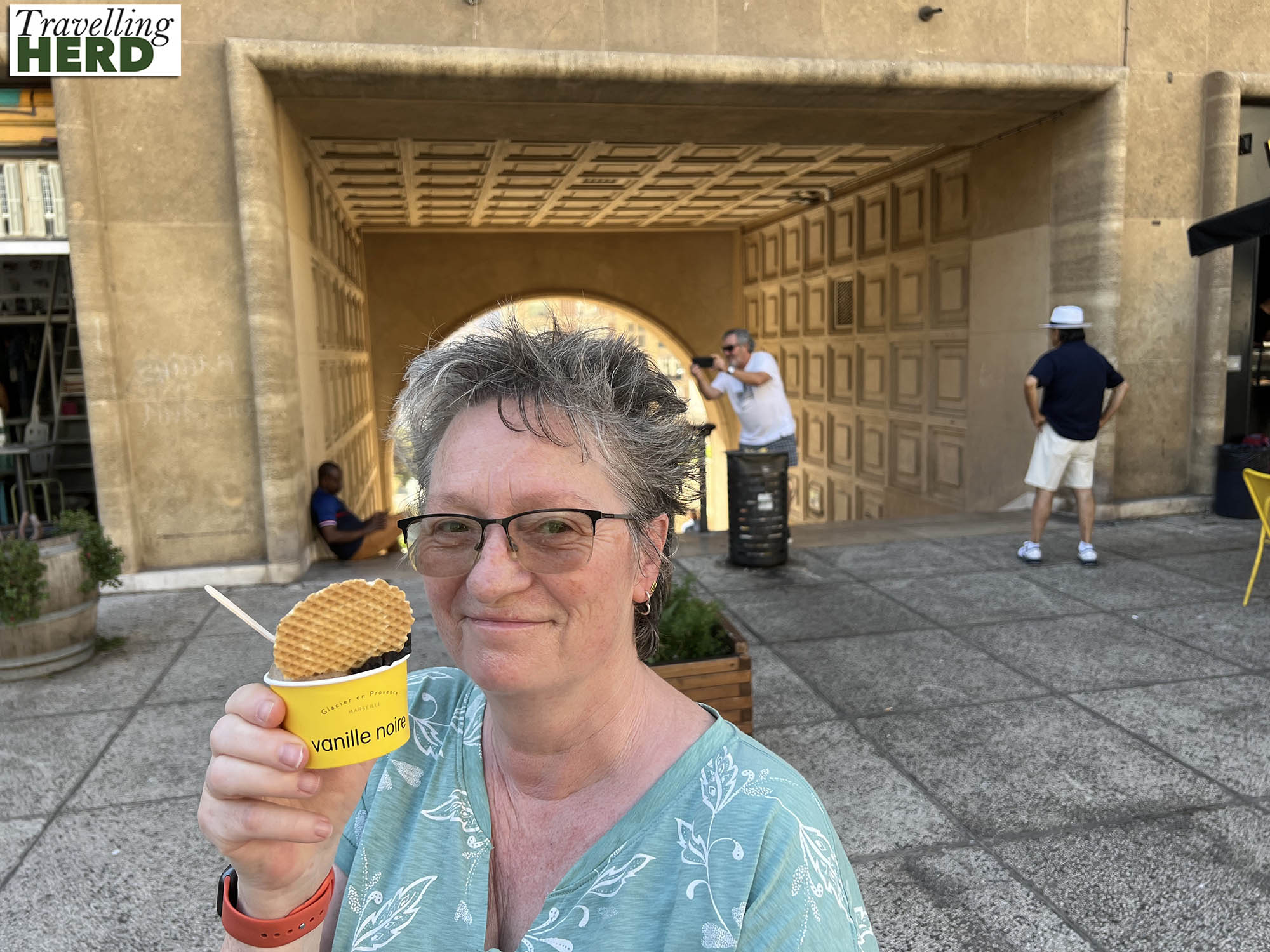 Robert had arranged to meet Neil and Sally, friends from our home village who were also going to the match. Their journey into the city had been complicated by rail strikes so they were pleased that we had been able to secure seats in the shade back at The Queen Victoria where the earlier games were being shown.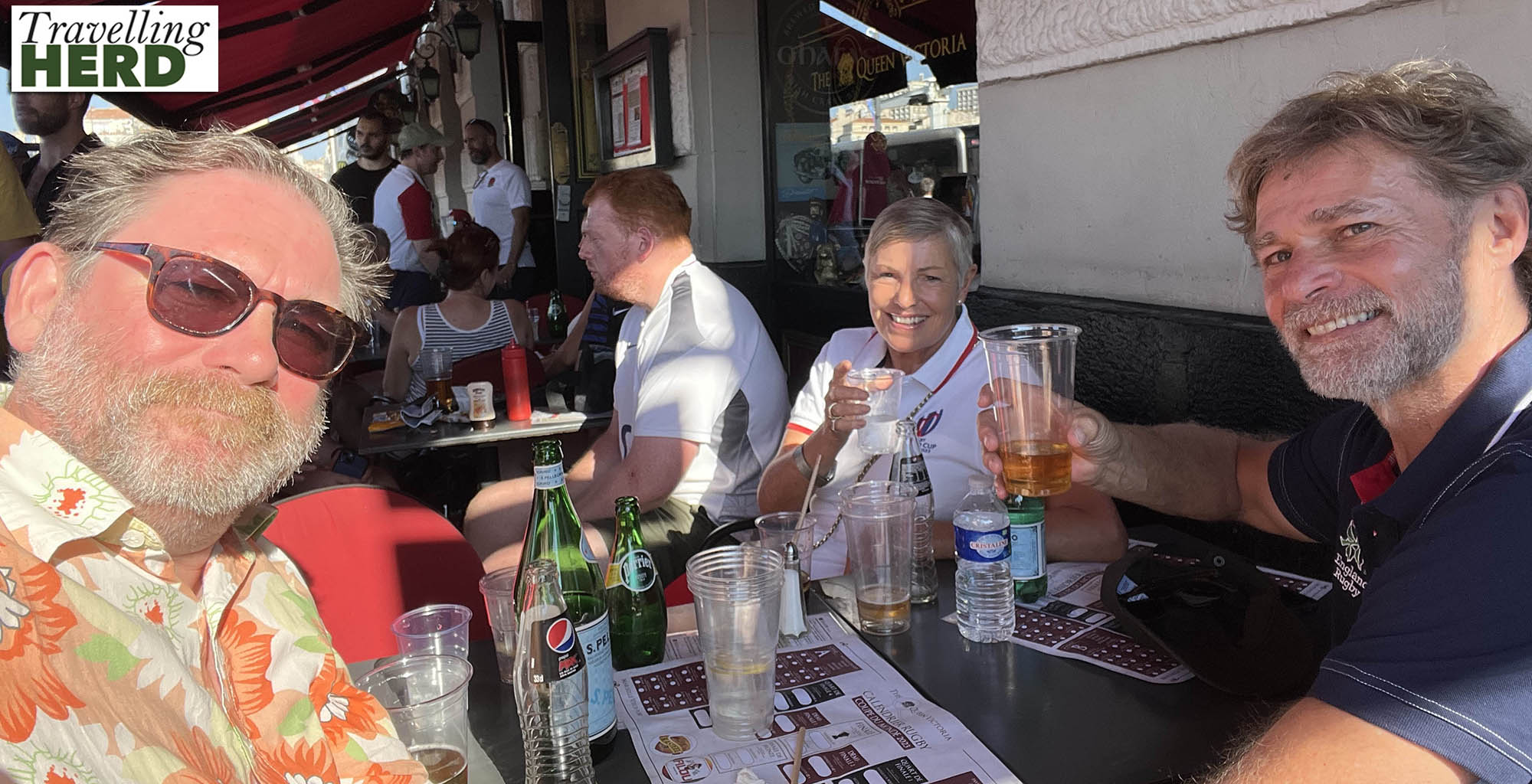 A tram ride takes you out to the Stade Vélodrome and we set off early to avoid the crowds while Neil and Sally went to meet the friends they were going to the match with.
There are two tram stops serving the stadium and we opted to stay on to the end of the line. However, from here it was not clear where the entrance was and eventually we walked back round to the one close to the earlier tram stop. Here we were treated to a display by a dance troupe whose choreography was based around various elements of a rugby game [see Video of the day].
When we subsequently heard about the difficulties people were having getting into the stadium, we were glad we had arrived early.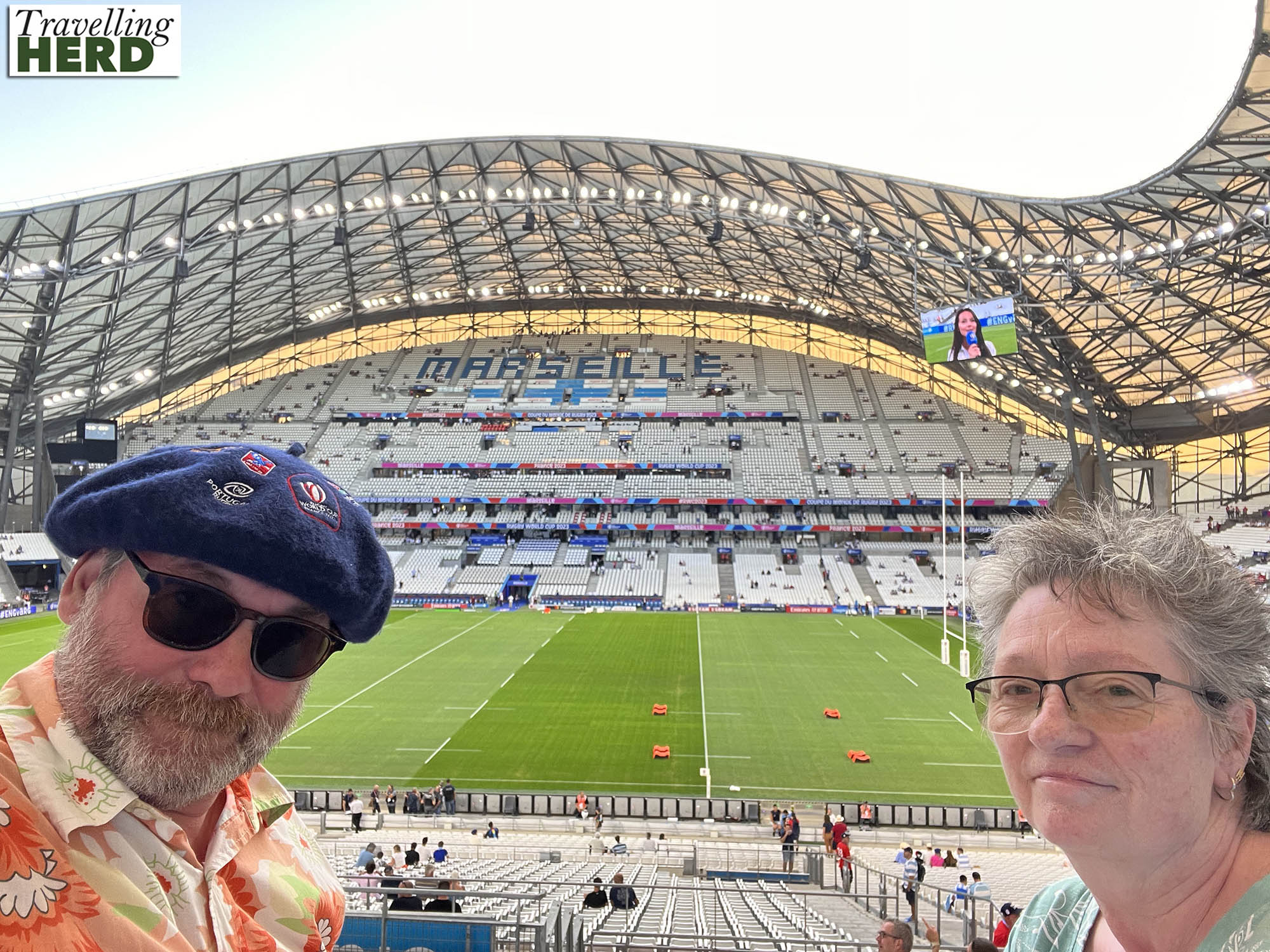 Stade Vélodrome originally included a cycle track but this was eventually removed and replaced with additional seating. Various improvements have been made over the years and the most recent, completed in 2014, was the addition of an impressive curved roof and a further increase in capacity to 67,000.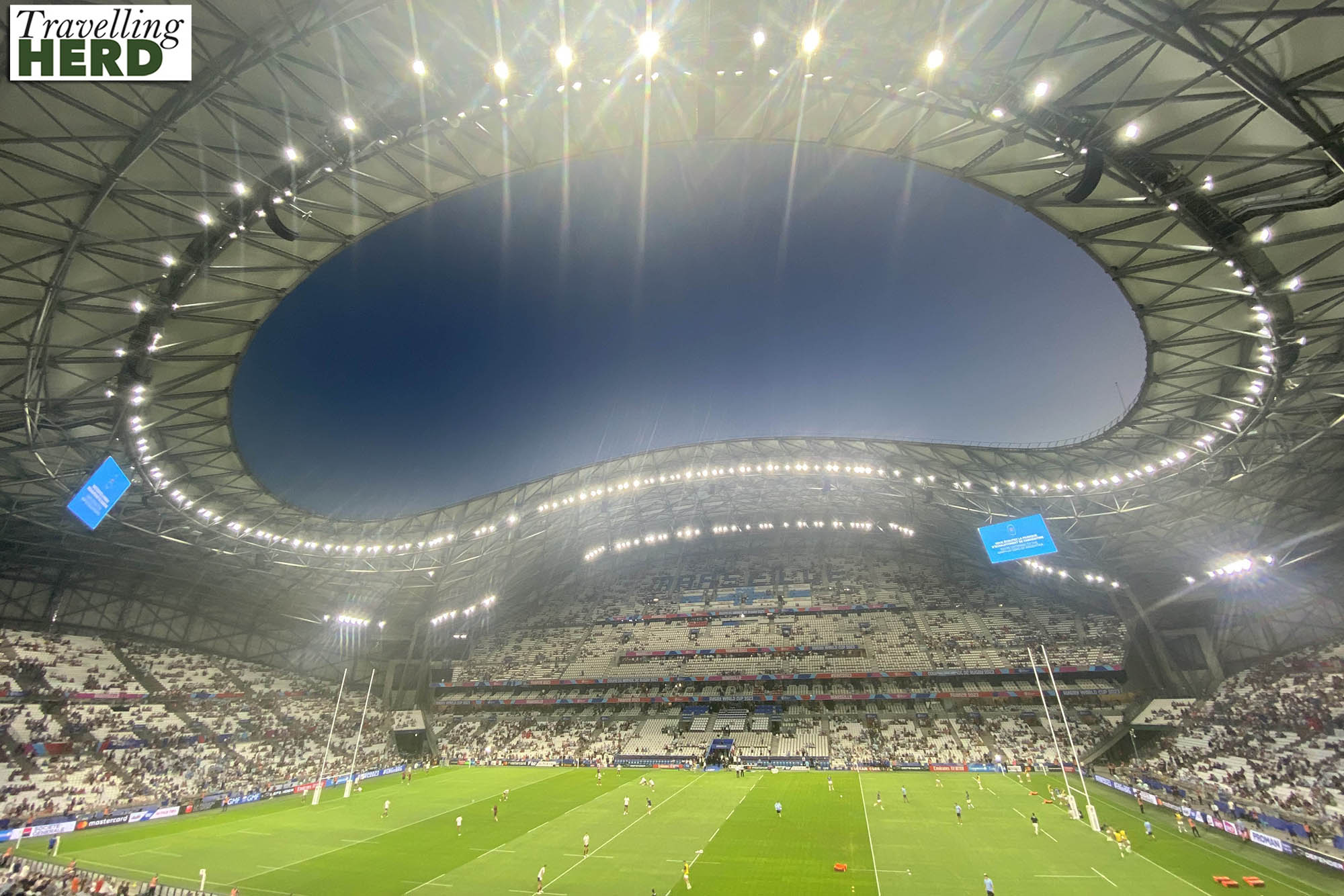 The venue has been home to the football club Olympique de Marseille since it opened in 1937. It is also used regularly by the French national rugby union team and was a venue for the 2007 RWC. It is in use once again for RWC 2023.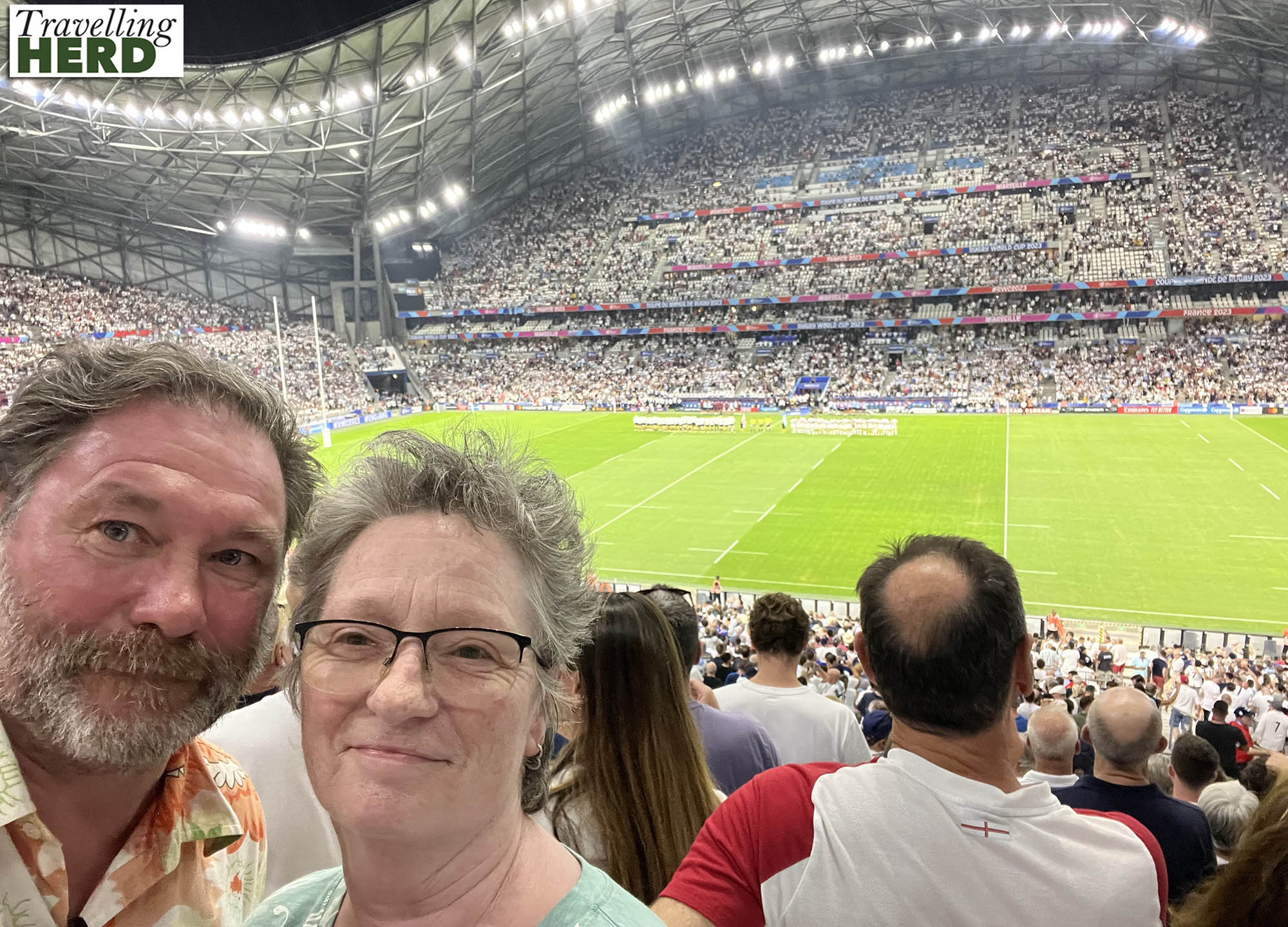 Prior to arriving in France Robert had not held out much hope for England at this Rugby World Cup. England are fortunate to be in the easier side of the draw and therefore should make it to the quarter finals. The first potential banana skin was this first game against Argentina. However, after a very shaky initial three minutes with Tom Curry receiving a red card, a 14 man England went on to win the game. England, marshalled by George Ford, at fly-half, played a controlled match to a completely different game plan than the ones they had used previously in the year. The noise of English in the crowd was deafening and resounded round the stadium, acting as their 15th player.
Video of the day:
Selfie of the day: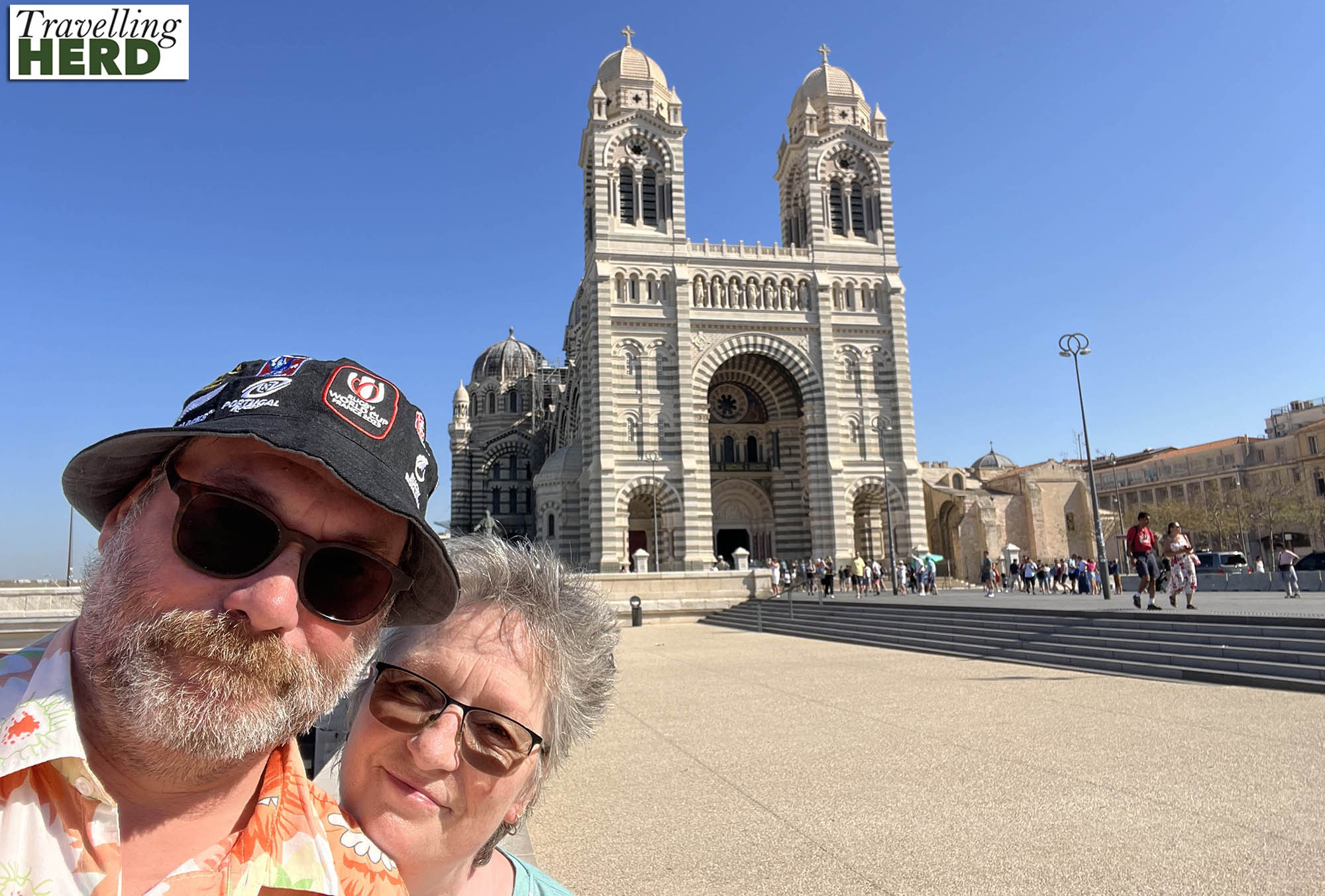 Route Map: