Read this blog: The one where we experience a haunting
Wednesday 16th and Thursday 17th August 2023
We had originally planned that we would be taking our elderly dog, Ralf, to stay with Matilda's sister, Clare, in Essex on our way up to spend a long weekend in Scotland but he sadly died a week before our trip. Although we were so very sorry to have to say goodbye to him, he had had a long and [we hope] happy life with us and we have such fond memories: regular readers may remember him making quite a splash in our Narrowboat Adventures in 2022.
Without the need to arrange a holiday home for Ralf, we were able to rethink our plans and break our journey to York at Lyveden, as Matilda is still working on getting Robert's money's worth out of her lifetime membership of the National Trust and is keeping a running total of her 'savings'.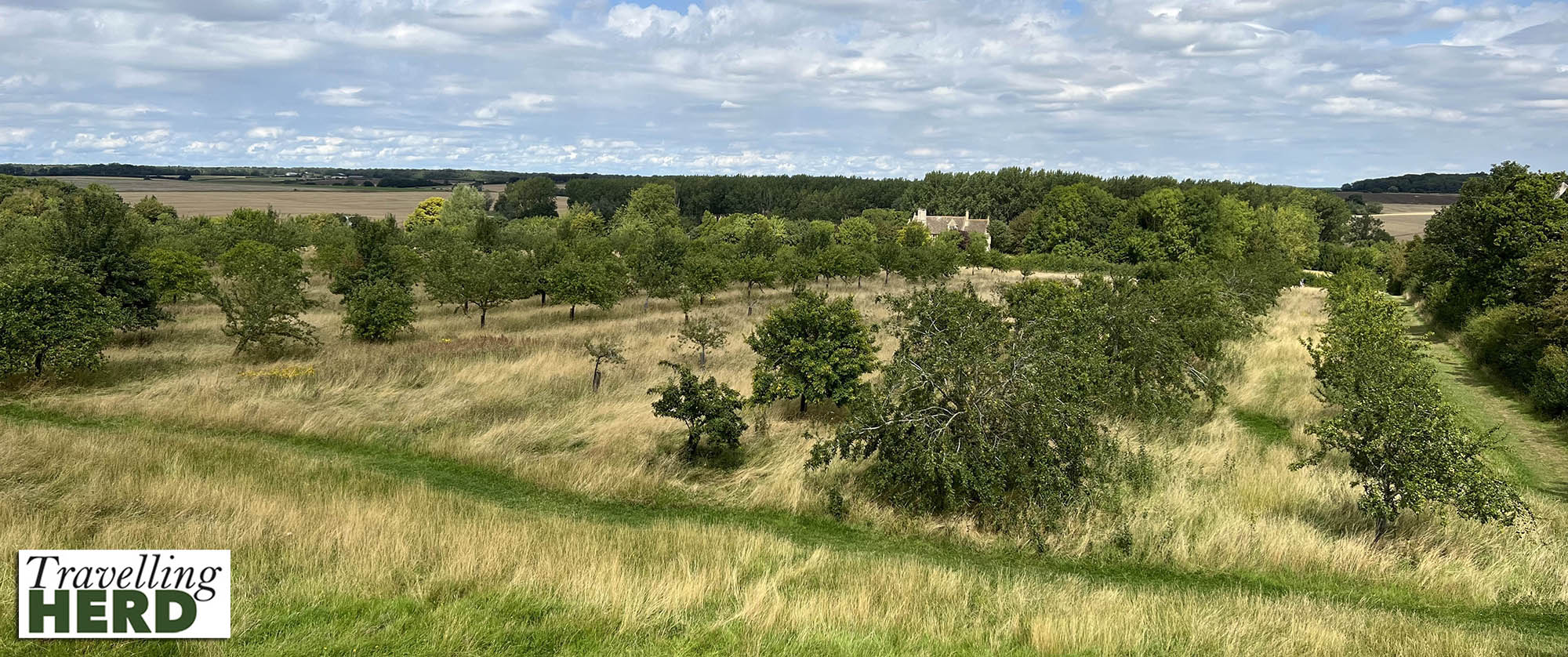 Lyveden is a remarkable survivor of the Elizabethan age, particularly as the Tresham family who owned the property were not only devout Catholics but were also involved in the Gunpowder Plot in 1605 against King James I.
Sir Thomas Tresham inherited the estate from his grandfather in 1559, when he was just 15 years old. He refused to hide his faith and was consequently subject to interrogation, imprisonment and heavy financial penalties. Because of his Catholicism, between 1581 and 1605, Tresham was fined just under £8,000: a phenomenal amount for the time and his finances never really recovered.
It was during a period of house arrest and imprisonment that Thomas Tresham came up with the designs for Lyveden; he envisioned "a journey of discovery and a contemplative walk from his manor house hidden at the bottom of the hill up through an elaborately designed water garden to the garden lodge above".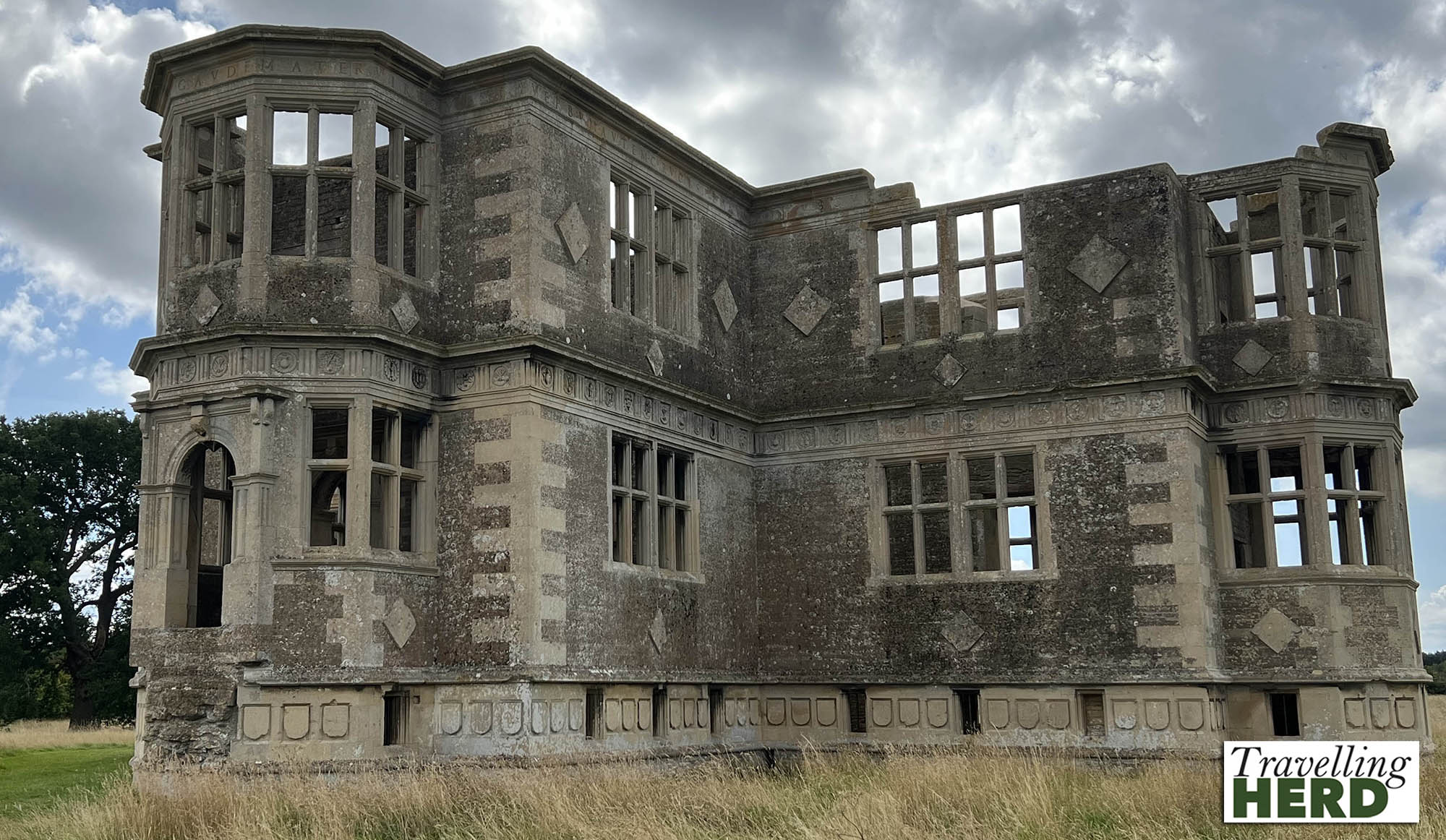 Displays in the Manor House explain the history of the estate which boasts one of the country's oldest garden landscapes, including terraces, spiral mounts, a grass maze – which was overgrown and therefore rather indistinct when we visited – as well as moats and an orchard.
You can climb one storey inside the shell of the property.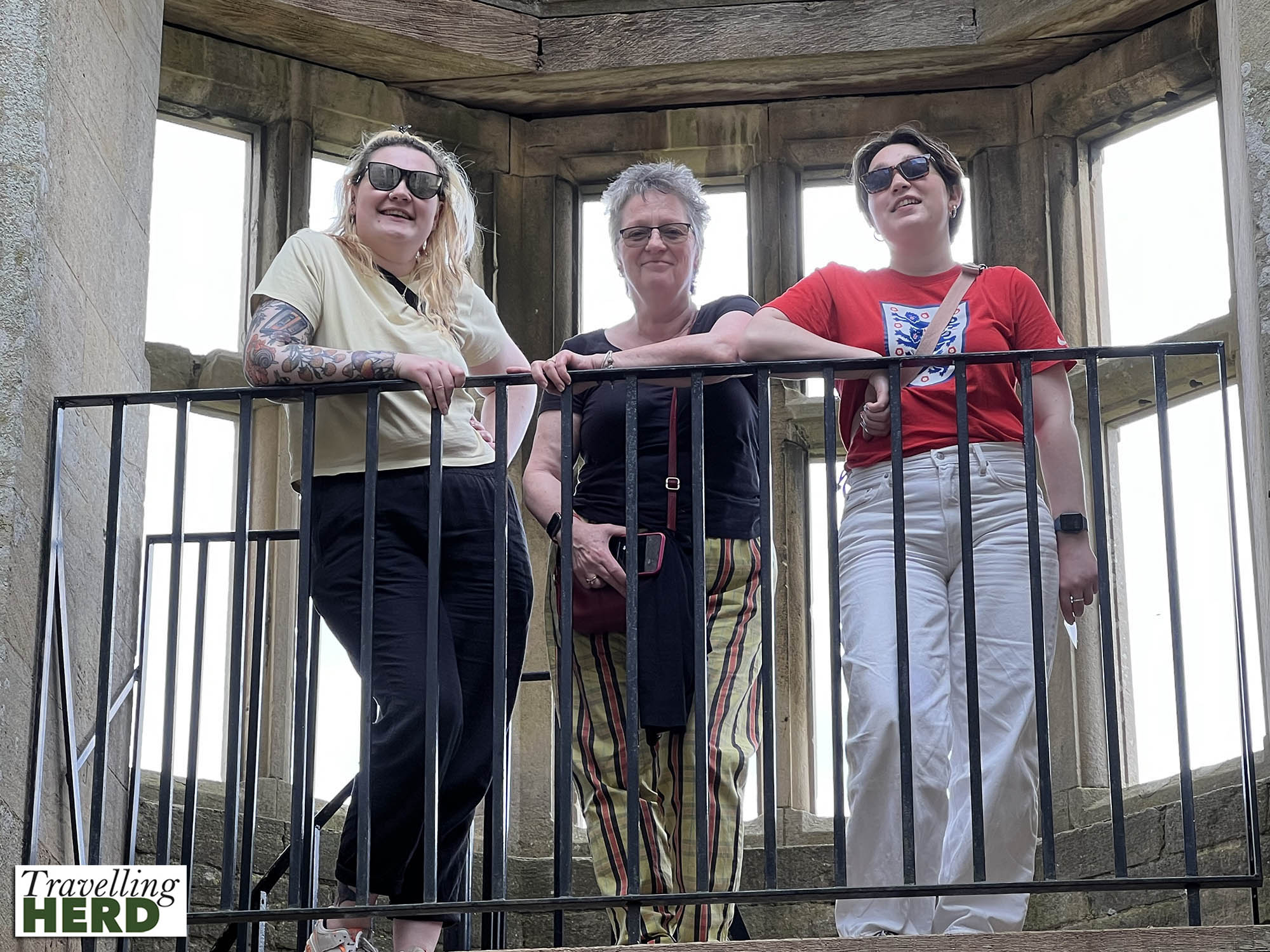 The term "lodge" hardly does justice to the scale of this unfinished building which remains virtually unaltered since work stopped on Thomas Tresham's death in 1605. It now seems to be occupied largely by nesting pigeons whose gentle cooing is amplified eerily in the brickwork.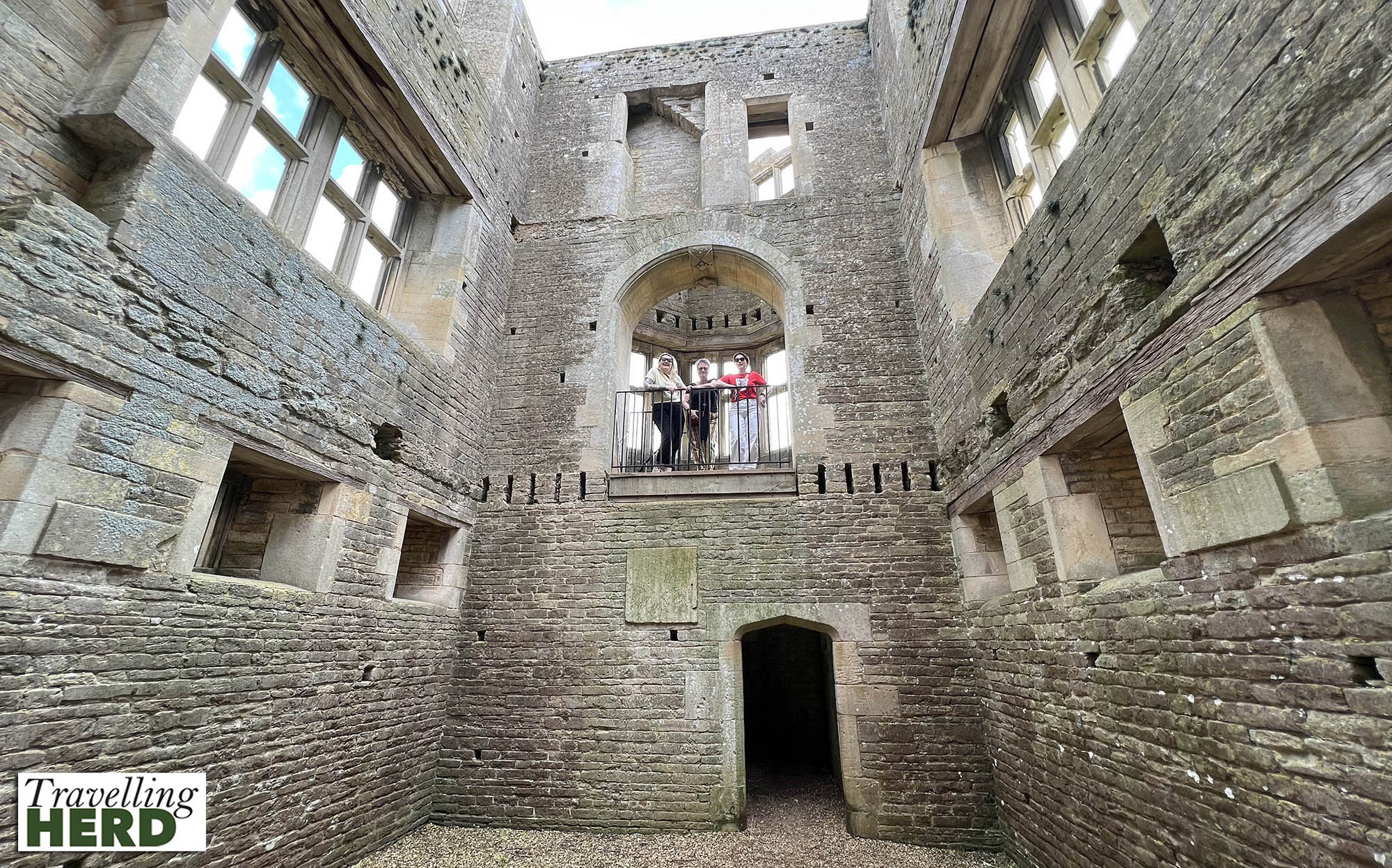 Multiple motifs and religious symbols were included in the design to bear testament to his Catholic faith although the full extent of Sir Thomas's symbolism remains a mystery.
From here we travelled on to York which was chosen as our stopover so Jaime could visit The York Ghost Merchants on The Shambles; Ruth could revisit her university town and Robert could enjoy re-visiting the city he frequents as a Great Rail Journey tour manager (their HQ).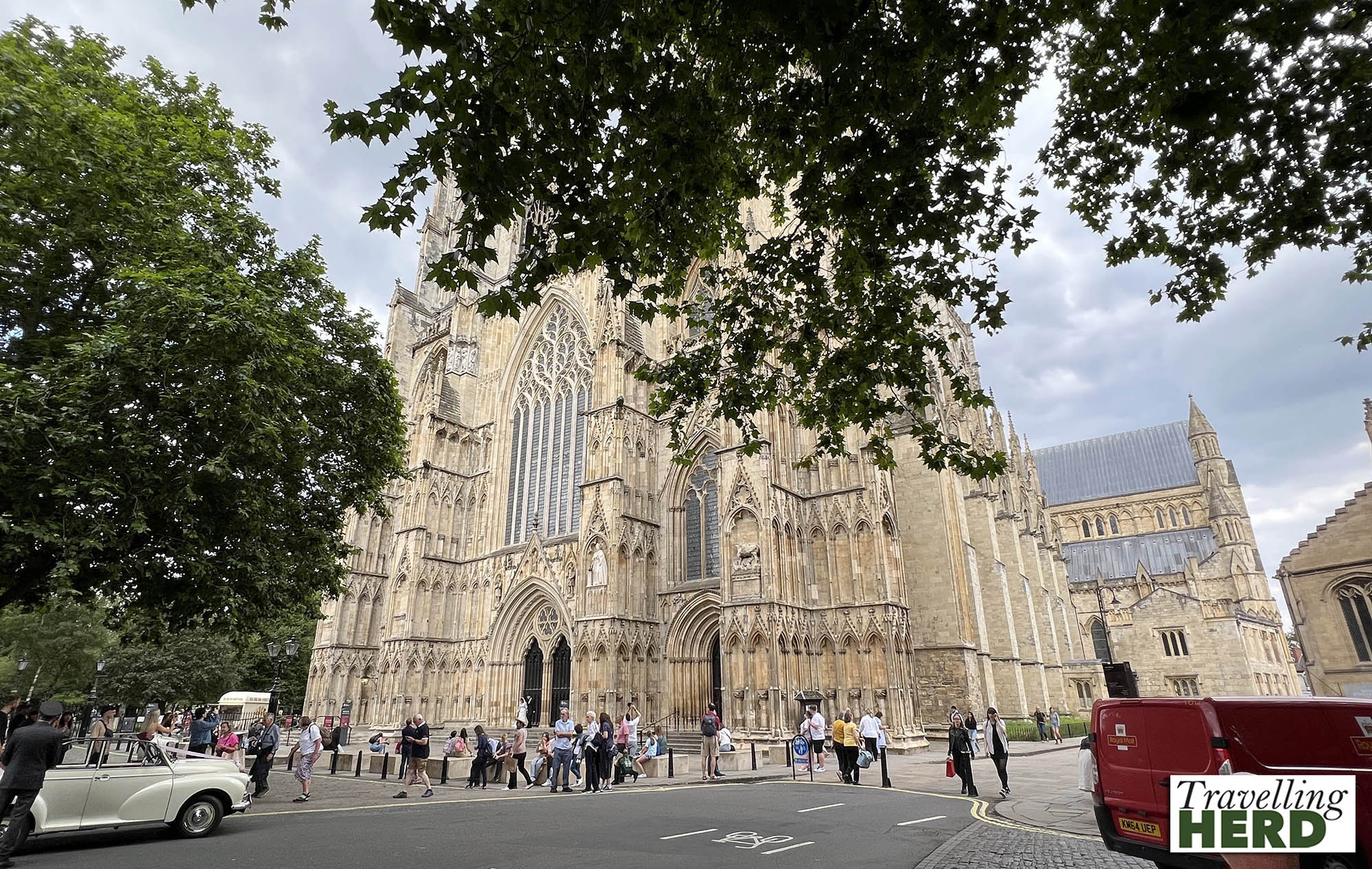 Having missed lunch Matilda needed to eat quite early so we took a short stroll round some historic sights, including the Shambles and the Minster, and identified a good place for breakfast then went to the Brew York Beer Hall and Tap Room for craft ales, gyoza and Bao buns [see Dish of the day] on the basis that small dishes could be ordered as and when anyone was in need of sustenance.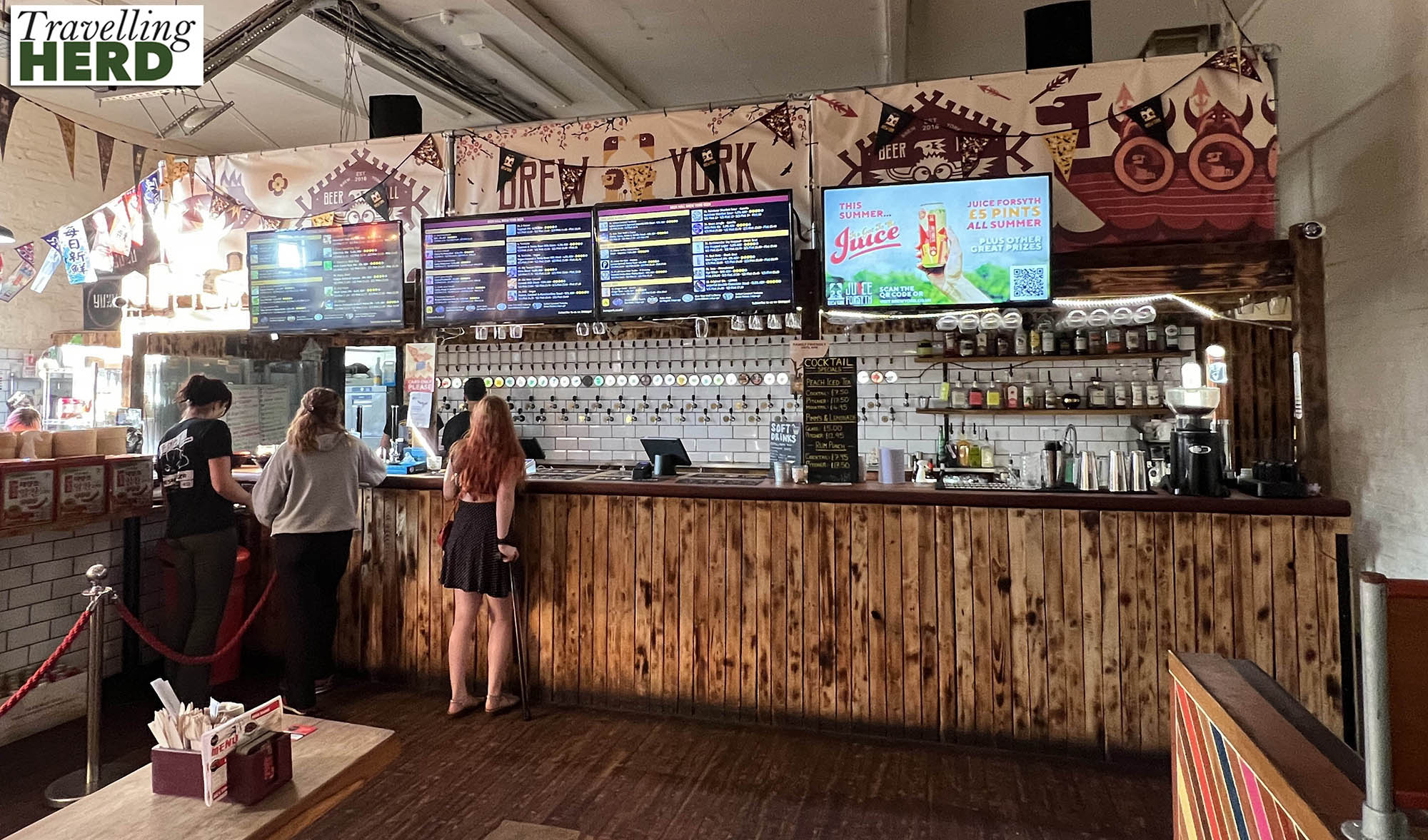 Jaime's research revealed that The York Ghost Merchants opens at 10:00. The following morning, Robert, who has spent many a happy afternoon watching the queue for The York Ghost Merchants from the comfort of Ye Old Shambles Tavern opposite insisted we should first go to assess the length of the queue before breakfast.
There were already about fifteen people in line when we arrived so we decided to divide forces. The people who were first in the queue told us they had arrived at 07:00 and Jaime and Matilda joined the back of the line at about 08:30. Meanwhile Robert and Ruth returned to Rise from where they sent photos of the menu and ordered takeaway which Ruth bought and kindly delivered to those queuing before returning to have a her sit-down breakfast in comfort with her father.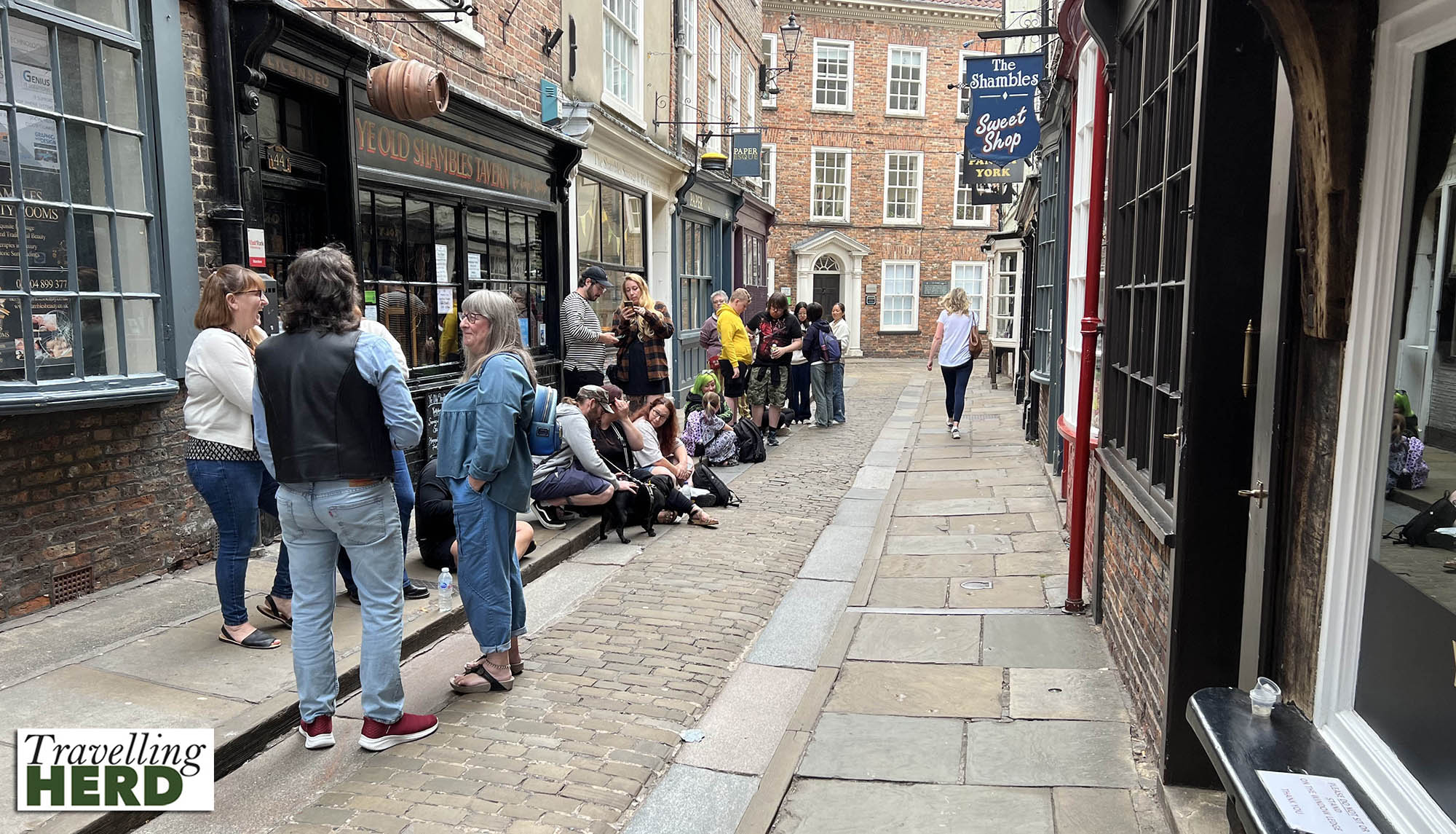 During the wait Matilda and Jaime watched several staff members arrive and leave again but once the shop opened there were definitely more staff outside than inside. The queue snaked round the corner and was managed by several personable young men in period costume who chalked the pavement to ensure access to other shops along the street.
The York Ghost Merchants opened a little earlier than publicised at 09:45. As we approached the front of the queue we heard that the wait for those joining then was about three hours. Jaime pointed out that the people who started the queue at 7:00 had also waited for that long so we felt that we were winning having 'only' waited for two and a half hours.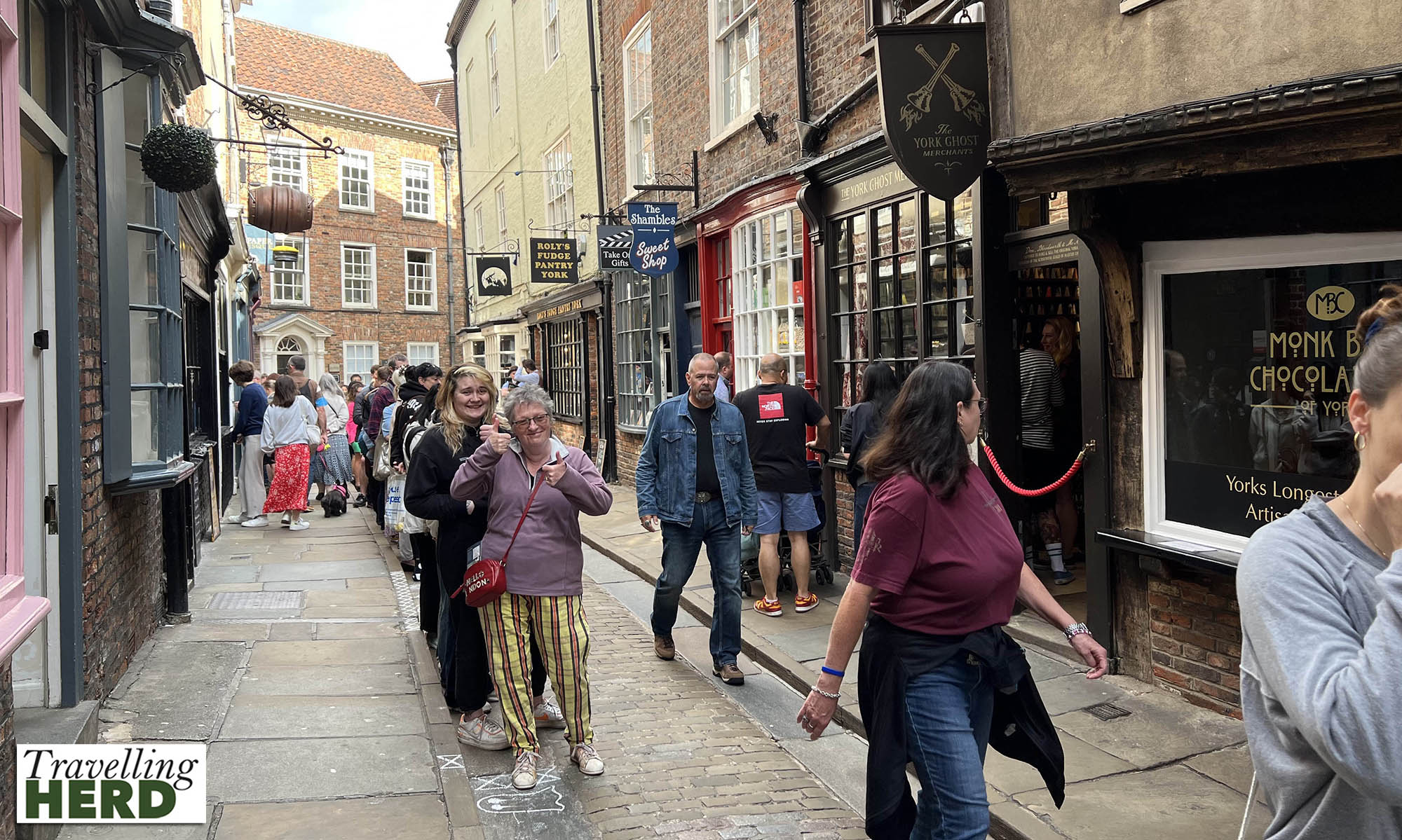 The collective noun for ghosts is, appropriately, "a haunting". Jaime acquired her own haunting and we then set off for Housesteads Roman Fort so that Matilda could make further use of her National Trust membership. Here we encountered another herd grazing peacefully.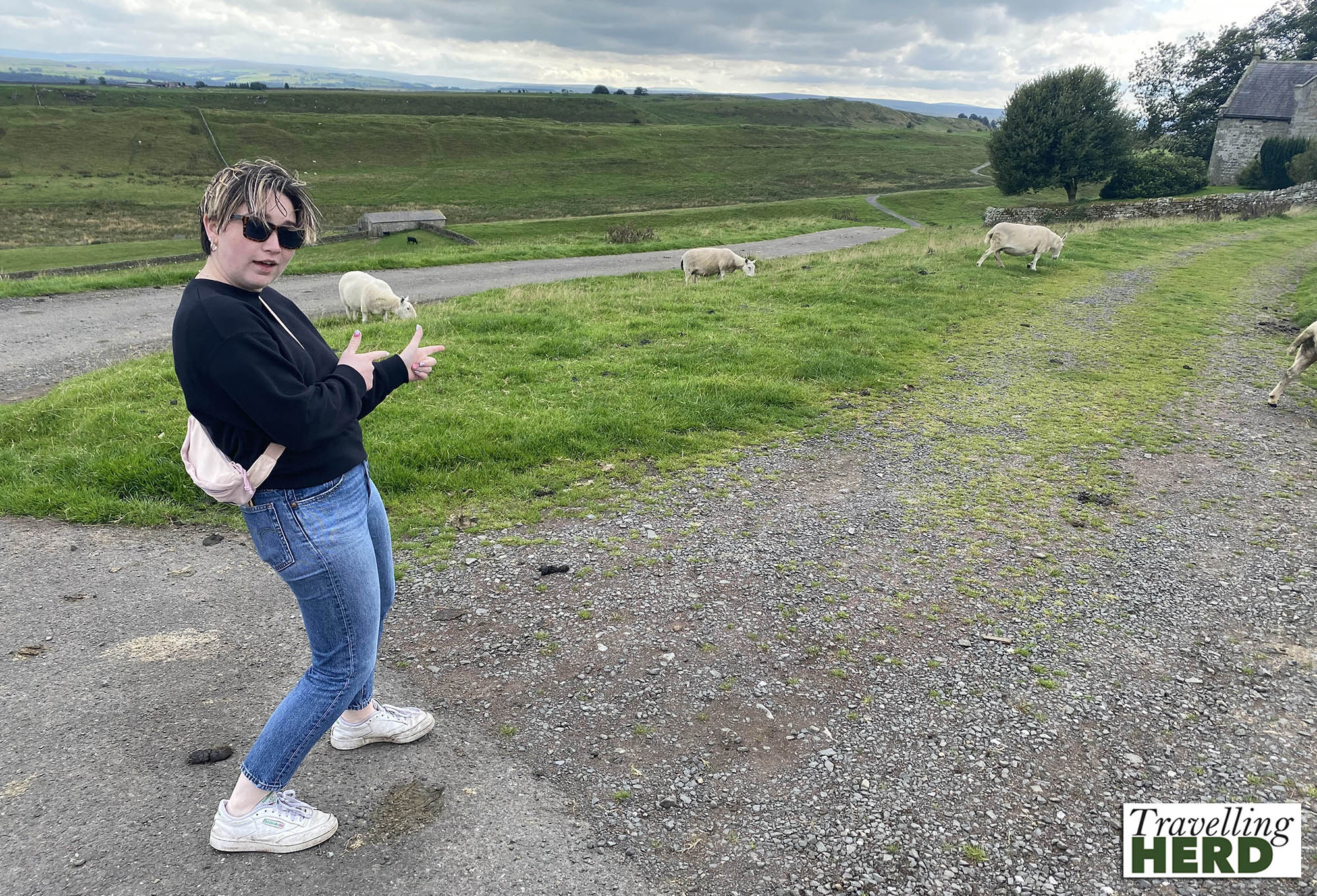 Hadrian's Wall was begun in AD 122 and spans the 73 miles from coast to coast. Running from Wallsend on the River Tyne in the east to Bowness on Solway in the west it was built to guard the wild north-west frontier of the Roman Empire.
The ruins of this impressive fortification are a reminder of the might and supremacy of this ancient empire.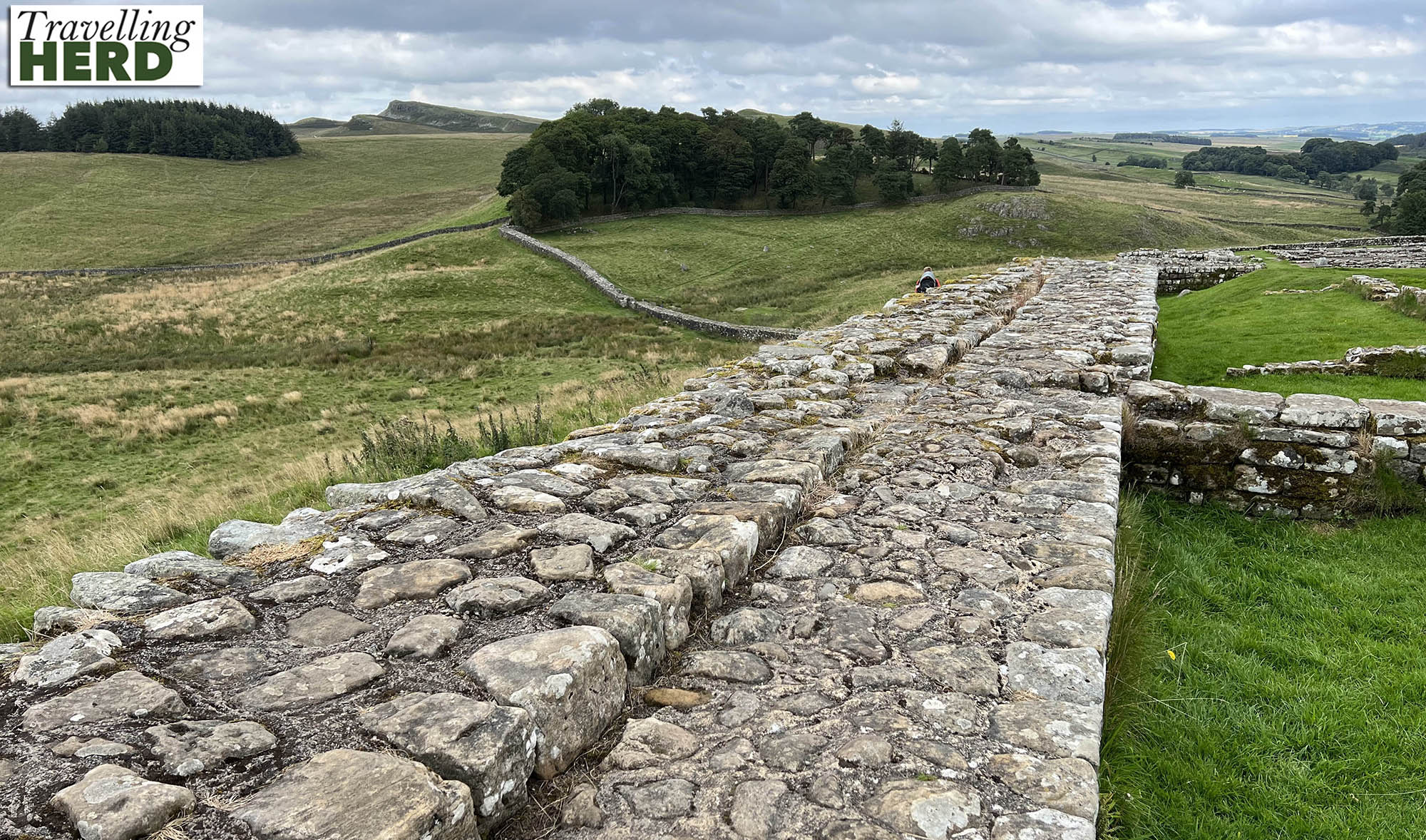 From here we drove to Glasgow and, having checked in to our hotel at Glasgow Central Station, went in search of refreshment. Robert remembered a bar he had been to on a previous visit and fortuitously the person on the desk in reception was able to identify this from Robert's rather limited information.
At 104 feet and three inches long the bar at The Horseshoe Bar in Glasgow is apparently the longest one in Europe.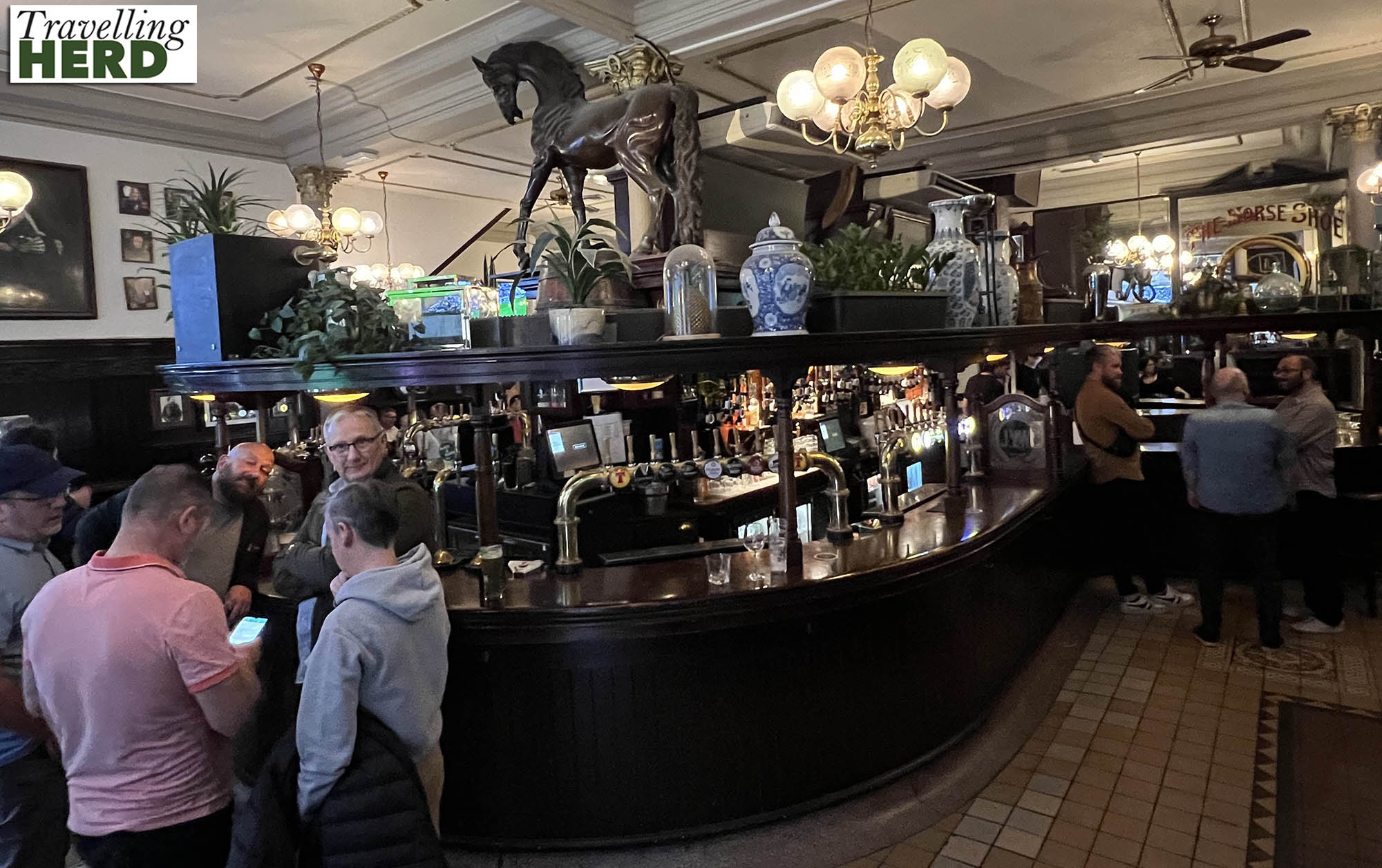 Ruth associates Innis and Gunn beer with Scotland having drunk this when she visited friends studying in Edinburgh and wanted to repeat the experience. We therefore went to the Innis and Gunn Brewery and Taproom.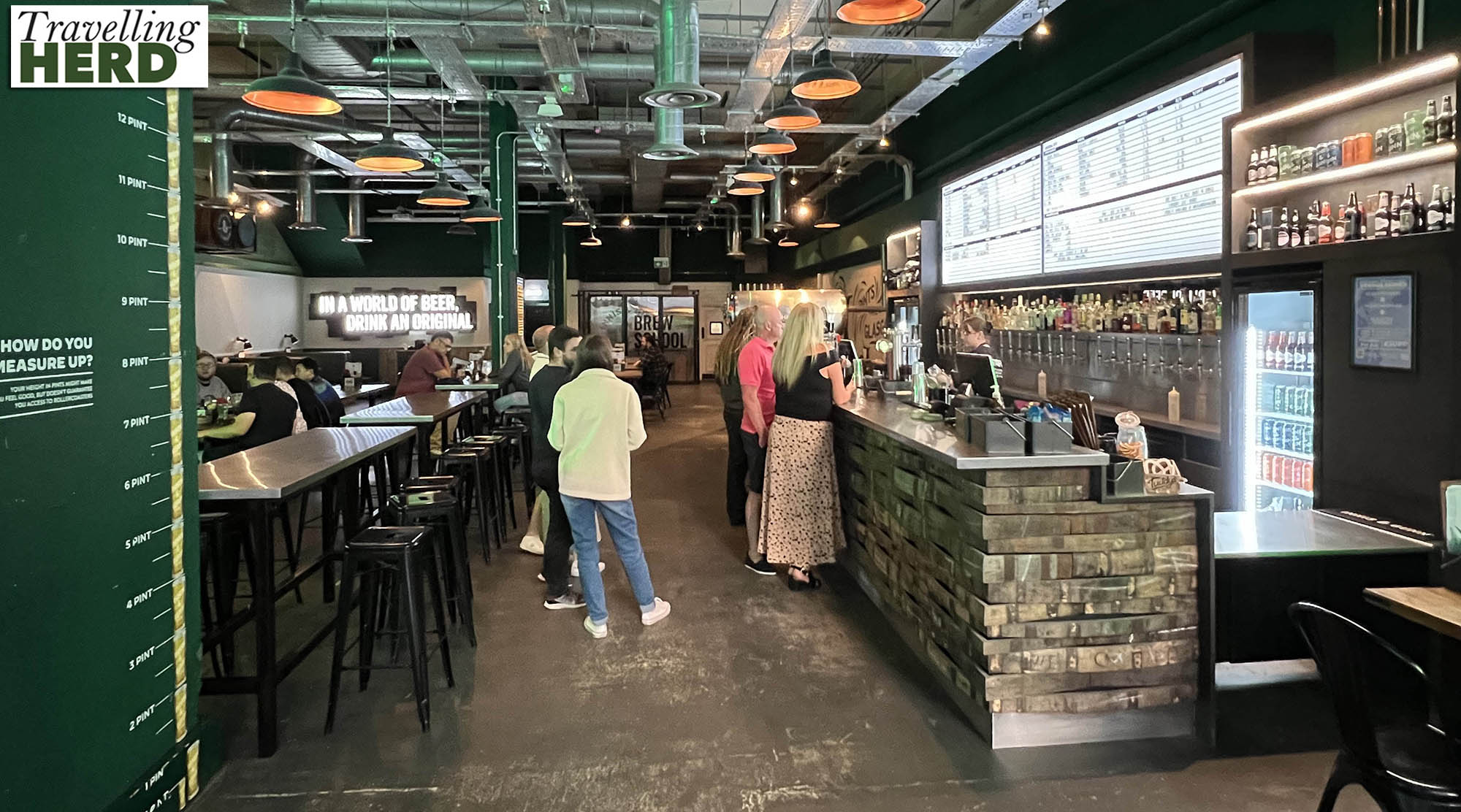 Selfie of the day: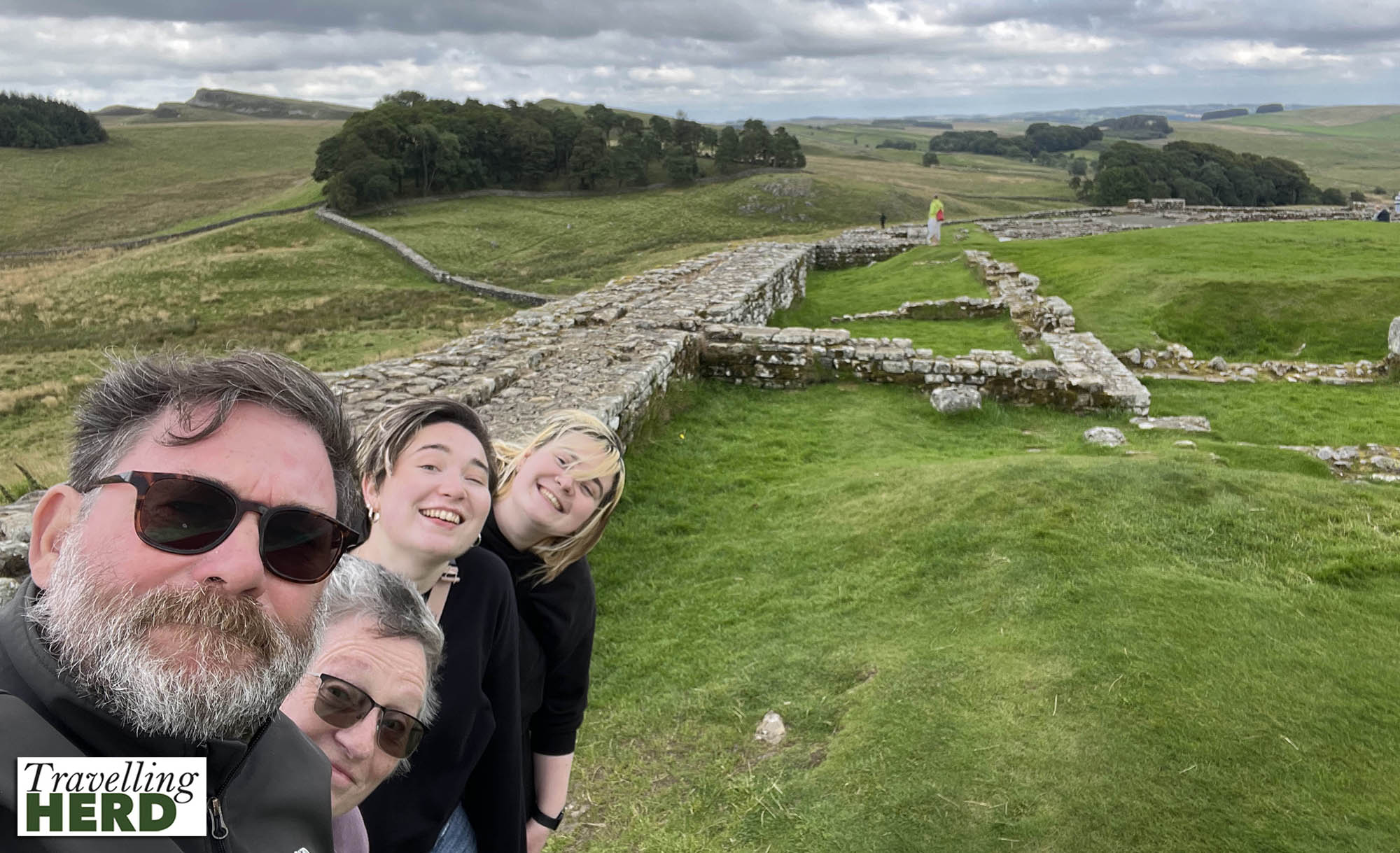 Dish of the day: