Read this blog: The one where we watch Sophie's fringe performance.
Friday 18th August 2023
Ever since 1992 when her mother first introduced us to the fabulous historical properties available to rent through The Landmark Trust, Matilda has been yearning to visit The Pineapple. It is situated in Dunmore near Falkirk, close to Stirling where she went to university, but she was entirely unaware of its existence at the time.
When we learnt in the autumn of 2022 that Jaime's friend Sophie [who came to Tresco with us in 2021] would be performing at the Edinburgh Fringe this year, Matilda looked up availability and found that the weekend of 18th to 21st August was available. As this coincided with Robert and Matilda's wedding anniversary, as well as likely dates for Sophie's performances, it seemed as though it was meant to be.
The dates of Sophie's performances were confirmed earlier this year and our best option was to see her perform in Edges at 10:00 on Friday 18th August. During the Edinburgh Festival, accommodation is obviously at a premium so having stayed in Glasgow, we woke early and drove to Falkirk High Station, parked there and took a train in for the performance.
The cast and musicians in Edges were all impressive [particular credit to the cast member who stepped in as understudy at short notice] and we look forward to seeing their names in lights in the years to come.
Sophie of course was a real star and she greeted her enthusiastic fans outside afterwards.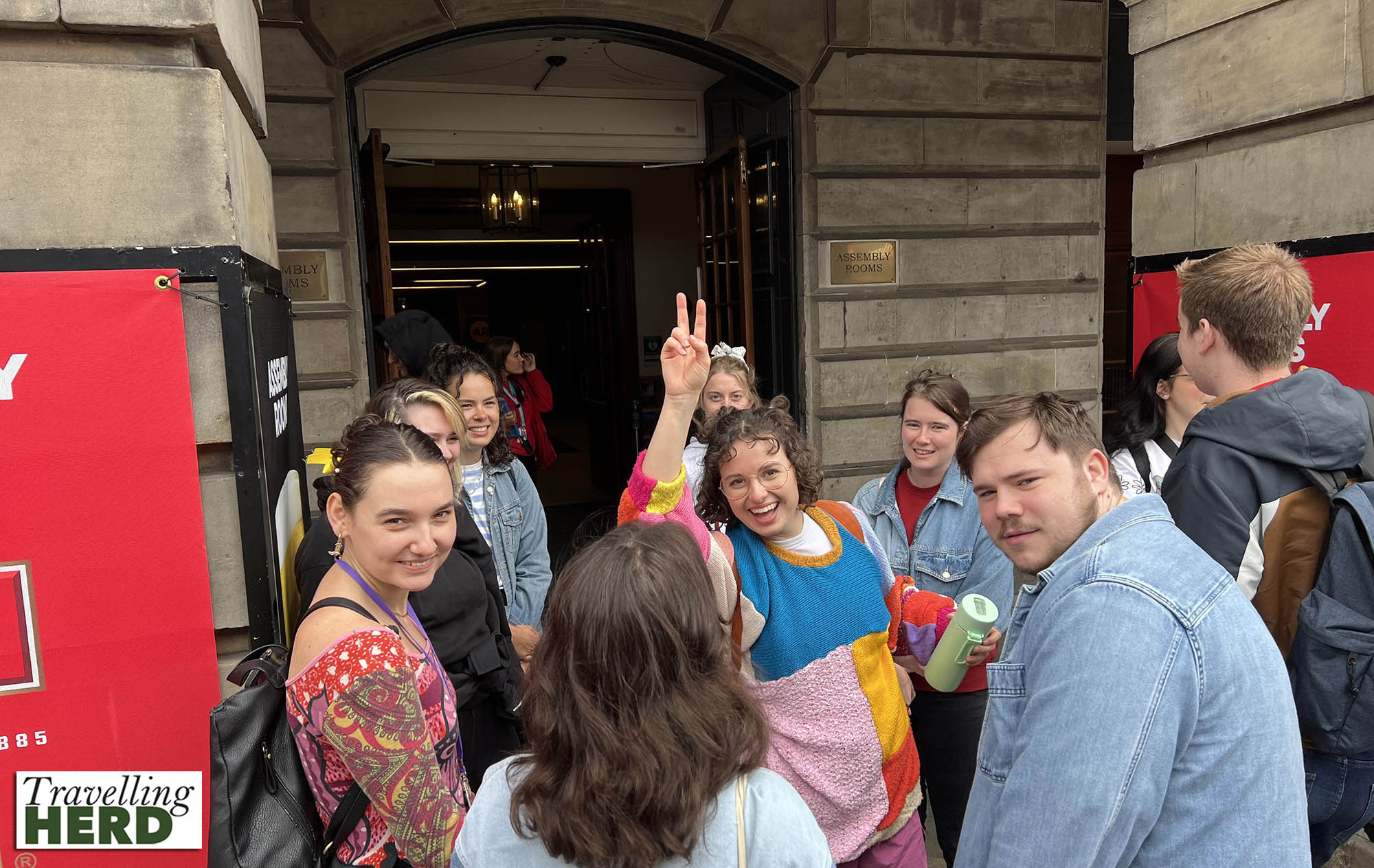 As we strolled round the city, Edinburgh Castle was looking imposing in the gathering rain clouds.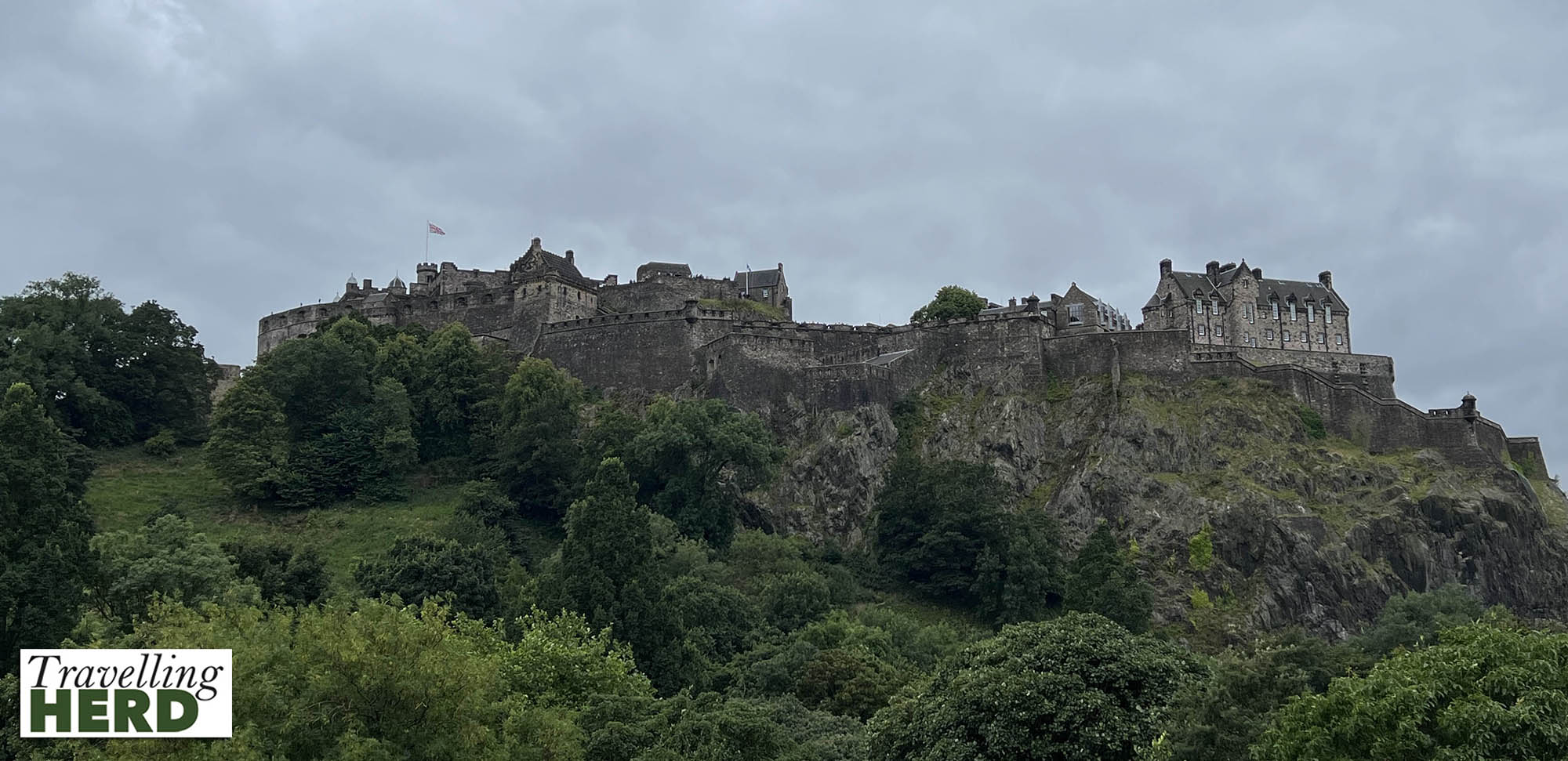 Jaime then took us all for lunch at Element where the toasted sandwiches were dramatically pressed into submission by the waitress at our table using an iron filled with hot coals which the chefs have to heat each morning to toast them.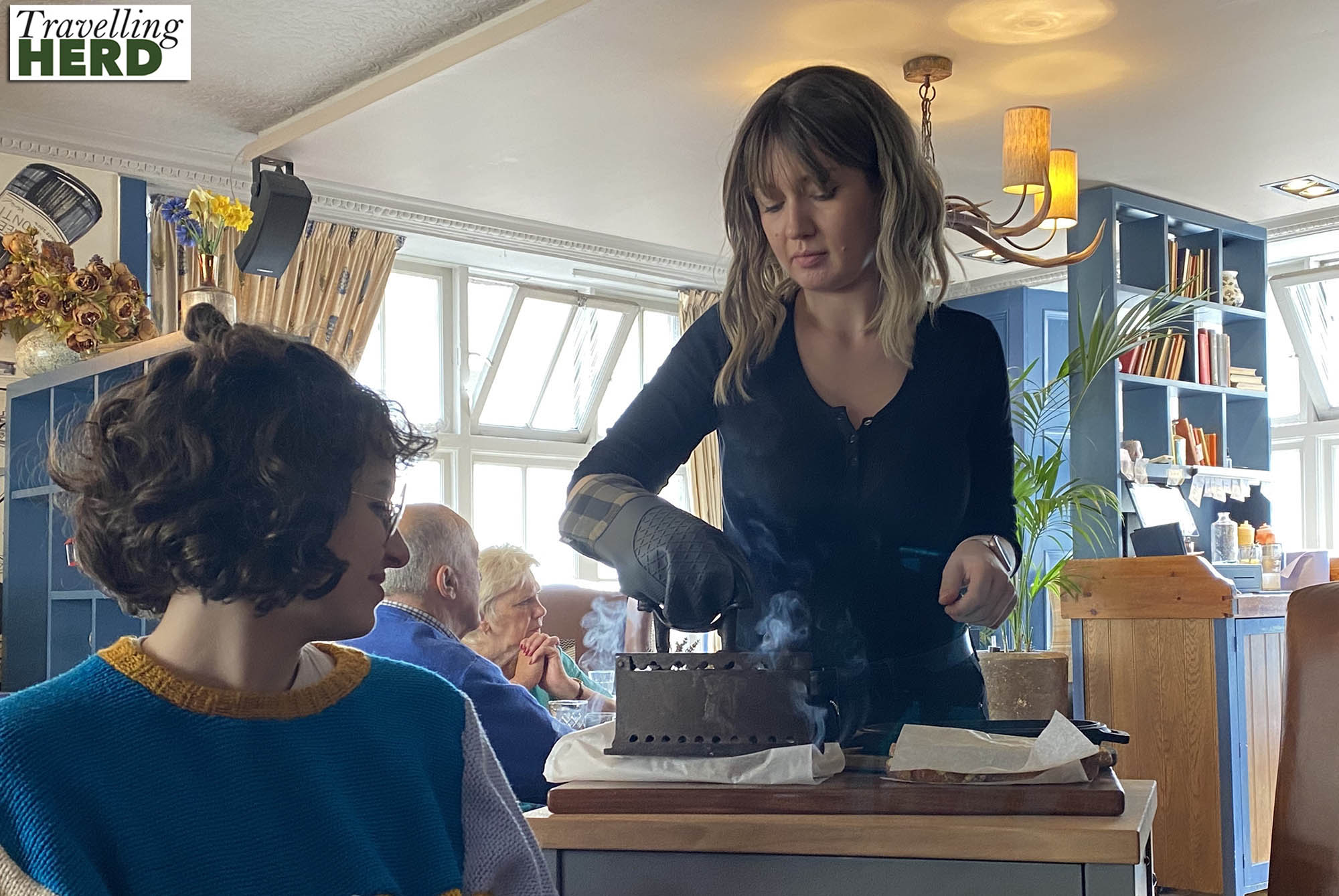 Having eaten lunch and said farewell to Sophie we set off to catch the train back to Falkirk, pick up the car and drive the final leg to The Pineapple to make one of Matilda's long-held dreams come true.
Dating back to 1761, The Pineapple was built as a summer house for the 4th Earl of Dunmore and incorporates two small unconnected stone bothies extending to either side where the gardeners would have lived. These have been converted into the current accommodation, with a kitchen and living room to one side and the bedrooms and bathroom on the other. The Pineapple itself is thought to be a later addition, inspired by the Earls' time in Virginia [see paragraph below], to an earlier construction. It stands guard over a large walled garden where a range of exotic fruits and vegetables were once grown in the glasshouses and pineapple pits. The garden is now open to the public, but there is a small private garden for those staying in The Pineapple and stairs up to the pineapple room itself [see photo below].
The 4th Earl of Dunmore went to America in 1770 and during his time as Royal Governor of Virginia, he managed to have both a war and a proclamation named after him. Fighting with the colonists, he defeated the Shawnee nation in Dunmore's War, thereby gaining land south of the Ohio River in defiance of a Royal Proclamation. However, he became increasingly disenchanted by the colonists' lack of allegiance to the King and this culminated in his issuing Dunmore's Proclamation on November 7, 1775. This "declared martial law and promised freedom for slaves and indentured servants of American Patriots who left their owners and joined the British Army." It is generally acknowledged that the Dunmore Proclamation was more about the practical and urgent need to recruit troops than any moral imperative. Between 800 and 2,000 slaves are thought to have escaped and joined Dunmore's Ethiopian Regiment but his forces did little fighting and were decimated by a smallpox outbreak about a year later. When the Earl of Dunmore was eventually forced out of Virginia in 1776 he took 300 of these former slaves with him.
In Virginia, the Earl would have become aware that pineapples were associated with hospitality. It was said that sailors returning home would stick a pineapple on their gateposts to tell the community they were back and would welcome visitors. Matilda had heard a slightly different interpretation of this: that the fruit were a signal that anyone who had been visiting their wives in their absence should know that they would now be welcomed by the master of the house. Whatever the significance, pineapples became very popular as architectural decoration.
Surely, The Pineapple is the ultimate fabulous fruity folly.