Sunday 5th February 2023
We planned to go to the Wieliczka Salt Mine in the morning and Oskar Schindler's Factory Museum in the afternoon. The Wieliczka Salt Mine is about half an hour's drive outside Kraków and Robert had booked a guided tour through MrShuttle to include transport and entry to the mine. The evening before, he had received a text confirming the booking and telling him what time we would be picked up from outside our hotel. Fortunately, this was later than expected and would give us plenty of time to have breakfast.
We were picked up promptly at 09:00 and driven by car to the Wieliczka Salt Mine. It briefly seemed to us as though this must be a very quiet time of year for tourism if there were only going to be the two of us on the tour. However, once we arrived at the mine entrance [see below] we were joined by a minibus full of other MrShuttle customers all waiting for the English-speaking tour.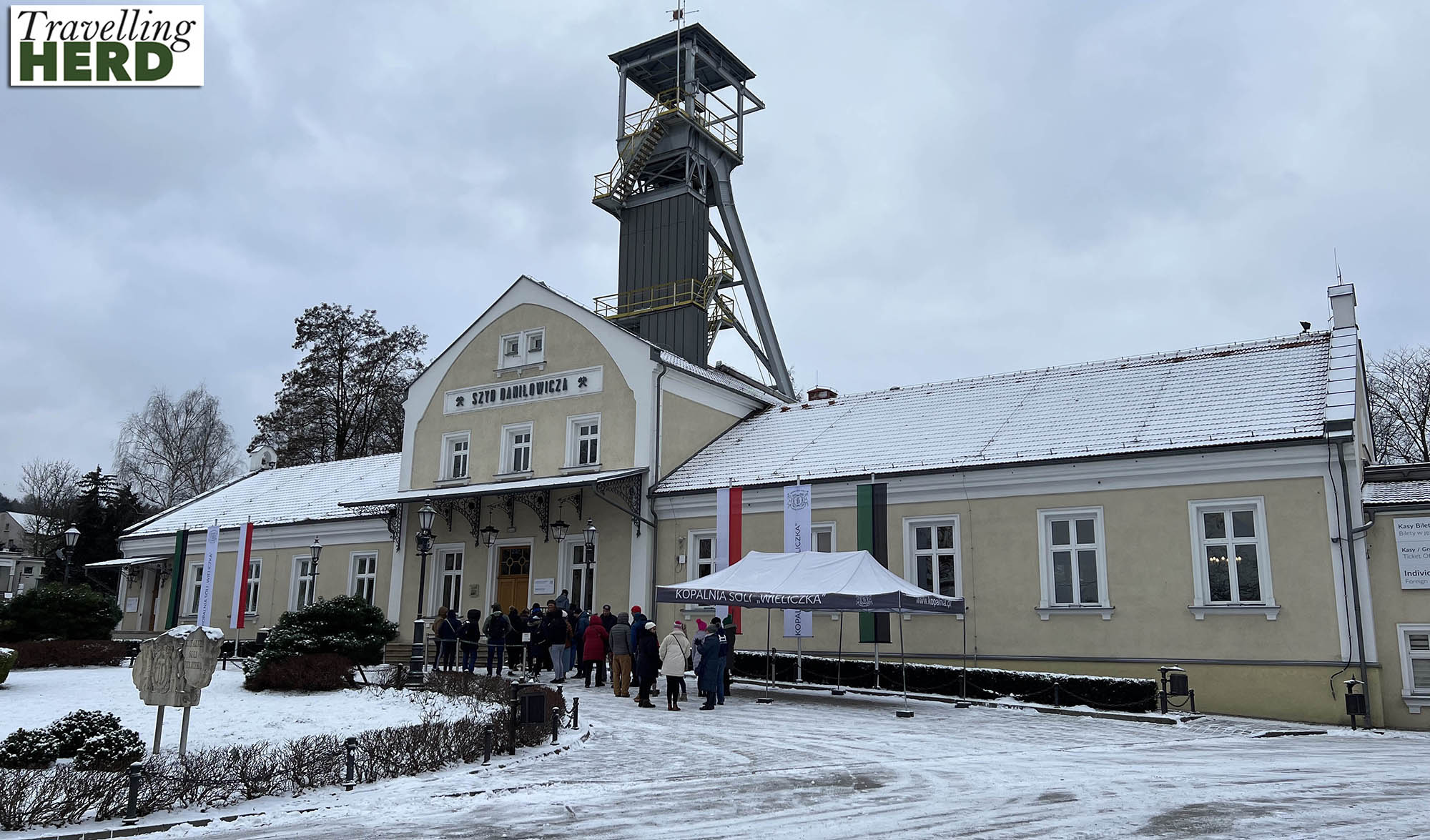 Salt or sodium chloride [NaCl] has been extracted at this site since Neolithic times. The surface water was such a highly saturated salt solution that it was undrinkable and was effectively more salty than the sea. However, salt could be collected by evaporation. Excavation started here in the thirteenth century and, although mining was discontinued in 1996, the mine continued producing table salt until 2007.
Wieliczka Salt Mine is 1,073 feet or 327 metres deep which is three metres more than the Eiffel Tower is high. It includes over 178 miles [287 kilometres] of horizontal tunnels, passages and chambers. All visitors must be accompanied by a guide: it would be easy to become disorientated and lost in such a labyrinth. There is a system of 'air locks' to prevent fierce draughts and one door must be closed behind the group before the next one can be opened.
Many of the passages are lined with logs and it is said that this is why there is now very little woodland left above ground in this part of Poland.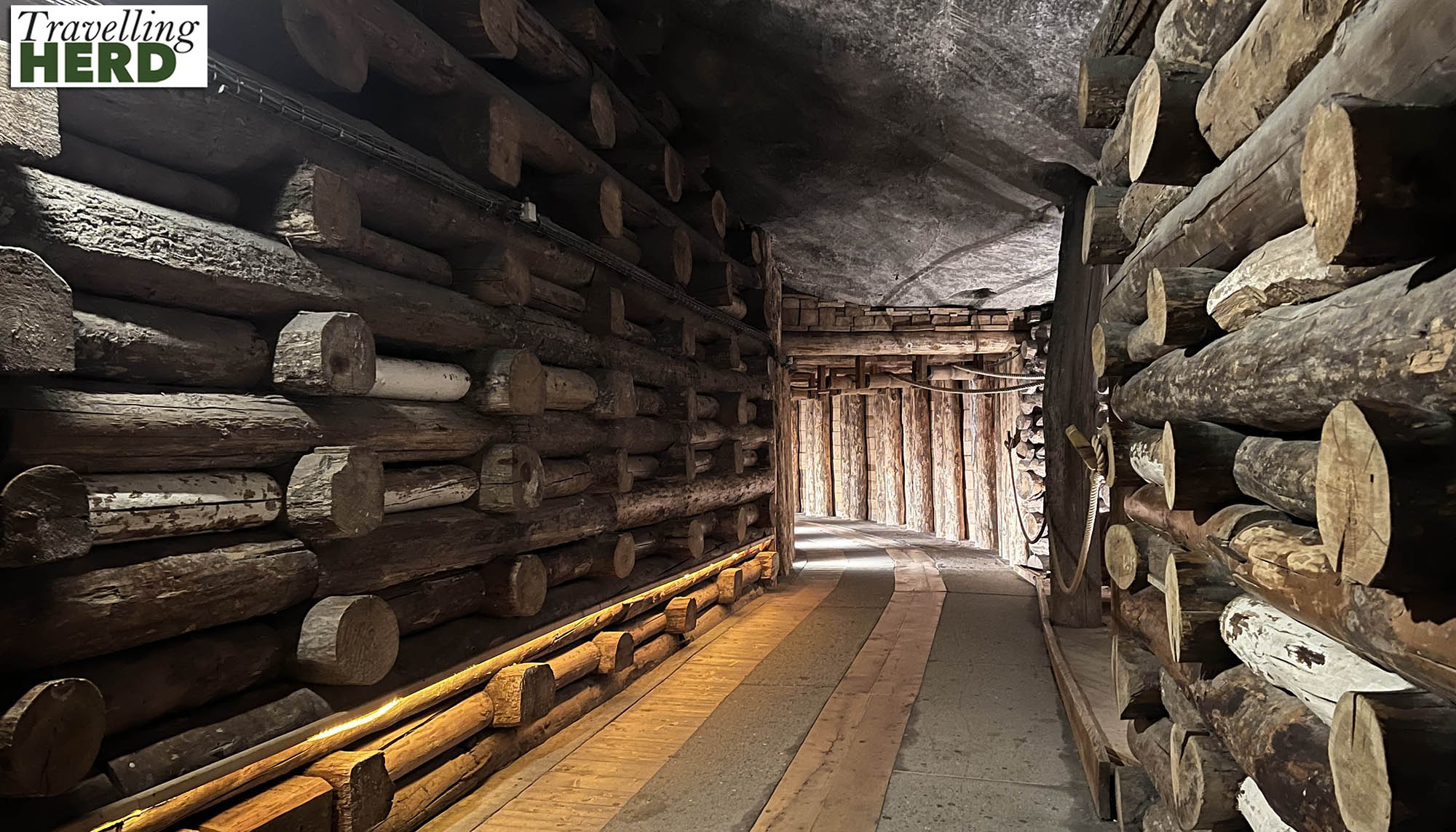 The tour comprises a 2.2 mile [3.5-kilometre] route which passes an underground lake, statues carved from salt and exhibits on the history of salt mining as well as various chapels and churches. The visitors' route covers less than two percent of the total length of the passages in the mine.
The tour passes a carved tableau illustrating the legend of Saint Kinga, who became the patron saint of salt miners. Kinga lived in the thirteenth century: she was the daughter of King Béla IV of Hungary and married the Polish Duke who ruled Kraków. It is said she asked for a dowry of salt from her father and that having thrown her engagement ring into a salt mine in Hungary it miraculously reappeared embedded in a piece of rock salt in Wieliczka.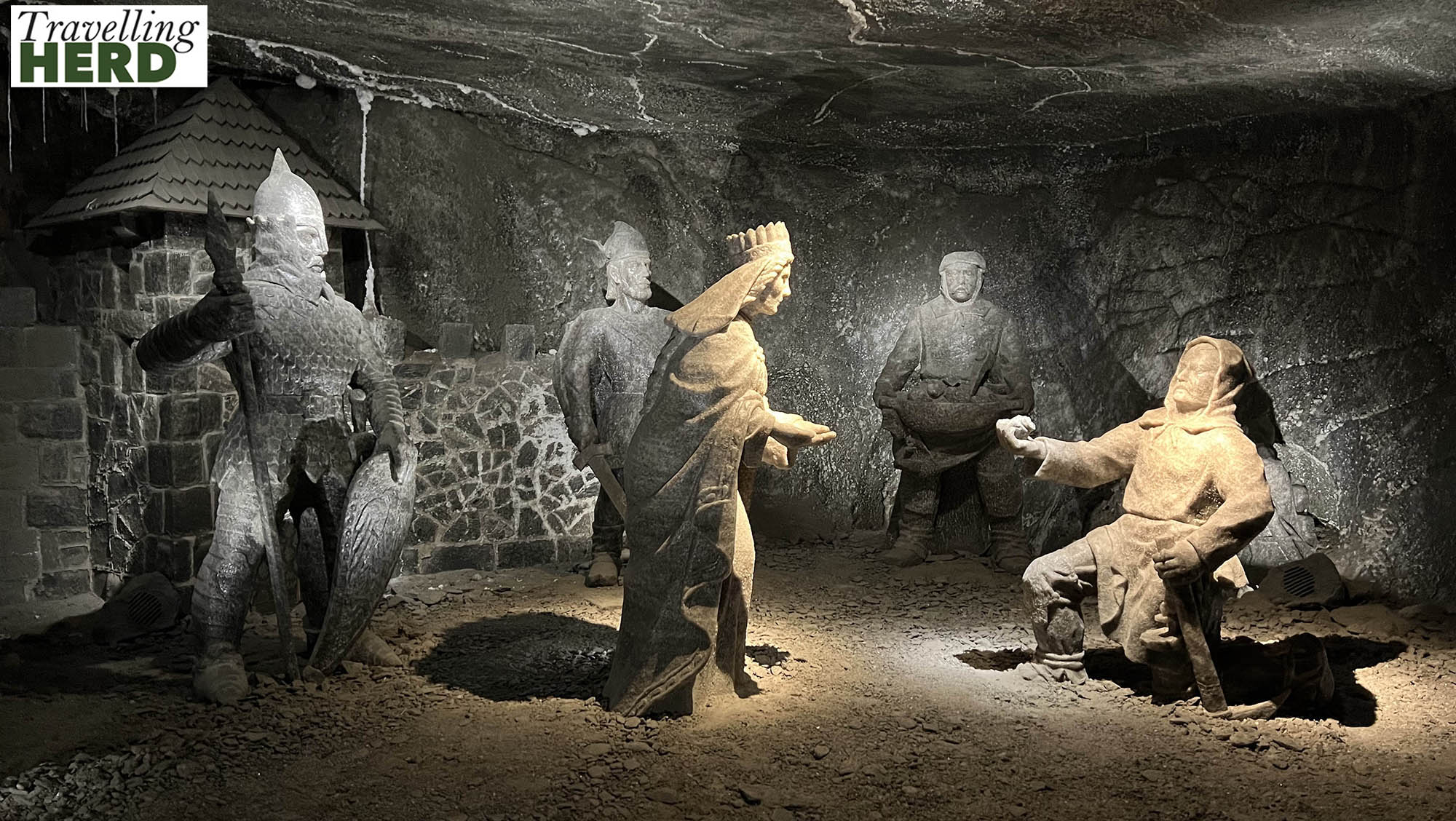 She is also commemorated in the Chapel of Saint Kinga – an incredible subterranean hand-carved hall lit by salt crystal chandeliers which took just three miners 67 years to carve and decorate. The chamber is about 12 metres high, 18 metres wide and 54 metres long.
Initially the three miners worked on the chapel at the end of their shift down the mine but were eventually allowed to work on it full-time.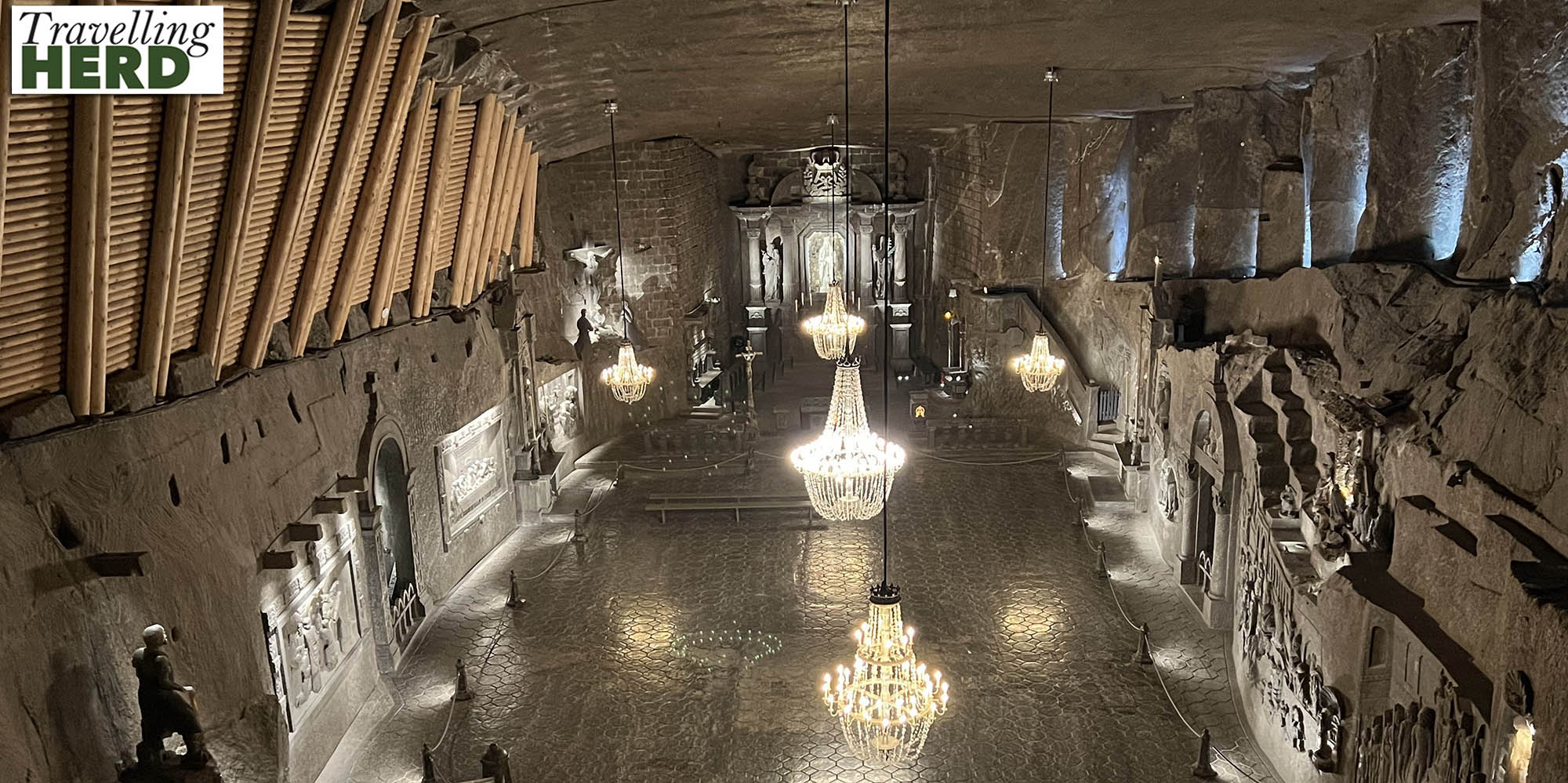 St. Kinga's Chapel is located 101 metres underground and the furniture was designed to be portable so that the miners could move it closer to where they were working to be able to worship.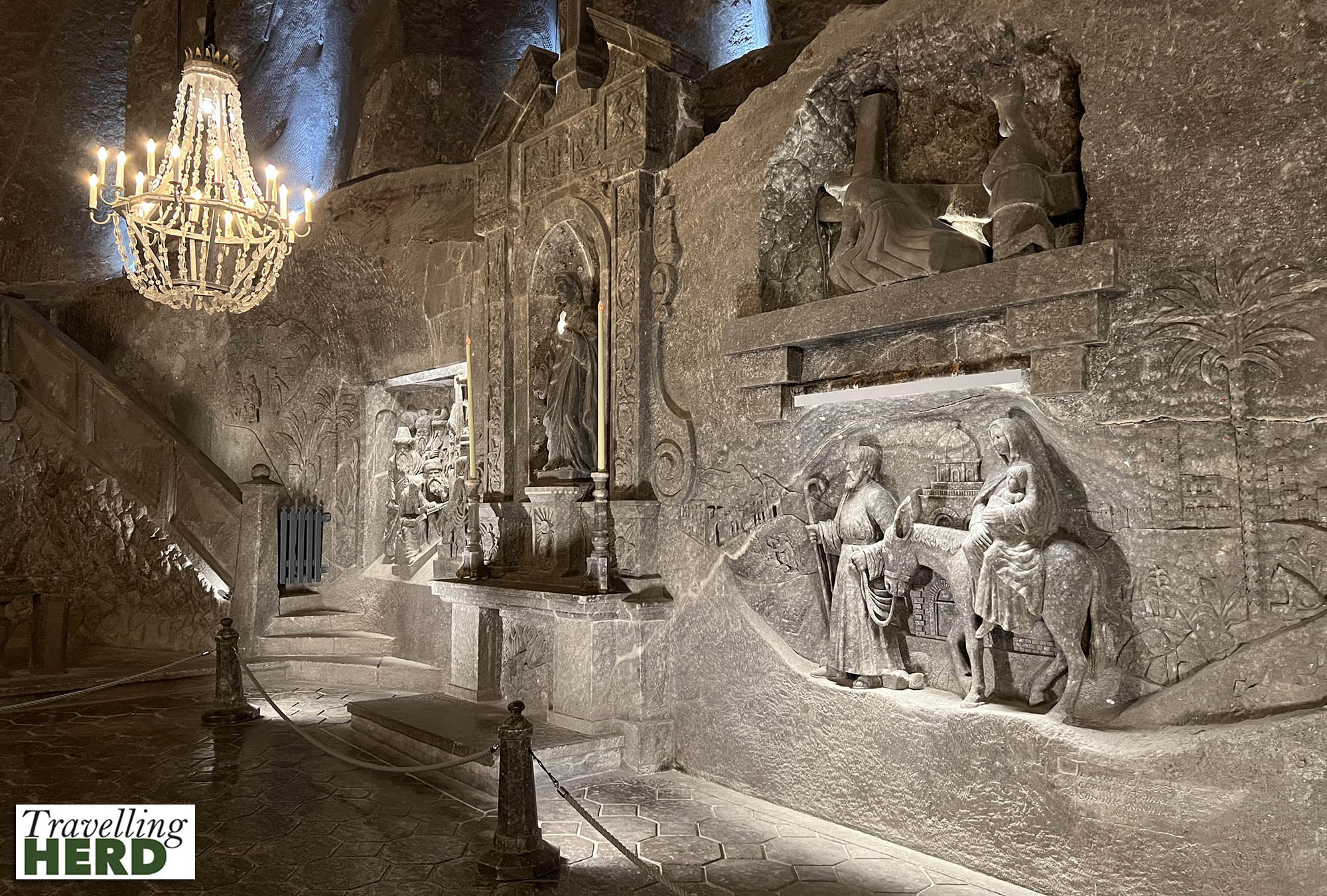 The carving is extraordinary, particularly as it is the work of miners rather than trained sculptors. The depth of field achieved in 'The Last Supper' is especially impressive.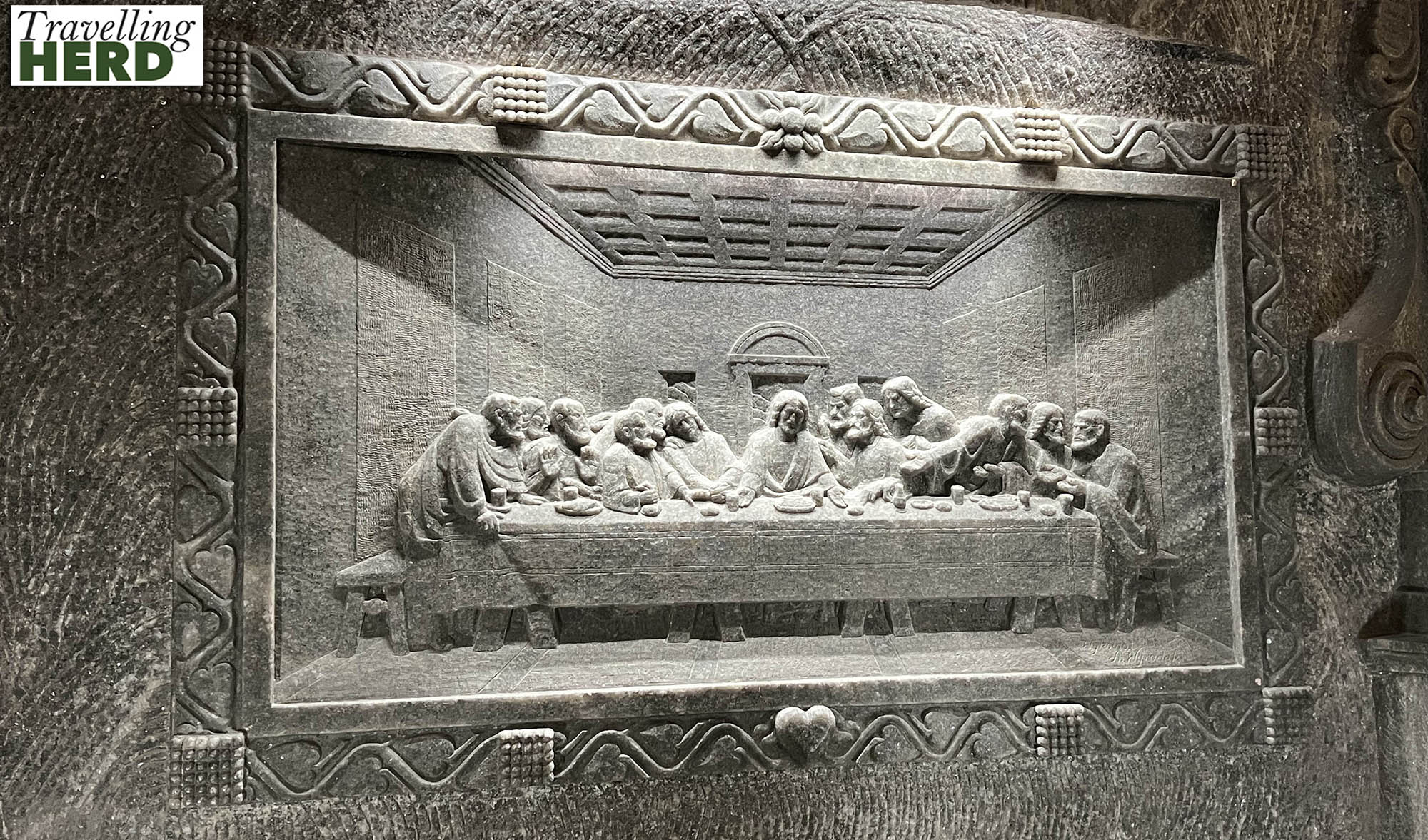 Although the mine has nine levels, the tour only takes in the top three. Even so visitors get a sense of how extensive these workings are.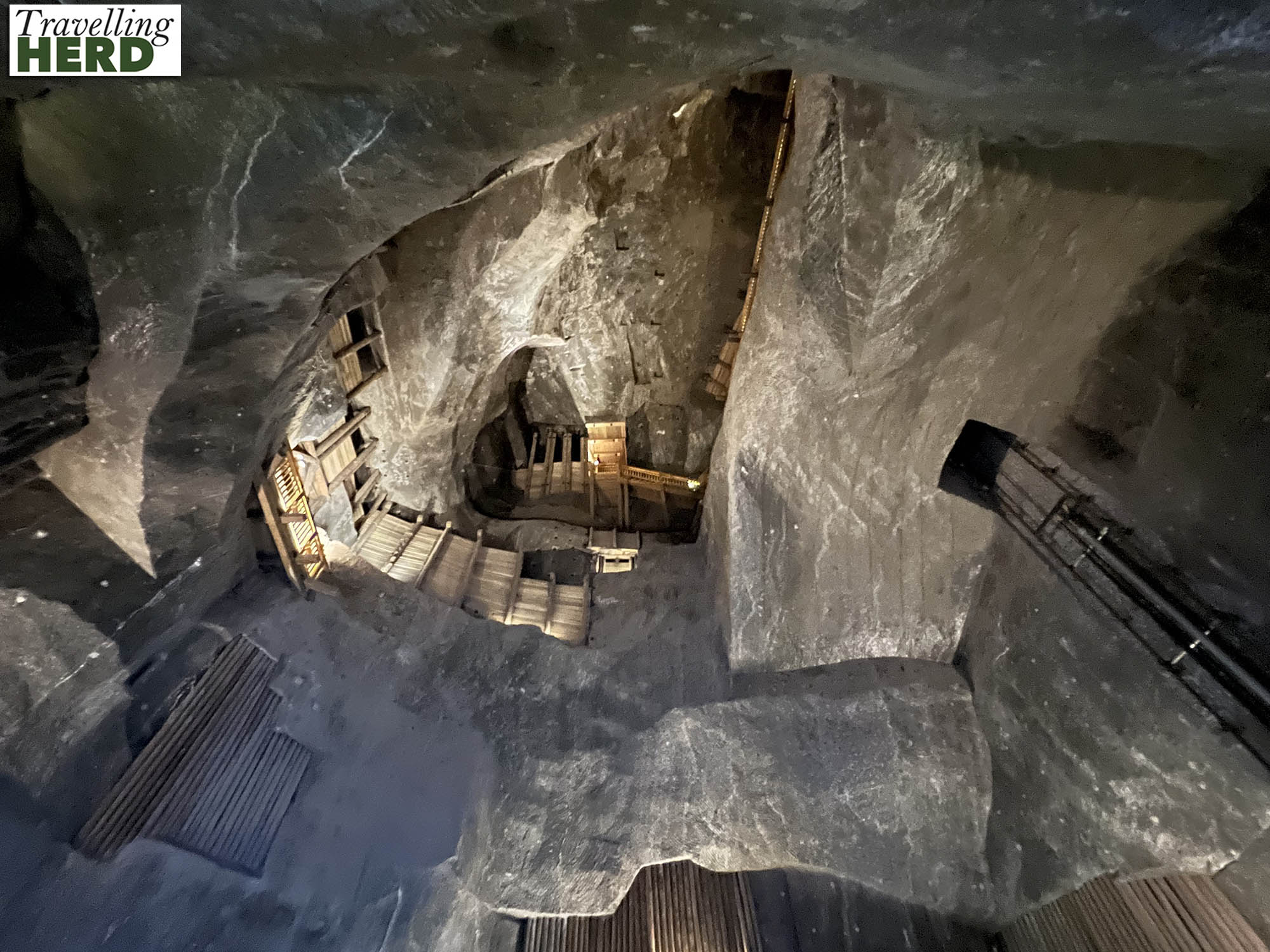 There is an underground shop at the end of the tour as well as restaurant and a vast reception room for weddings and parties. Thankfully there is also a lift to take visitors back up to the surface.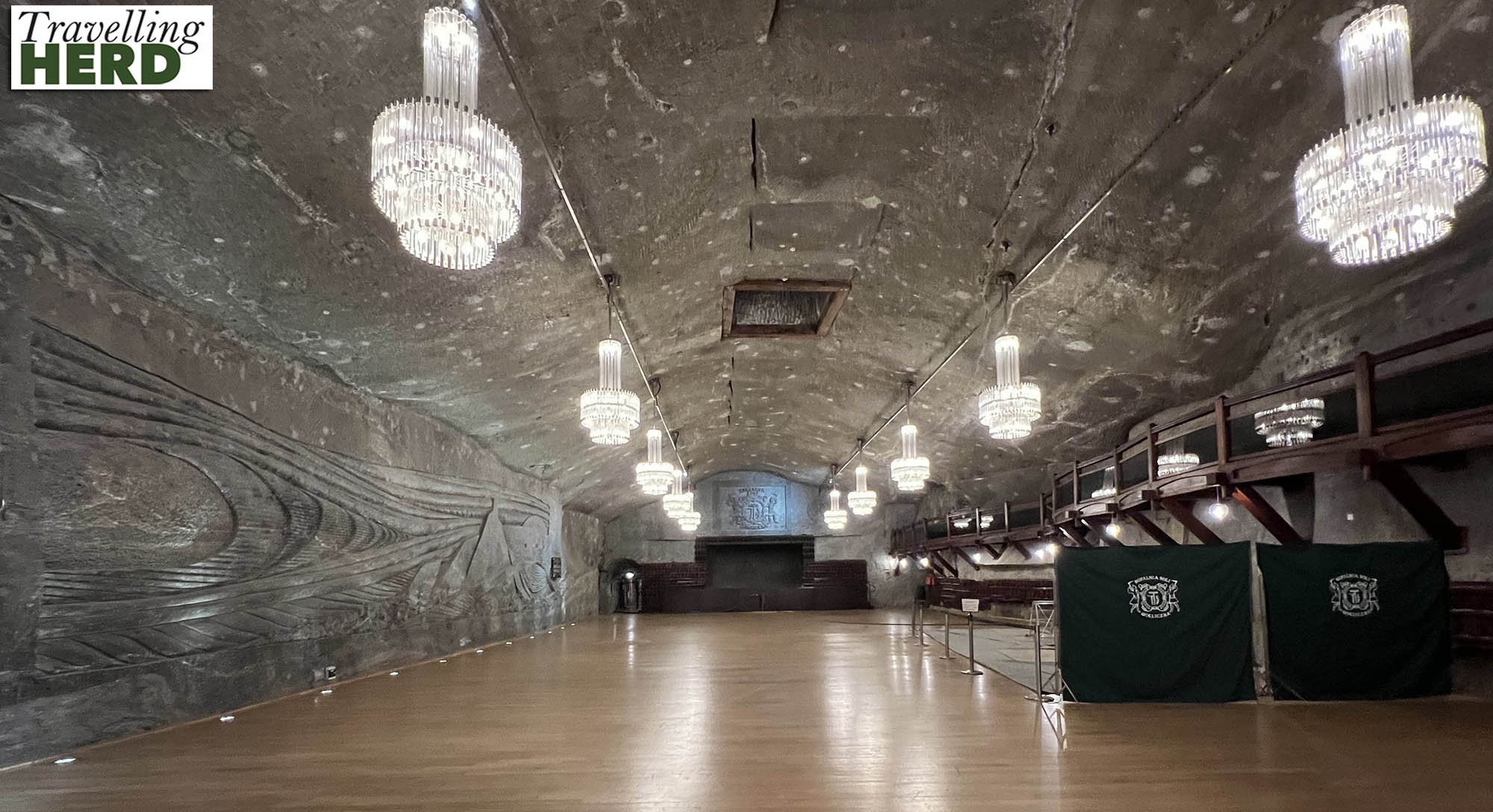 On the way to the lift, Robert was pleased to see one of the engines which had been introduced to transport the salt.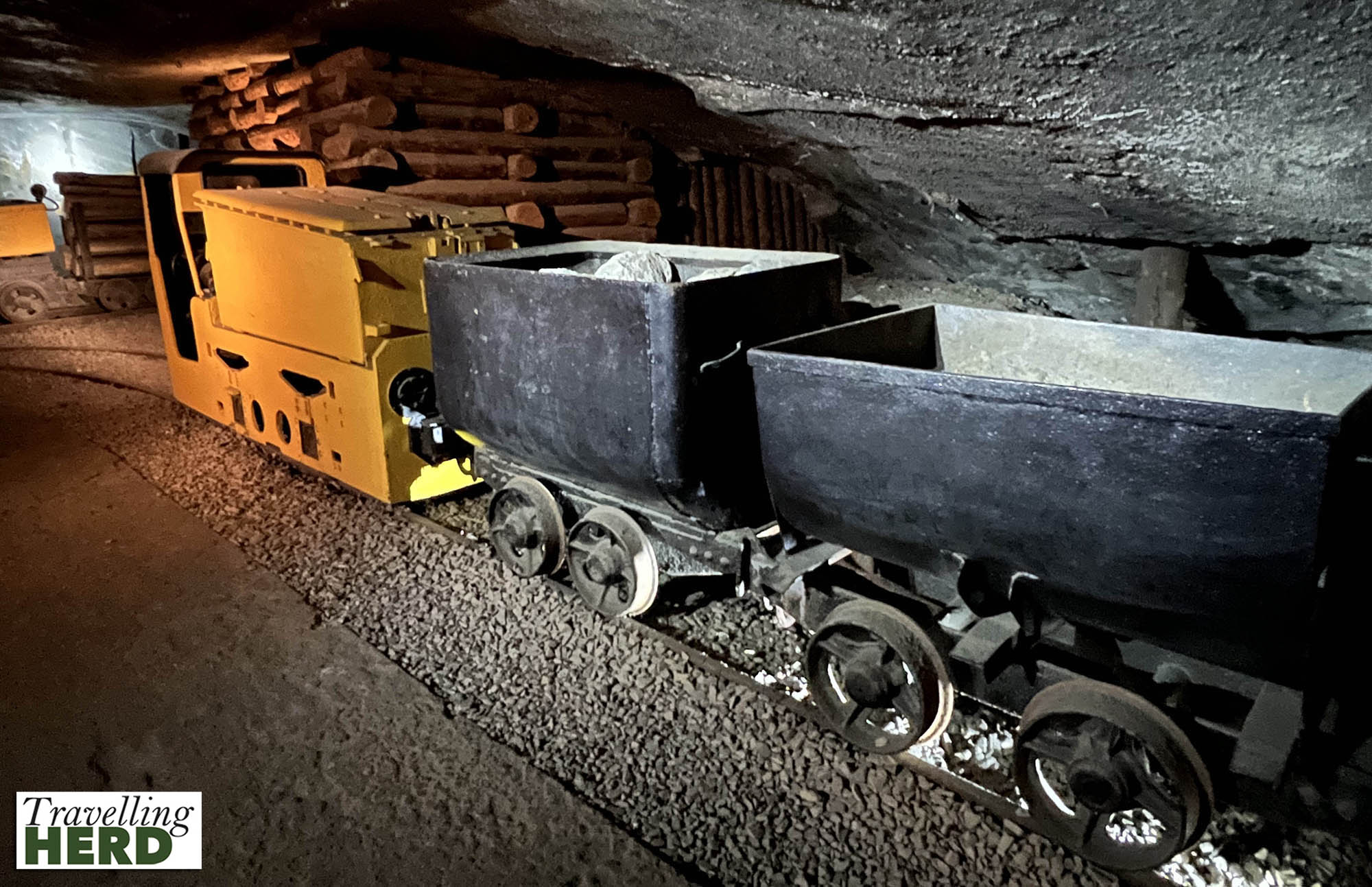 MrShuttle dropped us back at our hotel and we then took a stroll into Kraków to Plac Zgody. Sometimes referred to as the 'Square of Empty Chairs', Plac Zgody was renamed Plac Bohaterów Getta or Ghetto Heroes Square after WWII.
Plac Zgody was the largest open space in the Kraków Ghetto and a place where Jews could meet as a community away from the oppressive overcrowding. It was also a place of intense brutality, witness to beatings and executions and the place from which Jews were deported to the death camps, forced to leave behind their furniture and many of their belongings in disarray in the square.
After a period of neglect, the square was renovated and in 2005 seventy bronze chairs, reminiscent of the abandoned possessions were installed [see feature photo]. Symbolising departure, loss and absence the chairs are a poignant and lasting memorial to the victims of the Kraków Ghetto and are strategically placed facing the direction of the different camps the Jews were sent to.
Each chair represents one thousand people who were taken to their deaths.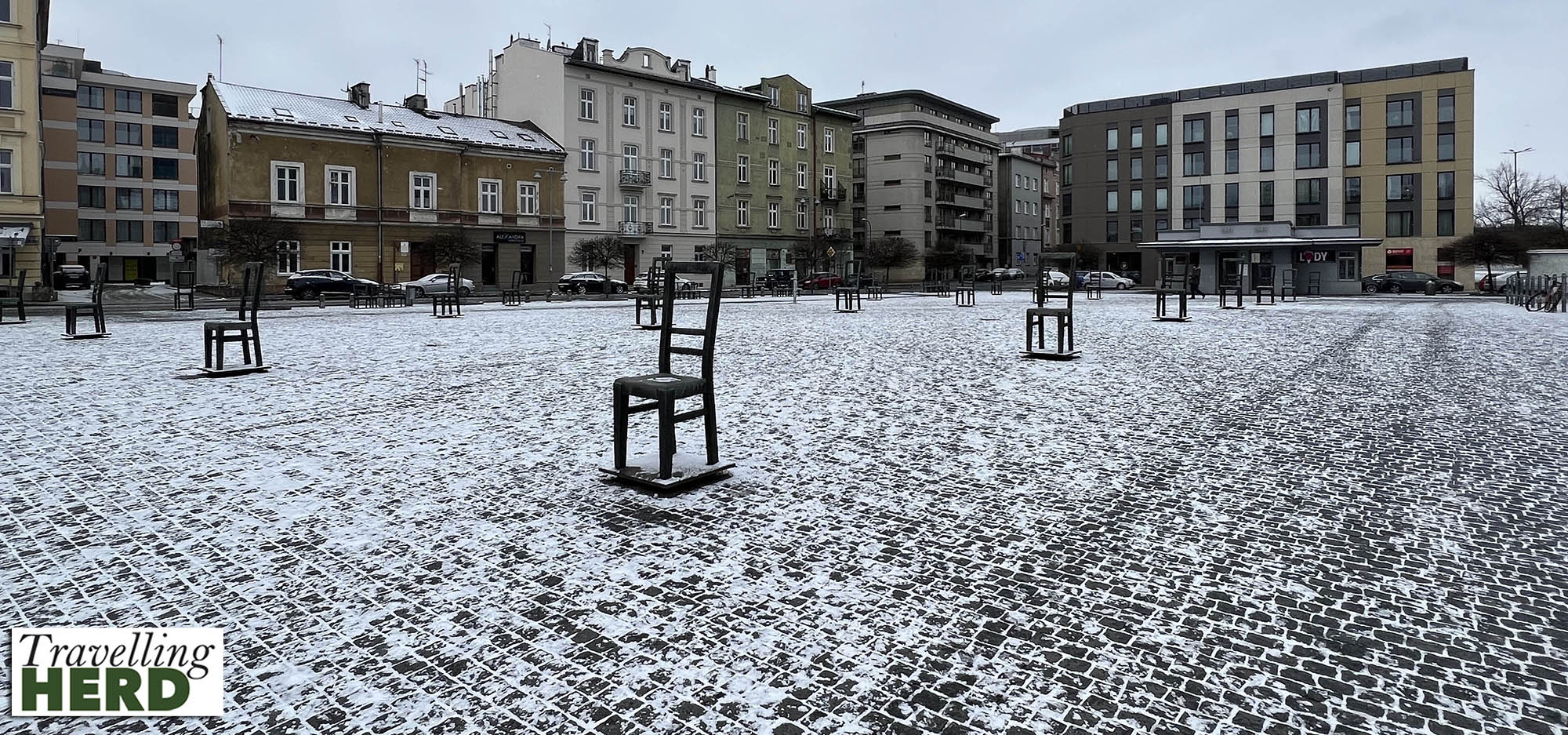 On one corner of Plac Bohaterów Getta is the Apteka pod Orlem [the Pharmacy Under the Eagle or Eagle Pharmacy] which is now a small museum. When the area was cleared in 1941 to make way for the Ghetto, a Polish pharmacist, Tadeusz Pankiewicz, refused to relocate his premises. His was the only pharmacy left operating in the Ghetto and Pankiewicz and his staff risked their lives by providing the Jews with medication, often for free; smuggling food and information and sheltering those who were facing deportation.

The pharmacy closed in 1967 and has been restored to its war-time appearance, complete with a carved eagle above the counter. There are multimedia displays of people's recollections of living in the Ghetto including one attributed to an eight year old Roman Polański.
The Apteka pod Orlem Museum is less well-known than the Oskar Schindler's Factory Museum but well worth a visit. It feels quite intimate and the bravery of this small team of Polish people is hard to imagine and truly inspiring.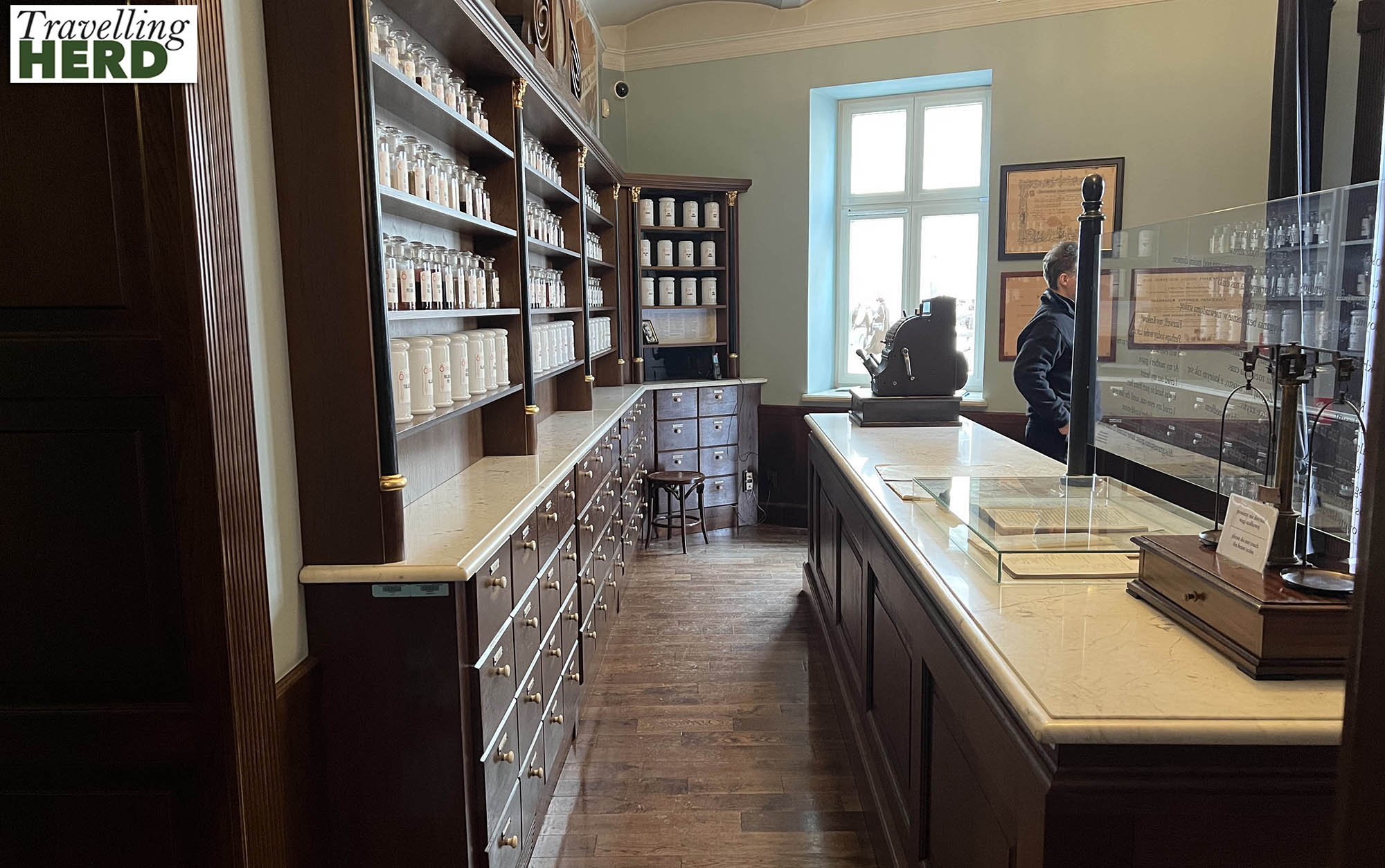 From here we walked to Oskar Schindler's Factory Museum which is, obviously, in a former industrial area. We arrived to find a queue for tickets. There was a helpful digital display showing how many [limited] places were available for the different times of entry and, after queuing for about 15 minutes, we were fortunate enough to be able to go straight in. Those behind us in the queue were not so lucky and with hindsight it might be better to come here before going to the Eagle Pharmacy.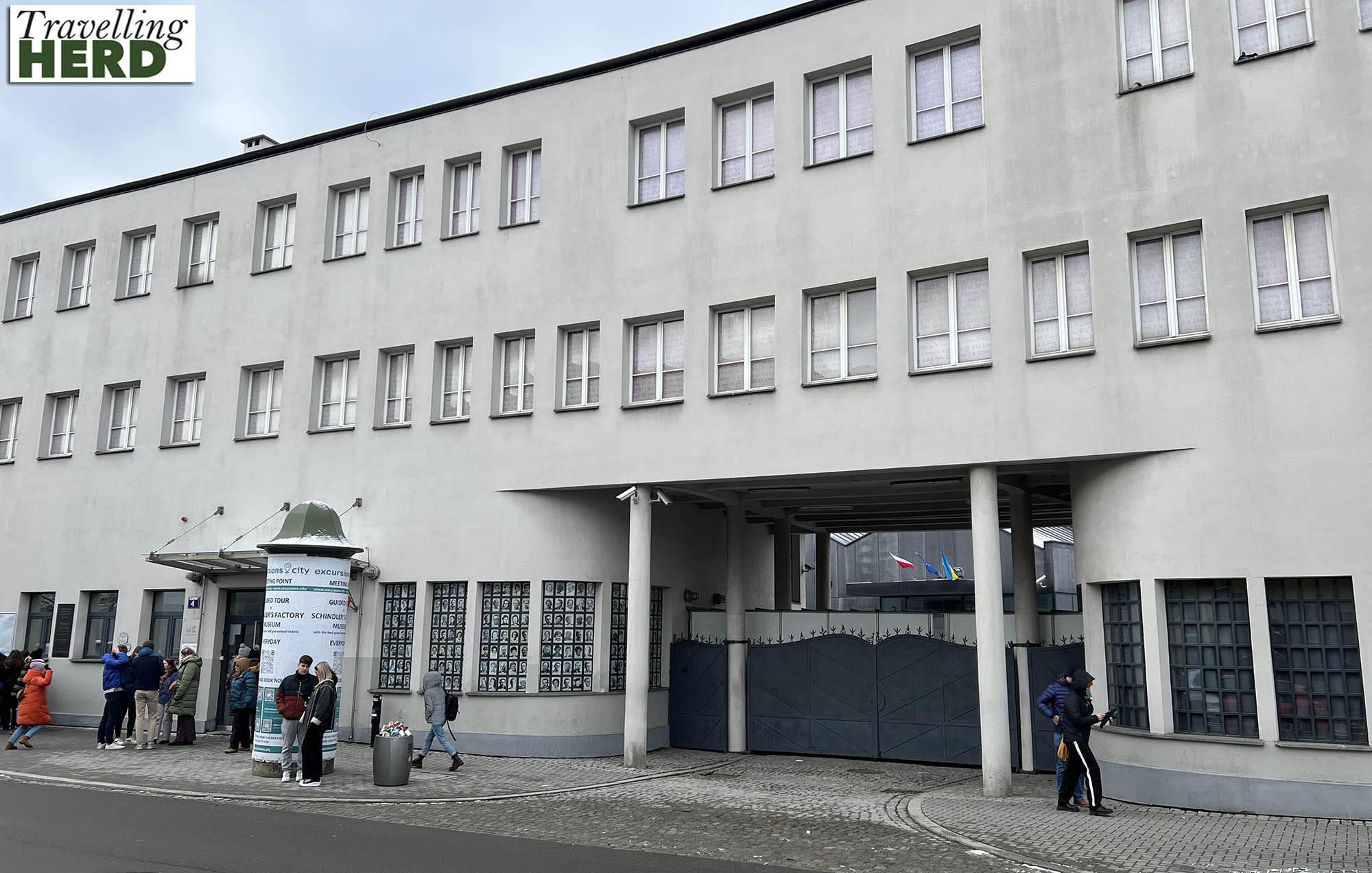 Much of the space inside is dedicated to an exhibition entitled Kraków under Nazi Occupation 1939-45.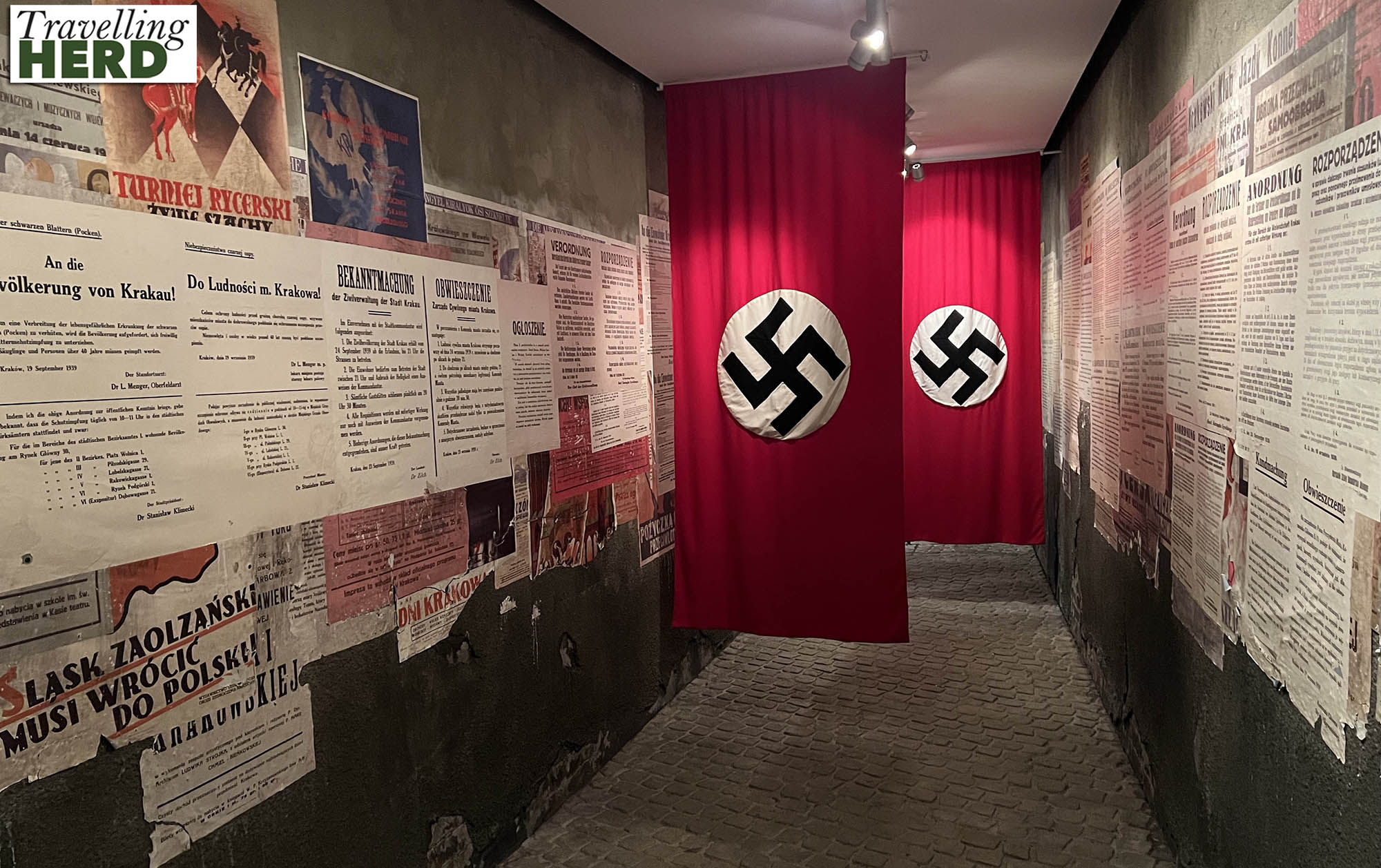 There is also a much smaller display about Schindler himself in the rooms he used in the factory.
Schindler was German; a member of the Nazi Party; an agent of German military intelligence and an opportunist who came to Kraków to exploit the Polish and make money. The factory he took control of originally made enamelled cookware and vessels [see below] but he subsequently expanded operations into essential munitions for the German army.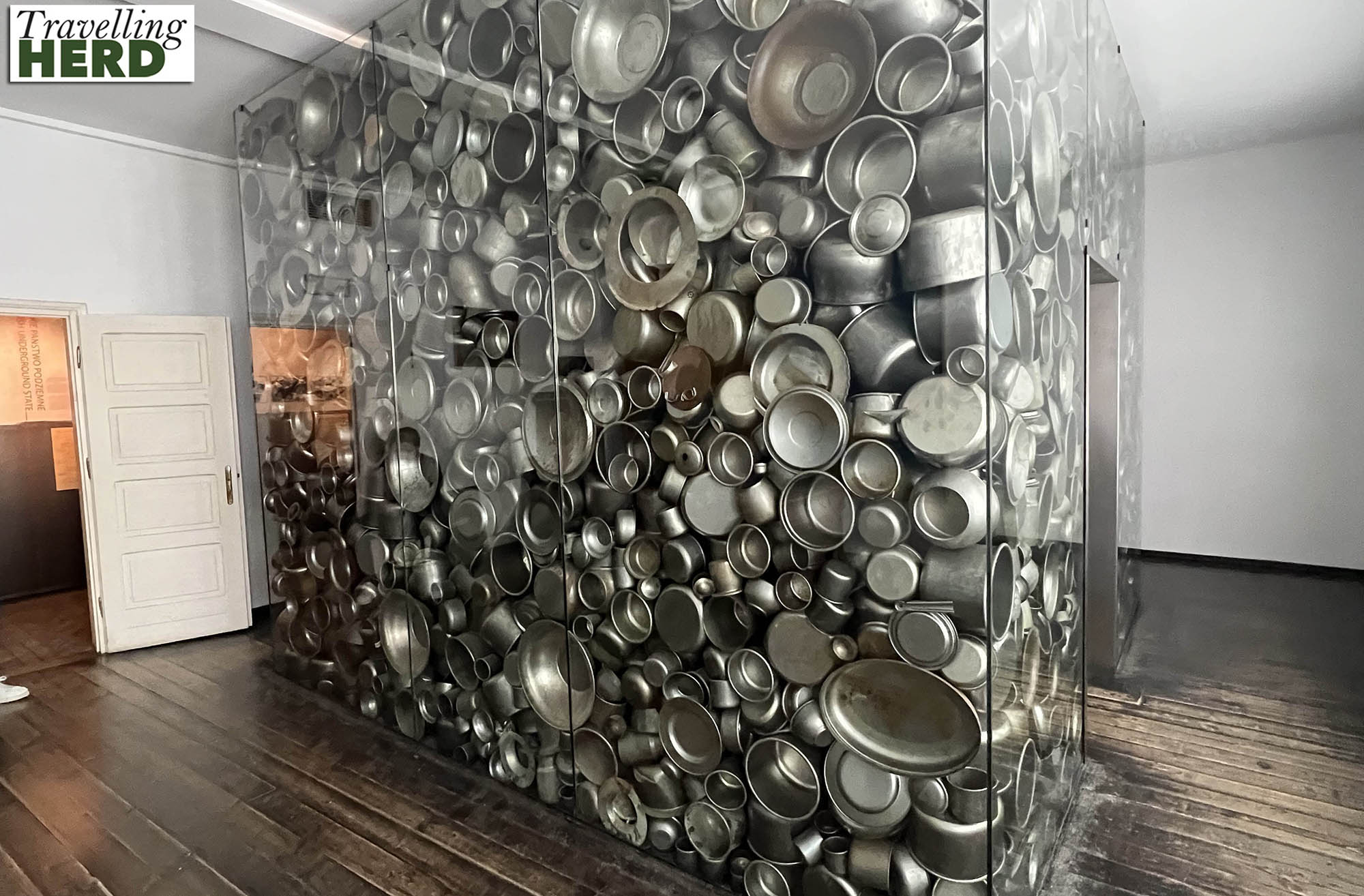 Initially Schindler employed Jewish people in the factory as cheap labour to boost his profits but he is ultimately credited with saving the lives of 1,200 Jews by persuading Berlin he should move his munitions factory and its essential workforce to Brünnlitz.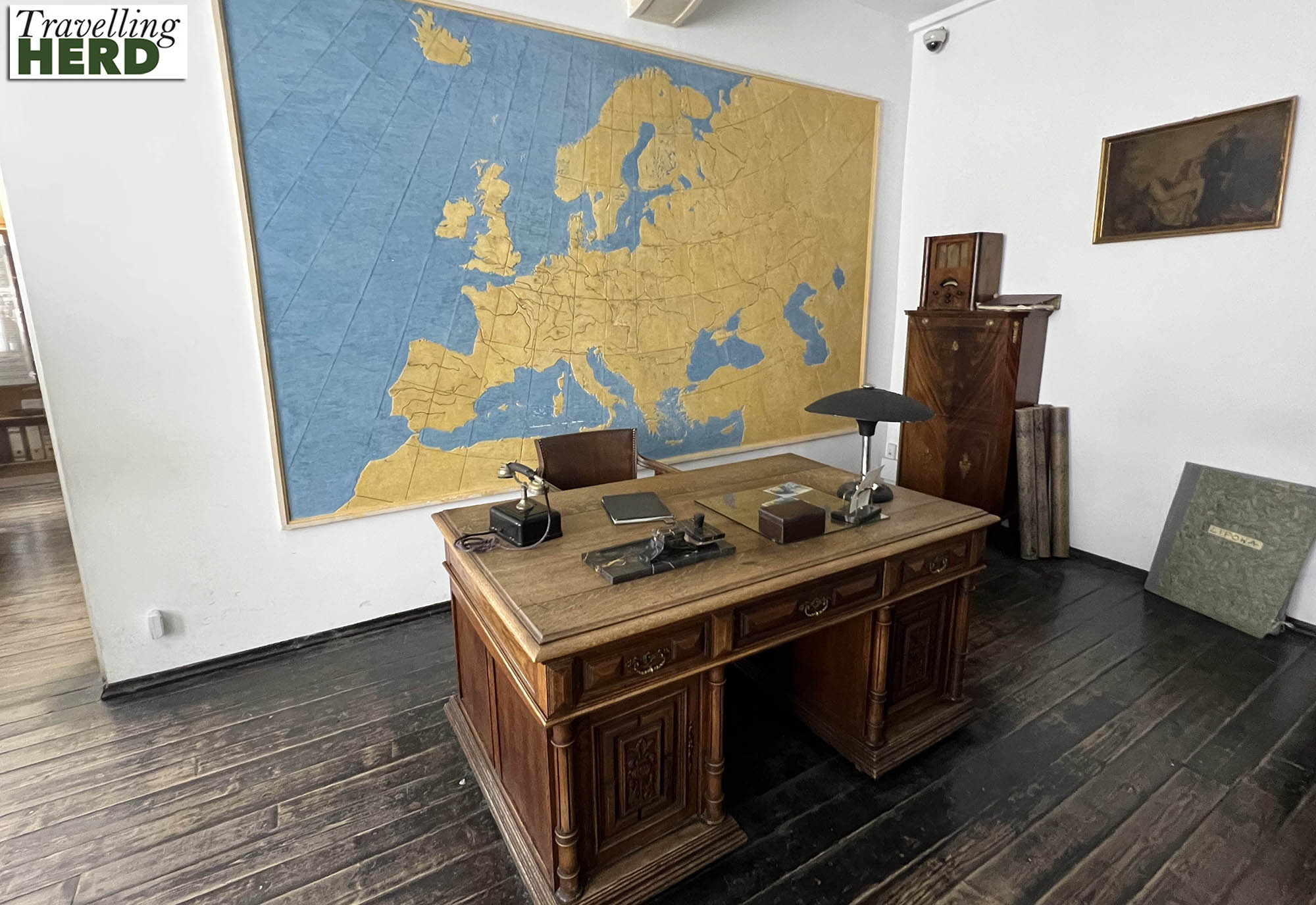 By the end of the war he had spent his entire fortune on luxury items available on the black market, as well as cash bribes, to keep his workers safe. After the war he had several failed businesses in Argentina and Germany and became dependent on support from Jewish organisations. Schindler is the only former member of the Nazi Party to be buried on Mount Zion in Jerusalem.
We felt that we would have liked to learn more about this man, his moral metamorphosis and the journey he went on during the extraordinary life that he lived. Neither Robert nor Matilda have seen the Spielberg film Schindler's List, although Robert started to watch it but fell asleep. [This is more likely a reflection of the time of day and the beer consumed rather than a comment on the film.] Although the film is a fictionalised account, it is now high on our list of 'ones to watch'.
Later, we sampled the fare at the House of Beer which although not traditionally Polish was very tasty.
Dish of the day: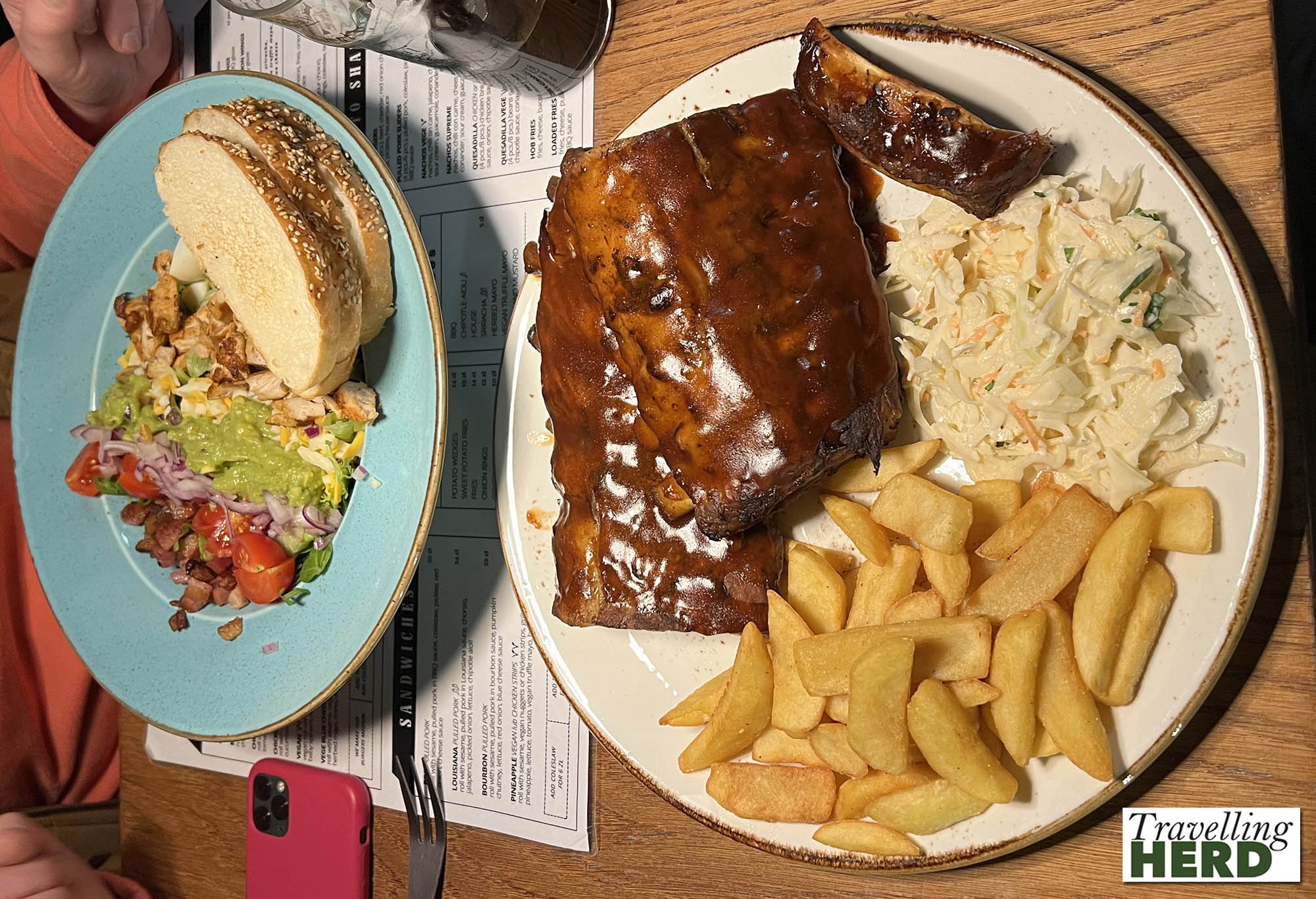 Route Map: