Monday 23rd May 2022
We had originally planned to make our own way to Graceland when we docked but the house is about nine miles south of the centre of Memphis and so we felt it was too far to walk there and back. By booking on the disembarkation tour from the American Queen we found we could have our luggage delivered to the hotel opposite ours and get transport out to Graceland and back. The other advantage was that people on the tour from the boat were to be allowed into Graceland earlier than the general public.
Unfortunately, there had been some confusion over the number of guides needed for coaches and our driver spent sometime trying to sort this out. We did manage to bypass the introductory video and eventually, although we were not let in early, we were some of the very first visitors of the day.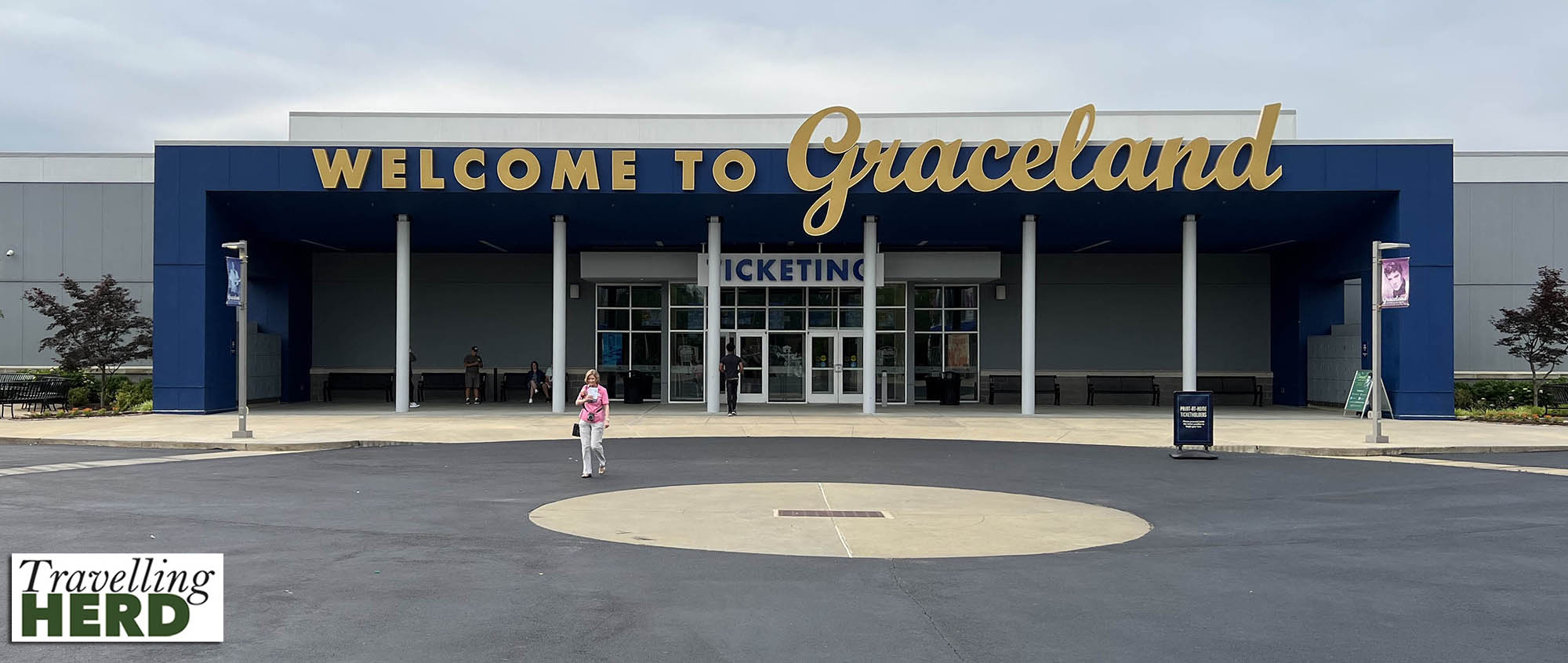 The social distancing notices were obviously specially commissioned.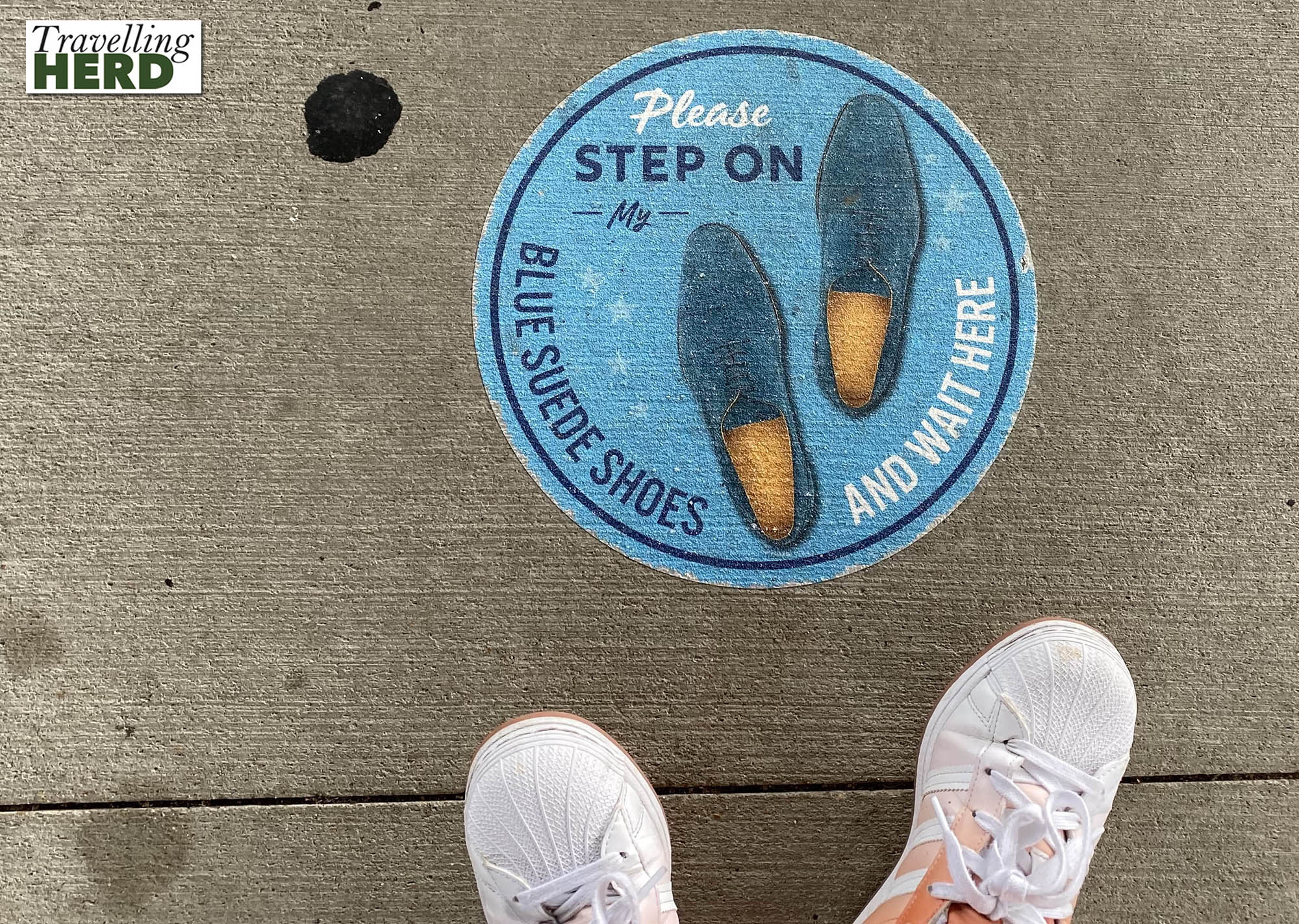 The address of the property is 3764 Elvis Presley Boulevard also known as Route 51. Visitors are given a pair of headphones and an iPad so that they can listen to the commentary at their own pace. A minibus takes visitors from the Graceland Exhibition Centre across Route 51, and through the famous gates. . .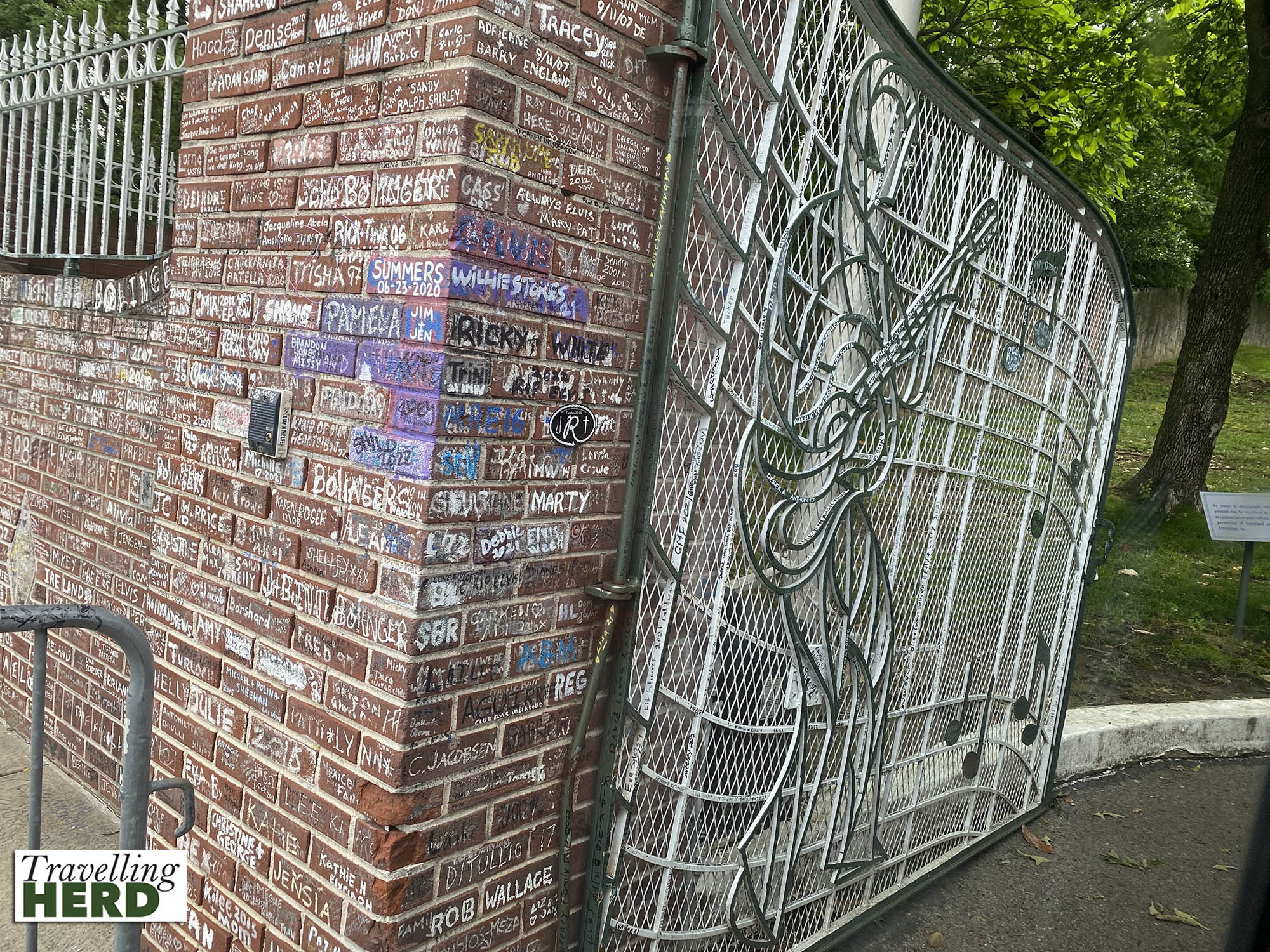 . . . to the house itself which is more an eclectic expression of 1970s style than extravagant excess. Staff greet you at the front door and make sure that your iPad is both functioning correctly and that you know how to operate it. This was just as well as Matilda's had already died.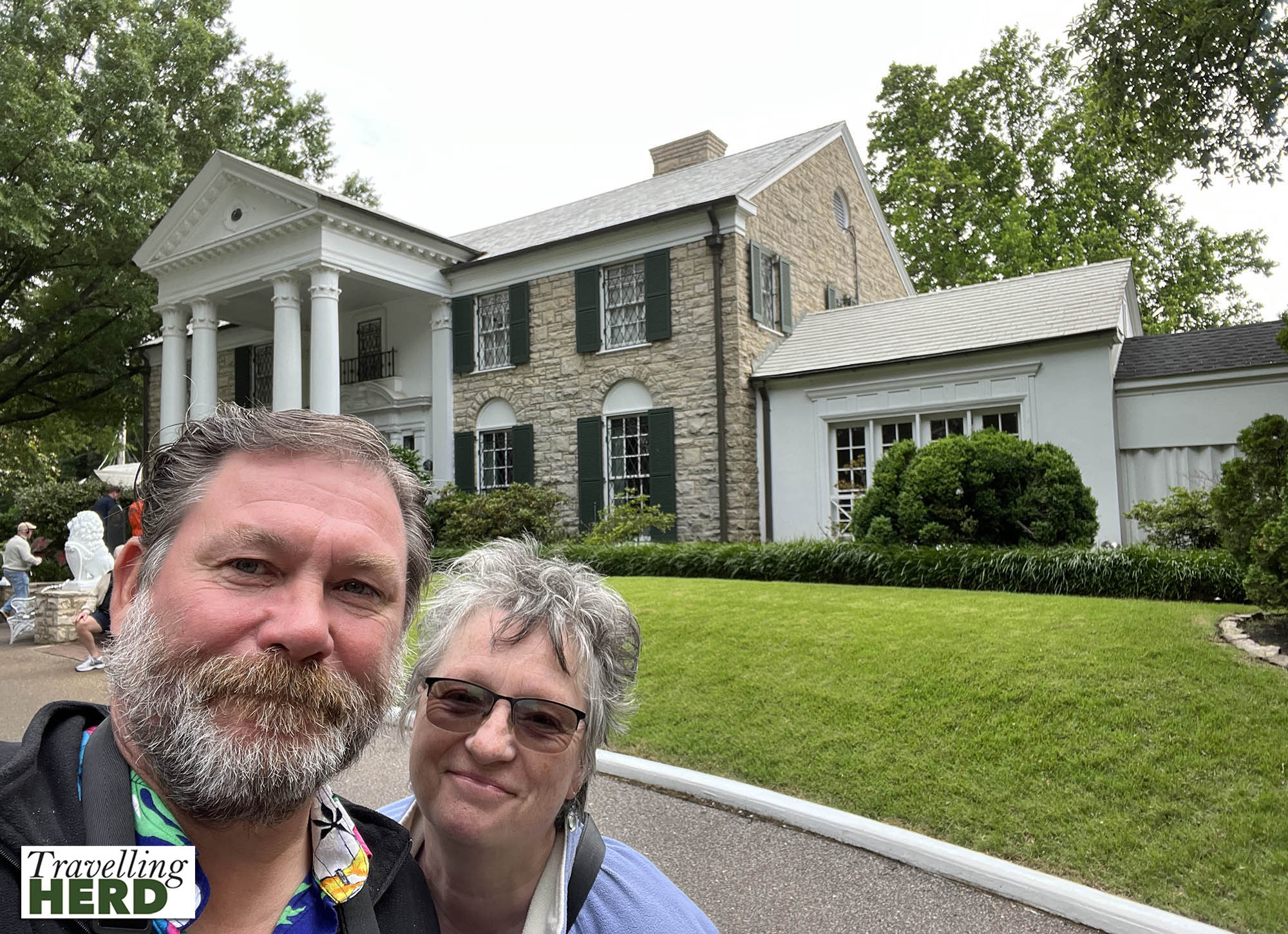 The first room you see from the hall is the living room furnished with a 15-foot white couch, a white marble fireplace, peacock stained glass and mirrors to make the room appear larger than it is. Visitors can see through to the grand piano in the music room beyond.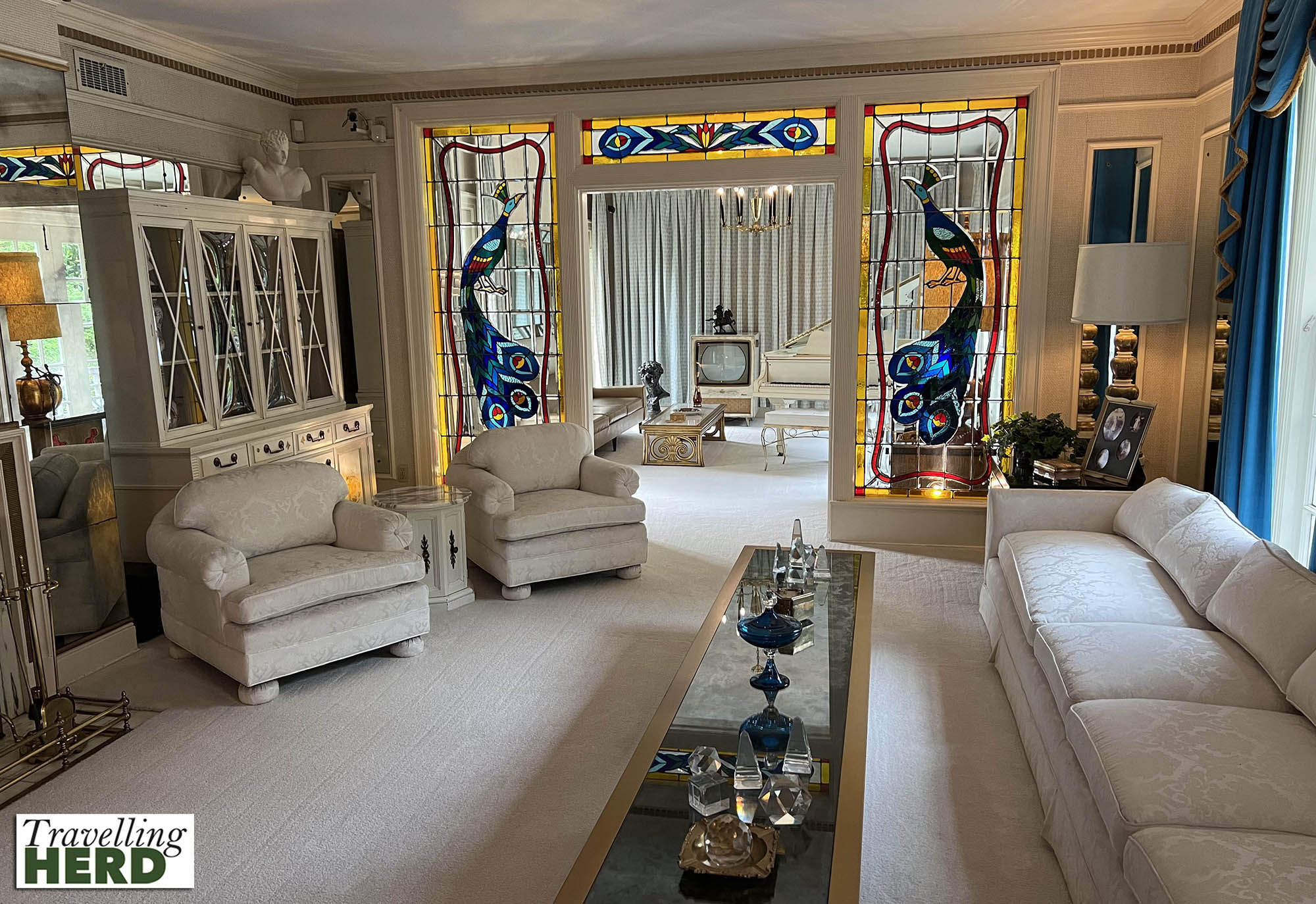 Off the hallway opposite the living room is the dining room. This is perhaps more traditionally opulent, with a chandelier and marble floor.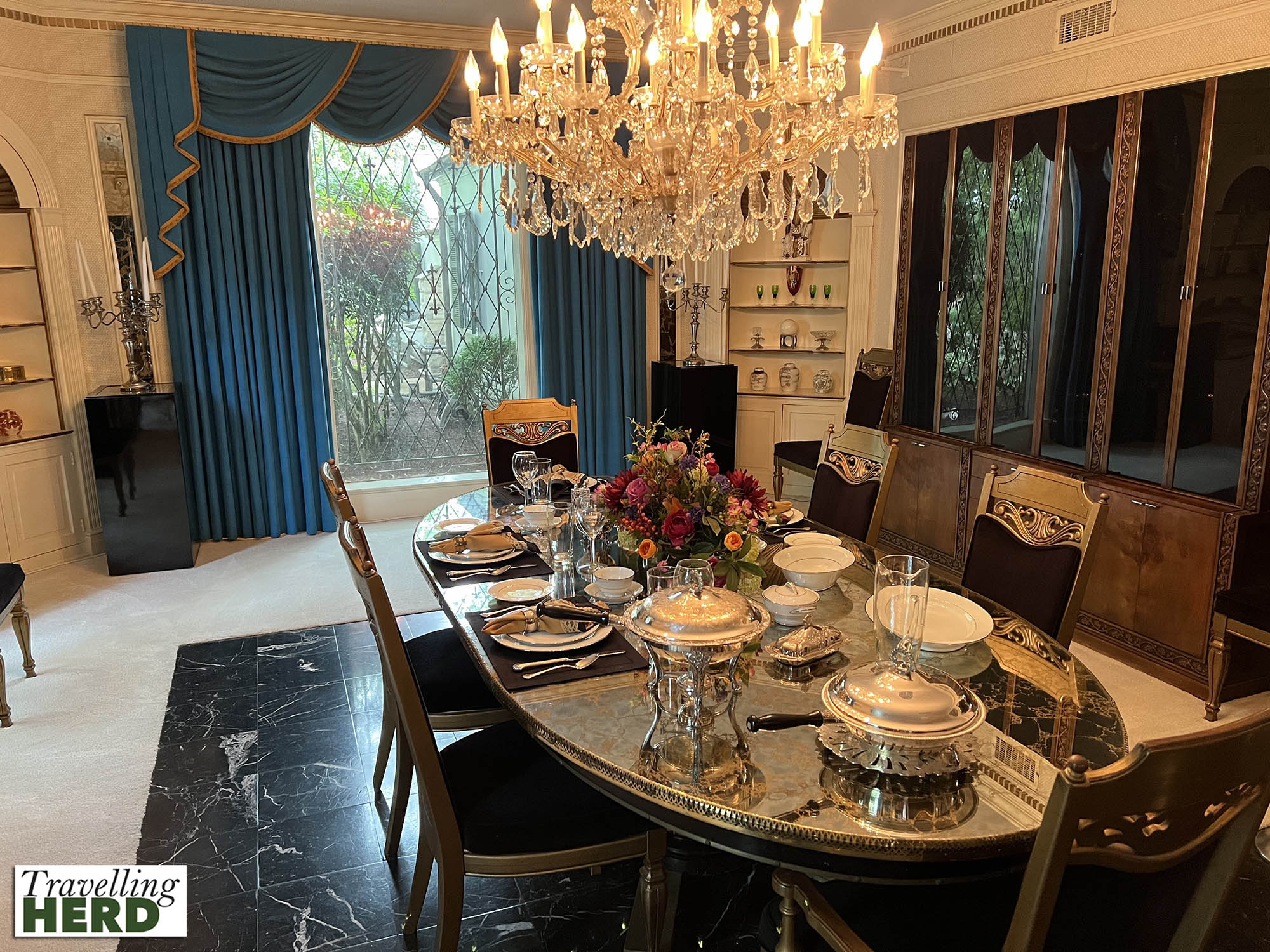 Beyond the dining room is the vast kitchen which Elvis' aunt used until 1993.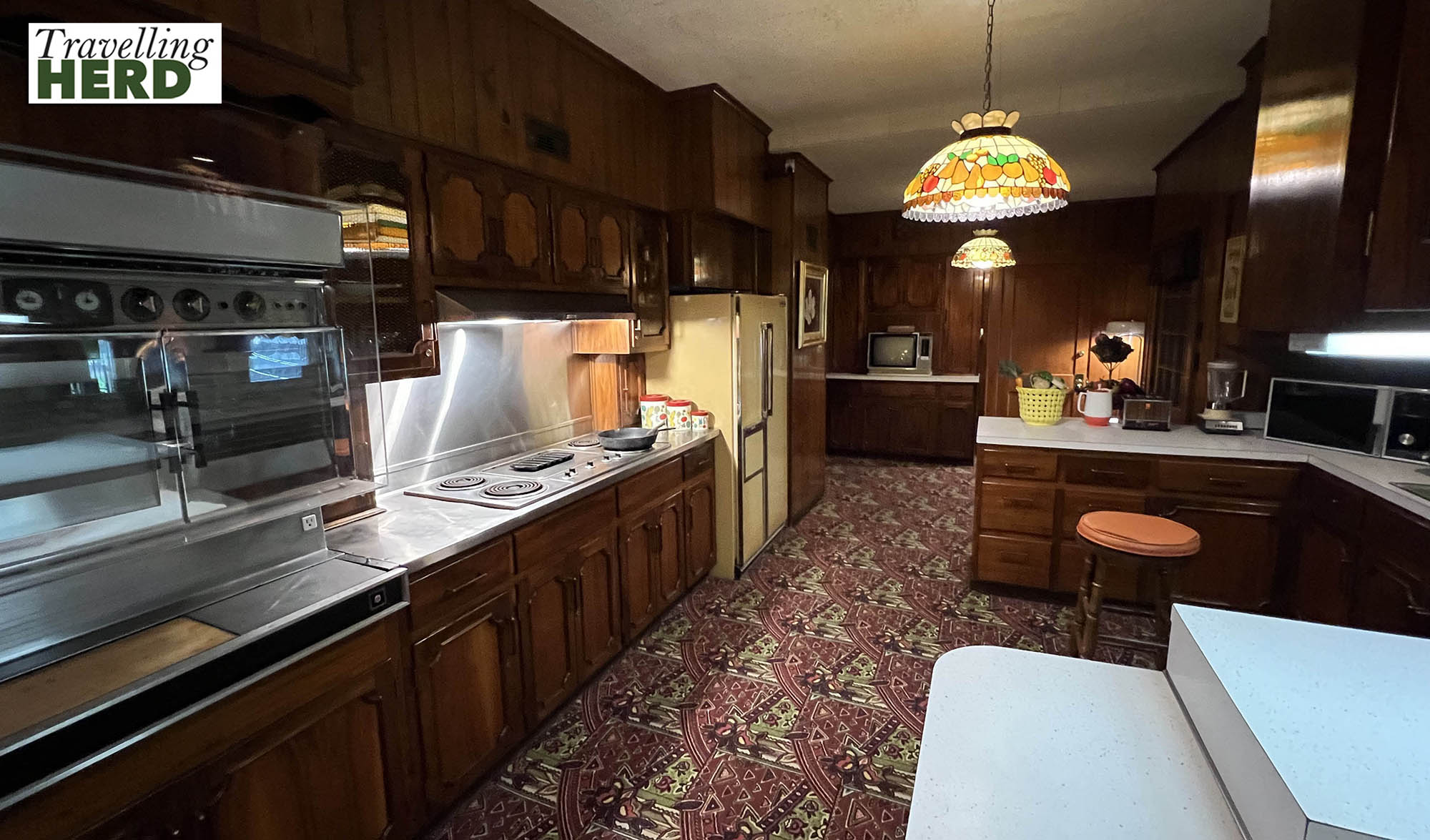 Stairs lead down to the television room in the southwest corner. This was Presley's basement hideaway and has multiple TVs and stereo systems. Apparently he had three screens installed as he had heard that the president watched three news channels at once. The decor includes a lightning bolt. In the 1970s, Elvis adopted this motif, taking on the motto TCB meaning "taking care of business in a flash." His musical backing group was also named the TCB Band.

The Pool Room was created in 1974 and the walls and ceiling are covered with hundreds of yards of pleated paisley fabric. This is definitely an acquired taste and one which would be a nightmare to clean. There is also a tear in the fabric on the pool table where one someone missed a shot.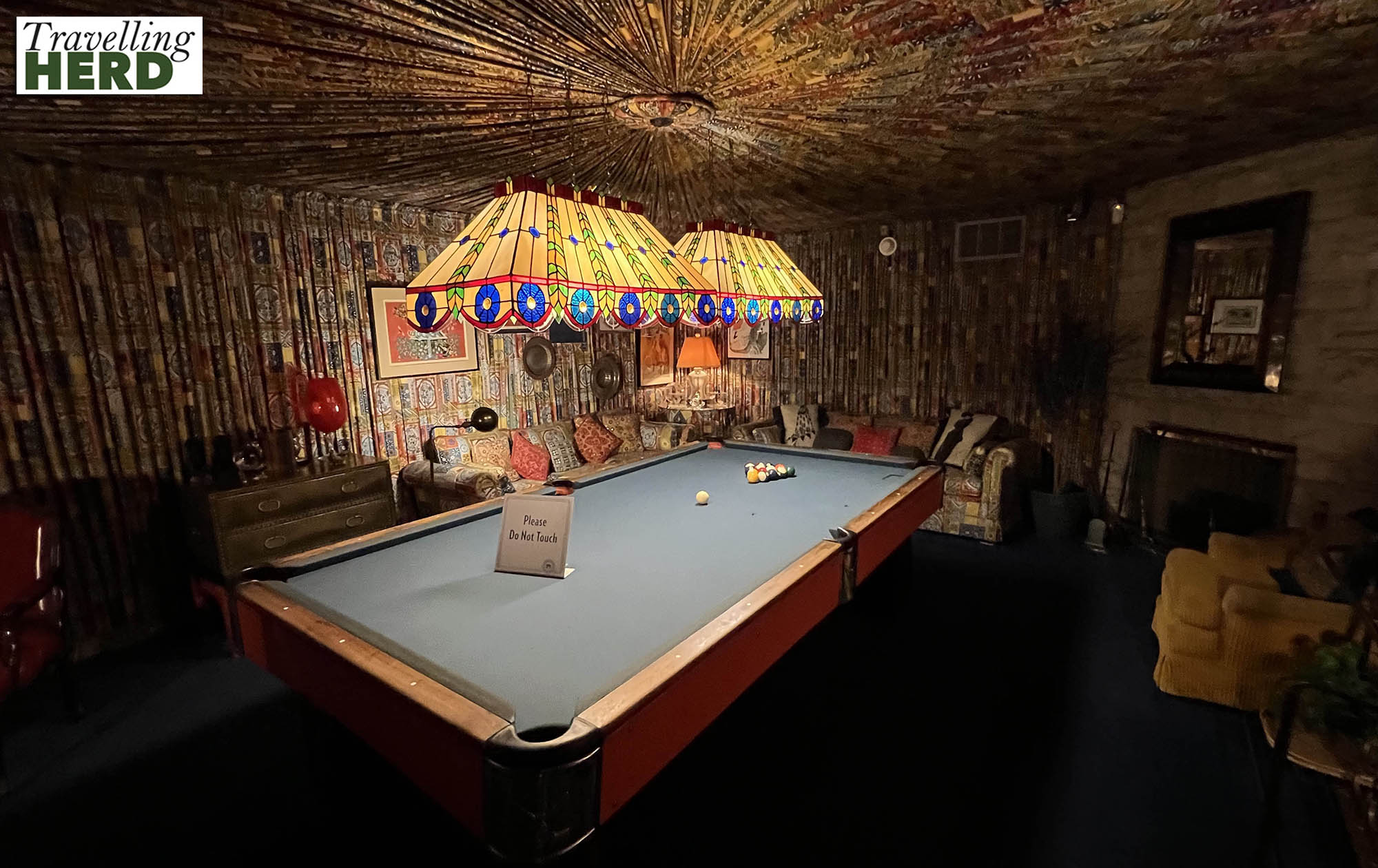 The name Jungle Room was first used when Graceland opened to the public in 1982 but Elvis called it 'The Den'. It includes an indoor waterfall and became his final recording studio, where he recorded much of his last two albums.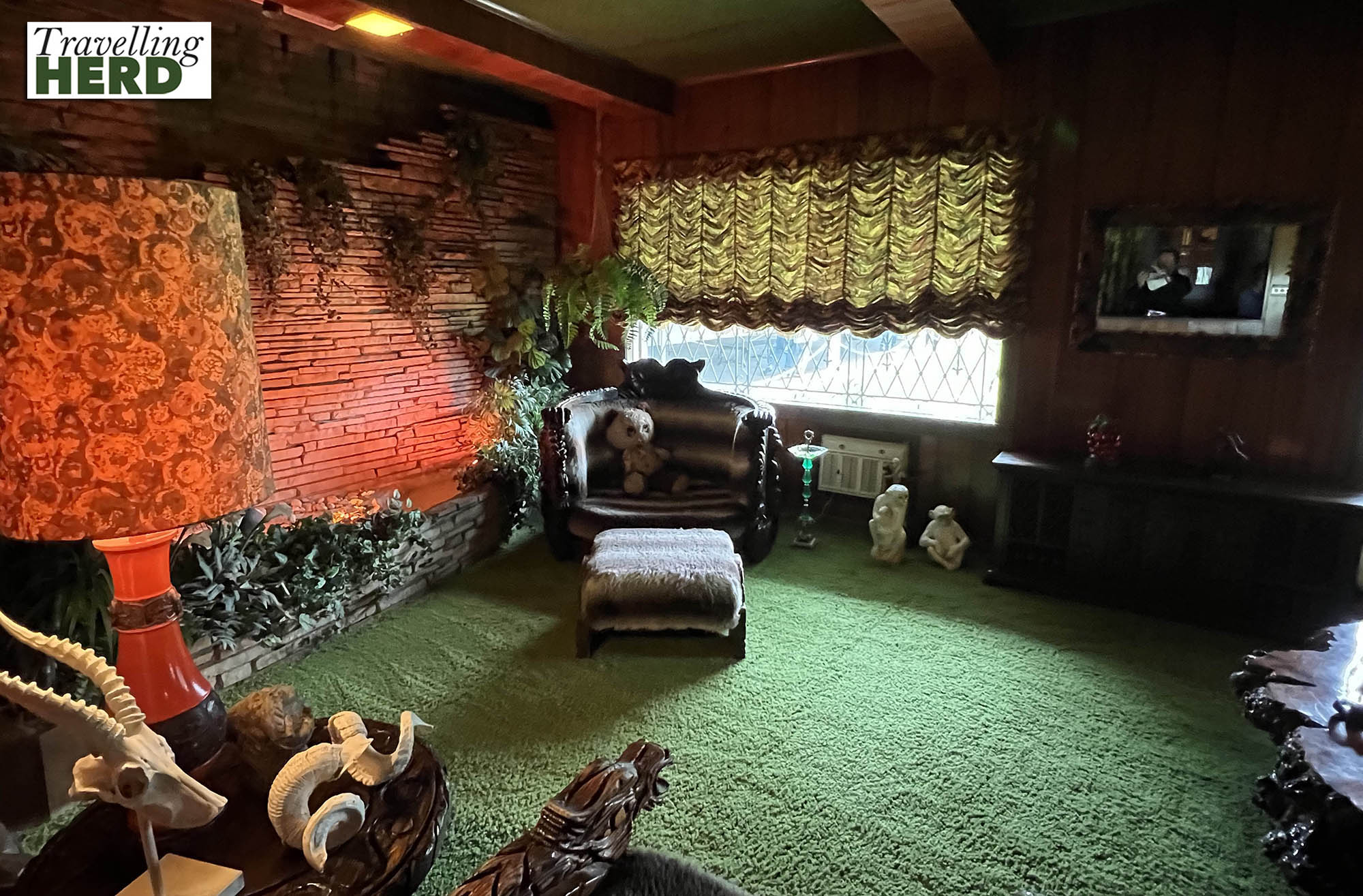 The tour continues outside the main house. A wing on the south of the house originally housed a vast slot car [Scalextric] track. Now it is the Trophy Room with displays and memorabilia about the Presley family.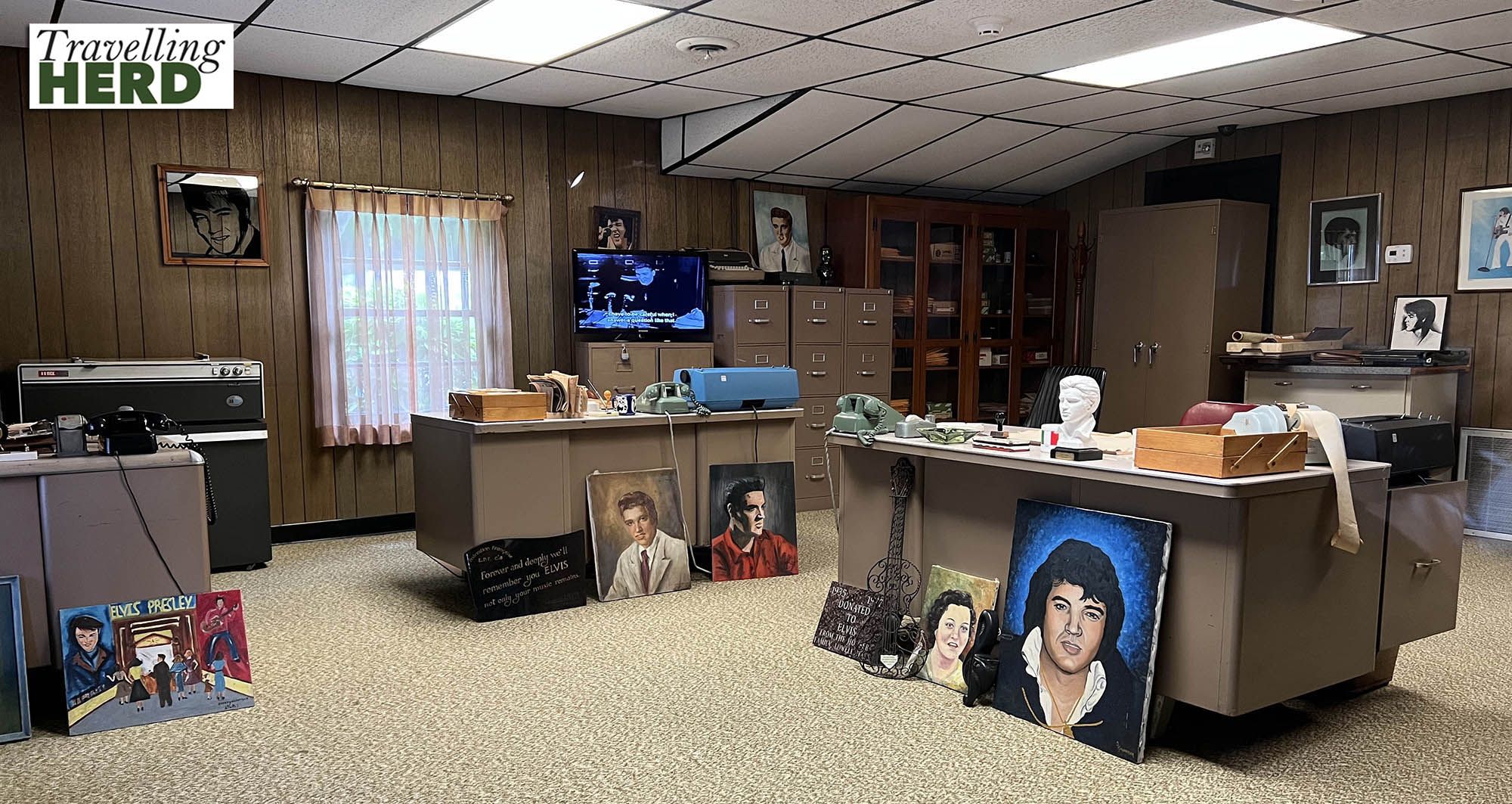 Elvis was born in a two room 'shotgun' house, so called because the rooms are arranged one behind the other with doors at each end of the house so you could theoretically shoot a bullet straight through the house. Graceland is the house Elvis promised his parents he would become rich and successful enough to buy. He bought it in 1957 and lived there for two decades until his death in 1977. His parents moved in with him and had a bedroom downstairs, beyond the living room, with a pink ensuite bathroom with wallpaper featuring black poodles on a pink background. Unfortunately, Elvis' mother Gladys, died in 1958 but she had lived to see and enjoy her son's success.
Elvis had his own two storey racquetball court built with a seating/observation area like a traditional gentlemen's club.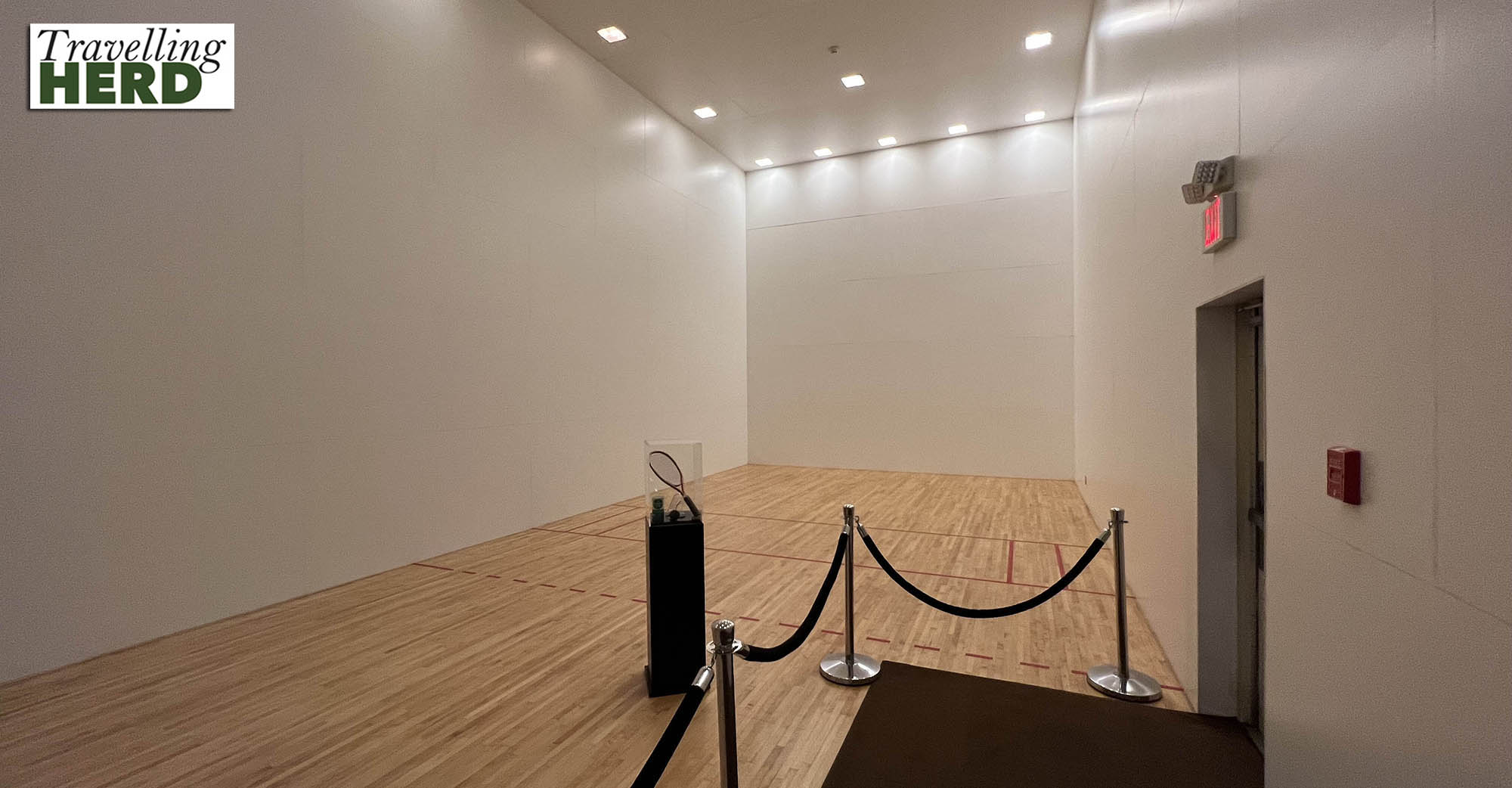 The pool is comparatively small and leads to the Meditation Garden which Elvis had planted as an escape and for periods of contemplation.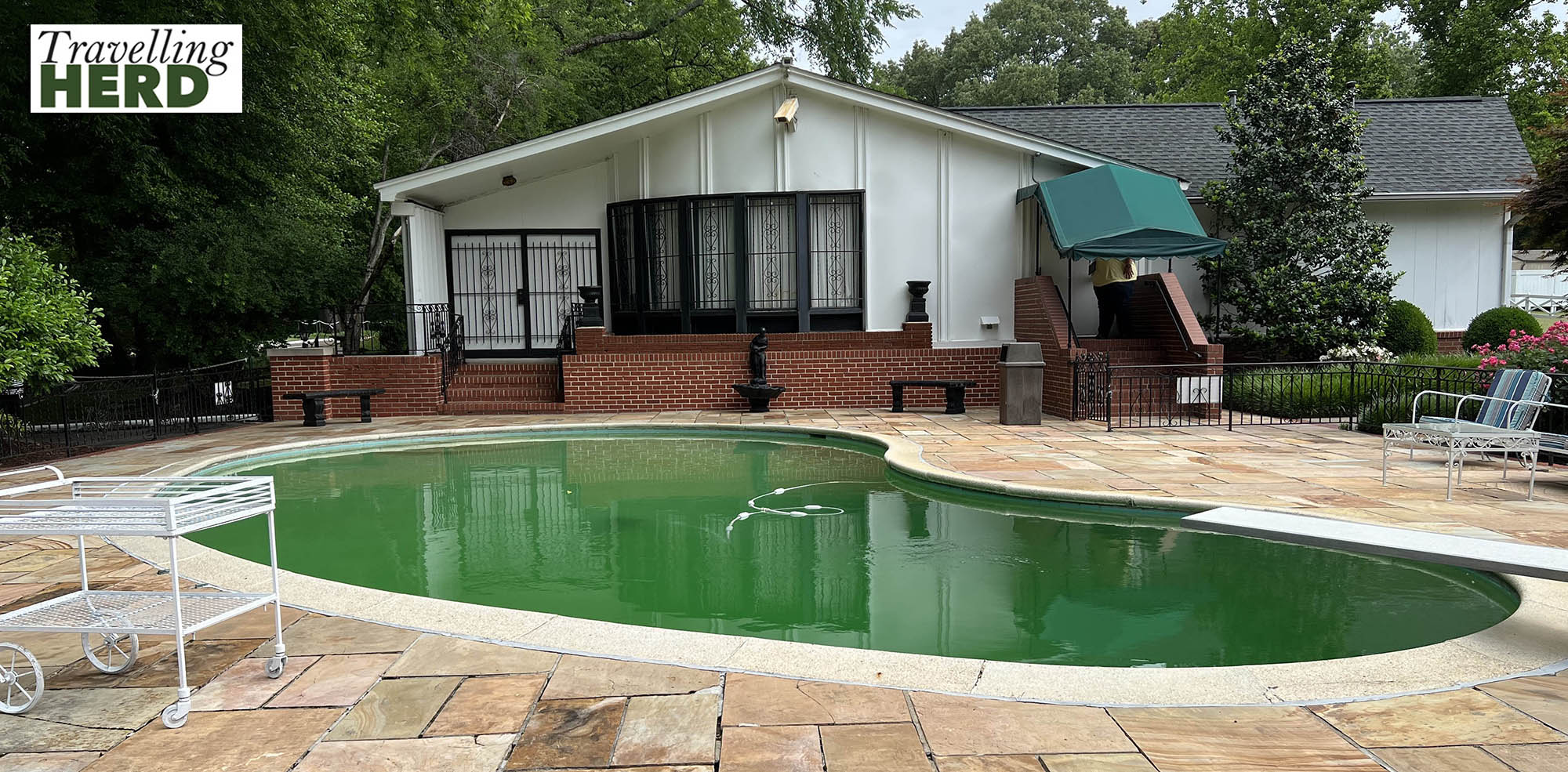 Elvis, his parents, grandmother and his grandson Benjamin Keough are now interred in the Meditation Garden. Elvis was originally buried in Forest Hill Cemetery but following a failed break-in by grave robbers planning to steal the jewellery he had been buried with, the family had Elvis' and his mothers' remains moved to Graceland.
There is also a memorial stone to his elder twin named Jesse who was stillborn. It did not say whether or not they were identical twins, but just imagine if the world had been blessed with two such phenomenal talents.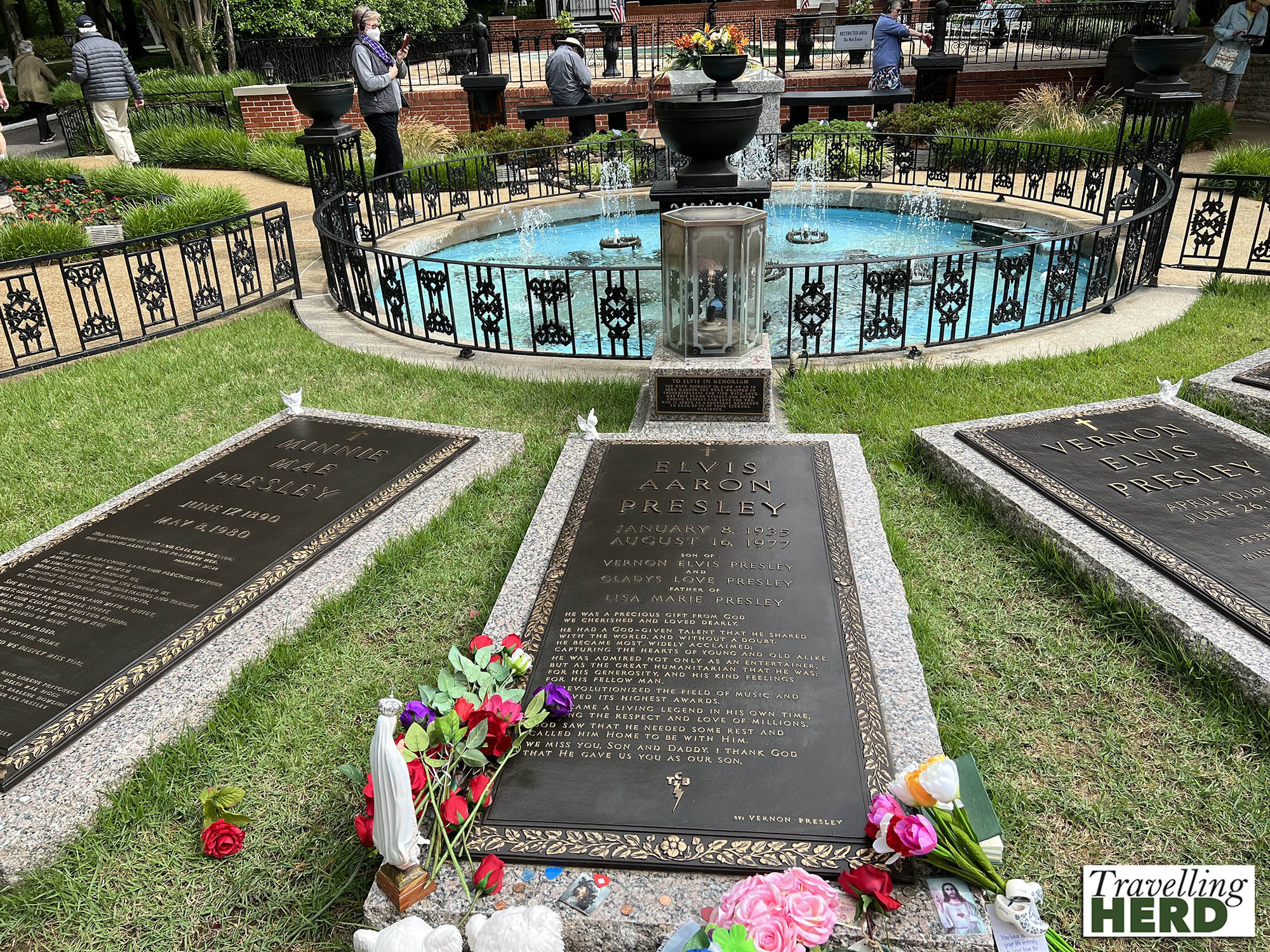 After visiting the house, a minibus takes you back to the main complex where you can enjoy the collection in Presley Motors Automobile Museum where classic Harley Davidson motorbikes and British prestige cars such as Rolls Royces rub shoulders with American icons such as the Cadillac.

A car which is famously also available in pink.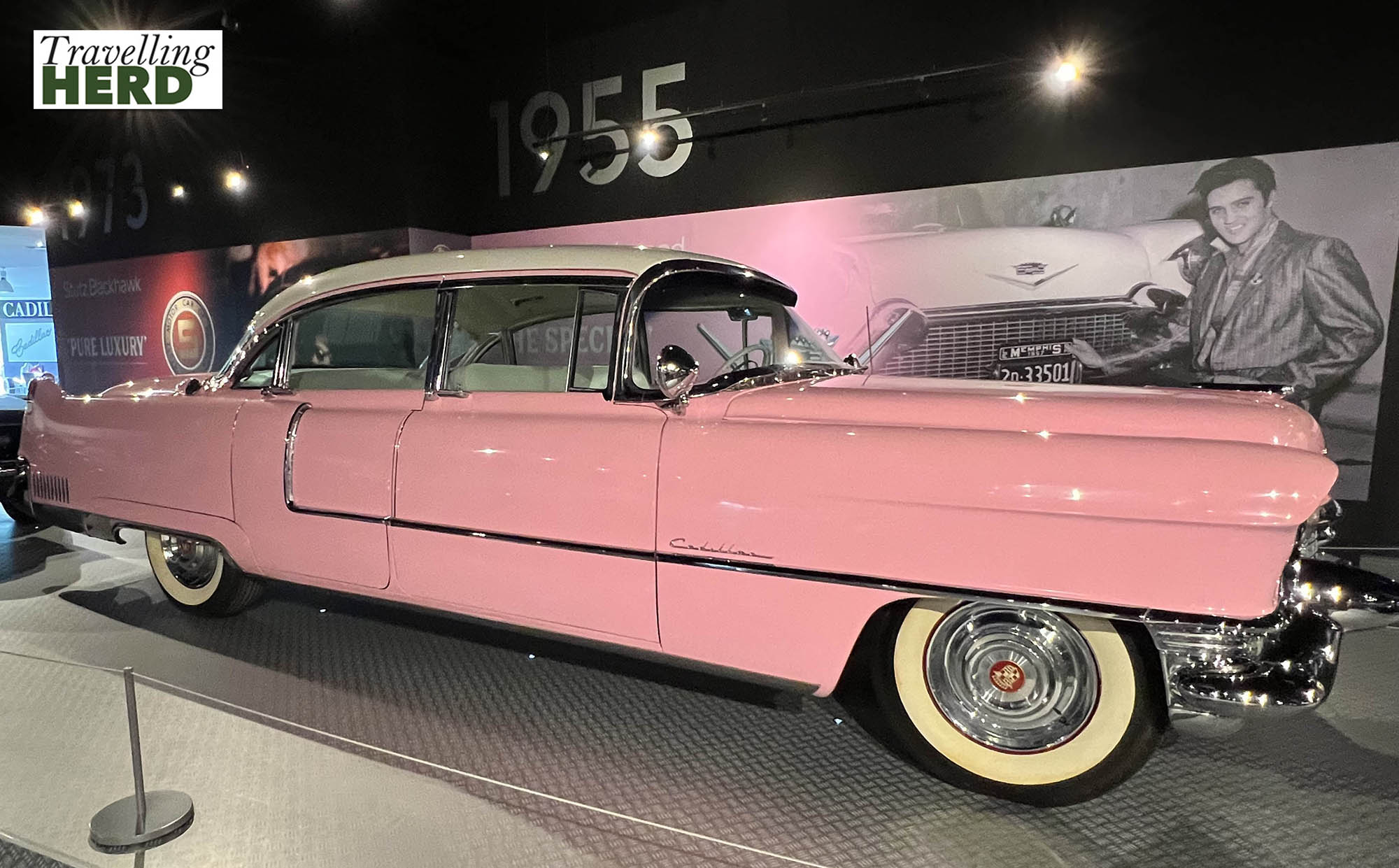 The Presley estate includes many of the iconic costumes he performed in and the exhibits include costumes other famous performers have worn who were influenced by Elvis' distinctive style.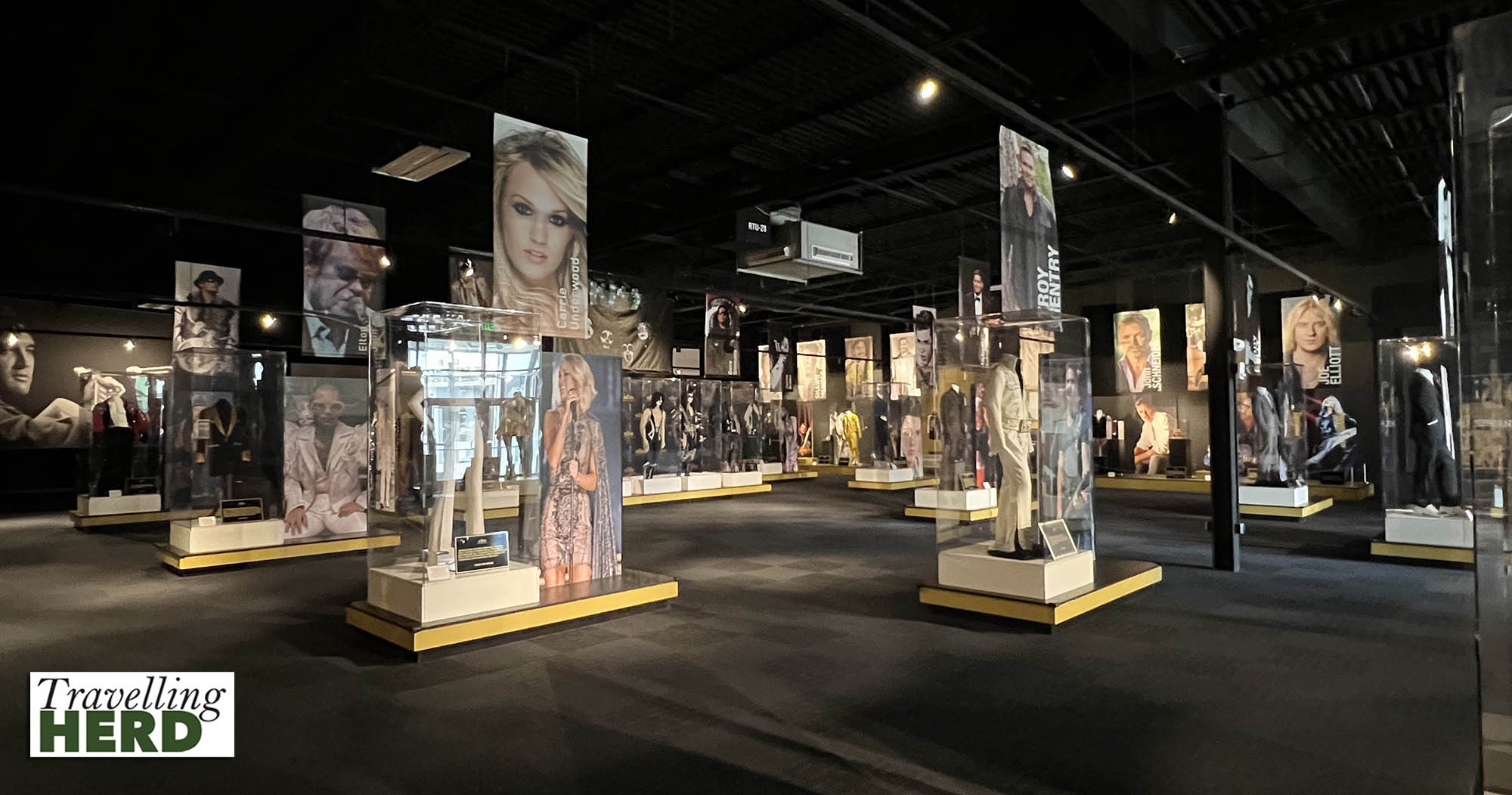 The wall to wall displays of his costumes and his many gold discs are testament to his popularity and success.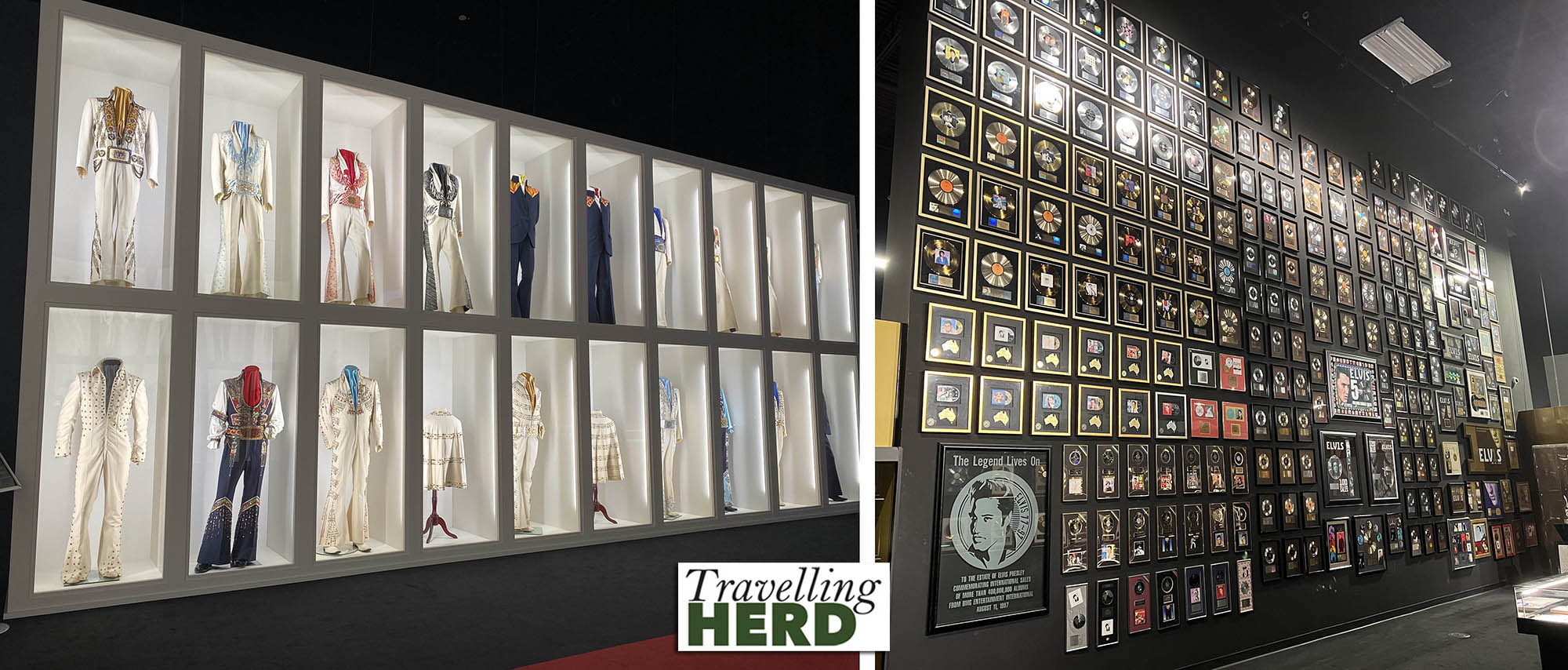 There is also a section dedicated to his military service which he completed, after he had bought Graceland, between 1958 and 1960. He was stationed in Germany for much of that time and left with his sergeant's stripes. Although he had already mastered his iconic black leather look, and shocked the world with his music the photos attest that he also looked great in uniform.
There are interactive exhibits and you can be serenaded by The King himself. Those of you who know Matilda's issues with telling left from right will appreciate the Video of the day.
Outside you can walk through the airplane, the Lisa Marie (a Convair 880 jetliner) which Elvis used to travel to concerts and look into the Hound Dog II.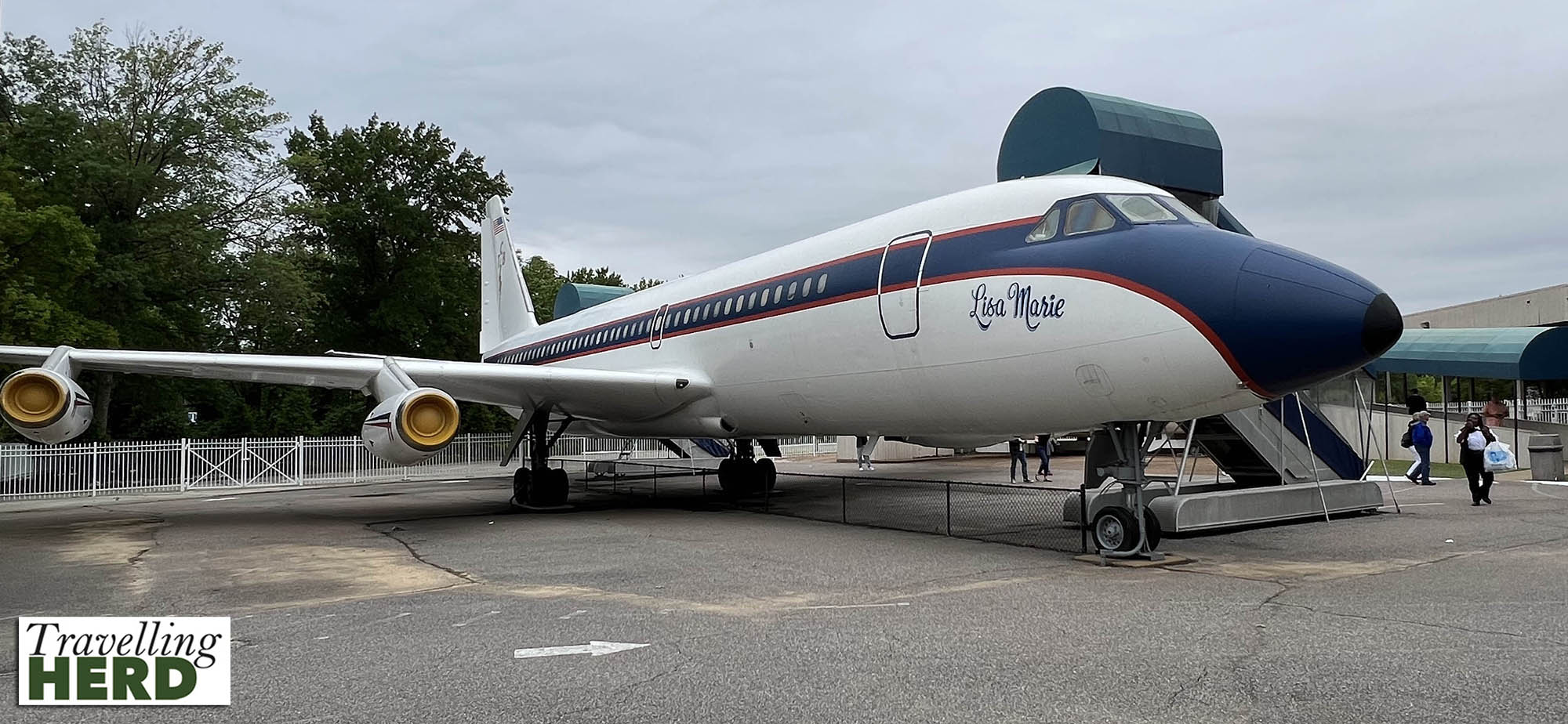 Matilda was channelling her inner rockabilly and wearing a fifties style dress for the occasion.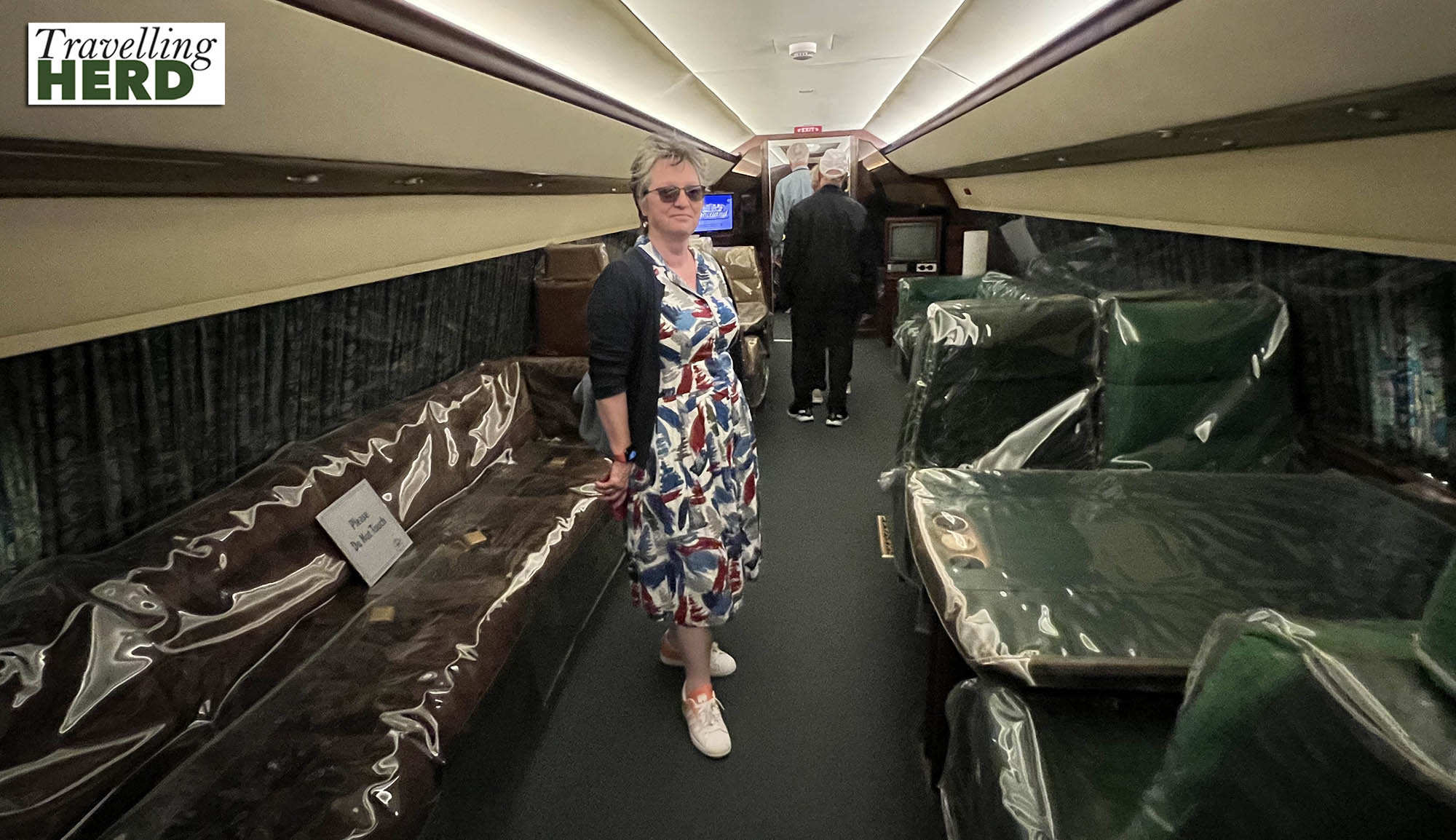 Elvis, despite his global fame, was worth surprisingly little, and single, when he died and his daughter Lisa Marie inherited everything. Elvis' father acted as executor for two years until his death in 1979 when Priscilla Presley took over the role. Although they were divorced, Priscilla managed his financial estate shrewdly as his executor as well as building the Graceland Exhibition Centre and ensuring his musical and cultural legacy lived on for future generations.
We realised that although the transport to and from Graceland was a bonus, we could have spent much longer there exploring and enjoying the exhibits and we may need to return. At the very least, Matilda will be trying to watch some Elvis movies when she gets home to the UK, especially Blue Hawaii since Robert could not resist buying the shirt from the film.
Elvis Presley undoubtedly paid a high price for his fame but as a young performer he seemed effortlessly cool before anyone even knew what that was.
Video of the day:
Selfie of the day: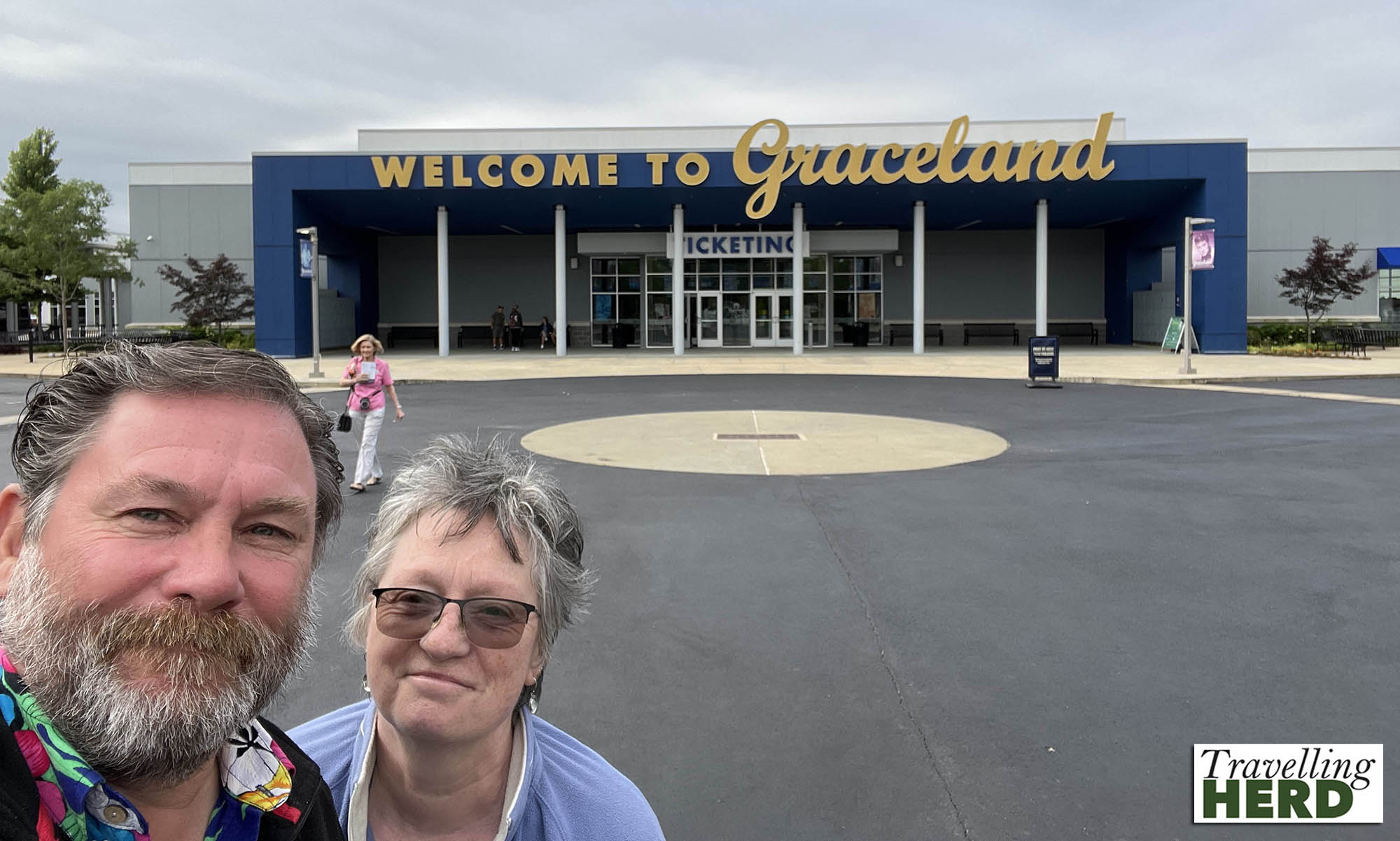 Route Map: