Wednesday 1st June 2022
We set off for the Free Library of Philadelphia to join the 10:00 tour where there seemed to have been some confusion over timings – we were the only ones there and it later transpired that the guide was expecting it to take place in the afternoon.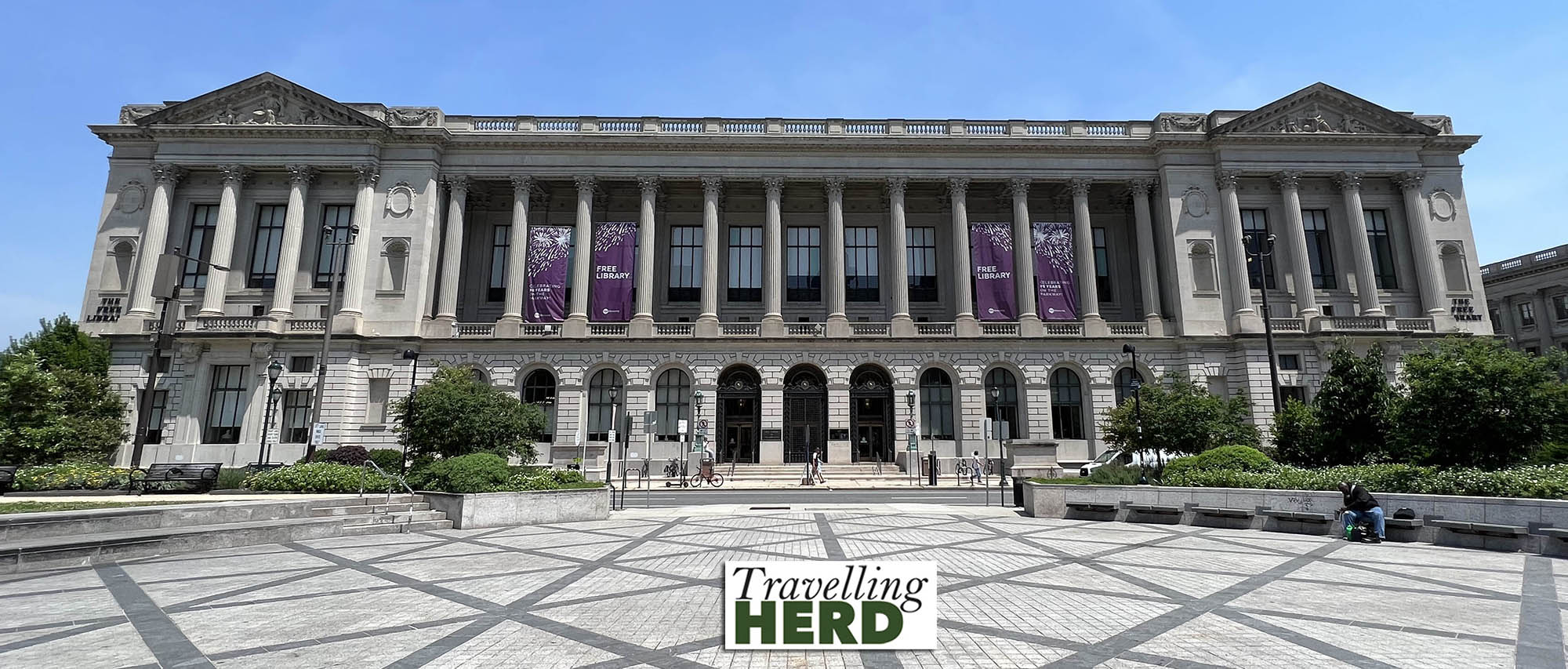 When our guide, who was described as a 'very friendly' man, had not appeared by 10:00 two very helpful ladies in the lobby went in search of him. Curtis first introduced himself and then went to check the sign outside advertising the times of the tours. He disappeared again to get his presentation aids, and took this opportunity to grab a little snack to keep him going as he had clearly not been expecting to run a tour that morning.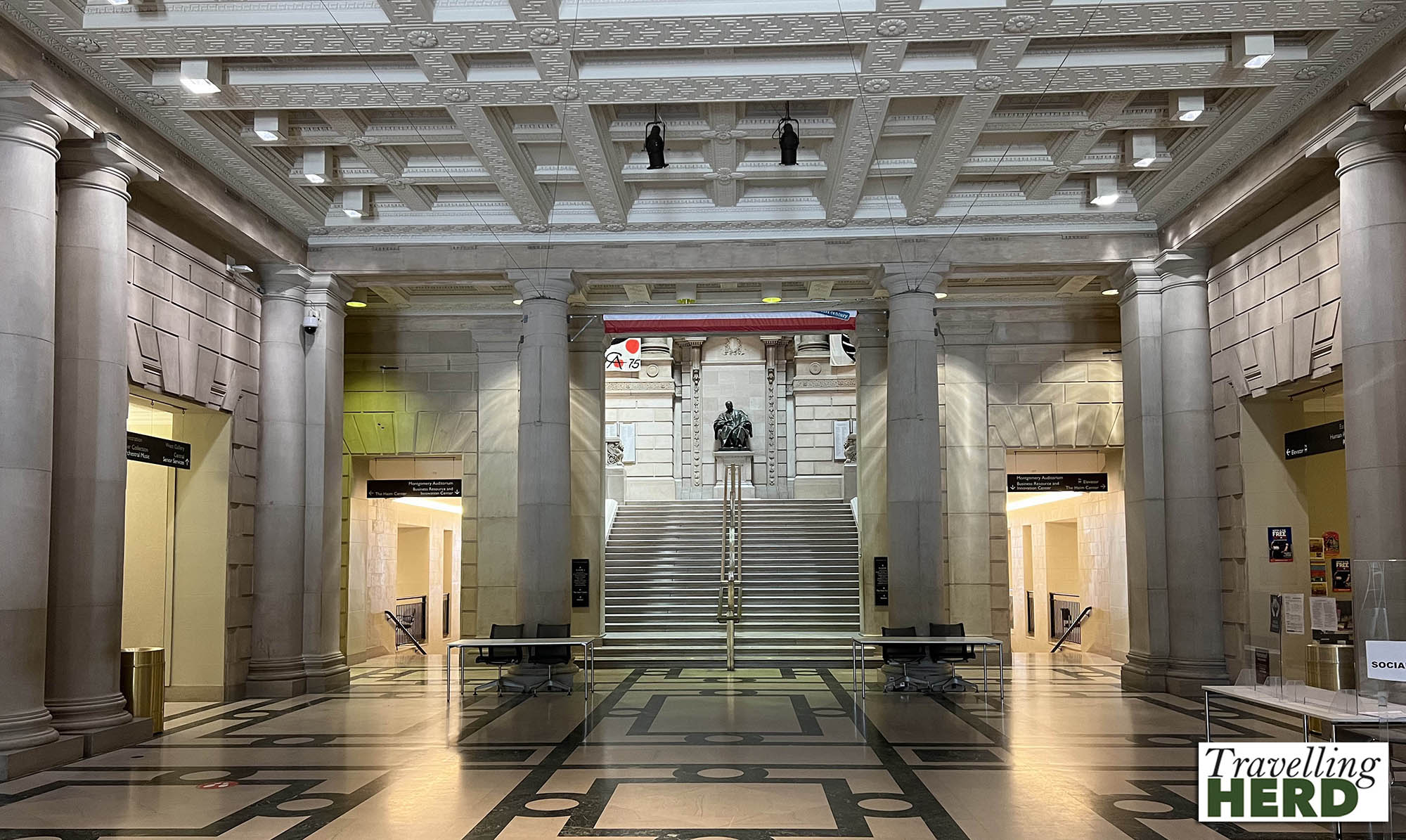 It was well worth the wait.
Some of the rooms are spacious and grand and the original furniture and display cabinets were made of steel and glass so that they would not provide any additional combustible material in the event of a fire.
The Free Library of Philadelphia is organised by subject and in the Music Department you can borrow a wide range of instruments as well as books. Curtis was very hands-on and demonstrated a finger piano whilst encouraging Robert to tap out a rhythm.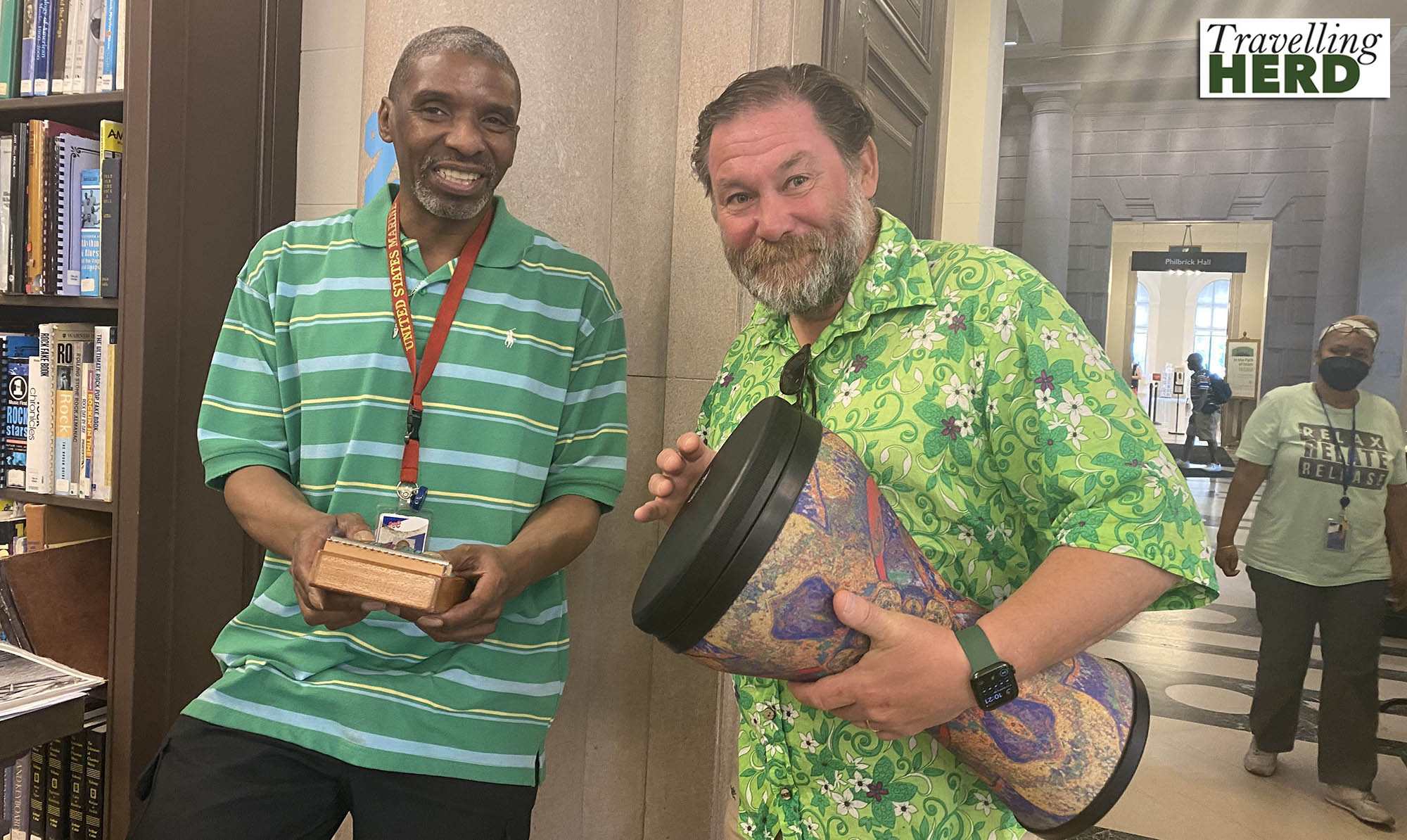 As we were walking along a corridor, Curtis met a colleague and persuaded him to show us his own specialist area of work. This turned out to be the Edwin A. Fleisher Music Collection of orchestral works.
In 1909 Edwin Fleisher founded a Symphony Club in Philadelphia which was the first training orchestra in the United States that was open to both sexes and all races, free of charge. He engaged conductors to rehearse an amateur orchestra and began collecting orchestral scores and complete sets of parts for them to use. This collection was the origin of the extensive Edwin A. Fleisher Collection, which he ultimately presented to the Free Library of Philadelphia.
Curtis' enthusiasm and thirst for knowledge was infectious and he cross-questioned his colleague, ever keen to learn something new about the place he had worked for 25 years. There are over 7,000 scores which are numbered and filed in the order in which they were acquired. This avoids having to rearrange thousands of files each time a new work is added to the collection.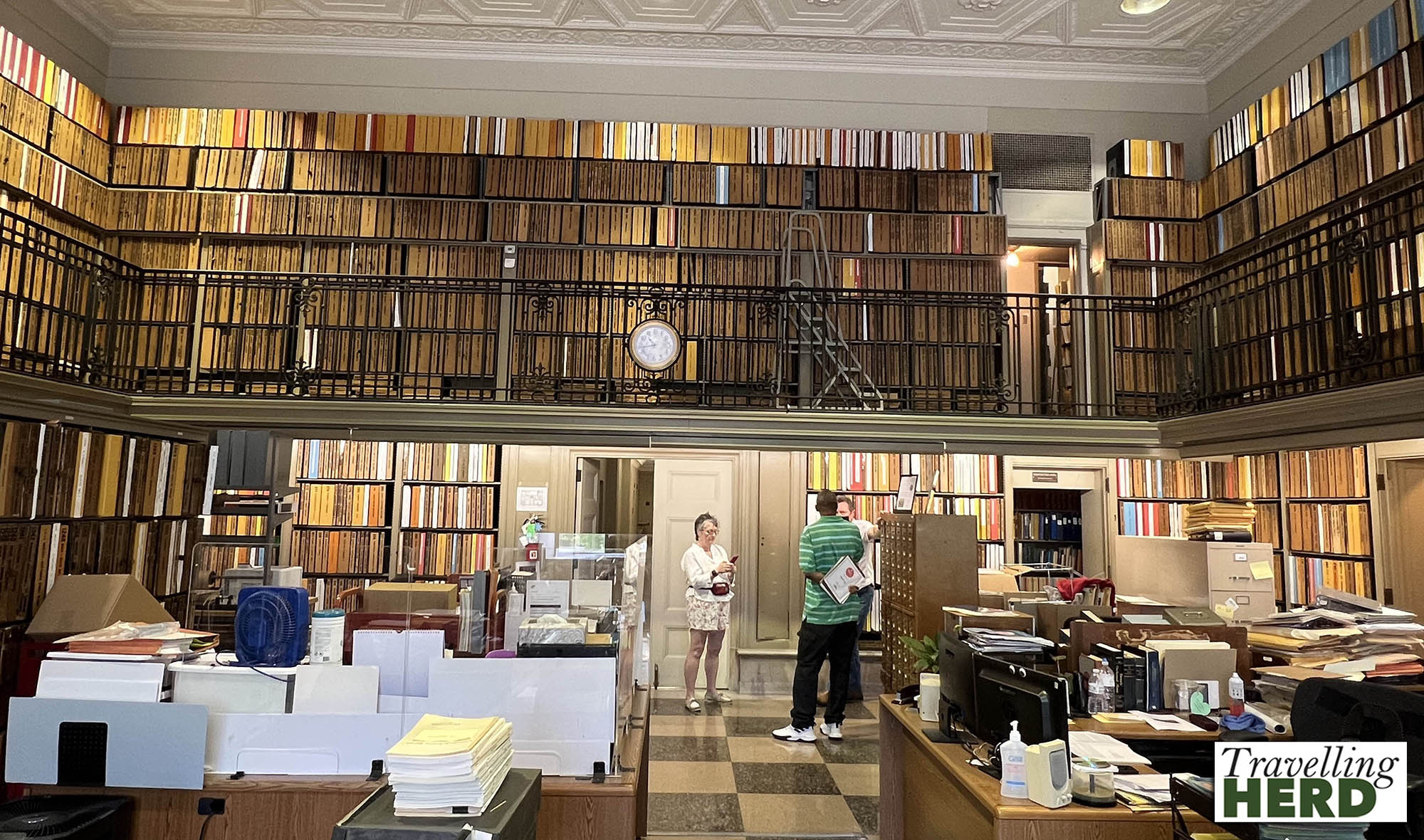 Our next stop was the Map Collection which holds maps focused on the Philadelphia area as well as globes including one based on Alice in Wonderland.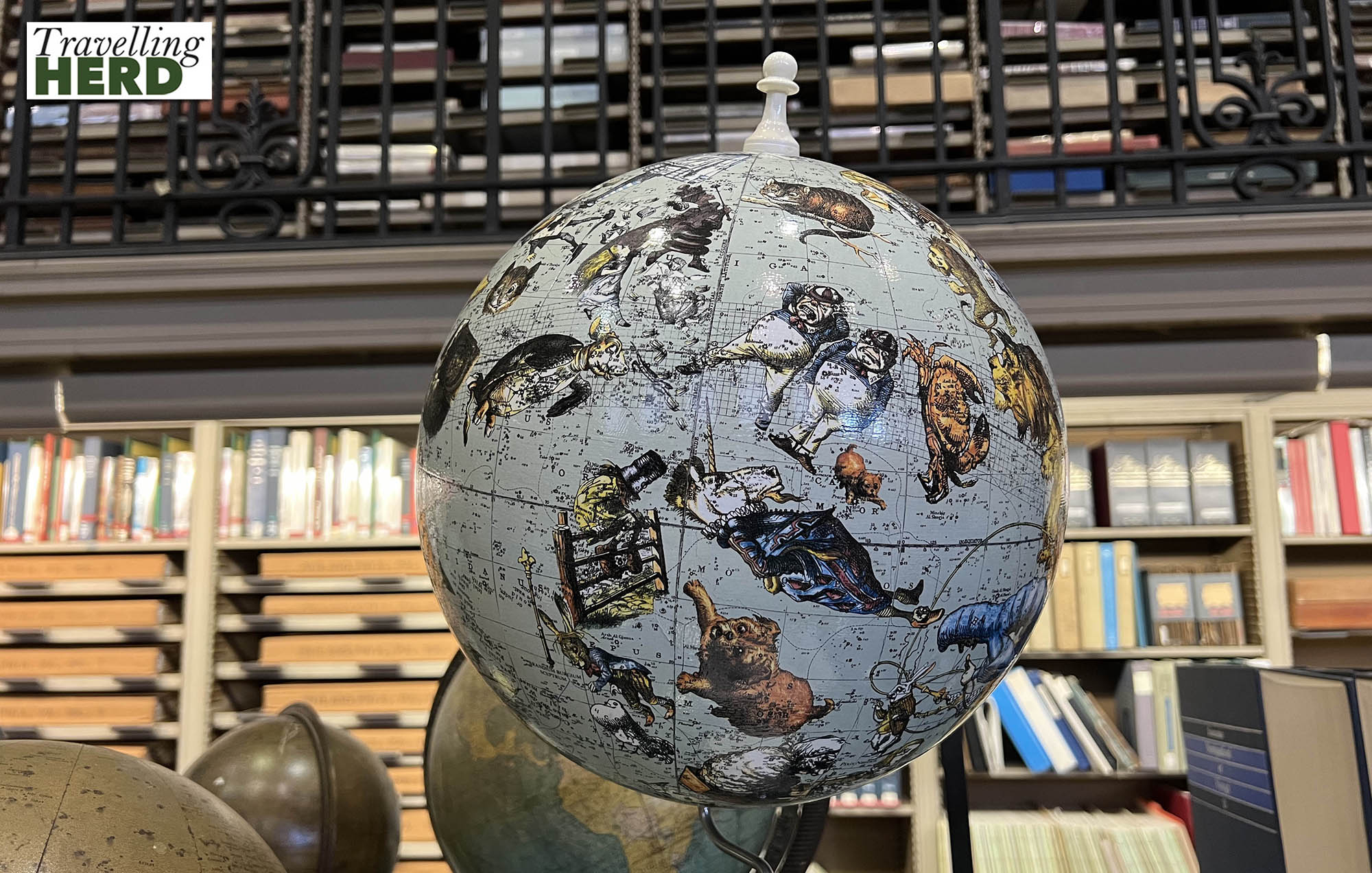 In one corridor Matilda was encouraged to press a button on a small printing machine to receive a random short piece of literature – in her case she received Rudyard Kipling's poem, If. The printout includes details of how to submit your own writing for inclusion in this collection.
Shortly after this another couple, who had been following us and who also had their own piece of literature joined us on the tour.
As well as lending books, music scores and instruments, The Free Library also runs community outreach and engagement sessions, including one to improve language skills through cooking. Curtis showed us to this kitchen, where a session was in progress, and out onto the roof where we had some good views of the city.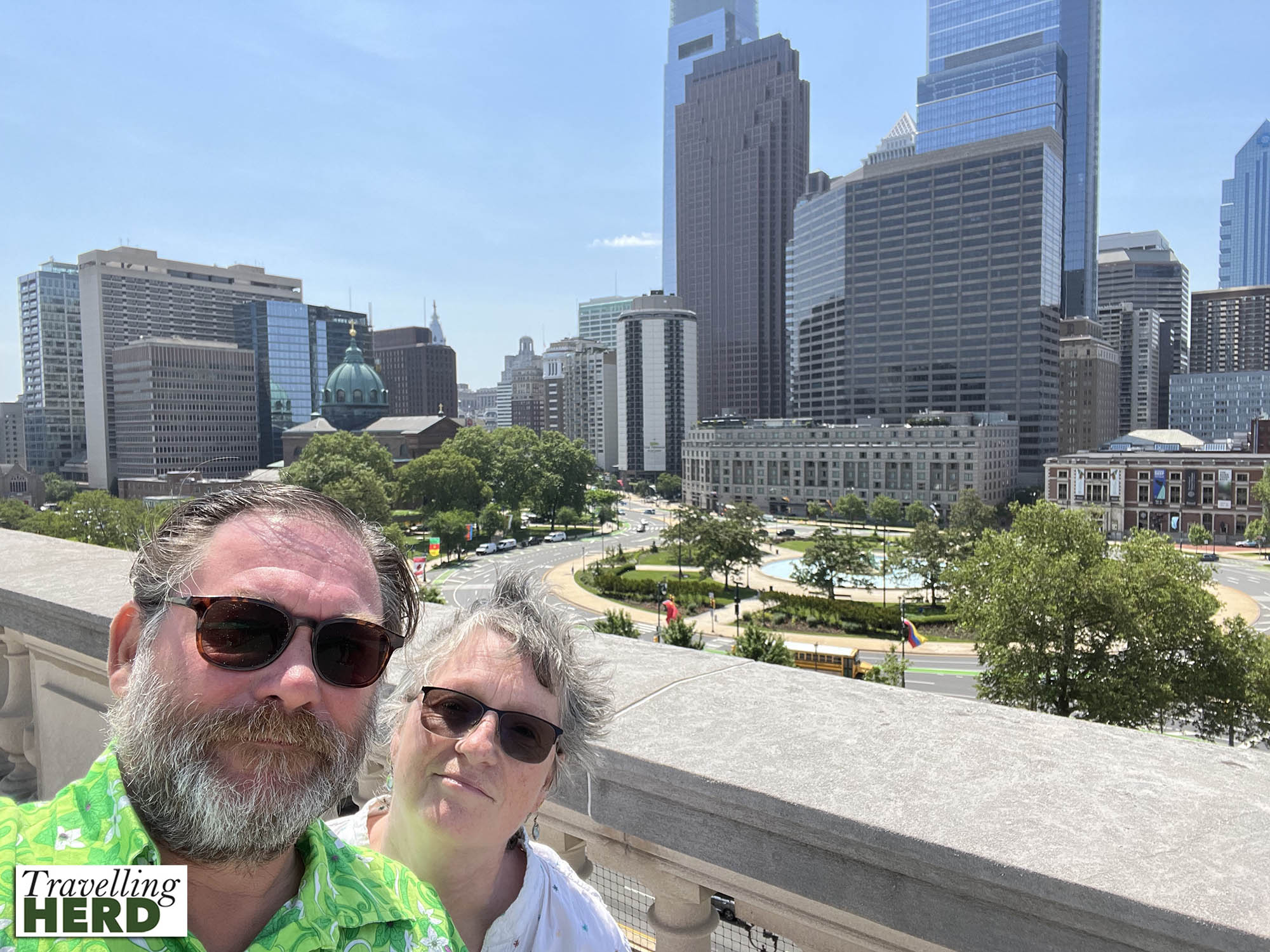 The tour ended in the Montgomery Auditorium where presidents and celebrities have spoken.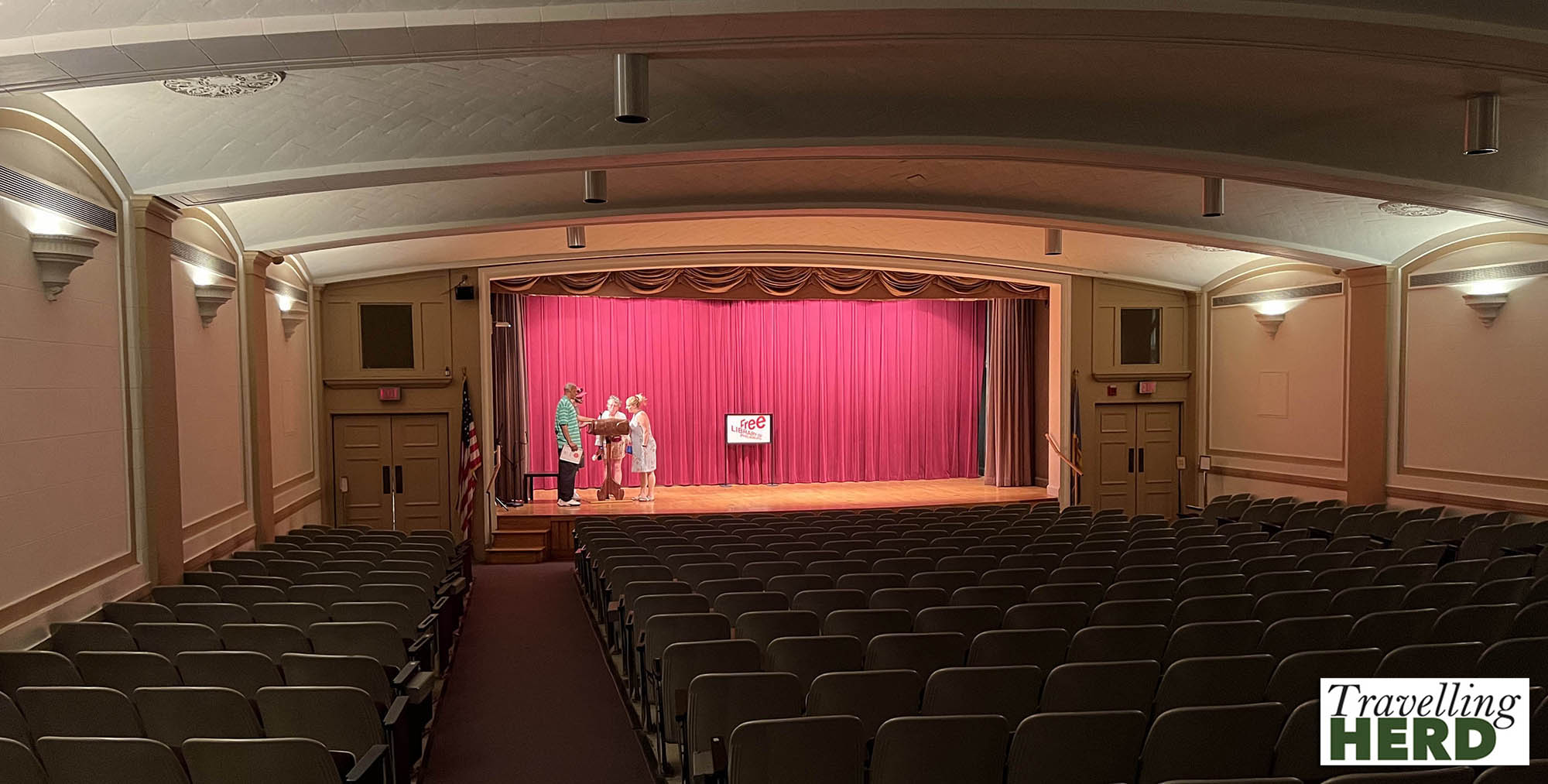 Curtis would not accept anything for himself and asked us to make a donation when we tried to tip him in appreciation of one of the most enthusiastic tours we have ever been on.
We had also booked tickets for the tour of City Hall and our route there took us past the Cathedral Basilica of Saints Peter and Paul which was now open.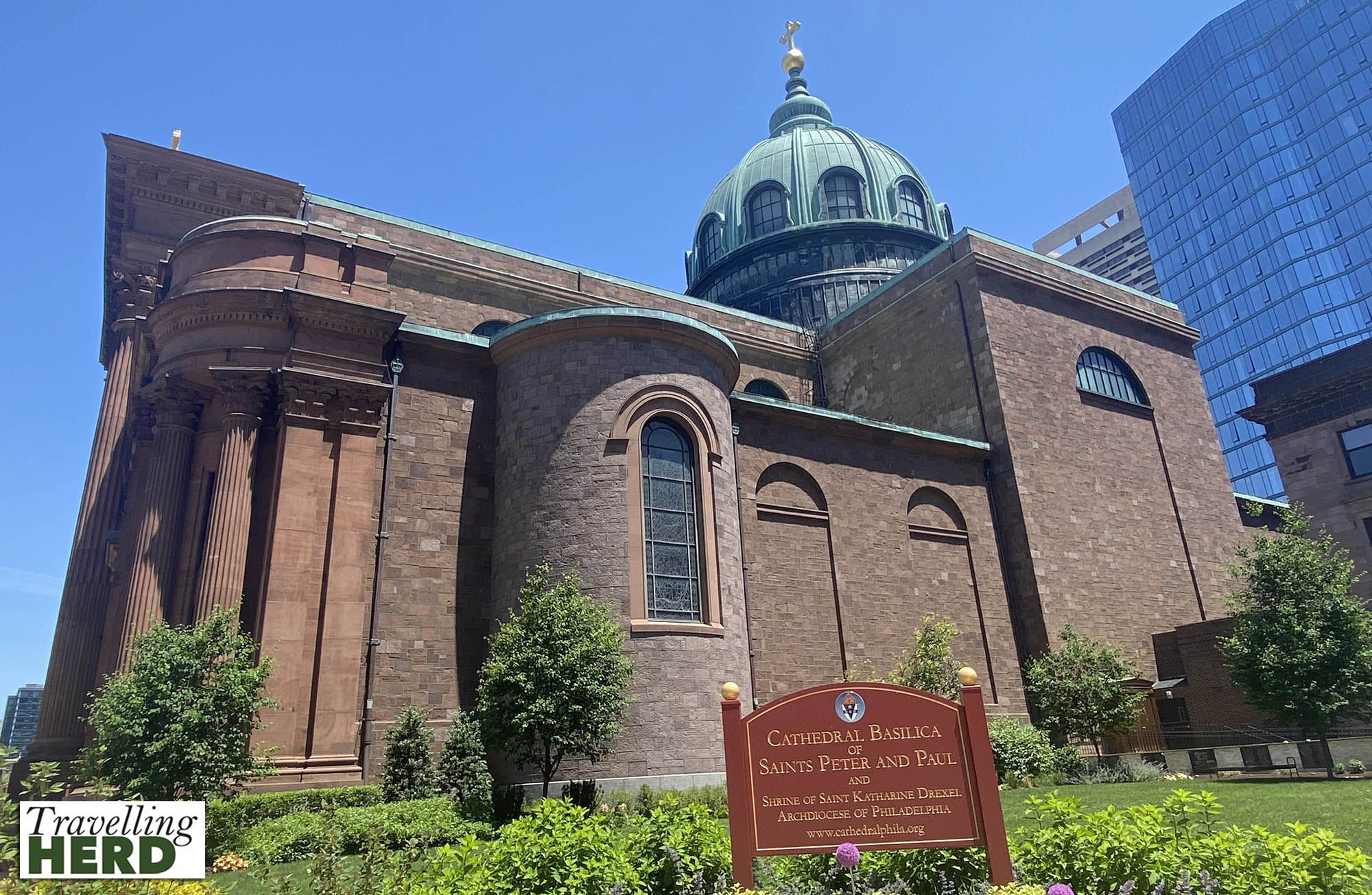 Apparently, the cathedral was built following a period of unrest and it is said that the builders would throw stones into the air to determine how high up the windows should be to be safe from vandalism.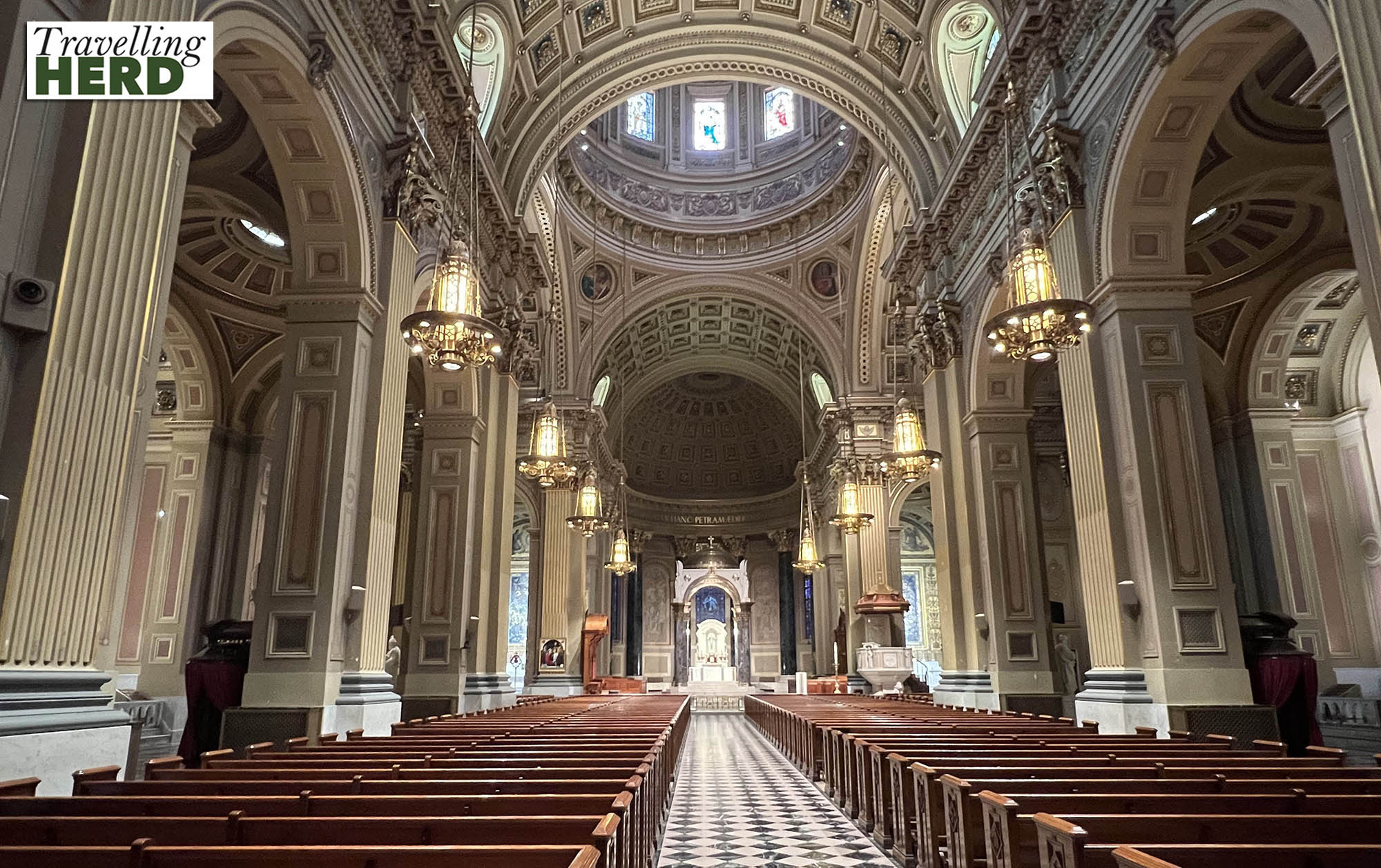 The tour of City Hall turned out to be more of a tour of Penn Square and the surrounding buildings.
City Hall itself is topped with a statue of Philadelphia founder William Penn. The 548-foot tower is the tallest masonry structure in the world without a steel frame, and it was the tallest building in Philadelphia until 1987.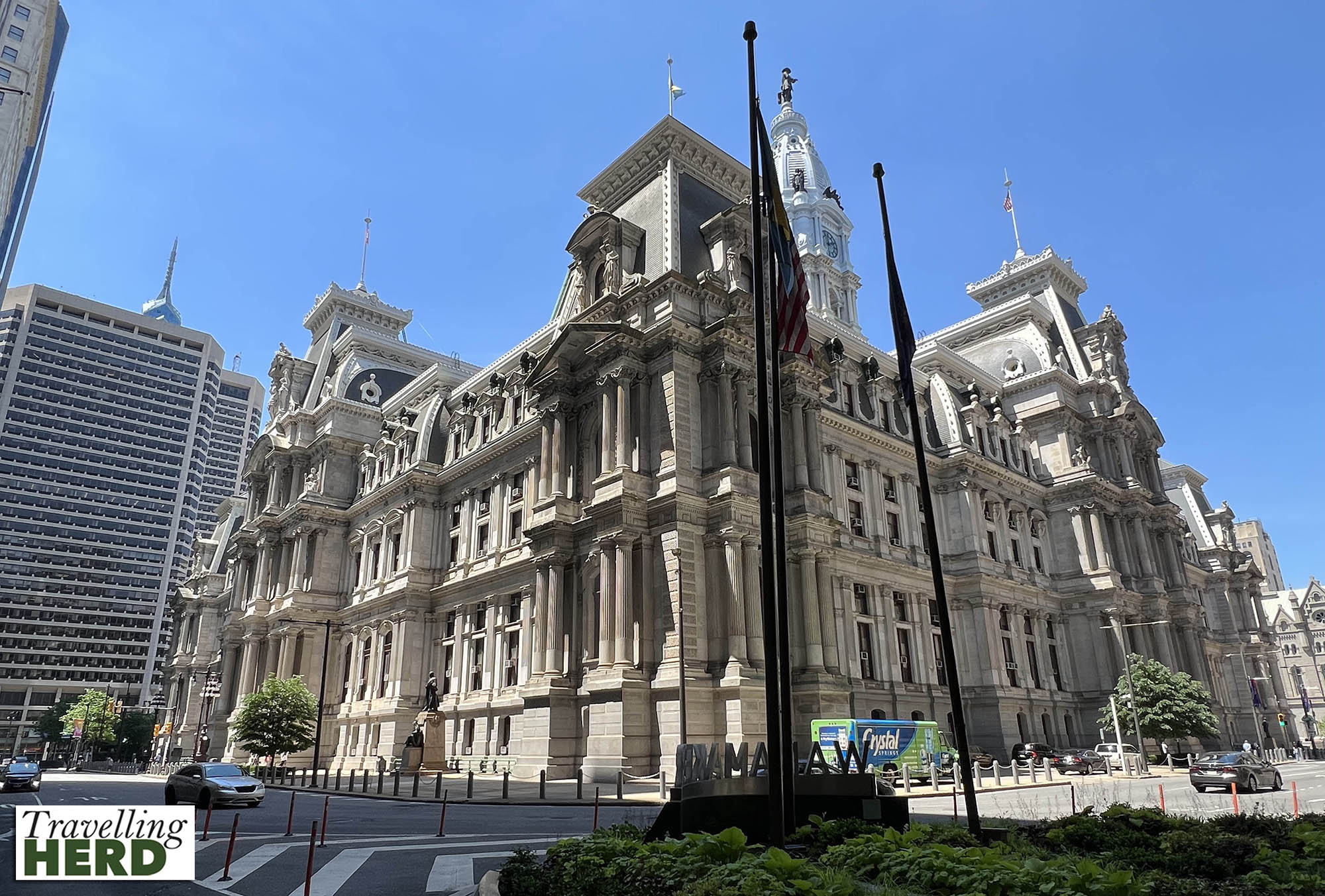 Inside Robert took a turn at being mayor.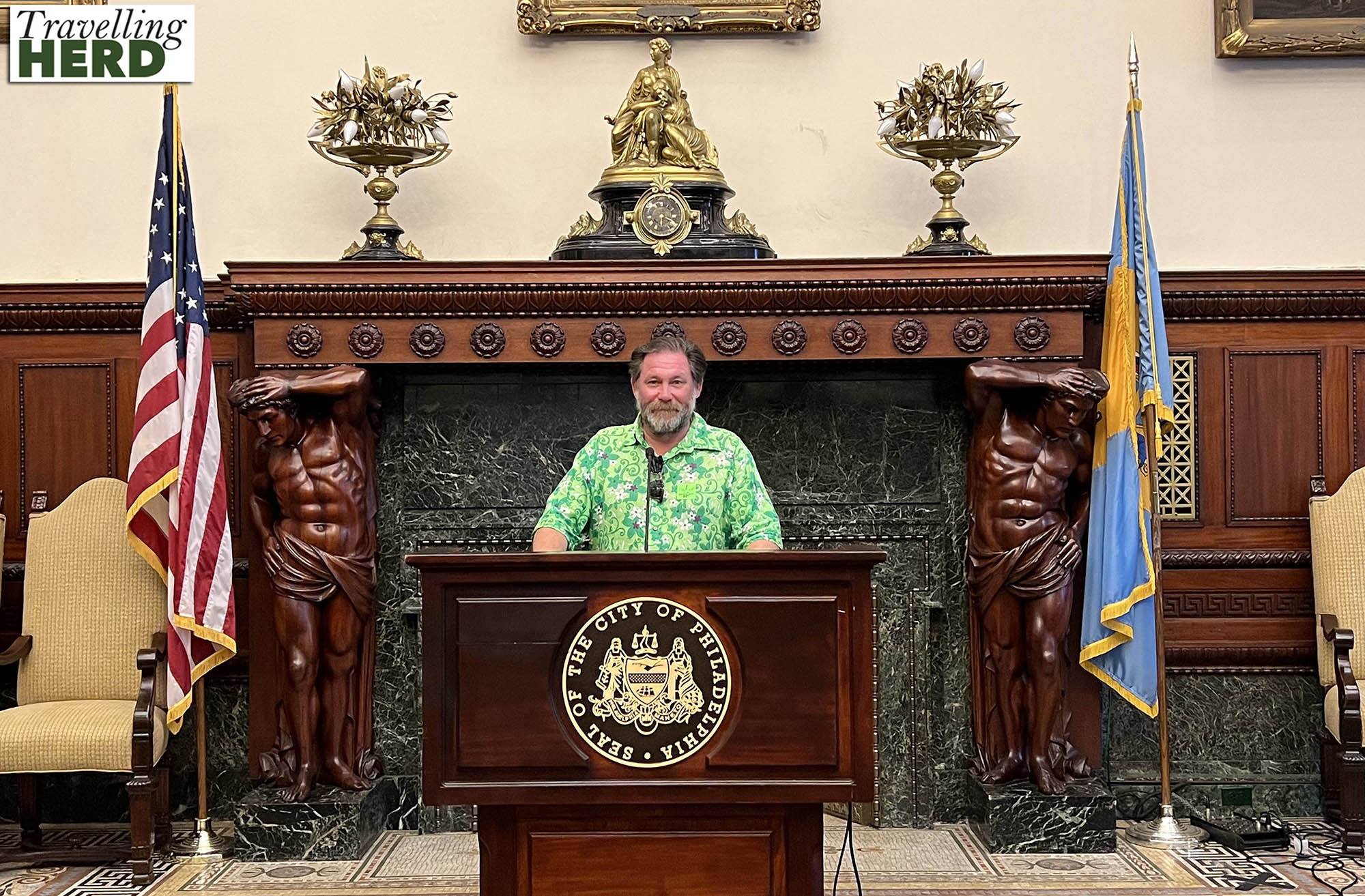 The Council Chamber was being prepared for a session.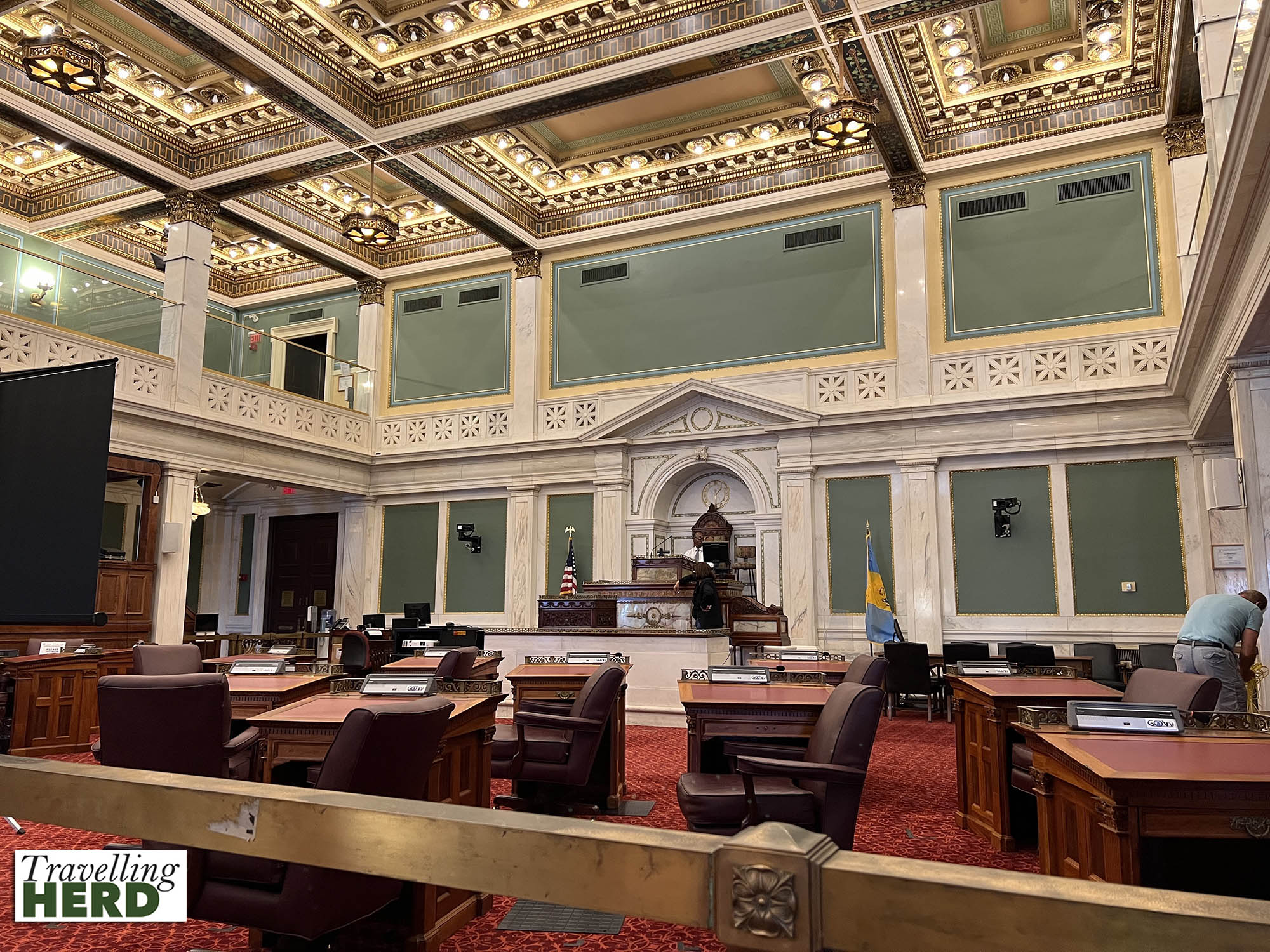 Close to City Hall on Chestnut Street, John Wanamaker built one of the first department stores in the US in 1910. He was something of an innovator and it was the first to have electric lights and a telephone and, more surprisingly, the first to put price tags on the goods thereby removing the need to haggle.
The building is now a branch of Macy's and is home to the world's largest pipe organ which is still played twice a day, six days a week.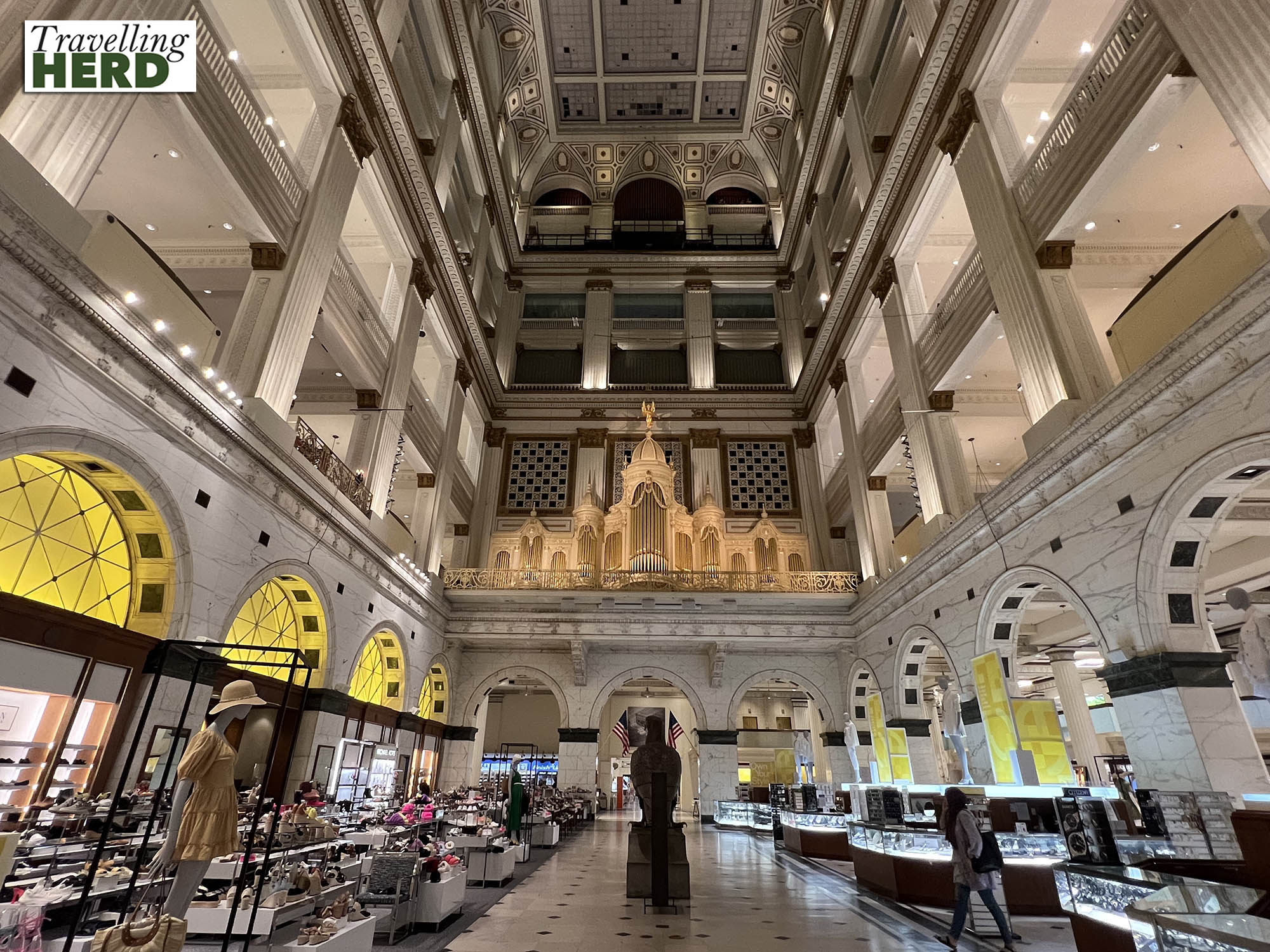 For over a century, before mobile phones simplified making arrangements, Wanamaker's is also where you go to 'Meet me at the Eagle'. The floor beneath the famous Eagle has been reinforced with extra girders to support its 2,500 pound weight and all 5,000 feathers, including 1,600 on the head alone, were wrought by hand [see also Selfie of the day].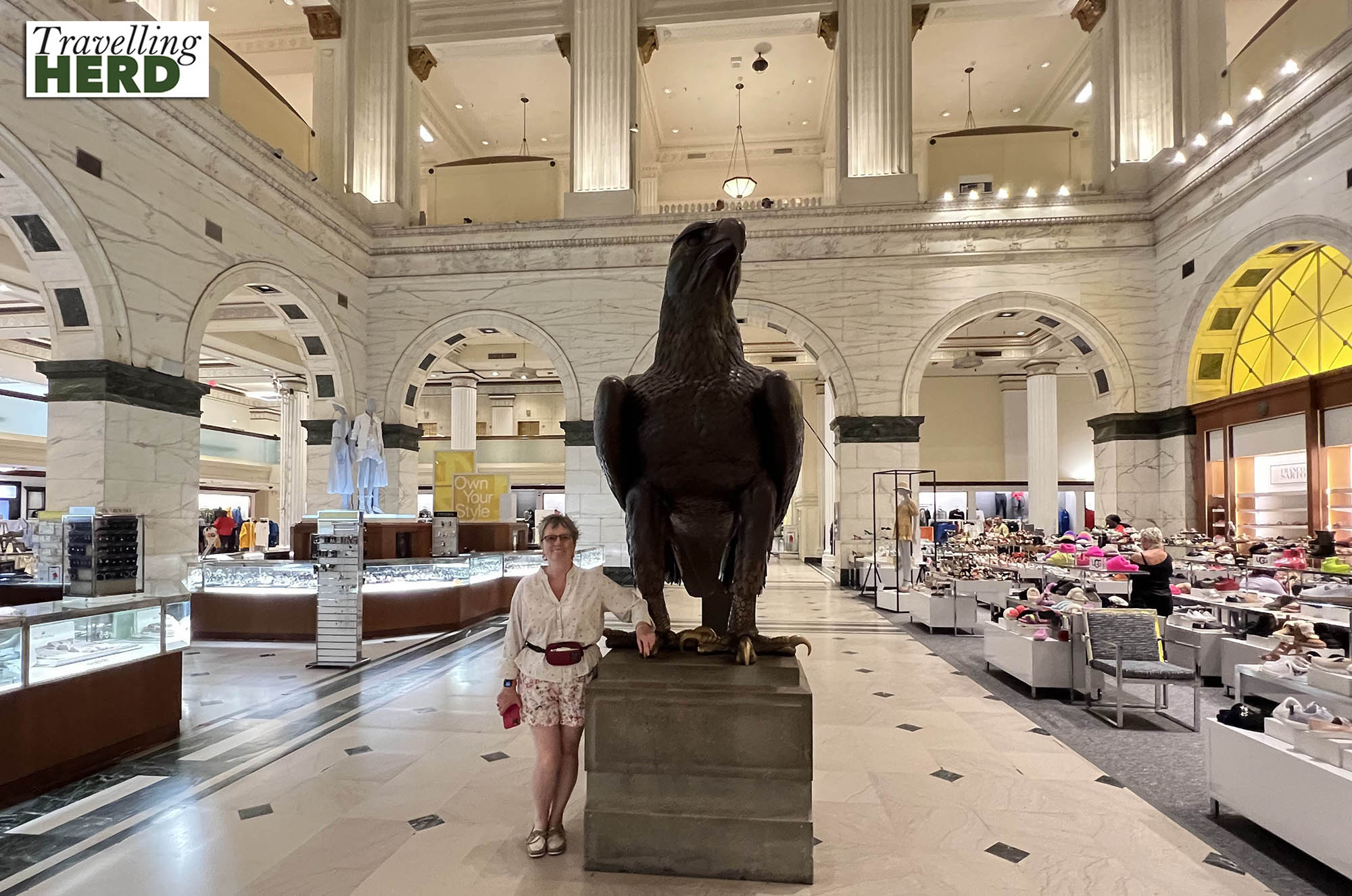 From here we went on our third and final tour of the day.
The Norman-style Masonic Temple in Philadelphia is opposite City Hall and is said to be the most beautiful Masonic hall in the world. It serves as the headquarters of the Grand Lodge of Pennsylvania. A total of 16 different lodges rent out the ceremonial rooms for their monthly meetings and the rooms are splendid indeed.
Our guide had a rather deadpan delivery which at times disguised an acidic commentary. He was keen to point out some of the inconsistencies in the designs.
Oriental Hall and the neoclassical Library and Museum, the Grand Banquet Hall, the Grand Master's Suite and offices share the first floor. Norman, Egyptian, and Ionic Halls share the second floor with Corinthian and Renaissance Halls. The third floor houses Gothic Hall. Two ornate corridors and stair halls complement and connect every room.Norman hall
On one staircase a statue of Virtue is 'ironically' placed in front of Benjamin Franklin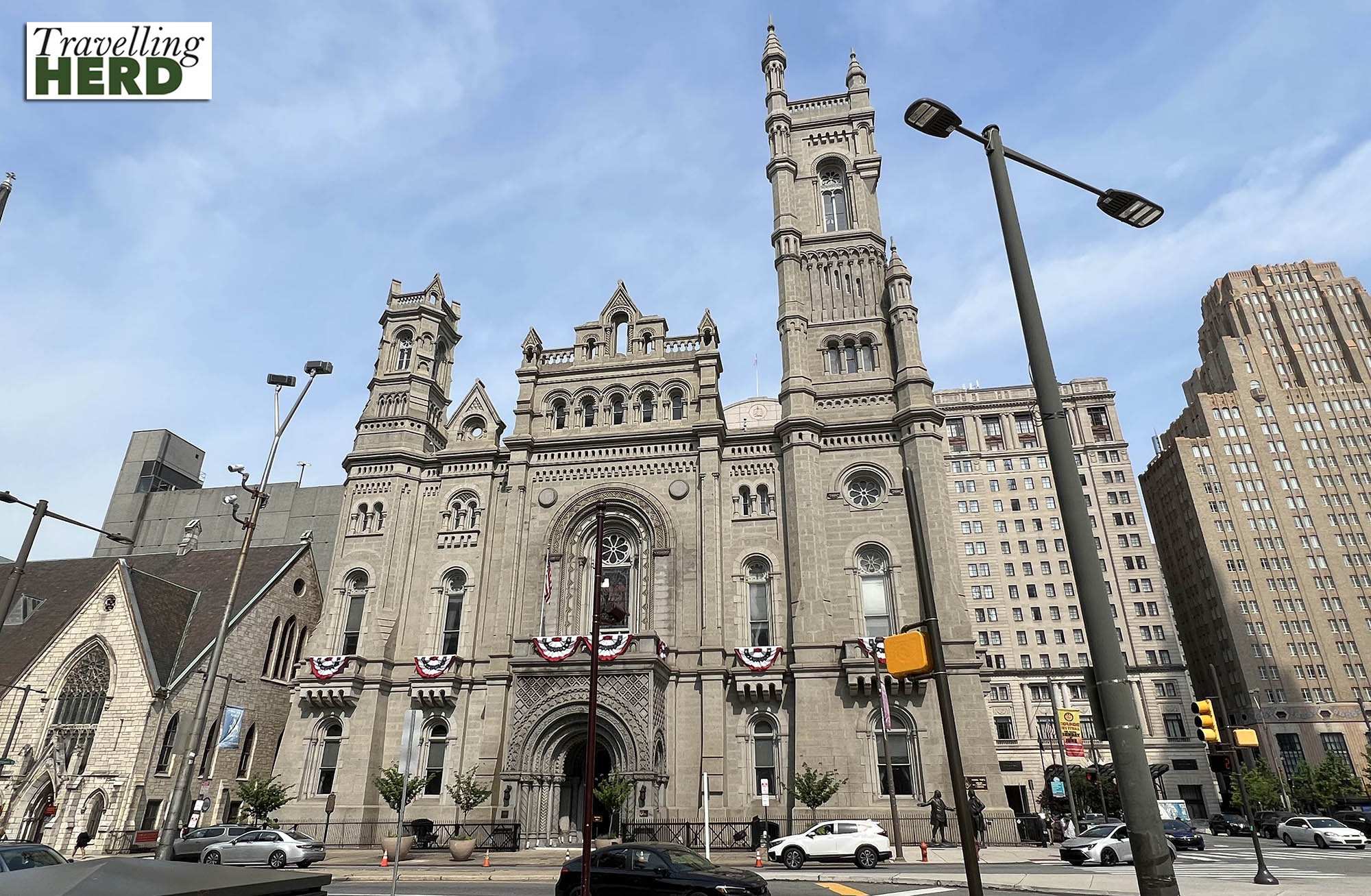 The Oriental Hall was modelled on the Alhambra in Granada, Spain.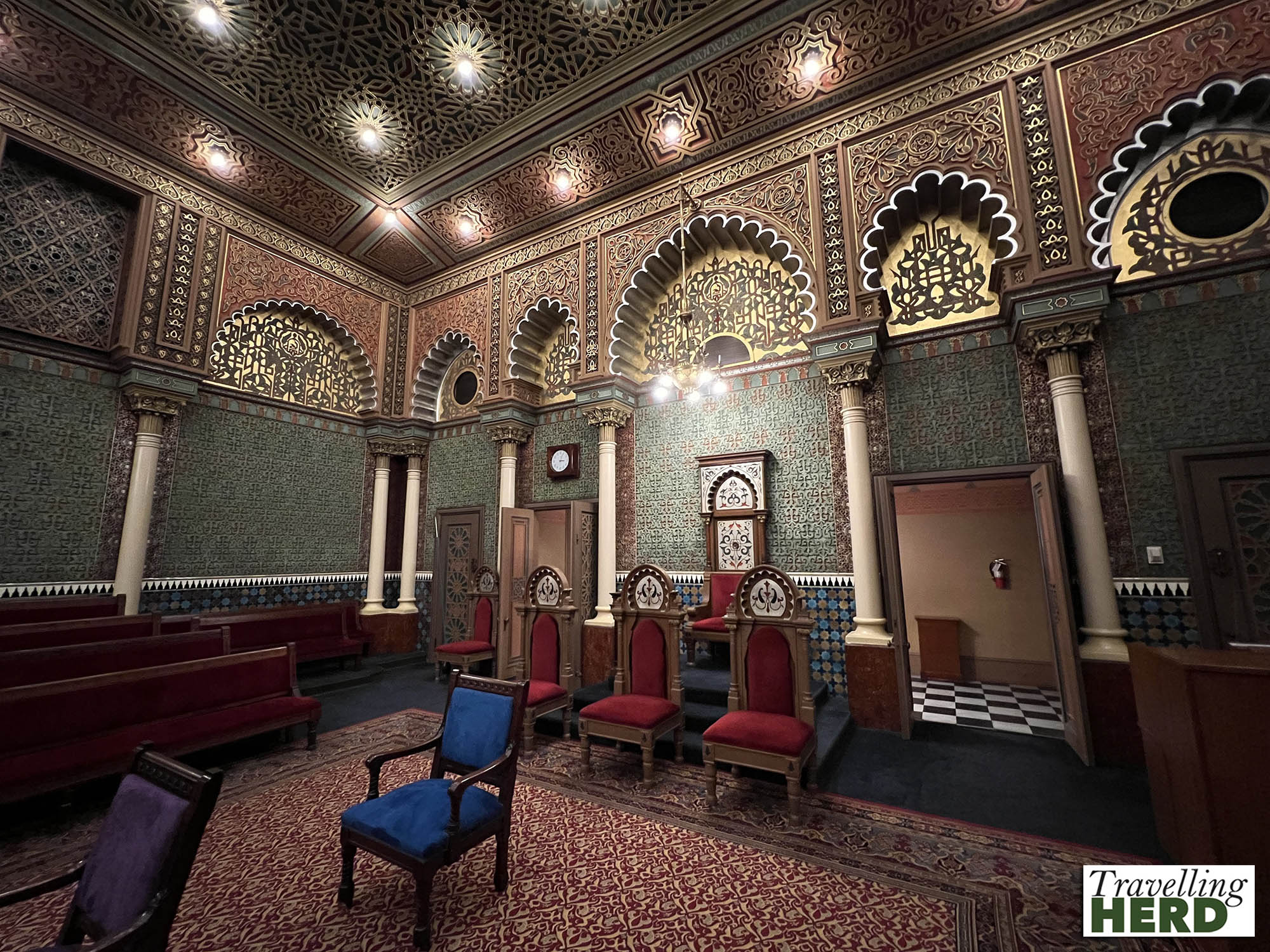 The Gothic Hall was inspired by the architecture of the Middle Ages.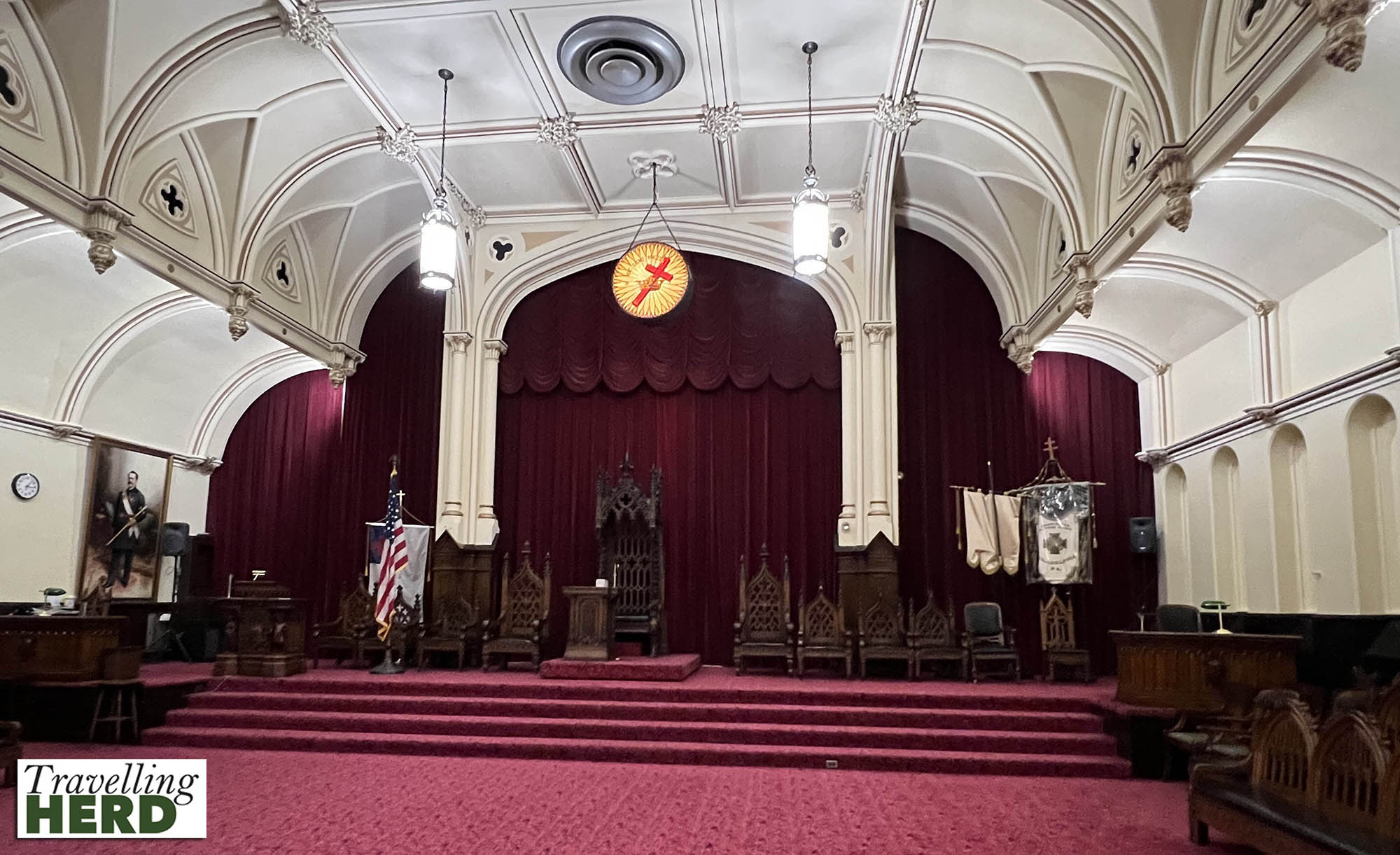 The Ionic Hall features blue and gold decor.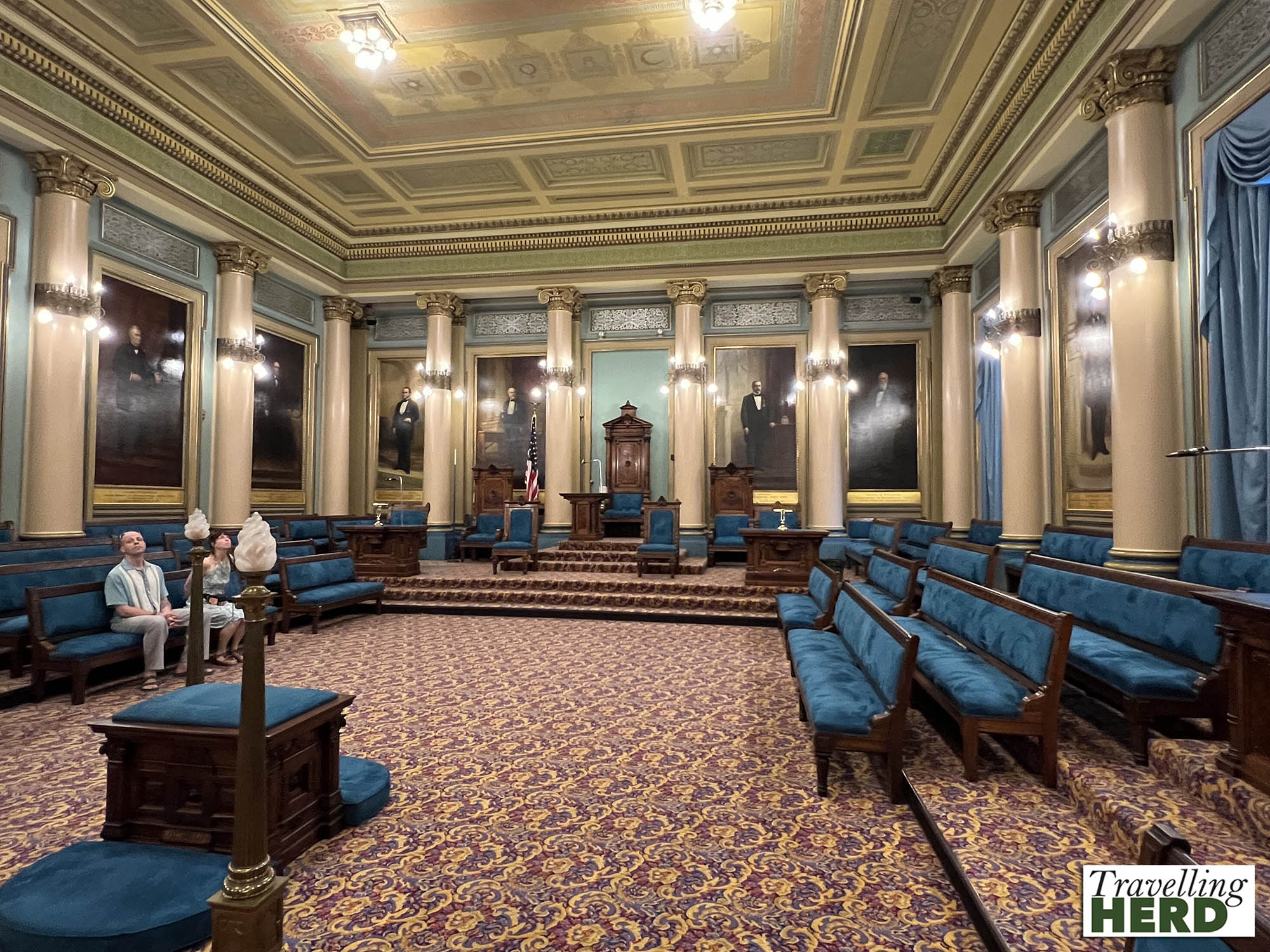 The Egyptian Hall includes accurate copies of hieroglyphs and paintings found in various temples and tombs excavated at a time when, according to our guide, the emerging science of archeology was transitioning from 'barely disguised grave-robbing into a structured discipline'.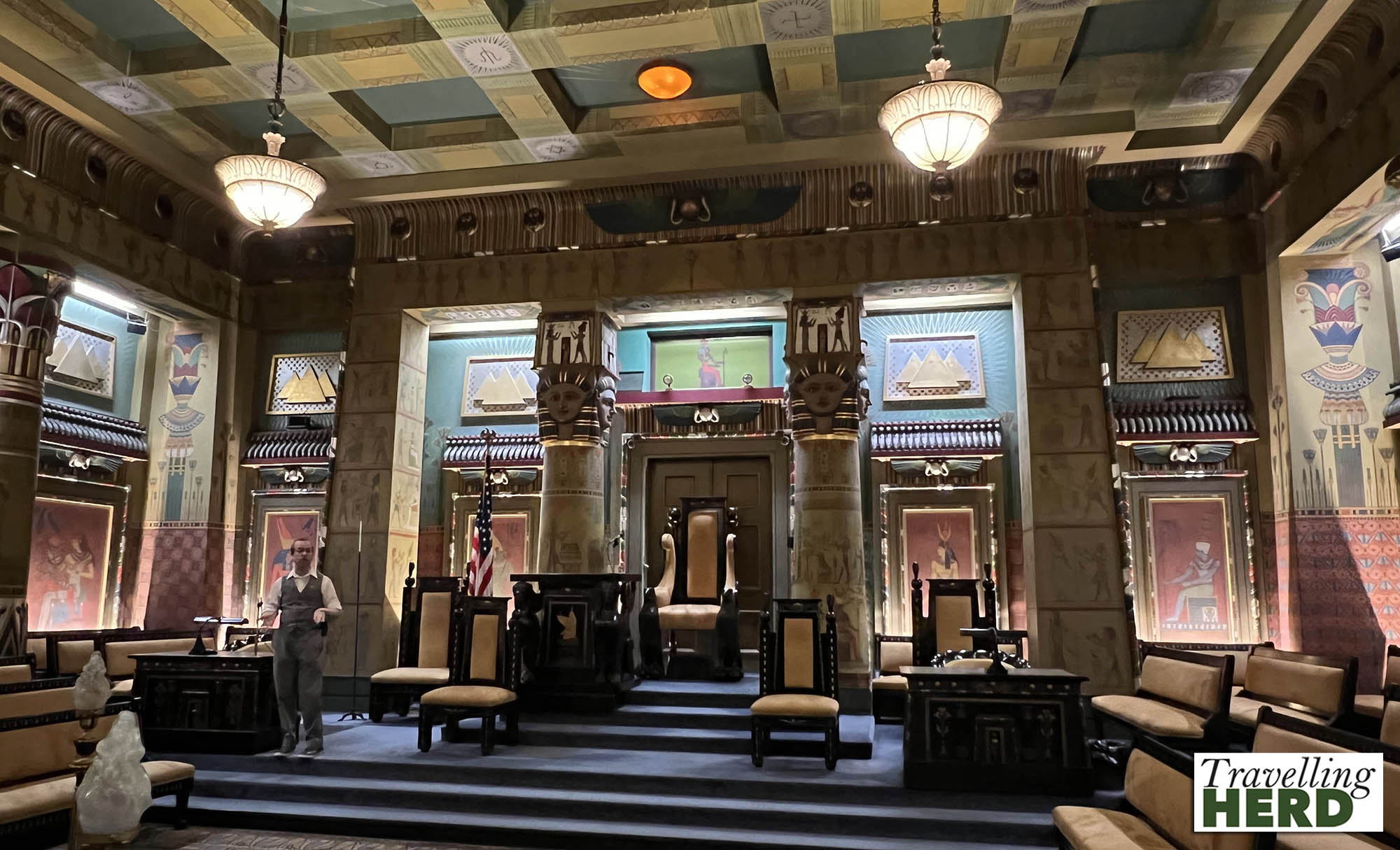 The Norman Hall features high arched windows and a painted ceiling.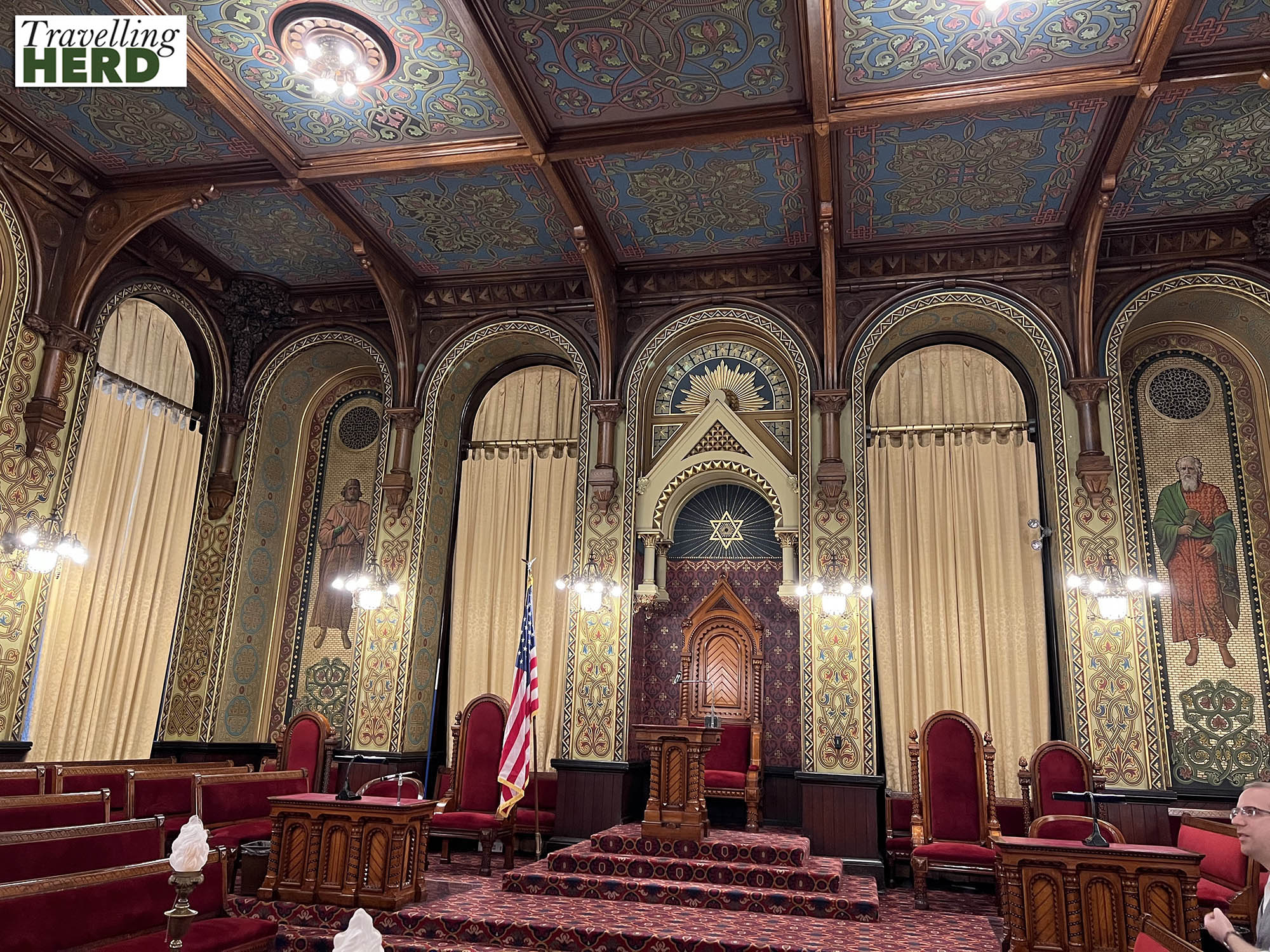 The Renaissance Hall was designed to emulate an Italian cathedral and the beauty created by artists such as Da Vinci and Michelangelo.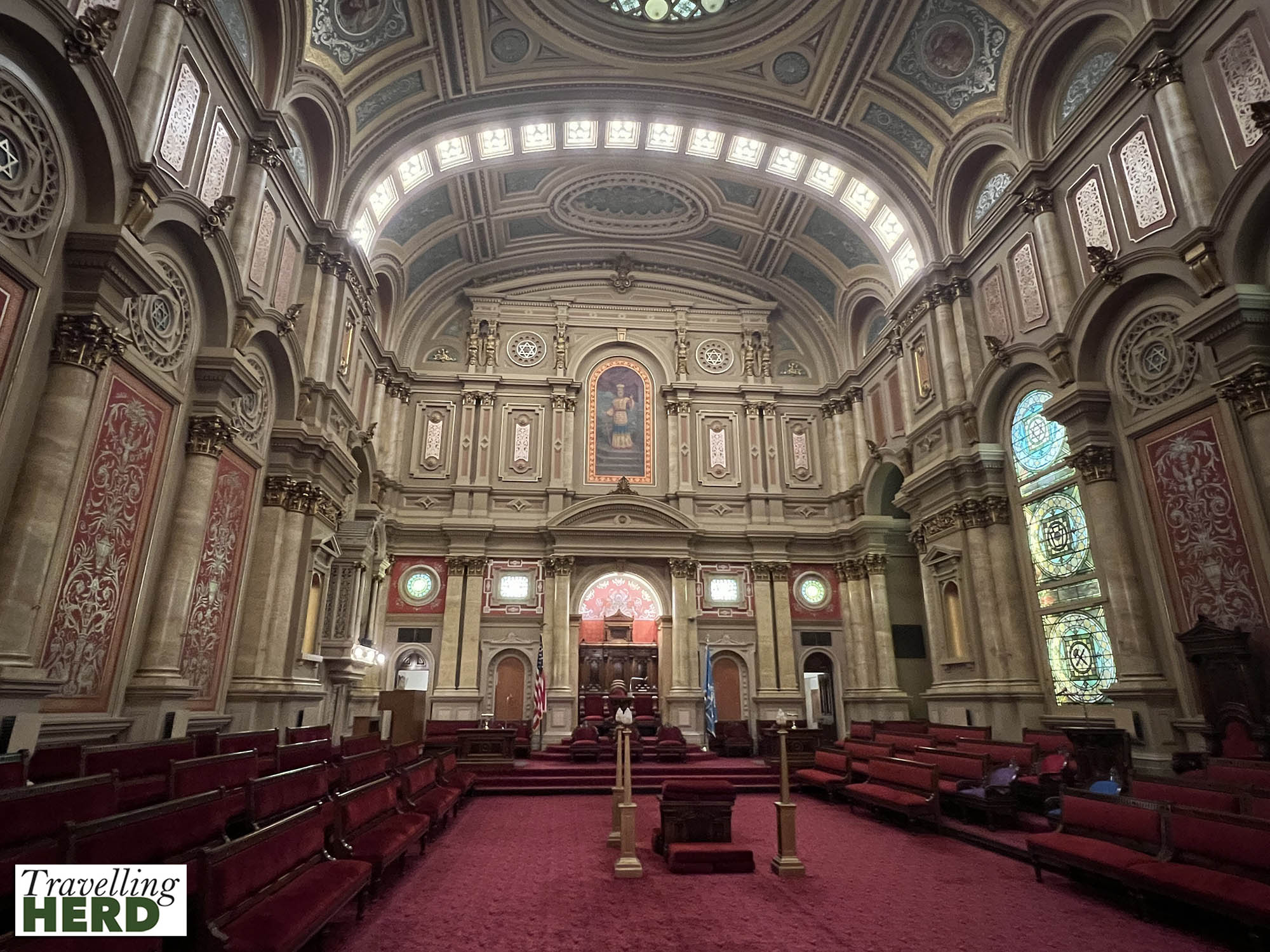 In the Corinthian Hall the caryatids are based on those at the Parthenon in Athens but, strangely, the inscriptions around the room are in Latin.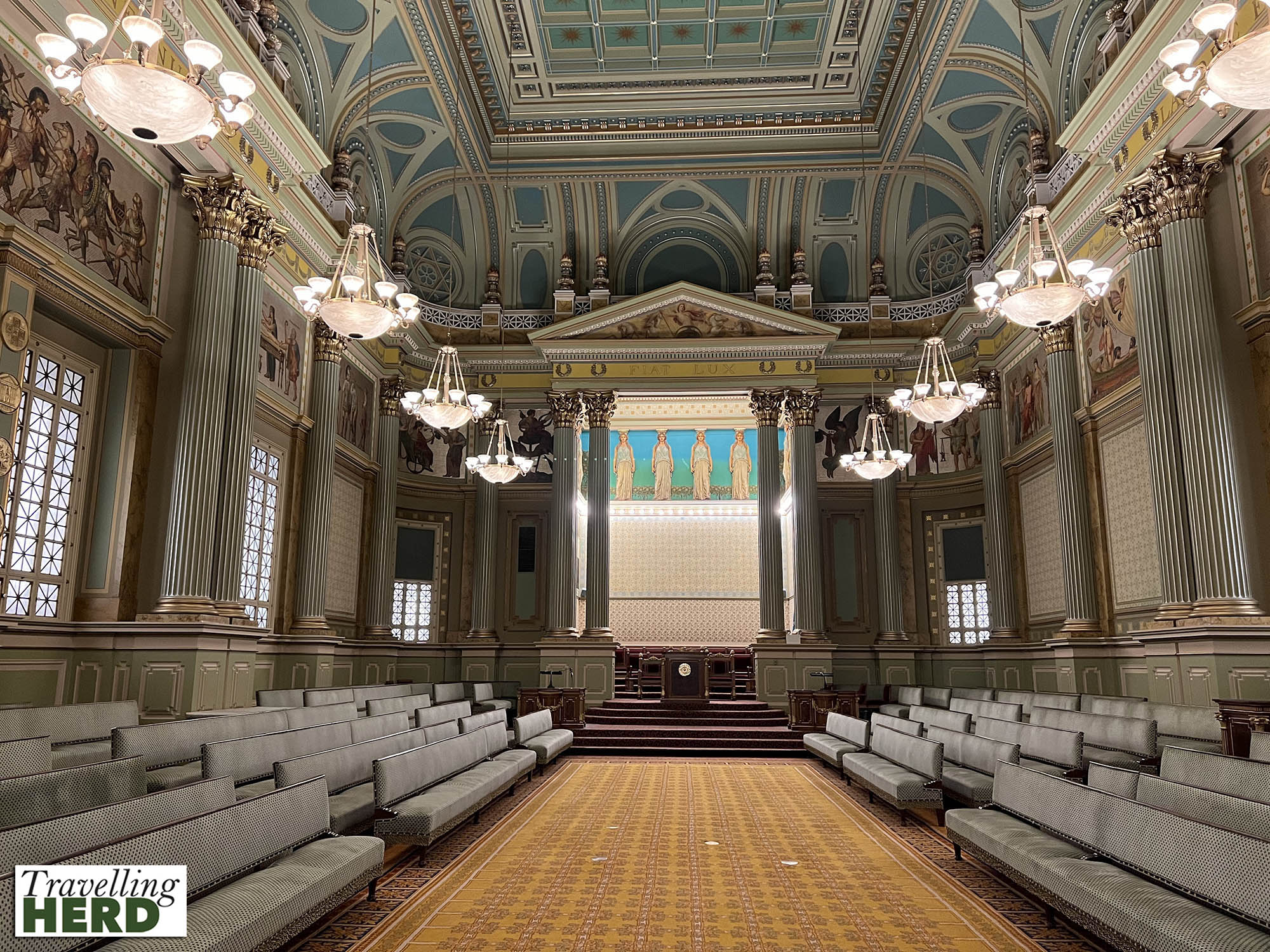 The Grand Ballroom was repainted in white and gold, so that it would be more appealing for people booking it as a wedding venue [it had previously been pink!]. There were curtains which could be drawn around a dais where a huge statue of Benjamin Franklin stands. Our guide suggested that, 'despite his legendary ego, even he might have felt it was a bit much'.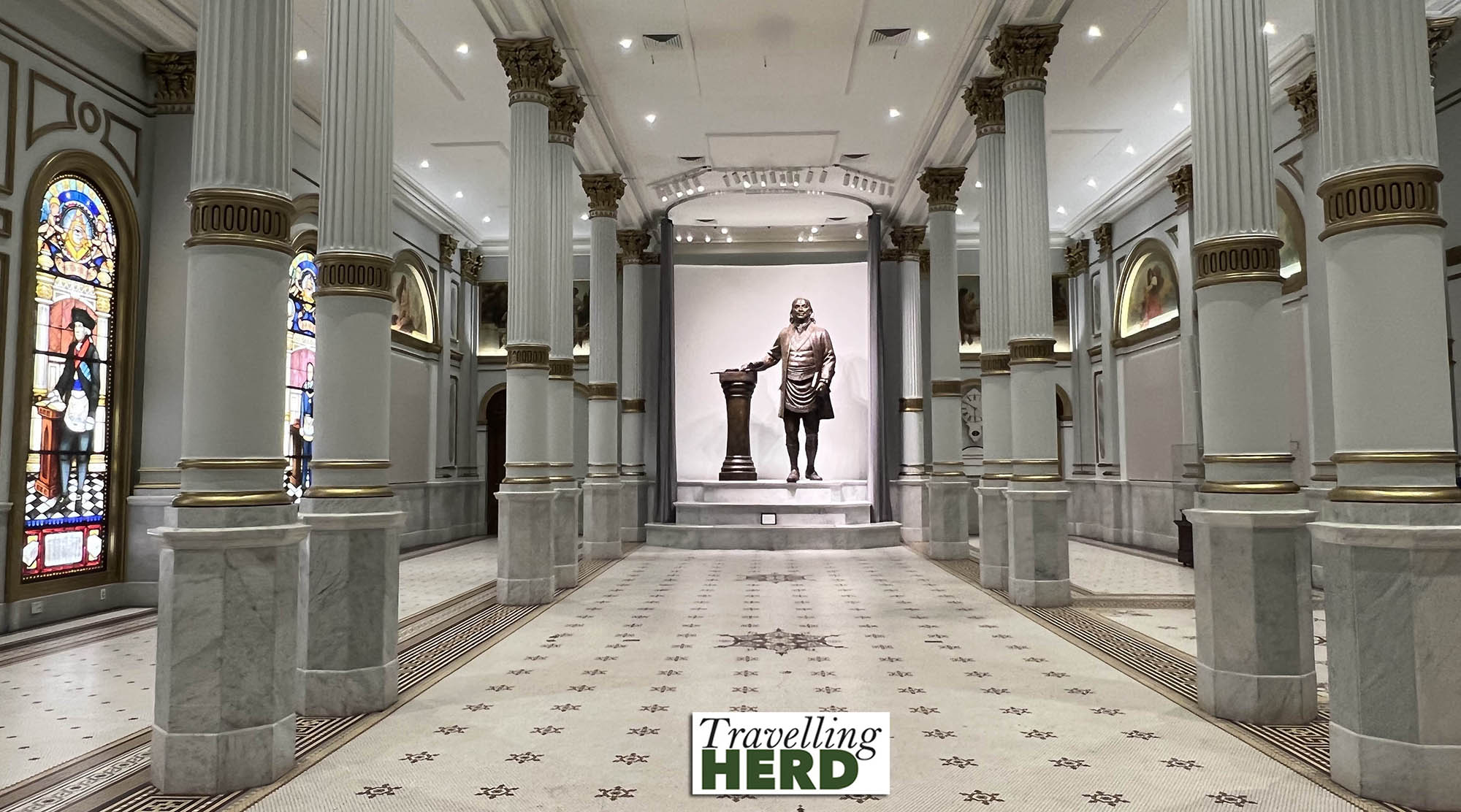 Curtis had recommended this tour and we were not disappointed.
By now we were getting rather thirsty and we managed to gatecrash an open air event. It was only as we were leaving that we realised people were queueing at the front and we had used a side entrance which had been temporarily left unguarded.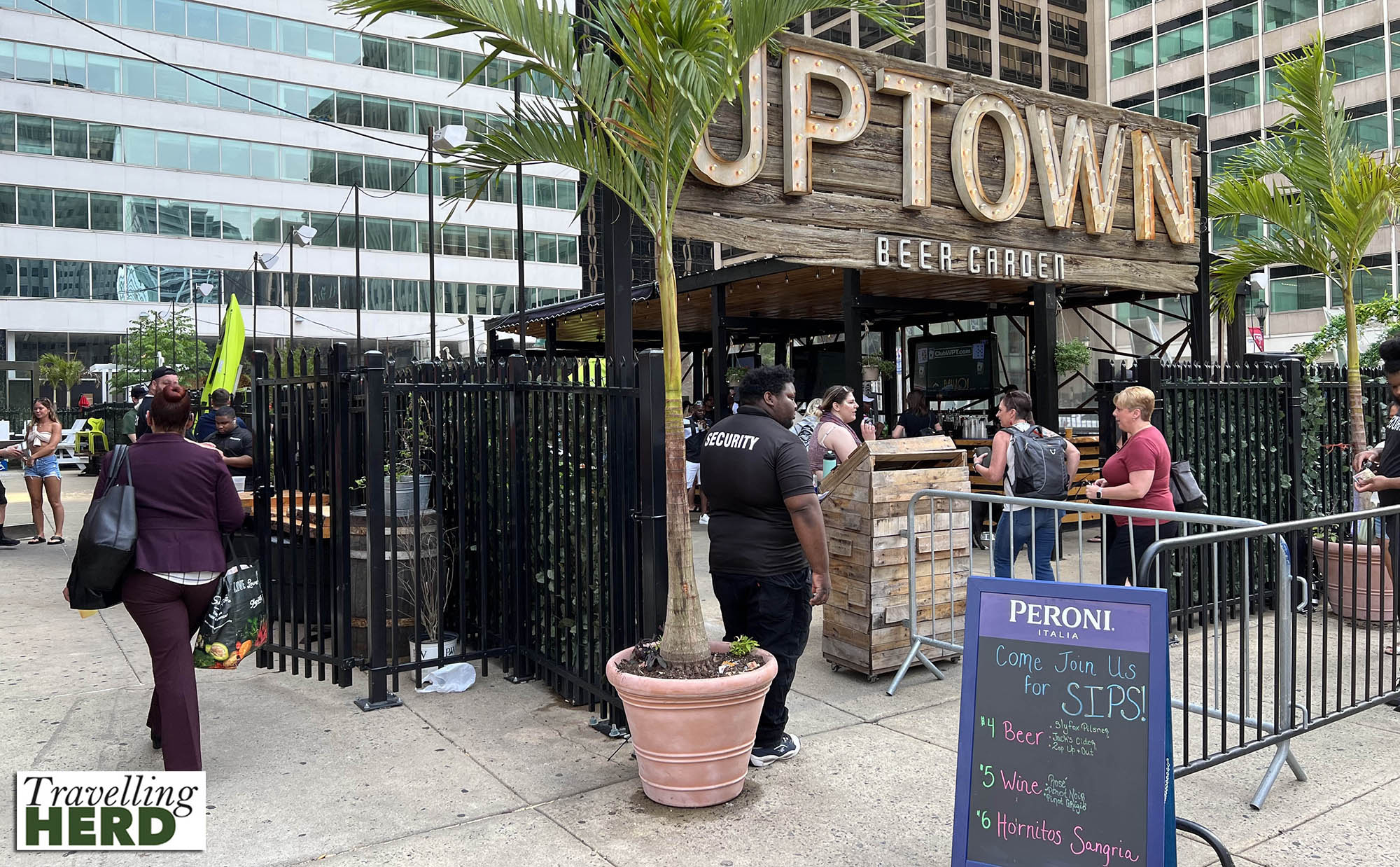 After a full day of tours and sightseeing, we were ready for food and fancied a change from the usual American fare. The Caribou Café provided the answer.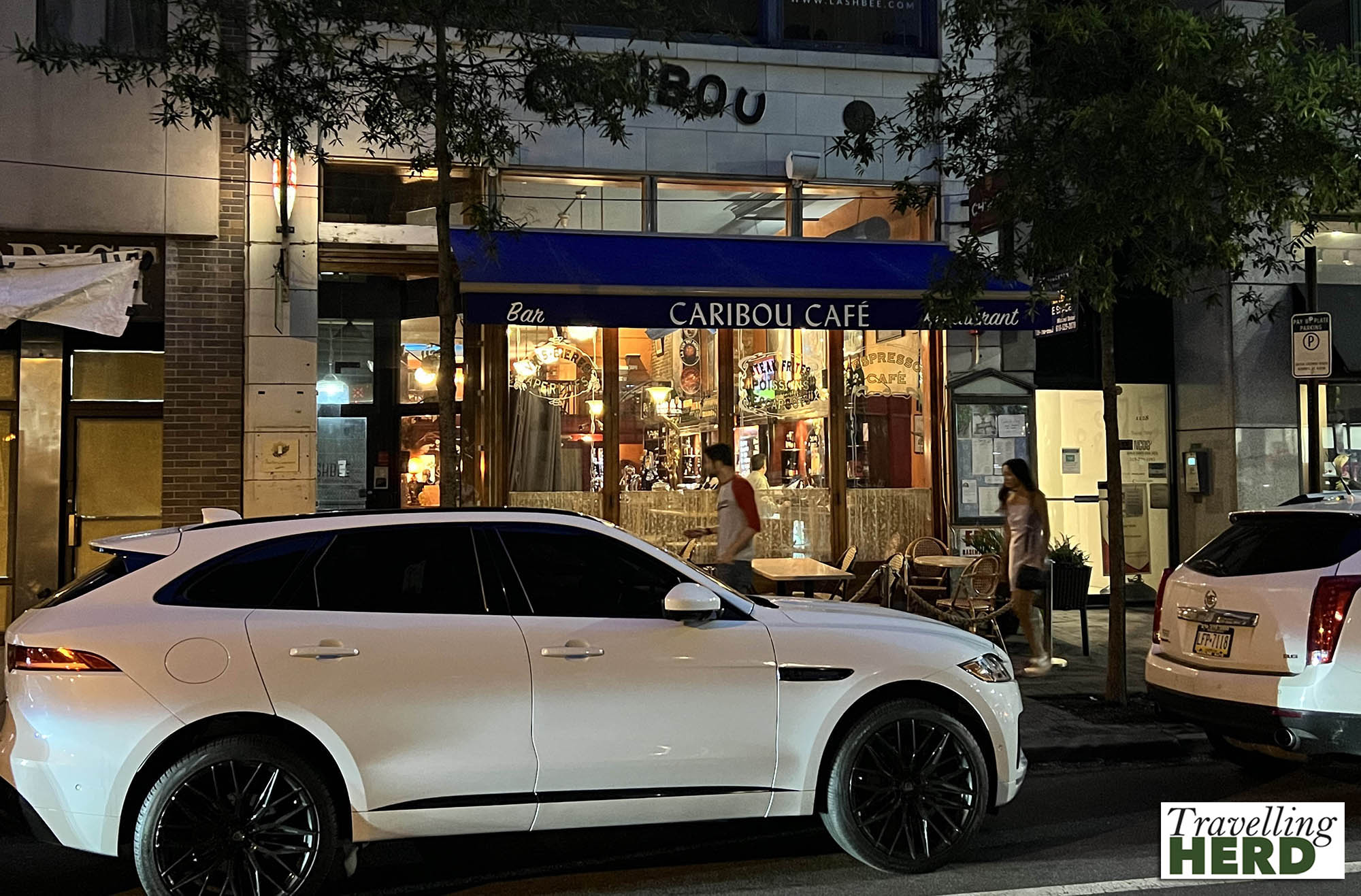 Selfie of the day: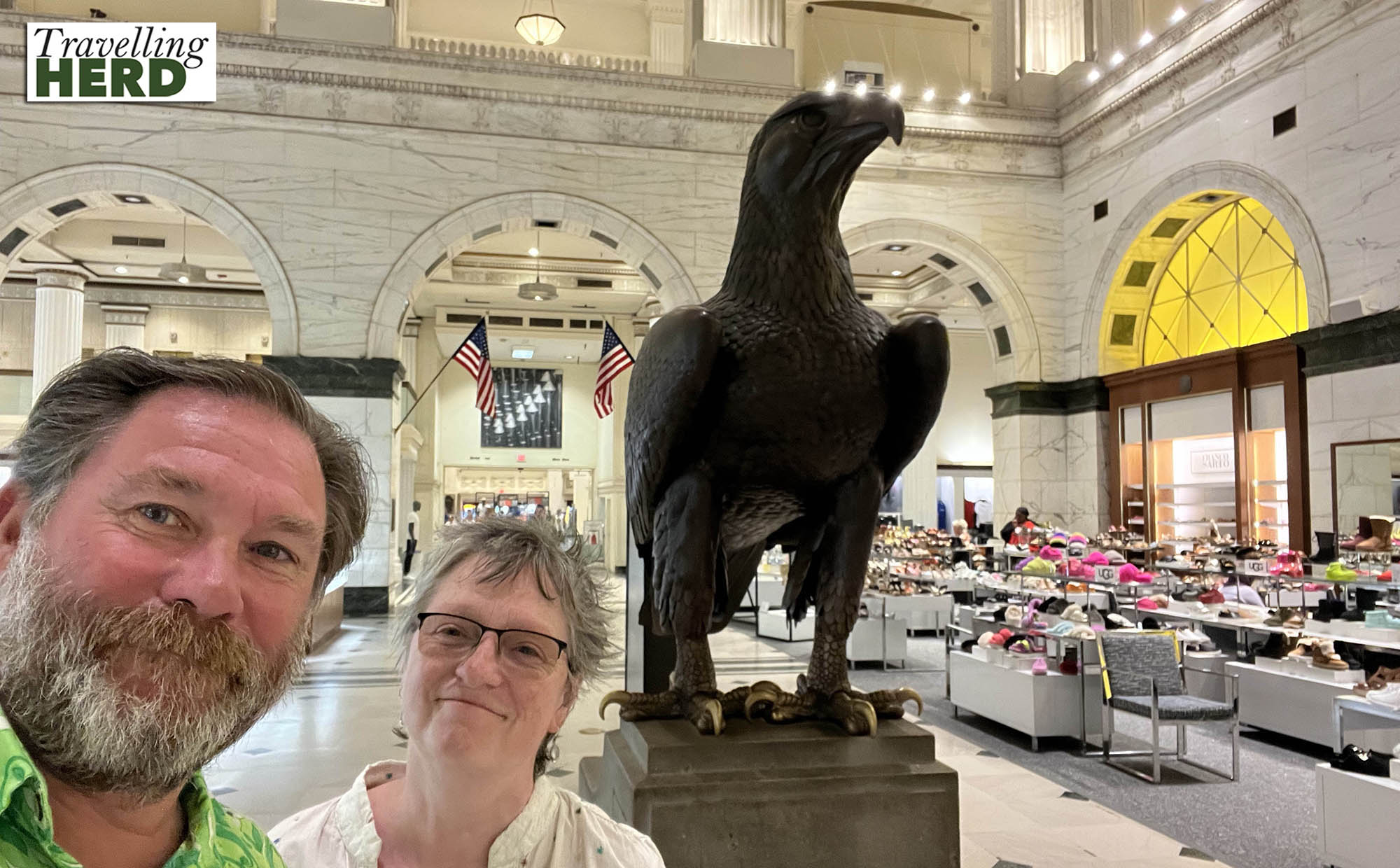 Dish of the day: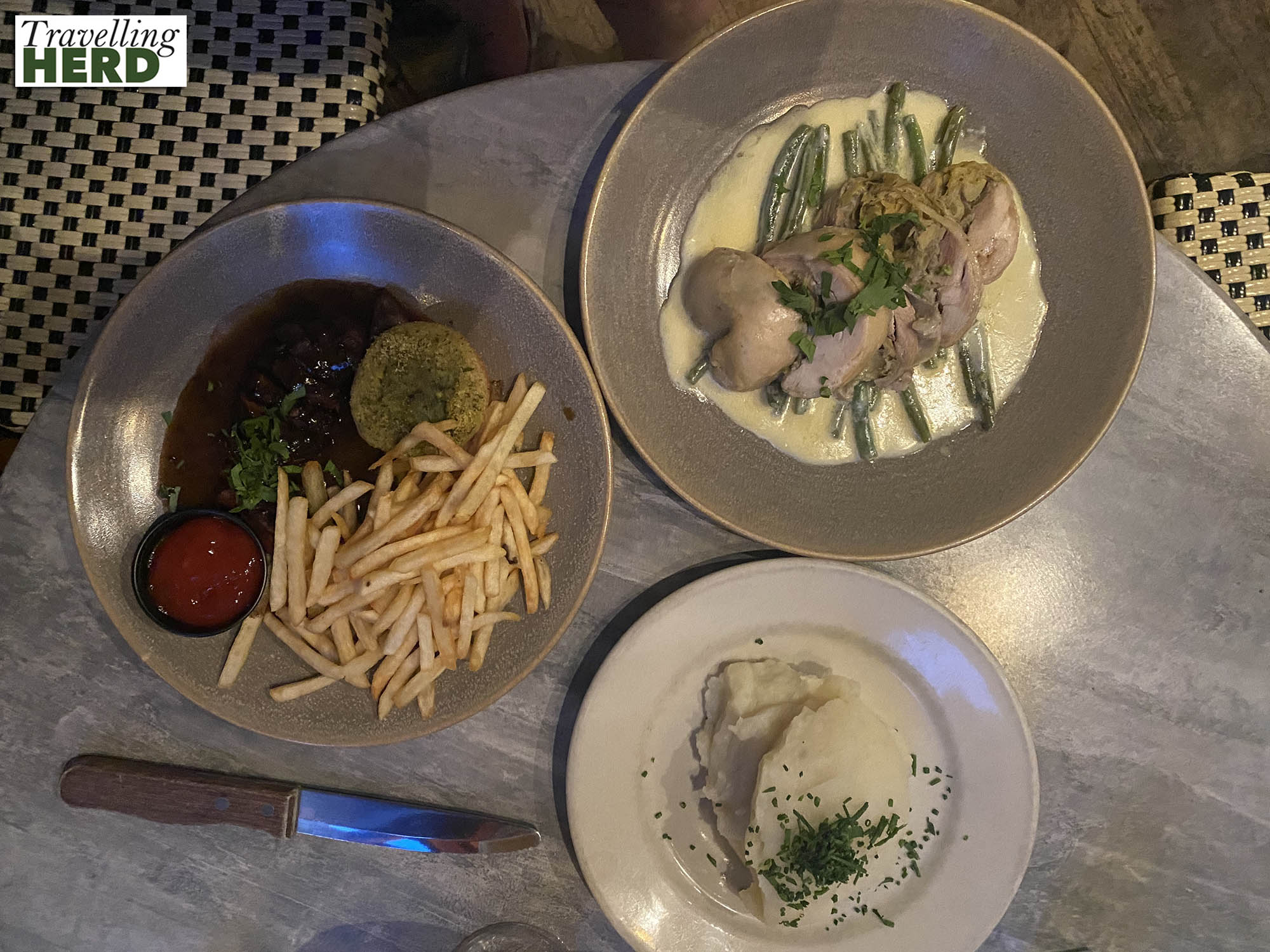 Route Map: