Tuesday 9th April 2019
Returning to our hotel by tuk-tuk from a different direction one day we realised just how close we were to the Gandhi Smriti, or Gandhi Remembrance, a memorial marking the place where he was assassinated in the gardens of the then Birla Bhavan on 30 January 1948 on his way to conduct his nightly multi-faith prayer meeting.

On our last morning in Delhi we decided we would visit the Gandhi Smriti and learn more about this legendary man who used non-violent means to lead a struggle over decades against British rule in India and inspired many more to use civil resistance and non-cooperation as a method of protest.

There is a wealth of information about Gandhi inside this luxurious building where he spend the last 144 days of his life. Stone footprints lead poignantly along the path where he took his final steps towards the Martyr's Column in the garden marking the place where he was shot. His words are inspirational but it seems mankind still has a long way to go to make them reality.
"There is enough on this planet for everyone's needs but not for everyone's greed."
"Live simply so that others may simply live."
With a relatively early flight home the next day, we had booked into the only hotel actually inside the airport but this proved to be hard to find. There are two Holiday Inns but not many people know about the second one. First we were dropped at the wrong one and then, when we finally arrived at the airport, no one seemed to know a hotel even existed.
Eventually we were directed to find a phone to call the hotel staff for assistance. We had to pay the equivalent of about 30p for a printed copy of our tickets so we could present this documentation to gain access to the area where the dedicated hotel hotline phone was.
There was a Kafkaesque moment when our escort arrived and the printed tickets proved to be insufficient for us to be released back into the airport with our escort and more printing was demanded, although we did not have to pay this time.
When we were finally checked in we had views across the concourse from our room and the views of the runways from the hotel bar.

Although we are both ready to head home, Robert can not help himself and is already planning our next, much shorter, trip abroad.
P.S. Similar to our flight out to Delhi, not only did we have a two hour delay, but we had an extra two hours of flight time, since the Pakistan air space was closed we had to diver south (an extra 900 miles).
Final Route Map: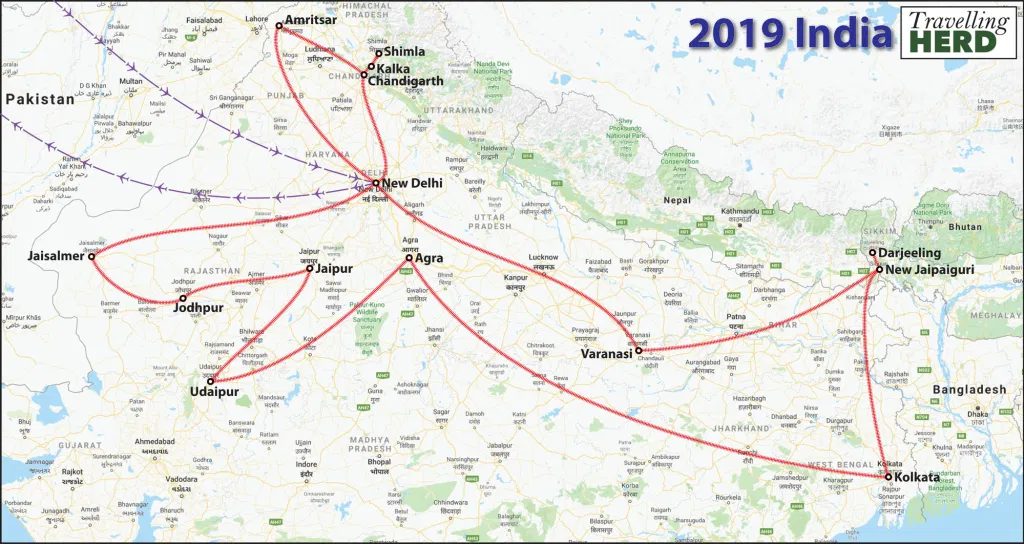 Distance travelled so far:
By Air to Delhi and back: 11,000 miles
By 19 trains around north India: 4,670 miles
Selfie of the day: