Tuesday 4th and Wednesday 5th October 2022
We had to hand Caprice back at 09:00 on Wednesday morning and we agreed that we would return to the boatyard on Tuesday to make sure staff could check the engine time reading and we could settle up any paperwork the day before as we had a train to catch.
There is a speed limit in the Laguna which the small motor boats and taxis seem to disregard totally. Even in the middle of the night, small boats would speed past, creating a disproportionate amount of wake. We were frequently awoken by Caprice being aggressively bounced and buffeted against the mooring dolphins so violently that it seemed as though we would surely break loose or capsize. As Liz commented, "We really rocked in Venice:"
But not always in a good way.
As we left the waters of the Venice navigation. . .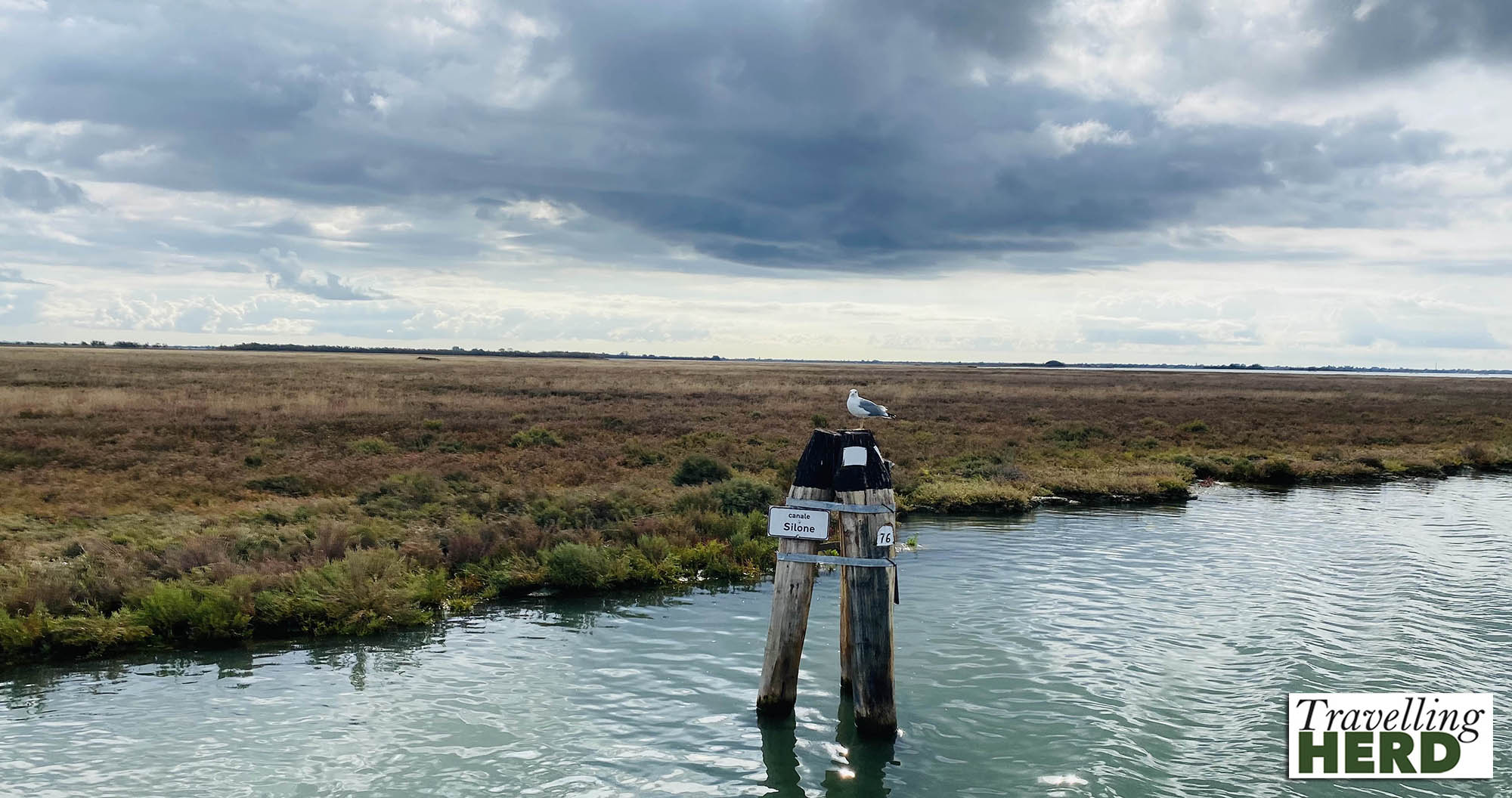 . . . Martin, as Co-Captain, once again took charge of the mooring ropes . . .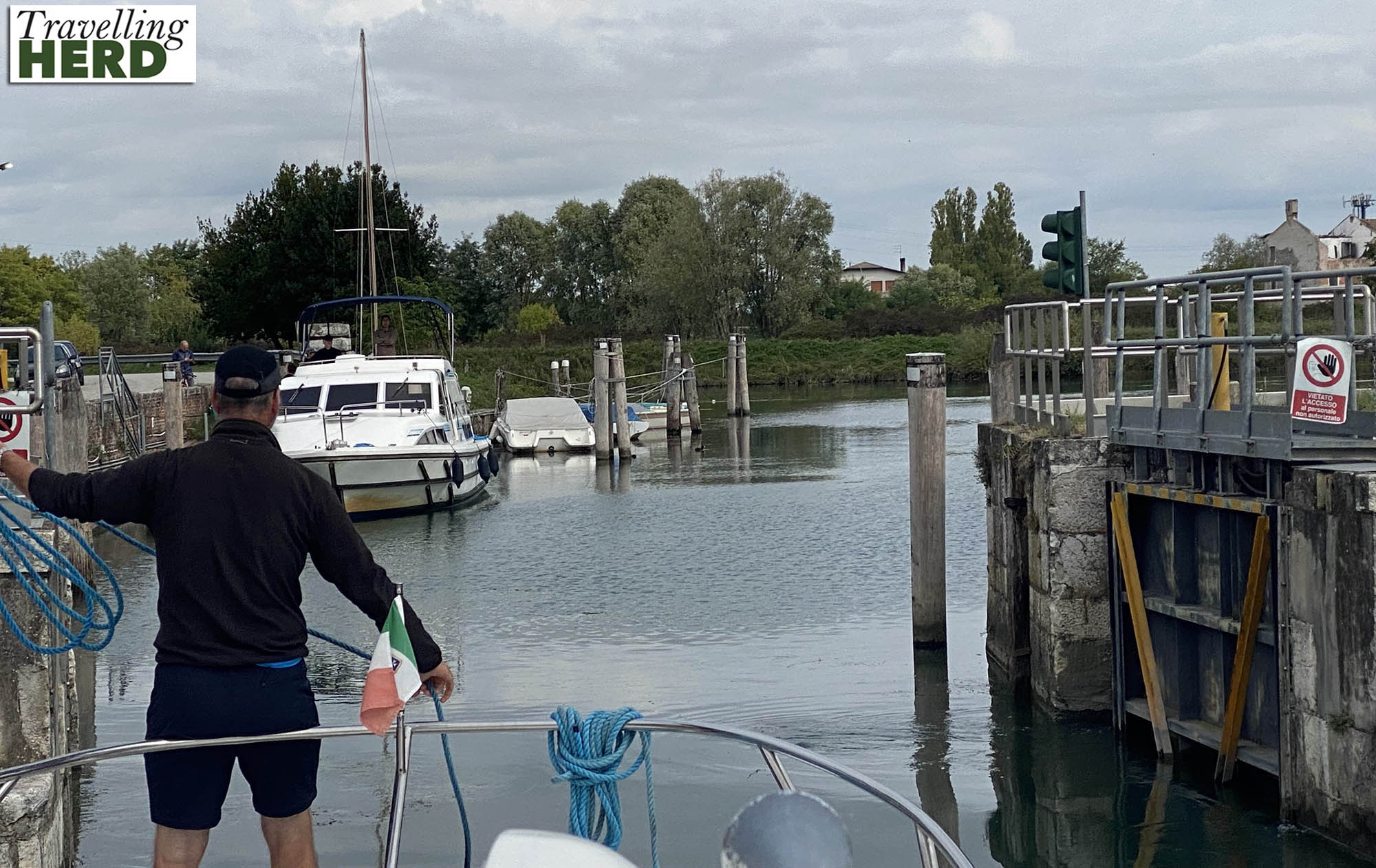 . . . and we went back through the lock which separates the salty Laguna from the fresh waters of the River Sile.
Thankfully, the damage deposit was returned in full.
Engine hours are charged at €16.90 per hour and we had gone further than many boats do so although we had lodged a deposit of €450, we still had a little extra to pay. The boatyard owner claimed this was a sure sign we had enjoyed ourselves.
It was true: we had really enjoyed cruising the Laguna and visiting Venice by boat.
However, we were all frankly shocked when we discovered during the initial familiarisation session at the start of our rental that, until some forthcoming legislation was passed, it was legal for the toilet to empty directly into the waterways.
We tried not to think about this and used land-based facilities whenever we could.
It was both a surprise and a relief not to see the tell-tale signs of pieces of toilet paper [or worse] floating next to Caprice, particularly when we moored for four days at Burano. Incredibly, Liz did see people (who must surely have been given the same information) getting ready to go for a swim off their rental boat.
We also experienced similar issues to those we had encountered on the narrowboat The Duke earlier this year: the supply of hot water was dependent on the engine running and therefore sporadic and unreliable and there were insufficient charging points for the amount of modern technology which people have. Some of the sockets only work when the engine is running and the inverter is switched on reducing the options still further.
But despite these drawbacks, we would thoroughly recommend renting a boat and captaining your own craft around the Venice Laguna.
You do need to remember to pack insect repellent though: we were all severely bitten and Liz decided she would take the spray with her to Verona as a precaution.
Nevertheless, we said a fond farewell to Caprice as we set off to start on our respective return journeys.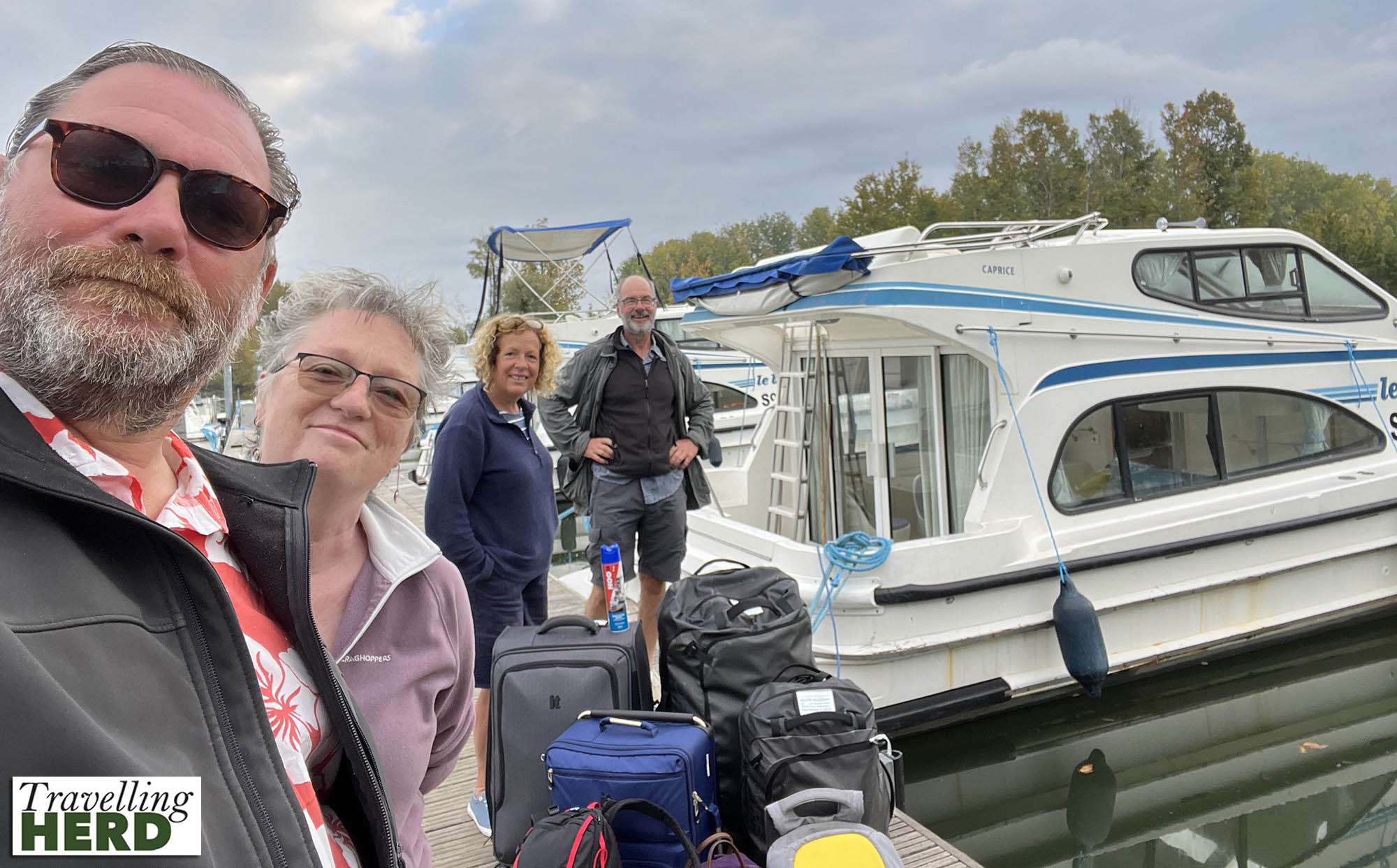 Our route took us first to Milan, where Robert discovered a useful travellers hack. Our hotel was fitted with more up to date technology than Caprice, including the energy-saving system which requires your room key to activate the electricity. The wall unit helpfully informed us that we needed to use a radio frequency card. An old hotel room card was ineffective but thankfully we had kept our vaporetto passes and Robert found that this worked perfectly, allowing us to recharge some devices whilst we went out to see a bit more of Milan.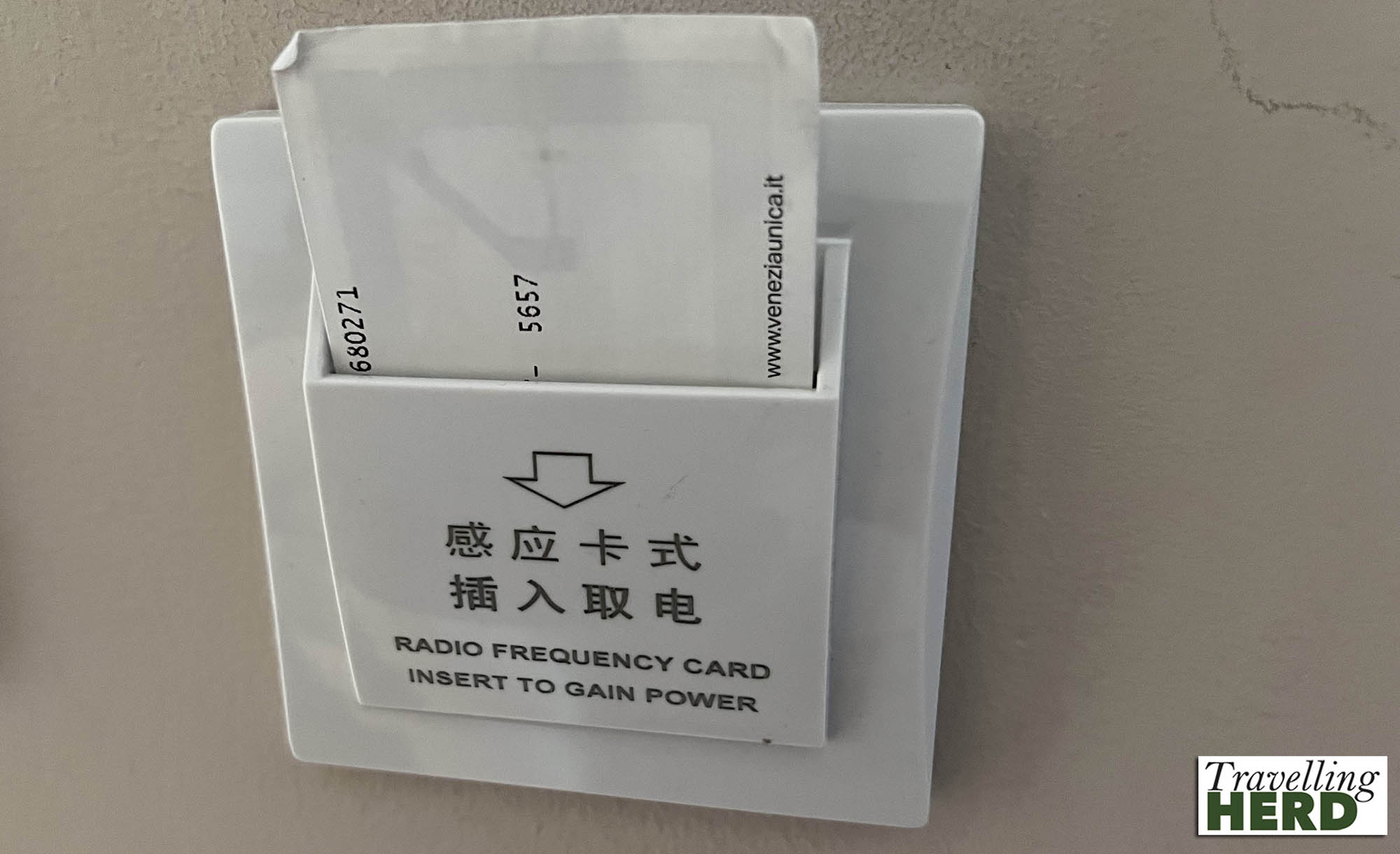 Our hotel was close to Milano Centrale Station as we had an early train to catch in the morning. This is one of the world's largest railway stations, covering the equivalent to nine city blocks, and was opened in 1931 under Mussolini's leadership.
We decided to get a tram into the centre [see Video and Selfie of the day].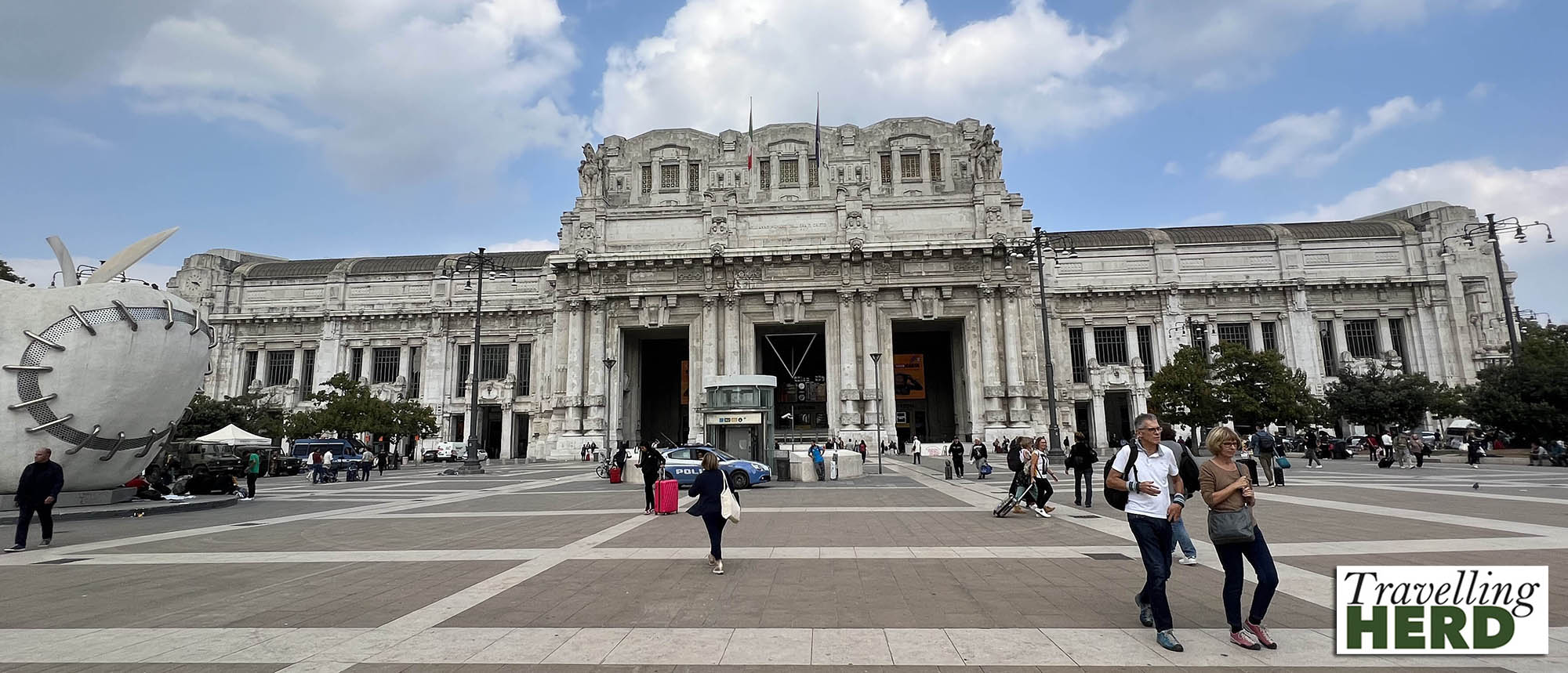 We had learned about a new work of art in the city.
"L.O.V.E." the sculpture by Maurizio Cattelan is understandably known in Italian as "Il Dito" (the finger). The title is an acronym for 'libertà, odio, vendetta, eternità' (liberty, hate, vengence, eternity). Placed in the centre of Piazza degli Affari, directly outside the Palazzo Mezzanotte, a 1930s [fascist-era] building which is home to the headquarters of Milan's stock exchange. The sculpture is considered to be a constant reminder to the traders of their role in the economic recession.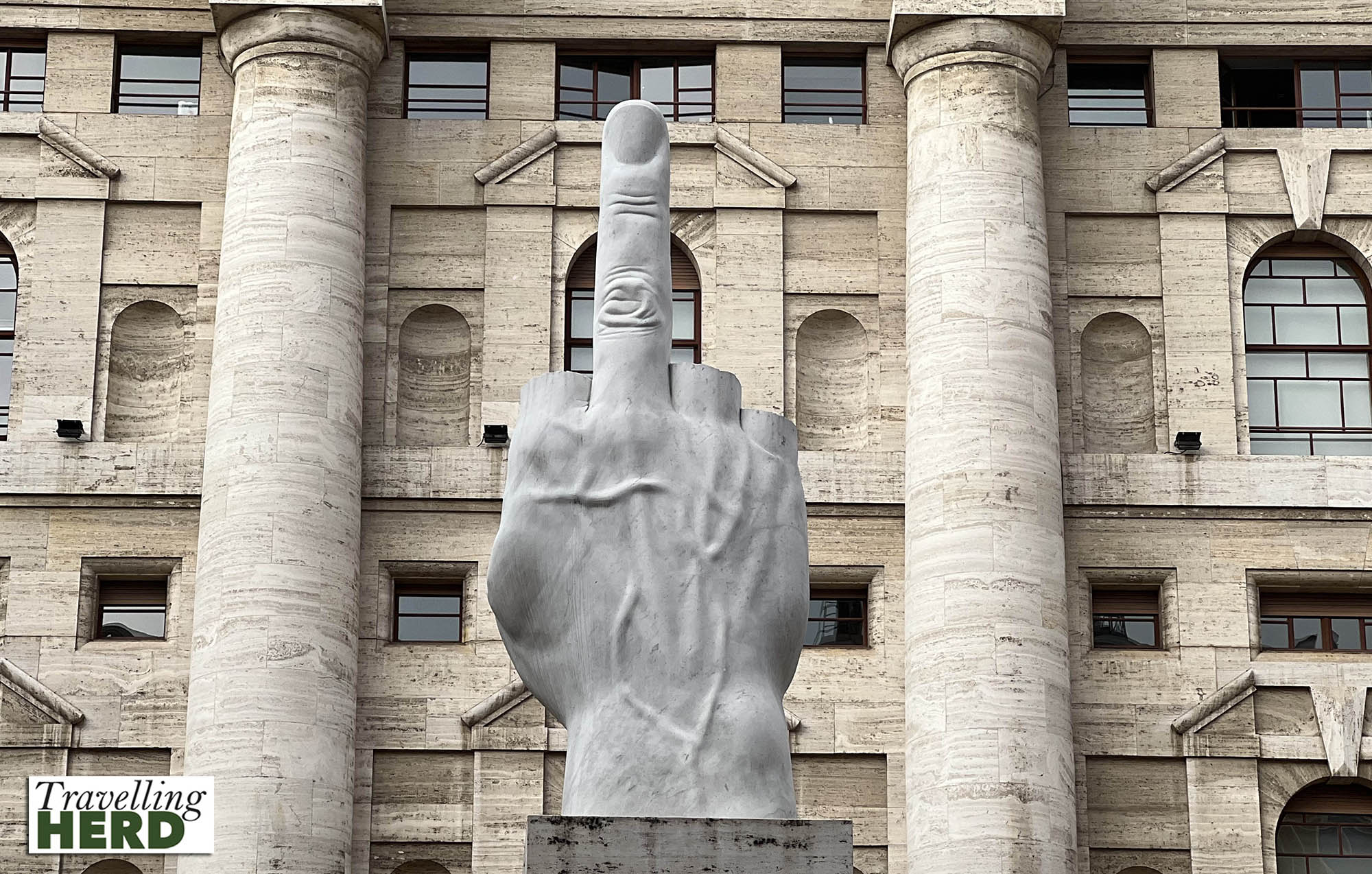 Ever since her first visit to Milan with her good friend Alison, the Duomo do Milano has been one of Matilda's favourite buildings. A trip to the roof was an unexpected delight: the beautiful detail of the intricately carved white statues and decoration was how she had imagined the roofscape of Gormenghast Castle. Unfortunately we did not have time to go up to the roof this time but the Duomo do Milano is also beautiful from the ground level.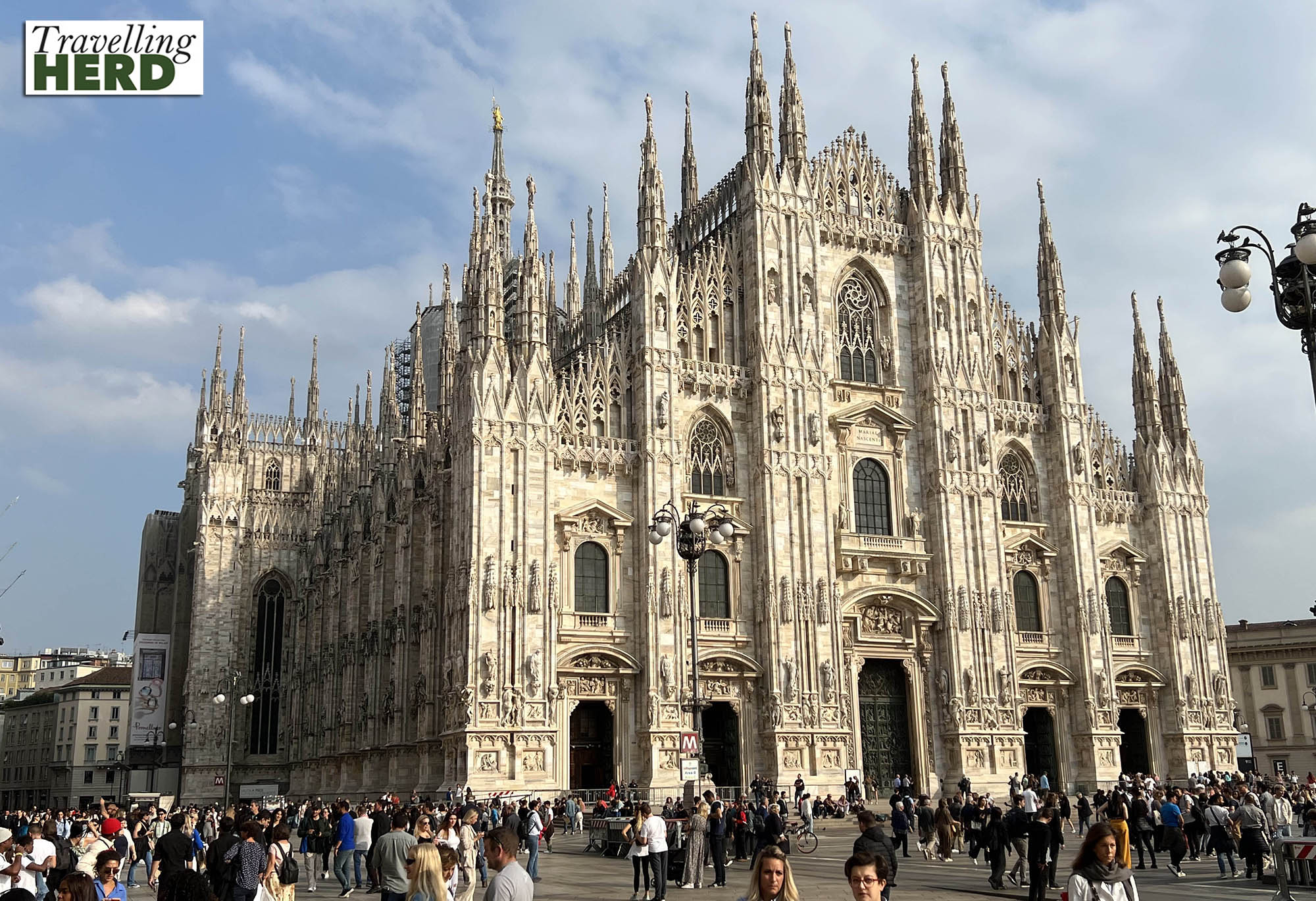 The glamorous and stylish Galleria Vittorio Emanuele II was very busy and we decided to take a detour round the outside to avoid the crowds.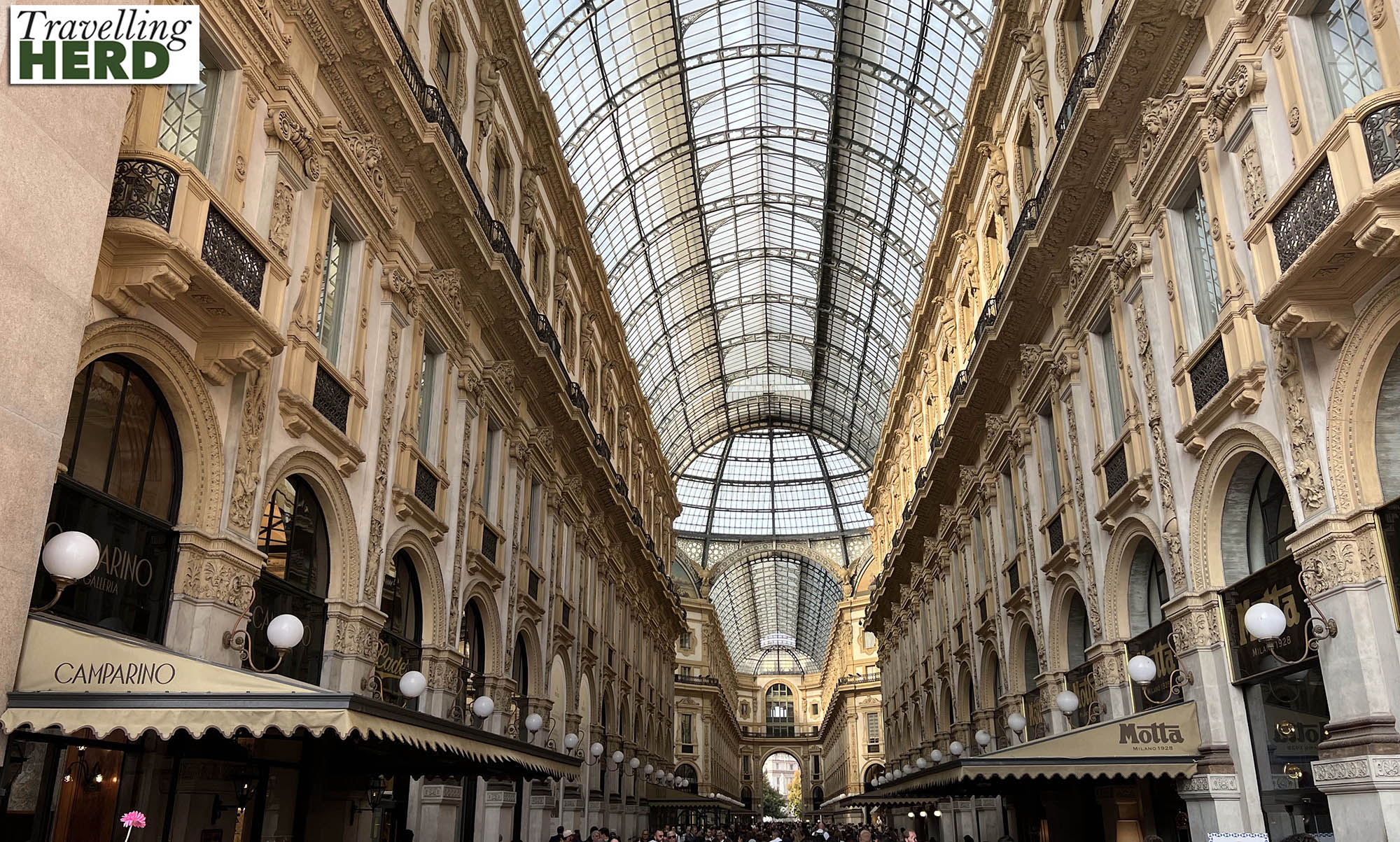 We popped in to Doppio Malto, a craft beer bar offering such mouthwatering propositions as Zingi Ale and Sexy IPA.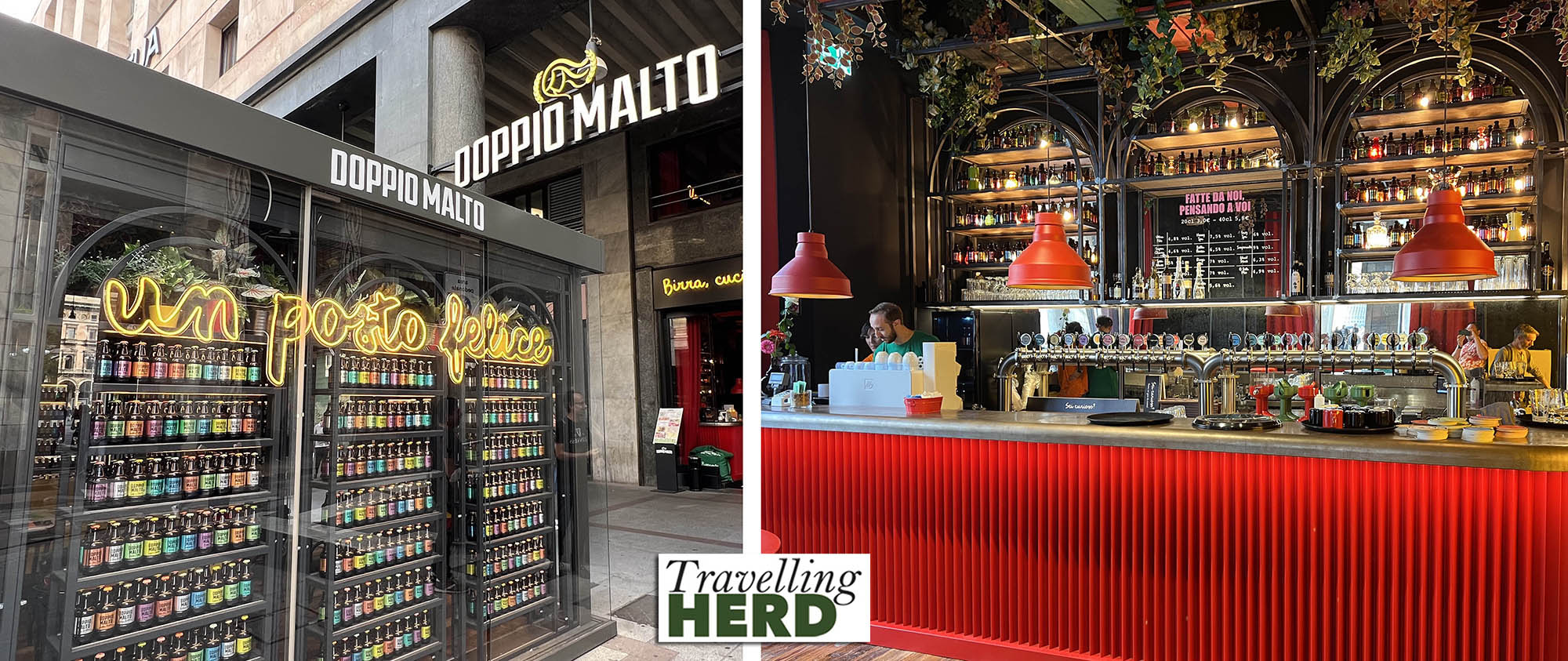 The choice defeated us and we opted for a 'tasting tour' [similar to a flight or a paddle] of four 15cl rather frothy samples. Initially, the waitress thought we were ordering four full measure drinks. This isn't the first time that people have looked at Robert and assumed he might order more than one drink for himself.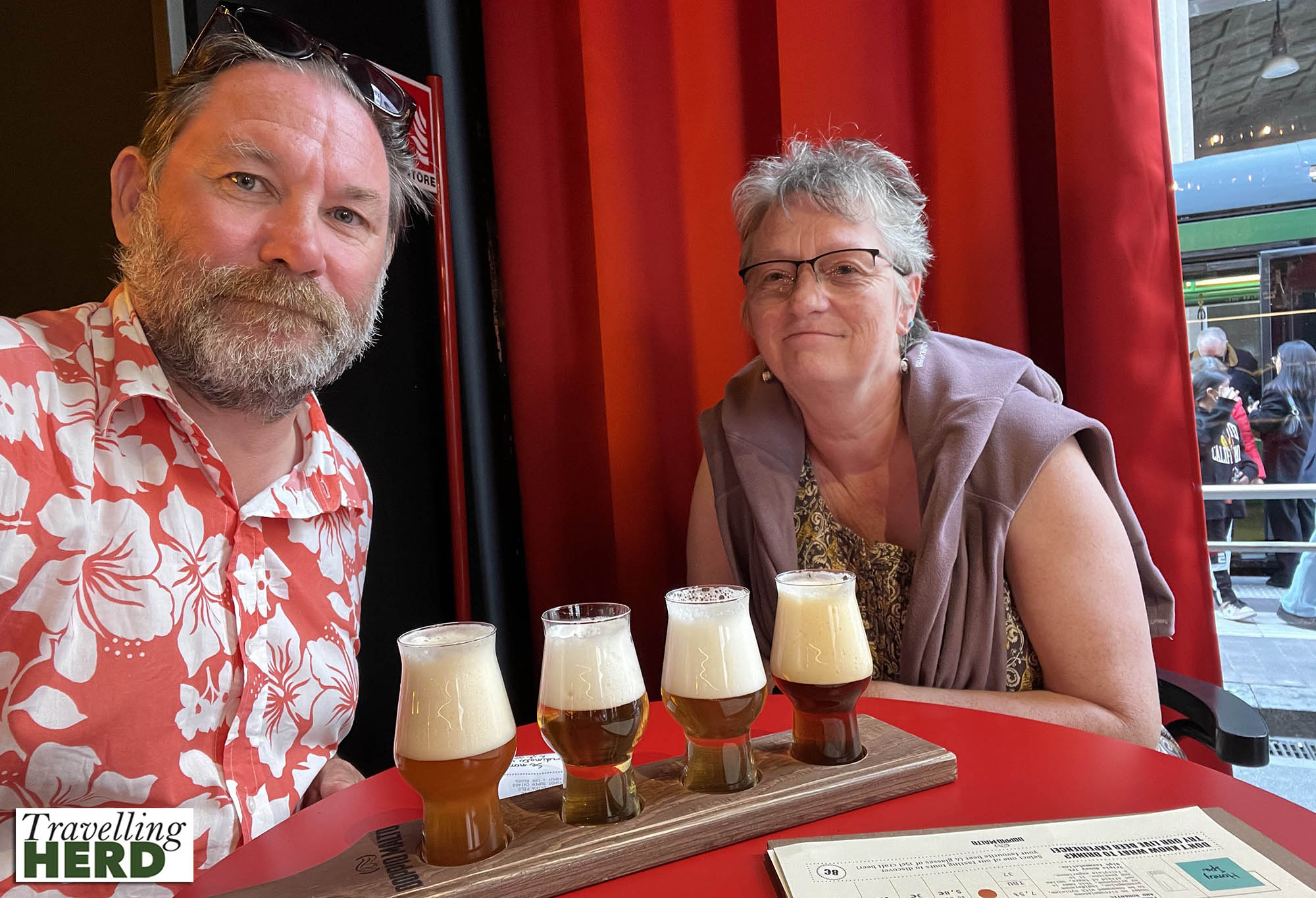 After this we retraced our steps along the tram route and found ourselves in an area with a high proportion of LBGTQ bars serving only wine. We were helpfully directed to a bar called Step for draft beer and the bar snacks were impressive [see Dish of the day].
Video of the day:
Selfie of the day: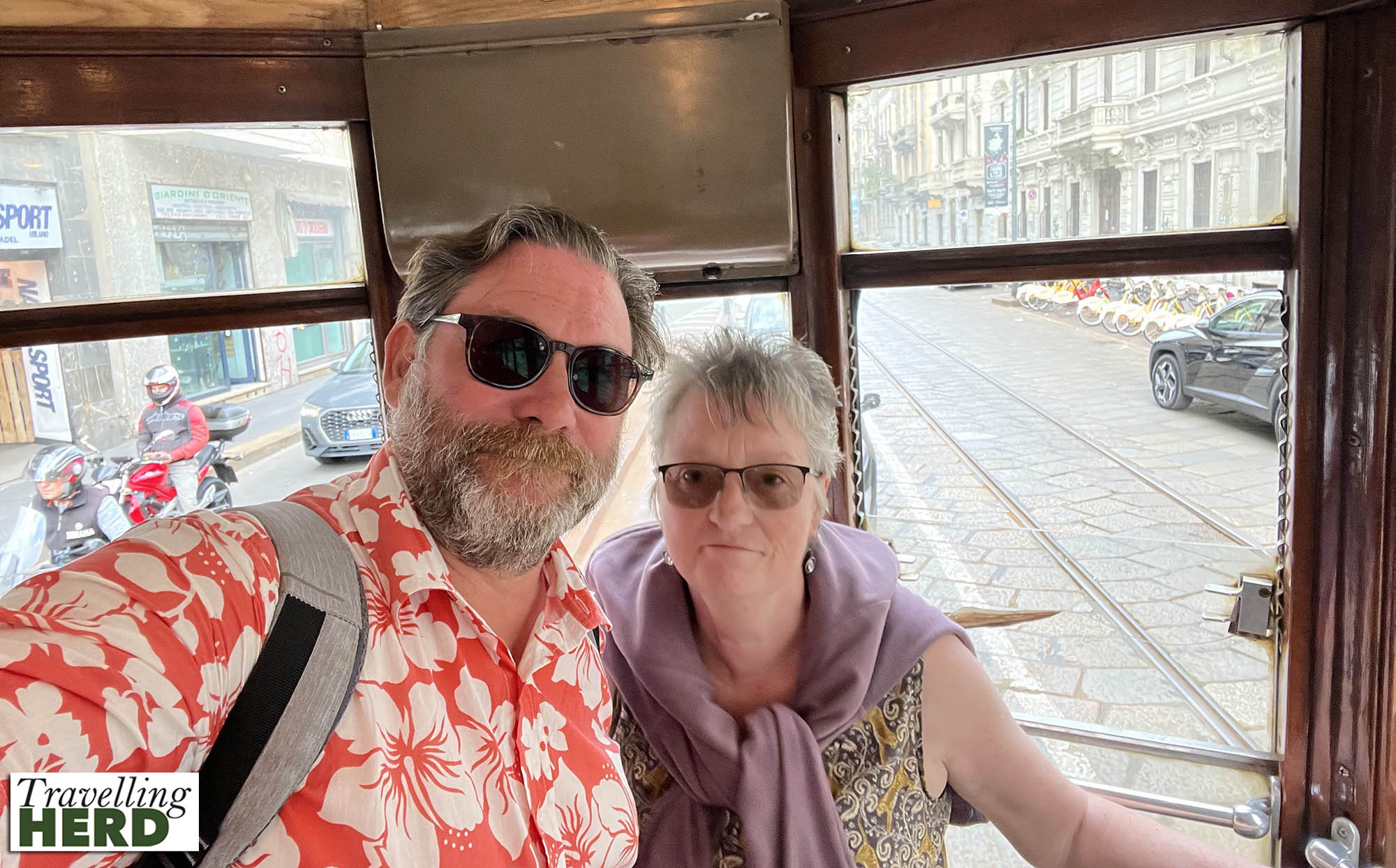 Dish of the day: