Tuesday 2nd April 2019
In 1950 Jawaharlal Nehru, the first Prime Minister of India commissioned the building of a new city to serve as the state capital for Punjab as, when India gained Independence and East and West Pakistan were created, Lahore became the capital of West Pakistan. Chandigarh is a city and a union territory, governed directly by the Union Government, and serves as the state capital of both Haryana and Punjab.
We visited The Le Corbusier Centre, the Old Architect's Office, which was one of the first buildings to be constructed in Chandigarh and was used for its original purpose until 1965 when the Department of Urban Planning relocated elsewhere. It includes many interesting documents about the commissioning process and the building works.
Nehru engaged the French-Swiss architect Charles Edouard Jeanneret [who adopted the name "Le Corbusier" and seems to have received most of the accolades and kudos] but his Swiss cousin Pierre Jeanneret, together with the English husband and wife team of Maxwell Fry and Jane Drew were also responsible for much of this large civic architecture project.

The city is laid out on a grid pattern and divided into 57 sectors, though we could not find Sector 13 on the original layout [above centre] so perhaps this was omitted for superstitious reasons. The road signs do not give the names of areas but the sector numbers and it felt a little bit like being in a sci-fi film, where they report "trouble in sector 27".

The city is clean and has a decent infrastructure. The roads are wide boulevards with dual carriageways, cycle lanes and well-tended roundabouts and it is therefore quite pleasant to stroll around. We walked to the popular Lake Sukhna, which has the feel of a traditional boating lake in the UK. Although Le Corbusier is more famously connected with the project, Pierre Jeanneret was obviously emotionally involved with the city he had helped to create and stayed on as an advisor after the building was finished. When he died in 1967, his ashes were scattered in Lake Sukha according to the wishes he laid out in his will.

The other main attraction, beyond the town architecture itself, is the Rock Garden, designed by Nek Chand, an ex-road inspector.
Getting tickets is more like talking to a short prison inmate [below centre] than purchasing entry to a popular tourist attraction.

Built in the 1970s it covers four acres and is a winding labyrinth in deliberate contrast to the orderly grid system of the city. It includes a waterfall, caves and hills and myriad figures made using broken crockery and glass; discarded neon lights and fuse switches and broken bangles. Initially we were unsure why the place was so popular but as you go further in, you are greeted by the figures which include people as well as engaging animals, birds and some unidentifiable creatures.

We walked on towards the Capitol Complex passing men and women dressed in black suits and barristers' bands, having come from the law courts. You have to get permission to get close enough to the Capitol Complex buildings to take photographs and, although some of the buildings in Chandigarh still seem angular, modern and stylish, the concrete utilitarianism has lost some of its charm since the city was designed. With the temperature at 32 degrees and rising, the hotel pool beckoned.

Our hotel was next to Elante Mall, the eleventh largest shopping mall in India and we went to see what was on offer. The lower three floors featured many familiar international brands such as Levi's, Marks and Spencer's, Accessorize and Nando's. We could easily have been back somewhere in the UK or Europe although the top floor seemed more or less exclusively to offer traditional Indian clothes for important occasions.

Happily, we found a branch of The Brew Estate in Elante and when we walked up to the bar, without any prompting, the barman poured five small taster glasses of the beers to help us to decide what to order. We were then informed it was happy hour so it was buy one get one free. There is also a Beer Cafe outside, overlooking a square which is being developed and planted, and as we knew this chain sells Hoegaarden, we popped in for one. Shopping and sightseeing can be thirsty work.
Current Route Map: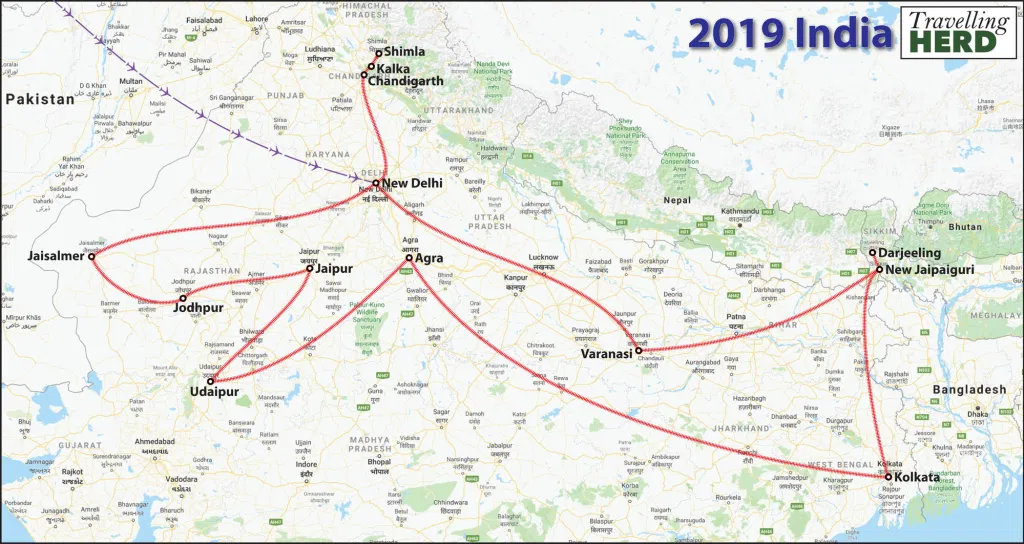 Distance travelled so far:
By Air to Delhi: 4,187miles
By 17 trains to Chandrigarh: 4,238miles
Selfies of day: